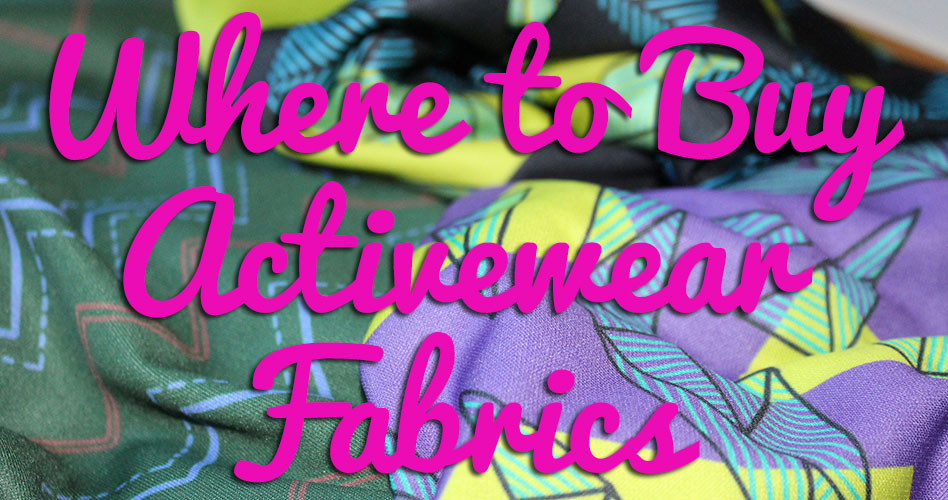 One of my most frequently asked questions is definitely "where can I buy fabric for yoga/running/exercise/etc?", so I thought it's high time I make an attempt at something like a global list.
In general, though, the word you should be searching for is "Supplex". This is a brand name, though, like Lycra (whose generic term is "spandex"), but the generic alternative is something like "wicking spandex", and generally isn't used as often as "Supplex" in fabric stores, I've found.
If you can buy supplex at a decent price, buy it. It's soft, has great recovery, wicks away moisture while you're sweating, and stands up to washing without a ton of pilling. It can be hard to find though, and sometimes only comes in a limited amount of colours, but I wouldn't hesitate to run a marathon in supplex – it's great stuff.
If you're running shorter distances, or in cooler weather, you can get away with exercising in any number of lycra/spandex jerseys, though. These won't wick sweat away, but they come in a gazillion colours and prints, plus have a multitude of foil and sequin effects, and can be way cheaper, too. Ditto goes for swimsuit fabrics – you can certainly use them for shorter exercise sessions even though they're not wicking. Personally, I wouldn't mind running a half marathon on a cool day in lycra leggings, but your mileage may vary (pun intended!).
You can read loads more about the different types of activewear fabrics on offer plus what to look out for in this article I wrote for Seamwork magazine.
UK
Know any more UK shops? Tell me in the comments!
Europe
Know any more European shops? Tell me in the comments!
Asia
Know any more Asian shops? Tell me in the comments!
Canada
Know any more Canadian shops? Tell me in the comments!

Space-dyed supplex from Eclipse Textiles (wholesaler)
Australia & New Zealand
Know any more Antipodean shops? Tell me in the comments!
United States
I only knew one or two places to buy exercise fabrics in America (since the shipping is extortionate to the UK, I can't buy from there anymore), so I asked Kathy for help. oh em gee – she sent me back this embarrassingly long list of suppliers, which totally puts the rest of my list to shame! So consider this a bit of a guest-post from her I guess, and definitely go check out the exercise gear she's sewn, too. Comments in italics are hers.
Rose City Textiles aka "Fabricline" – Click on "wickaway knits" (see Katherine's post for details of a ton of fabrics bought there)
The Rainshed – Lots of wicking stretch fabrics, fleeces, and shell fabrics here, including a huge variety of reflective fabrics!
Imagine Gnats – A small shop run by an avid cyclist and running specialising in knit fabrics with a growing Athletic Fabric section. I can vouch for the great quality of their (non-wicking) nylon/lycras and the terry-backed wickaway lycras, which are great for cold weather exercise and similar to Suziplex or Funki Fabrics Thermo.
Spandex House – Supplex in a surprisingly wide array of solid colours
Spandex World – They are much like Spandex House, are in

NYC

also, and have a brick and mortar store, too. They have supplex and a fantastic selection of spandex… duh!
Fashion Fabrics Club – Watch out because they put a lot of non-supplex regular knits into the "Activewear & Swimwear" category – look at the fabric content and go for the ones specifically marked "Activewear". (they also go by Denver Fabrics (I don't know why?! It's the exact same company.)
Fabric Mart (They have a brick and mortar store in PA as well) I've gotten all of my supplex here, along with other activewear materials. They buy out fabrics from manufacturers so the selection varies from week to week, even day to day.
Fabric.com – Mega online shop for fabrics. Folks in the US usually are generally well-acquainted with this site. It's a bit difficult to find all the different varieties of activewear on the site, but search for "wicking" or "activewear" to get started.
The Fabric Fairy – I got swimwear fabric here, but I also used it for running clothes because it's nylon/spandex
Girl Charlee – These guys are the sweetheart of the US blogosphere these days. They sell

ALL

knits. I got swimwear stuff here, plus I of course use it for running clothes!
Fabric Depot – A great source for activewear and lingerie materials
Sew Sassy – A source for really basic colors of material activewear/swimwear. (They do lingerie stuff, too) including power mesh for lining and supporting sports bras!
Michael Levine – They have a brick and mortar store in Los Angeles. There's a few headings here with several activewear related fabrics: athletic mesh and of course lames!
Spandex By Yard – I

JUST

found these guys, so I don't know much. They look to be an ideal place to shop for activewear material… I saw a heading for moisture wicking fabrics!
Designer Alley Fabrics Also just learned about them, they look to be another hot source! And they list supplex!
Seattle Fabrics> – "They have several different types of athletic and outdoor clothing fabrics including wicking fabrics and Gortex." (thank you Norma!)
Spoonflower now print onto a Sport Lycra base which has two way stretch and great recovery (note that their Performance Knit and Performance Piques bases have very little vertical stretch so are largely unsuitable for 4 way stretch patterns without adjustments). Beware that in my experience, the Sports Lycra has a lot of white showing through when stretched near to its max, so keep that in mind when looking at dark prints with compression-style garments.
Rocky Woods I know you have a pile of US shops… but I keep forgetting to add this one. They have technical fabrics & outwear material plus patterns. They even sell Under Armour heat/coldgear, too. They are in Colorado are are geared towards the outdoor enthusiast.
Pinecrest Fabrics – They supply several of the companies mentioned above with their prints.
Green Pepper They not only have a fabulous selection of patterns for every outdoor sport, but also have fabrics and notions available online. Great customer service too! (thanks, Megan!)
Zenith & Quasar – Tons of activewear fabrics including supplexes at two price points, the wonderful spaced-dyed Eclipse supplex and some reflective-print activewear knits! (Thanks, Sarah!)
GreenStyle Creations Stock a good amount of activewear-focused fabrics with a variety of prints and solids

Sew Dynamic This shop is entirely about recycled activewear fabrics and reducing microplastics. Most fabrics are black solids but the owner commissions custom prints onto a recycled activewear base several times a year. I've personally sewn one of these prints and then rode 100 miles in it and I was very impressed with the quality while sewing and wearing on the bike.
The Styled Magnolia This shop offers a good variety of prints which can be printed onto an activewear brushed polyester base, or an SPF swimwear base (as well as others). They seem to operate on both a pre-order basis and periodic print-on-demand basis, too.
Fancy Tiger Crafts – their jersey selection is mostly geared towards casualwear, but they do stock a fairly wide variety of bamboo jerseys which are perfect for looser yoga styles (like my Knot-Maste Yoga Set pattern)
If you're looking to buy cycling chamois pads (aka "butt pillows") or silicone elastic for hems, I've got a separate list of suppliers in this post!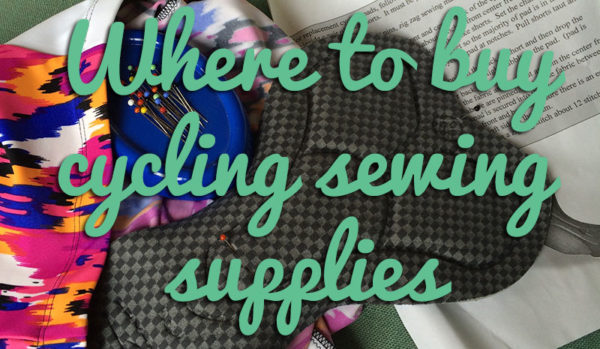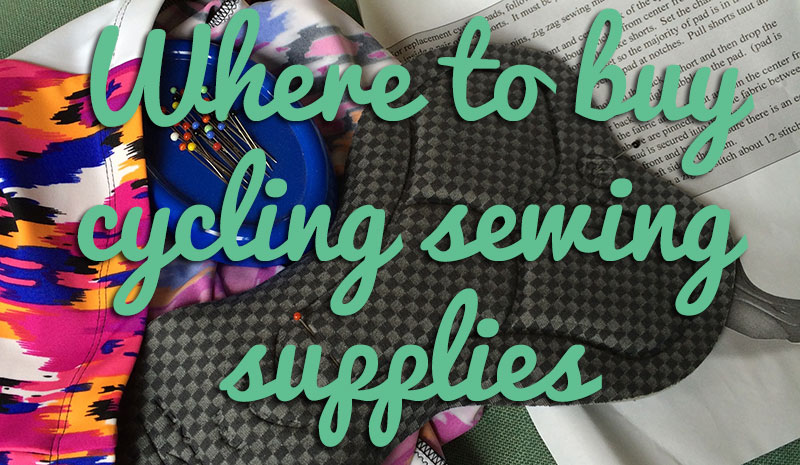 And if you want some inspiration of your own, why not have a look back through some of the exercise gear I've sewn for suggestions on patterns, finishing techniques, and even ways to refashion old race shirts?
Oh, and I launched a running site yesterday! Have a read through RiverRunner.co.uk!