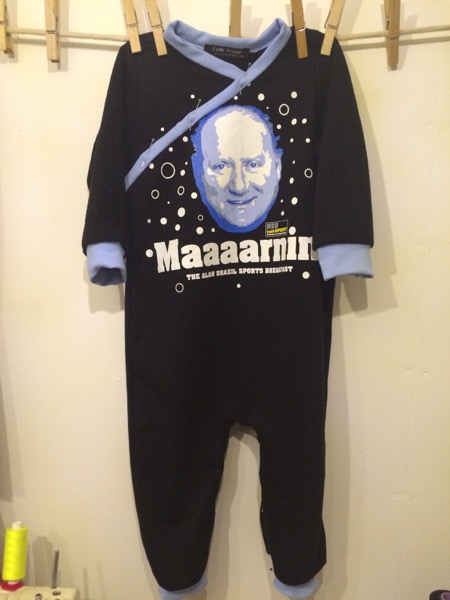 This is a much smaller project than my lace dress but one I wanted to share anyway as it involves upcycling a teeshirt into something more useful. One of my very first sewing projects as an adult was transforming a XXL promotional teeshirt into something more stylish, and I think a lot of beginners find teeshirt refashions to be both inspiring and approachable – after all, there's no question of how much fabric to buy, or if you've got the wrong kind, as teeshirts are pretty universal.
In any case, this started life as a very oversized promotional teeshirt for the sports personality Alan Brazil, who records his weekly show in my office's studio and is well-known around the office. He's particularly loved by our Creative Director, Ben, so we all decided he should have the teeshirt. But Ben is not a XXL, so it just stayed on his desk for ages, and was left there when he went away on paternity leave…
…when I mischievously spirited it home and refashioned it into a onesie for his newborn son!
Here's what the shirt looked like "Before":


Cat-bombed by Nishi, of course!
I had a search through my vast Burda magazine archive and found that Burda 09-2013 #145 was a pretty great and versatile onesie pattern designed for knits. Not knowing the size of the baby, I opted for the middle in the size range, which is surprisingly big! He's actually a really tiny baby so I think he might be celebrating his first birthday in it!!
Apart from the teeshirt, the pattern called for contrast jersey on the cuffs and neck binding, so I finished it off with some matching baby blue supplex in my stash (purely because the supplex was the right shade of blue to match the design!). The sewing itself was super quick, but then it took me ages to buy snaps and a new snap pliers because the one I had been using had like a 60% fail rate and I was having to buy twice as many snaps as I needed and was frankly, driving me crazy. But eventually I got all the snaps set into the neck opening and the crotch, and delivered it to Ben (who hadn't even realised the shirt was missing from his desk, bless him!).

I think it might be a bit small for Ben! ha!
My go-to baby gift is usually to make a changing mat from a hand towel but I'm glad I branched out a bit here and tried something new. Given the opportunity (and a great starting tee!) again, I'd definitely make this for another new arrival!