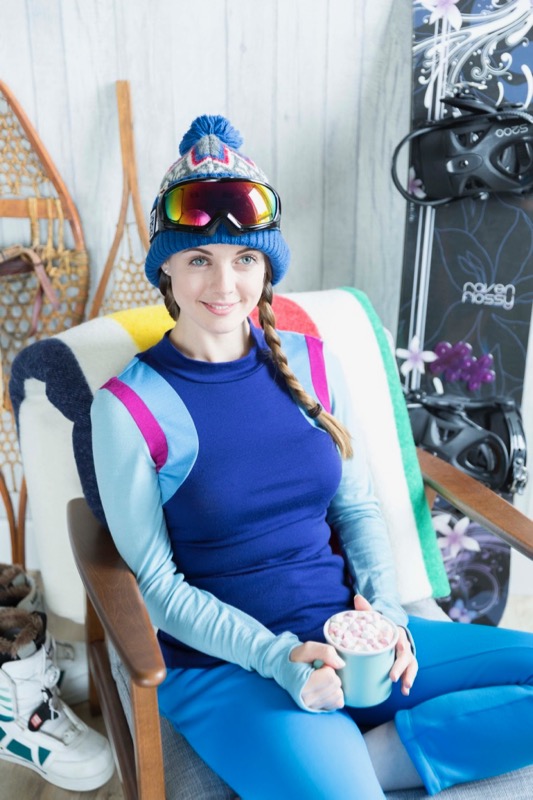 The UK release date for "Sew Your Own Activewear" is less than a week away – it's out on Friday you guys!! I'll be shipping out all the signed pre-orders later this week (as soon as I receive the books myself!) regardless of where you live, so some of you may be getting it a few weeks before everyone else in your country, you lucky darlings, you!
I'm also throwing a bit of a launch party here in London on Friday night, so if you're local and would like to attend, please leave a comment and I'll send you the details – there'll be complimentary punch plus the opportunity to buy signed copies on the night plus meet me and the athlete models from the book, too. And of course the dress code is activewear!!
So with it being launch week, I wanted to choose one of my favourite designs to focus on this week – the Winter Base Layer top!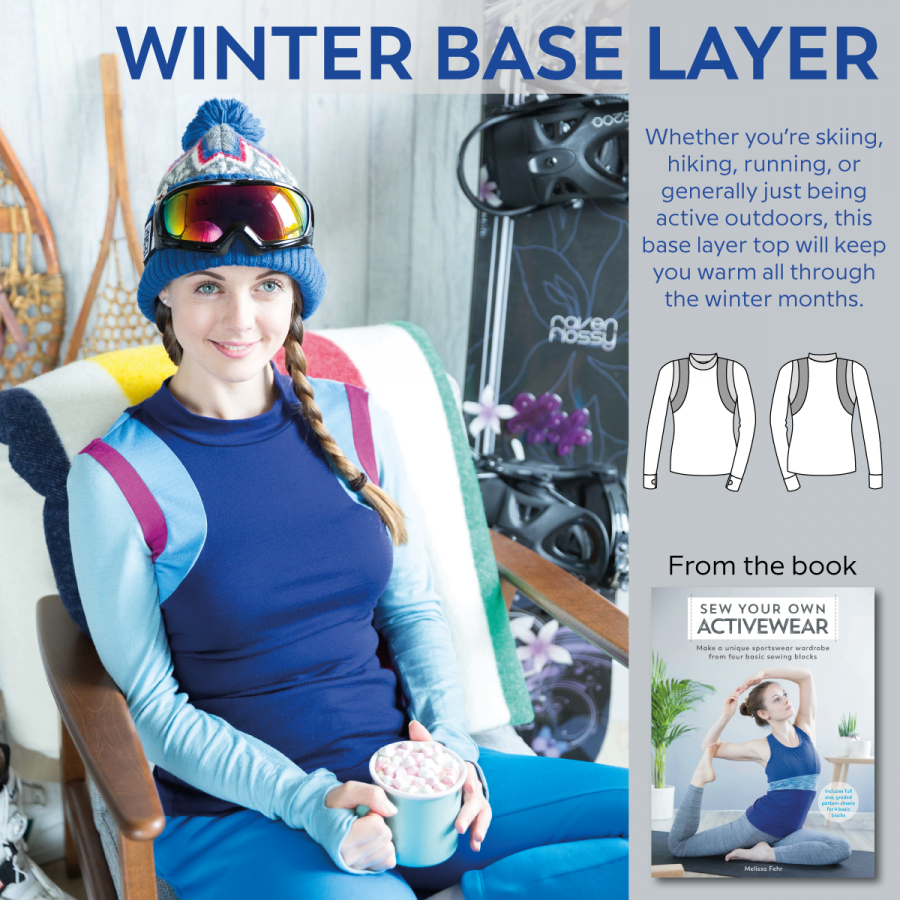 In the book it's described as:
Whether you're skiing, hiking, running, or generally just being active outdoors, this base layer top will keep you warm all through the winter months. A raised neckband wards off the winter wind while thumb cuffs prevent cold air from sneaking through that annoying gap between your gloves and sleeves. Curved design lines around the shoulders in both the front and back provide opportunities for colourblocking as well as an eye catching feature to set this top apart from the rest. Sew this up in a lush merino wool jersey for a warm top that will perform just as well on the slopes as it does for aprés-ski.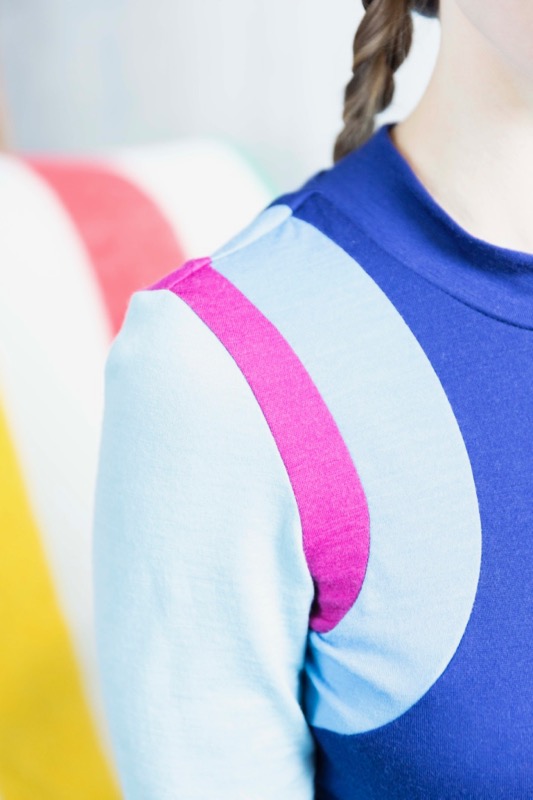 While I was designing this top I really wanted something that would work equally well underneath a jacket for skiing as well as be something I could wear for winter running, too. I wear my Surf to Summit Tops all the time, so I wanted something that could be worn in the same circumstances, but be substantially different, too. So I kept the long sleeves and raised neckline, but that's about it!
In the Winter Base Layer you'll learn how to extend your neckband to be warmer than the standard block neckband, create those eye-catching curved shoulder pieces, and also sew up thumb cuffs that you can make without any fiddly hand sewing, too (fans of my Tessellate Tee pattern will find these very familiar!). The curved sections really accentuate the shoulders in both the front and back, so not only are they a great way of playing with colour and using up small scraps of activewear fabrics, but they can also help visually balance those with pear-shaped figures or strong hips and thighs.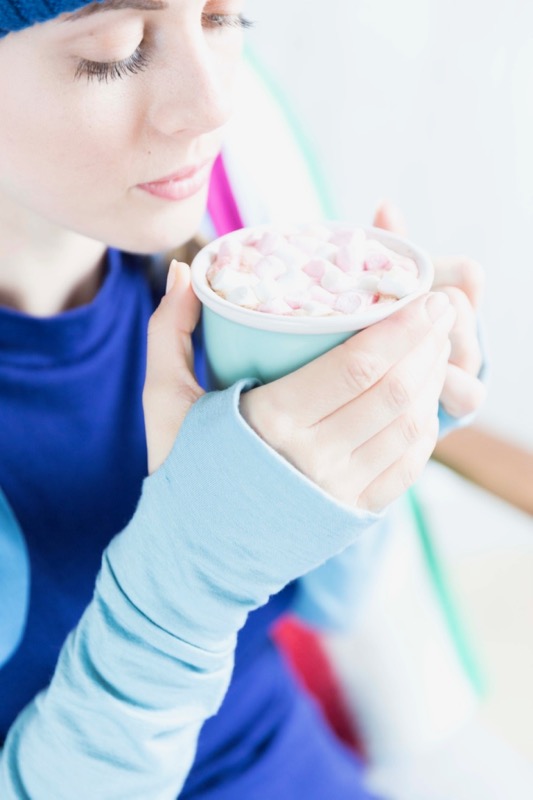 For the sample used in the book, I got in touch with The Fabric Store to get ahold of some of their luscious merino jerseys. Merino wool is a fabulous natural fibre for activewear since wool is a wonderful insulator, even when wet, and dries quickly, too. The merino jerseys from The Fabric Store are nicely lightweight and come in like a million colours, too, which made them a no-brainer for this base layer!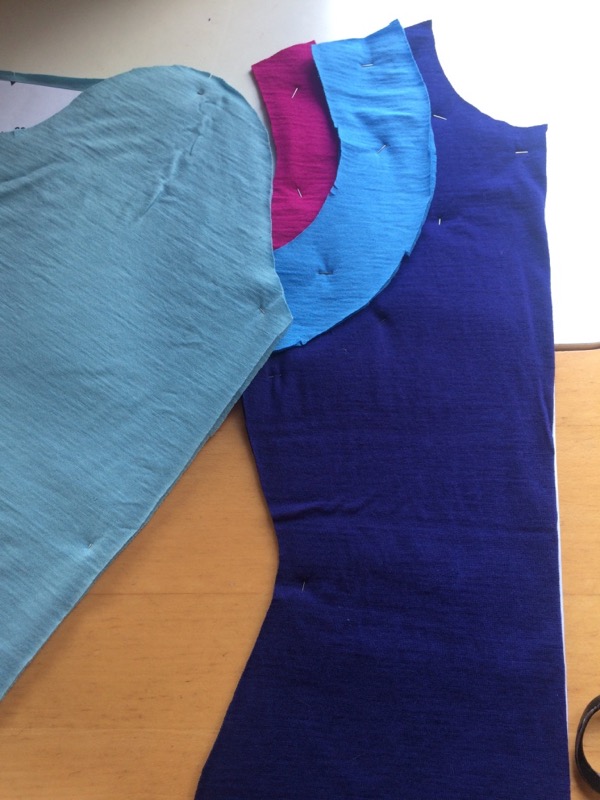 The only "problem" was that they sent me so many different colours that I had a hard time deciding which colours I wanted to use for which pieces!! But I eventually settled on the shades of blue plus one pop of hot pink that you see here, and I liked it so much that I made myself an almost identical version using slightly different shades (which you'll see later this week)!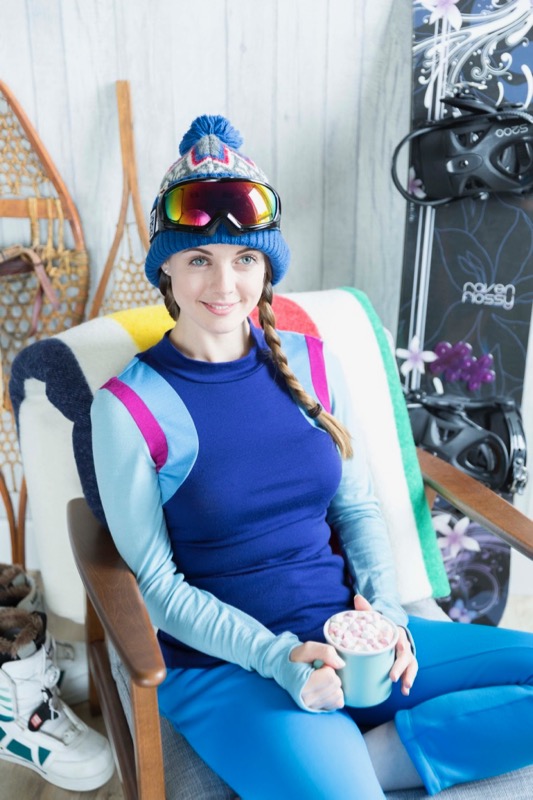 Can we also just take a moment to applaud the art director for the photoshoot here? I'm still amazed how she was able to turn a boring studio into a fully formed ski chalet! And I'm not taking any bets on whether our athlete model, Jade, was able to resist that hot chocolate after shooting was done! 😂