Wow! I've been entering Pattern Review contests for years and never even come close to winning, but I've won first place in the first ever Lingerie Contest!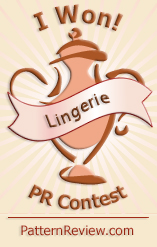 Thank you all SO much for voting for my Racy Lacy Lingerie set, I'm so touched that it inspired so many of you to sew up some lingerie of your own.
And special thanks go to Sigrid, who inspired me to start sewing lingerie, and also gifted me the gorgeous kit that turned into the winning entry!