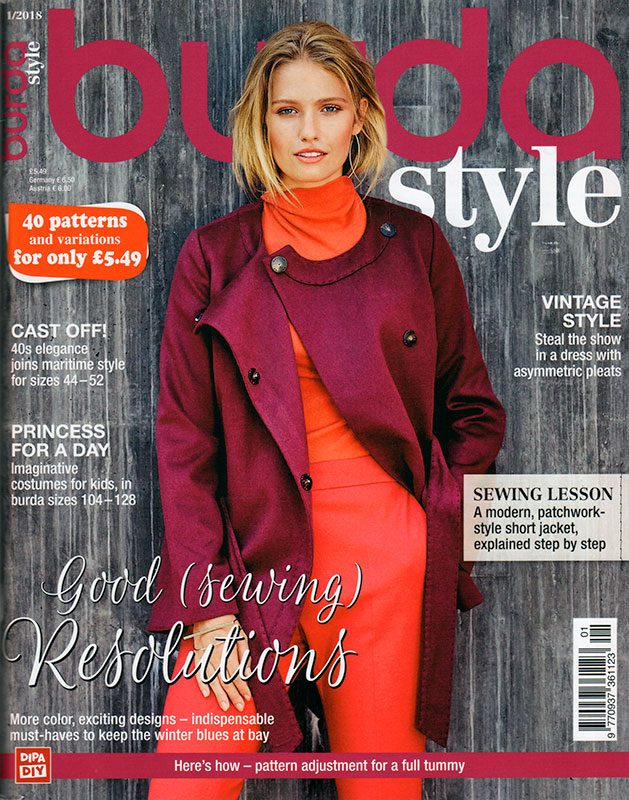 Apologies for the delays in posting this review of the first issue of Burda for 2018! I know a lot of you use these reviews to decide whether or not to buy this issue while it's current, but the newsagent by my office where I tend to buy these didn't have it before we broke up for the holidays, and, well – I've been very busy with posting all about the designs in my book recently!
But the good news is that this issue is worth the wait IMHO! I won't be signing up for the Burda Challenge this year (been there, done that back in 2012!!), as I've already got way too much on my sewing plate already, but I'm not going to feel bad about not sewing much from these issues, either. I'm just going to enjoy the inspiration and talking points they provide, and hope that one day I'll actually get to sew everything on my list!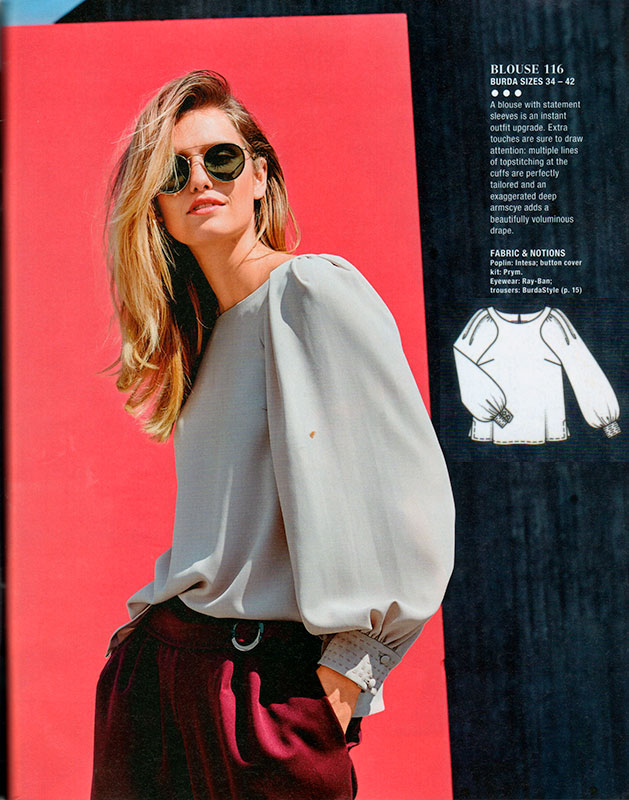 I know quite a few people were trying to turn 2017 into "the year of the sleeve" and there's no denying that there were a lot of statement sleeves on the runways of late, but most just seem wildly impractical to me (I literally struggle to cook breakfast in wide dressing gown sleeves at the weekends!). But this design feels more like an update of a classic blouse and I love the strong shoulder design. Realistically I'll never make this as my office is casual and I hate ironing, but I appreciate the design work here nonetheless.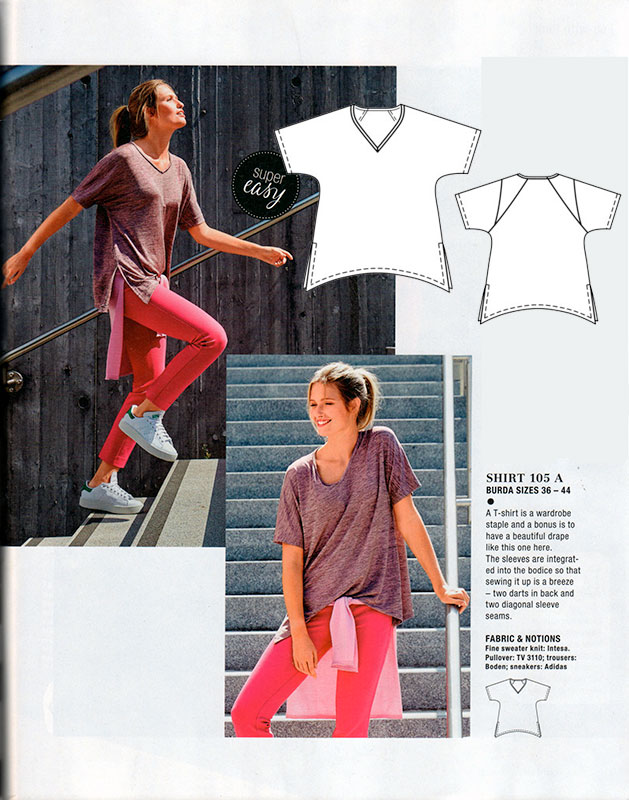 I chose to highlight this image of this big shirt rather than the one in the exercise section just because I like the image of her running up the stairs (something I've taken of myself in the past, ha!), and also because this is like the worst design to do yoga in unless you like exposing your entire chest during Downward Dogs. But exercise potential aside, I really like the design from the back. There are no shoulder seams, just a big dart on the upper back and another angled seam lower down to give a lot of back interest. I think this construction idea is stronger than the overall top, IMHO, but I've never been one for voluminous tops to begin with so I"m not really the target market here.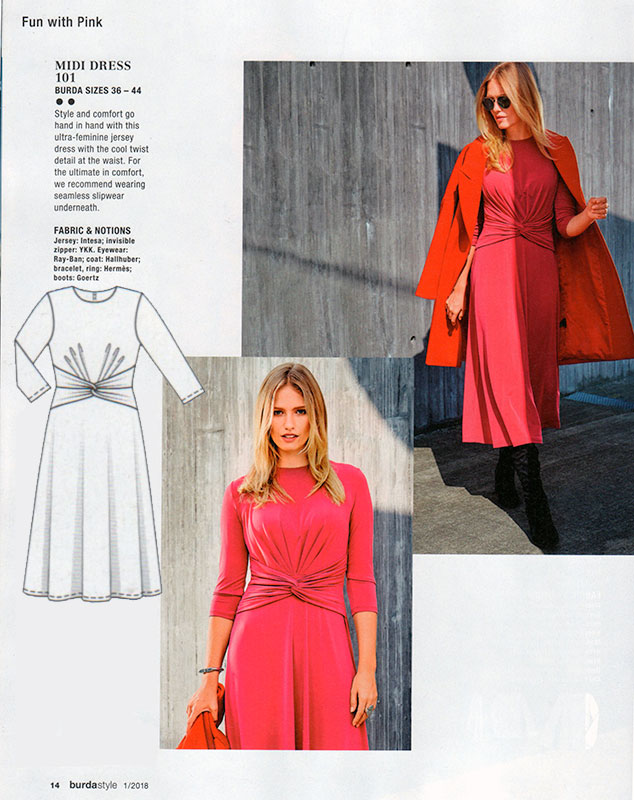 I. love. this. dress! (It also comes in top form) I don't even care that it feels like a throwback to Burda circa 2005 when everyone was making twist tops – it's just a universally flattering shape and really easy to sew, too. And of course my style twin Allison C has gone and made it already!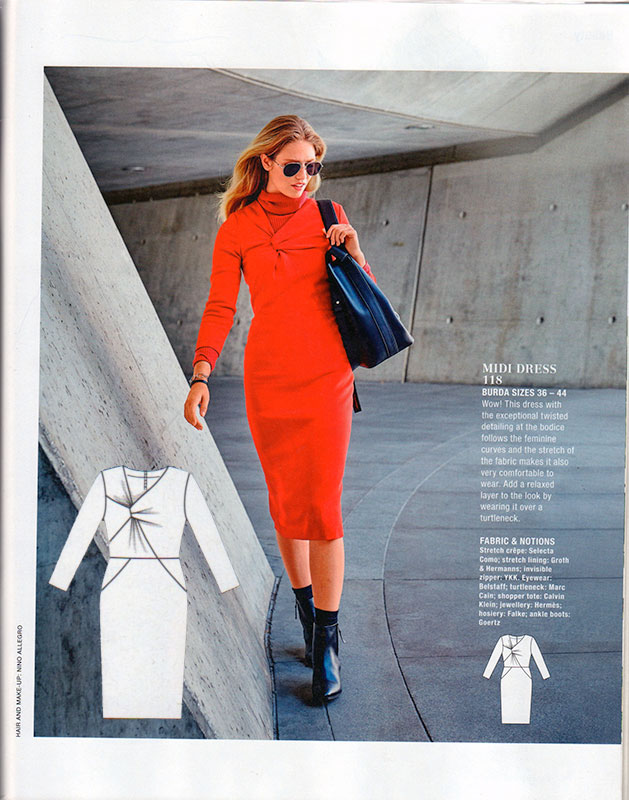 I love the tech drawing for this dress with its asymmetric tuck and twists at the bust, though I wish Burda's stylist hadn't layered a polo neck underneath so we could see the neckline better. I do feel like they've missed a trick by not having those curved seams in the skirt be actual, functioning pockets (why, Burda, why??) but it'd be easy enough to draft them in yourself. Because pockets.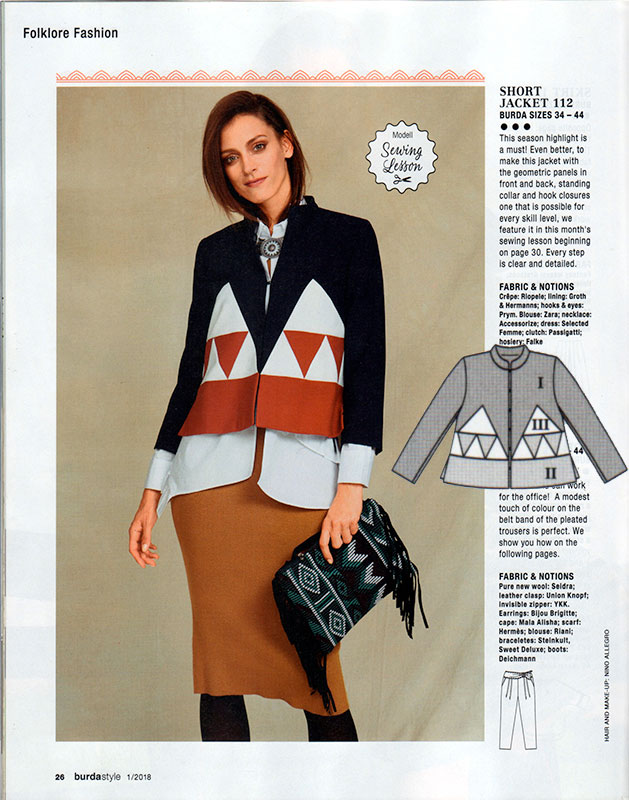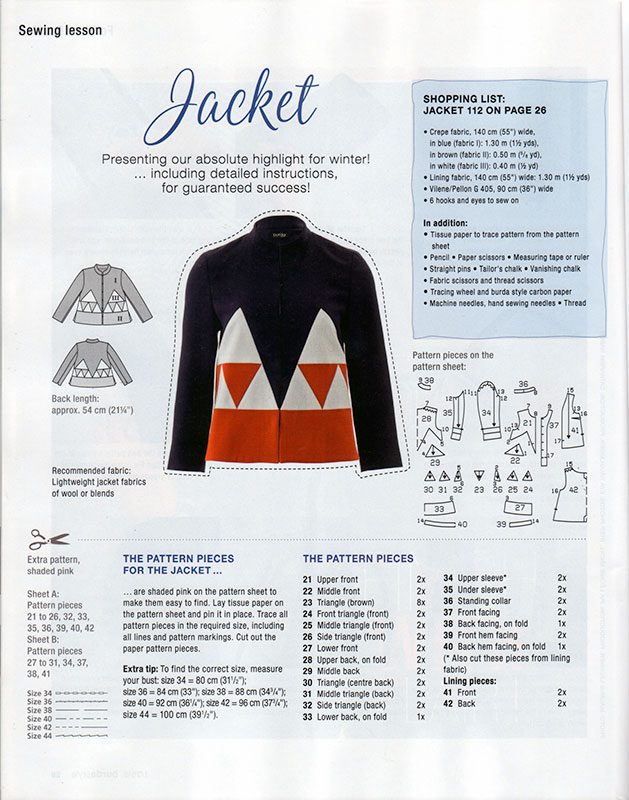 This is the only design I liked from the Folklore feature – this jacket is pieced like a quilt but without being even remotely "art to wear". But because I've been burned before by tracing out a million pieces, I think if it were me I'd sew up a muslin using the lining pieces first, then trace/cut out all those tiny triangles later. I do love a bit of colourblocking, but part of me also wonders how great this would look all in one fabric, or by mixing different textures of the same colour (wool vs leather, anyone?).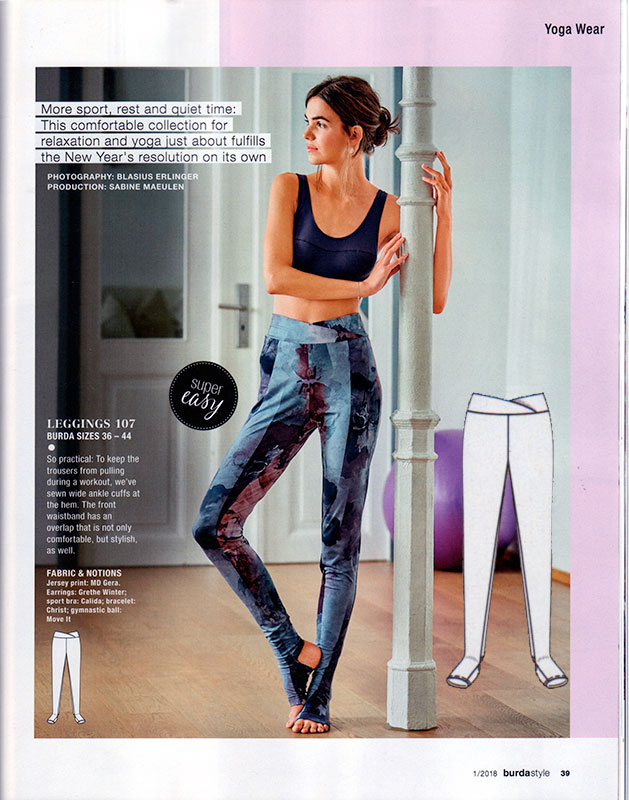 As it's January, we get an exercise feature! Well, this year it's more a loungewear feature that they tried to shoehorn into yoga, but it's not too bad this time around so let's overlook that. The waistband on these leggings is nice if you don't need/want any elastic, but the special feature here is the extended front leg and an extra bit of fabric to go around the bottom of your feet. I've never had the need for this myself, but I understand the purpose of wanting your heel and toes exposed to grip the floor. But surely you need the ball of your foot in contact with the floor, too? (honest question, please comment if you can explain otherwise!) Here the bottom piece covers her arch and the ball of her feet, whereas I'd think it'd be more useful to just cover the arch, and I can't tell if it's just a weird fit on the model, or whether that's intentional.
Oh, and it's a bit of a sneaky fabric choice to make us think there's some mid-leg vertical seaming going on here. Or was that just me?
This draped-back top is a beautiful design! Thankfully, it's also got the illustrated instructions for this issue, because I don't think I'd be prepared to attack all that draping and folding going on Burda's text instructions alone. It also looks to be a fairly good functional design since the fabric won't expose you too much as you move, but you still get the added back interest. The "thumb holes" are really weak, though – there are much better examples of how to achieve this in either Johanna's book or my book!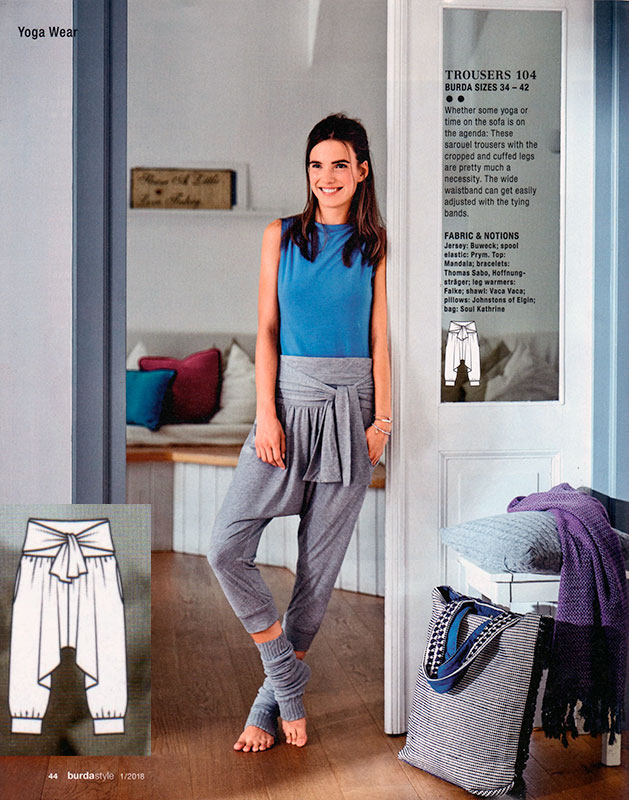 Burda have been trying to convince us that drop-crotch trousers are useful for exercise for over ten years now, but I ain't buying it. I mean, I can't argue with the range of motion they provide, but, ugh, all that fabric gathered between your legs just can't be comfortable (see also: chub rub)!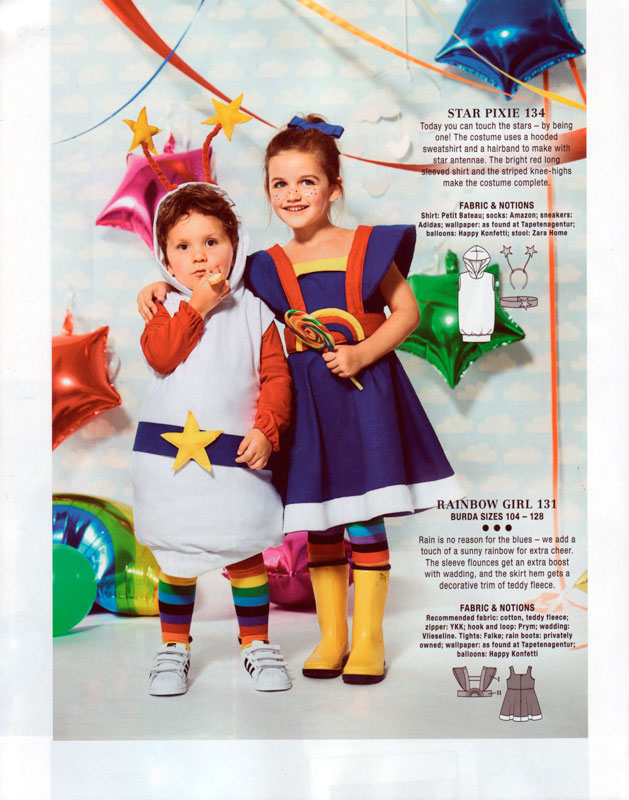 Because it's January, we get carnival costumes for kids, and fairly light on the "blatant commercial ripoff" front (okay apart from a Frozen princess dress), too. But is Rainbow Brite really back again??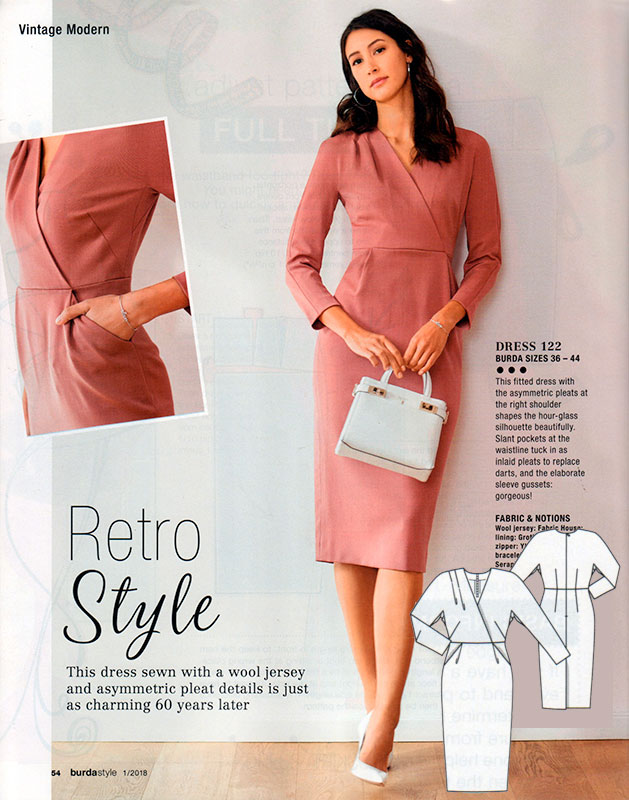 Ooh a vintage pattern reprint, and it's for an asymmetric jersey sheath dress! It's as if Burda knew exactly what I like. There's also an interesting sleeve gusset in there (I've got more to say on gussets this Friday, coincidentally!), and a skirt with pockets that looks like it might possibly be interchangeable with the red bust-tuck dress above if you're okay with fudging the knit/woven differences.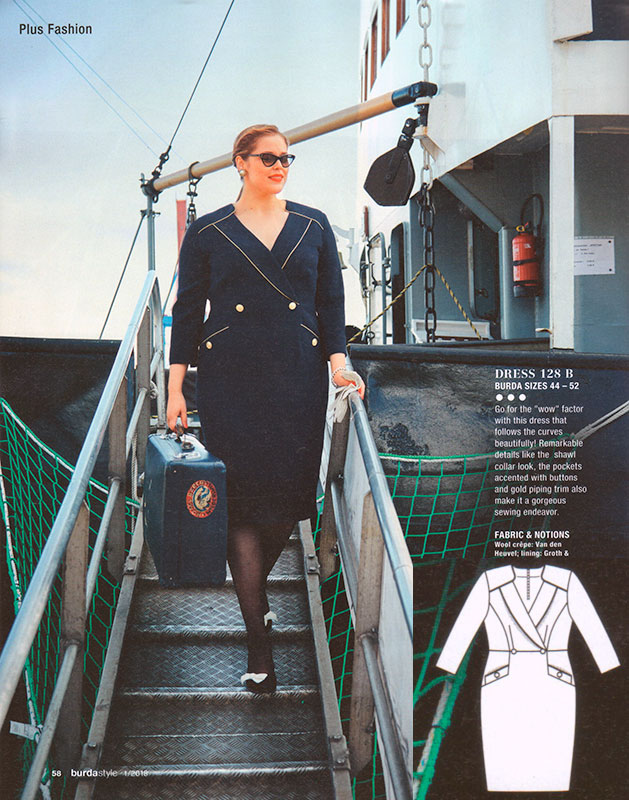 The Plus feature this month is all nautically themed, and I like the idea of this shawl-collar dress more than the execution here, which feels a bit OTT nautical.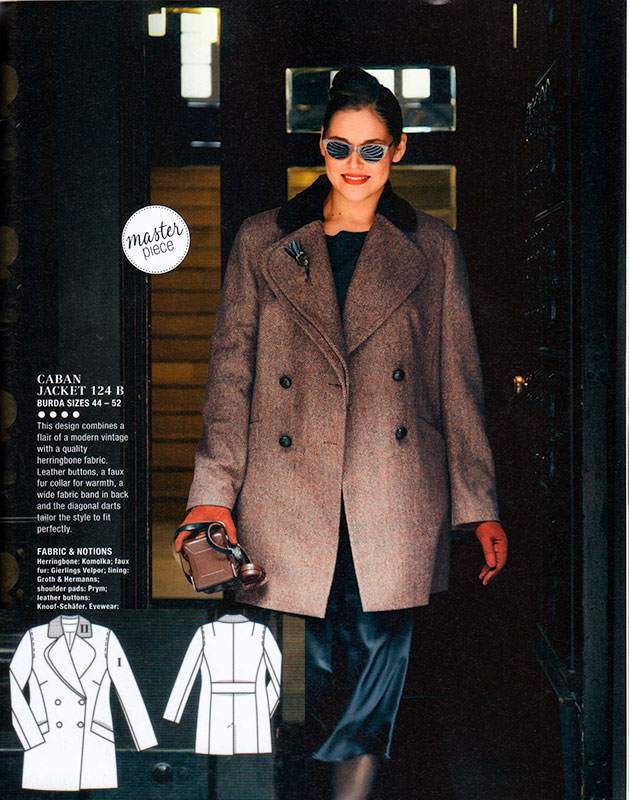 This coat is gorgeous! I'm not sure why the double collar is there, but it seems to add a nice, quirky detail here.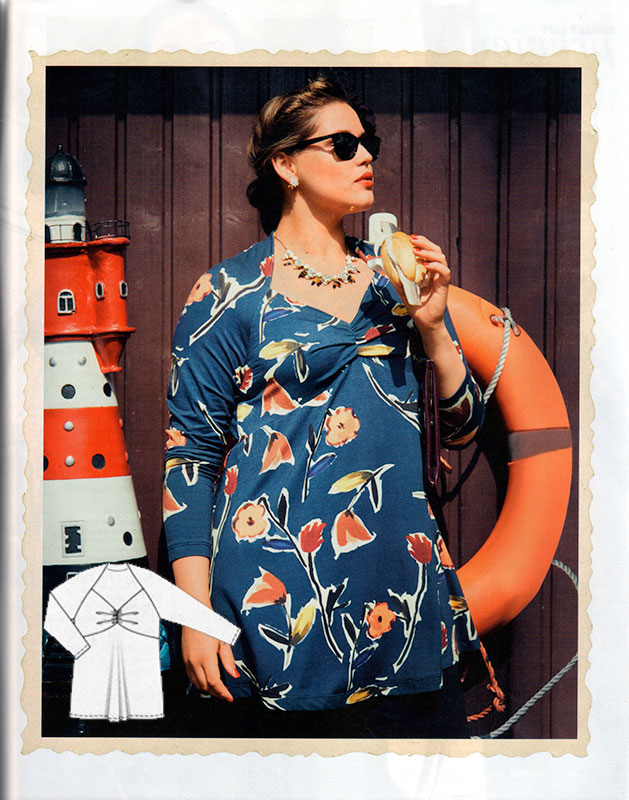 And finally, this knit top is nice, but Burda, this is not the model that needs a sandwich. She's fine just as she is!