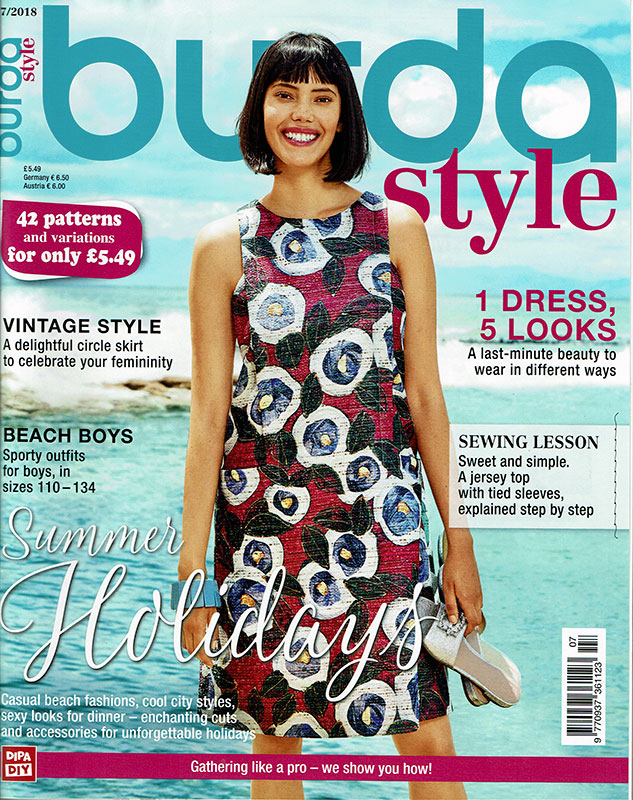 I've had this issue for a few weeks now but I've finally started to feel better and now I want to do! all! the! things! and haven't quite found the time to sit down and post about it. But I've been on a staycation from my office job this week, so you finally get to enjoy my picks from one of the best July issues I can remember (not that it's saying that much – July issues are usually my least favourites of any given year!).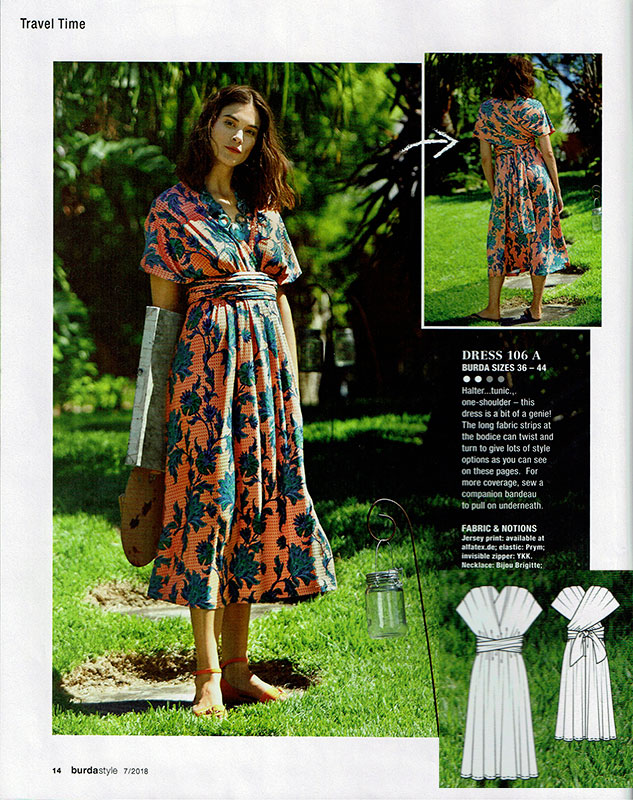 We're starting off with a bit of a downer here, as Burda apparently think it's 2010 again, and have printed a pattern for *yawn* an infinity dress. Not that you need a pattern for it, there are tons of tutorials for drafting your own since it's just rectangles, including this one from five years ago.
I'm having flashbacks to my Knot-Maste Yoga Set bottoms pattern on this set of knit capris with ties at the legs, but on closer inspection, a) the KnotMaste has pockets, b) mine has a much nicer waistband treatment than *shudder* a casing, and c) mine also has a crotch gusset in case you like to get a bit more active than Burda's suggested use of "relaxing on the sofa" (which is totally fair enough!).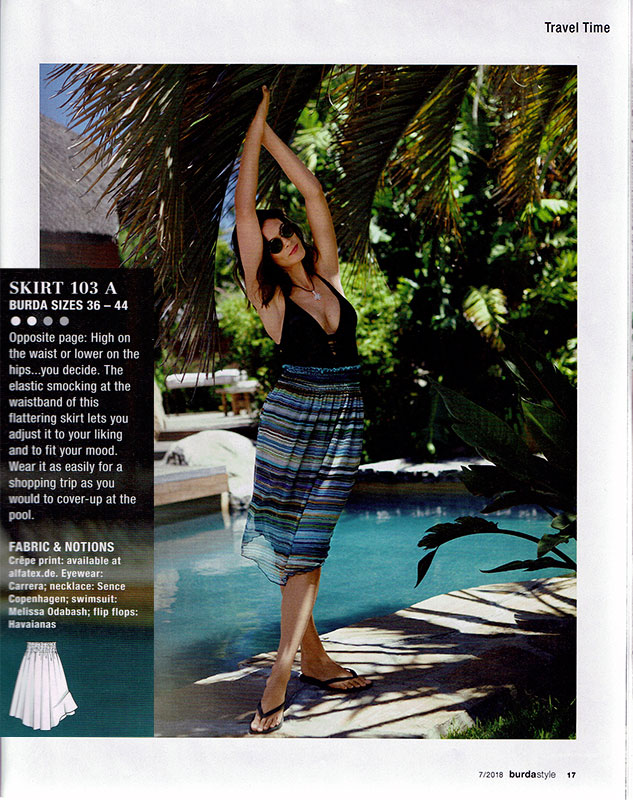 In a complete twist to my normal picks, I actually really want to sew this pattern and finally use up the striped fabric I bought in Mexico in 2013. I quite like that it's one pattern piece, not only for both Front and Back, but also for the inner and outer layer for the sheer fabric (you fold it in half at the waist edge). And since I already bought a cotton batiste to underline mine, I need only join them at the fold line…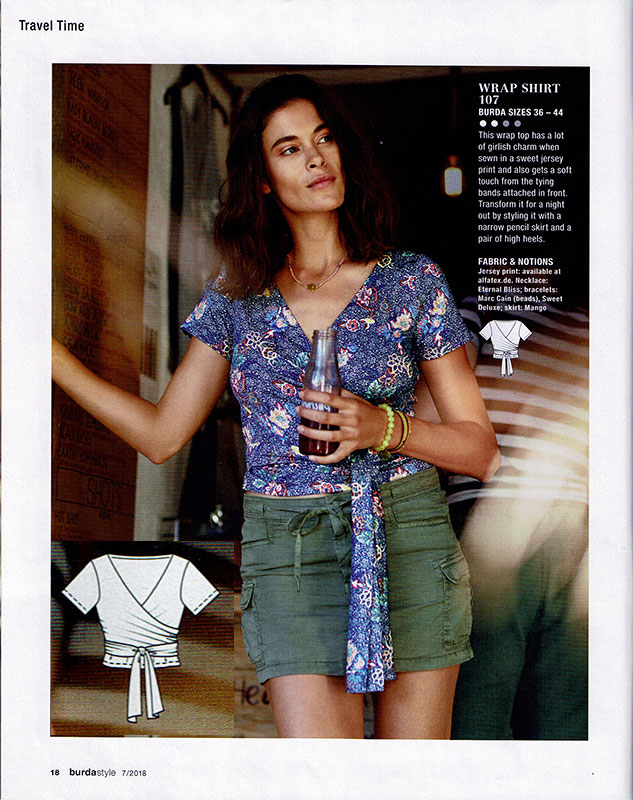 This wrap top is cute, but seems really similar to the Papercut Patterns Coppelia wrap tee from a few years ago that has been rather popular.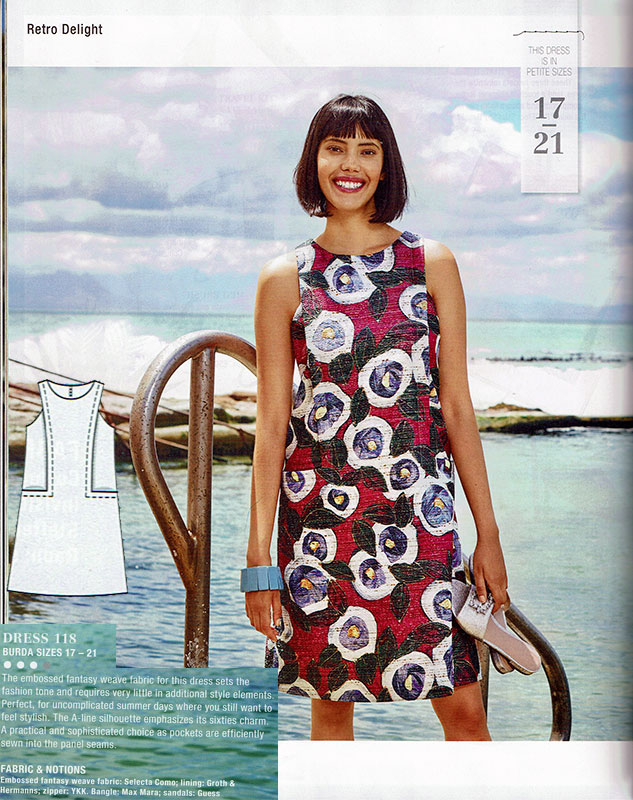 The cover dress this month is also the Petite pattern, and I love, love love the angular neckline and those boxy pockets. It looks like it'd be really easy and comfortable to wear, too.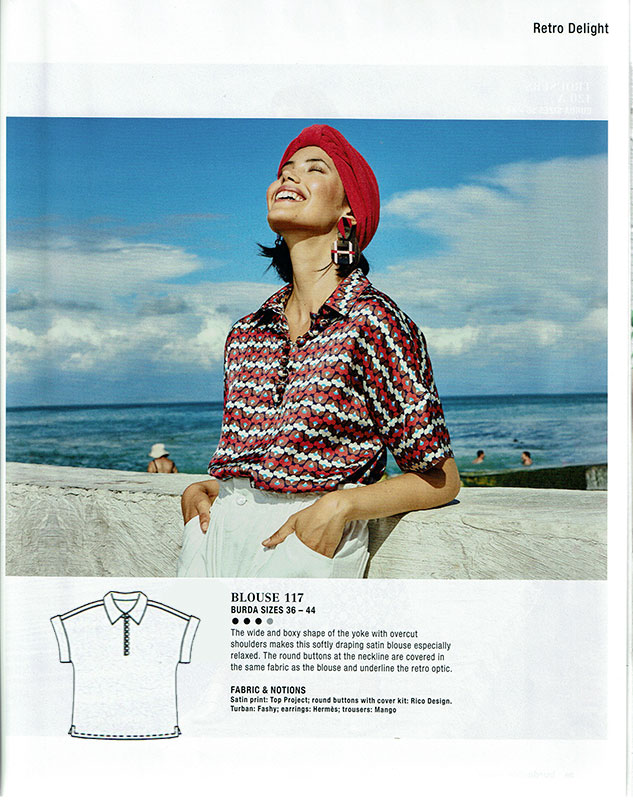 Blouse patterns have a tendency to be quite girly so I quite like that this one is more boxy and closer to a shirt in the front, and with a yoke and line of gathers across the back to set it apart. It's making me wish I had a metre and a half of silk in my stash!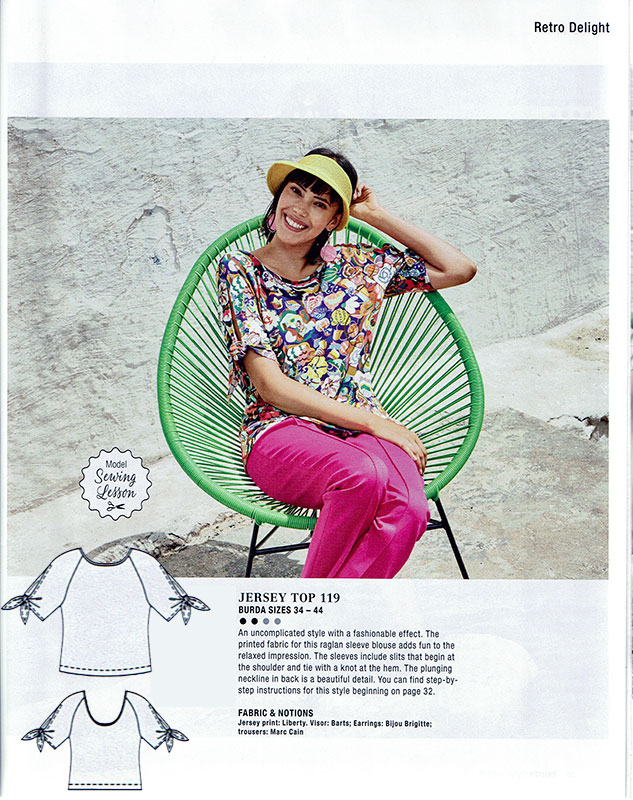 This jersey tee with deep scoop back and sleeve ties also has the coloured illustrated instructions for this issue. I like that the sleeves are in two parts, so you actually get quite a long slit up the centre of the sleeve before the ties come in, too.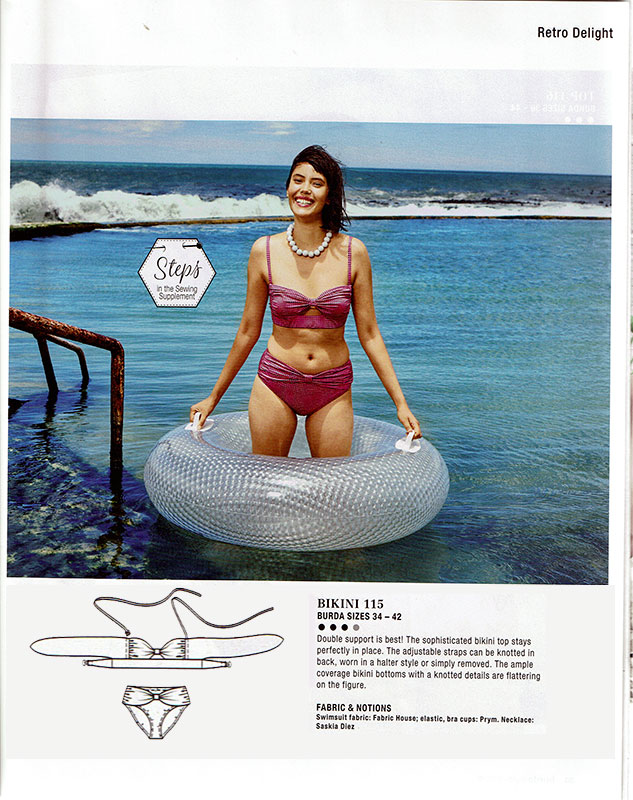 OMG Burda have finally printed a bikini pattern designed for actual bikini fabrics!! (For the newer Burda readers, they've printed a handful over the years, all for non-stretch or cotton fabrics. I mean, really.) This is actually a super-wearable design, with high waisted bottoms and a great twist overlay, plus an extra under-bust band and back and neck ties to fine tune the fit. Plus, it's got the other illustrated instructions for the issue to help you sew it up, too!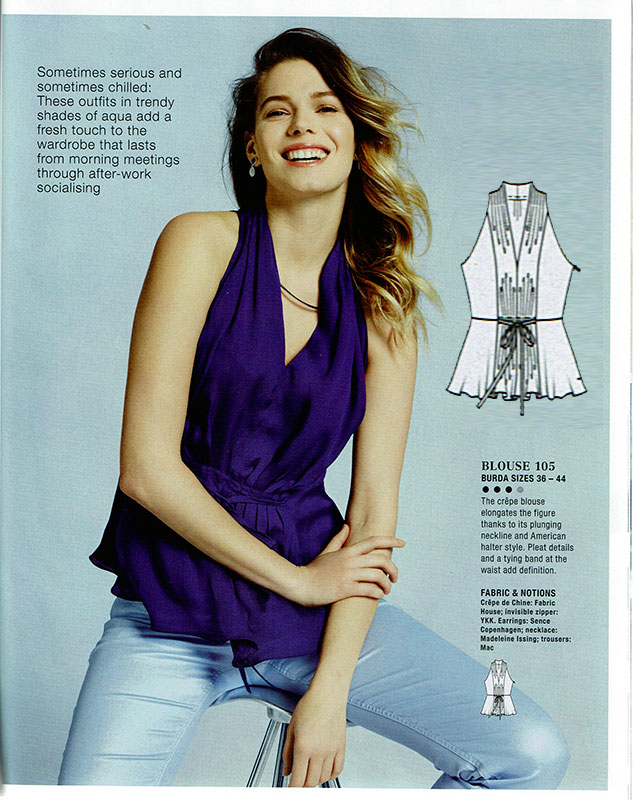 I wasn't keen on the dress version of this design, but I'm really feeling the cutaway shoulder look this summer, and that blue crepe is just lovely.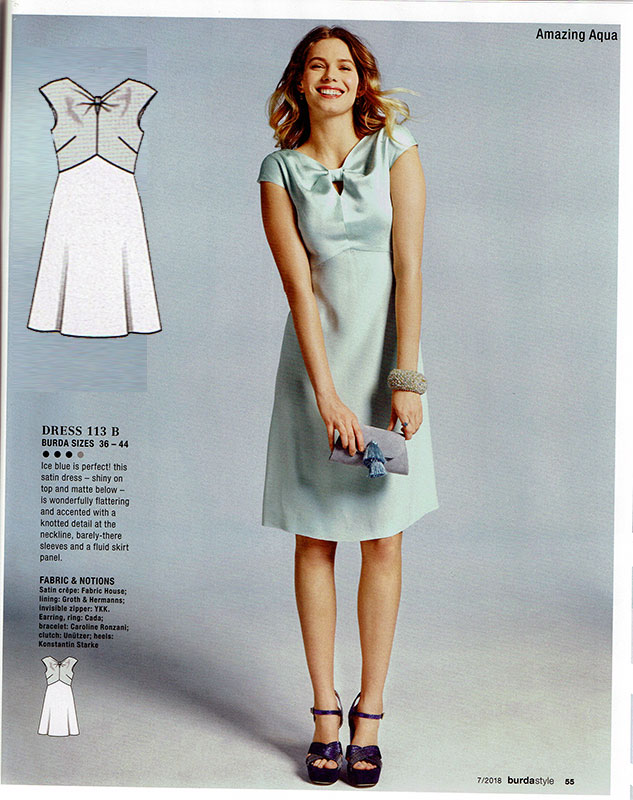 This dress with its empire waist and knot detail at the neckline is such a classic dress design! Allison C has made this already, (before this issue was even on UK newsstands!) and it's lovely!
Skipping past the utterly tragic Plus selection this month (boring, ill-fitting, and covered in freaking rick-rack, ugh ugh ugh…), I'll move straight onto the kids sections, which is modelled on boys, but could easily work for girls, too.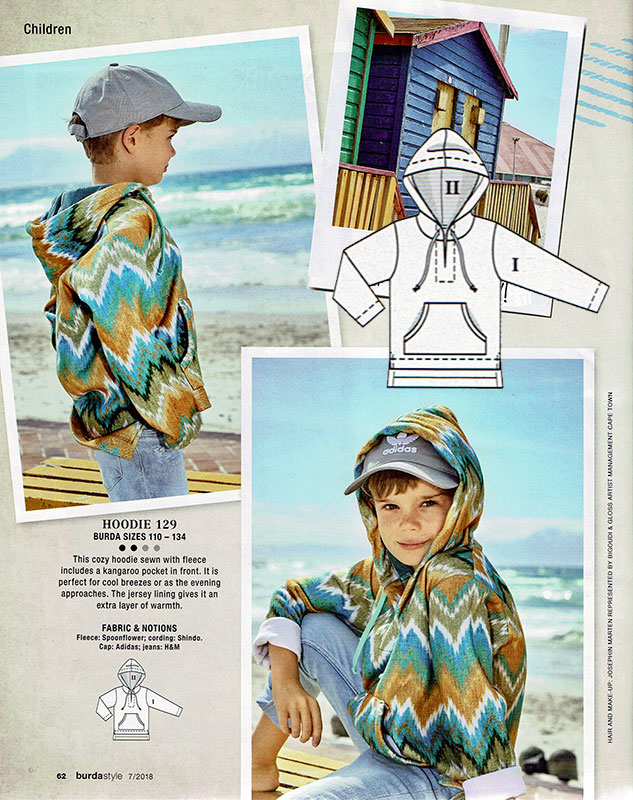 The shorts and tank top were nice, but I was mostly drawn to this hoodie, made up in a Spoonflower fleece. It's got a nice drawstring on the hood and a classic kangaroo pocket, and would be a great coverup for chilly beach evenings.
Anything I missed that you really liked in this issue?