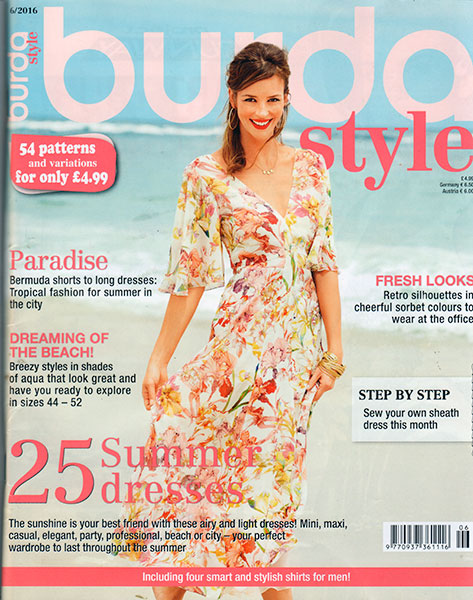 Apologies for the delay in reviewing this issue, but as I mentioned in my last post, I've been spending pretty much all of my sewing-related time and effort into getting the new site ready (and running a little race in Transylvania as well!). Handily, this issue is still on newsstands for a few more days so if you see something you like, you should still be able to get a hold of this issue – or you could always buy the pattern pdfs from the BurdaStyle site if you'd rather.
First up we've got a boxy teeshirt and a pair of shorts. I know everyone likes to bitch when Burda produce patterns that are just rectangles thrown together, but I think this actually makes for a cute teeshirt (there's a dress version also). And I'm normally not a shorts wearer (on the 3 days a year where it's hot enough to do so in London!) but cycle commuting means I can't wear skirts or dresses as much so I'm looking at shorts patterns in a new light now!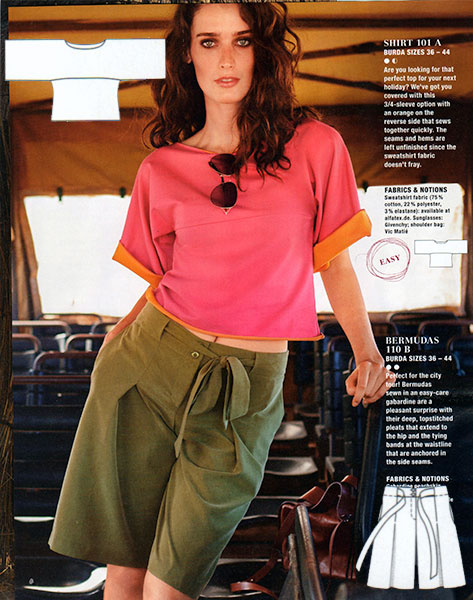 This dress almost feels like it belongs in one of Burda's regular "Safari style" features – maybe it's the topstitched half belt? I like the extra interest that the seaming brings to this, and all three of the sewn samples in this issue look nice, too.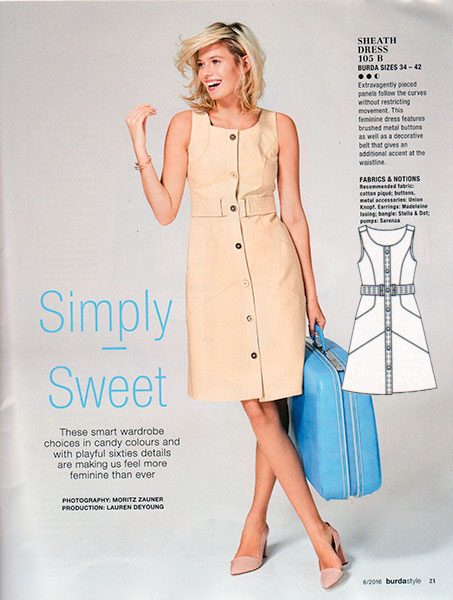 This sheath dress pattern has the full colour illustrated instructions for this issue and features several teardrop-shaped cutouts around the neckline. But for me, I'm much more drawn to the unusual waist darts in this dress, and would probably change the neckline to something else entirely should I find myself making it!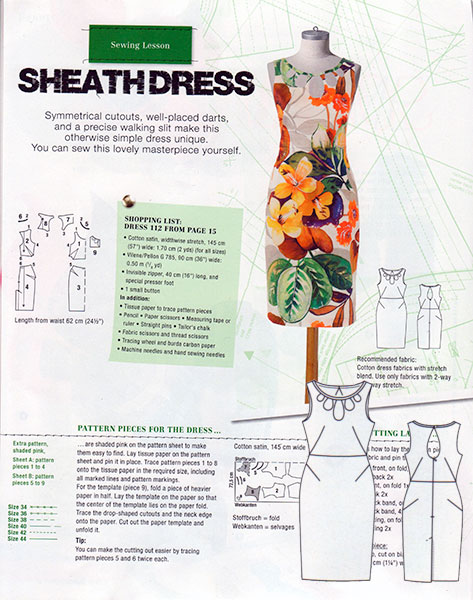 Yessssss! Menswear patterns! Burda have only printed patterns for men once a year or so in the past but recently we've seen jackets and trousers, so it was only natural we'd get a pattern for the ubiquitous button-down shirt at some point too. Happily, though, they've included variations on this, like this camp-style shirt but also a Western style variant…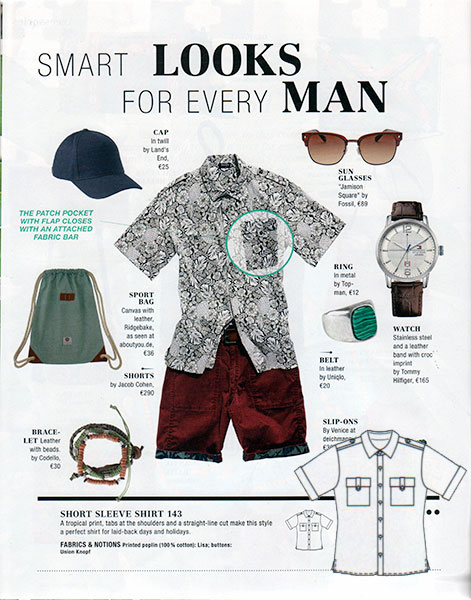 …and a windbreaker version with a removable hood! I always see different uses for patterns by just imagining them in other fabrics, so it's great to see Burda changing things up by using waterproof nylon and poppers (snaps) here.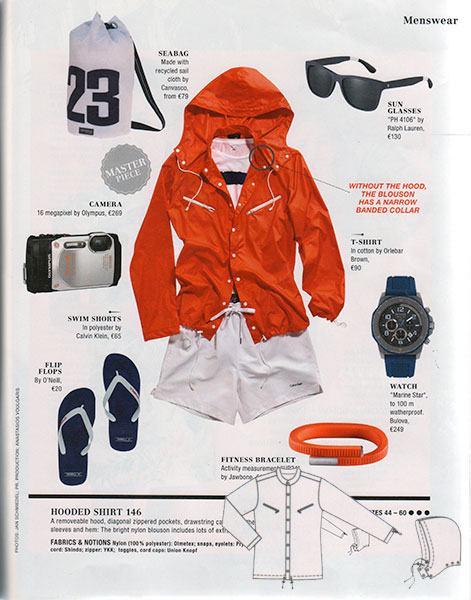 I've just skipped over the awful hippy style feature altogether, and there were a lot of ugly garments in this issue IMHO, but the standout this month is definitely the Plus section! I mean, look at the twist and draping on this top – how flattering and well designed is this??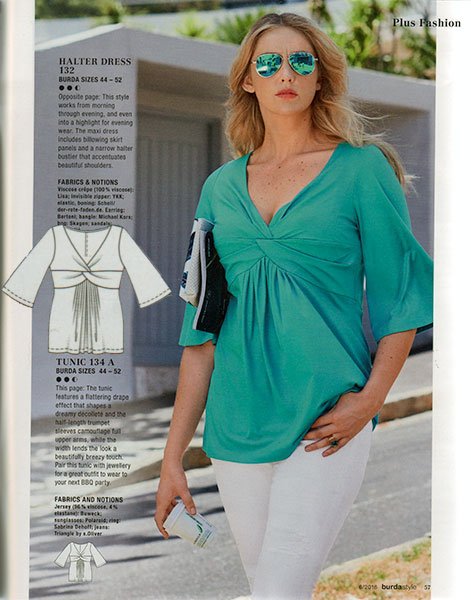 The front of this maxi dress is alright, but the big wow factor is in all those criss-crossed straps in the back!! Burda's model shows that it looks fine worn with a bra, helpfully, too. I also noticed there are some extra illustrations in the instructions for creating those straps, so it should be a fairly easy make.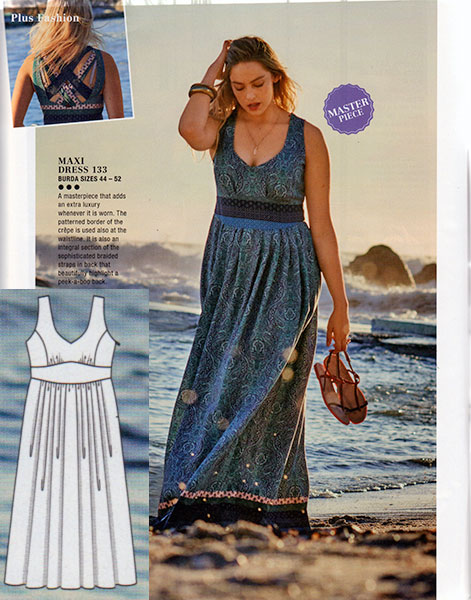 And finally, this dress comes in two lengths and has the most amazing asymmetric neckline! Isn't it gorgeous??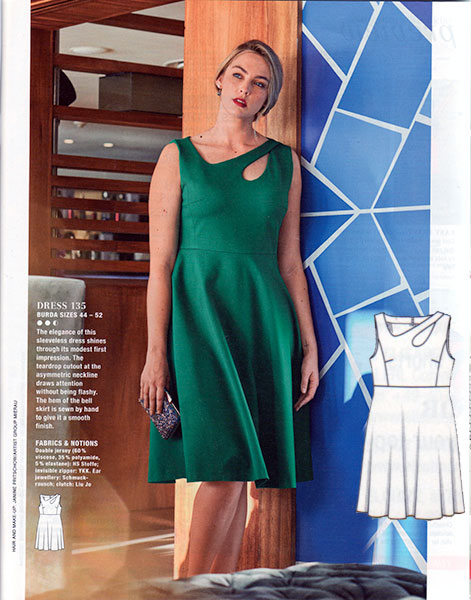 What did you think – did I miss anything? Or have you made something from this issue already?