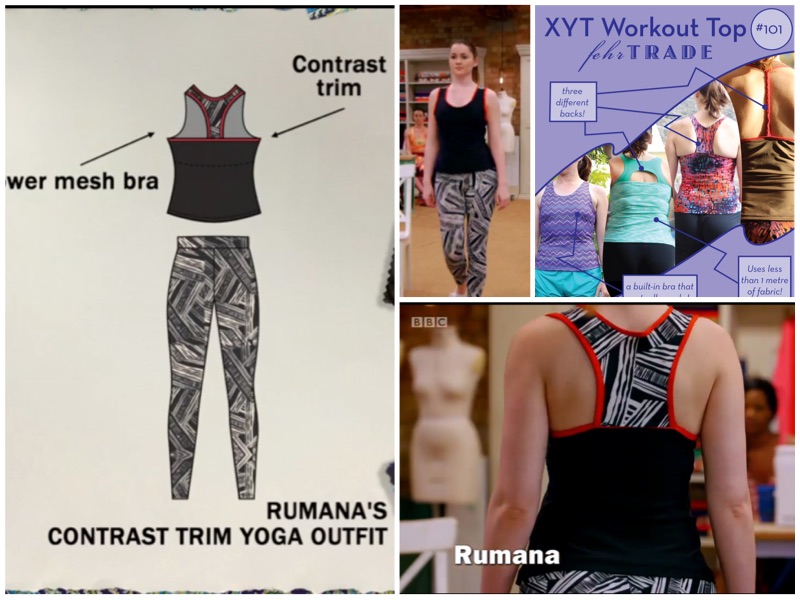 Before you read any further, if you haven't watched the latest Sewing Bee episode yet, I just want to inform you that there are screenshots from the challenges in this post, but I don't reveal who won or who lost any of the challenges, so you're safe to read on!
This week's episode was all about activewear, and I've been SO excited ever since the theme was revealed in last week's preview. I mean, how could I not be excited! The pattern challenge this week was to sew a men's cycling top, and it was revealed that none of the contestants had much experience with sewing lycra, either!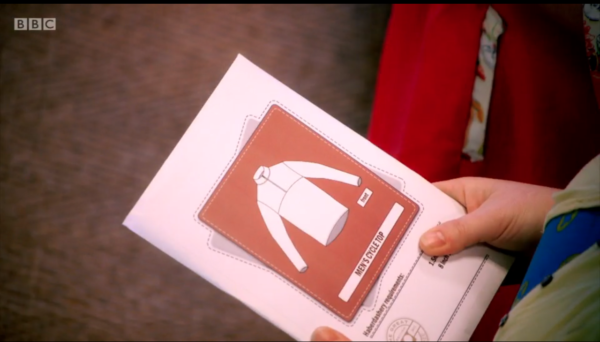 "Perfect", I thought, "what a great opportunity to show the 3 million viewers that sewing activewear can be really accessible, even on your first try!" But Patrick and Esme had other ideas, pretty much talking nonstop about how difficult and fraught with peril sewing activewear is. Umm, guys, it's really not that hard! I've taught loads of people to sew their first leggings and they practically dance out of the room!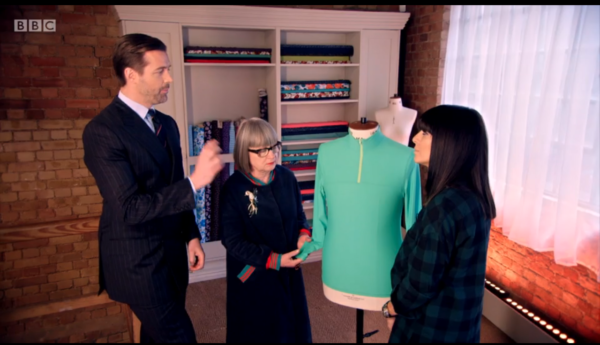 Several people online asked me if I made the sample for this challenge – no, this one wasn't mine, though I did help out with the instructions for it. I'm actually looking forward to sewing up one of these for Mister FehrTrade once my copy of the book arrives, but if you can't wait, or you'd rather selfishly sew one for yourself, you can grab my Surf to Summit pattern for women or men and make one with either long or short sleeves and a big back pocket and half zip neckline (scroll down for a Flash sale discount code too!).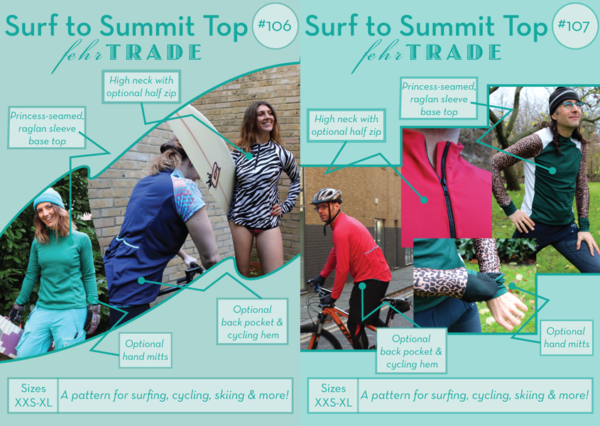 The refashion challenge this week was to turn some (frankly, pretty hideous!) 1980s ski jackets into children's jackets, and there were two designs in particular that both I and the judges thought were really inventive and wearable for children! I won't give the details away as I think most of the fun in watching the second challenges is seeing the creativity in the end results.
But this is probably as good a point as any to say that I've written some Tips for Sewing Sportswear over on the Sewing Directory site which can really help if you've never sewn activewear before. Some of my first ever makes were refashioning existing clothing, but if you feel more comfortable working with bought yardage, have a look at my global list of activewear fabric suppliers, many of which were used in the Made to Made challenge!
…which, this week was to create yoga outfits! How ace is that?? And even better, Rumana chose my XYT Workout Top!! Eeeee!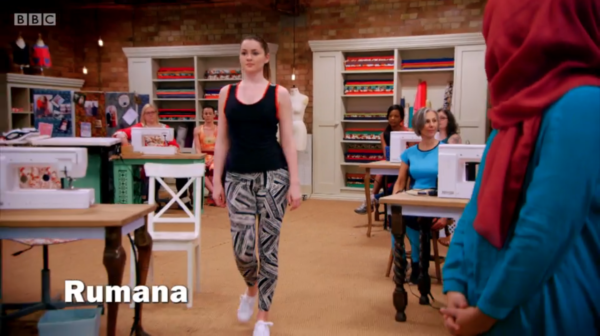 [shopify embed_type="product" shop="fehr-trade.myshopify.com" product_handle="xyt-workout-top" show="all"]
She opted for the Y-back version with an upper back that matches her leggings, and chose to add contrast red binding onto the edges of the top rather than the more common elastic-edged method (I describe both in the pattern instructions but the elastic method is a lot easier to achieve!). Big props to her though for doing a fantastic job with the integrated bra lining – it's tricky to control all of the layers if you're a beginner to activewear, and this was her first time ever sewing with power mesh!
If you're inspired to make your own top, have a look at my Common Fit Adjustments for the XYT bra, as it covers how to do an FBA as well as reducing support if you're doing low-impact exercise instead of the running it was designed for! If you're nervous about the bra, you can also leave it off entirely and just wear a bought sports bra underneath, too, which makes the pattern much easier and quicker to sew, too.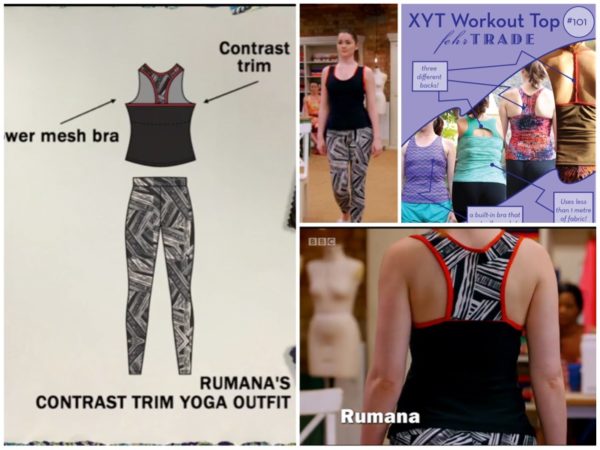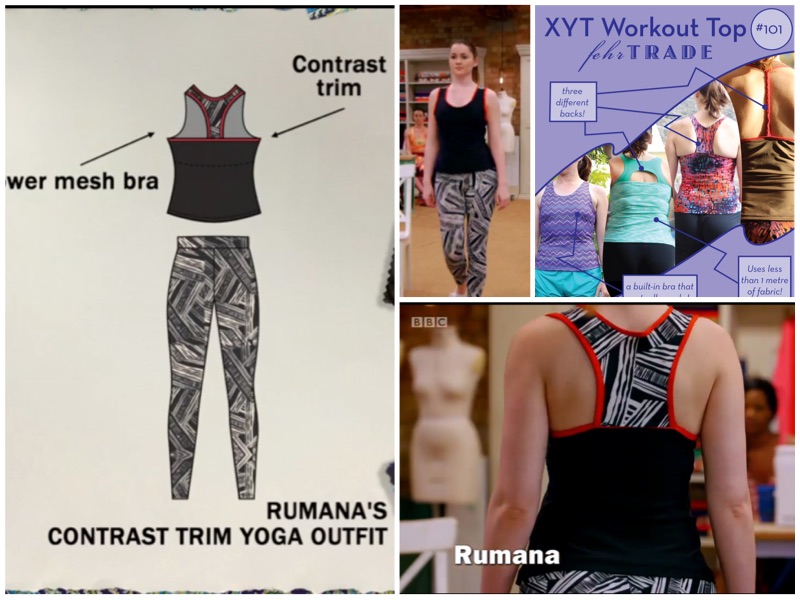 Check out this Pinterest board showing lots of finished XYT Workout Tops from around the globe if you fancy seeing what it looks like on people who aren't models… or me. I'm definitely not a model, either!!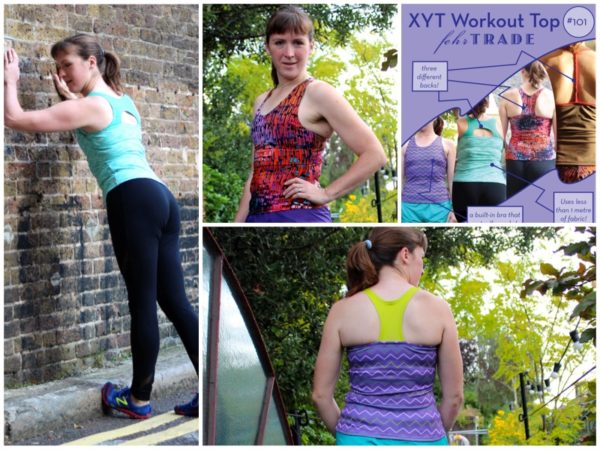 If you like the purple zigzag version above, you can buy this fabric as a kit from Spoonflower on their new Sport Lycra base fabric (and see what they look like here). When the Spoonflower designs came out, they only had Performance Knit and Performance Pique bases which only stretched in one direction – the Sport Lycra is much better and I'd recommend it as it has stretch in both directions.
Annnd, I got so giddy seeing my pattern on freaking prime time tv that I'm throwing a crazy Flash Sale for 48 hours only! Get a whopping 30% off all my activewear patterns with code XYTONTV at shop.fehrtrade.com!!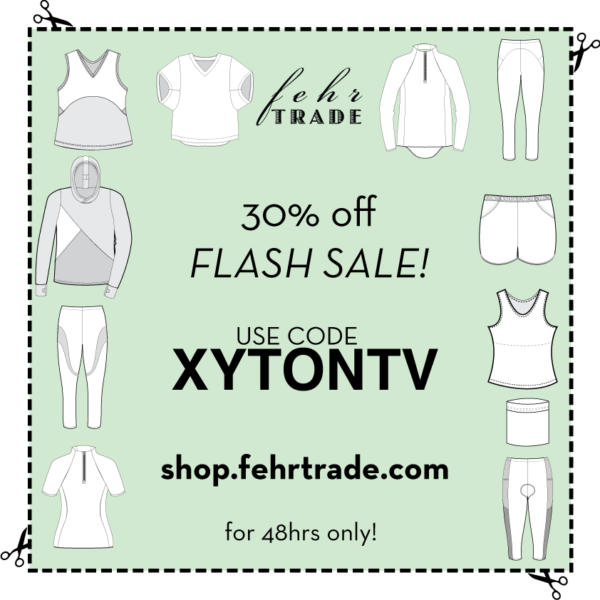 If you're in need of even more activewear reading material/inspiration, I've written three activewear-focused articles for Seamwork magazine, too!
And although I've worked behind the scenes on the Sewing Bee in the past, my conflicting office job this year meant my role was greatly reduced this season and I had nothing to do with Rumana's choosing to make my pattern, honest!