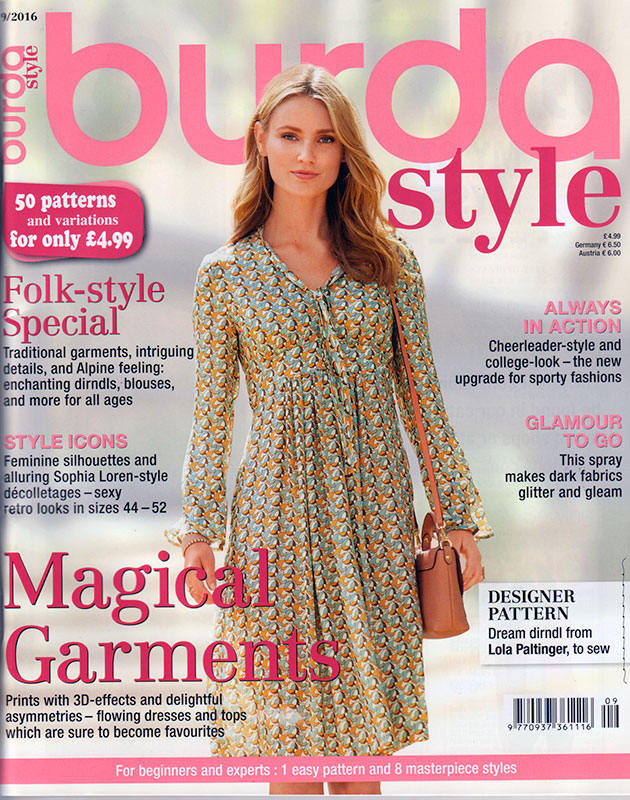 It's September and that can mean only one thing – Oktoberfest and an issue crammed full of ugly dirndls, yay. Luckily for us, the rest of the patterns in this issue are continuing on Burda's 2016-long winning streak so let's take a look inside…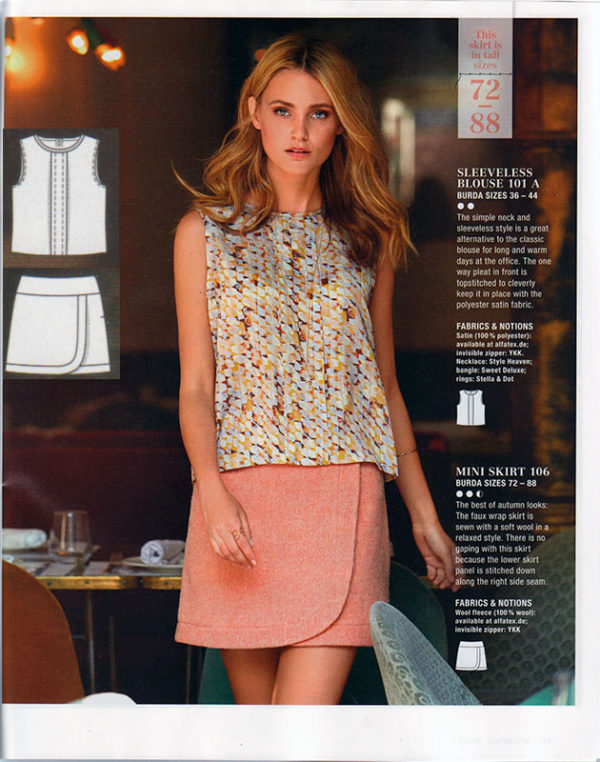 I know Colette's free Sorbetto top pattern has been out for a few years already, so it's probably inevitable that a similar pattern should crop up eventually, but it's almost impossible to see this without comparing the two! I really like the faux-wrap mini skirt it's paired with here. It's got the right mix of sporty styling and nice, wintery fabrics, and that it's sized for Tall is probably a bonus here as it should elongate the hem a bit for the rest of us.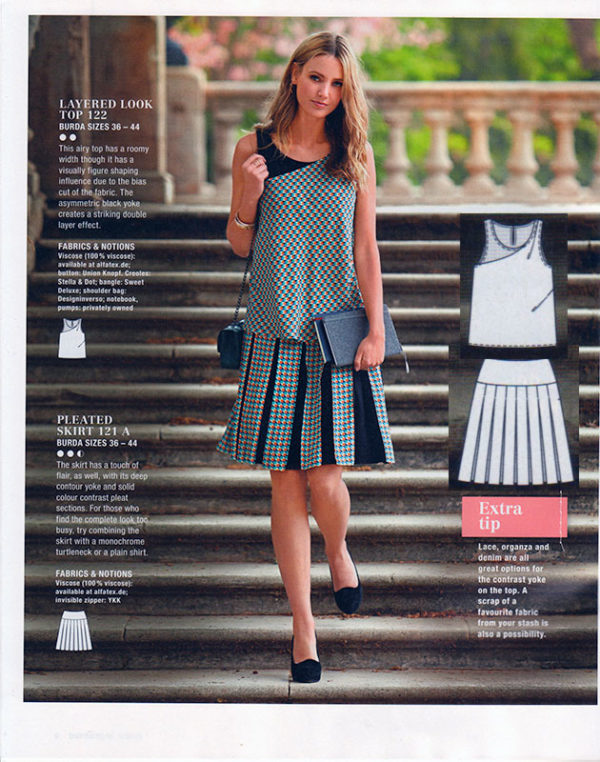 I'm not so keen on the fabric Burda used here as it's making my eyes water a bit to look at it (imagine how the poor fabric cutter felt though!?), but I like the tech drawing with its contrast yokes and asymmetric tucks. The instructions revealed a bit of odd construction in it though, since the contrast yokes front and back extend down way past the joining seam, which is then just topstitched closed. I can only imagine this was because that geometric fabric was sheer or something, but it seems odd to assume everyone's fabric choice would require two layers for modesty.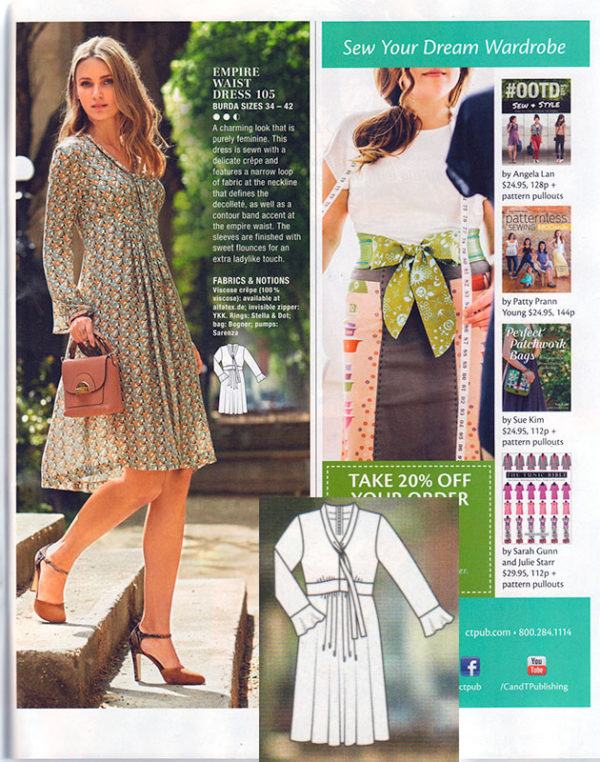 Wait – Burda are showing advertisements now?? I mean, I've seen enough foreign language versions over the years to know that they've had them for years, but this is the first I can recall the English language edition ever containing ads. But onto the dress – its empire seaming certainly makes it look maternity friendly and it's nice to have some long-sleeved dress options.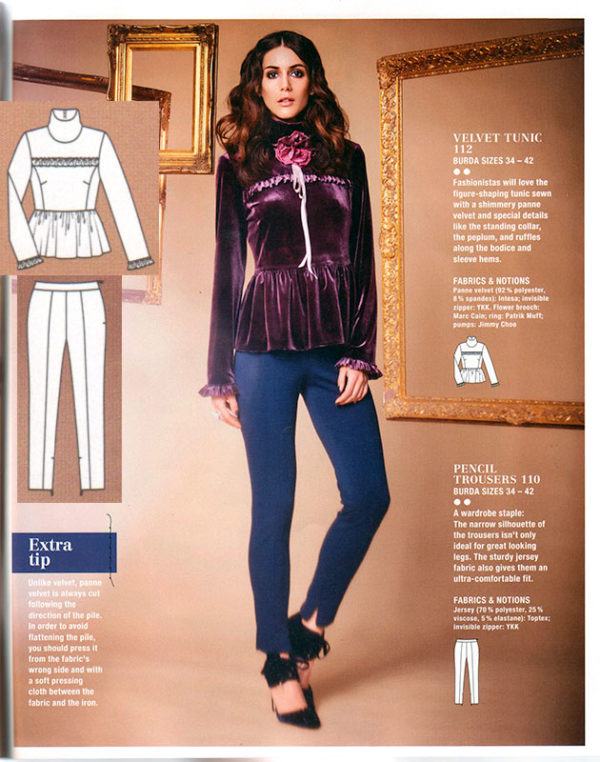 The less said about the tragically ugly velvet blouse, the better – let's just move on to the trousers it's overshadowing! If you're new to fitting trousers, ones with princess seams (front and back) are fairly difficult to find, but make fitting so much easier. Burda had a pair in Plus sizes last month, and now we get one in regular sizes, too (with or without ankle zips and welt pockets).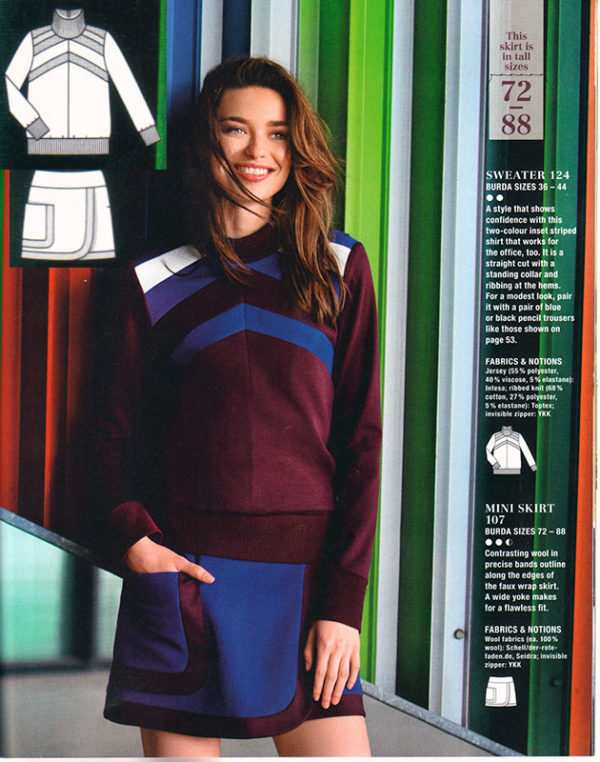 Urgh, I hate the colour choices in this sweatshirt, but I love the colourblocking opportunities in those seams. In the dress-length version the stripes continue over onto the sleeves, too! It's nicely paired here with another version of the Tall faux-wrap miniskirt, too, this time with contrast banding around the hems and pocket.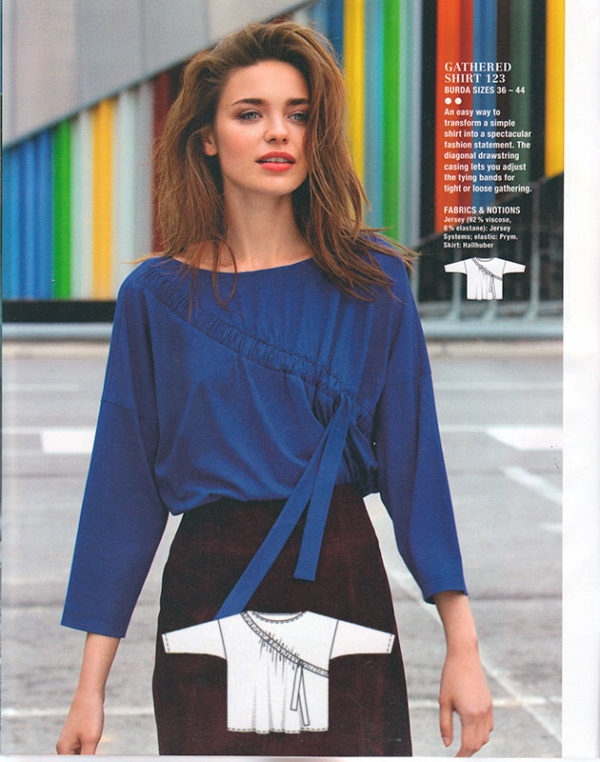 Here we've got a boxy teeshirt (ho-hum) with a twist (ooh!) – an interesting diagonal gather/tie/channel detail which pulls some of that ease in and creates some visual interest, too.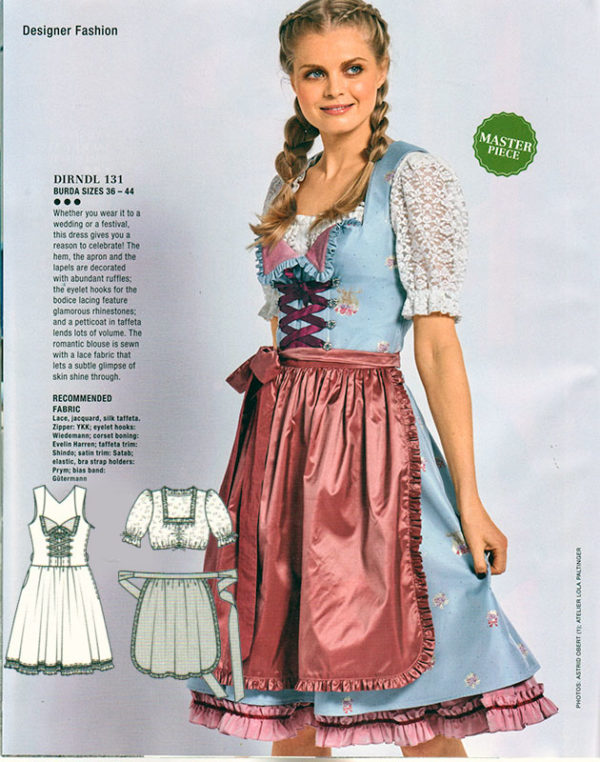 A designer dirndl pattern. Sigh. I've skipped over the pages upon pages of (IMHO) really freaking ugly dirndl costume dresses and children's leiderhosen patterns because, frankly, I complain about Dirndlpalooza every single year and even I am sick of hearing me go on about it.
So I did something different this year and actually asked an Alpiner her opinion on them. My coach, Barbara, grew up in Alpine Italy to a German family, and her first language is German, and she goes back often to visit family and run and cycle in the mountains. I figured she was as good as placed as any to ask about dirndls, and she said that a) she's never worn one in her entire life (though she did wear leiderhosen when she was four) and that b) nobody in the cities ever wears them. She said that in the villages, you can sometimes see people wearing them on Sundays or to weddings, but even then it's not a common garment, and it's certainly not worn by everyone. So I take this to mean that even if you live in a specific set of villages in a specific country, the most you'll ever wear a dirndl is one day in seven. I actually found this quite surprising, as the argument for printing an explosion of dirndls every year is that it's a cultural thing and pretty much everybody in Germany wears them during Oktoberfest. Which certainly doesn't sound like it's the case based on what Barbara is saying. So please Burda, please stop taking up space for other patterns that have global appeal with these folkloric car crashes every September. You have all the old ones online now – there's no shortage of them available for people who actually want to sew them. So maybe just put one in the September issues and point to the online shop, or hell, just reprint an entire special edition of just dirndl patterns for people to buy separately. Just please don't take up precious pattern space every year with dirndls. Again. I mean, I personally can't stand the hippie-style features they seem to print once every six months, but at least those patterns have potential to be wearable by changing fabrics or removing fringe. Dirndls have zero potential (what's that about polishing a turd??).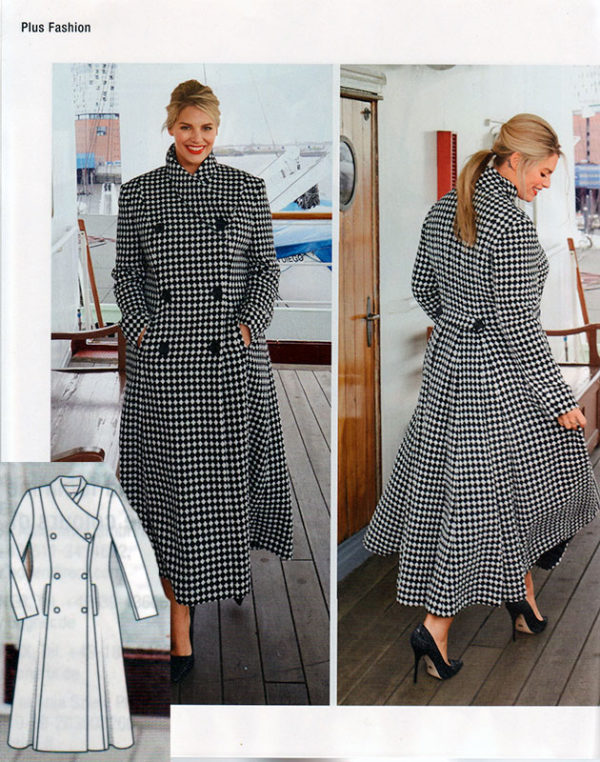 I was largely uninspired by the Plus patterns this month, with the exception of this long coat, which is to die for! So elegant, so beautiful, and so well proportioned.