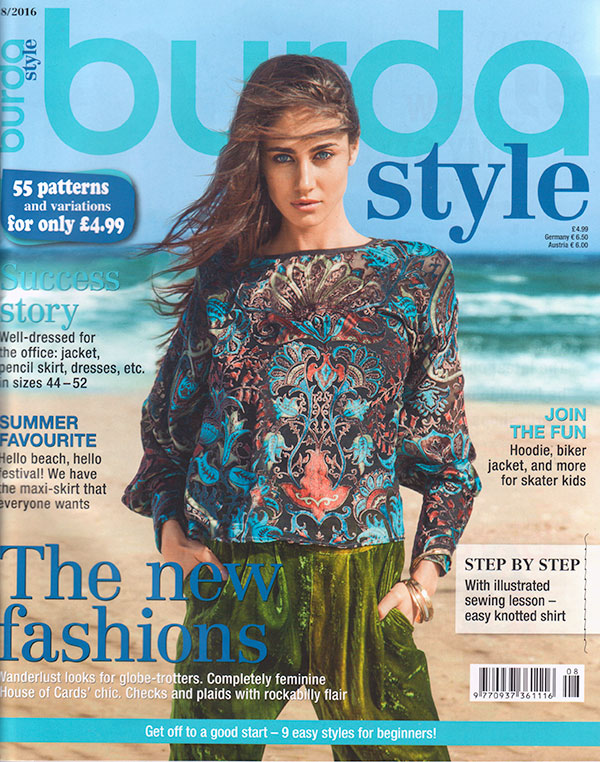 The August issue traditionally signals the start of Fall fashions in Burda's world, and I'm pleased to report that this is yet another great issue! You can probably tell this by the sheer amount of designs I've pulled out to show you, ha.
Even in my first flip through the magazine after it arrived, I was so struck by the beautiful and unusual tab closure on this jacket! It's such a great idea that I feel it must surely be a vintage-inspired detail, but the shape of the 3-piece(!) rounded sleeves really gives it a good balance of modern design, too.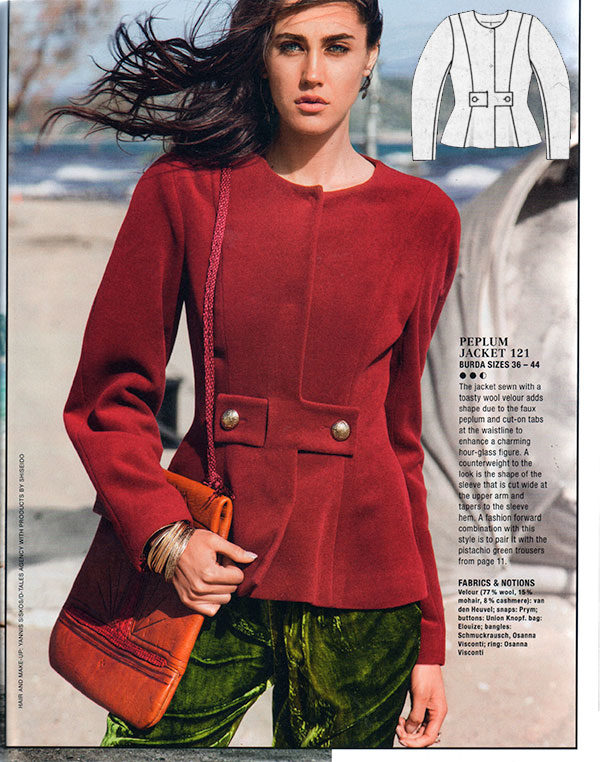 I do love a good Burda sheath dress, and this one with its angular seaming really appeals to me. That they've made this up in all-white kinda makes me think it was a leftover design from the "Tennis whites" feature last month, though – perhaps it got pulled at the last minute for some reason?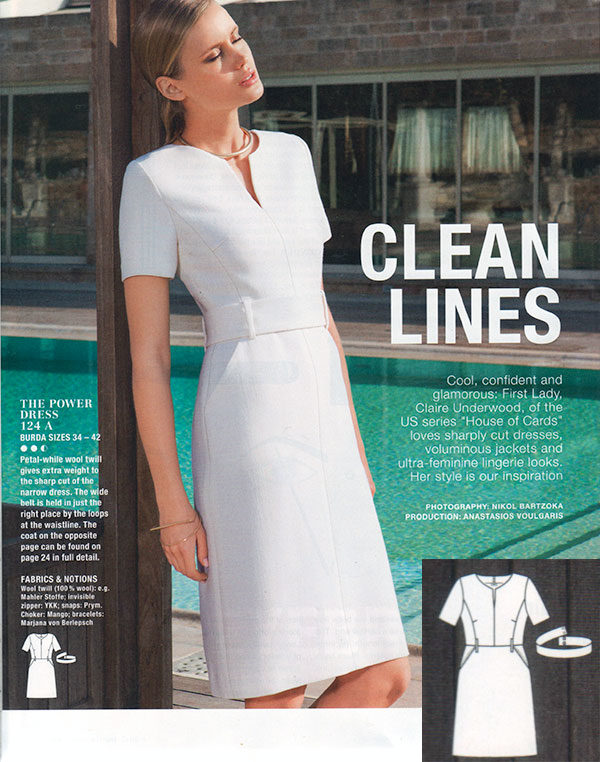 I'm showing my sewing age here but my first thought when I saw this frilled blouse was how much it looked like BurdaStyle's old school JJ pattern! The accompanying pencil skirt with the shapely seaming has the illustrated instructions this month, too.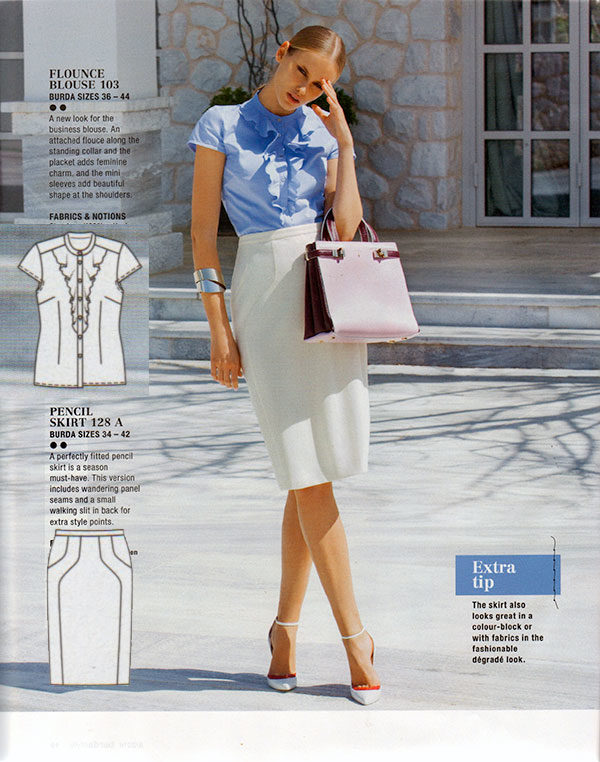 This tie-neck teeshirt looks like it'd be a fun and fairly quick make (made even easier by having the coloured, illustration instructions in the magazine itself) and some pleated trousers that are kinda similar to Paprika Patterns's Amber trousers or True Bias's new Emerson Crop Pant (if you lengthened them, of course).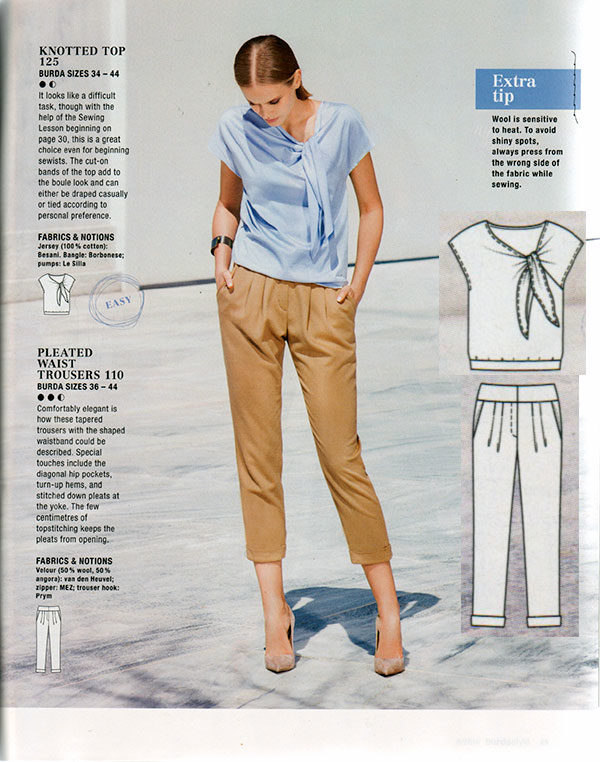 I'm a big fan of cutaway shoulders, even though it involves wearing a strapless bra, and the origami belt on this dress for Tall sizes is a nice detail, too (and frankly, you could make this belt and pair it with anything you like!).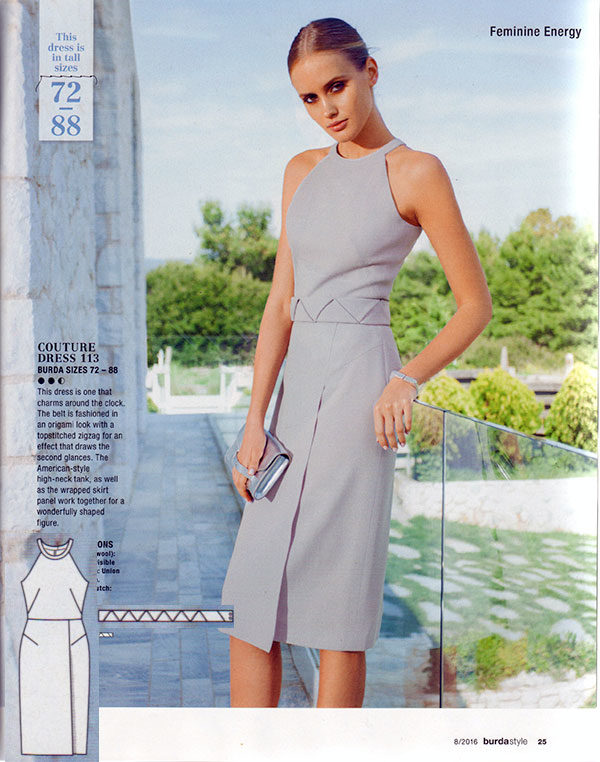 This is the same skirt as seen with the frilled shirt you've already seen above, but this time it's paired with another version of that tabbed jacket. But IMHO this version has way too much going on – a big collar and patch pockets and shaped sleeves?? Too much! I definitely prefer the restraint of the first version…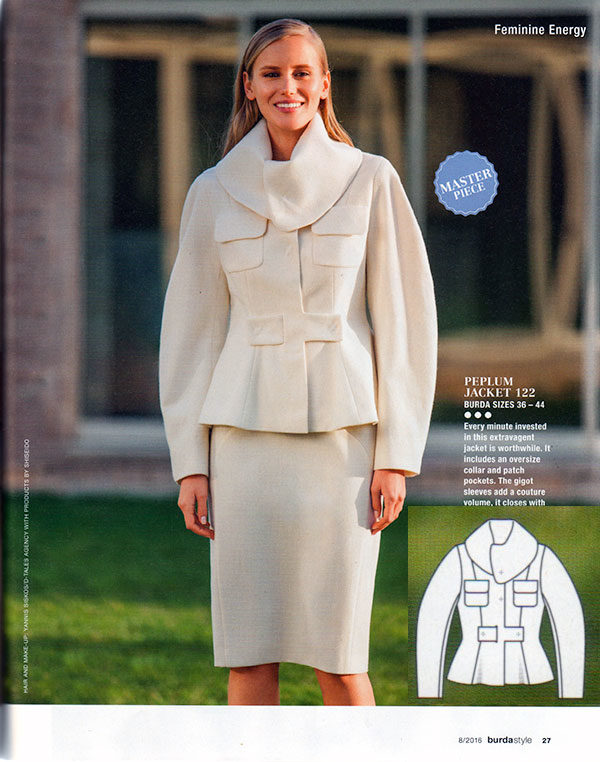 There wasn't much from the Rockabilly feature that grabbed me, but I love this retro cropped jacket with a half belt in back too. This seems to have been a popular style in the 1950s as I remember seeing a few reproduction Vogue patterns kicking about, plus we saw a lot of this silhouette on the (much missed!) BBC show The Hour.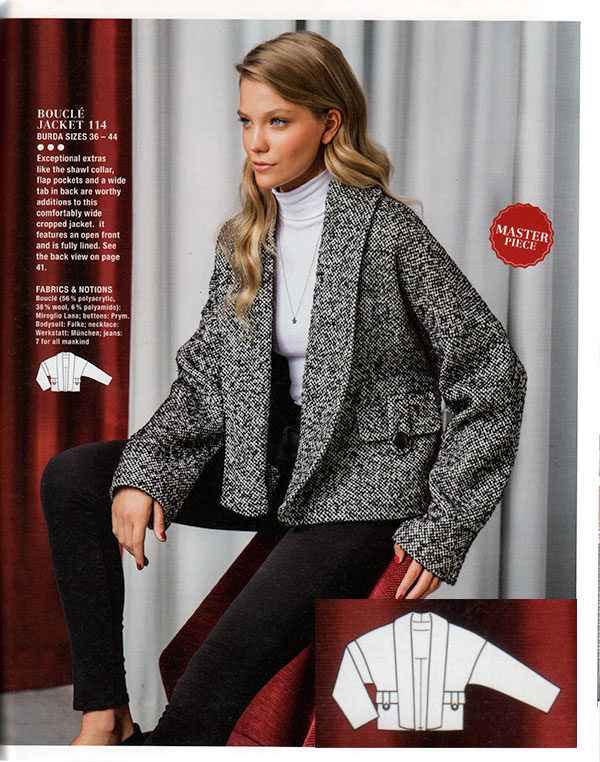 The Plus-sized patterns are pretty good again this month, too, with my top pick being this dress with a flattering, gathered tie in the side (there's a skirt version of this, too, if that's more your thing).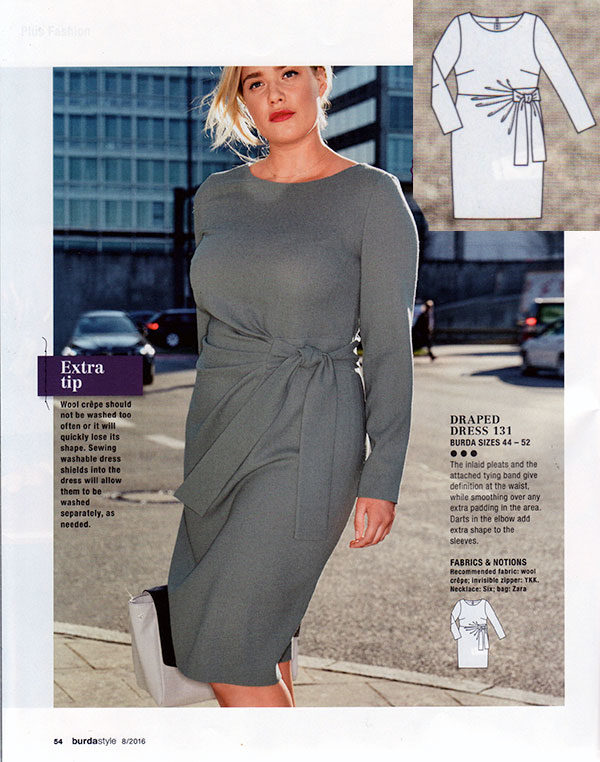 There's also a great classic blazer and nice trousers included in the Plus section this month, and I don't recall jackets like this appearing very often in this size range.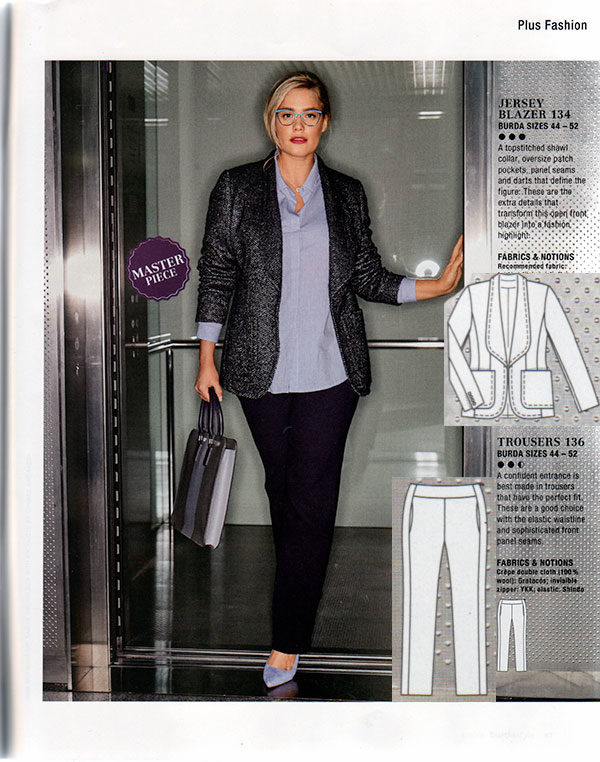 And finally, the children's feature this month is edgy streetwear for tweens, including this leather moto jacket! I can't even comprehend sewing a jacket that complicated, in leather, for a kid who's likely to outgrow it in a few months, but I'm sure there are some people out who'll love it!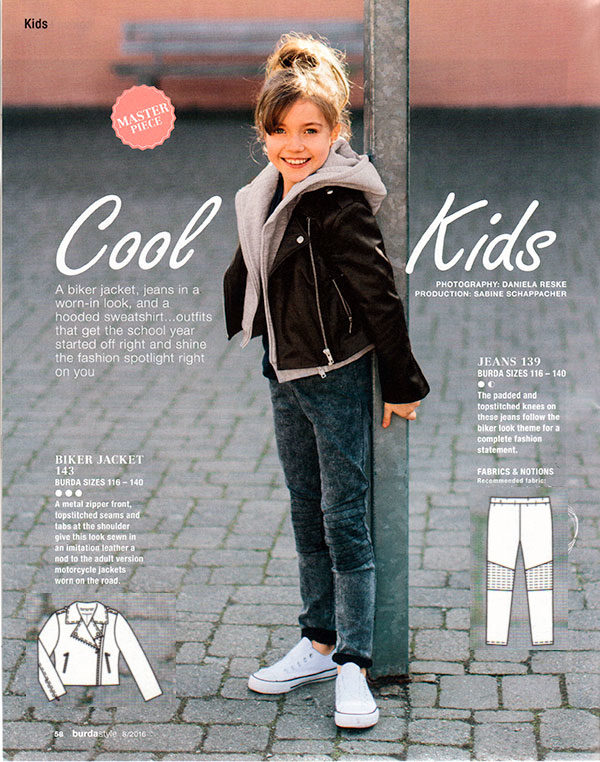 A little less time consuming is this asymmetric zip hoodie and backpack for tweens, though let's be fair – I think a lot of adults would totally go for a custom-print backpack, too!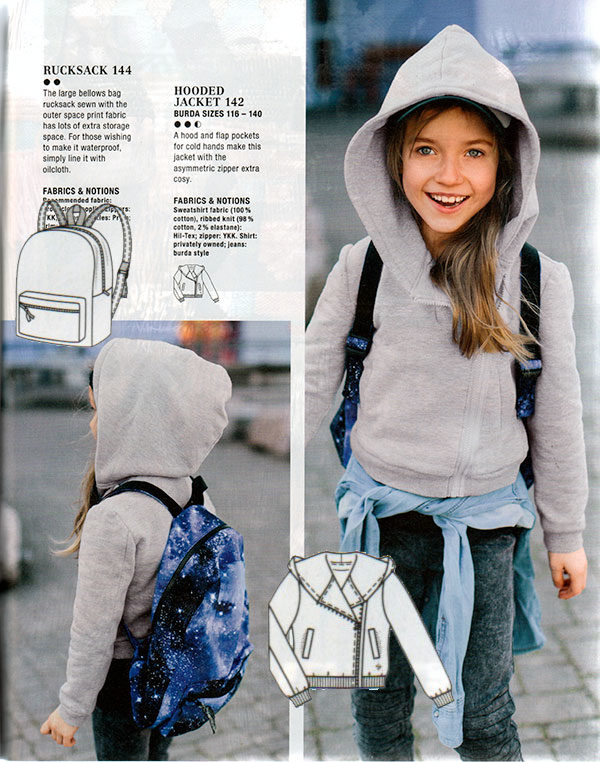 Did I miss anything you loved from this issue? Anyone planning any Fall makes already?