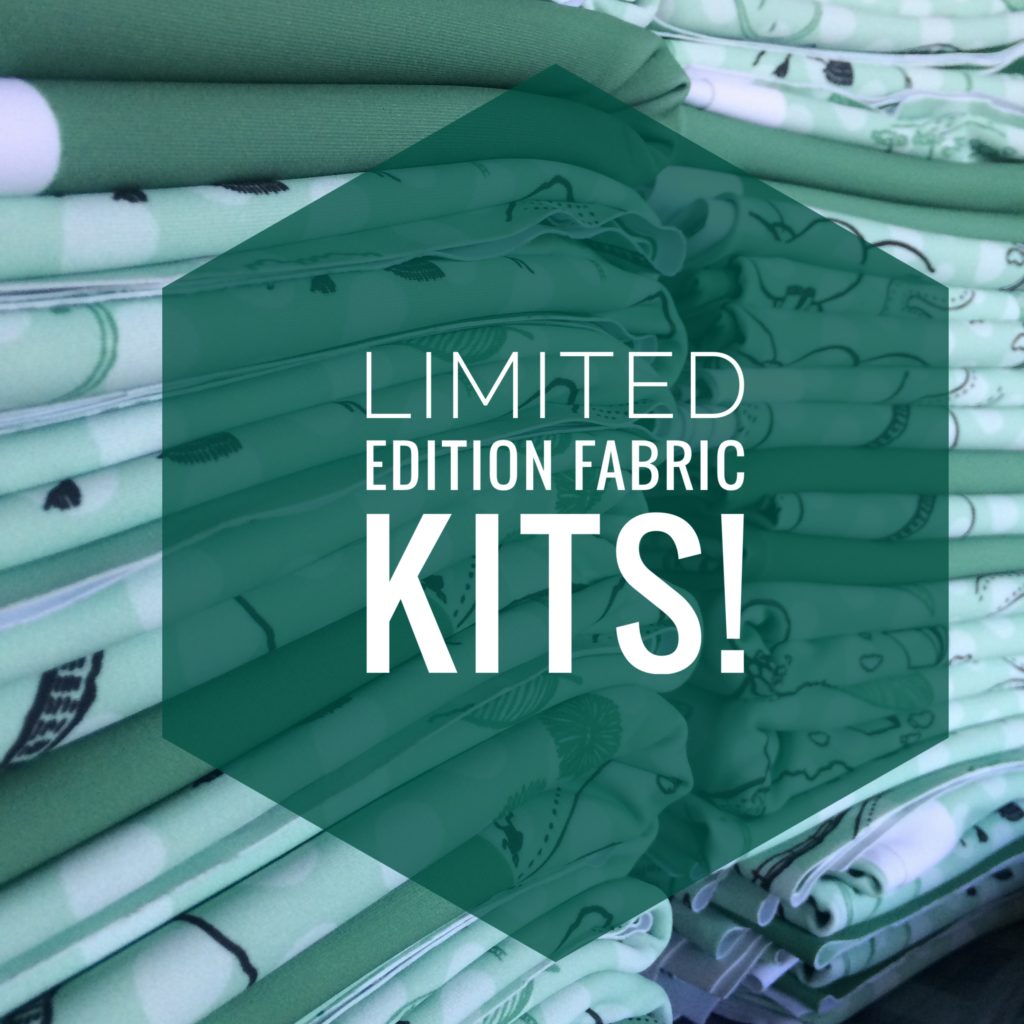 I am so excited to finally be able to share with you a project that I've been building towards for several years – Fehr Trade Print Club is a semi-regular series of collaborations with illustrators, pairing exclusive artwork with activewear patterns in limited edition fabric kits!
We first started the concept of an illustrator/patternmaker collaboration a few years ago with Laurie King, offering designed prints through Spoonflower with differently designed "zones" on the fabric for the different pattern pieces. This was a great learning experience, but ultimately, we wanted a bit more control, even though this means more work and more financial risk on my part. So we're starting small, and of course I had to ask Laurie back to be the first Print Club collaborator!
So what's different this time around? Well, for starters, the designs are printed onto Funkifabric's "Titan" technical spandex base. This stuff is super high quality – beefy, matte, completely opaque, and no white "show through" when stretched. I ran London marathon in this base fabric in 2015 and it's freaking fantastic (also the colours haven't faded a bit since then either).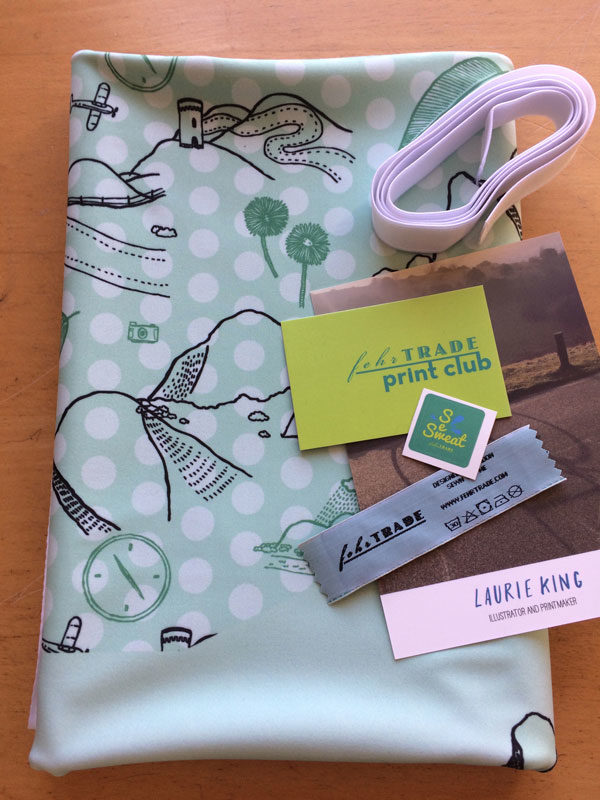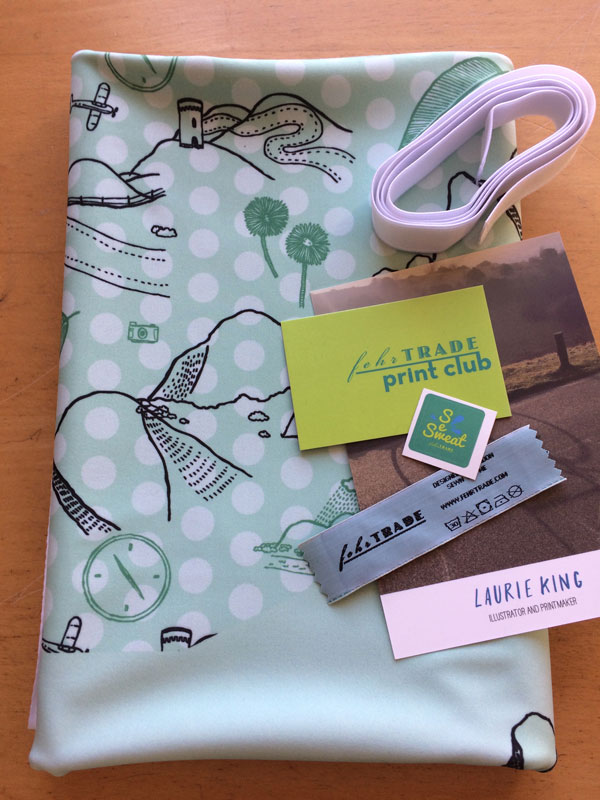 Another difference is that this fabric kit is designed for the Steeplechase Leggings pattern, which didn't yet exist for the earlier collaboration. This time around, Laurie has designed a wonderful, hand drawn print full of camping, hiking and mountain motifs on top of a mint green polka dot field, and a chain of mountains runs along the yoke portion with an ombre fade into teal green.
As this is designed specifically for the Steeplechase Leggings pattern (the capri and shorts length only!), you'll want to lay out your pieces like this: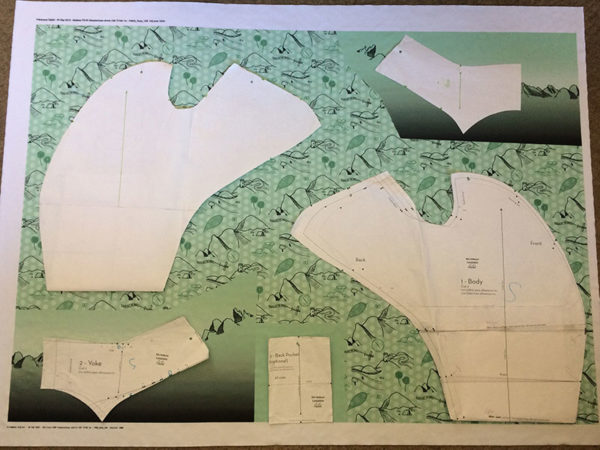 The pattern pieces are not printed onto the fabric – this means that all sizes (XXS through XL) can use this fabric, regardless of whether you're a mix of sizes or have adjusted your pattern pieces to fit your specific needs. There is quite a bit of room designed into the fabric "zones" to accommodate the most common fit alterations, but if you'd like specific measurements of the zones, please get in touch.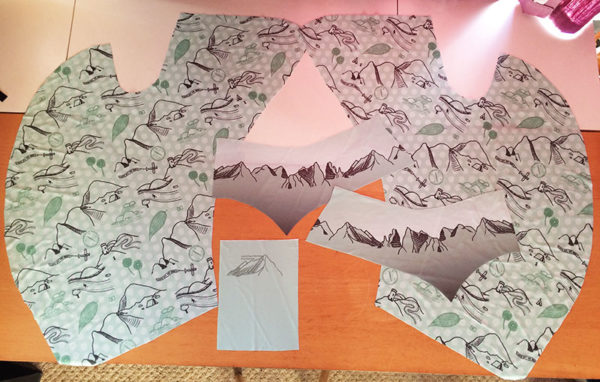 There's even a special mountain for the inside back pocket, and you'll probably have enough space to squeeze in a Running armband pocket out of the yardage, too!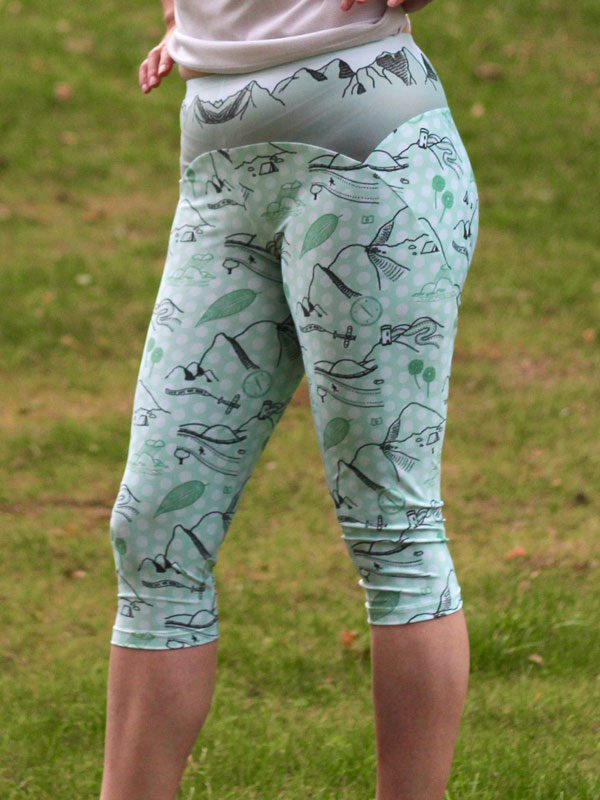 The samples photographed above were made in a test meter of the fabric, though, so I should point out that we tweaked the yoke colouring afterwards to make the gradient colour less muddy. So the fabric you will receive fades into deep teal green, rather than black.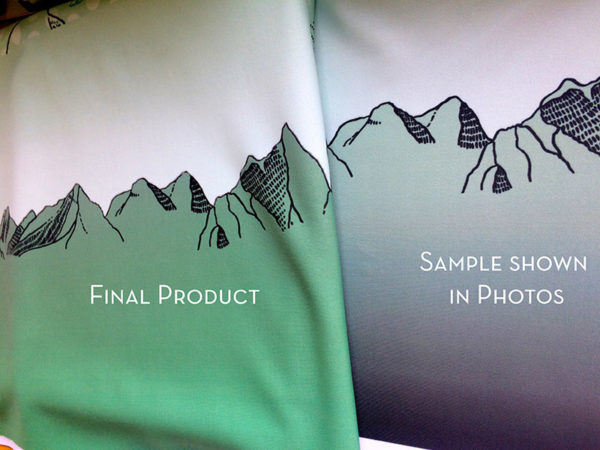 This is a super limited edition kit, containing everything you need to make a great looking pair of Steeplechase capris or shorts, and once they're gone, they're gone! But I am always mindful of the environmental costs of shipping products halfway around the world, so I will be offering up this print to an Australian digital printing company (which prints onto sports lycra) for a limited time if those in Australasia prefer to print closer to home.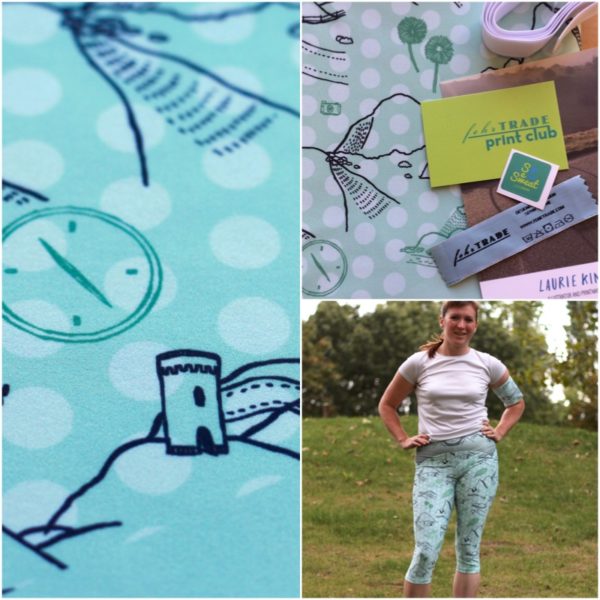 And to reduce my carbon footprint closer to home, I'm also offering a premium "Run delivery" option for central London! So if your home or workplace is in Zones 1 or 2, I will personally come and deliver your fabric kit to you in my running backpack (sealed in plastic, protected from sweat and other elements!).
Laurie and I have worked really hard on this design, and we can't wait to see your shorts and capris out on the mountains soon!
[shopify embed_type="product" shop="fehr-trade.myshopify.com" product_handle="head-for-the-hills-limited-edition-laurie-king-steeplechase-capris-kit" show="all"]
And yes – today is the last day to use code "LIGHTSPEED" to get 15% off all pattern, so if you haven't got the Steeplechase Leggings pattern yet, it's a great time to add it to your cart!