If you've not heard the news yet, the hit BBC tv show The Great British Sewing Bee is being reincarnated as a live event here in London in September! Having worked behind the scenes on the last two seasons of the show, I knew how much love and work went into every challenge and every episode of the show and I immediately got in touch with the organisers the second the live event was announced.

So I'm really pleased (and kinda terrified!) to announce that Fehr Trade will have our first ever pop-up shop AND trunk show at the GBSB Live show! Yes, we've got a big ol' stall at the event where you can come and see our pattern samples in person (including those seen in Threads magazine!), plus I'll be demonstrating common activewear techniques throughout the day, annnnnnd I've got a few physical products I'm developing that'll be exclusive to the show!
If that's not enough, I'll also be taking pre-orders for my new "Sew Your Own Activewear" book, and I'm hoping there'll be a few sample proofs to thumb through, too, though the timing will be really tight on this, so keep your fingers crossed they can be printed in time!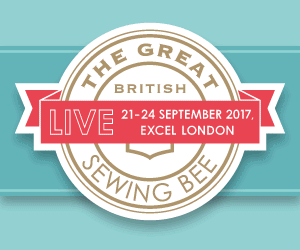 The event takes place at ExCel London from 21st-24th September 2017 and features:
A 1,200-seat Super Theatre featuring two live shows a day hosted by Jenny Éclair. The shows feature Sewing Bee judges Patrick Grant and Esme Young and contestants from past series, plus a live sewing challenge.
Over 250+ workshops (in association with Vlieseline and Milward by Groves) and demonstrations (in association with The Sewing Quarter)
Dressmaking drop-in clinics (in association with Daylight Company)
A dressmaking fashion catwalk (in association with Vogue Patterns)
Garment and vintage galleries (in association with Kennet & Lindsell and The Fashion and Textile Museum)
Shopping with over 150 dressmaking and sewing suppliers under one roof.
Tickets are available at www.thegreatbritishsewingbeelive.com or by calling 0844 581 1318. Advance tickets cost £16.50 in advance (concessions £15.50) with a wide selection of options available. Advance tickets for the Super Theatre cost £5.00 (Standard) or £8.00 (Premium).
But because I love you all and really want to meet you in person, I've also got a special discount code that will get you another £1.50 off all adult advance tickets. Just use code EX048 on checkout.
And if that's not enough, I'll also be speaking at the second annual Sewing Weekender up in Cambridge this weekend for those of you who were lucky enough to grab a spot (they sold out in like ten minutes this year!). Having attended just for fun last year, I knew it was an event I wanted to be a part of again, so I'll be speaking on Sunday about Sewing For Movement and how to approach pattern and fit alterations with movement in mind.
Let me know in the comments if you'll be at GBSB Live or the Sewing Weekender so I can keep an eye out for you (I'm terrible with face recognition so please don't be offended if I blank you! Just say hi!).