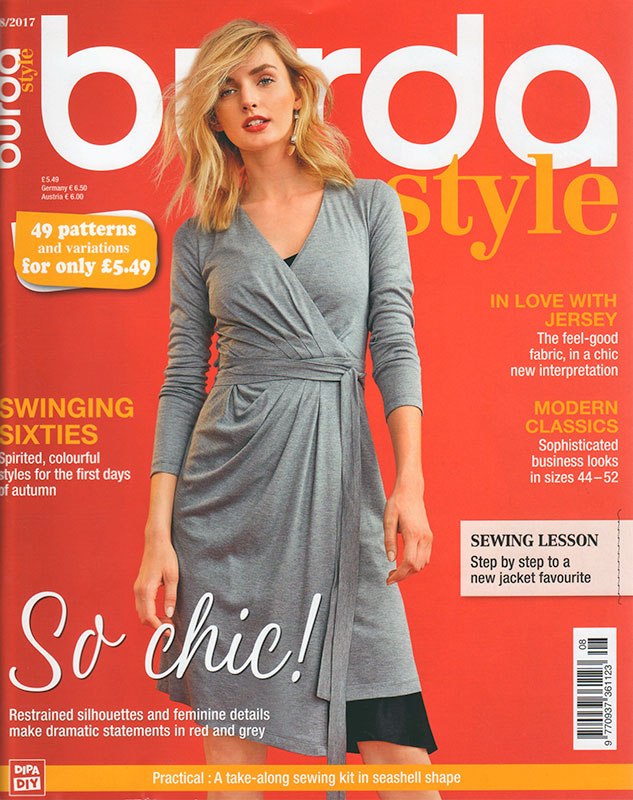 oh. my. gorgeousness! Are you ready for, what's in my humble opinion, the best Burda issue of the year, or possibly even the past few years? Seriously, there are SO many patterns in here that I want to make immediately that I can hardly stand it! In my eyes, I'd have to go back to the Japanese-style feature in June 2014 to find as many designs I'm utterly crazy about! But don't take my word for it – let's show you some of my picks!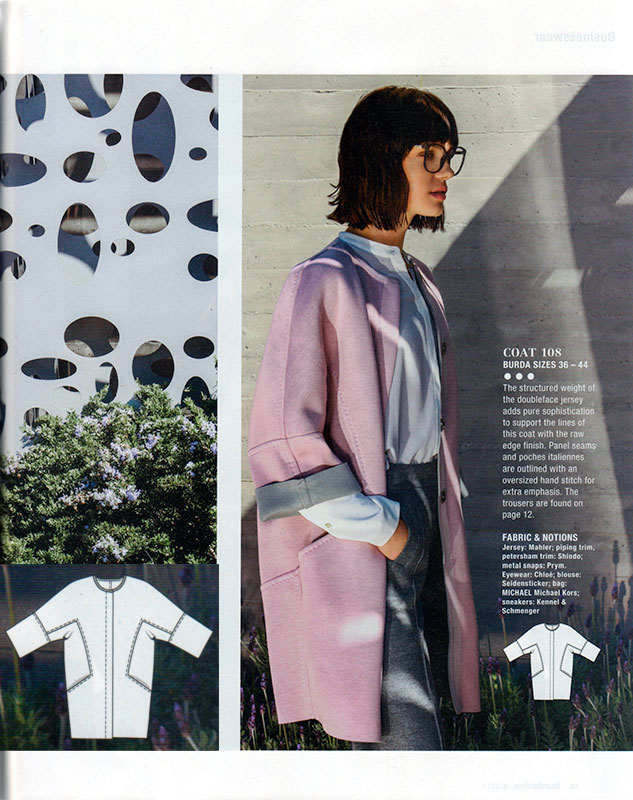 First up is a structured, unlined coat for heavy jerseys like scuba. I love the wide, dolman sleeves, the angular seaming, and the overall cocoon shape here. It's secured with snaps concealed inside a front placket, and you've got some deep pockets in the front seams, too.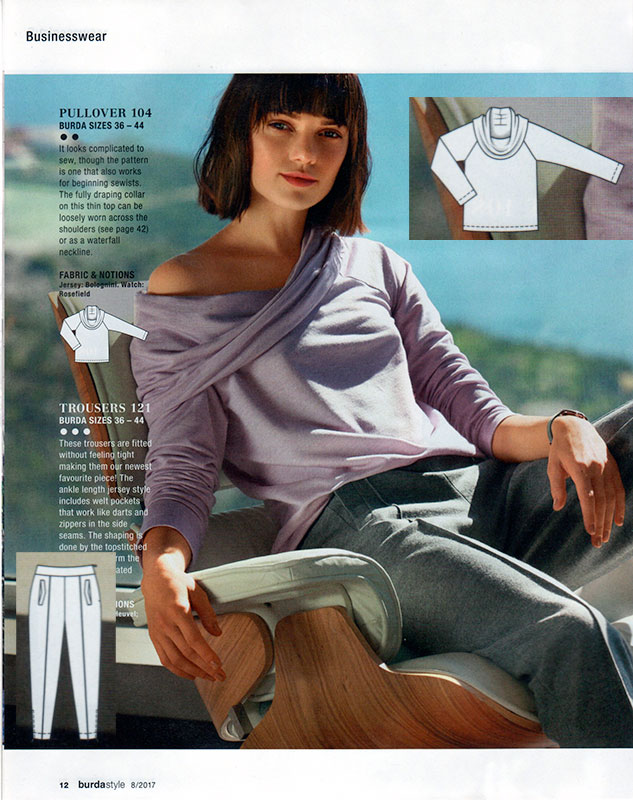 Take off the nearly-rectangular cowl neck collar and you've got a pretty standard raglan, long-sleeved tee, which is a great basic to have in your arsenal. I'm not a fan of the over-the-shoulder look at all, so I'd probably cut down the width of the collar and just finish it with a band instead. But I mostly scanned this page because of the trousers – they're a great, tapered shape with a "crease" topstitched down the front legs and ankle zippers, too. I'm not sure what I think of the V-shaped welt pockets, to be honest (it'd be easier to assess if there were any other photos of these where she was standing!), but there are extra illustrations in the instructions to sew them, at least. And for me the best bit is that these are for ponte jerseys! I've made a few pairs of ponte trousers for myself over the years and they are always so comfortable, as well as being practical for cycling commutes, too.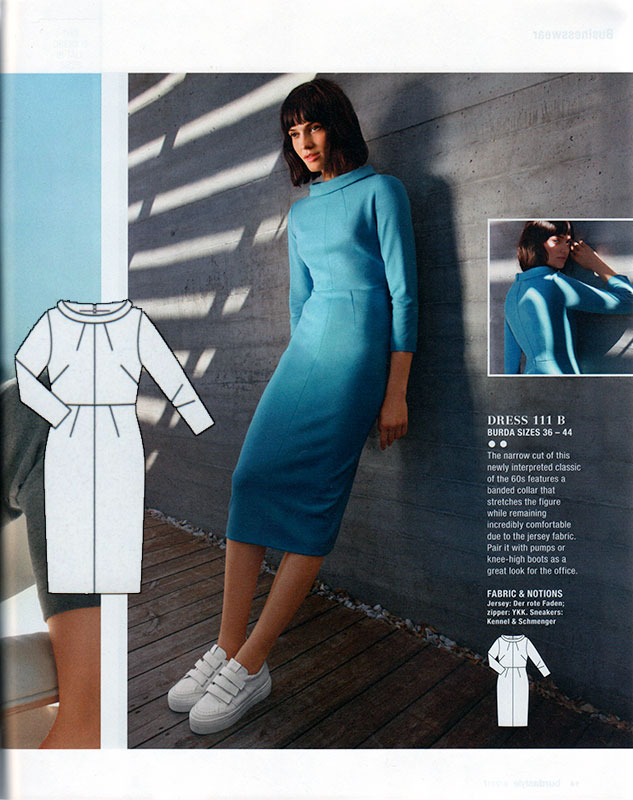 Again with the jersey patterns, you're killing me with this 60s-influenced, long sleeved sheath dress, Burda!! And that's even without talking about the increeeeeeedible ombre wool jersey they've used for the sample, omg! I love everything about this – the angled darts, the wide collar, the midi length, the 3/4 length, slim fit sleeves – perfection! 😍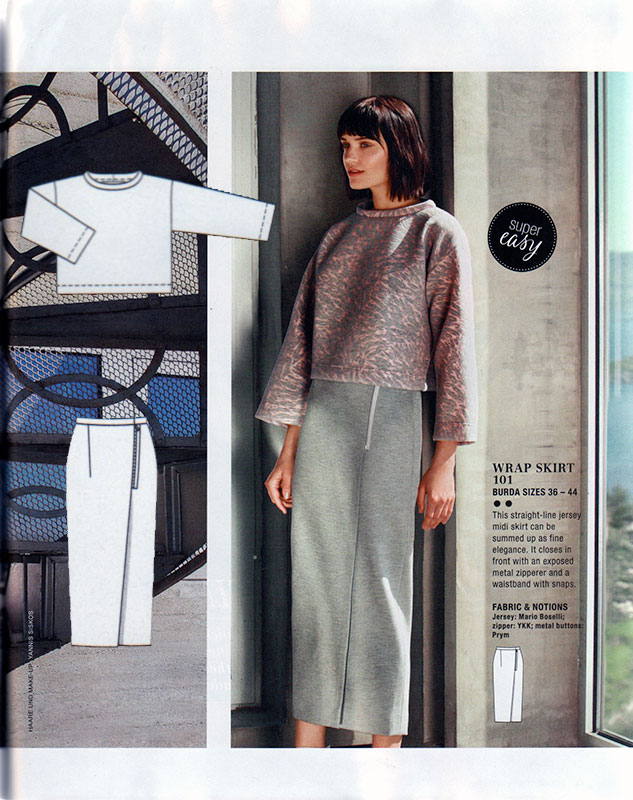 Now the pairing of a long, slim pencil skirt with a cropped, boxy top isn't anything new, but it's hardly a detriment when the pairing looks as good as this! The pencil skirt features an exposed, asymmetric zipper and this pattern comes in three different lengths so you can choose which one suits you best. The structured, boxy tee looks like it'd be great for throwing on over a slim dress or high waisted trousers, a bit like the neon top I made to coordinate with the triple triangle dress I made last summer.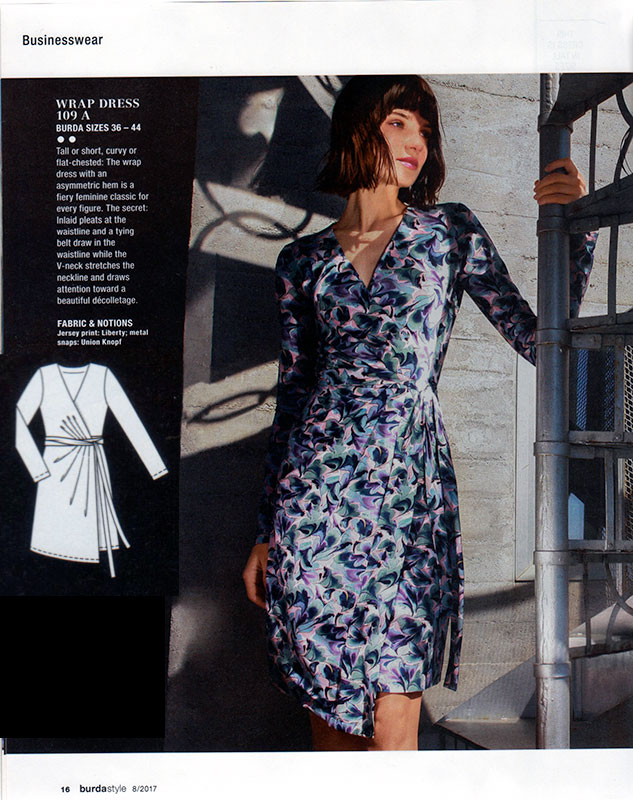 Burda have made a fair few jersey wrap dress patterns over the years (I even made one way back in the day!) but it has been a while, and they really do have near-universal appeal. This one features starburst pleats radiating from the central waist tie, plus a chance to use contrasting fabric at the left hem to give it a bit of punch. This pattern is also featured on the cover this month.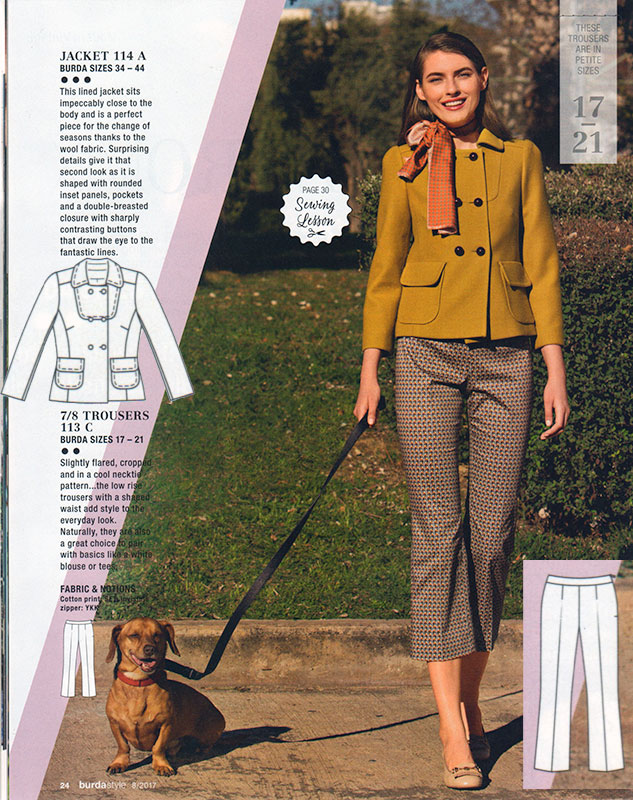 Before I get to the patterns, let's all take a minute to appreciate the real star here – what's clearly the world's happiest dog!!
But not far behind is the gorgeous mustard short coat, which has the coloured illustrated instructions this month, along with some rare detail shots of the back of the jacket, too. The trousers I'm less keen on, if I'm honest, as I find the cropped length never works for me (reinforced recently with a pair of culottes that made me look ten feet wide and that were added to the charity bin before I even hemmed them!).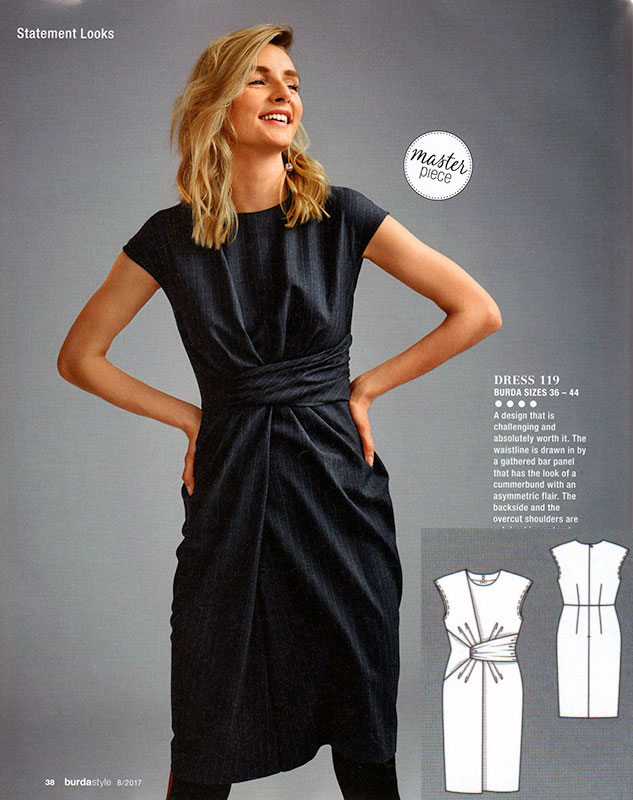 This! Dress! I love the interesting half-tie at the waist, which creates such great visual interest, and I particularly love that they made it in a pinstripe fabric. This could be the best office-wear dress IMHO, especially if worn with a little jacket over top. It's anything but "business as usual"!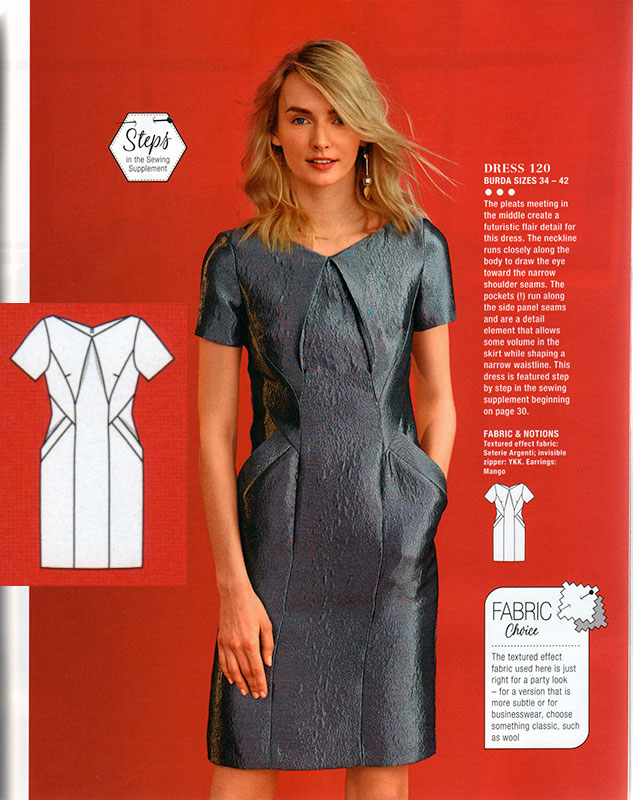 I saw the tech drawing for this dress before the model photo, and I was utterly smitten – all those diagonal seamlines, plus cleverly placed pockets! But then I saw the gaping neckline pleats and the weird, crinkly fabric in the magazine sample and was a bit less in love, if I'm honest. I wish there were more photos of this dress than just this one, so I may await judgement til the Russian readers make up a few…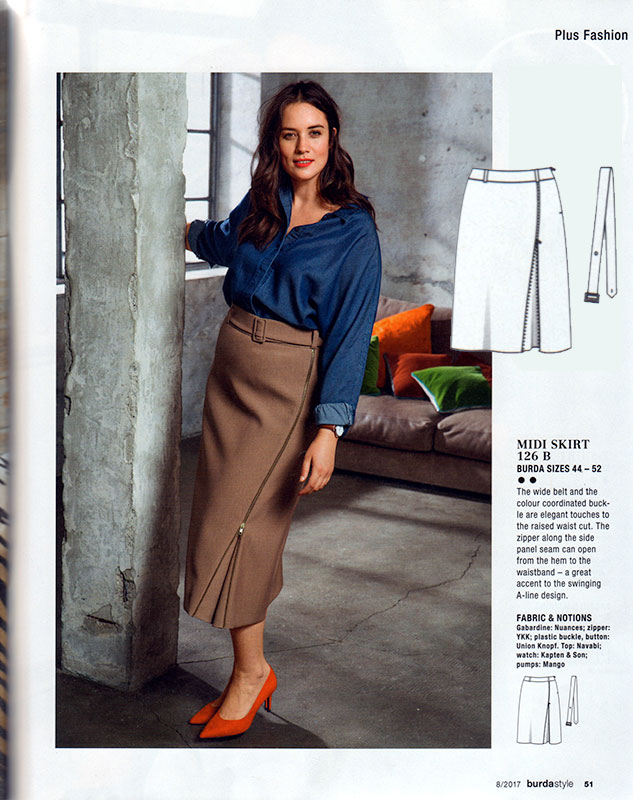 Now, into the Plus section this month, which also features a midi skirt with zipper detail! Here, instead of an exposed zipper, it's inserted into a godet seam so you can open or close it depending on how much walking ease you need (or how slim fitting a silhouette you prefer on any given day). I've seen this idea used before for cycling skirts, too!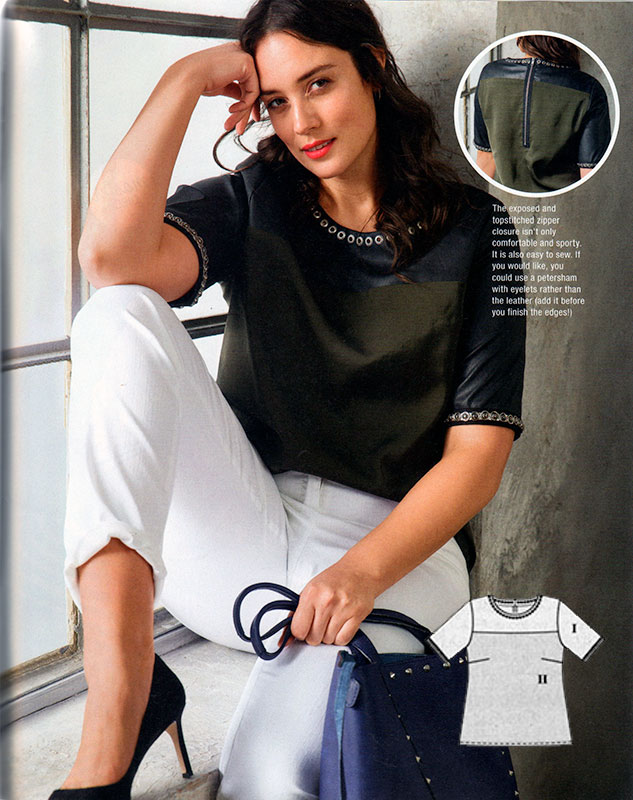 This boxy, woven tee is made up here with some faux leather accents and edging tape with eyelets, which really elevates it beyond your average woven tee. It's something you could easily do to your own pattern, as it's just adding a few seamlines for colourblocking and buying the eyelet tape for the edges.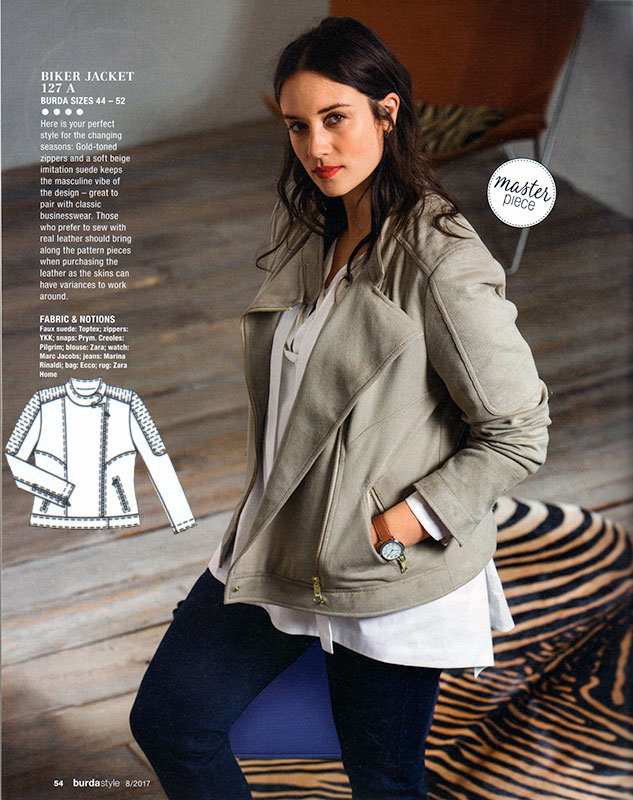 Holy crap, how amazing is this biker jacket?!? Seriously, this even tops the bomber jackets we've been seeing over the past few years! Love it!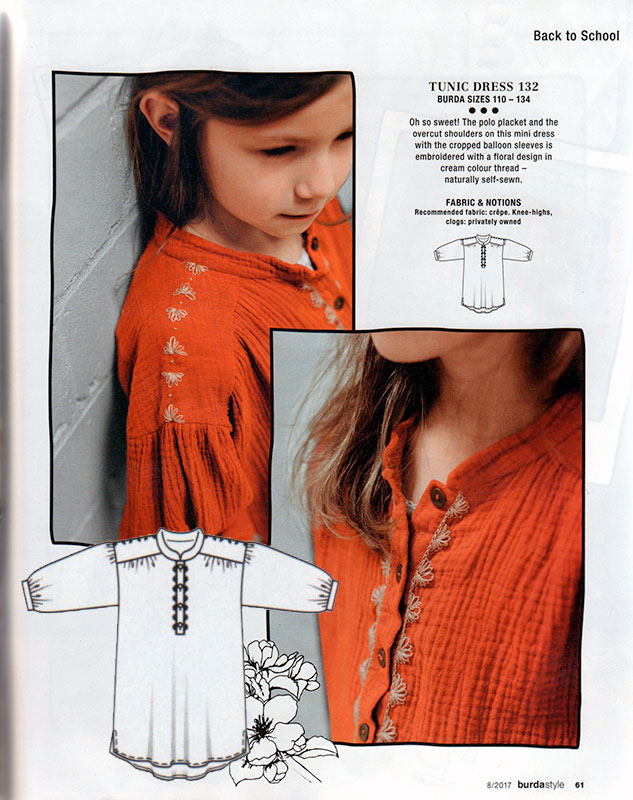 And finally, from the children's section, I just wanted to highlight this girl's peasant tunic not for the overall shape or design (meh), but because they've used hand embroidery in a really attractive way that isn't infantile, twee, or "happy hands at home", and I thought it was worth putting in my memory bank.
What did you think of this issue? Did you love it as much as I did? Did I miss any of your favourites?