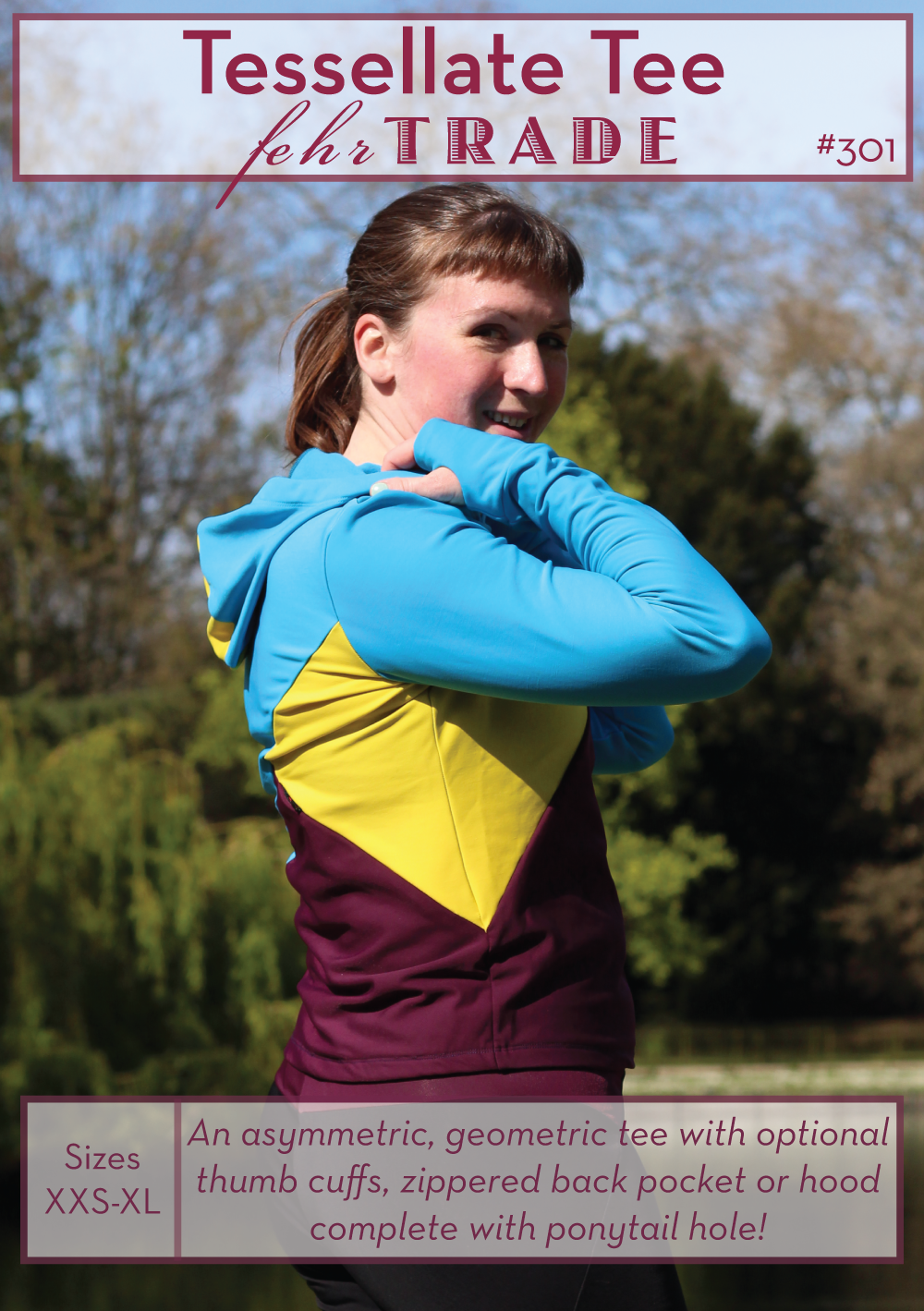 Thanks for all your patience, enthusiasm, and congratulations on the full digital release of the Tessellate Tee pattern this weekend! It's great to finally enable anyone around the world to sew it now, and like the Surf to Summit top pattern, it's one where you can mix and match a lot of the options to get the look you're after.
I thought I'd start with the version shown on the pattern cover – it's made in Funkifabrics' "thermo" fleece-lined lycra in Plum, Yellow, and Turq and uses all the optional add-ons – thumb cuffs, zippered back pocket, and ponytail hood.
The thermo fabric is a fairly new addition to the Funkifabrics range, and only comes in solids at the moment, but it's one I really love for winter workouts. It's got the same stretch and recovery as their normal lycras, but the thin fleece backing means it's really soft and super warm on winter workouts. You might also spot that I'm wearing a pair of Steeplechase Leggings here, too – also made in Thermo! I only got to wear these once or twice this winter, but these are even warmer than my Under Armour ColdGear fabric leggings – and that's saying something!
The optional hood features an opening for your ponytail to go through – this keeps it securely on your head even when there's a headwind, but also means that it fits close to the back of your head, keeping it warmer. It always annoyed me when hoods don't have enough space in the back for my ponytail, pulling it too far back (and inevitably, off!) at the front. But if you've got short hair or workout with your locks flowing freely, there's also guidance for making the hood without the hole, or also even a drawstring to the front opening.
It's easy to miss when it's closed, but there's also an optional zippered, lined pocket incorporated into the back seaming! Since the pocket lining is only seen when open, you can use a totally different fabric here and it won't look out of place. With heavier fabrics like this thermo or sweatshirting, I'd suggest using a thinner wicking lycra or mesh for the pocket to reduce bulk.
If you're a newsletter subscriber, remember to check your Inbox for a special discount code, good for the next two weeks on all my patterns! Or if you fancy a bit of internet detective work, you might also find it on our Facebook page… (hint!)