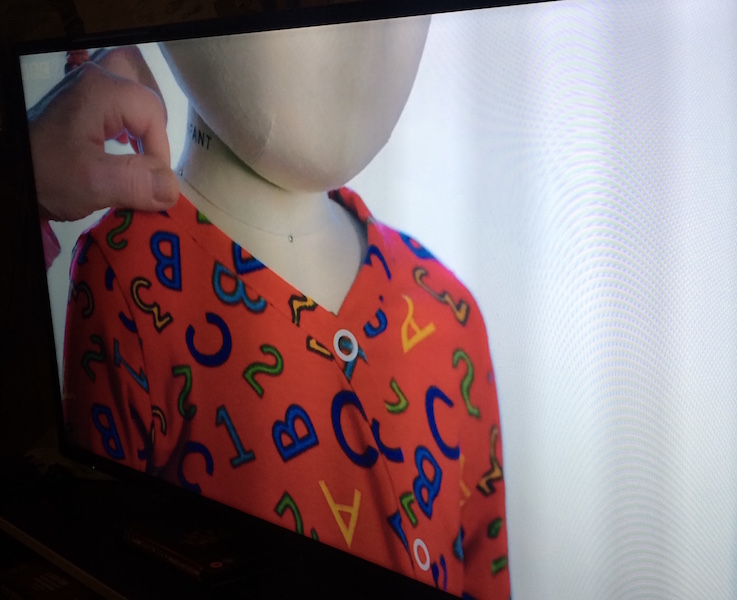 If you are in the UK, you doubtless are already aware that the latest season of the Great British Sewing Bee is well underway! Not only have they got a new location (which looks uncannily like the old one in Wapping, but is now coincidentally located right by my office), but also a new judge, with Esme Young replacing May Martin as Patrick Grant's wing-woman.
I wasn't able to be as involved on the production side for this season as I was last time around due to my working four days a week at my office job, but I was able to help out with some sewn samples for the latest Sewing Bee book, instructions and illustrations, but also make the odd "Perfect" for the show, too!
This week's episode featured sewing for children, with contestants sewing a toddler's babygrow during the opening pattern challenge.
Sewing a "perfect" (as the production team calls these) to be seen by millions of viewers and inspected by the judges on national tv – no pressure then!!
I don't often sew for small children, but this one was at least for knits so I was in my comfort zone! The pattern for this babygrow is included in the latest Sewing Bee book, and if you're planning on sewing it yourself, my only tips would be to invest in a good quality pair of snap set pliers (cheap ones will drive you insane with their high failure rate!!), and when sewing those tiny cuffs, don't try to stretch them around your free arm! Instead, flip the cuff so that you're sewing from the inside of the circle, with the "ring" of the cuff above the machine bed – this way it won't stretch out the cuff, and you're less likely to accidentally sew it closed!
The nice thing about only doing a few bits of work on the 'Bee this year is that most of the episodes are a complete surprise to me, too, and I'm absolutely loving being able to watch them live every week, too!
Watch the Great British Sewing Bee on BBC2, Mondays at 9pm.