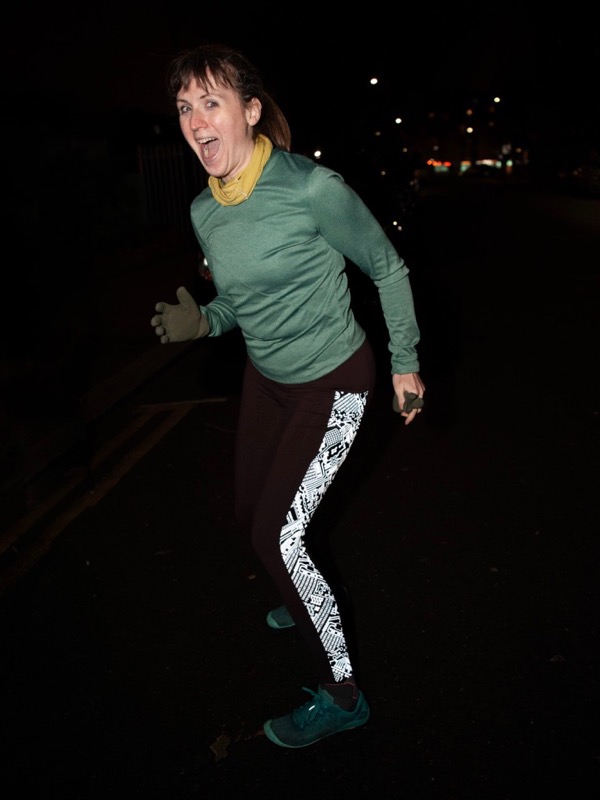 One of the things I love most about my Silhouette cutting machine is the ability to essentially cut any shape I like from reflective iron-on vinyl and make everything reflective. This is a seasonal pursuit, since realistically, I'm doing a lot more running and cycling after dark in the winter (with its 4pm sunsets) than I am in summer (with its 10pm sunsets). And since my Silhouette is boxed up awaiting workspace from our renovations, I had to go an fulfil my need for reflective goodies elsewhere, right??
Enter the new-to-me UK shop, Hello Reflectives. Yes, a shop that sells reflective fabrics and haberdashery. They've got all the fabrics to mimic those ££££ Nike vaporflash jackets from a few years ago (you have no idea what a status symbol those were before the cheap knockoffs arrived), slightly stretchy reflective pipings, vegan leather… but more importantly, a good collection of stretch fabrics with all-over reflective prints. An all-over reflective print? With STRETCH? Take my money!!
If you've been following me for long, you know I have a weakness for circuitboard prints, so of course I bought the reflective circuitboard fabric!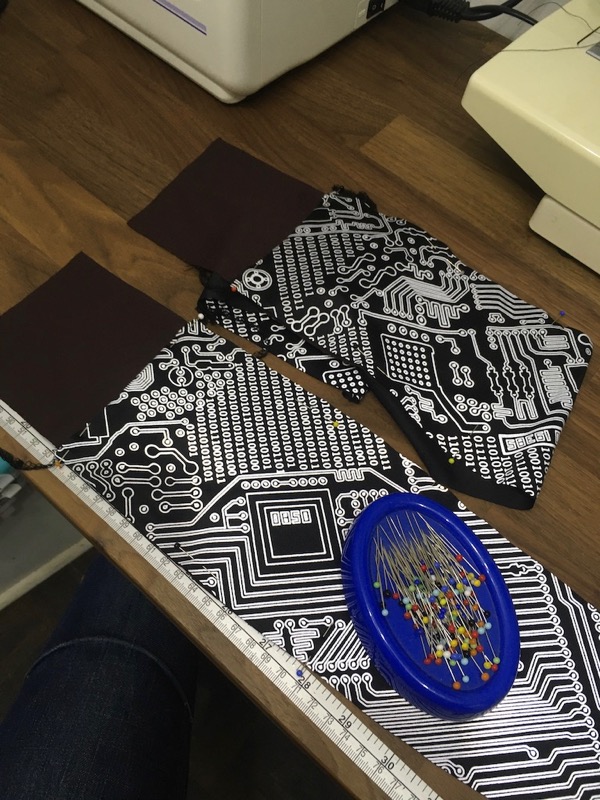 So let's start with the good point about this fabric – it is indeed heavily stretchy (in both directions), with great recovery and the reflective print doesn't crack when stretched or anything. But the base fabric doesn't feel that great, to be honest. It's a bit crunchy instead of soft, and doesn't feel very warm or substantial. It's fine, but not really something I wanted to wear all over my legs for cold and dark workouts.
Instead, I paired it with some Italian matte lycra (in "raisin") from Fab Works. This stuff feel amaaaaaaaazing, though! I really need to get more in some other colours, because it's got a great weight, fabulous recovery, soft hand, the works! Honestly, this is wonderful workout fabric, and something I'd be happy to wear for long runs.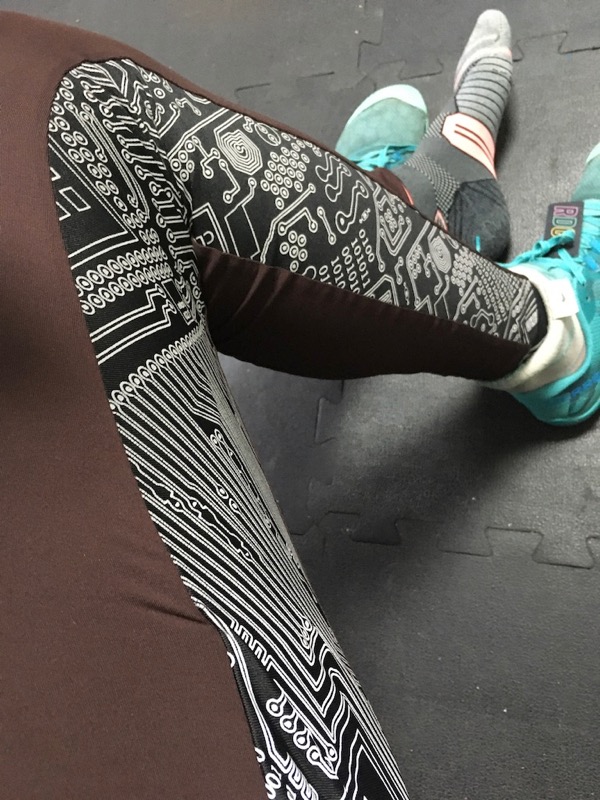 So considering that I wanted to use both fabrics (and the reflective in somewhere that wasn't going to chafe or irritate), I thought our latest Rouleur Leggings pattern would be perfect for displaying a wild, reflective print on just the outer part of the legs, but keeping the fabric that feels nicer to the inner legs and waist. So that's exactly what I did – I used the reflective lycra for the lower side panel of my leggings, and the raisin matte lycra for the rest.
The only real change I made to the pattern was to use 3/4in elastic in the waistband instead of the wider stuff because that's what I personally prefer when I'm running or cycling.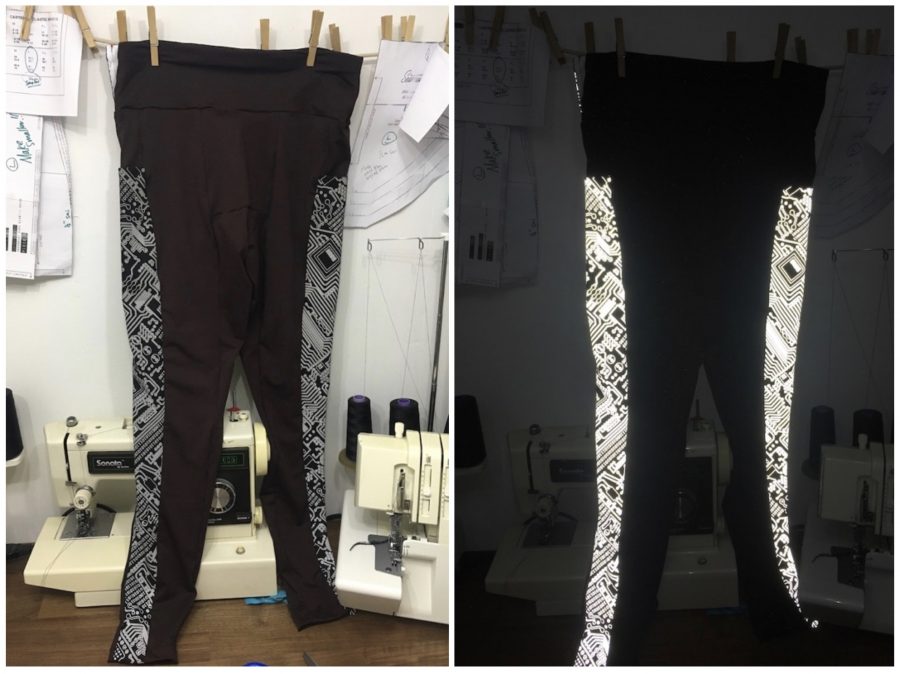 These are so fun to wear, too! They REALLY come into their own when you're out and about at night – the flash of a car headlights makes you absolutely g-l-o-w.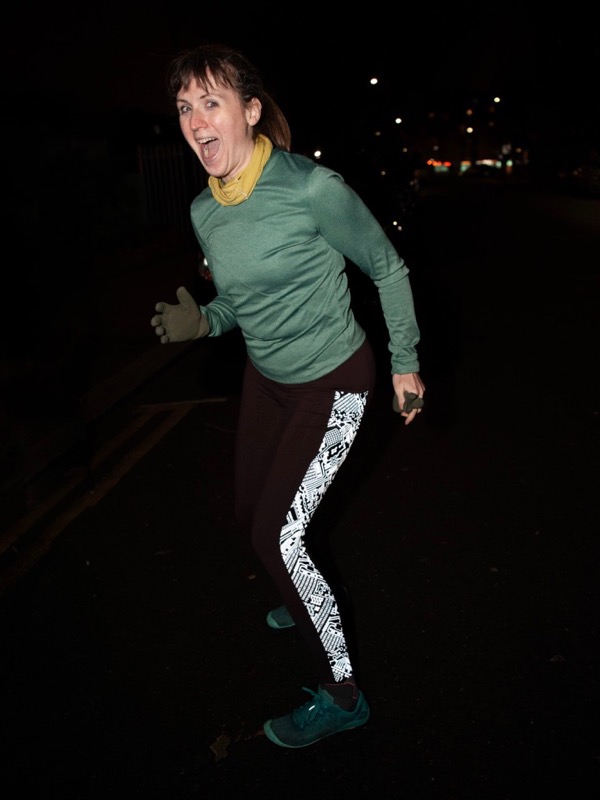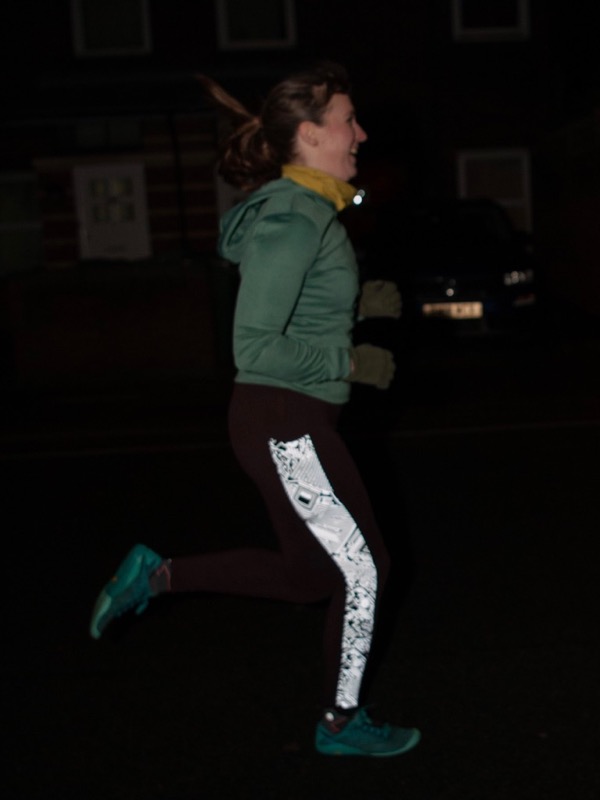 Big thanks to my friend Simon who took these action shots for me at Run dem Crew last Tuesday! I'm wearing a Surf to Summit Top as well as a merino buff that I made myself, too!
I've definitely got enough leftover from my 1 metre to make some Arm Sleeves, or accents on other tops or leggings, too! I'm eager to see how the reflective print holds up to repeated washings, but with leggings this fun, I think it's safe to say they'll be in constant use for the rest of the dark season!