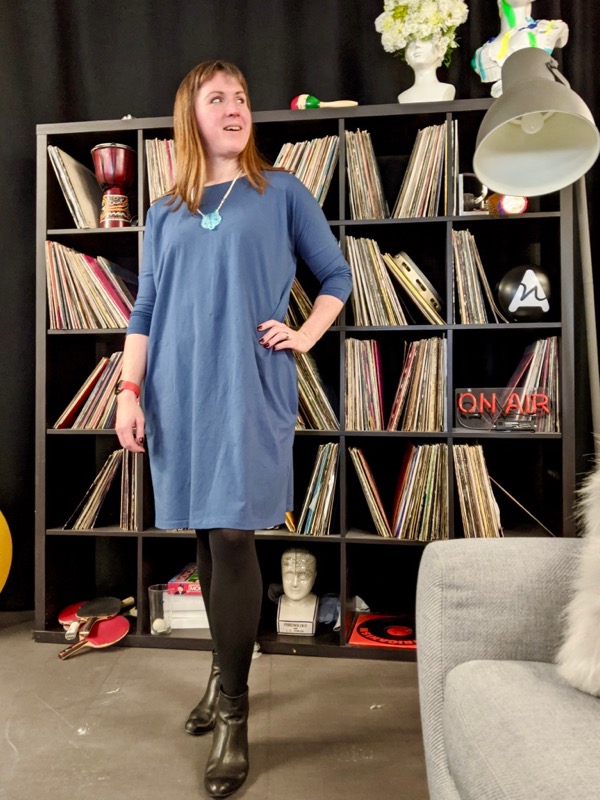 I definitely have A Type when it comes to dresses. In general, I like them close-fitting, or at the very least with a pencil skirt. I mean, there are exceptions – some dresses with a very different shape that I end up loving, but in general I stick to what I know I love to wear. I guess this is my way of saying that when I branch out from my comfort zone, I'm never immediately convinced whether I like it or not – it takes some wearings and time to try and figure it out. And I'm still on the fence with this one.
I wasn't convinced when Seamwork magazine (referrer link) released their Tacara dress pattern as it's outside My Type. But I kept seeing it on more and more women and liking the way it looked, so I got it printed in A0 (those are some BIG pieces!) and I bought the required 2.2m of lightweight blue cotton spandex jersey from Ditto, when we were at their shop in Brighton over the holidays.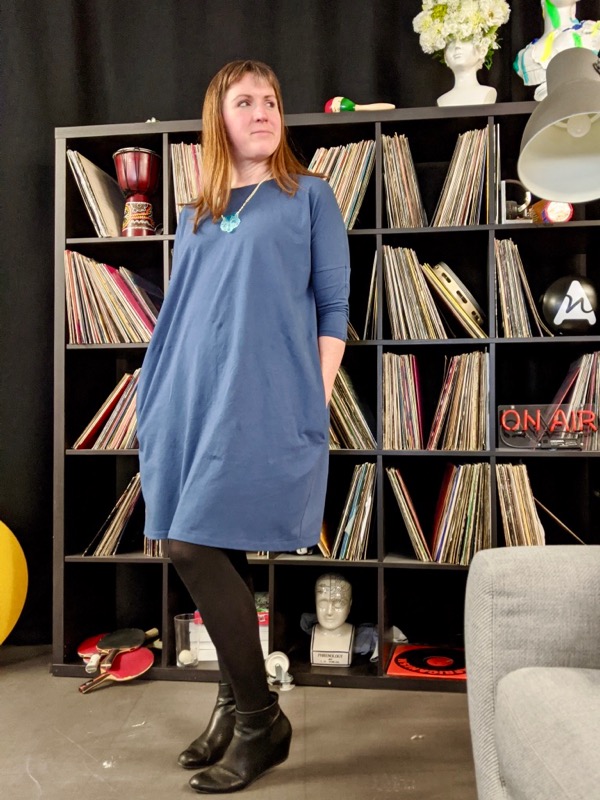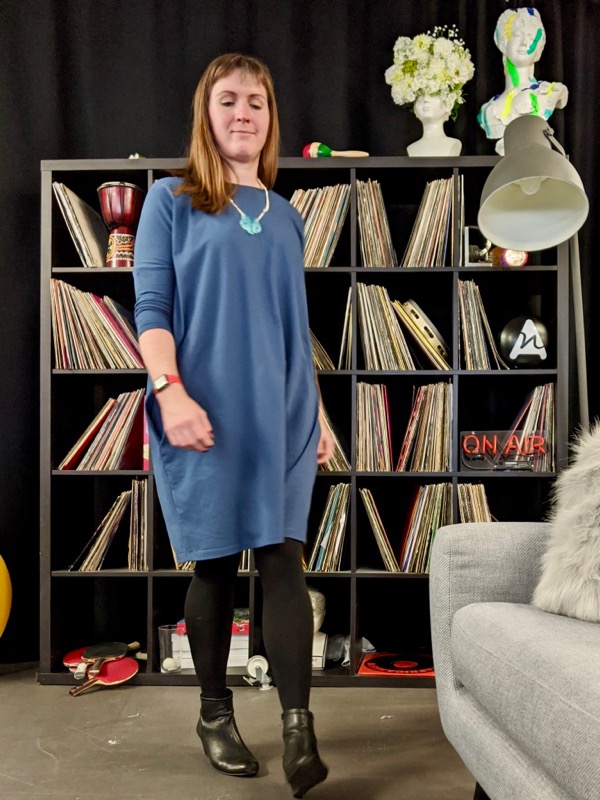 This fabric is lightweight, stretchy, and soft, but it still doesn't seem to drape quite as flowingly as the merino jersey used in their sample, so maybe that's part of my misgivings? But you need a fairly stable jersey to put up with the negative-ease, 3/4 length sleeves…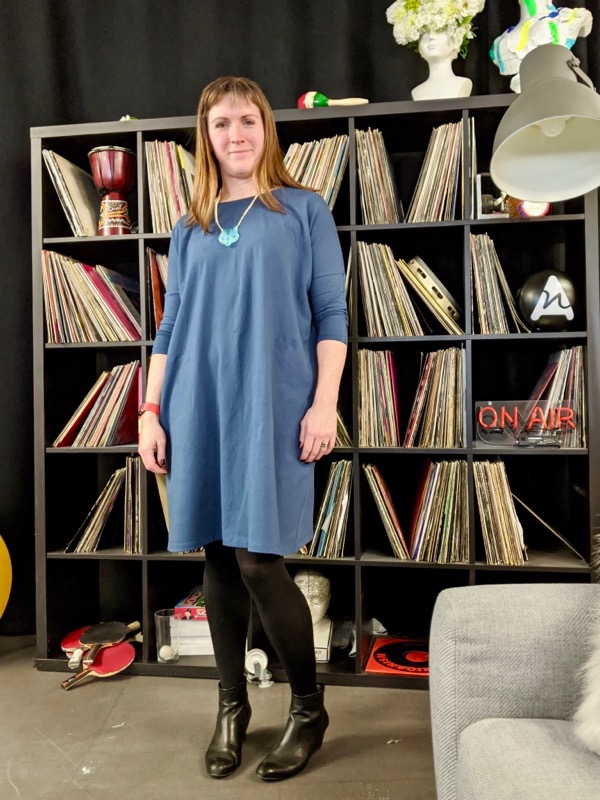 One of the nice thing about sewing your own clothing is that you get to put pockets in everything. This pattern actually came with in-seam pockets (albeit sewn in a really stupid method), but even if it didn't, I'd certainly have added them in anyway.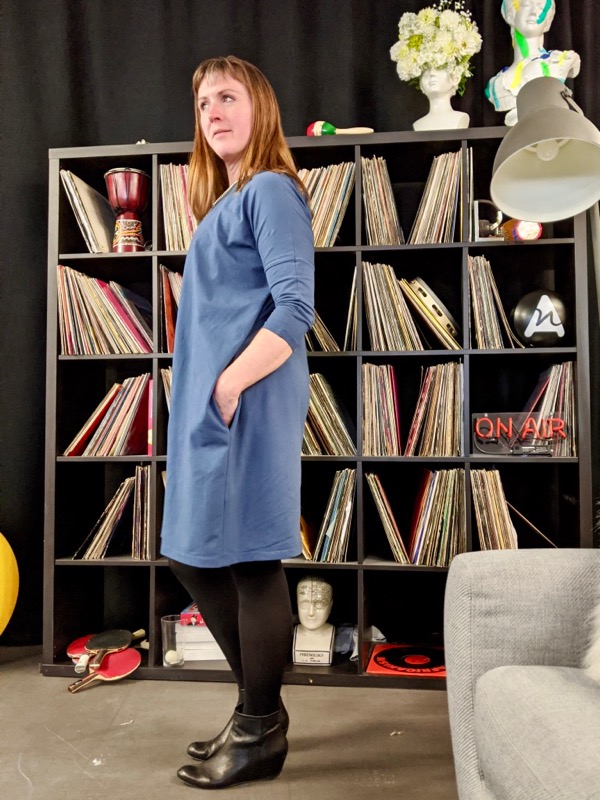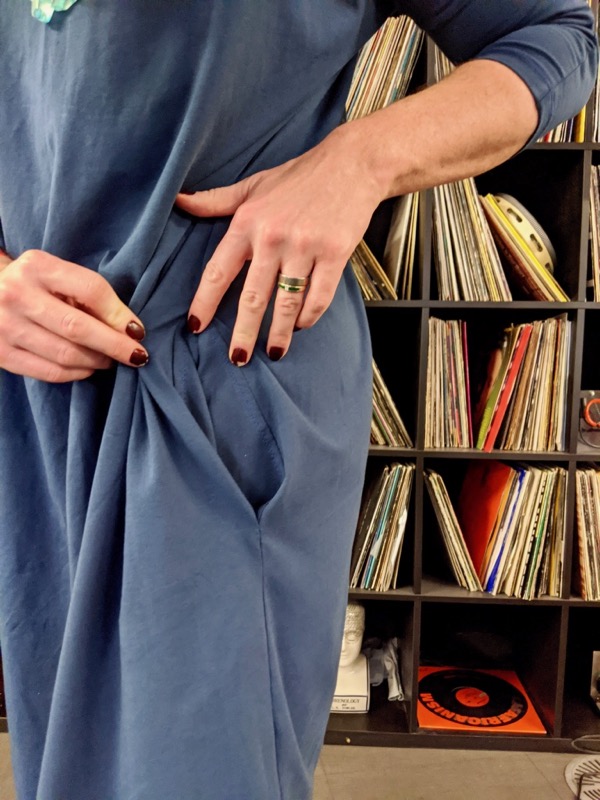 I found it surprising when cutting out that the Back piece is not cut on the fold – in fact, this dress has a centre back seam, which, after close inspection, seem to exist to help with the shaping of the bottom of the dress into the cocoon silhouette.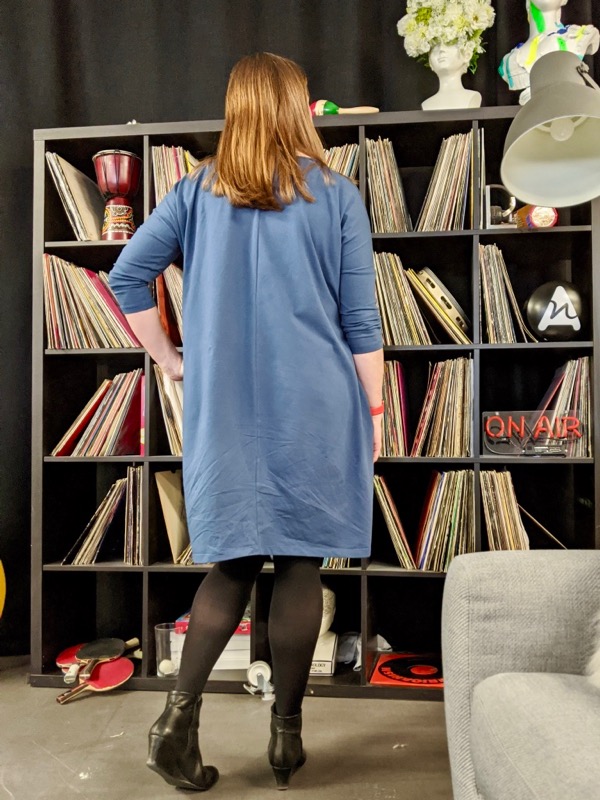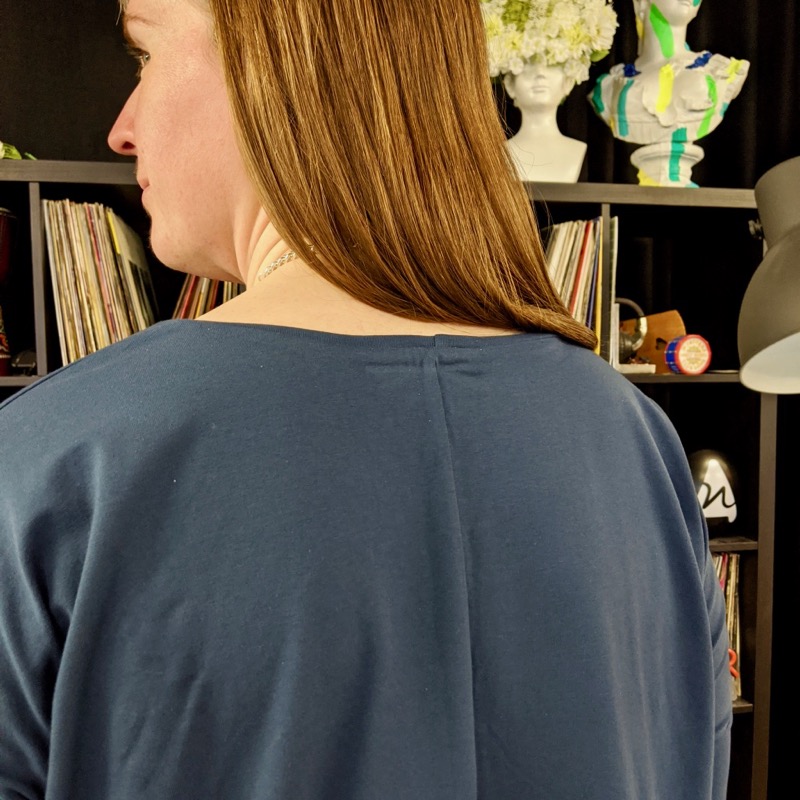 The only change I made to this pattern was to add a little bit of length, as it looked quite short on the model and I'm 5'7″ and didn't want it to be so short I couldn't wear it to work. So I cut a size 12, but on the Front and Back pieces cut the hem at the size 16 length. I'm pleased with the finished length, anyway.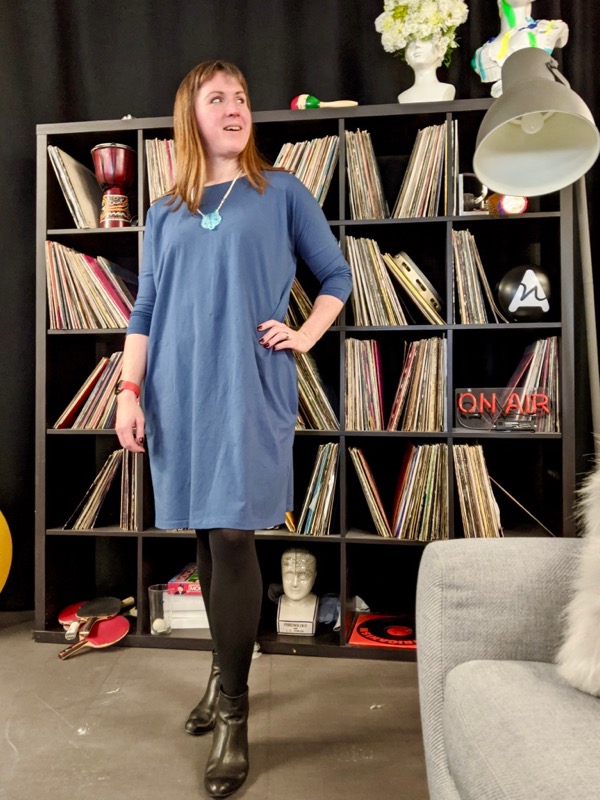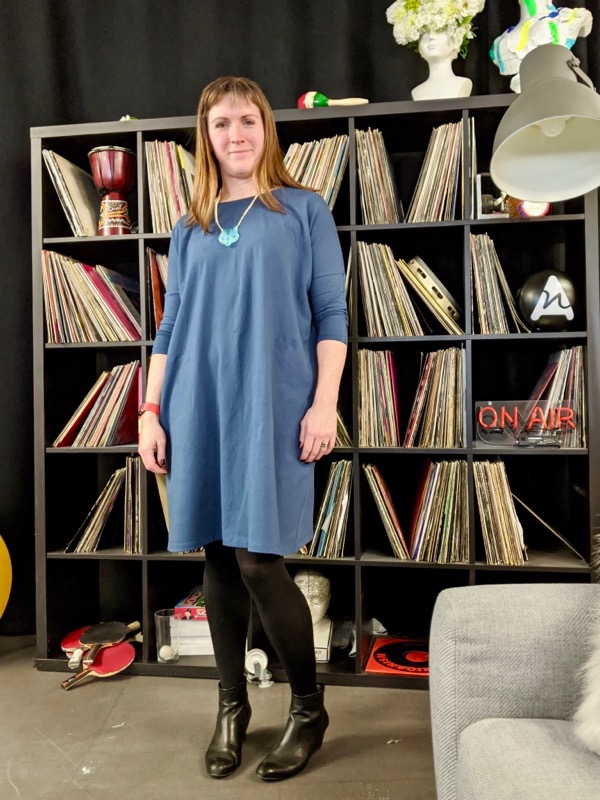 Even after I finished this and showed some self-timer shots to my sewing friends and my Instagram Stories, opinions were divided whether it was fine, or didn't do me any favours. So I decided to give it the "office test", since the last pattern I was unsure about (the Zadie jumpsuit) got RAVE reviews by so many people in my office that it won me over to Team Jumpsuit.
I made the mistake this time, however, by pairing it with a statement necklace, so loads of people complimented the necklace and didn't mention the dress, but my one friend who was really into it said it looked "very Japanese or Finnish"! And big thanks to her for this office lunchtime photoshoot, too.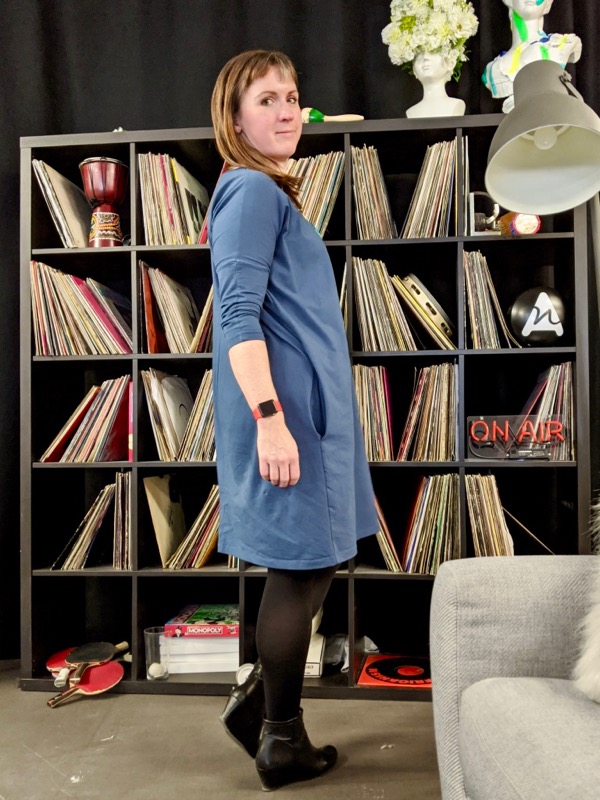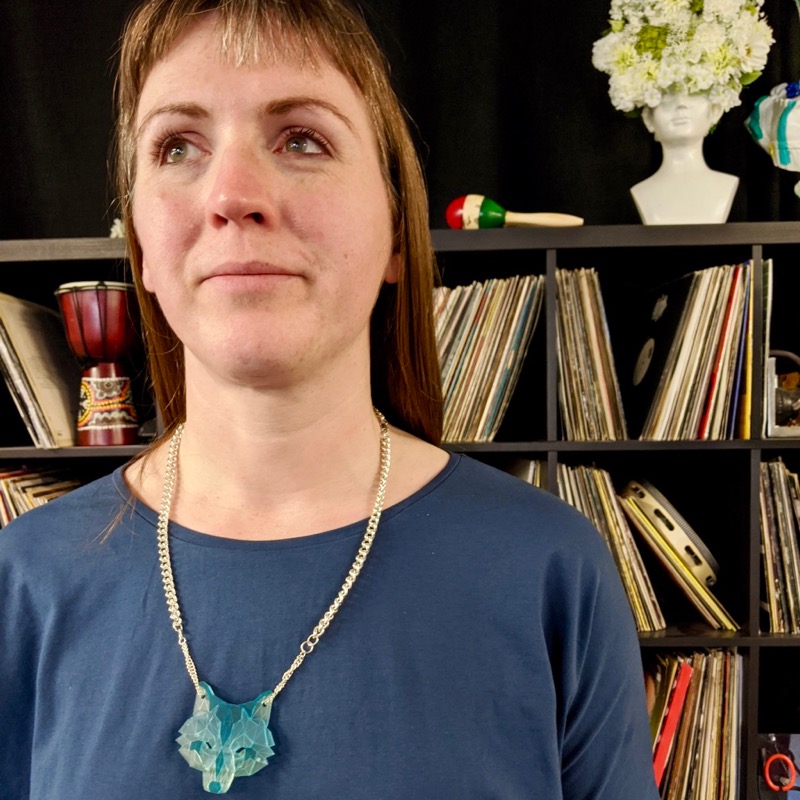 So I'm still not sure whether this is a "muu muu" or "must sew", so I think I'll let it bed in a bit more and see how it feels.
If you'd like to subscribe to Seamwork magazine, you can use my link to get $3 off! I've subscribed since Day One and have sewn with quite a few of their patterns over the years…