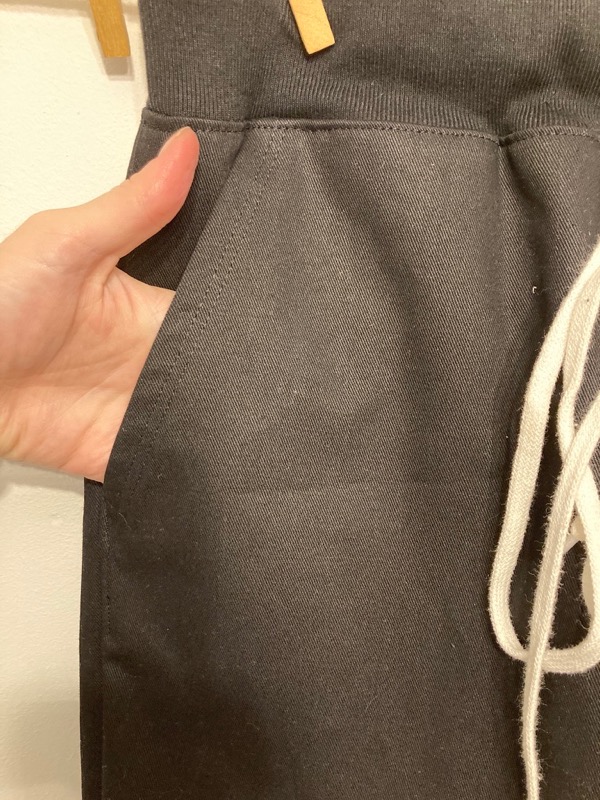 I was encouraged by the effect that sewing for my mom had had on my own sewing mojo, so I decided to stick with the theme of sewing for others and I turned my attention to my husband instead.
I'd bought La Maison Victor's special Menswear issue back in 2018 (which I bought first in French when it was originally released, and then, later, again when it was finally released in English). There were so many good menswear patterns in this issue – lots of interesting and different (but still wearable!) designs, but I thought that the "Jeff Trousers" in particular would be perfect for J's new work from home lifestyle.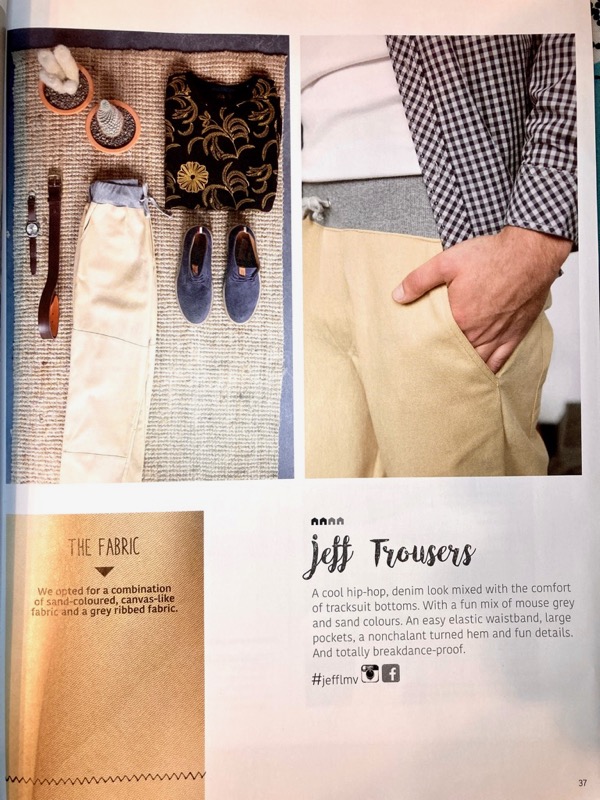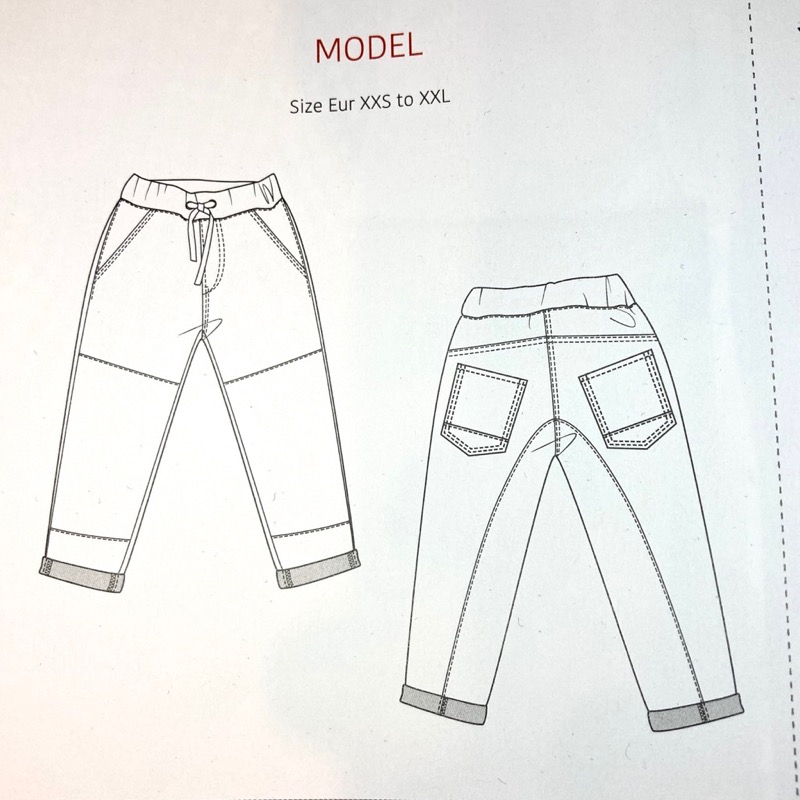 These are, ostensibly, regular jeans or chinos below the waist (but with some extra seaming, including a curved back inseam yoke), but with a waistband made of stretchy ribbing with 4cm wide elastic hidden inside plus a drawstring for good measure. So basically if you've got a shirt covering up your waistband, these just look like "normal" trousers, but with an extra comfy secret!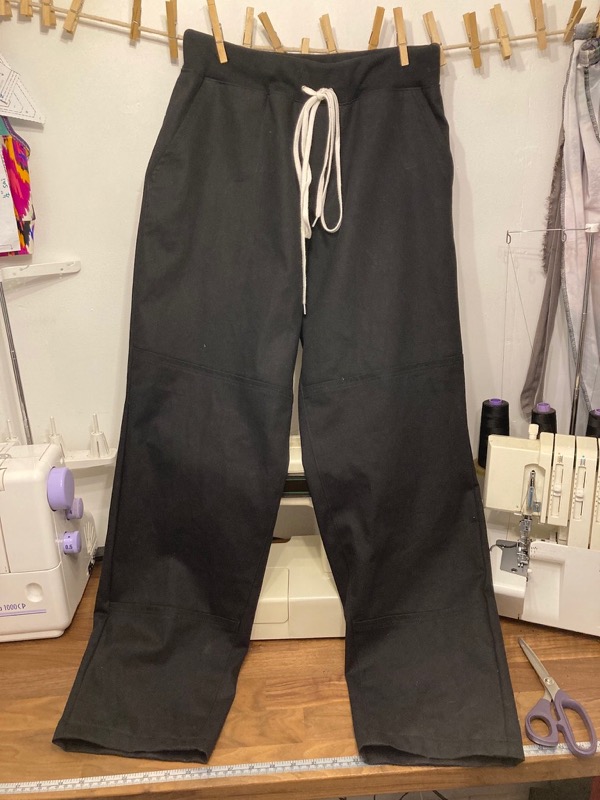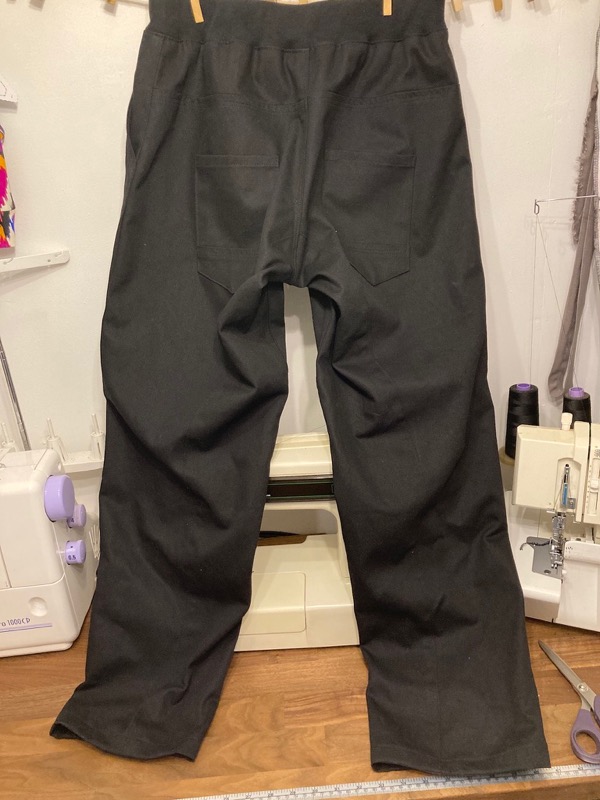 I made these using some black cotton drill from Textile Express but I might make another set for him in denim yet, too. There's a lot of topstitching on the various seams that evoke jeans topstitching, but I wasn't in the mood to swap machines or threads so I just did black-on-black topstitching with my regular thread, because I wasn't sure if I'd need to unpick it later for any fit alterations.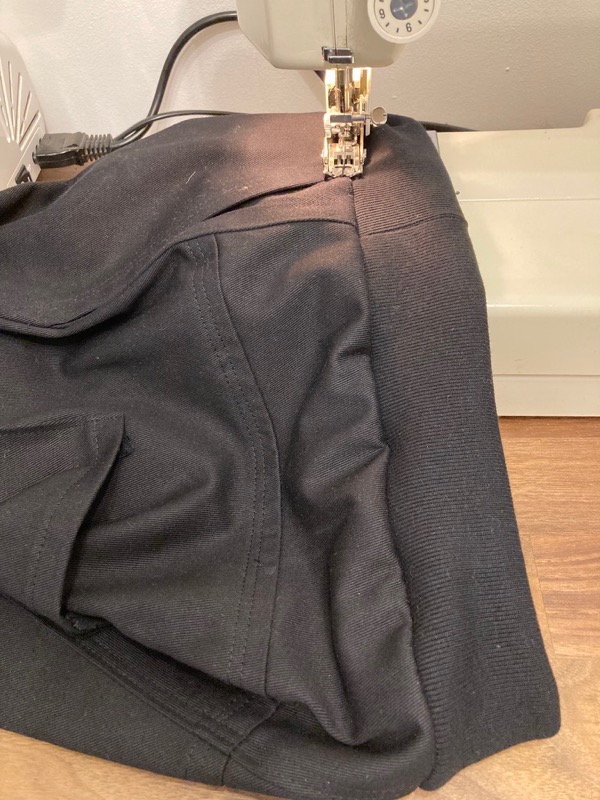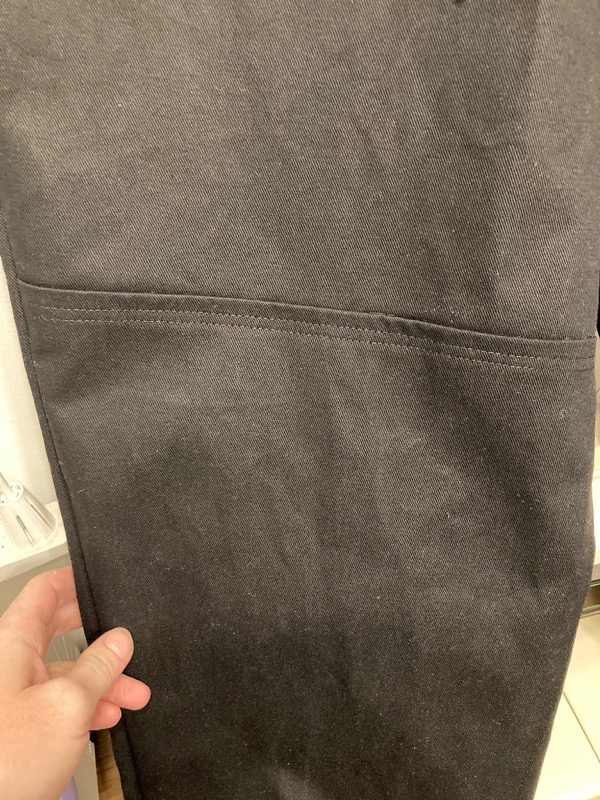 I used my trusty Prym pliers to do the eyelets on the waistband – the instructions are fairly good but completely omit the crucial step of interfacing the ribbing behind the eyelets! If you don't interface, the eyelets will pop out over time as the fabric stretches.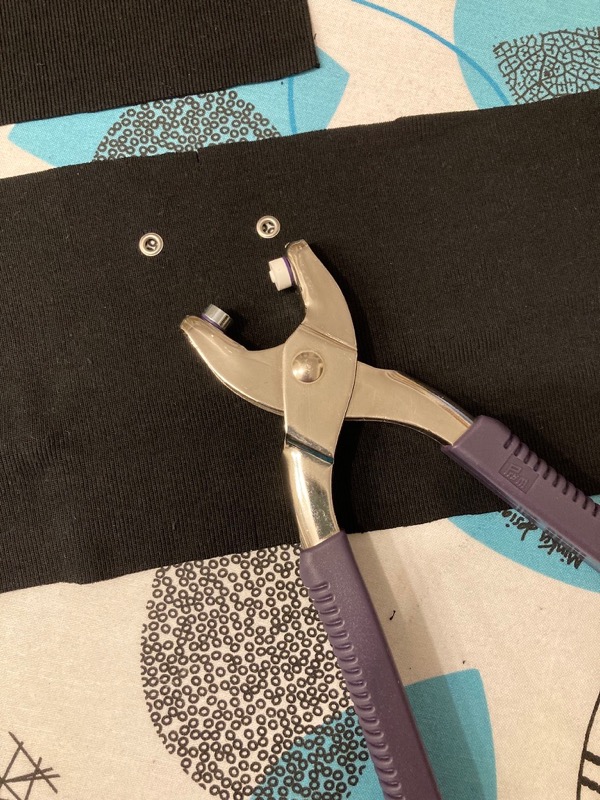 I used a big, long white shoelace for the drawstring but it actually turned out to be too long (and too bright!) so we replaced it after the first washing with a shorter, black shoelace to blend in a bit nicer.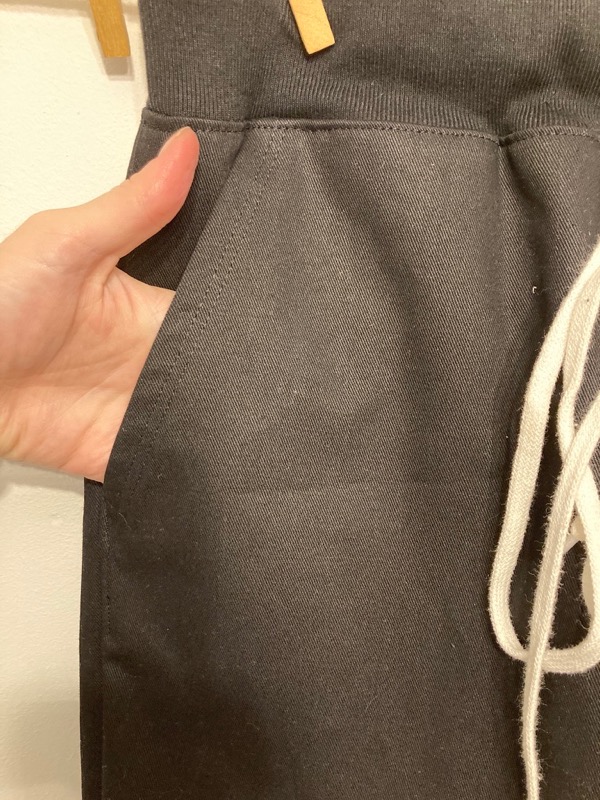 Since there's no actual opening at the waist (no zipper or button!), the front fly is just stitched closed, but still looks "normal" at first glance. Forgive my chalk marks that will come out in the wash!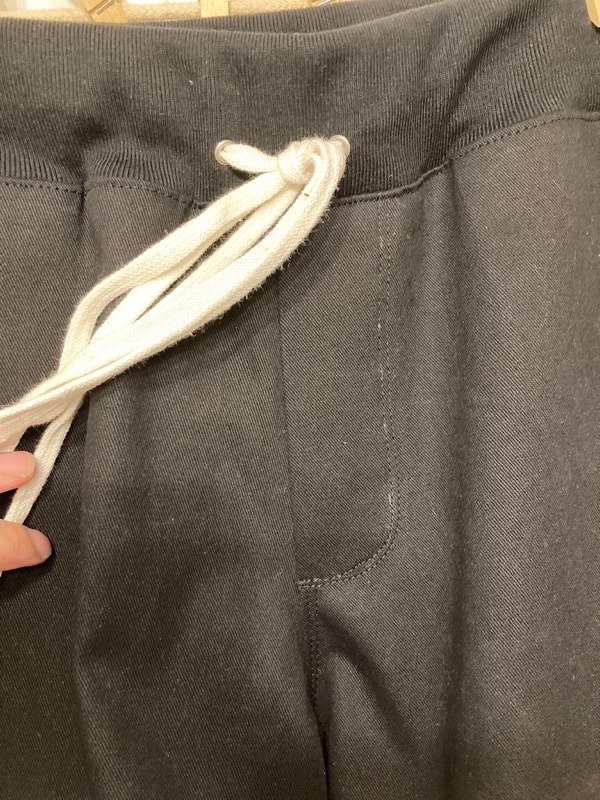 And here's a great view of the back of the trousers, showing the yoke, pieced back pockets, and that curved inner thigh piece I was mentioning. It's not a gusset and as far as I can tell it doesn't provide any extra shaping, but it's a nice detail.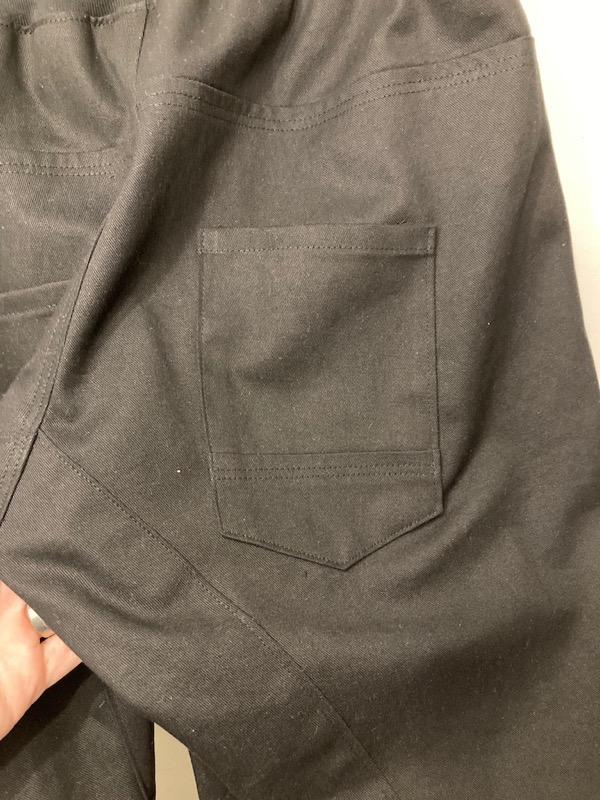 Since these were a surprise gift and J doesn't enjoy modelling, I wasn't going to force him to pose for you all, so you'll just have to take my word for the fact that they actually fit him very nicely! The length and waist were perfect and the fit is relaxed without being overly baggy.
As an aside, La Maison Victor have very quietly stopped printing the English edition of their magazine so I'm kinda annoyed with them at the moment. Their website never seems to list the patterns I actually make, and there's no trace of half of their patterns anywhere online. So I'm sorry that I'm telling you how great this pattern is, but with no way for you to buy it for yourself, even though LMV clearly have the pieces digitally and already translated…
I'm definitely inspired by these to make something similar for myself. I've had Seamwork's Moji trousers printed out for several years (also what's with them releasing the near-identical Witt pattern recently?) so I'm tempted to take a cue from these and cut the waistband from ribbing and hide elastic inside there, too. It seems like ribbing would certainly be more comfortable than gathered heavy twill!