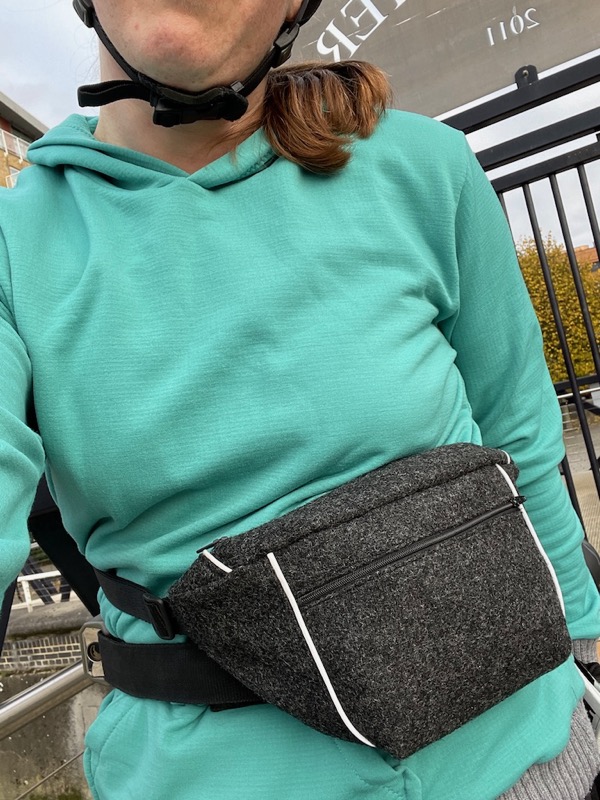 When swapping over my wardrobe from summer to winter recently, I realised that I have way too many clothes. Even after getting rid of 8(!!) bags to the charity shop collection, I still have a full wardrobe full of clothes that I adore and really want to wear. Which is great, but it means that I don't really need to sew much, and I started thinking more on what I should make that would really serve a function, and trying to concentrate on needs rather than wants.
One of the needs I recognised over the summer is that I don't really have any small bags that I can take with me when I cycle, when I don't want to carry a full bag, and what I'm wearing doesn't have enough secure pockets. So I settled on a waist pack (aka "bum bag" or "fanny pack") but one that I could sew in a more casual fabric so it'd look nice when I arrived, rather than screaming "I cycled here"!
There are tons of patterns out there for waist packs as they've become trendy again recently, but I realised I actually already owned one, since the "Linus" waist pack was included in Jalie's pet-themed Galaxie 4 pattern set last Christmas (side note – with this bag, I've now sewn every pattern in the set!).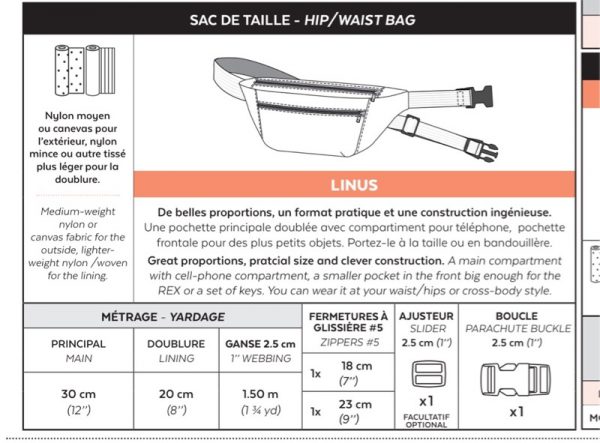 With a bit of pattern tetris, I was able to squeeze in all the exterior pieces from a piece of industry off-cut charcoal wool coating from Beyond Measure that I got in the goodie bag from the first ever Sewing Weekender. I bulk-fused the whole piece to ensure it didn't fray and to give it a bit more heft, and there were only the smallest scraps leftover. Win!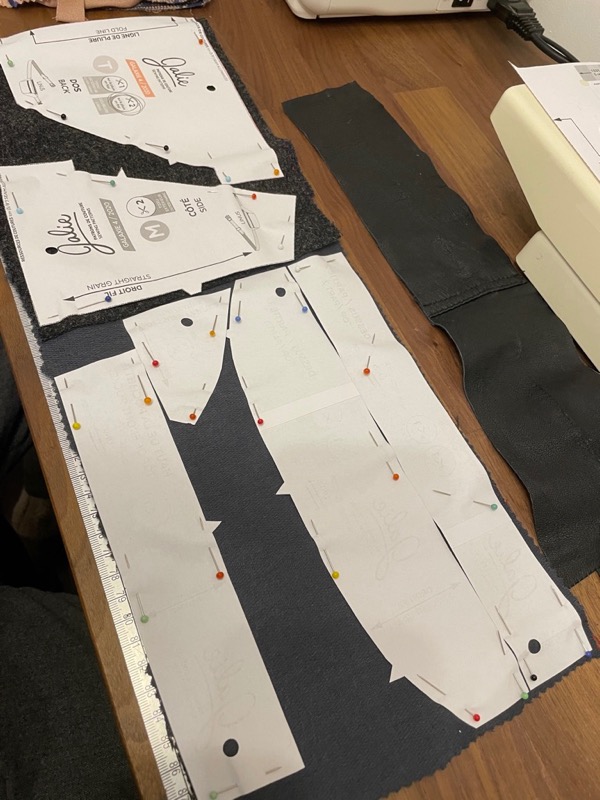 For the lining, I used a fat quarter (plus a sample) of a Spoonflower cotton fabric I designed well over a decade ago using a neighbour's illustrations of her cat, Vortex. Again, this used up every last bit of the fabric, though I did have to piece one with an additional seam to make it work.
Since I'd be wearing it cycling, I added reflective piping from my stash into two short seams, and in fact, the only supplies I had to buy for this were the two zippers, webbing, slider, and buckle, which I got from Pennine Outdoor for under a fiver.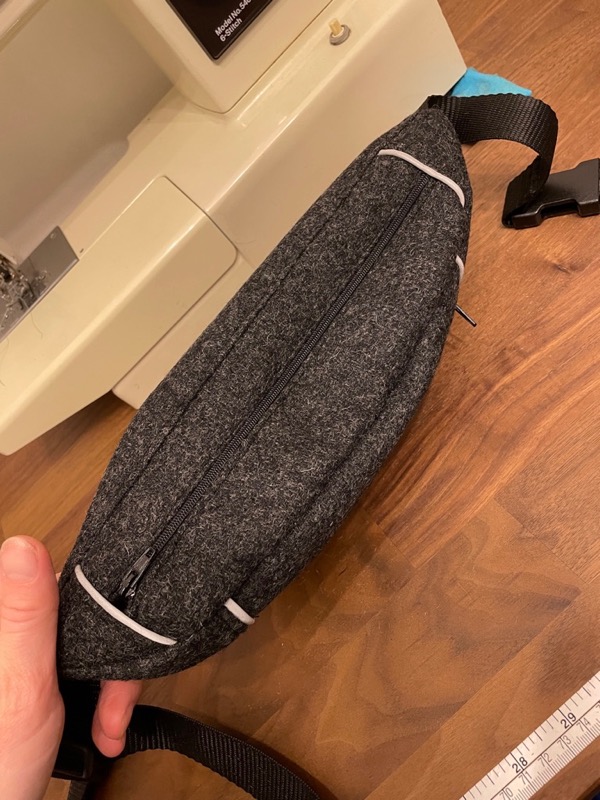 The construction of this was pretty good, and of course the illustrations were fabulous, though the one complaint I have it that there are two prominent seams left raw on the inside. The instructions acknowledge this, and advise you to either overlock or bind them, of which I did the latter using some sage green binding from my stash. If you don't finish these seams, I could easily see the bottom seam in particular becoming an awful "crumb catcher"!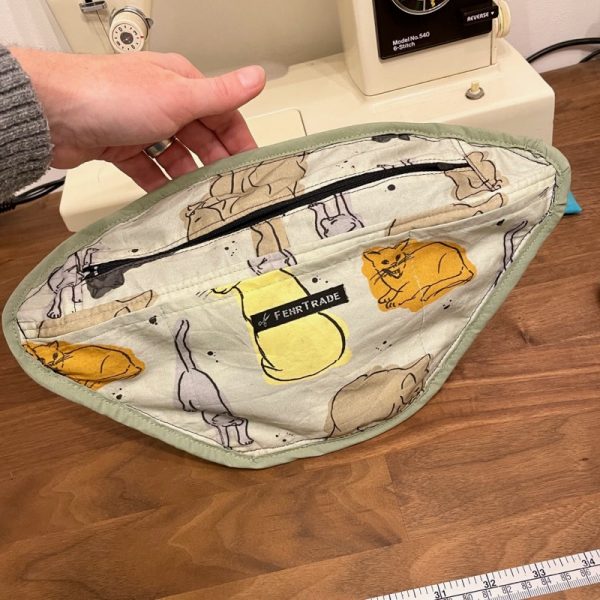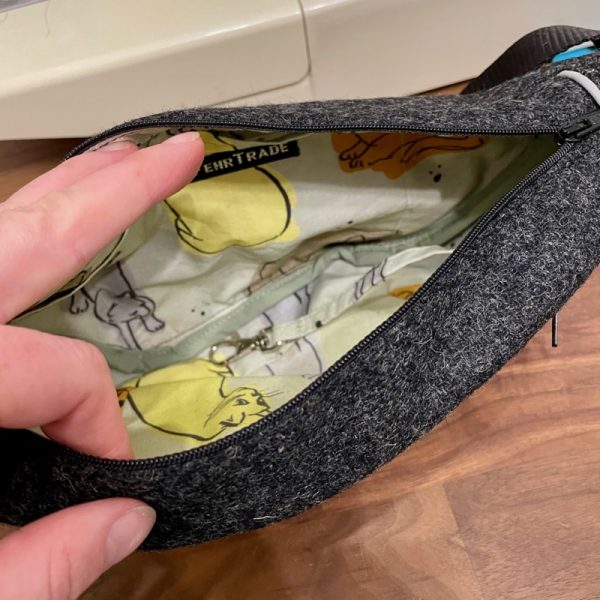 Even though this pattern only comes in one size, I absolutely love the amount of pockets in it – you've got a thin pocket in front which is ideal for a phone, then the larger, inside pocket has smaller dividers perfect for a card or lipstick or keys. But I opted to make it even better by adding a key leash using a scrap of the lining fabric plus some hardware we had lying around.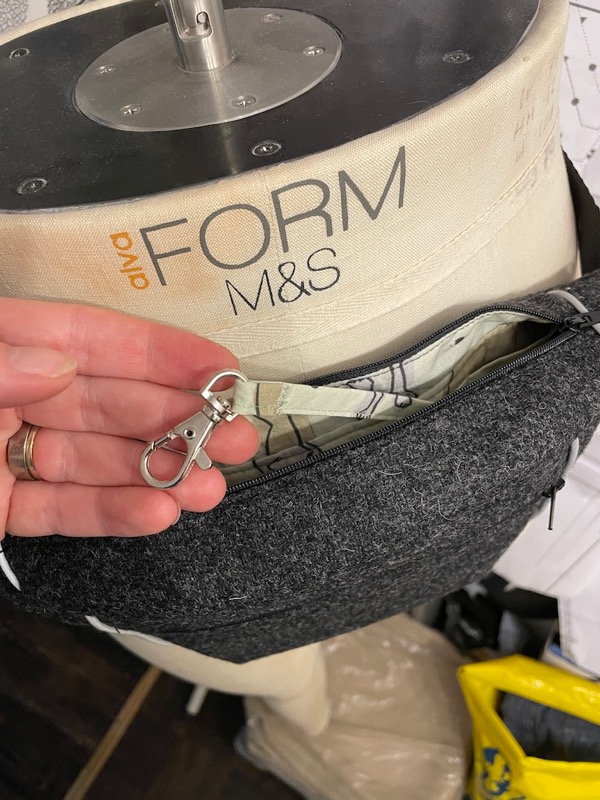 I even had an occasion to test it out recently, as I cycled across town for an (outdoor) team lunch with my officemates. It was an unseasonably warm day so I only needed a light sweatshirt and leggings, and threw on this waistpack over my hiplok and it was perfect! A coworker even said that these, slung across the body, are very fashionable with the teenagers of Berlin right now, and I'll take that!