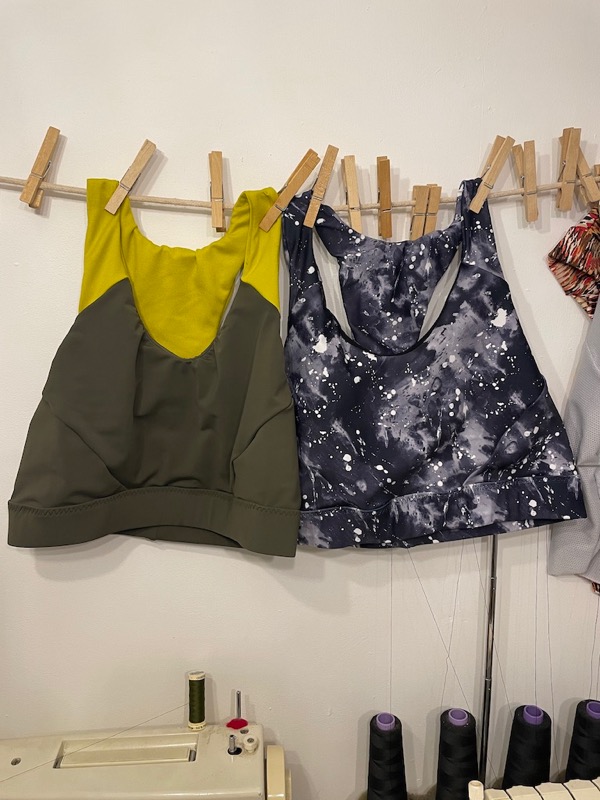 Carrying on from my earlier feeling that I have far too many clothes, I realised that one area of my wardrobe where I currently have a need is… supportive sports bras for running! Plus my lycra scaps bin is absolutely overflowing so this was a great project to work on! These are the 4th and 5th Jalie "Coco" sports bras I've made, so I think you can safely say I'm a fan of it!
This is the only sports bra sewing pattern I've found (and I've tried a LOT) that is supportive enough for running, but with a few small but essential changes – which I outlined in this post so I won't repeat them here again.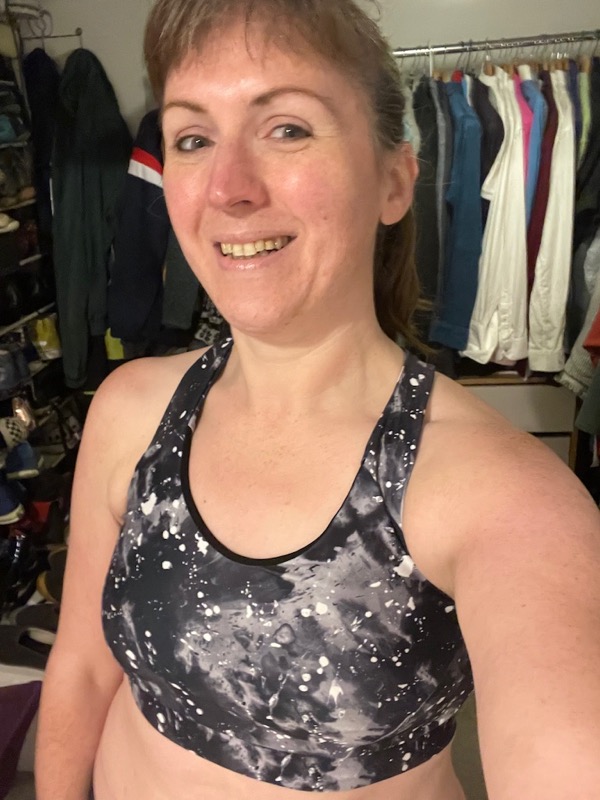 In terms of the fabric – one is entirely made in a black and white "splatter" print activewear fabric from Sew Active in Australia (RIP), which was leftover from this pair of Active Leggings. Believe it or not, this is the first time I've made this sports bra pattern all in one fabric!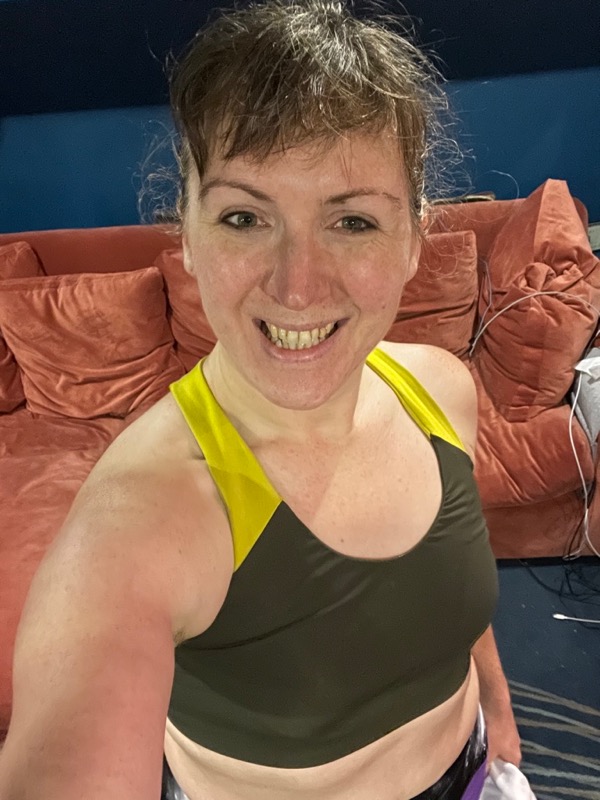 The other is made using the last of the olive Funkifabrics Perform fabric leftover from my recent Tenacity Leggings, with the back piece made in some of my beloved citron ex-New Balance activewear fabric leftover from these Steeplechase Leggings. I wasn't sure at first, but I really like how these two greens play off each other.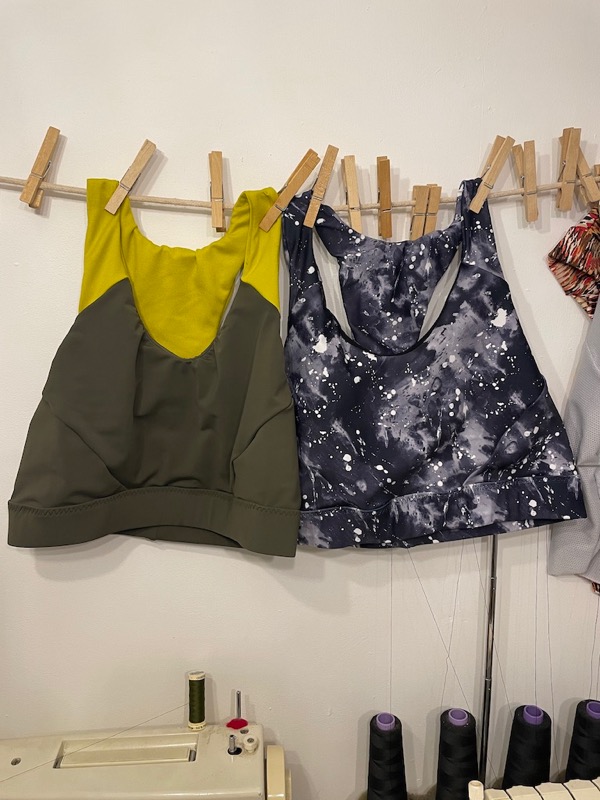 I double-lined both in my favourite stretch mesh from Tia Knight (black and olive), which makes them look nice and coordinated inside, too.
As with the previous versions of this pattern, the elasticator foot for my overlocker (serger) saves my sanity when dealing with clear elastic! I really can't stand sewing it on my sewing machine so frankly, this is the only way I'll really use it anymore.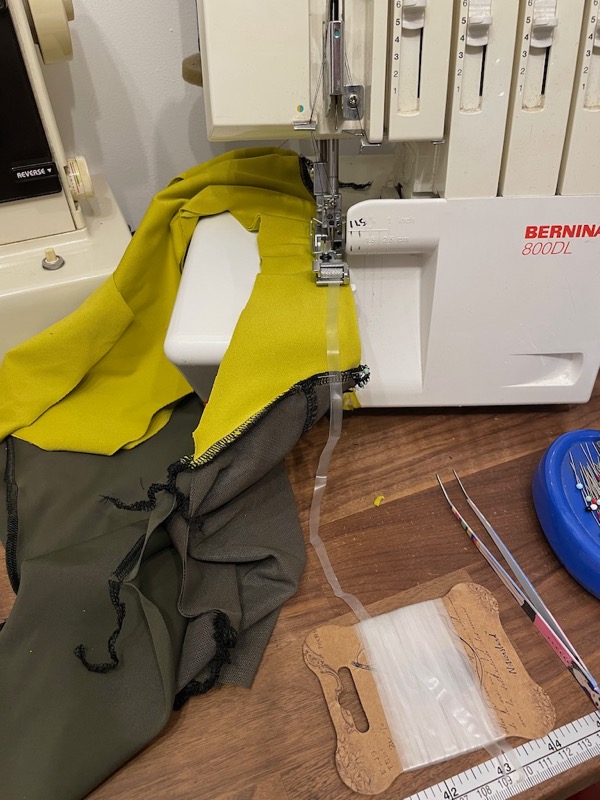 I notified Jalie, but I believe there is an error in the Band piece (E) for the wider elastic width (the narrower elastic cutting line is correct). The formula appears to be "3x elastic width + seam allowance", but the wider cut line is only 3x my 4cm elastic. I couldn't quite figure out why the final band topstitching was always off on all my previous versions of this pattern, but I've cracked it now – if you're using 4cm elastic, you need to add the 6mm (1/4in) seam allowance onto the cutting line for the wider elastic option! After I did this, the topstitching aligned as expected.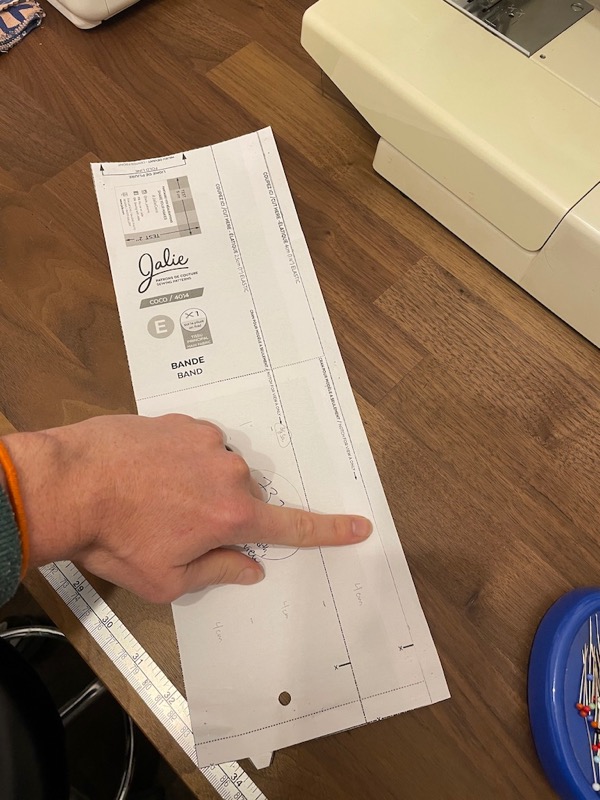 Jalie were very quick to get back to me and said that it seems to be an error in the imperial/metric conversion. Elastic that is marketed as "1 1/2in" in the US and Canada is often 38mm (used in their testing), not 4cm, as stated in the instructions. So the lesson here is to measure your wide elastic before cutting your Band piece fabric – if it's 38mm, you don't need to alter anything, but if it's 4cm, you need to add 6mm onto the piece as above!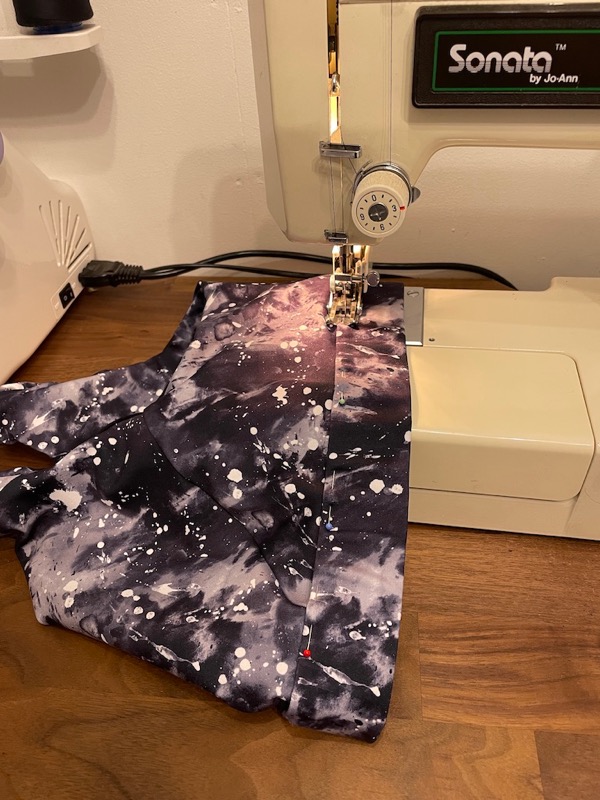 As before, both of these fit great and are supportive enough (for my B cups) to run in without bouncing (read about my "bounce test" here).
Now will this prompt me to actually organise my lycra scraps bin that's out of control, to see what other fun sports bras I could cut out with what I have? Let's see…