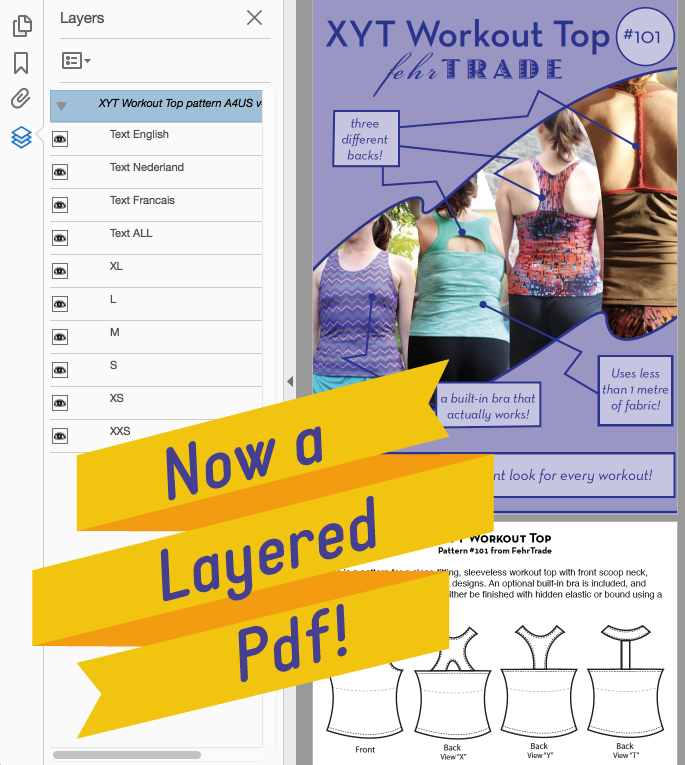 Happy Friday everyone! I've got some great news for all of you who've loved our XYT Workout Top pattern over the years – it's now available as a layered pdf!
The XYT was our first ever pattern back in 2013 and when it came out, layered pdfs weren't even a thing! Our most recent patterns have all been layered, but it's a really tedious task to re-organise everything in the older pattern files in order to add this functionality. But we've got some big love coming XYT's way next week (*cough* Print Club *cough*), so it was worth the extra TLC, especially since this pattern has English, French, and Dutch translations on the pattern pieces, too!
So what's a layered pdf? Well, if you open up the main pattern file (or the A0 Copy Shop file) in a compatible app like Adobe Acrobat Reader, you can choose to only print the size(s) or language(s) that you want, which makes it easier to cut along the right size lines later on.
If you open up the main pattern file, you need to click on the triple layer icon on the very left (highlighted in blue here), which then reveals the layers. If you click them while the pattern instructions are in view, you won't see anything happen (as these will print no matter what).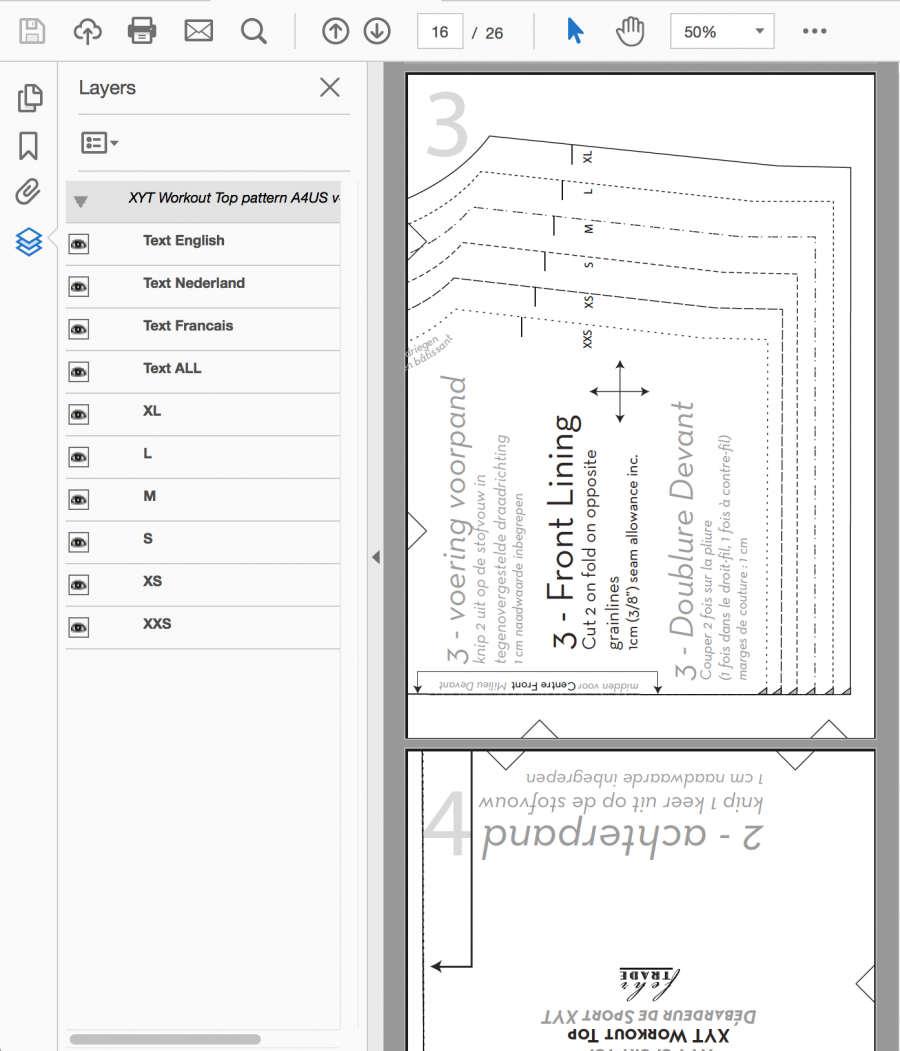 But if you scroll down to the Print at Home pattern page, as you click the eye icon next to each layer, you can see them turn on or off!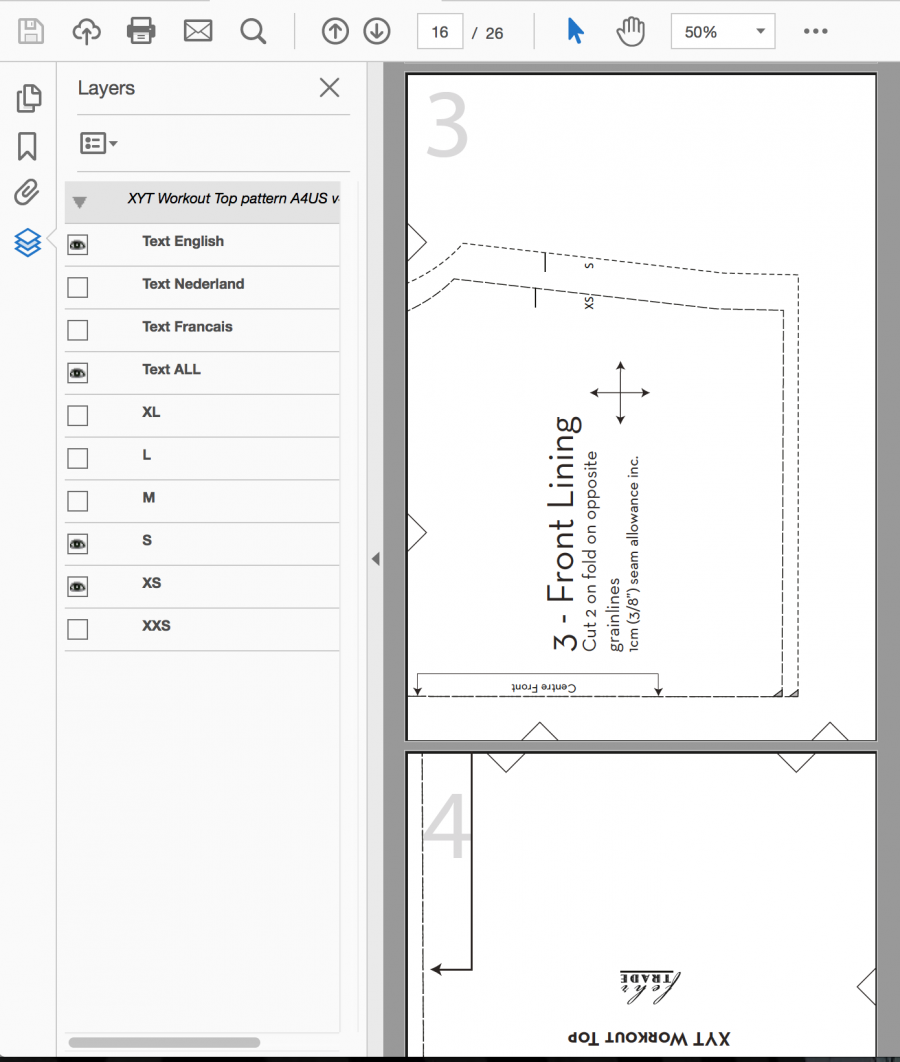 If you don't speak Dutch or French, you can turn those layers off, as well as any sizes you're not going to use. You should always print the "Text – All" layer as that contain grainlines and important markings!
And don't get too excited with the new layers that you forget about page sizing – remember to always print at 100% (No scaling) and double-check using the Test Square!
If you've already printed out your pattern and have it stored away for future use, there's no need to print it again just for this update – the drafting and pattern shapes haven't changed at all, it's literally just the ability to print only the layers you need.
Great! How do I get the update?
All new purchases of this pattern (no matter what the storefront) will receive the updated (v4) version.
If you've already purchased this pattern directly from the FehrTrade Shop, you just need to log in and download a new copy (the filename for the layered version contains "v4"). If you didn't create a login upon checkout, use the form below to get in touch and I can create one for you so you can access it.
If you've purchased through Pattern Review, you should've just received an email about the update, but if not, please get in touch with Pattern Review directly.
If you've purchased through Etsy or Kollabora, please use the form below to send me your order number and/or email address used for the purchase and I'd be happy to send you the updated version.
I'm spending weekend putting together next week's goodies for you all, but I couldn't be more excited to show you what we've got in store!