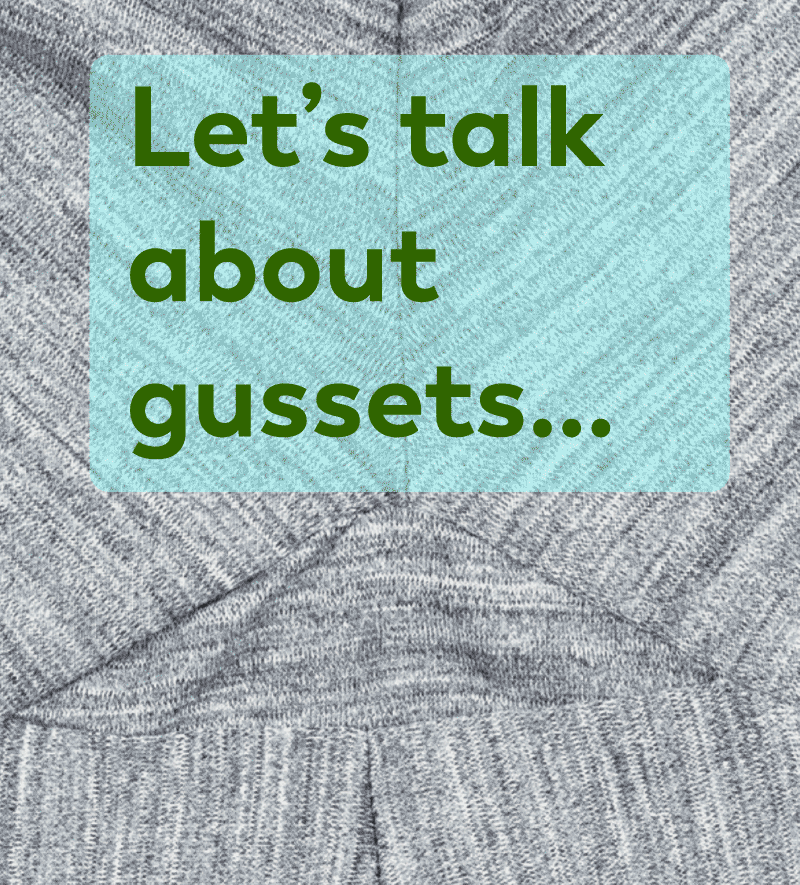 Let's all take a moment to talk about gussets – crotch gussets in particular, and what they can and can't do, because there is just so much misinformation floating around about them. A gusset is a separate piece of fabric sewn into a seam, most commonly seen on underarms (especially in vintage styles) and on the crotch of trousers.
The purpose of a gusset is to increase the range of motion of the limbs nearby – so in the case of the vintage blouse, its because a dolman sleeve doesn't really allow the arm to raise naturally due to the shape of the bodice/sleeve piece and the limitations on the non-stretch fabric. So a small gusset is added to the underarm will allow the wearer to raise her arms. The same principle applies to crotch gussets – the purpose of a crotch gusset is to increase the range of motion of the legs.
A crotch gusset will not magically fix a bad fit – if your leggings are fitting poorly, you need to address the fit issue, not add in a gusset. It's kinda like papering over a large crack in your wall and hoping the underlying structural issues are now resolved! You can also use gussets to disperse bulk at seam intersections with heavy fabrics – so if you've got a very thick sweatshirting, it may not be comfortable to have four sets of seam allowances converging at your crotch, for instance. But for the vast majority of people, the term "gusset" should be synonymous with "range of motion".
Again, for those at the back: Gussets are for range of motion, not for fit.
I decided to add a crotch gusset to the Yoga Bottoms design in my book for several reasons. First and foremost is that yoga requires the legs to go through a wide range of motions, so a crotch gusset here will limit the strain on the fabric in order to get into poses like our athlete model Jade is showing here!
Secondly, "Does your [insert name here] pattern have a crotch gusset?" is one of the most common questions I get asked, and I wanted to show people how easy it is to add a crotch gusset onto any pair of leggings. So now I can just refer these people to page 104 of my "Sew Your Own Activewear" book, bwahahah.
My own motives nonwithstanding, let's think about various sports and exercises and think about the range of motion the legs go through and if you think a crotch gusset is necessary…
Yoga? ✔️ Lots of range of motion needed here!
Running? ✖️ Nope – your legs move back and forth a lot, but the range is not very wide
But what about track events like hurdles and long jump? ✔️ Sure, here the legs have to spread very wide apart when striding, much more than in normal running!
Cycling? ✖️ Your legs don't move very far from the hips, and its likely a pad will be used overtop of the crotch seam intersection, too.
Climbing? ✔️ Yes! This is probably the sport where the most range of motion is needed.
As climbing is a great example of when you need your legs to move in extreme angles – one moment you're spread-eagled with your legs almost in the splits, and the next you might have your knee even with your face – you can sometimes find crotch gussets much, much larger than usual in climbing-specific bottoms. It's not unusual to have climbing crotch gussets that reach down to the knees – much larger than needed for yoga!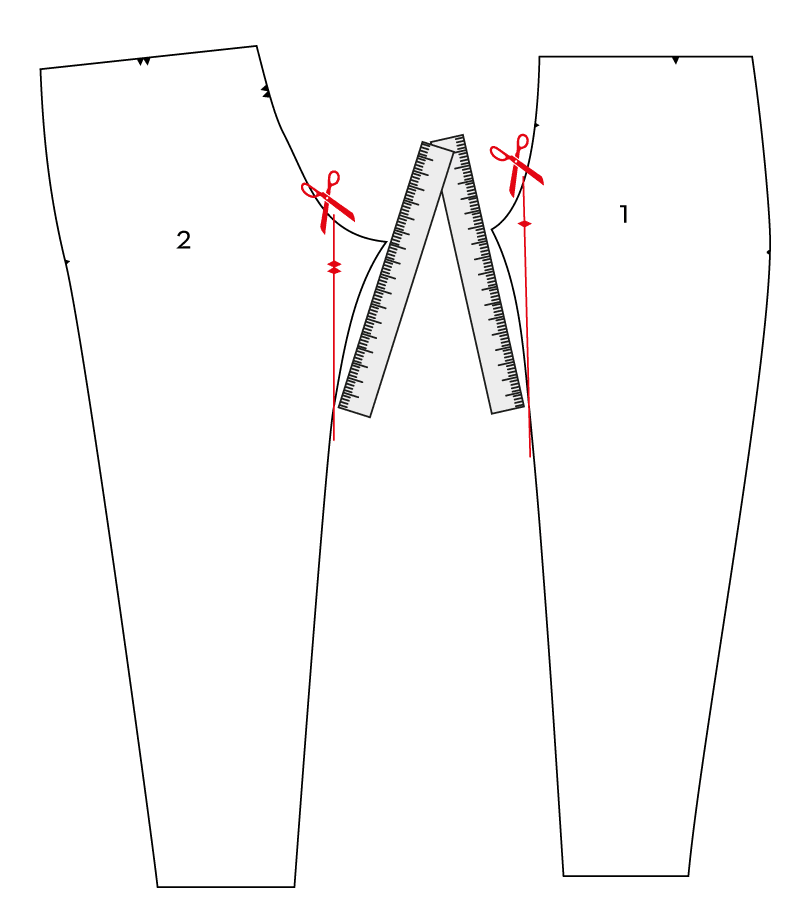 Luckily, it's easy to increase the size of the gusset in the Yoga Bottoms if you need a greater range of motion than I've called for in the instructions. In Step 5 of the Pattern Change instructions, simply change the angle of your cuts to the Front and Back to reach further down the inseam. In the book I suggest 5cm (2in), but you could double this (or even further) to accommodate further range of motion.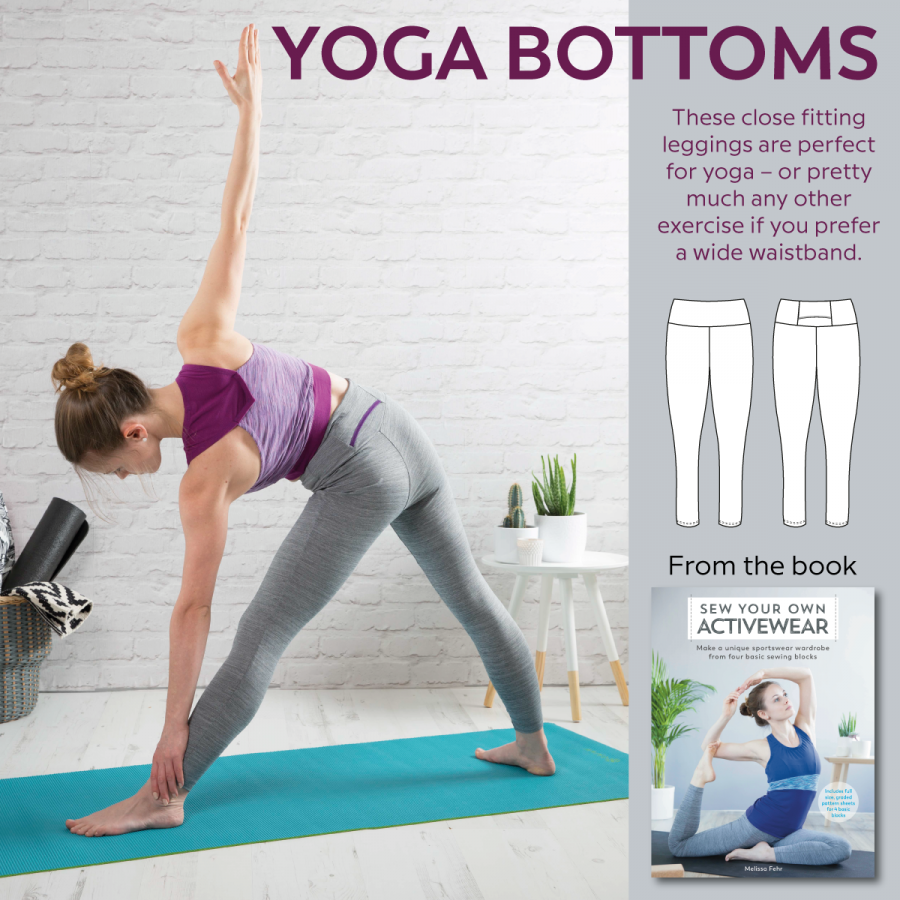 Changing the size of the gusset doesn't impact how you sew it, either. In my book I use a method where you can do it all on your overlocker (serger), so you don't end up with one side looking wonky and the other perfect (as I've seen in some other activewear pattern instructions). And of course, you can use these same gusset instructions on any of the other bottoms in my book, too, so if you like the pockets and design of the Active Leggings, for instance, you can use the Yoga Bottoms instructions to add a crotch gusset onto those, too.