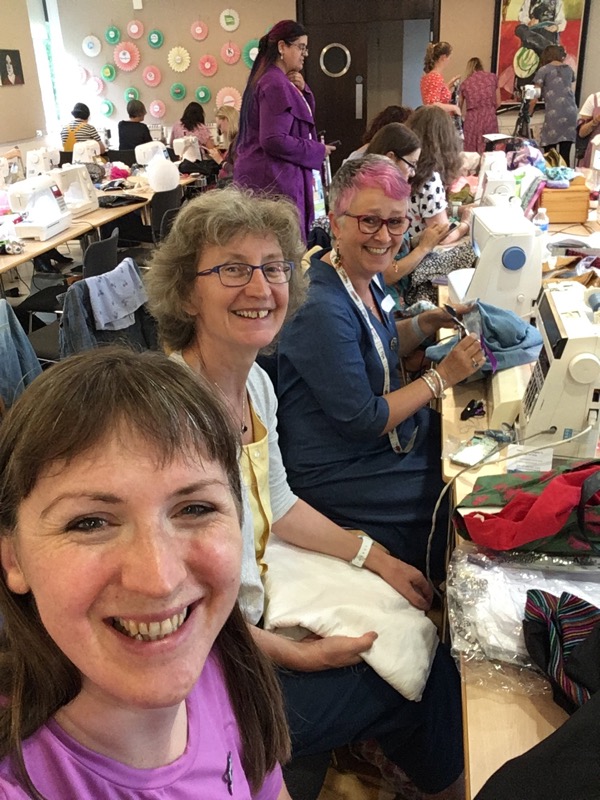 No sooner were we back home from Iceland than I was on my way up to Cambridge for my third Sewing Weekender! The first year I was lucky enough to buy a ticket, then last year I gave my "Sewing for Movement" talk as a speaker, but this year I was determined to attend again and set my alarm in order to buy my ticket as soon as they went on sale.
No joke, these tickets were hotter than Glastonbury – we crashed The Fold Line's site and tickets sold out in like ten minutes despite having doubled capacity this year to 100 places!
The Sewing Weekender is two days of pure sewing bliss – lots of "free sewing" time to chat and gossip and "ooh what pattern is THAT?" with other like-minded people, plus plenty of tea and biscuits, excellent speakers, pub dinners, a legendary swap table, and even unofficial pyjama parties if you're staying overnight. But with all that free sewing time, you need to choose a project carefully. I made the mistake my first year of bringing a Vogue designer pattern that required too much concentration, and because I usually bring my travel sewing machine, I didn't want anything I'd usually sew on an overlocker (serger), either.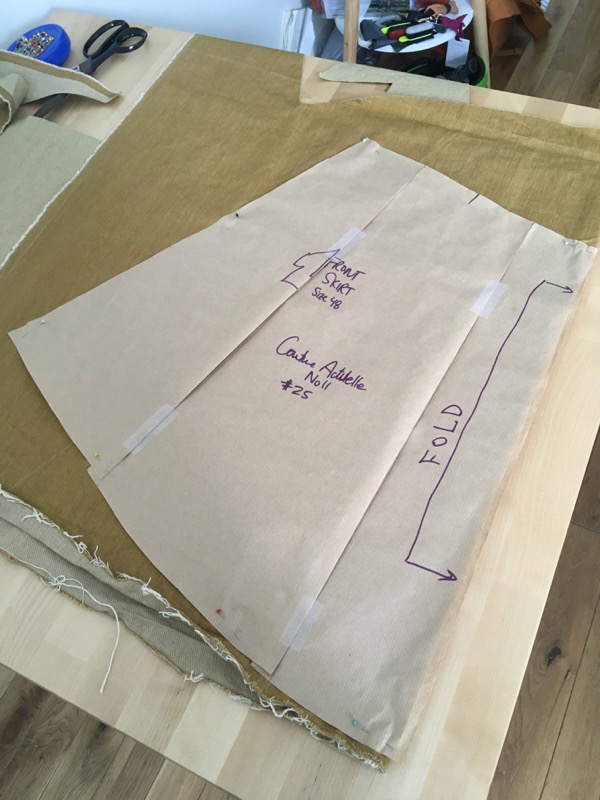 So the day before I left I decided to make a skirt using some mustard denim I'd picked up at Rolls and Rems in Lewisham for £7 (oh how I laughed when I saw others at the Weekender who'd paid literally 3x that for the same exact fabric at a popular but overinflated online shop, ha!).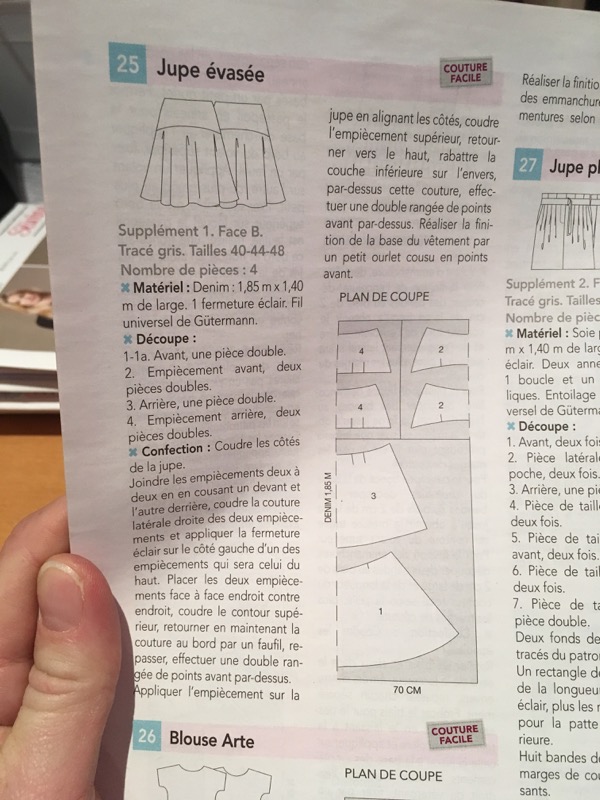 J has been very good at picking up European sewing magazines for me on all his work travels recently (you should see the stack he brought me back from Rotterdam this week!!), and I liked the look of this yoked jeanskirt from the French version of Patrones magazine. I had to pinch out a little bit of fullness in the skirt to get it to fit into 1 metre, but I made it work, and crucially, I could sew it on my little travel machine without needing to queue for an overlocker.
Of course I had to bring my nail game, too (courtesy of my MoYou Fashionista No1 plate)!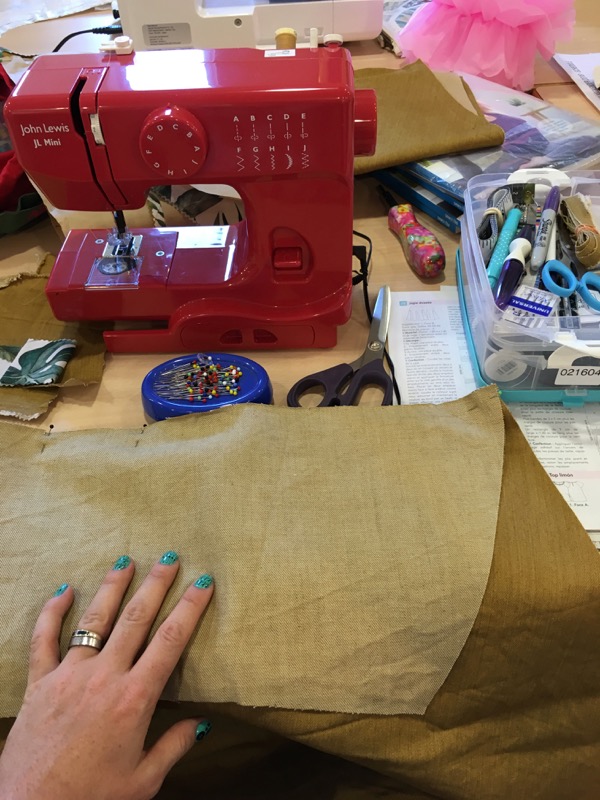 This year there were two big rooms full of sewing spaces – when buying your ticket you could either choose to bring your own machine (not a problem for me!), or use one of the Janome machines provided, and due to transport woes, I was lucky that Elizabeth and Sue saved me a spot after arriving late.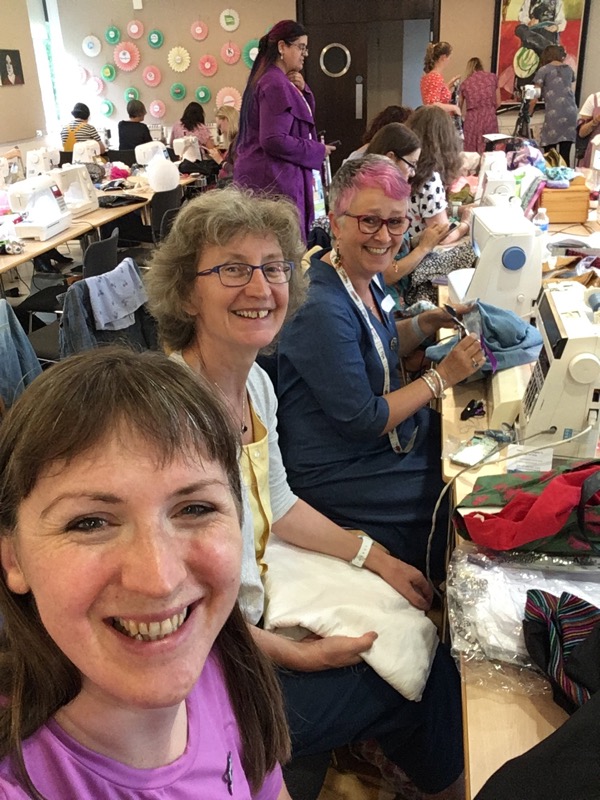 This was the first year we were split across two rooms, and even though we all mixed during the tea breaks, lunch and dinner, I still felt like I didn't get to chat as much to the ladies in the other room. I guess there's just so much interaction that goes on when you're walking past someone, or hearing snippets of conversation, or queuing for an iron!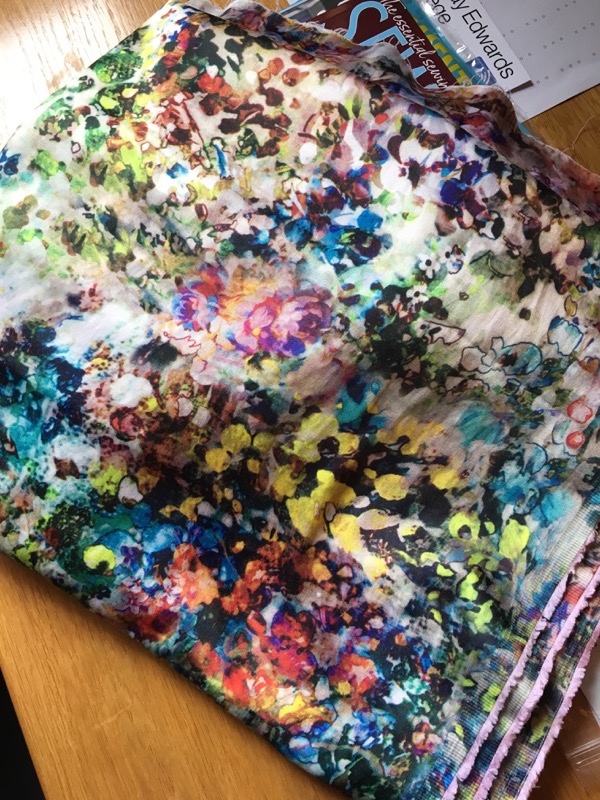 I was very restrained at the epic swap table again this year, only picking up this length of stretch cotton sateen in a wonderfully abstract digital print. I definitely think it needs to become a little sheath dress at some point, maybe in time for Christmas party season? If you recall, last year my one and only "purchase" was a lingerie patternmaking book, so I feel I'm doing well in getting rid of more than I bring home! The goodie bags were noticeably lighter this year than in the past, but I imagine it's a lot harder for brands to stretch to freebies and discounts for 100 people than it is for 50, so I totally get it.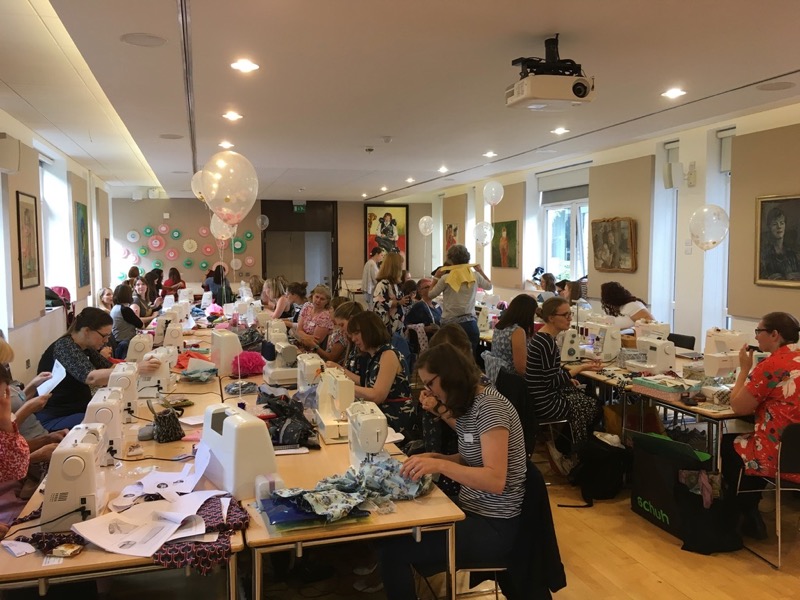 Despite bringing an easier project, I can honestly say this denim skirt is Not My Best Work. I stupidly chose to follow an online tutorial for a lapped zipper, not realising that said instructions did not apply to all patterns (I needed to have cut my seam allowances differently). So my lapped side zipper is decidedly shonky. Also the fit of the pattern is a bit odd, with two pokey-out bits at the hips where the yoke seams join. I was able to bodge the non-zipper side to have a smoother curve, but the zipper side couldn't be fixed without ripping out the zipper (ugh).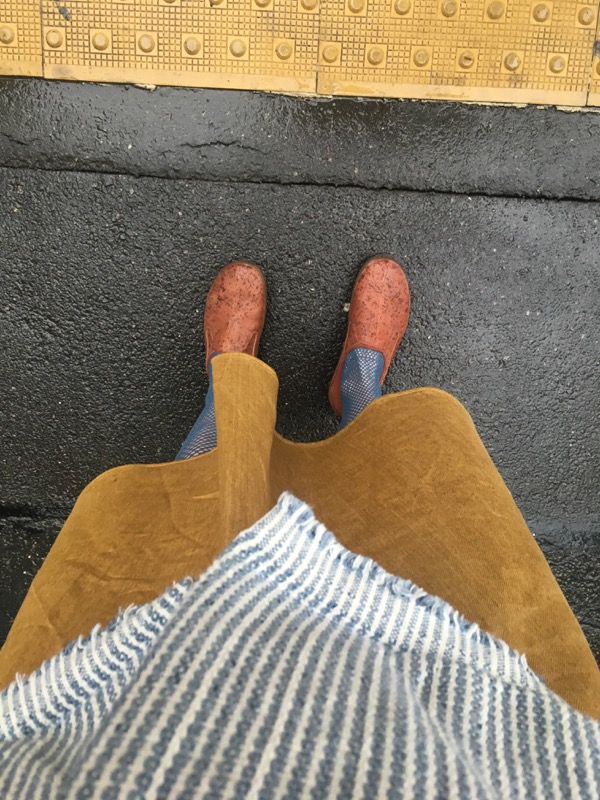 But I really just needed a wardrobre-workhorse skirt to get me through the next few months until I can fit back into the bulk of my clothes again (five months of being virtually-bedbound wreaks havoc on the body), and it fills a hole in my wardrobe just fine even with the wonkiness.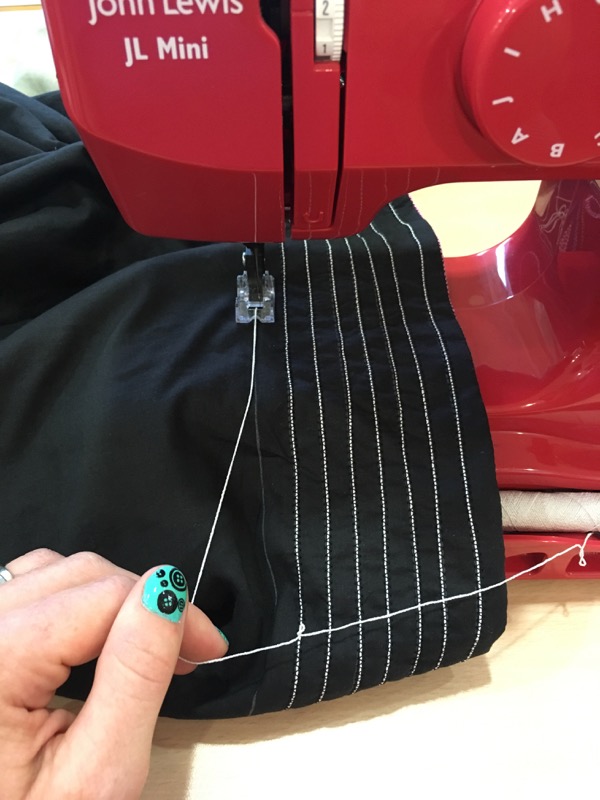 The other project I brought along to work on was a long-delayed skirt using a traditional fabric bought on our holiday to Mexico in 2013 – it took me months to decide what I wanted to do with it, more months to find a black cotton voile to layer under it, and it's been a saga of warring shirring techniques for the past few weeks (resulting in my unpicking a lot). So I thought it'd be a good project to just power on through at the Weekender.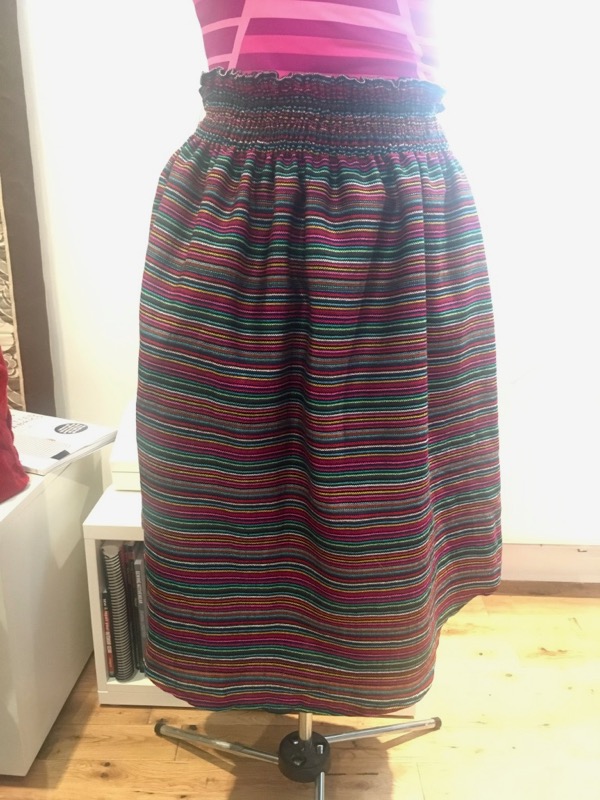 Eight lines of shirring later and I actually think I need to add eight more, as the skirt really poofs out under the bottom of the shirring making for a weird silhouette at the widest part of my hips. Ugh. So this skirt project lingers on…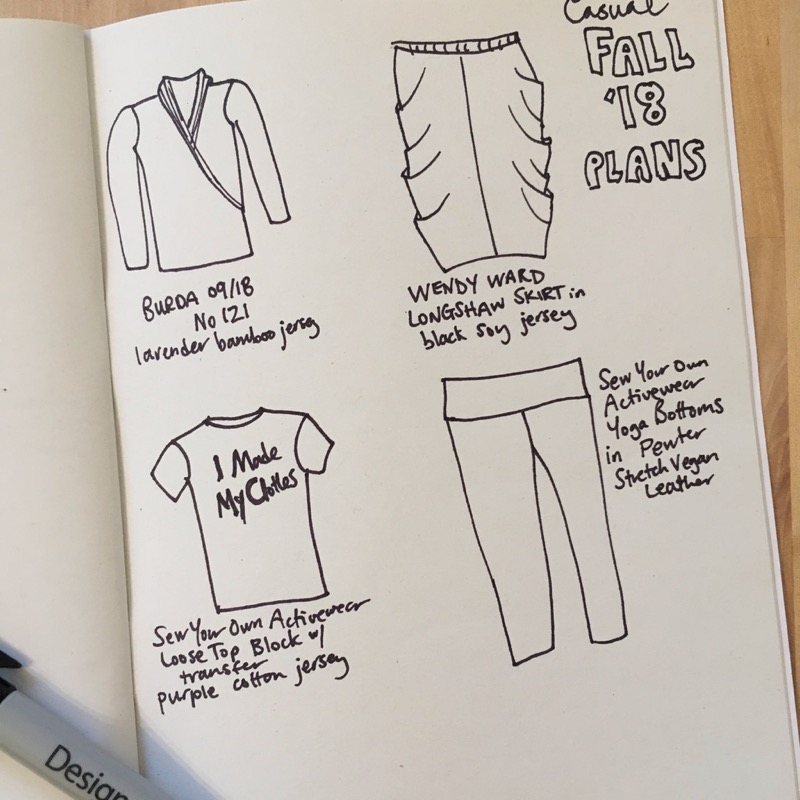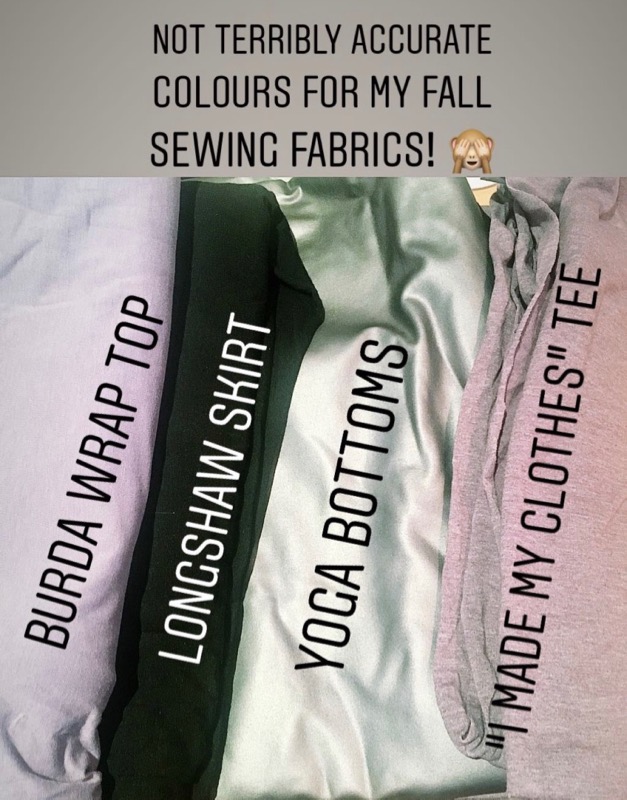 But in the meantime I've turned my thoughts towards what I should make over the next few months. It's a transitional time for the weather, of course, but also in terms of my body as I attempt to shed my excess sick weight and rebuild back to running strength again, but also because we'll be moving from this temporary flat back into the newly-renovated boat, too. So I didn't want to bite off too much, and stuck to four good, basic pieces that should work with my life.
Is anyone else thinking of Fall sewing plans at the moment?