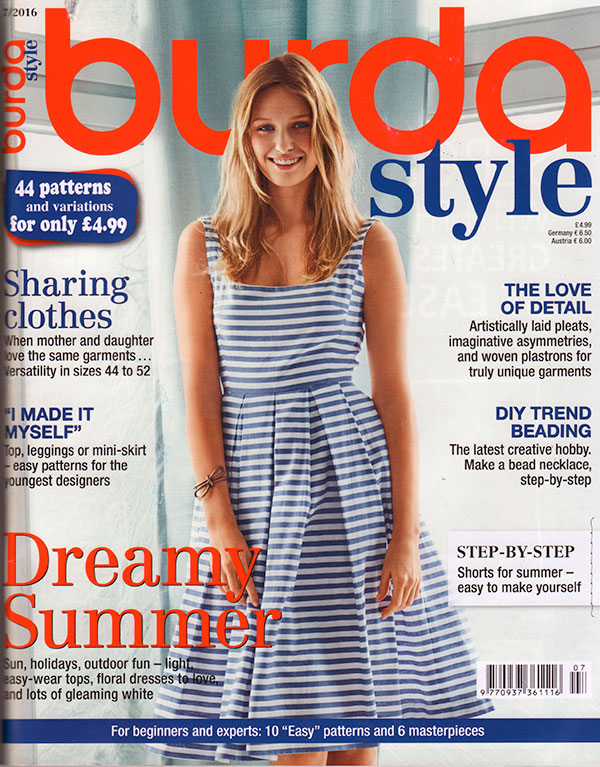 Burda definitely keep up with the seasons, but I still kinda miss the reliable rhythm that the issues used to have back in the day – January had loungewear, March was always the wedding special (the only one they've reliably kept!), some menswear in April, May had tons of dresses, August was the Fall fashion previews (and usually maternity, too), cocktail dresses every November, and evening gowns in December. But my least favourite was always the summery beachwear in the June and July issues, because there was pretty much nothing I could wear in an English summer, where it rarely gets about 70-75F (25C)!
But in recent years Burda have been mixing things up, and the old scheduling has given way to more unpredictable features, which I think gives more variety and appeal to a wider rare of sewists. This issue certainly has a lot more than I'd usually like from a July!
The first feature is all about "tennis whites", and I utterly adore this dress with an asymmetric cutaway neckline. The back is cleverly all one standard piece, meaning it's less likely to shift around while worn. I think it looks great in a solid, but it's also shown later in the magazine in a busy print, too.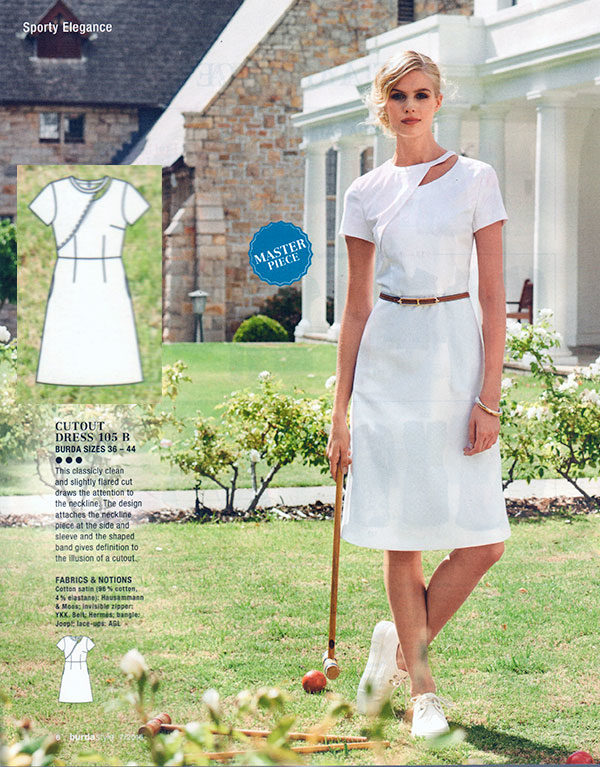 This shirt (or dress) features a really cool woven fabric detail that I've not seen Burda do before. If you're unsure about fabrics weaving, have a look at misterdomestic on Instagram for some amazing examples of what can be done when you mix weaving with sewing garments…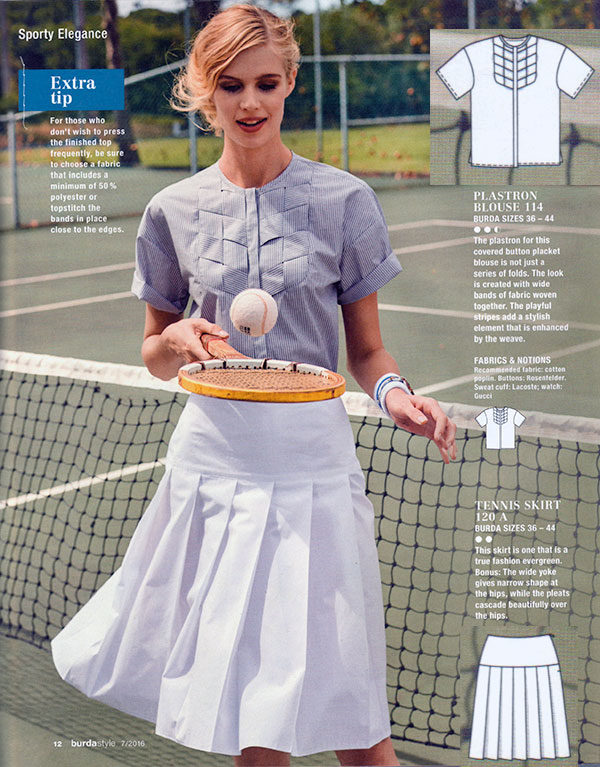 This is the petite pattern this month – again, a summer dress with some amazing asymmetric strap details at the neck, and a kangaroo pocket in the A-line skirt, too.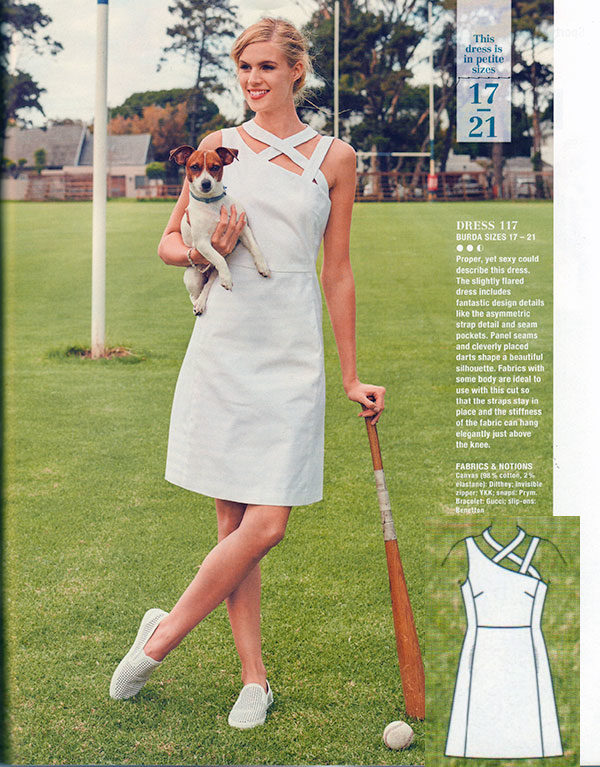 The coloured, illustrated instructions this month are for shorts (in two lengths) with vintage-style scoop/patch pockets. These look really quite wearable and flattering, and particularly summery when made up in a seersucker!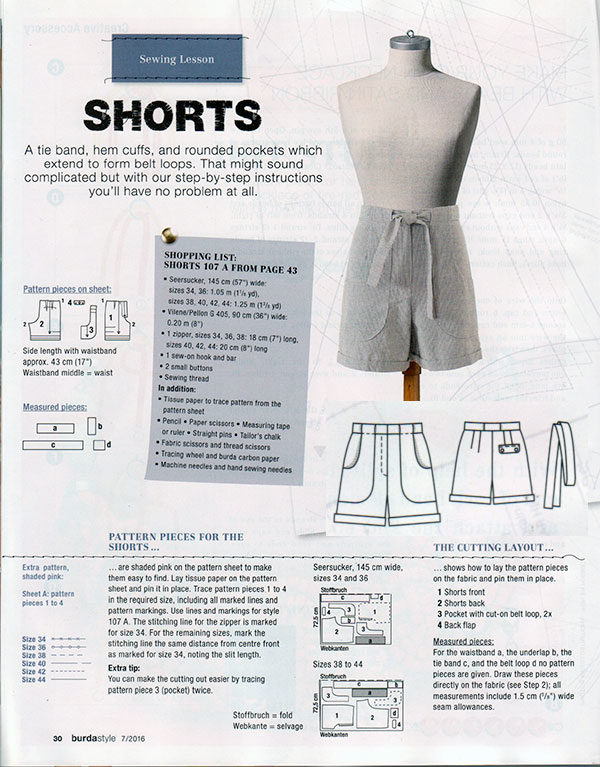 The fabric makes me gag and I don't know what's going on with that floof at the hem, but the chevron woven fabric at the neckline is just divine! Luckily, this one also has illustrated instructions this month, because those pleats could be straight out of Pattern Magic!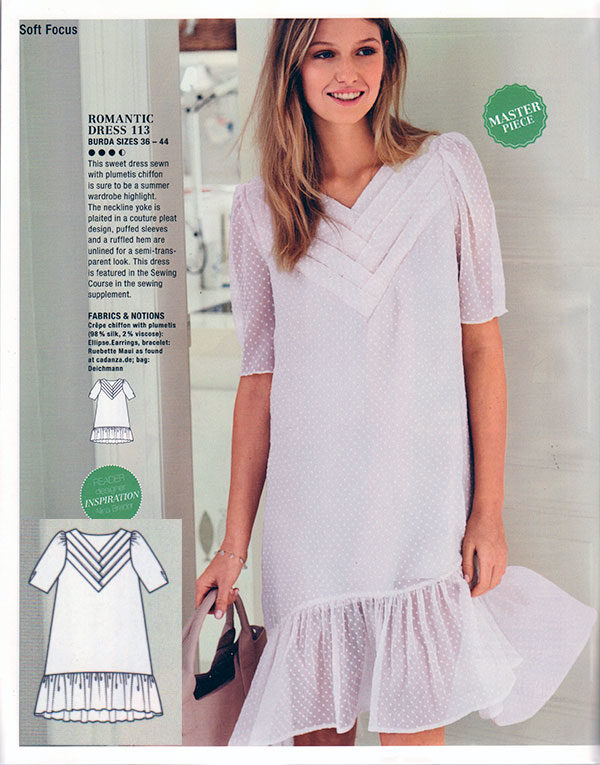 The kids patterns this month are all for tween girls (quite a rarity for Burda!) with the concept that they're easy enough for her to sew for herself, like this cool asymmetric zippered skirt.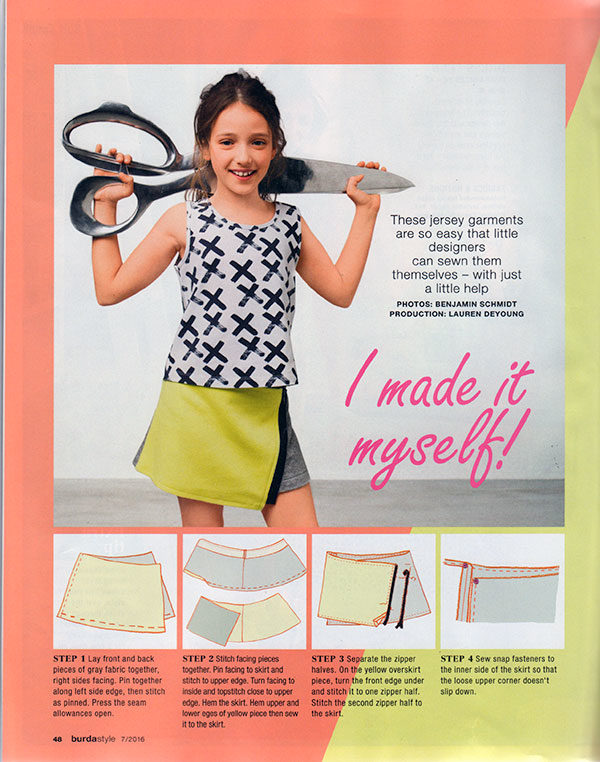 And again, for tweens, a cropped knit shirt and one-piece leggings (but with a gross casing elastic waistband rather than my preferred method).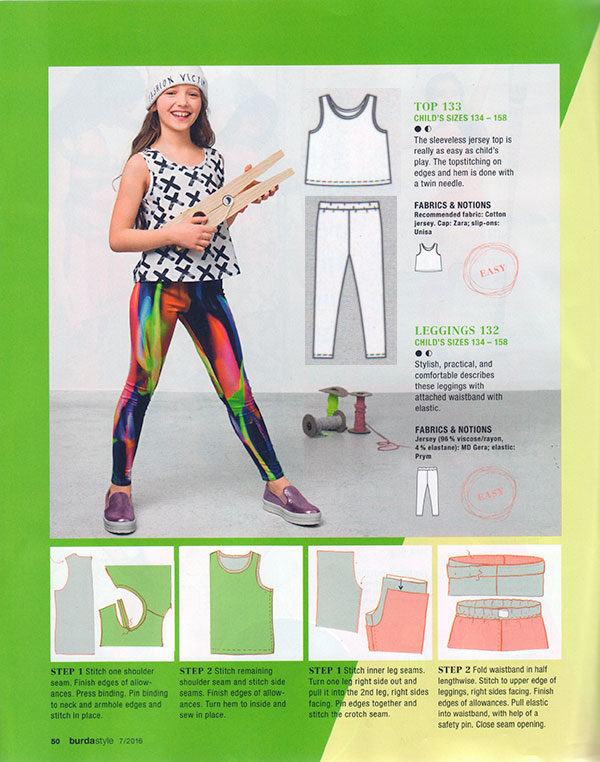 The Plus section this month is, IMHO, one of the best ever. There are a lot of very wearable separates, and because the photoshoot is of a mother and daughter, you get to see two different versions of (most of) the patterns and on two different models. I think the trousers here are amazing but also very likely to get overlooked – they have vertical seams front and back with an offset, inseam zipper. Vertical seams make for much easier fitting – they're like princess seams for your legs!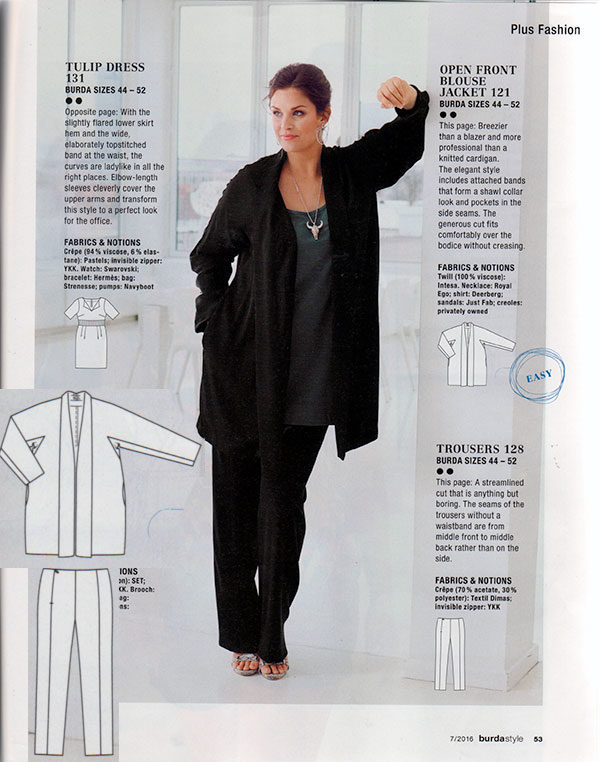 Also in the Plus section – a very cute surplice wrap top that could be really flattering on curvy figures.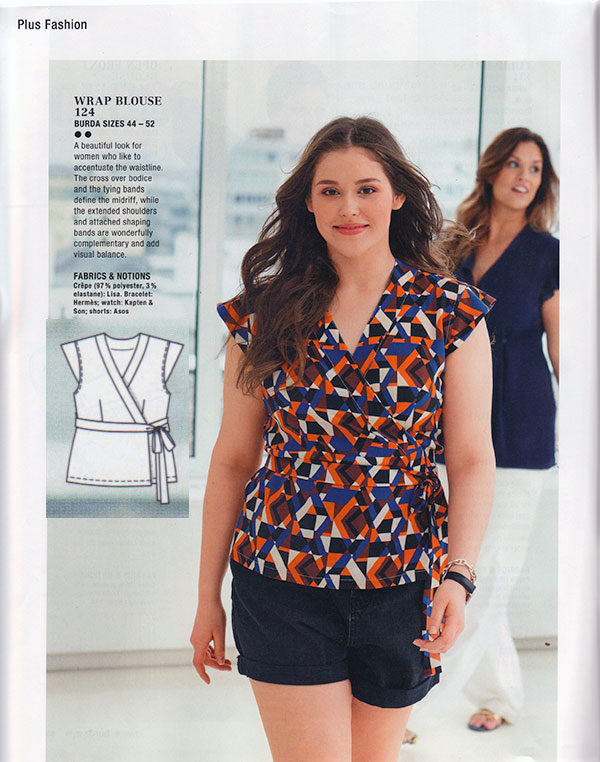 I'm pretty sure I saw a similar design in a Burda Easy magazine, but the geometric binding neckline is really striking! Instead of cutting away the fabric, here the effect is achieved with thin strips zigzagged around the neckline.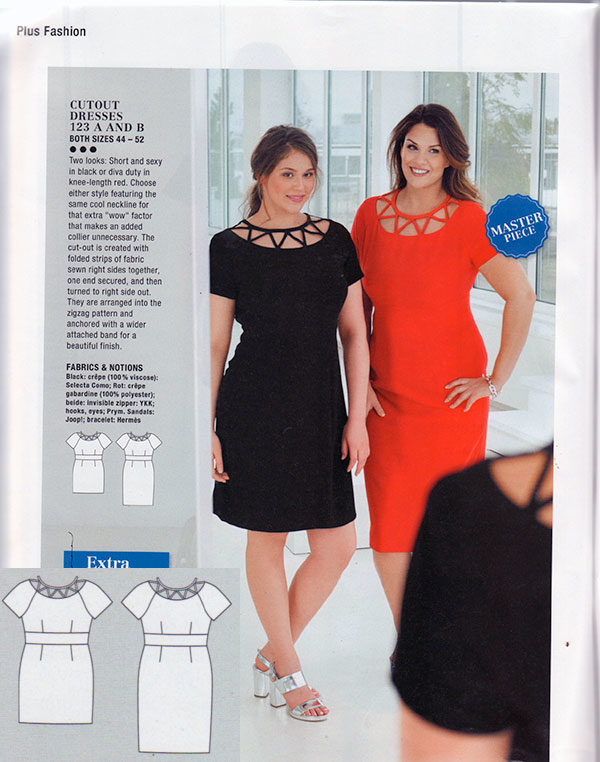 And finally, two different variations on the classic wrap dress for Plus sizes!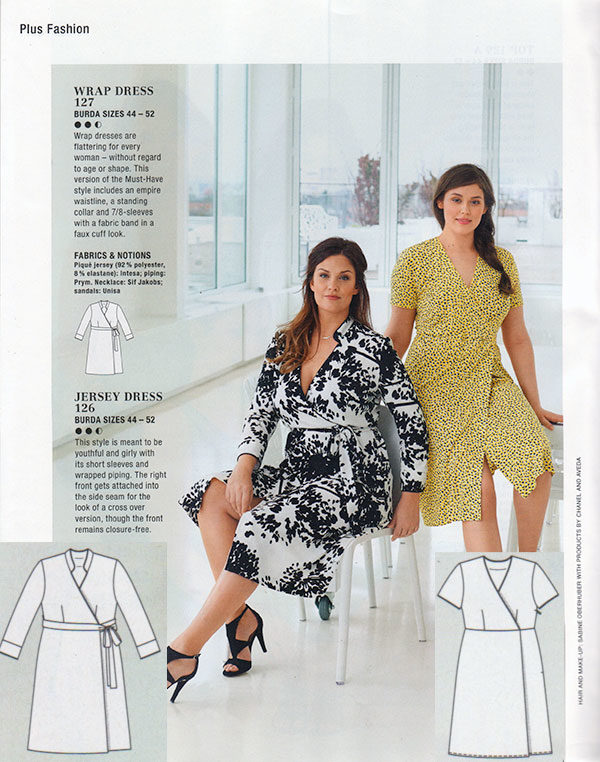 What was your favourite from this issue? I think mine might be either the first dress with the asymmetric slit, or the Petite one with the asymmetric neckline strapping – but I'm not predictable or anything!!