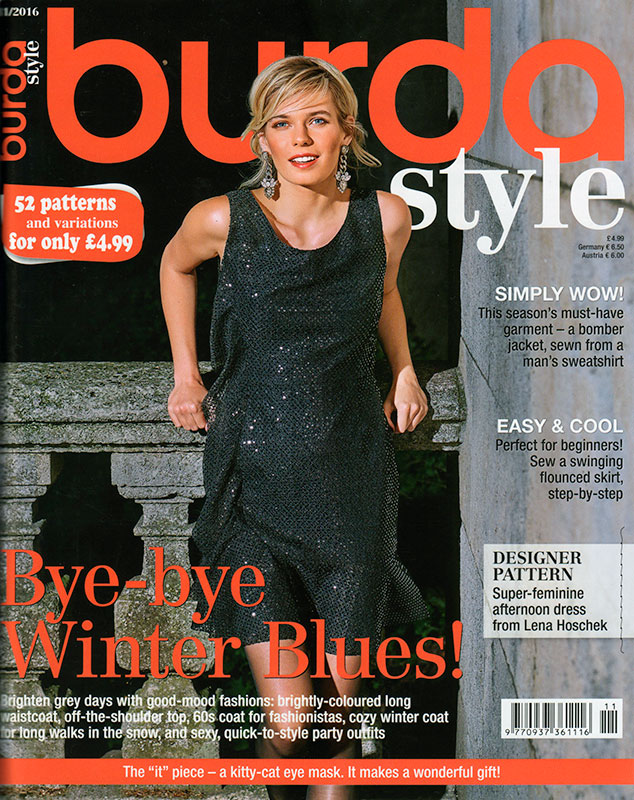 November is the start of winter in the Northern hemisphere and for Burda, this also means the start of the glitzy holiday party patterns, too! Thankfully, this issue also has a good variety of warm, wearable separates if you're Billy No Mates and haven't got a Christmas party to attend this year (waaaah! Anyone want me to come gatecrash their party??). So let's take a look at my highlights this month…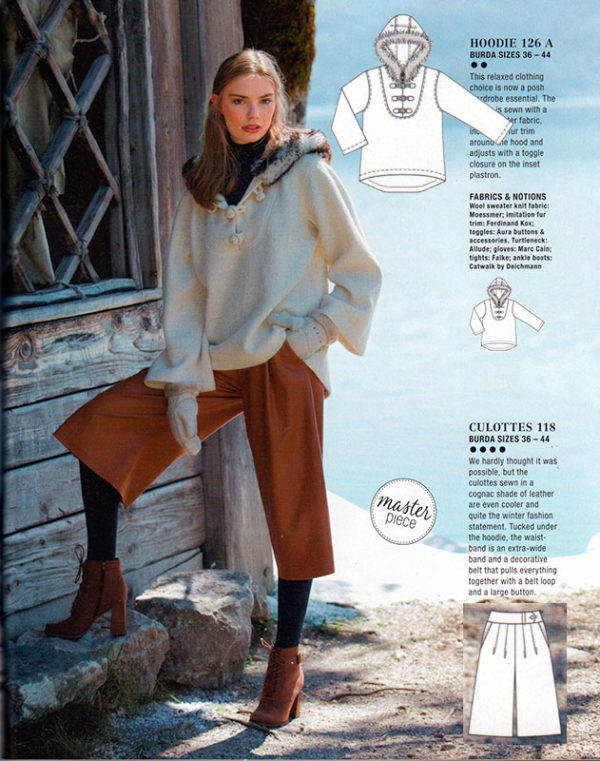 We're starting on a high right away here because I love this hoodie/cape/poncho and the culottes it's paired with, too. You can't really see it in the photo, but the culottes have an interesting, integrated belt with a single belt loop, too. One day I'll actually make a pair like I've been threatening to for months!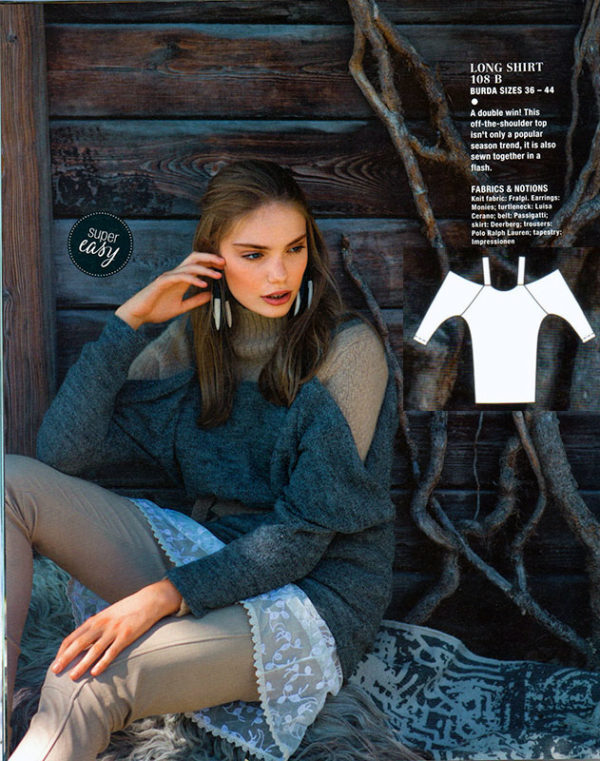 This is so wrong on so many levels. 😳 Just… no.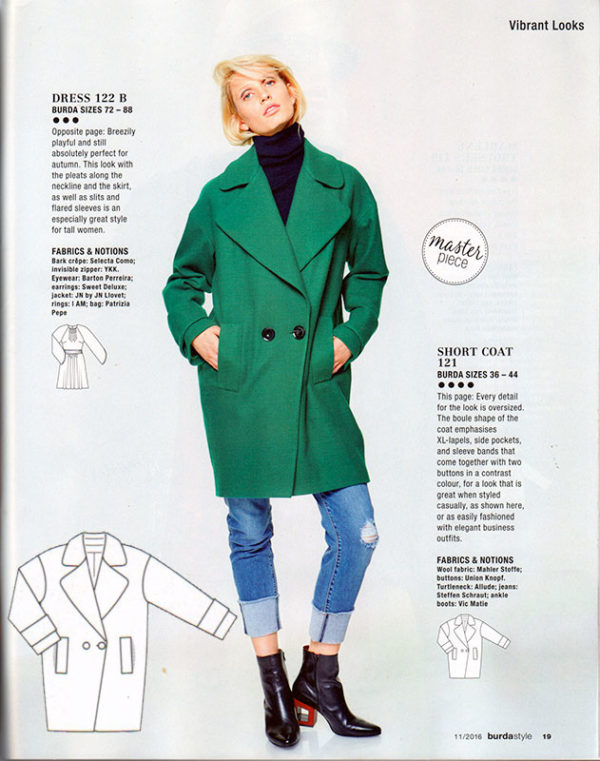 OMG I love everything about this coat! First of all, the photoshoot and bright colours are reminiscent of one of my favourite ever Burda issues several years ago, but I love that this coat has so many oversized details but still remains feminine. Even the sleeve tabs are larger than ormal, and it reminds me of an oversized Maison Martin Margiela collection from the 90s (but to a much more wearable degree!)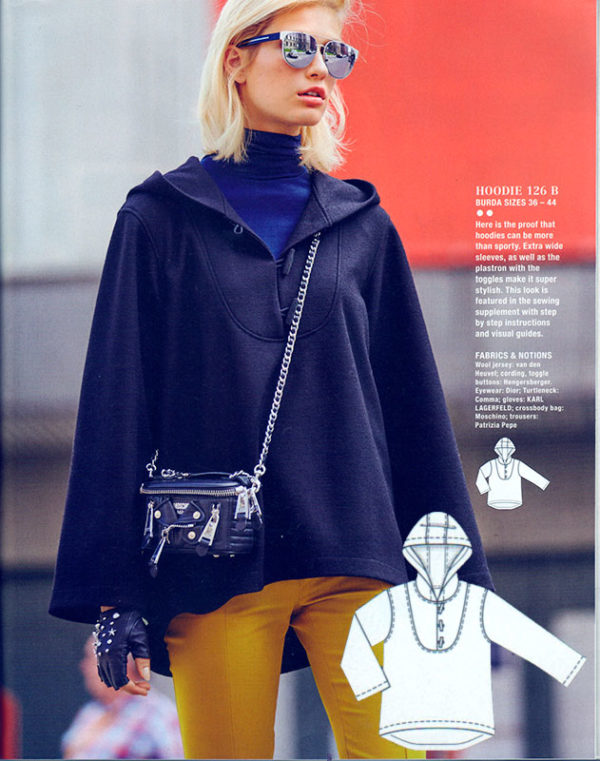 Here's that same hoodie/cape/poncho as before but this time without the fur edging, which makes it much more wearable for wet London weather. If I wasn't already midway through sewing a different Burda cape/coak, this one would be high on my list! It also has the illustrated instructions for this issue, which is definitely a bonus if you're not fluent in Burda-ese.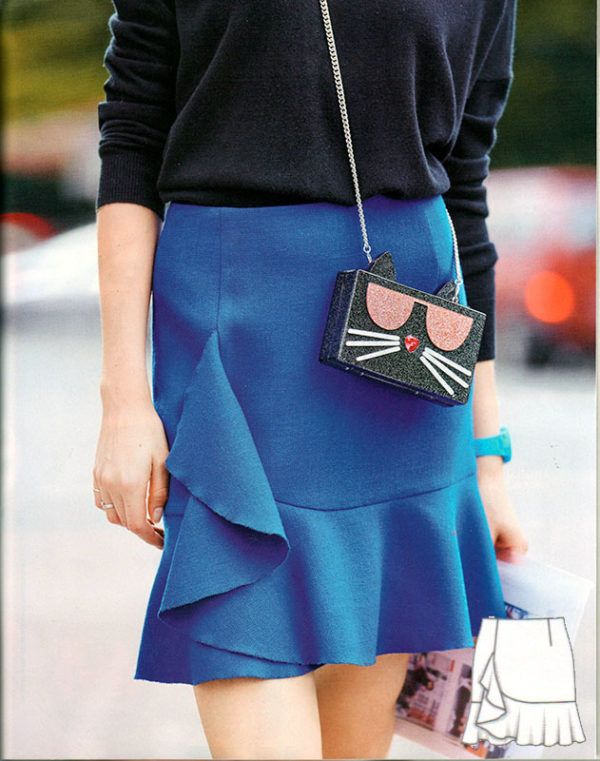 The second set of illustrated instructions in this issue belongs to this flounce skirt, which looks so chic, wearable, and easy to sew at the same time. And I love the vibrant colour, too!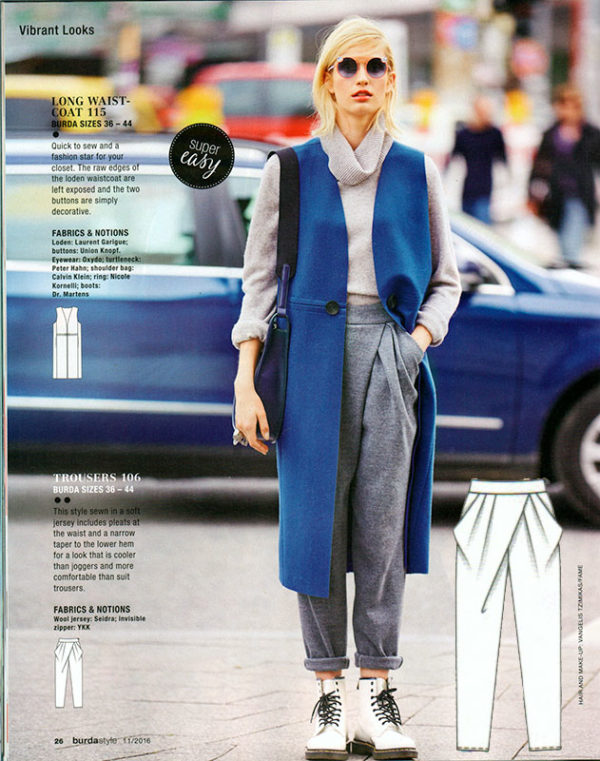 When a new issue arrives, I often "cheat" and skip ahead to look at the At A Glance page before reading through the magazine, and on my cheat peek this trousers nearly jumped off the page! I made a pair of wool trousers with a similar deep pleat back in 2009 from a KnipMode pattern and I wore them to death. I got so many compliments every time I wore them. And people, this pattern is even better, because it's for jerseys!!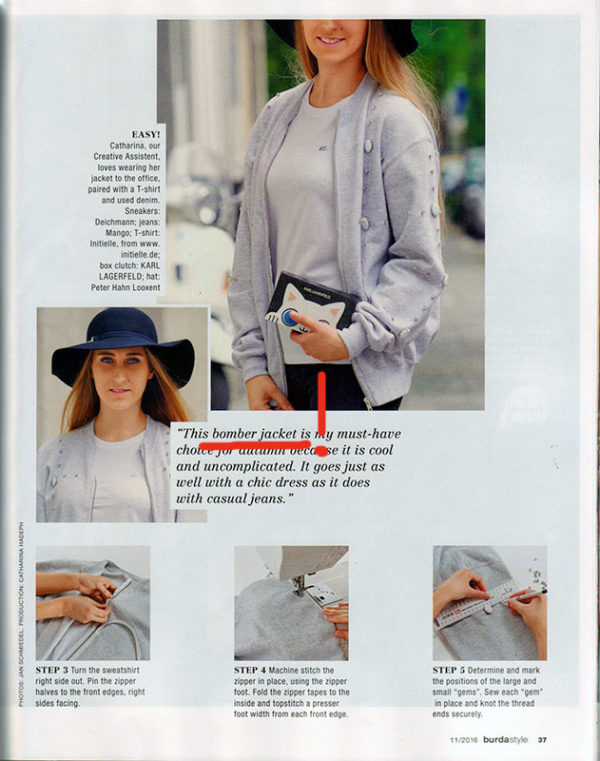 No, this sweatshirt that you've inserted a zipper into and covered in rhinestones does not look like a bomber jacket. It looks exactly like a sweatshirt with rhinestones stuck on it. Starting with such a distinctive grey marl sweatshirt was really setting themselves up for failure here.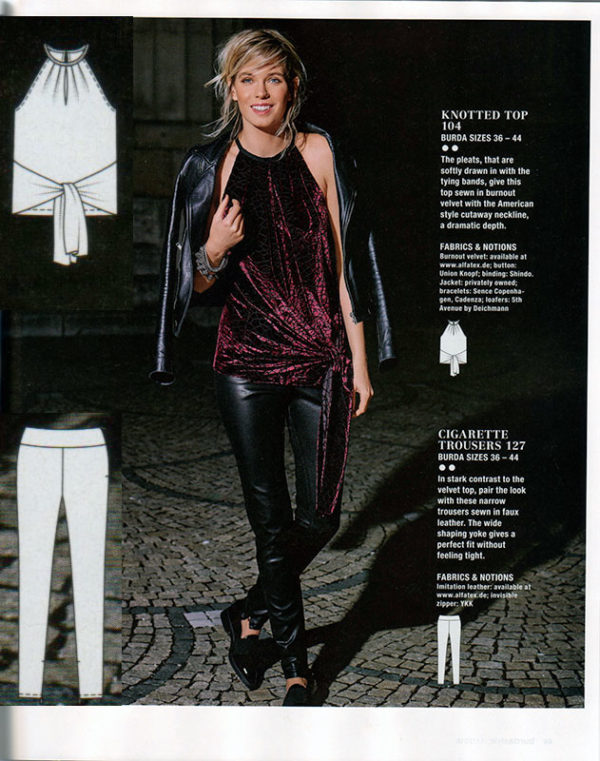 First off, I've never met a pair of leather trousers I don't like, so of course I'm drawn to these! I like the idea of the top with the extra ties in front (StyleArc have released a dress with a similar detail already), but there's something wrong with this photoshoot that they've twisted the entire top to have the ties at the side (you can see the side seam has twisted, too). So maybe if it's in the centre it just gets caught in your crotch as you walk or something?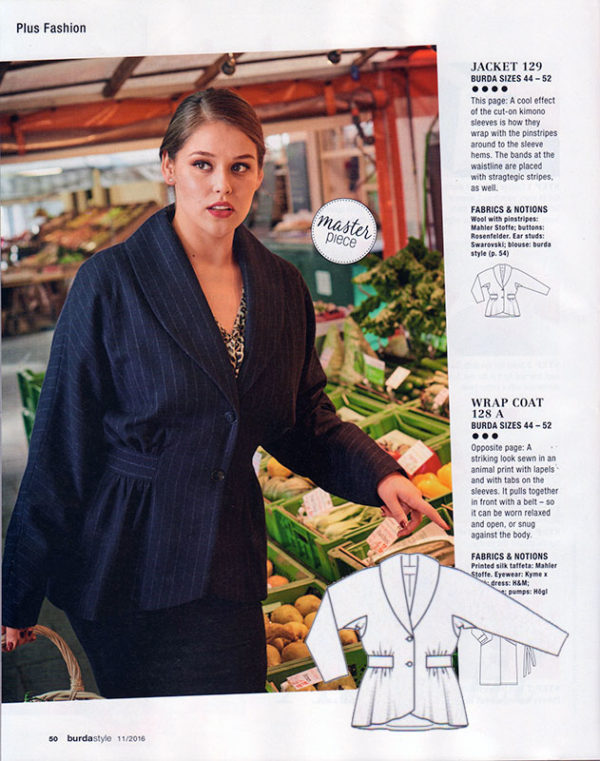 Now, onto the Plus section, where we have a twist on the classic pinstripe blazer! I really like the idea of a feminine take on the men's suit jacket, and I like the horizontal stripes on the waist tab, but it's a shame the jacket appears to be a size or two too large for the model…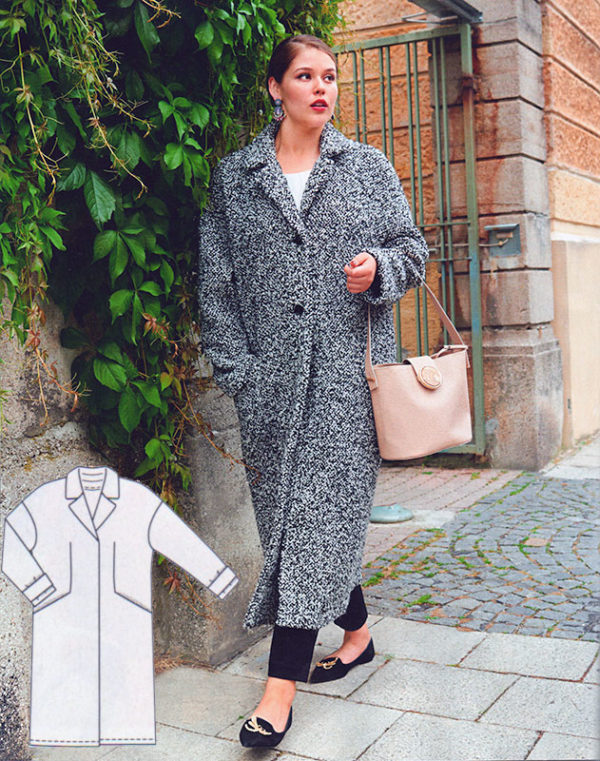 I utterly love this coat, and that there are pockets integrated into those angular darts/seams. Love this!!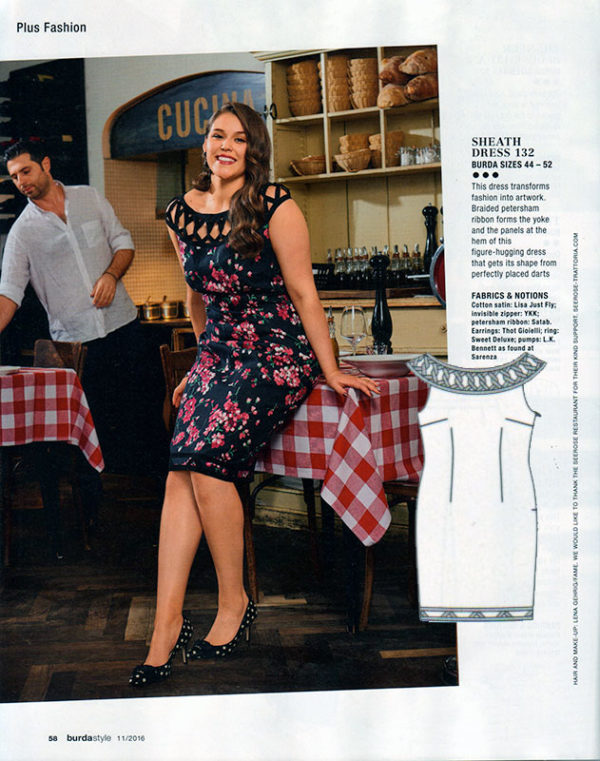 There are a few other tops, dresses, and coats in the Plus section that didn't really stand out but WOW look at the neckline on this sheath dress! Reading through the instructions, it looks as those Burda heave printed a template and you lay and twist petersham ribbon over top to match it. Totally va-va voom!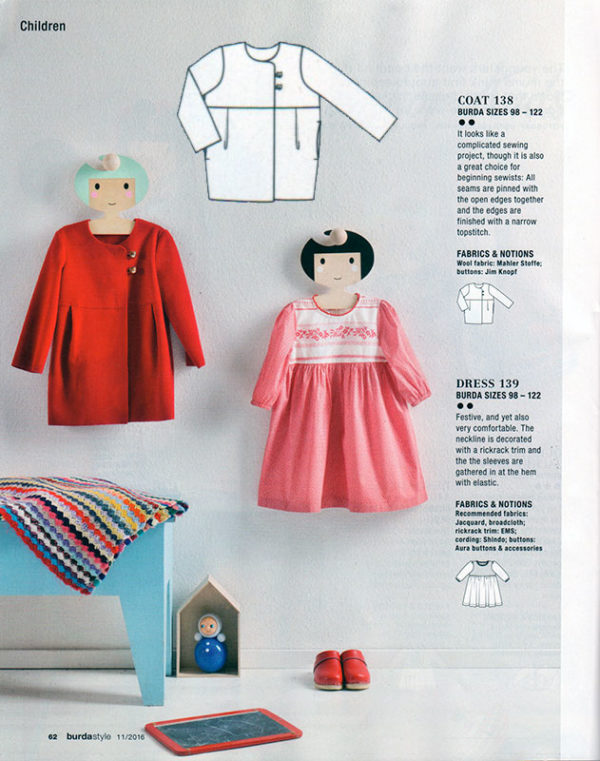 And finally, in the kids section, I think this coat is just gorgeous! The shape and asymmetric closure is both timeless and simple, and wouldn't interfere with play, either. Shame I don't have a little girl to sew this for!
So overall, I think this is a great issue – lots of interesting and wearable designs! What do you think – did I miss anything you loved?