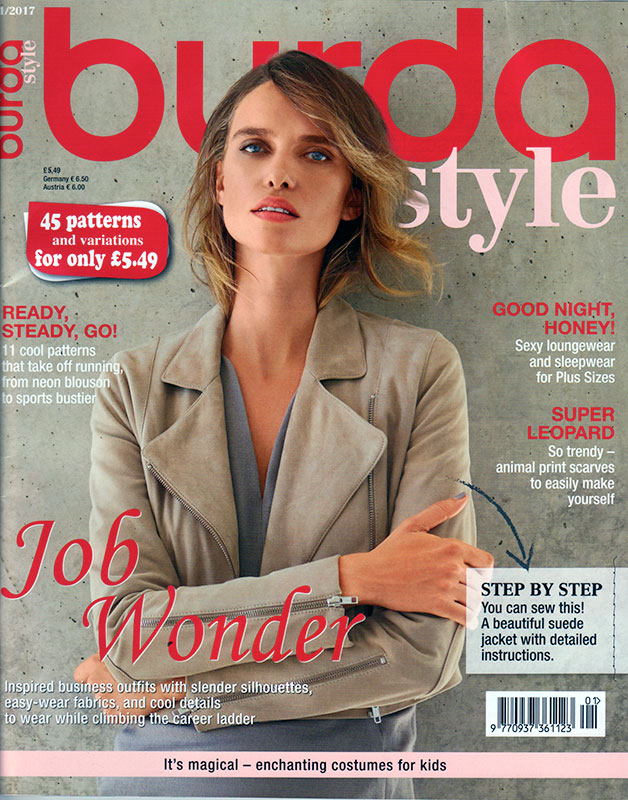 I think Burda Towers must've taken a break for the holidays or something because everyone I know received this issue really late for some reason! But better late than never to kick off a brand new year of Burda sewing patterns, and this one's not only got the traditional January carnival costumes (and nary a "recycled water bottle lady" bonkers one in sight!) but also… activewear! 😝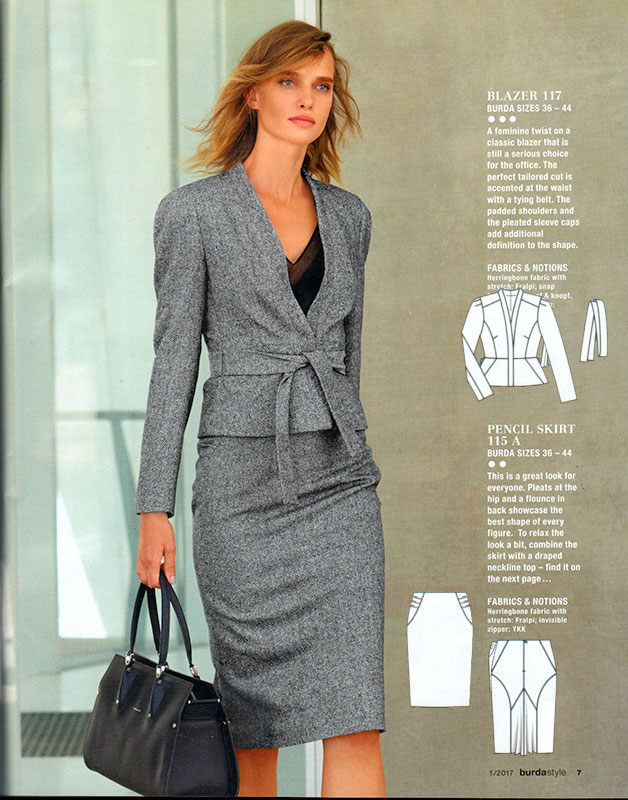 But first up, we've got some fabulous businesswear patterns, starting with a seamed wrap-blazer and a pencil skirt with some incredible back interest! I'm not sure how flattering those hip pleats would be, but they'd be easy enough to remove and it'd still be worth it for those va-va-voom curved back panels and the kick-flounce. I may even have enough wool tweed in my stash to make this skirt, you know…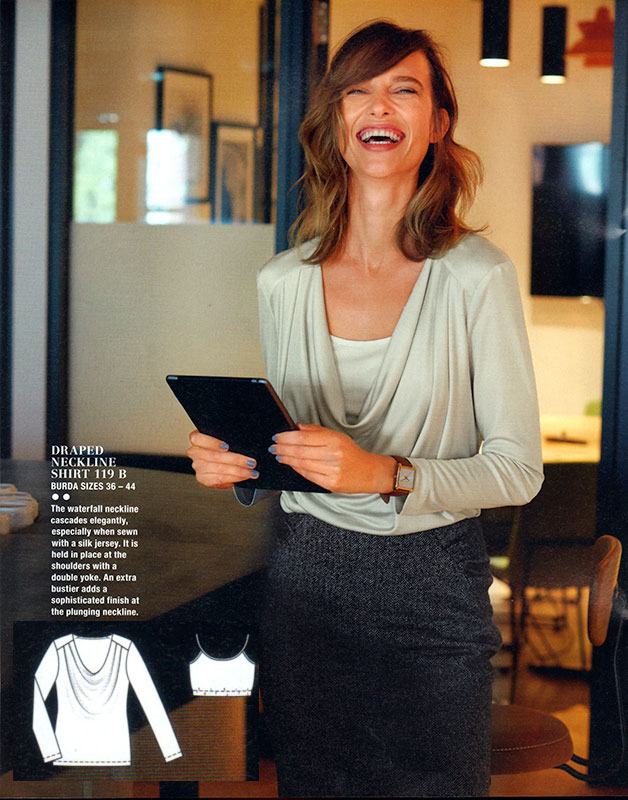 Here's a long sleeved teeshirt with a very deep cowl neck – so deep that Burda have included a second, partial shirt to wear underneath so you don't expose yourself! In my eyes though, it looks like you'd still be able to see her stomach when she leans over, so I think I'd probably extend that "bustier" (their words, not mine!) to be full length just in case. I was amazed to see that Sigrid has made this top already, though, and she doesn't mention any wardrobe malfunctions, so maybe it's okay?
This sheath dress is the beautiful love child of the wrap-blazer and pencil skirt seen above. Same chic design lines, but as a dress rather than separates…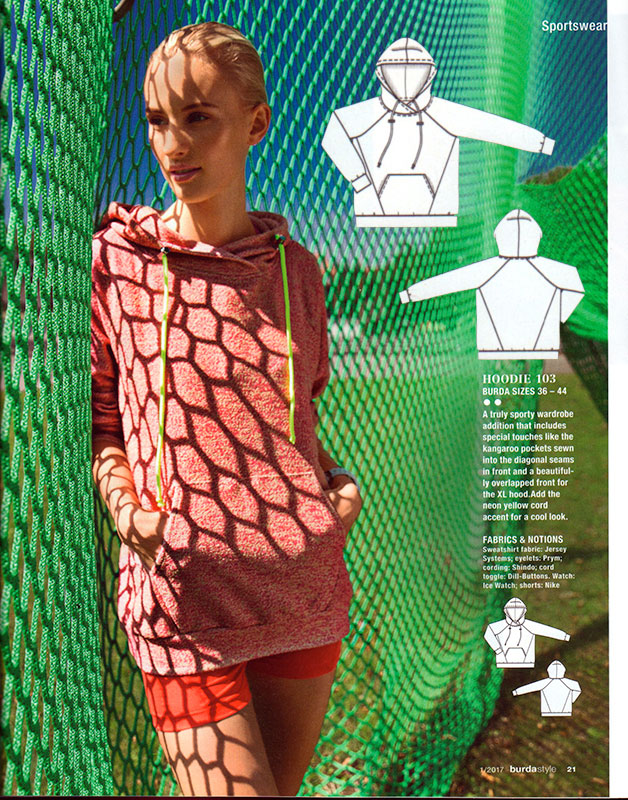 And now it's onto the activewear feature! Yay! Burda haven't done activewear designs for a few years (I think the last time was in 2013 when I refashioned a tech tee?), but they've always got some nice design ideas, like this hoody! I really like how the angular seams become part of the kangaroo pocket, but at first glance I thought that those were the side seams wrapping around like in the Style Arc Ivy tee, rather than just extra seams. But you could still do nice nice colourblocking there, and the one-piece hood looks pretty roomy, too.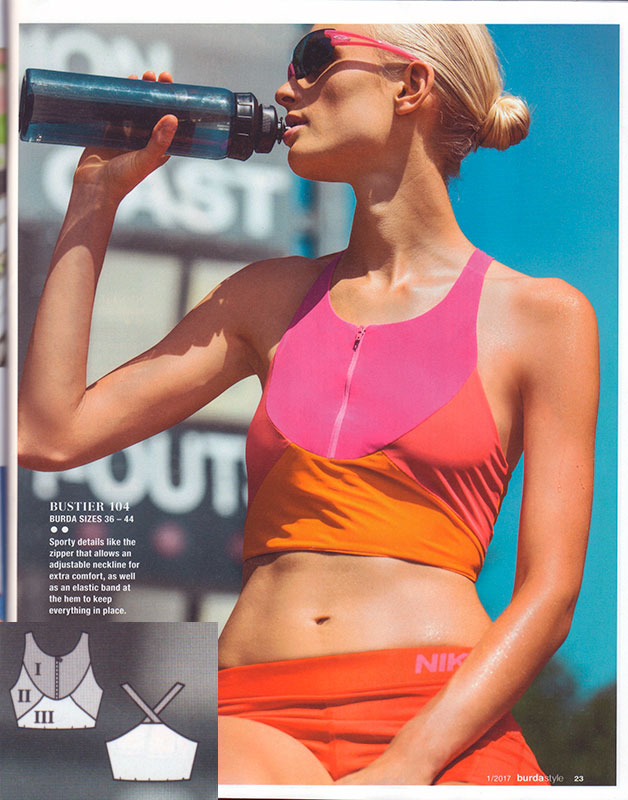 Now, I really love the design of this "bustier" – the lines are very Stella for Adidas. But if you read through the instructions, the finishing leaves a lot to be desired, especially if you're planning on actually exercising in it. For starters, there's no elastic in the neckline or armhole edges, so there's nothing to hold it tight against the body, that zipper has no guard behind it to protect the skin from chafing, it's self lined (which is fine!) but then the main curved seam has doubled, trimmed seam allowances against the skin which really look like they'd rub across the chest. And the underbust elastic is in a (shudder) casing, which is a recurring theme for these activewear patterns, I'm afraid… So a really nice design that has a lot of potential, but I'd personally ignore their instructions altogether and finish it to fix all the above!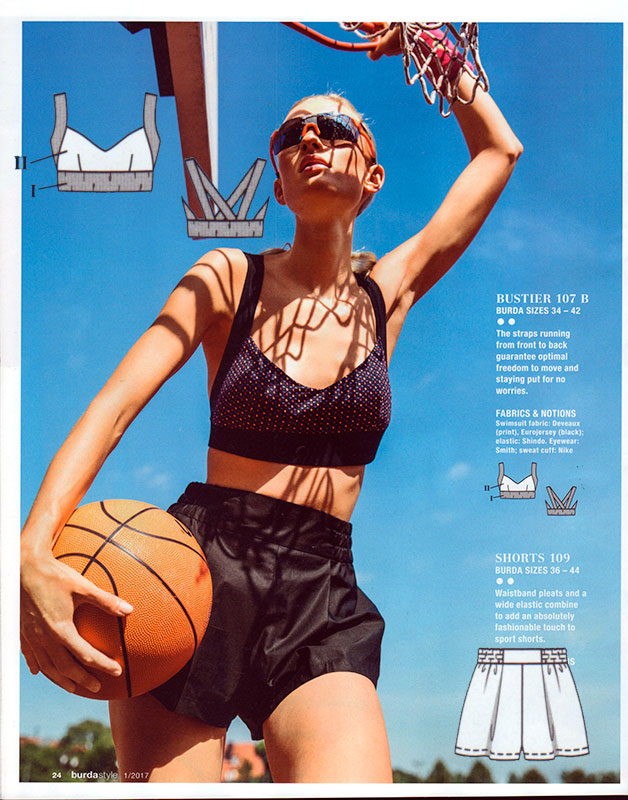 Again, the active skort is a cute idea, especially for basketball as in the photo, but why, god, why would you choose to have three separate casings for narrow elastic in the waistband instead of using wide elastic and topstitching it down so it doesn't shift and crumple the first time you move? (The latter is the approach True Bias uses in her Hudson Pants patterns, and is far, far more comfortable!)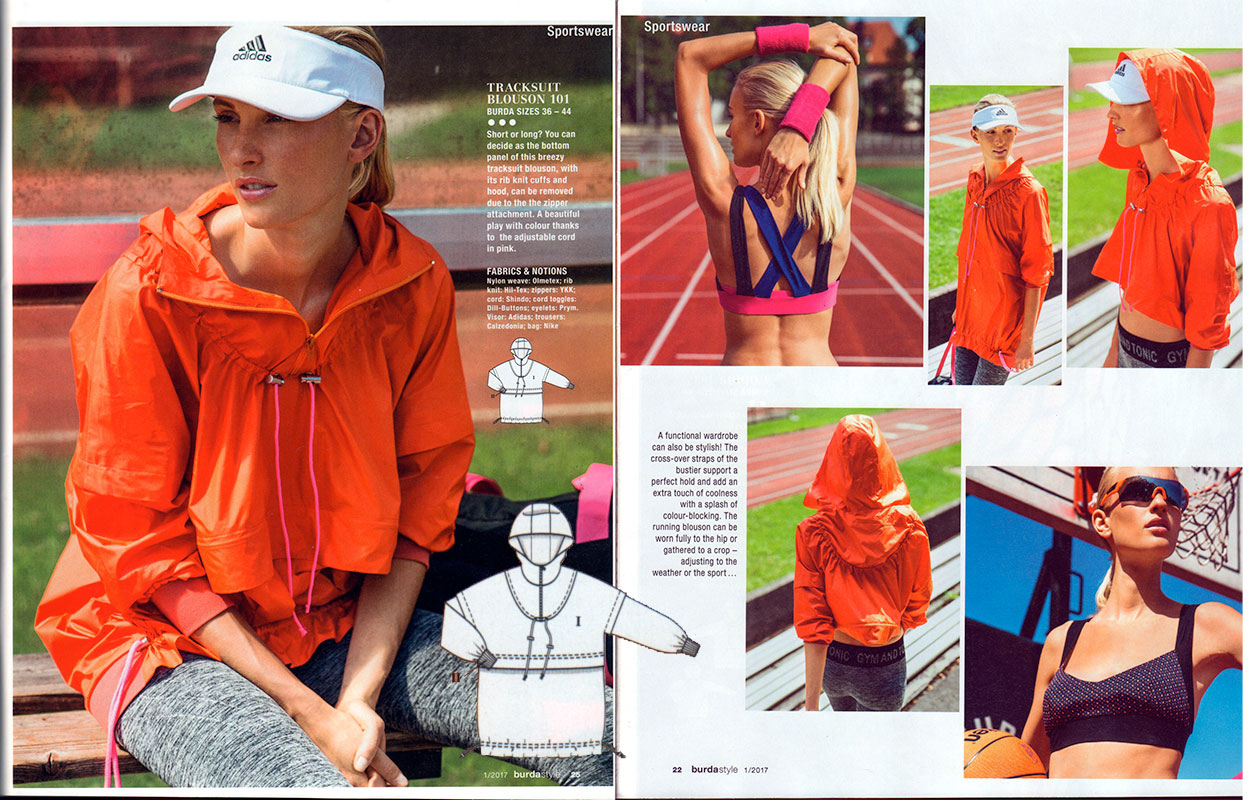 I don't think I'd ever wear a blouson jacket like this, just because it's not really my style (parkas never really are), but I like the idea of having the detachable lower half so you can wear it two ways, and it's not a design I've seen before!
This is probably my favourite look of the whole activewear feature! I think the "bustier" above is far more wearable in this full-length for most women, and the leggings look nice in all one colour, too (though I see a lot of this "ninja" look about). Unfortunately the finishing instructions on the top are the same as the shorter version, so you've got to really go on your own to get a finish suitable for exercise, and again, the leggings using a casing for the waistband. 😩 Eww, ewww, eww. I don't really understand the point of having zippers at the ankles here, either, since you're sewing these in a stretchy fabric and the zips are really just there to rub – I mean, they make sense in woven trousers where you need the extra space to get your feet in a very small opening, but here?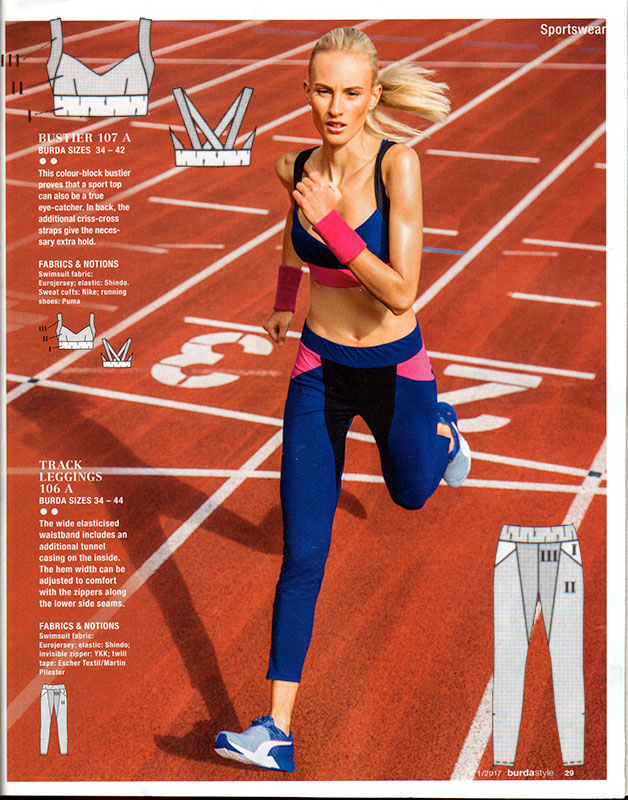 And finally, the last set in the activewear feature shows a different crop top with some back strapping, and the same leggings as before but with some colourblocking. Now, I'm a big fan of colourblocking, but you've got to really be careful with leggings to avoid any sort of "crotch arrows", and I'm not sure the placement of the black fabric was particularly wise here… The crop top is okay I guess, but you'd still have to wear a sports bra underneath for anything but the lowest of impact exercises – the bands in back aren't reinforced with any elastic and the self-lining will only add a low level of support. And again, the underbust elastic is in a casing.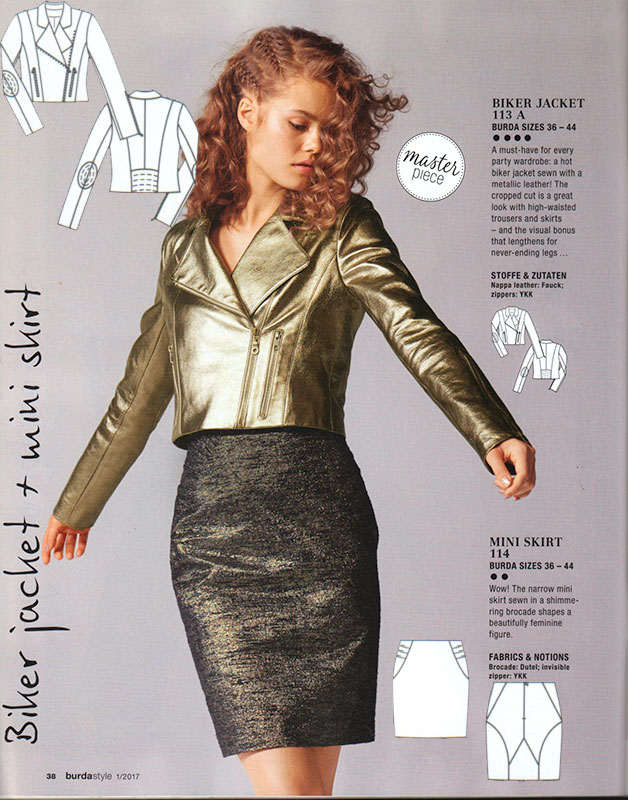 Moving on to a more glamorous feature, how amazing is this metallic leather jacket?? I'm in awe that they could find zippers in the exact shade, too! This pattern has the coloured, illustrated instructions for this issue, and there's a bunch of spectacular topstitching details on the elbows and lower back that add even more interest.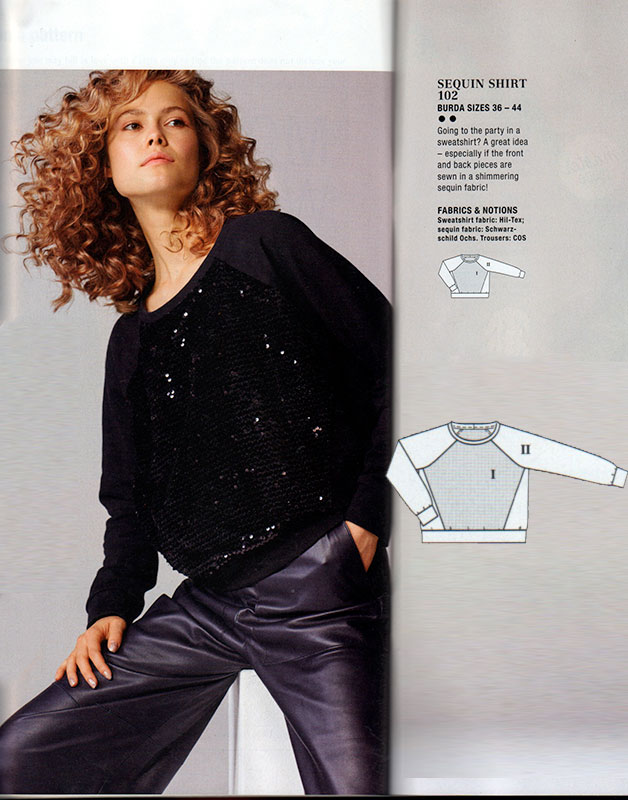 It's hardly a new idea, but I like how they've reused the body pieces from the hoodie above to create a sequin raglan sweatshirt. Comfy and glam!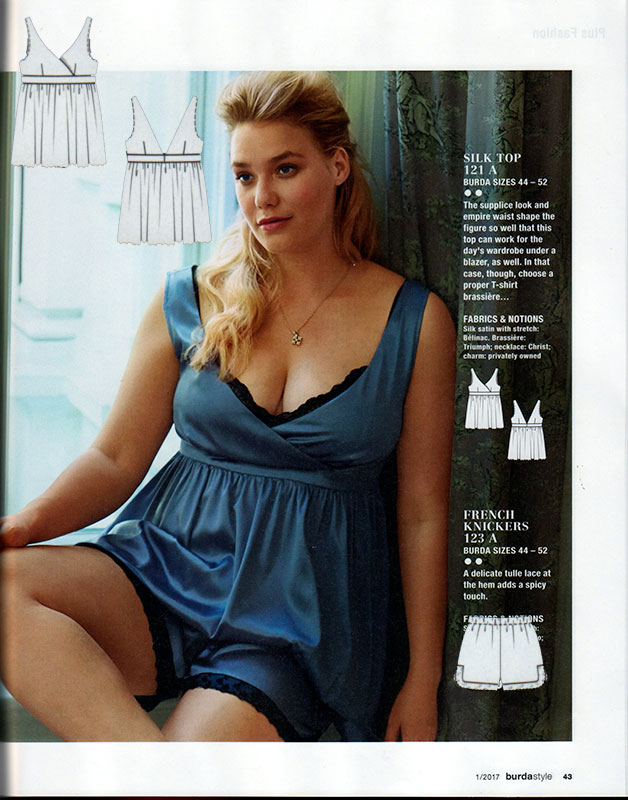 The Plus section this month is lingerie, which I don't recall Burda ever doing in Plus-sizes before, but I was disappointed that they fell short of producing a bra pattern, to be honest. I mean, KnipMode have done one (though sadly it's not in their pdf shop!) so it's not like it's impossible or out of reach for magazines or something. But you do get a traditional button-down pyjama set (in full-length bottoms or shorts), two nightgown designs…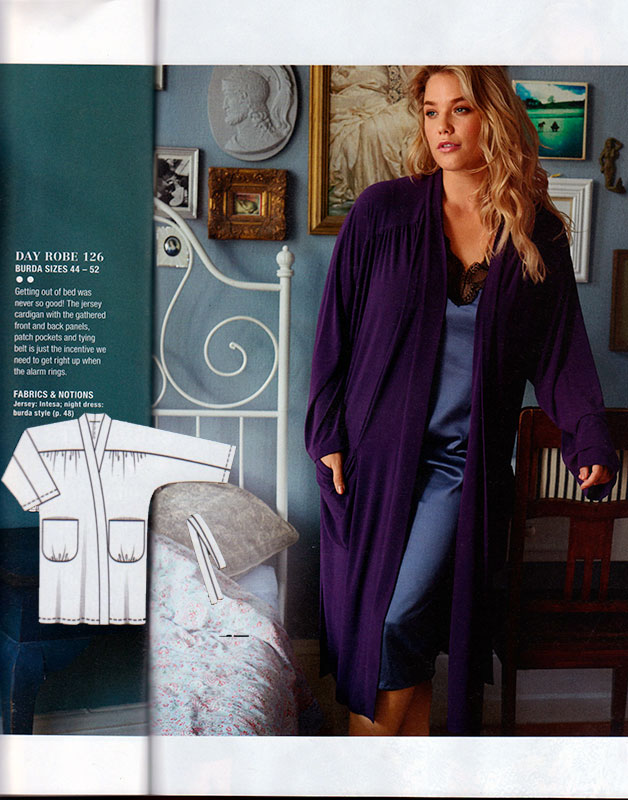 …and this great robe! The gathered yoke, dolman sleeves, and gathered pockets mean this looks like it'd be really practical, too (though totally add some belt loops so you don't loose that belt!).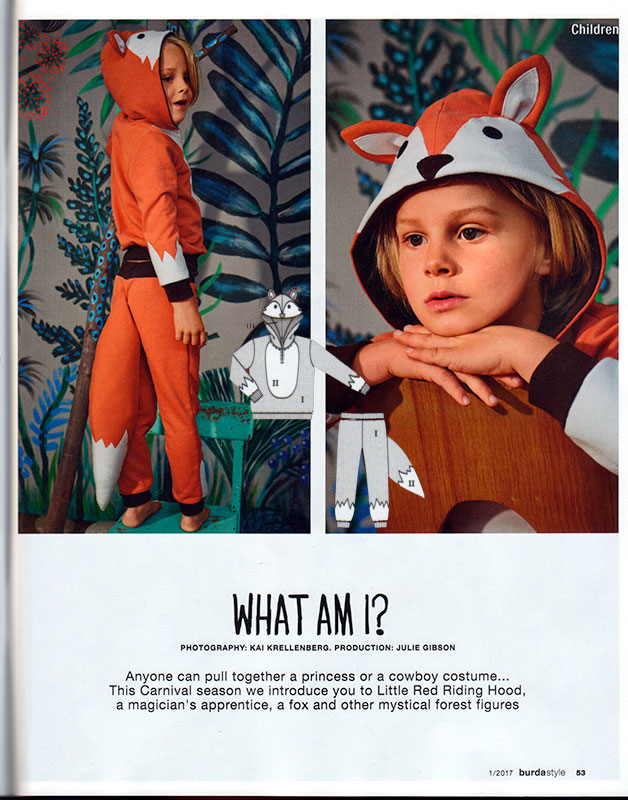 The carnival costumes this year are all for kids, and instead of being totally crazy, they're actually really nice this year! This fox costume in particular is absolutely adorable, and that it essentially builds on a hoodie-and-sweatpants set means you could totally take a shortcut and use a RTW set as a starting point, too.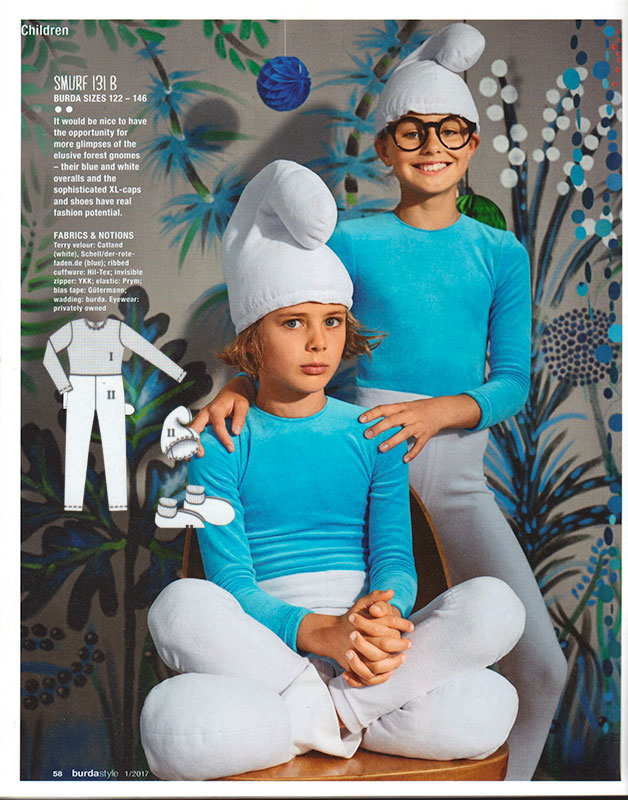 The Smurfs costumes take a similar approach (but with stuffed shoes and distinctive hat!), but I don't know why the kid in the front looks so concerned/horrified/traumatised!! Did he not know what he was getting himself in for or something? 😂
And that's a wrap! What did you all make of this issue? Anything you've got on your To-Sew list? Has anyone made any of the activewear patterns yet and think I'm way off base? 😉 Let me know in the comments!