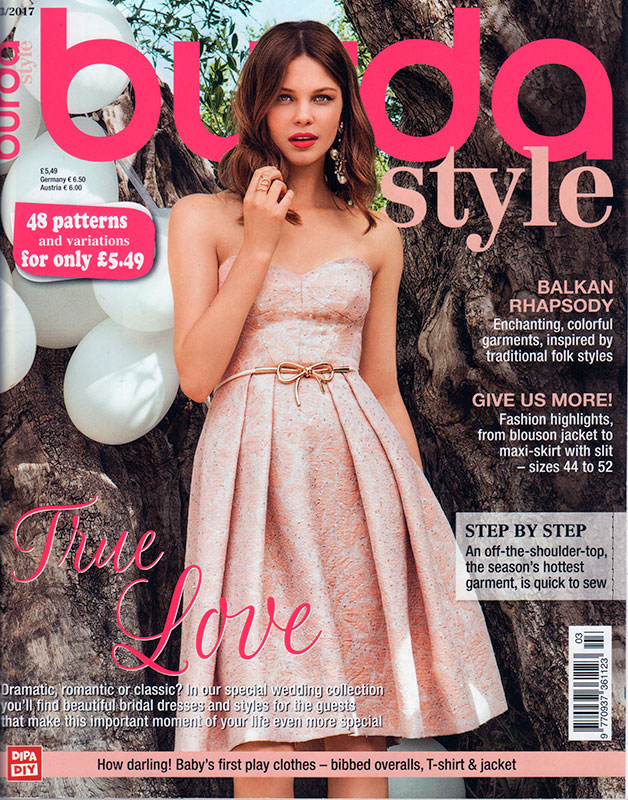 Springtime in Burda's world means the start of wedding season, and the March issue is traditionally the one filled with wedding gowns and other formalwear suitable for bridesmaids and guests, too. I'm personally in the market for a gown to wear to a gala event in June, so perhaps something will take my fancy here…?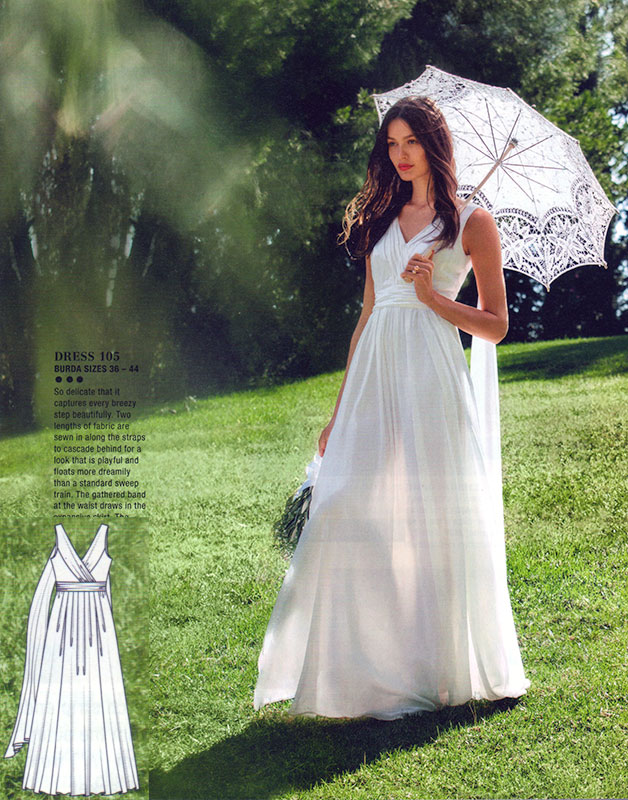 First up from the wedding feature is this gorgeous surplice gown with long, flowing scarves that drape over the shoulders and are incorporated into the front of the bodice itself. I initially thought this might be a great pairing for the silk in my stash but this dress takes 9(!!) meters of fabric (plus another 3 of lining!) so that's out of the running then. Granted, you could reduce that significantly by omitting the scarf pieces, but it'd still take more fabric than I've got to play with.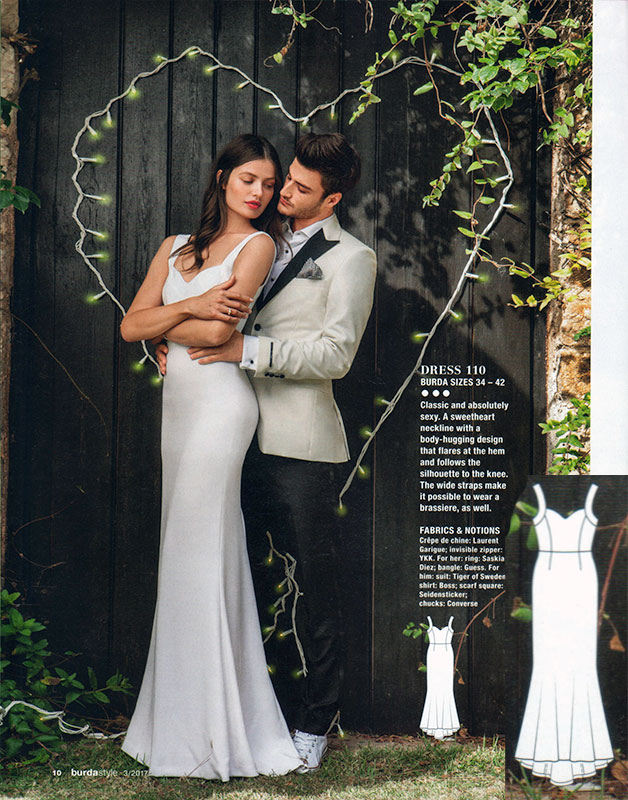 Next up is a lovely fishtail gown with curving armbands, sweetheart neckline, and slim-fitting silhouette. This would be perfect for a heavy duchesse satin (like I had for my own wedding gown!), but if it were made in a flowing silk charmeuse it'd show off every lump and bump.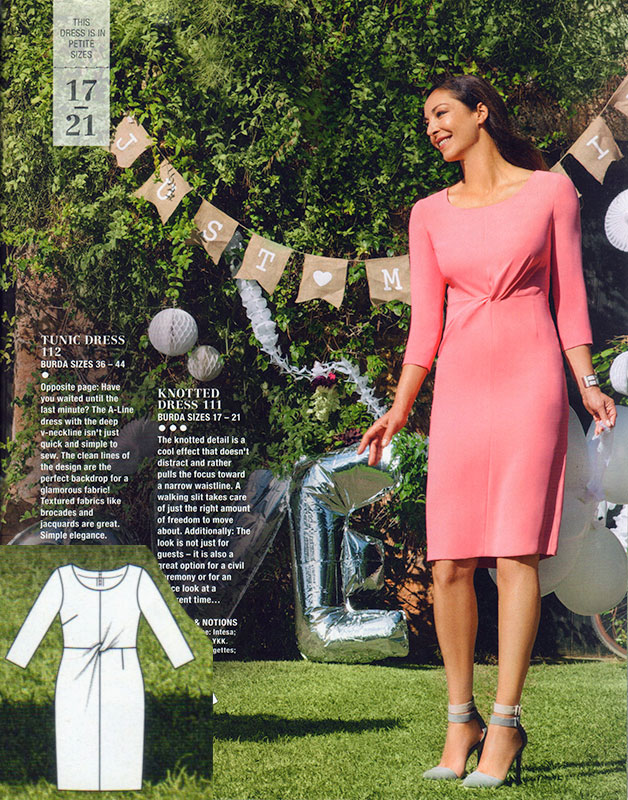 This dress is the petite pattern for this issue as well as having the illustrated instructions. The latter is important because otherwise I don't think I'd want to tackle that asymmetric twist draping with Burda's sparse text instructions alone! When I first saw this pattern I immediately thought it was reminiscent of a Pattern Magic design, but when I looked it up in my books, I realised that the one I was thinking of ("Dress with a draped design" from the first book) isn't actually as close as my mind remembered! The long sleeves on Burda's verion definitely increase the wearability of their version in my eyes, too.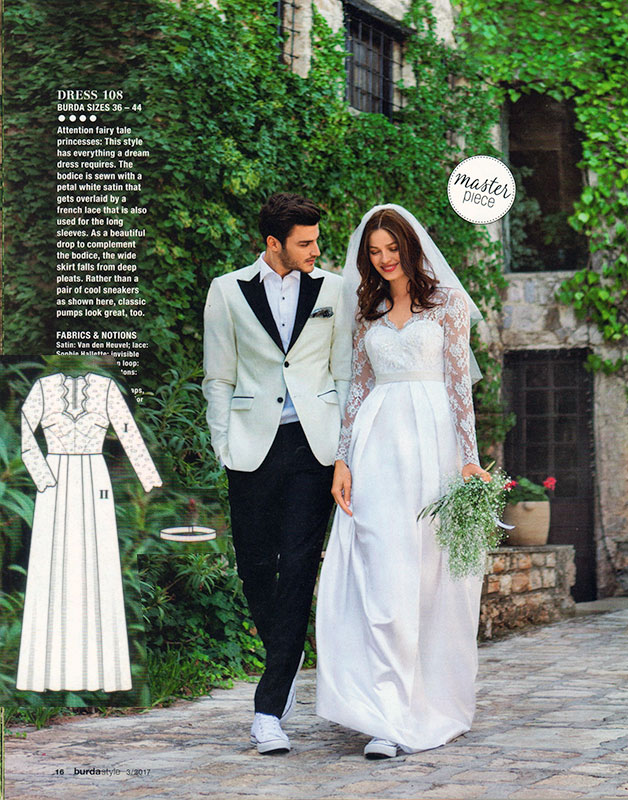 Frankly, I'm amazed Burda didn't do this design sooner (considering it was, ooh, 6 years ago), but they've finally offered a pattern very reminiscent of Kate Middleton's wedding gown, should you wish to recreate it. And, err, haven't already bought the similarly-inspired Butterick, Simplicity, or Vogue patterns years ago.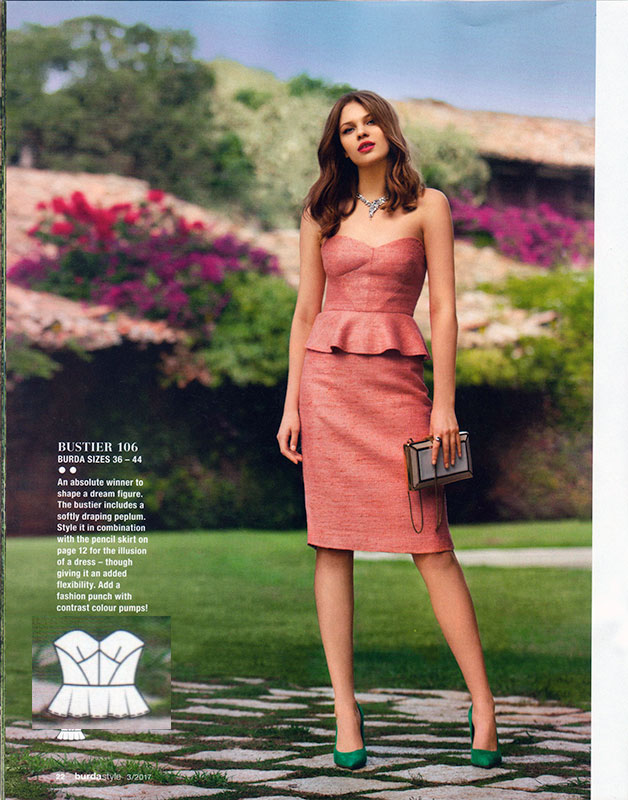 I love that Burda have even considered the "jilted ex-lover of the groom" attire! I think the peplum trend has well and truly died now, so I actually prefer the dress version of this strapless bustier instead (scroll down), but it's a great look when paired with the simple pencil skirt (also in this issue), and would be a great way to learn about boning.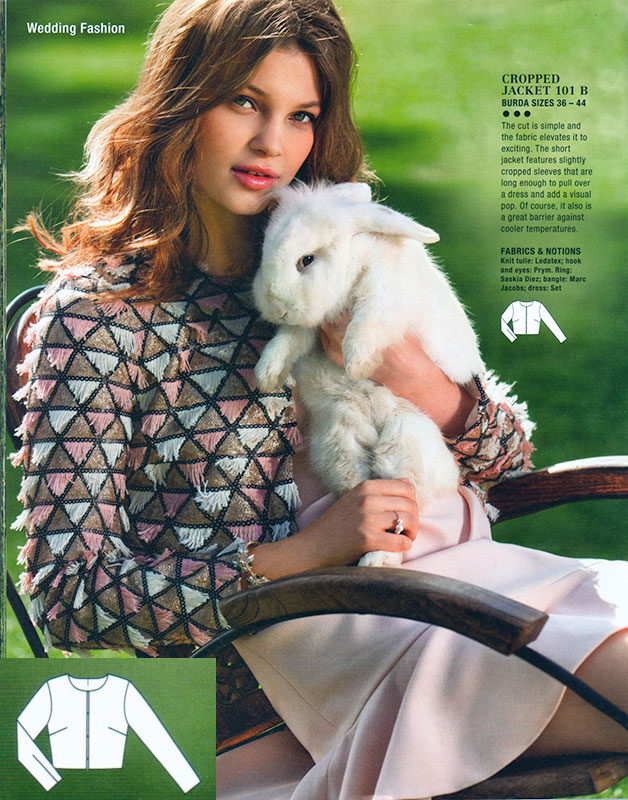 Let's be honest here – I 100% chose this image for the fluffy bunny. The fluffy jacket, not so much.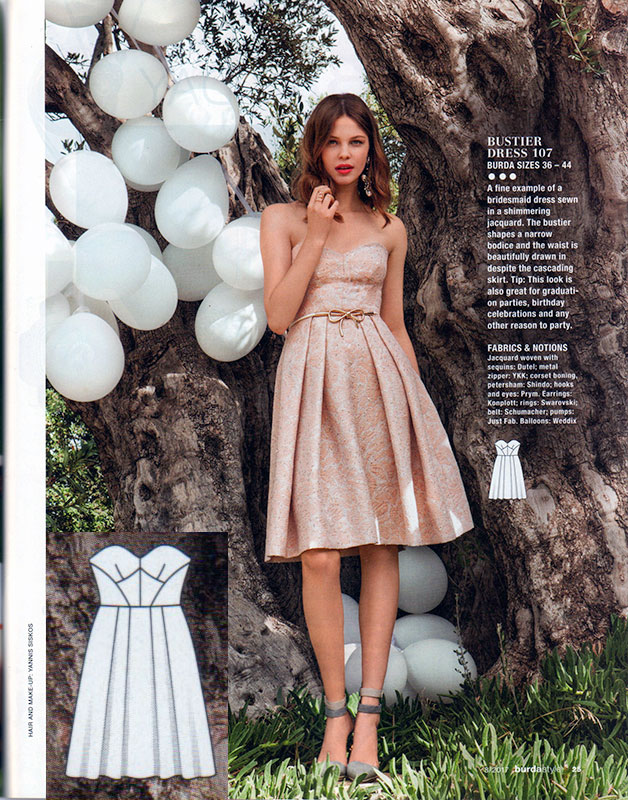 And here's the dress version of the peplum bustier above, which I think works rather a lot better. In reality, you'd probably need a little shrug or jacket to wear over top for a church ceremony, but that just opens up the opportunity to go matchy-matchy or even to make it edgy with a cropped moto jacket or something. Not the fluffy bunny jacket though. 😒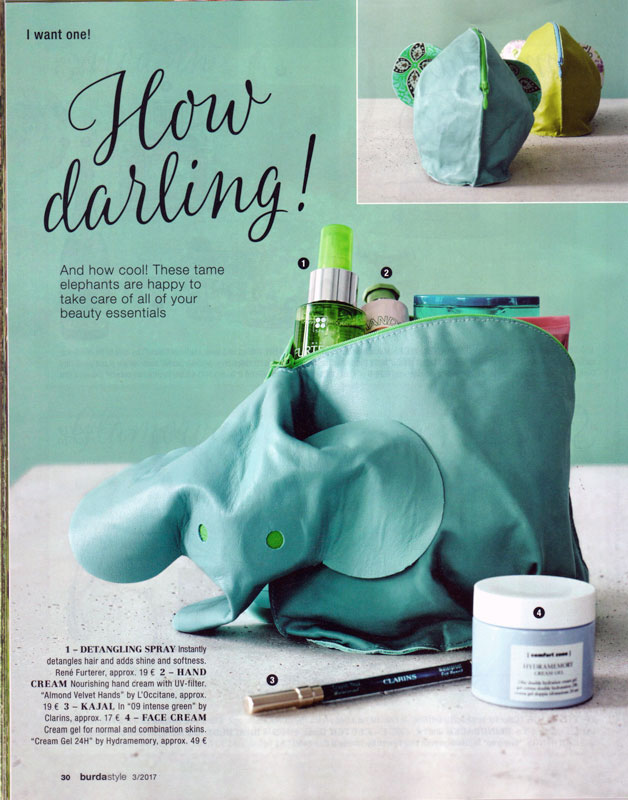 Oh Burda's crazy, useless crafts section – how I've not missed you one bit! I really don't understand these wilted, melting elephants at all. At first I thought that maybe they had a plan and a deadline and when it all started to go wrong the maker just had to keep going with it no matter what, but there are THREE of them! And they're all equally lopsided and deflated and just ugly in that sort of way that makes you feel sad to look at them.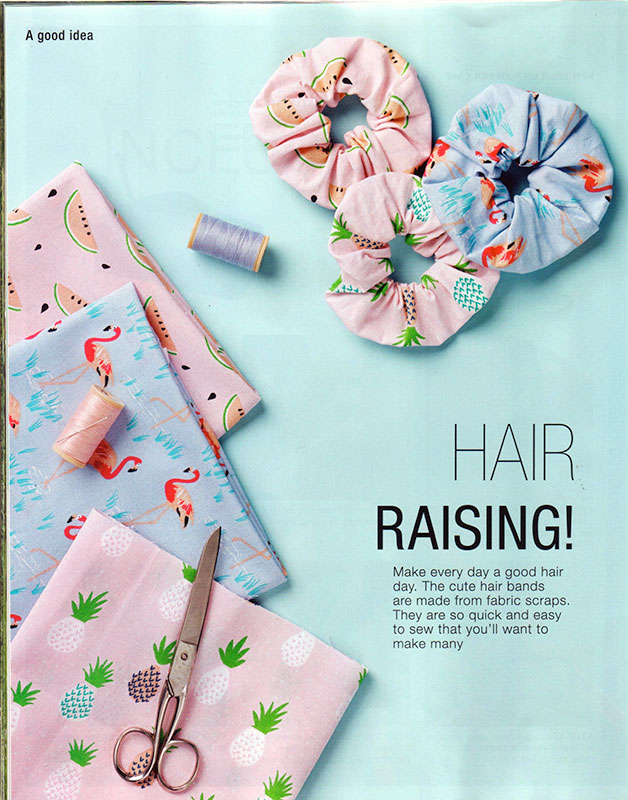 WHAT. No, Burda. I refuse to believe that scrunchies are anything but 1980s fancy dress fodder. Go to your room and think about what you've done here.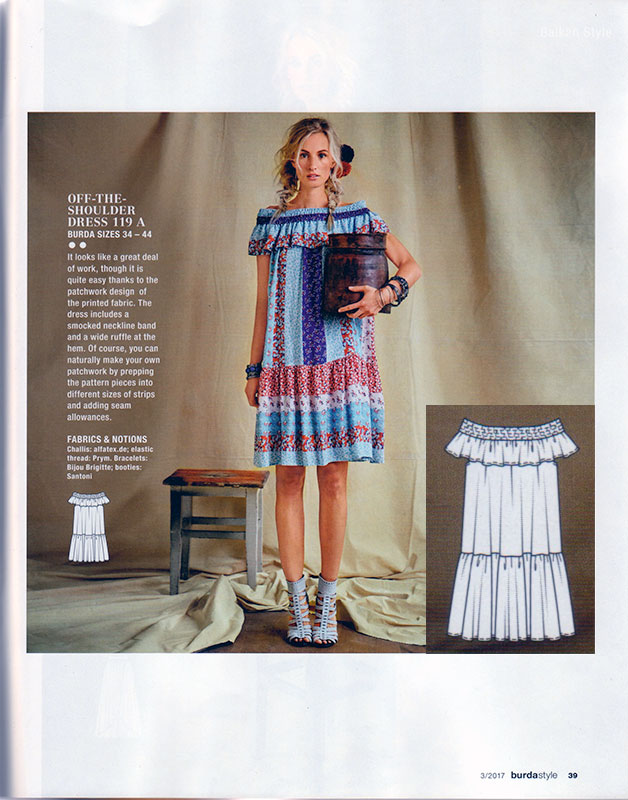 This off-the-shoulder prairie dress is so tragic in so many ways. The epitome of a "sad sack" dress, but with added infantile styling, ugh.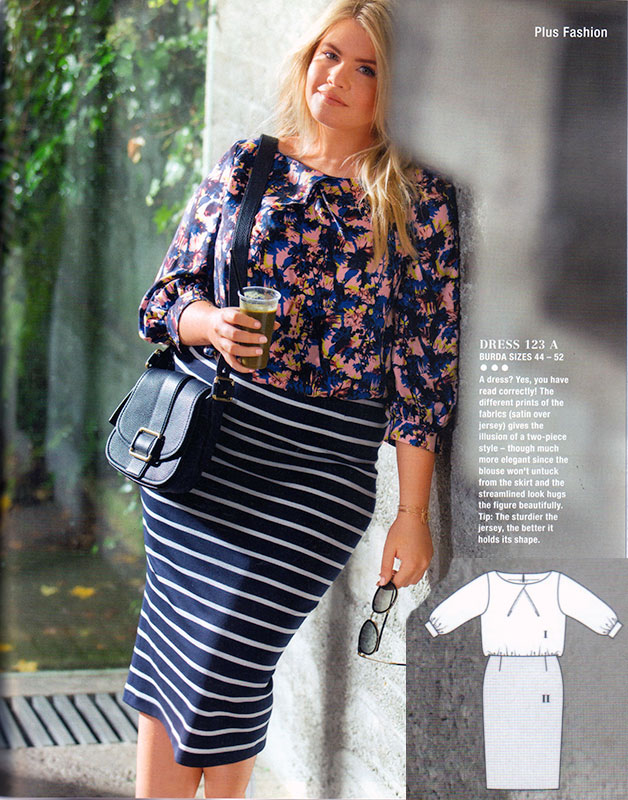 Finally, we're into the Plus section, which not only contains lots of wearable separates but also *gasp* a real life Plus model! Seriously, kudos to Burda for finally listening to all the complaints over the last 10 or so years and actually getting models in the size range the patterns are designed for. I think this dress is really nice – it's a jersey pencil skirt joined to a woven top, much in the style of a Lolita Patterns dress I made years ago and wore for years.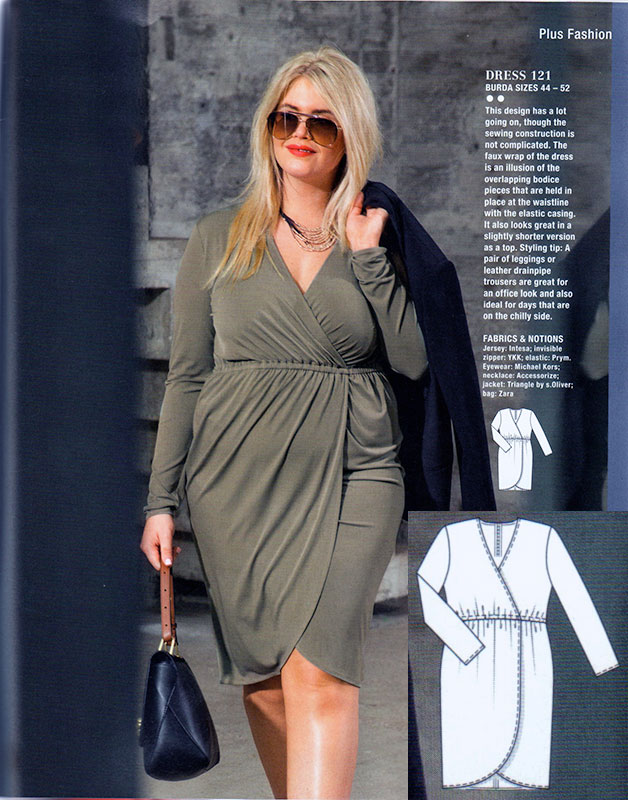 Looking at the tech drawing and the pattern pieces, this faux-wrap dress is a really nice design, and that surplice neckline can be really flattering on larger busts, too. It's a shame it doesn't appear to fit the model very well in this photo, and to me that elastic waist is screaming to be covered up with a belt, too.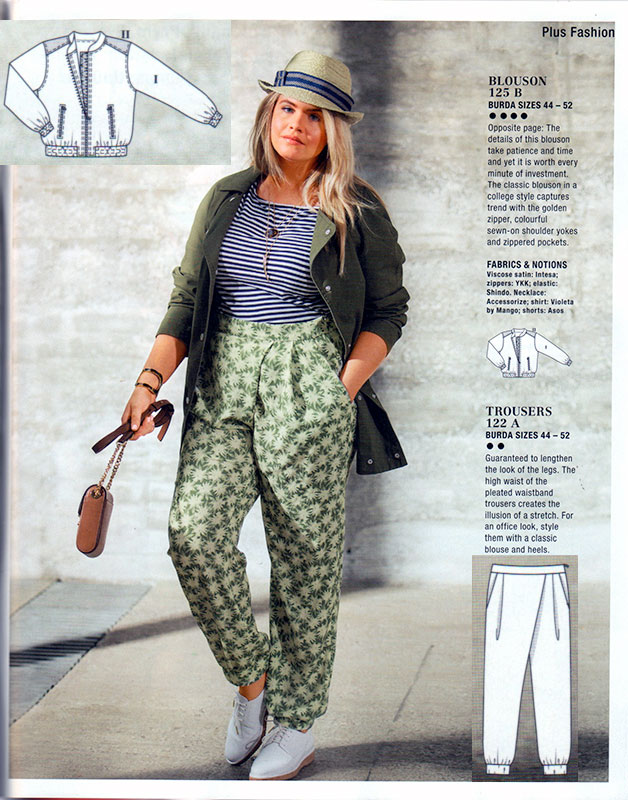 Ooh, this bomber jacket is wonderfully detailed with zipper pockets, shoulder yokes, and a zipper guard opening, too! I have a soft spot for this design of trousers, too (having made my own from a KnipMode design years ago), but I swear we've seen them in the Plus sized range before…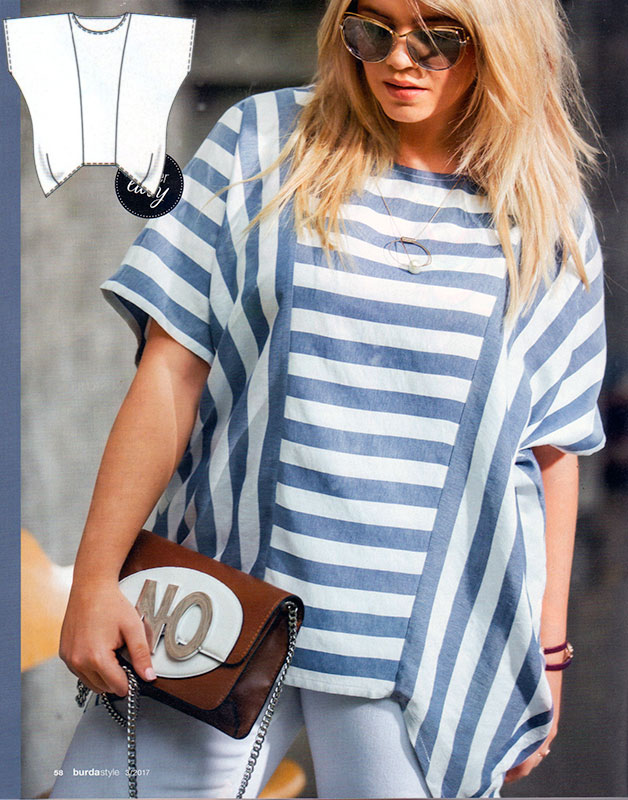 Finally, I feel like I shouldn't like this oversized batwing top at all, but I really do! Maybe it's the uneven, darted hem, or the way it could be nicely paired with leggings or skinny jeans, but I could see this as a great alternative to a teeshirt. Just be careful that your fabric is lightweight enough to not have the bottom sides look like giant hip pads!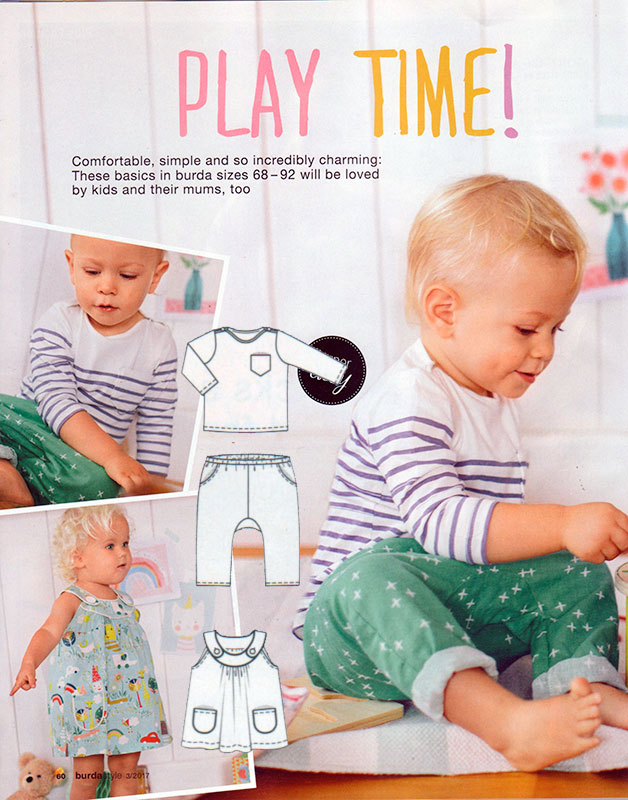 The kids patterns this month are all for babies, and they're really versatile indeed – the teeshirt, trousers, and dress shown here, but also bloomers (diaper/nappy cover), a knitted jacket, and little overalls, too. Just the sort of thing that's easy enough to whip up out of scraps when you need a baby shower gift!
So what did you all make of this issue? Will you be sewing up a scrunchie or two for yourself? Or your worst enemy? Bwahahah!