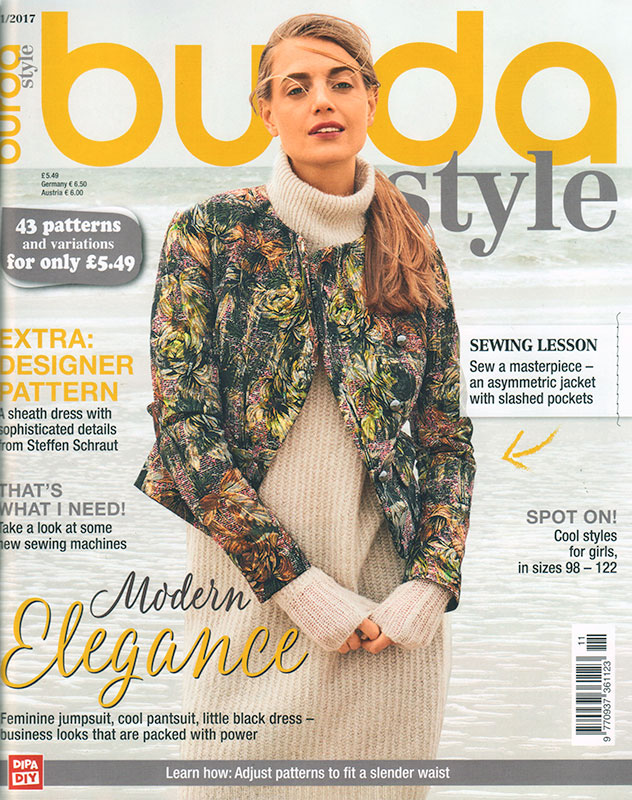 It's November! It's Burda magazine, aka "Burda Style" or "Burda World of Fashion" to us old-school sewists (shout out to my old-school sewists!)! I've run out of ways to introduce pattern magazines anymore so let's just skip over this intro and show you my picks, shall we?? 😂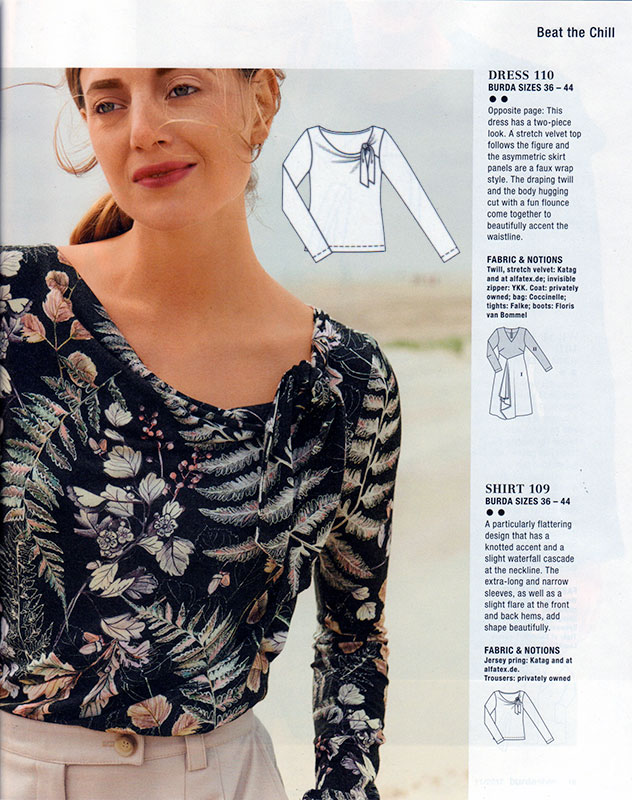 This top with an tie on the side neckline seemed to be an early hit with bloggers but it's worth noting that it's not as slim-fitting as you'd expect from a long-sleeved tee. I quite like the design though, so I might attempt to do a bit of frankenpattern-hacking combining it with my TNT long-sleeved teeshirt draft…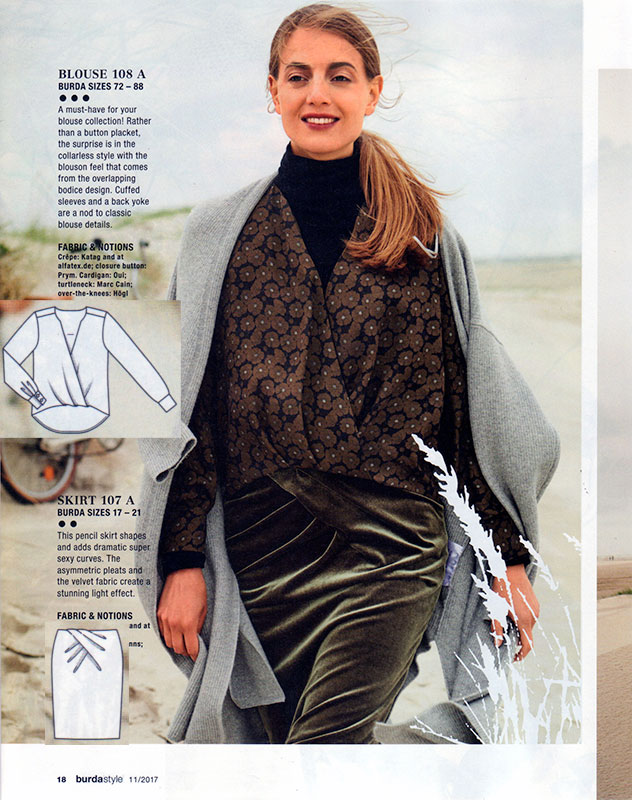 The top's nice enough, and that skirt's nice enough (neither being particular original designs), but I do have to question the stylist's sanity for pairing them together! That's a whole lot of pleated volume to pair together, along with two extra layers on her top half? It's all a bit much if you ask me.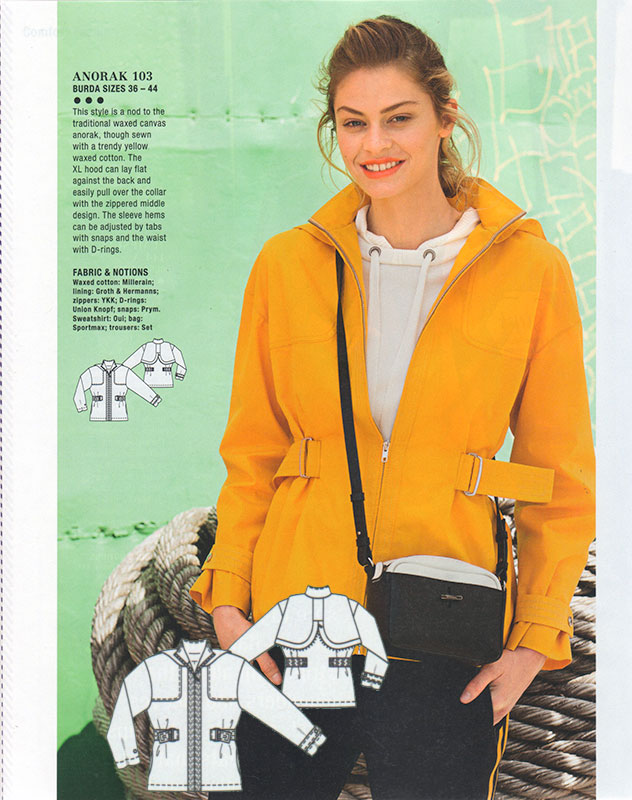 Anoraks can sometimes be quite shapeless and masculine, so I like that this one has two partial-belts to cinch in and define the waist as well as some practical sleeve belts to keep out cold drafts, too. But the real standout is that hood – it unzips to lie flat, which is something I'm totally needing now that I cycle commute and hoods can really catch the wind if you don't secure them down (usually under my backpack straps!). I've seen details for this in a 1980s outdoor-wear sewing book I picked up recently out of curiosity, but it's not a detail you see very often these days.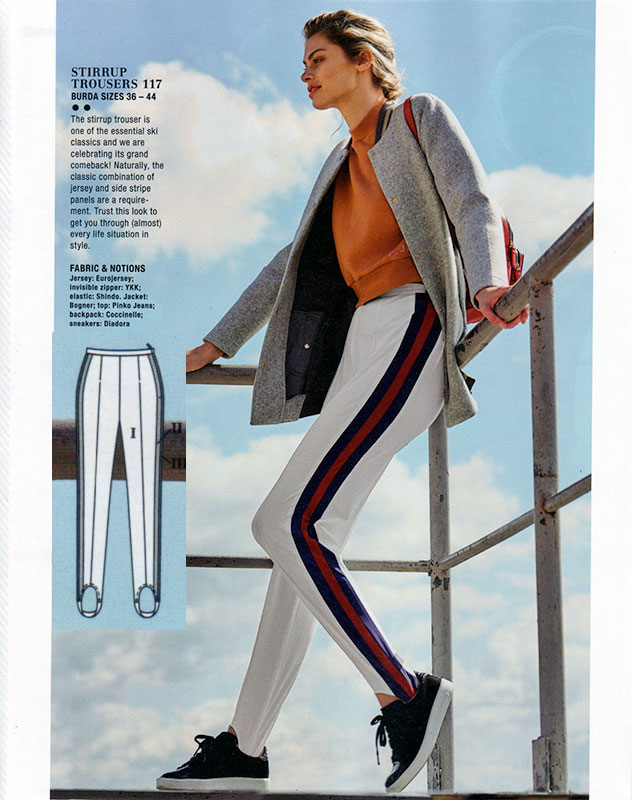 Oh god, are stirrup trousers really back?? Or is this just like when Burda tried to bring back scrunchies a few months back and then they (thankfully!) never materialised on real life people here in London?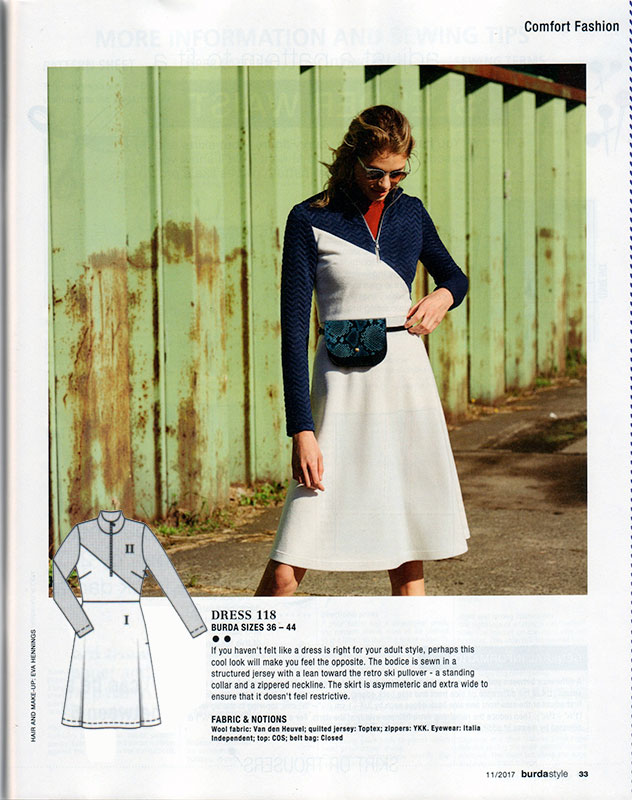 This dress is such a simple idea, but I love it, and I love the way they mixed the quilty jersey with the white wool, too. The combo is classy, interesting, and infinitely wearable. Bravo!
We've got a designer pattern this month in the form of this sheath dress from the German designer Steffen Schraut. The only thing to really distinguish it from your average dress pattern are those pleats at the shoulders and hips, but I'm not sure that this example on the model is really selling it to me. It feels like one of those patterns that I'll really covet in a few months once I see a few others make it up online!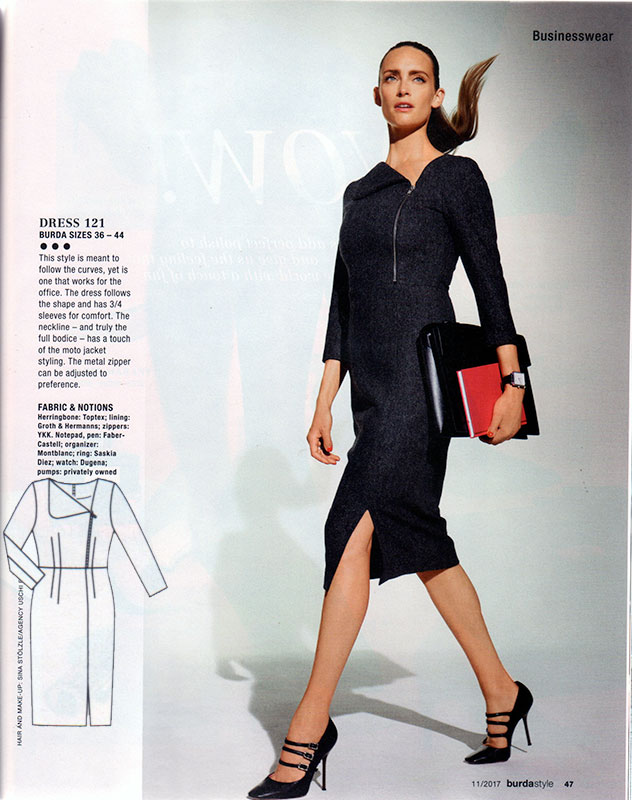 In the officewear feature, this dress really stood out for me (and not just because I love sheath dresses with clean lines!). They've taken a pretty standard sheath dress and added a thigh slit and opening zip along one side of the bodice, creating a folded back collar. It not only creates an interesting neckline, but also brings to mind a moto jacket, especially when done with a metal zipper like in this example. If I had any need to dress up for my office job, I'd be all over this!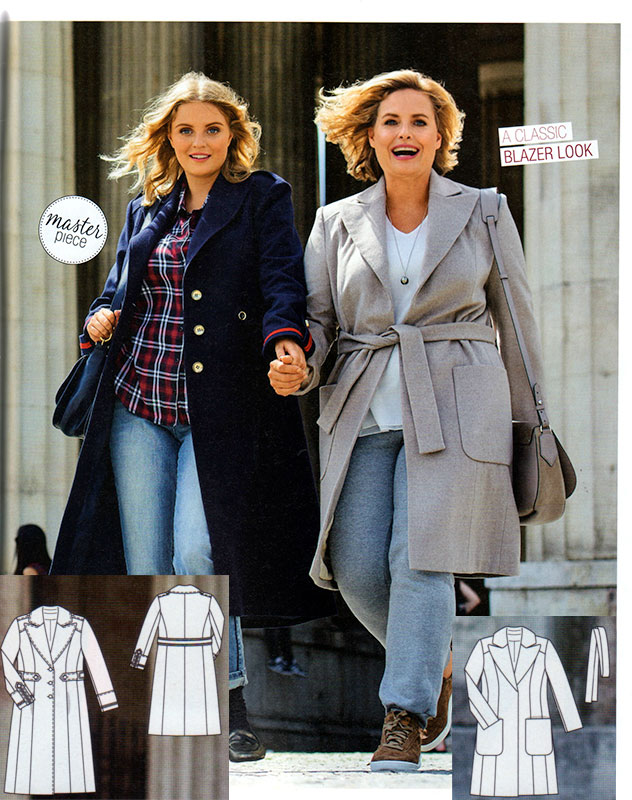 The Plus sized section this month shows two women wearing different variations of the same patterns, which means you get to see a lot more options in terms of fabric choices and trims than is usual in Burda's Plus features. Here the ladies are wearing some long classic coats, one in a military style and the other more minimal. Those long vertical seams give you lots of opportunities to tweak the fit, too.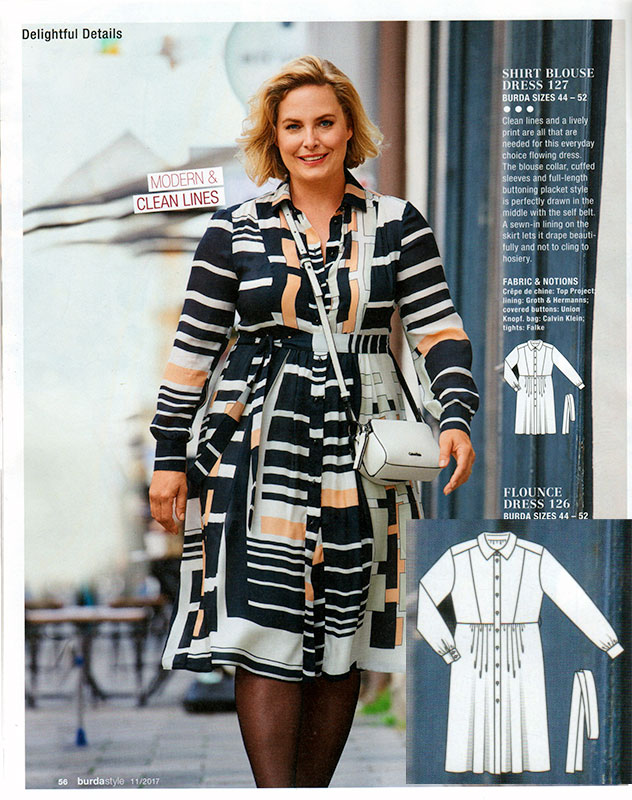 I wasn't really into the frilled version the younger woman wore, but this classic shirtdress in this fabric is just fantastic, and SO wearable. It's really flattering on this model, too, enough that I'm not even going to mention the distorted print highlighting the fact that the bust is too tight (oops.).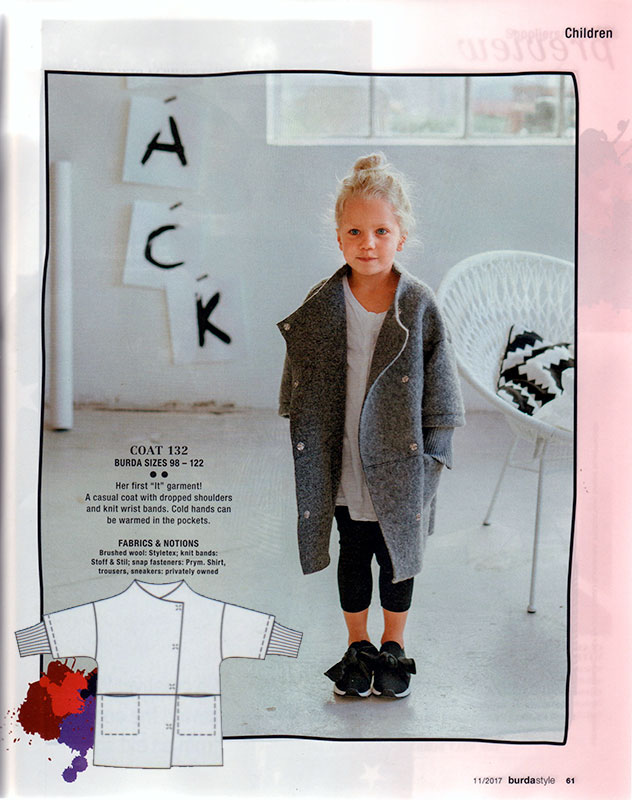 And finally, the kids section this month is cold weather clothes for girls. Is it wrong that I would wear this coat in a heartbeat if it was in adult sizes?? I even know the perfect place to get knitted ribbing like that (having used some of Guthrie Ghani's for a book sample!).
What about you – was there anything that really jumped out for you that I didn't mention?