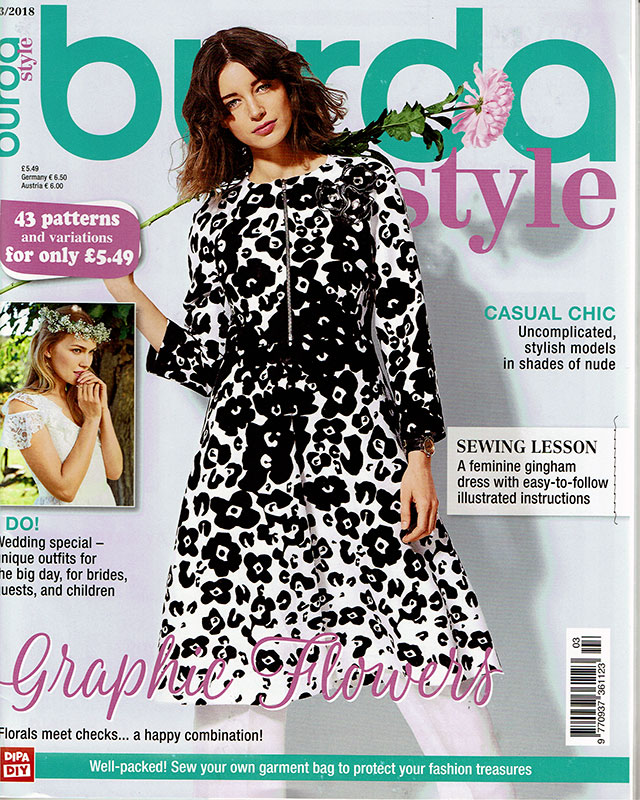 First of all, thank you all for your well-wishes on my health. I'd love to tell you that my posting again means I'm feeling better, but it's more a case of the number of "blog posts I need to write" building up so high that the anxiety levels are outweighing the effort involved to write them. And it's kinda ridiculous that I'm writing about the March Burda in May, but getting this issue was a drama in and of itself, since for some reason it wasn't on any of the usual newsstands in London, and then the issue I ordered online got lost in the post, so I had to order another copy off eBay, ugh. But because my March, April, and May reviews are so late, I've included links to the pdf patterns on BurdaStyle.com so you can still grab the pattern if you want to.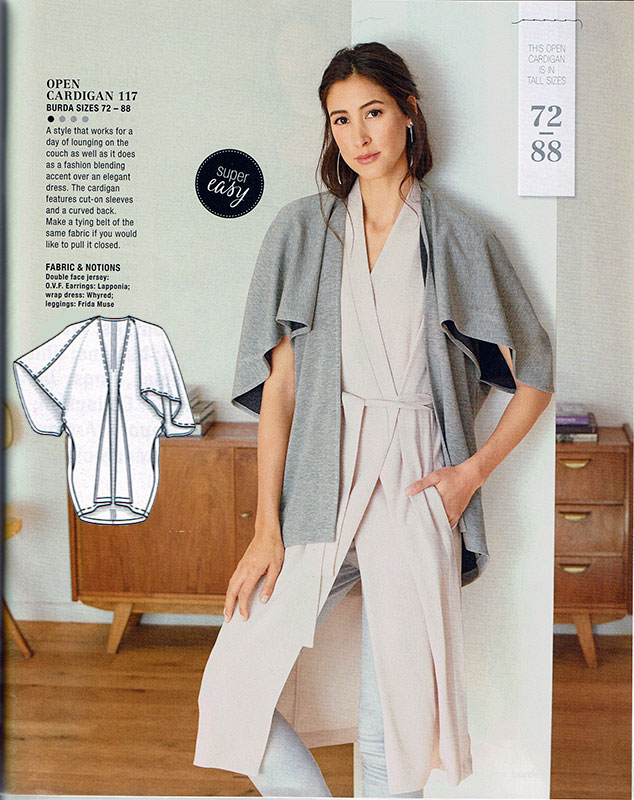 First up is this draped cardigan, available in Tall sizes. Now, there are a ridiculous number of drapey cardigan patterns out there (yawn), but this one caught my eye because of those sleeves, which are different from the vast majority of the existing patterns. Plus, pockets!  [Cardigan PDF]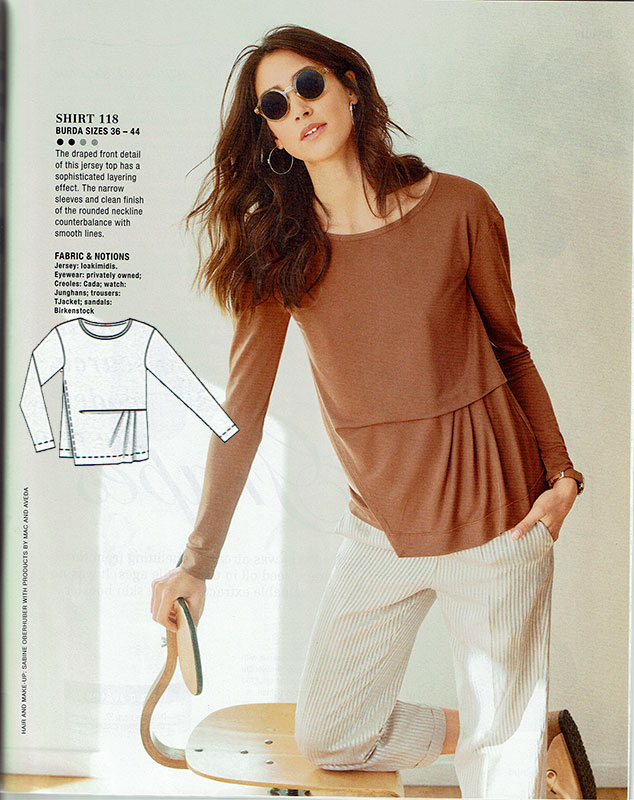 It should be no surprise to regular readers that I love this top – an asymmetric draped teeshirt? Umm, yes please! My only hesitation is in whether I should trace the whole thing or just the left front detail and Frankenpattern that onto my Loose Fitting Top block…  [Top PDF]

This shirt dress may have the coloured illustrated instructions for the issue but NO. Just, NO. Who thought that a tight, constricting twist band over your boobs would be a good look?? (Though you can leave that off, of course, and have a perfectly acceptable shirtdress underneath) [Dress PDF]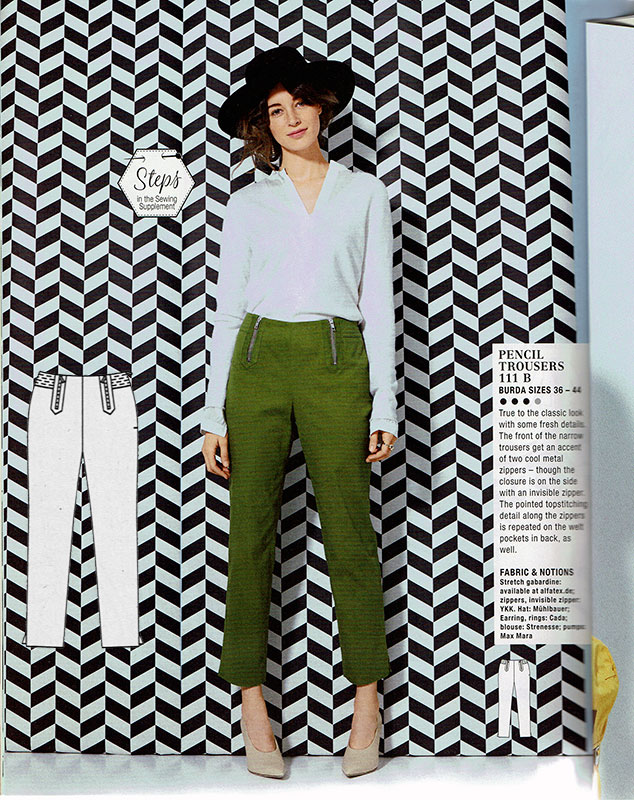 I'm not entirely sure I want exposed zips drawing attention to this part of my anatomy, but I do appreciate that Burda are trying something new with their trouser patterns (which tend to be way less adventurous than say, KnipMode). These also have the illustrated instructions for this issue, in case you're feeling a bit hesitant over getting a clean finish on those angled zip pieces. [Trouser PDF]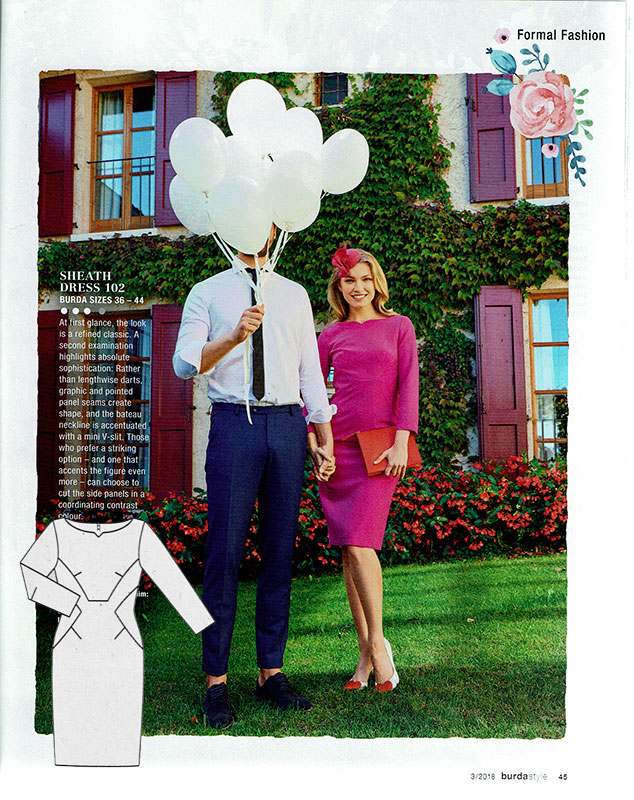 Hahahah why do you think this guy's face is covered up with balloons? Answers in the comments please! But joking aside, this sheath dress is pure perfection, and the only dress from the bridal feature I had any time for. Those angled seamlines, yes! [Dress PDF]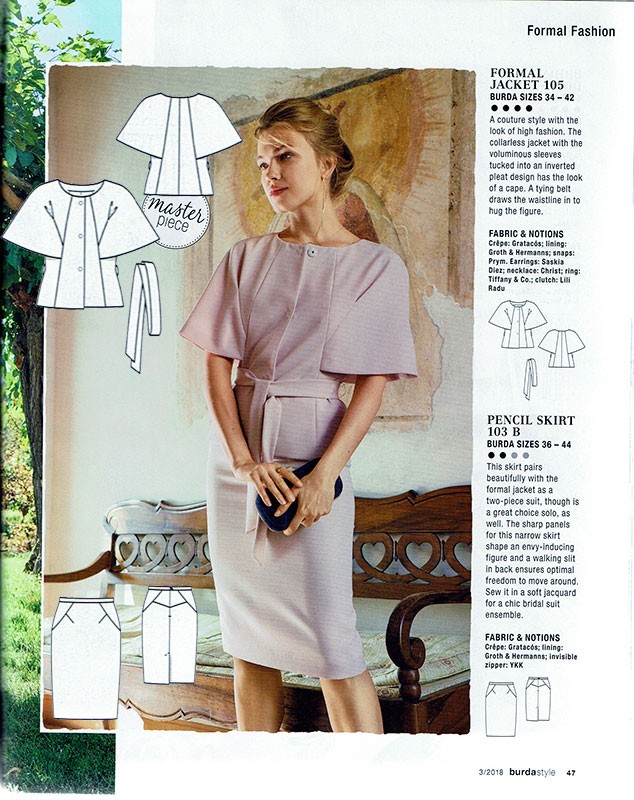 And finally, we come to the jacket I Actually Am Going To Make (No, Really)! I've got the most perfect recycled denim fabric (made from recycled jeans, but it's more like boucle) that I've been wanting to turn into a jacket and this looks like a great contender to my eyes. And that pencil skirt shouldn't be overlooked, either. Those seams would be so flattering, and imagine what you could do with a pinstripe fabric! [Jacket PDF] [Skirt PDF]
I've also got the April and May issues scanned and ready to post up very soon, so fingers crossed I can give you some Burda-based inspiration in those soon, too!