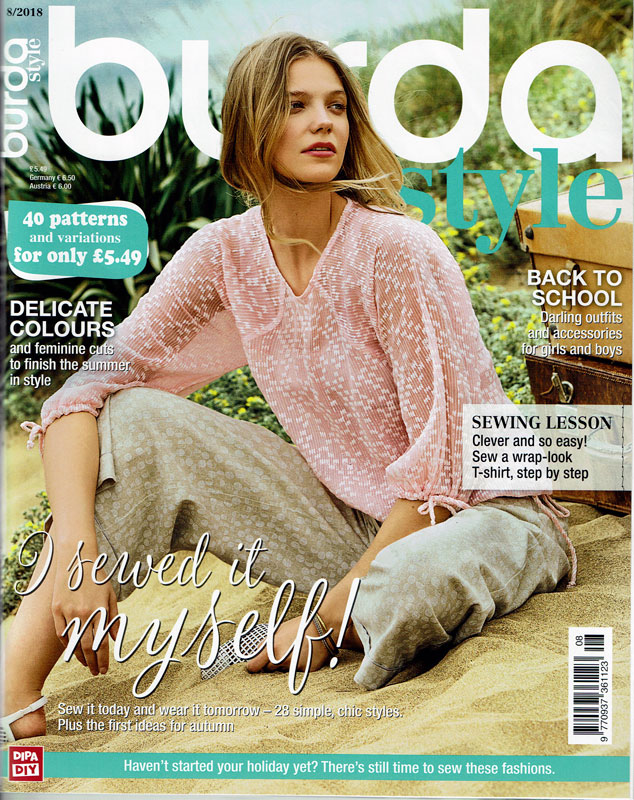 I can't believe it's the August issue already! Granted, I feel like I've lost five months of this year to being ill, but still, sitting here in London in a neverending heatwave, I'm not sure I'm ready to look at Fall fashions yet… and it looks like Burda feels the same, because while August issues are traditionally the start of the Fall fashions, this year it feels like a mishmash of Summer and pre-Fall. There's not much I personally actually want to make in this issue, but there's tons of great stuff nonetheless!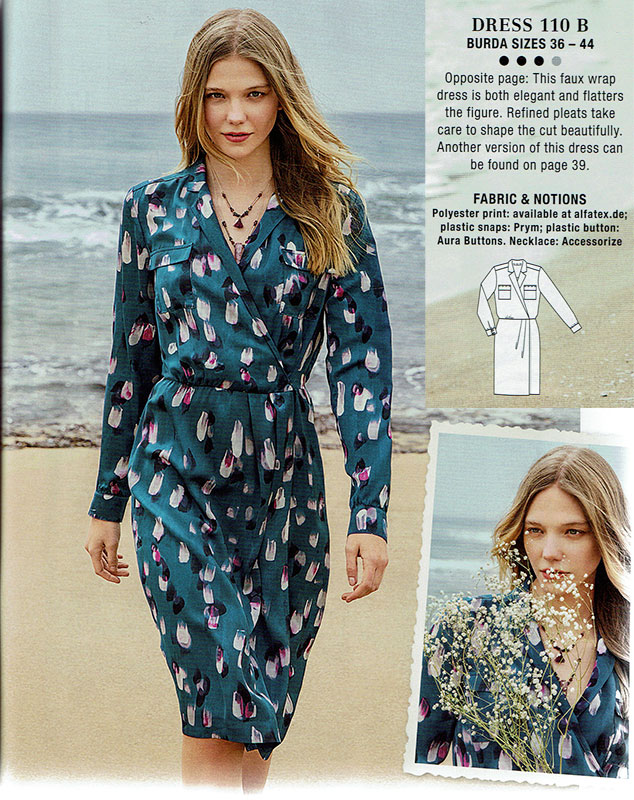 I love the look of wrap dresses, but London is a pretty windy city, and whenever I where them I constantly have to walk with my hand holding the flap down to not expose everyone, which is a real downer. This "wrap" shirtdress, however, only looks like a wrap dress, but everything's fixed in place at the waist. So it's safe to wear in windy conditions!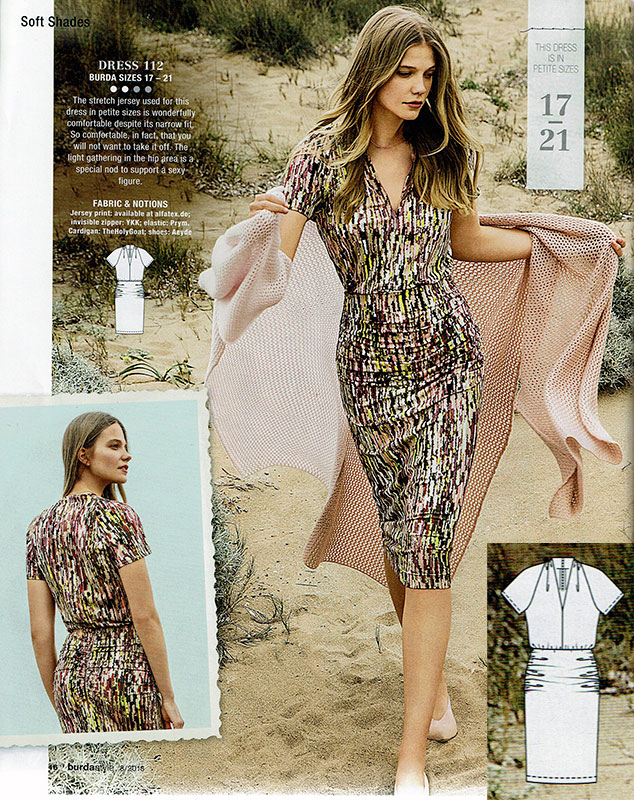 I'm never a big fan of the ruched-hips look, but I love the rest of this jersey dress, sized for Petites. I especially love this type of collar, and there's a sleeveless top version of this in this issue, too (but I thought that one looked quite cheap and messy in the fabric they used).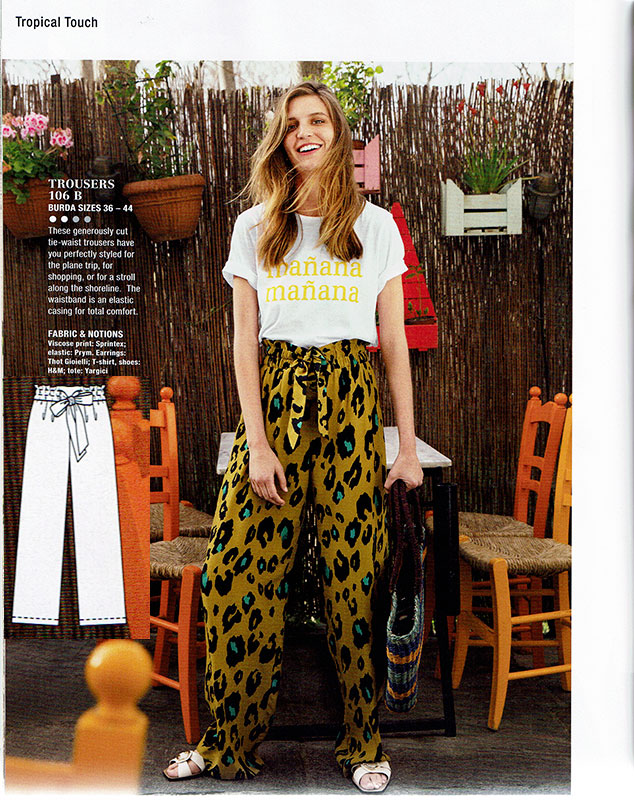 Nothing crazy here, but a good casual pair of woven trousers is never a bad thing. Burda's done that idiotic thing again, though, where instead of using wide elastic and topstitching lines through it, they create narrow channels and thread narrow elastic through. Urgh. Which means that the waistband will crumple and feel weird the second you sit down or bend over. Apart from their questionable finishing technique, this still looks like a nice pattern, especially for summer holidays, as suggested in the feature.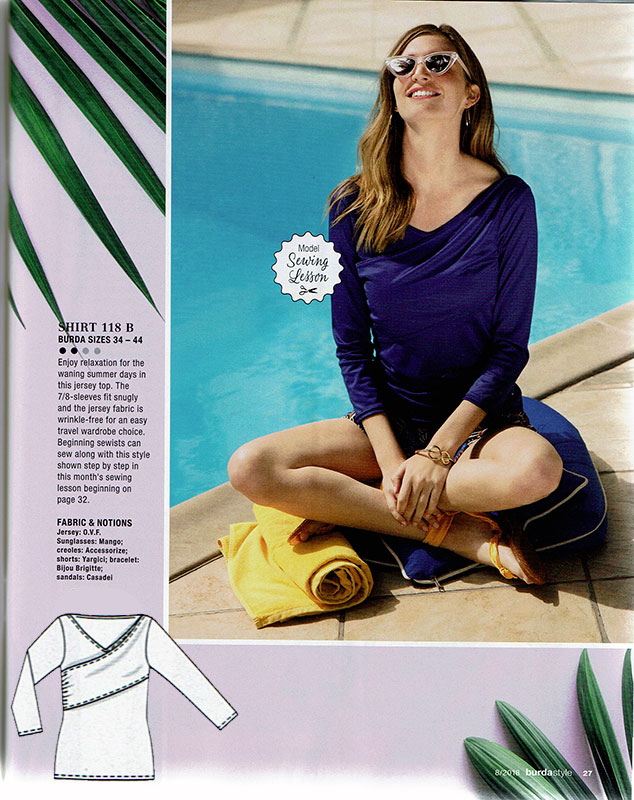 Now I should be all over this tee – asymmetric draping and jersey? Oh yes! But that draped piece just looks really bad and uncomfortable over the model's bust in every version shown in the magazine, like it's just not lying properly. If you feel like fixing this, this pattern has the colour illustrated instructions in the magazine section this month.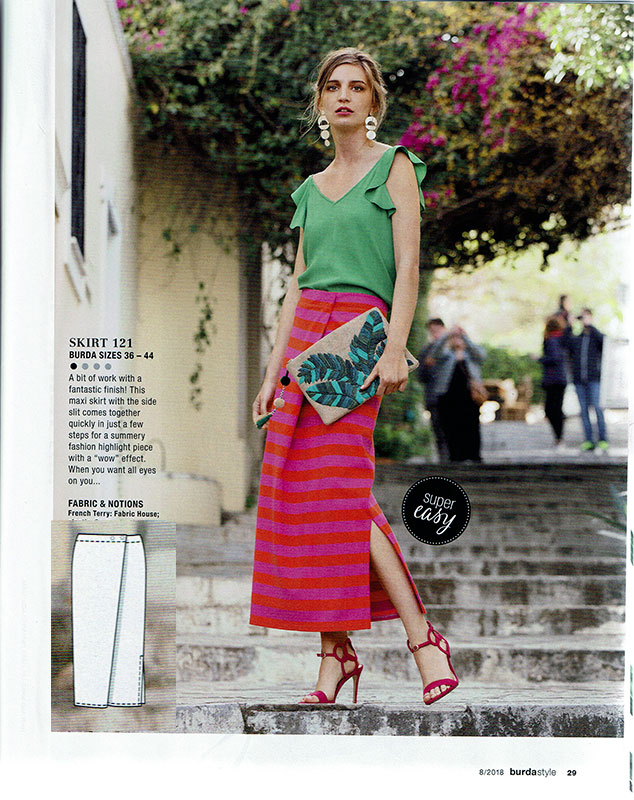 This is a really simple pattern for a jersey pencil skirt with a leg slit for walking ease and a big pleat at the front for wearing ease. I always like this style where the front is just one big piece, you step into it, then fold a portion over and secure with snaps. It's such a nice look and so easy to wear, and you could shorten it to whatever length you prefer…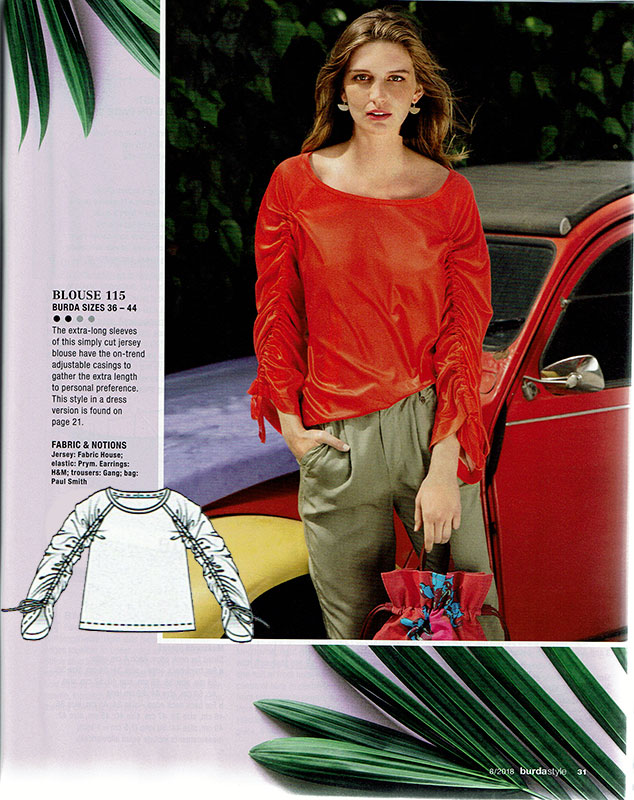 Burda are way more into this ruched-sleeve look than I am – they've made a shirt and dress version and given this the illustrated instructions, too. But when I turn the page and look at this, my first reaction is just "Ugh, no!" (and second reaction, and third reaction….). It just looks so messy and draws the eye totally to your arms, plus it's even twisting around her arm. Ugh, no.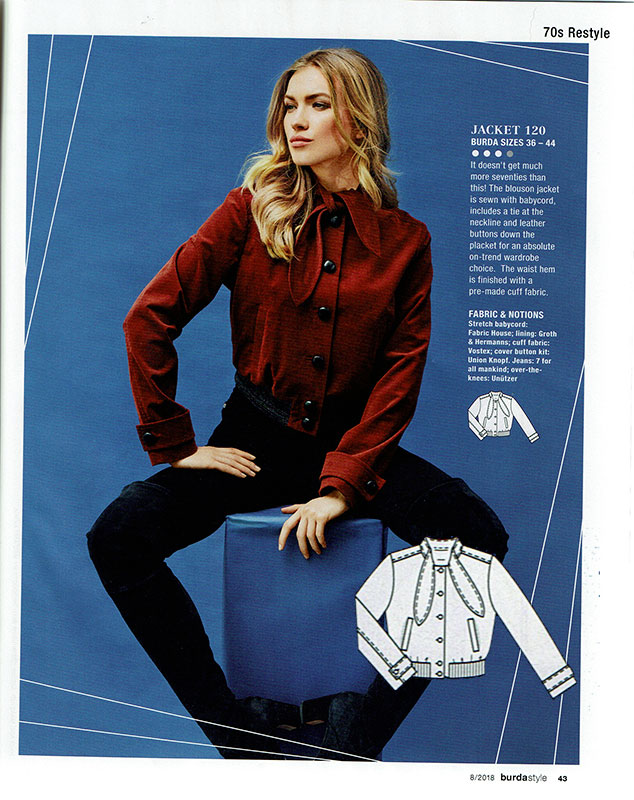 I'm allergic to 70s "fashion" so I skipped right through the rest of this feature (except to chortle at the model apparently having a squatting poo in her casual trousers?!?), but I like the idea of a bomber jacket with a tie collar.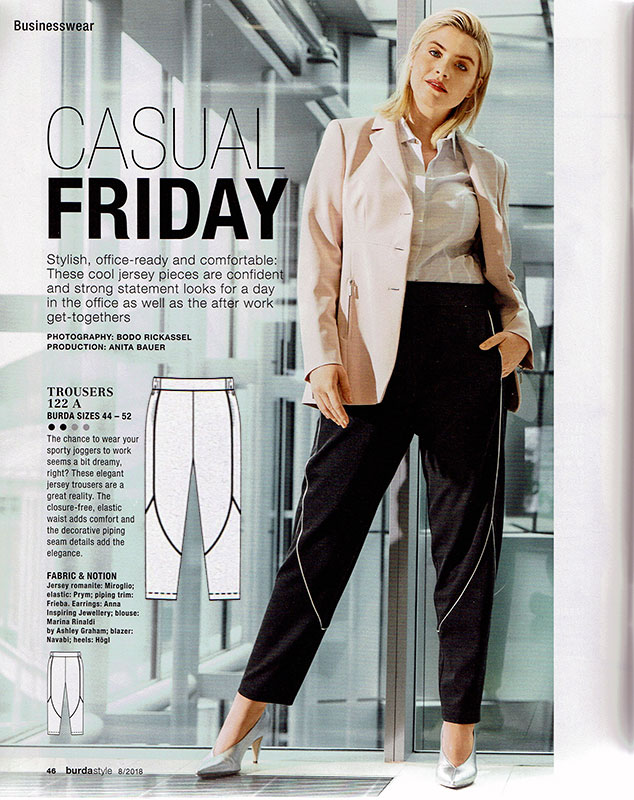 Ok on to the Plus section now because IMHO, Burda have killed it this month! I could've honestly picked out every pattern here, but I'll start with these piped trousers, made in jersey and with pockets concealed in the piped side seams. And I cheekily like them because the leg seaming is similar to the Active Leggings in my "Sew Your Own Activewear" book. 😉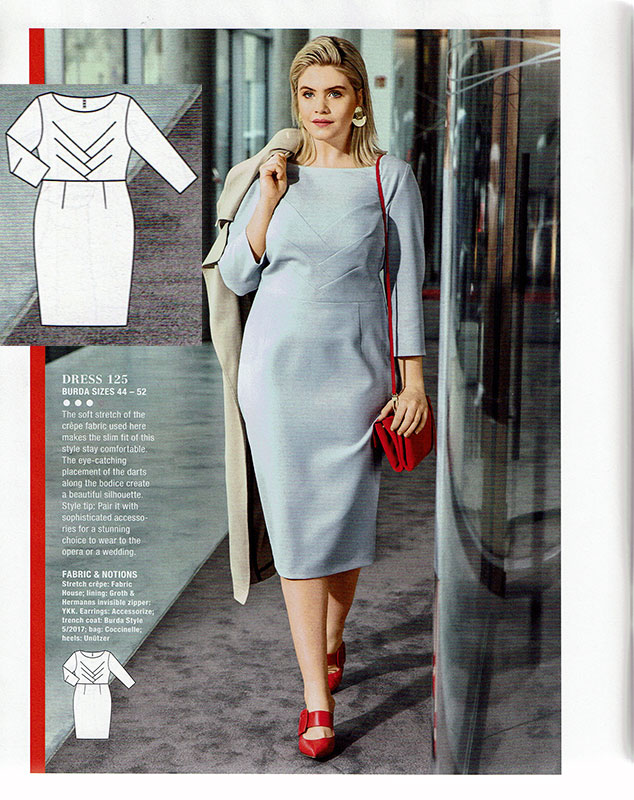 What a gorgeous sheath dress! The bodice seaming is so similar to the "Bamboo shoot" design in one of the Pattern Magic books, but Burda have saved you all the drafting time!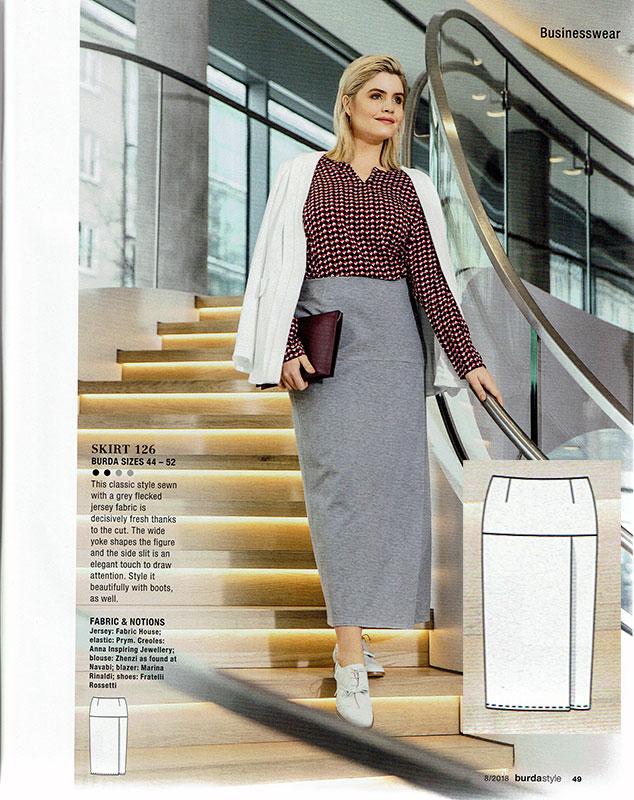 Yes – a jersey midi-length pencil skirt with flattering long yoke and pleated front. That pleat is enough to give walking ease, but as it's not a full slit, you won't expose yourself as the wind blows (see above!).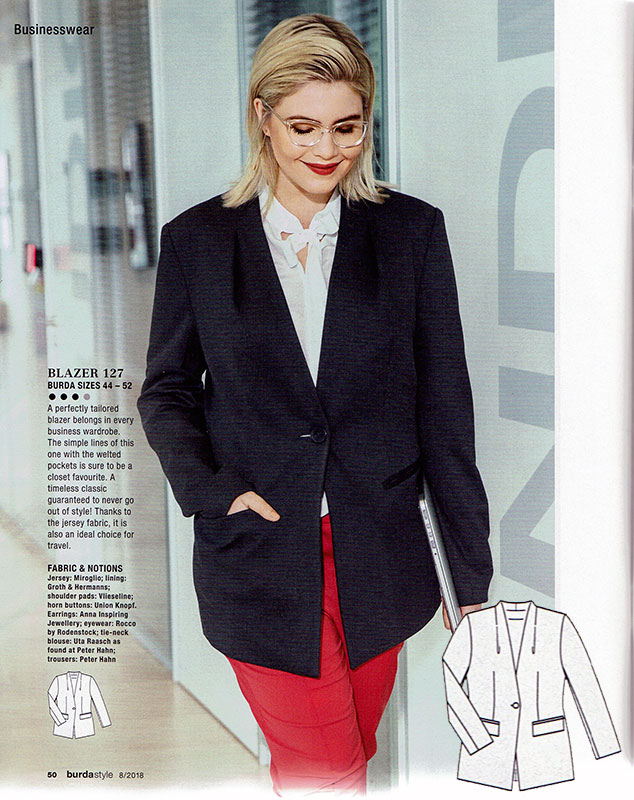 And my final pick for the Plus section is a really nice collarless, lined jersey blazer. Jersey blazer patterns aren't that common anyway, and I feel like it's even rarer to see them in Plus sizes. And Burda even threw in two illustrations for achieving the combined dart-and-welt-pocket area.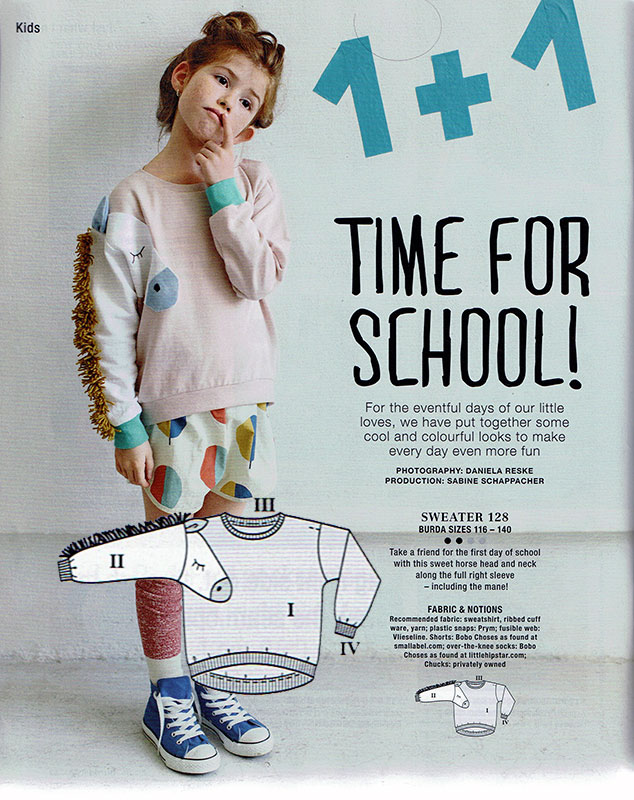 The kids section also has some truly inventive designs this month, like this sweatshirt where one sleeve and shoulder become a horse!! So cute.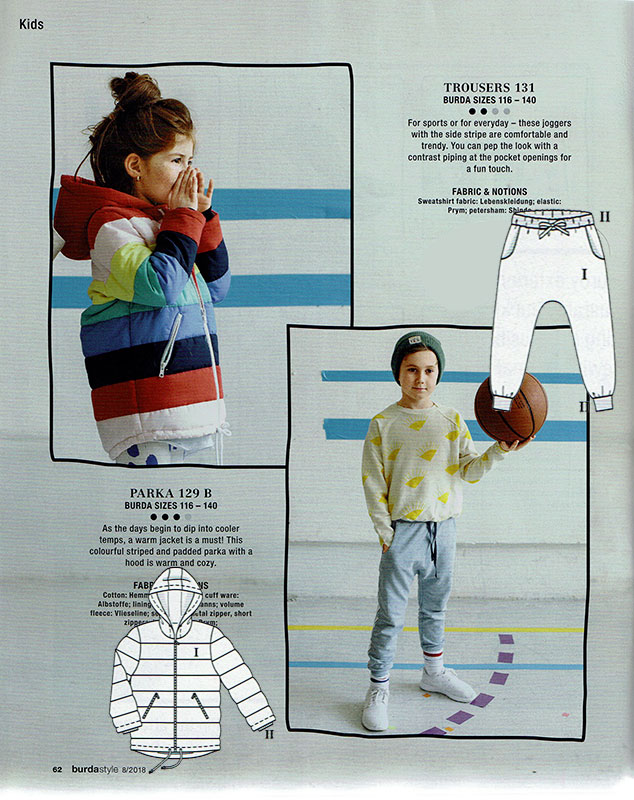 There's also a puffa jacket where you separately piece all those coloured strips together them quilt them with batting (totally a labour of love!), plus some decent-looking casual joggers (though I'm surprised they didn't spruce them up with some of the novelty cuffs they were all over a few issues back).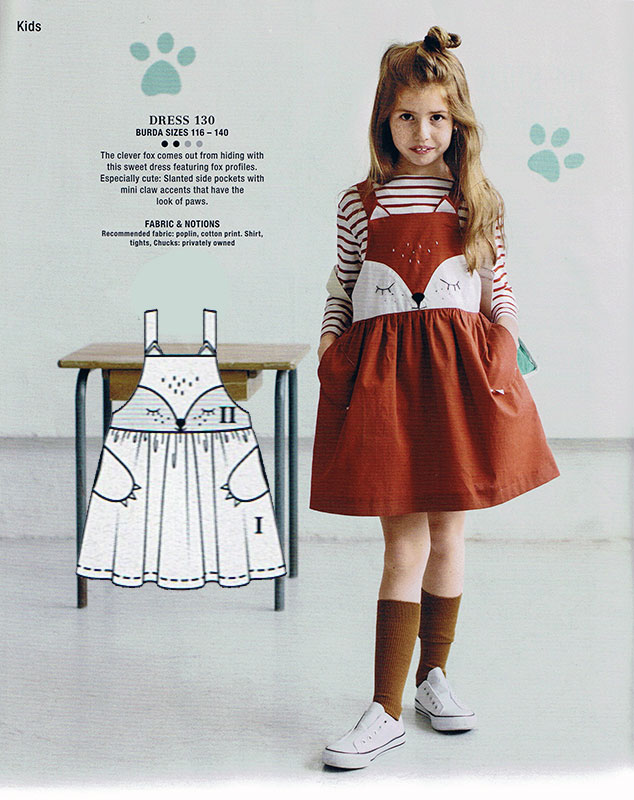 And finally, as you know my love of Burda's fox designs, how could I resist this little fox pinafore dress?? I mean, the little pockets turn into fox paws! This is so adorable it almost makes me wish I had a kid to sew for!