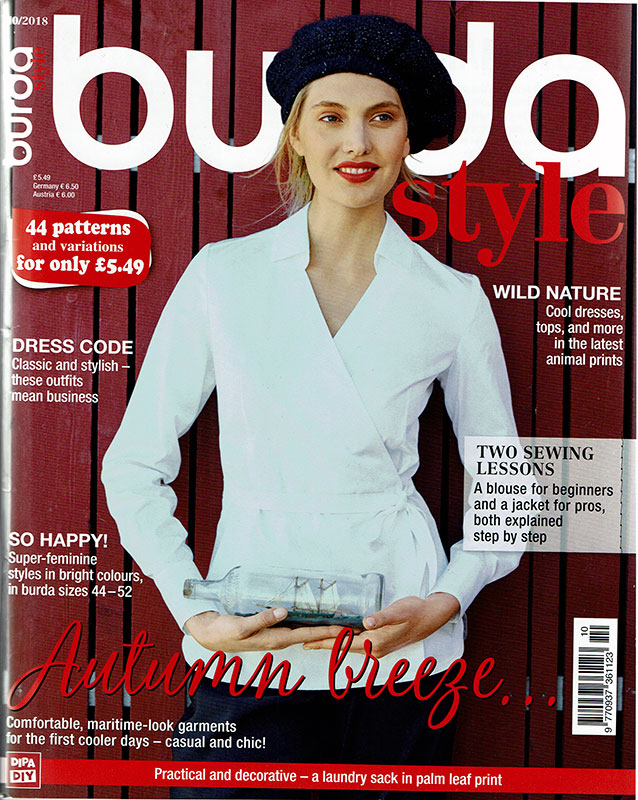 This is turning into quite the magazine review week! Between getting my next sewing pattern ready for release (it's with my testers now!) and working on the boat renovations every single weekend, I've had precious little time to devote to sewing recently, and when I do, I end of sewing easy TNT garments instead of spending time photoshooting or blogging about them! But I have been keeping a list so I can eventually blog about them, and the advantage there is that I might be able to wear a few as sets for the photos!
But in the meantime, I thought I'd share my picks from the latest Burda magazine, since I know how much you all enjoy reading these posts…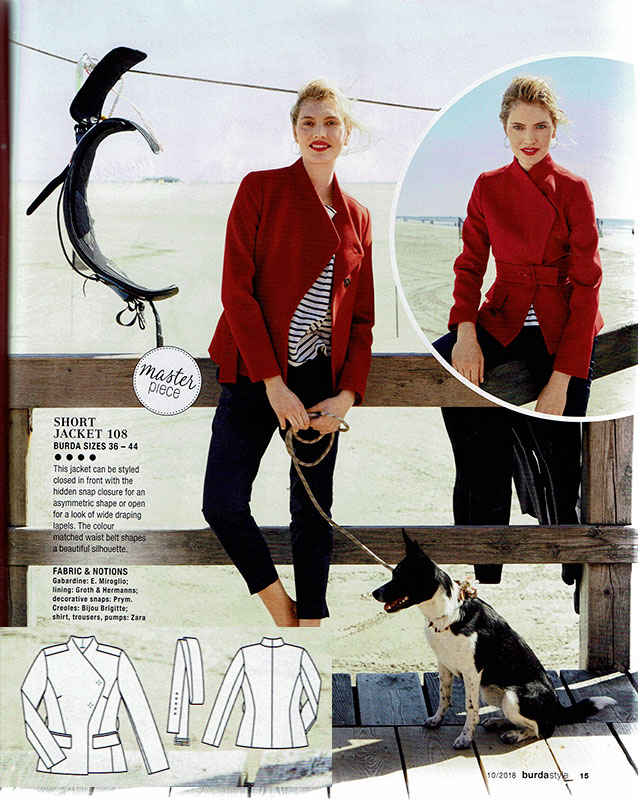 Burda label this jacket as a "masterpiece" and I definitely agree! They've got it styled more as a short coat (or "car coat") here, and it definitely has the feel of a riding coat to me. I love the angular front yoke and those darted princess seams, plus the covered belt really pulls it all together. Beautiful!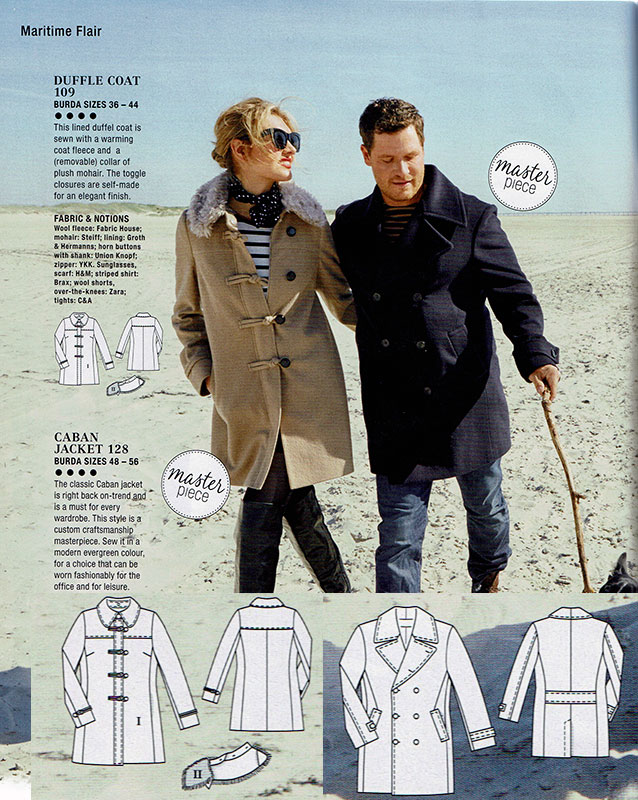 Men's patterns don't appear very often, and when they do, they tend to be variations upon the same old button-down shirt and basic trousers. So how exciting is it to get a classic men's peacoat pattern here?! The women's coat isn't bad, either, with its duffle-style buttons and that removable fur collar…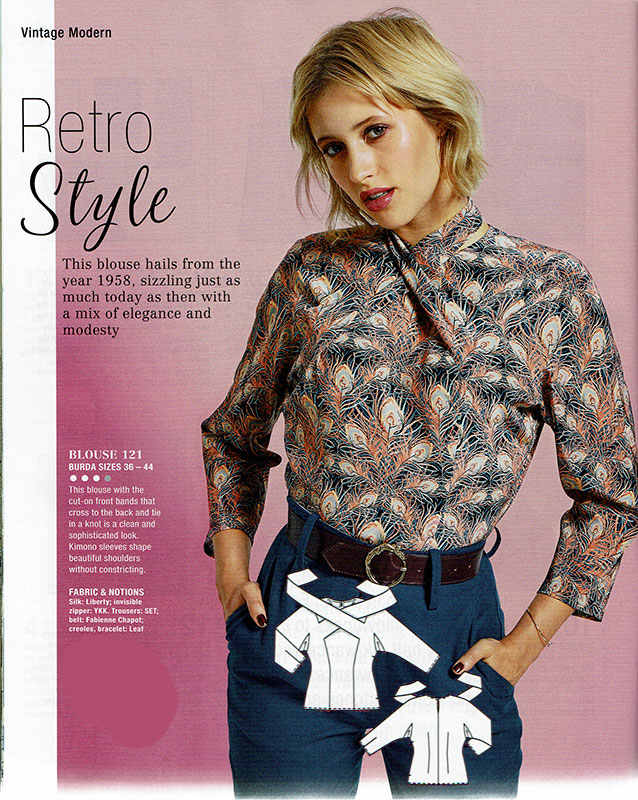 I'm glad to see we're still getting reprinted vintage patterns in the magazine occasionally, and this blouse pattern from 1958 is really unique. They've made this sample in Liberty silk, and those neckbands emerge from the princess seams and wrap round to tie at the back neck. It's a great way to get a lot of interest in a top without showing cleavage. And the armpit gussets mean you might actually stand a chance of (gasp!) raising your arms in those dolman sleeves, too.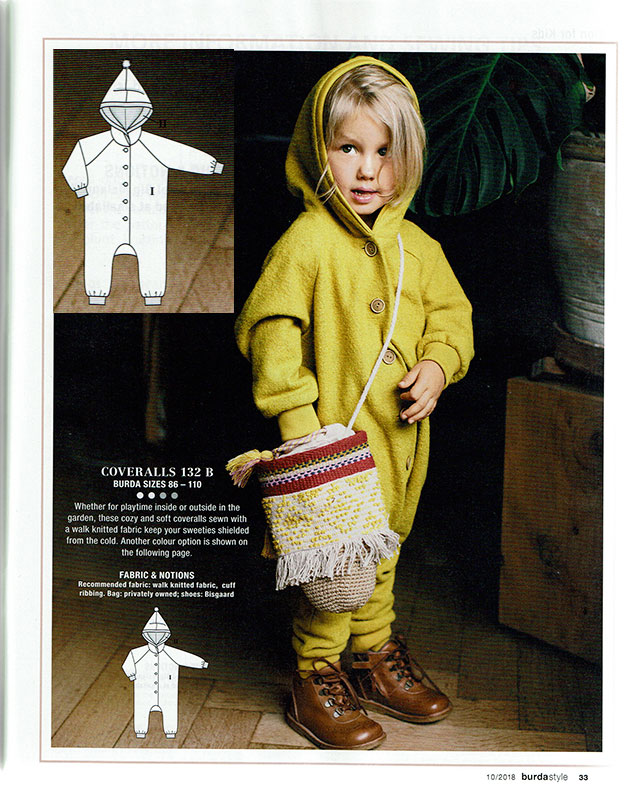 I would steal a toddler just to dress them up as a little elf in this snowsuit, omg. This is too adorable!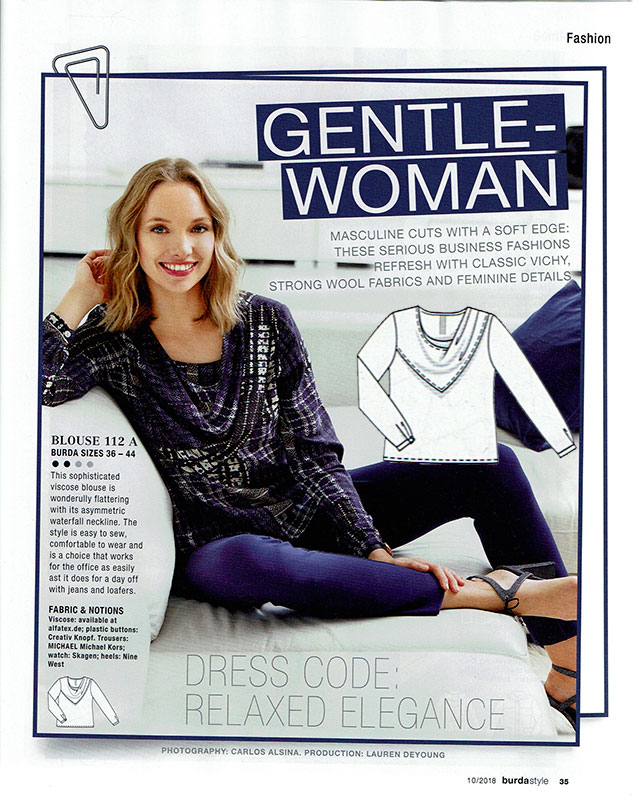 Ah, another interesting long sleeved top for wovens! This one is made in viscose and features a separate panel at the neck which adds some drape and interest, again, without being too revealing. I think this design looks best in the printed fabric shown here – I'm normally a solids girl but I think it might run the risk of looking too "I tied a handkerchief round my neck like a cowgirl" without the print to disguise it.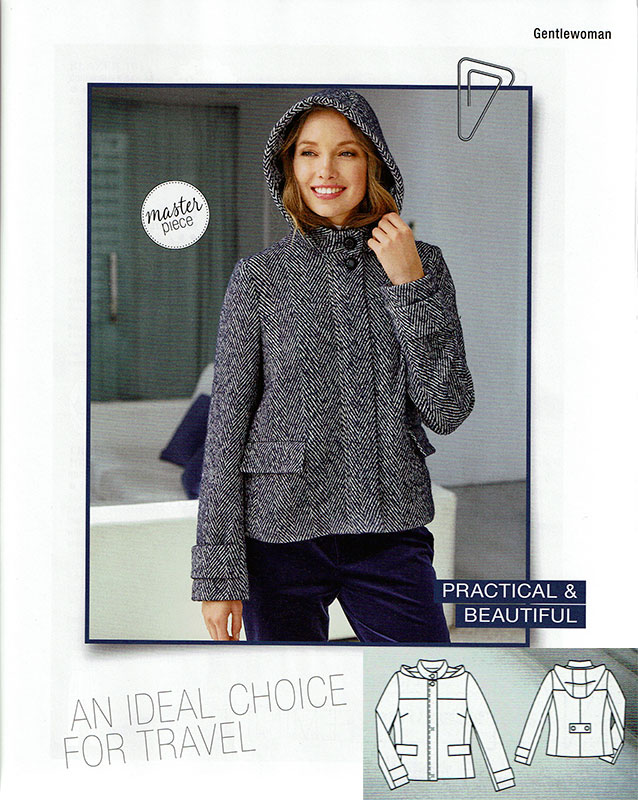 Yes, Burda, I tend to agree – this short coat is both "practical and beautiful!" The only thing I miss from my otherwise constant-winter-rotation short coat is a hood, and this one has thoughtfully included one along with practical pockets and a tidy concealed zip band. I'd wear this in a heartbeat!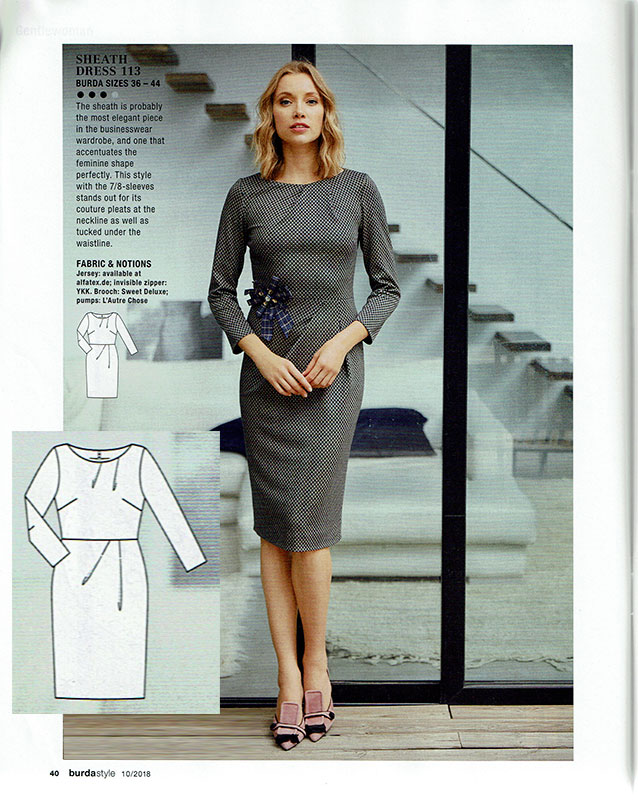 On one hand, I love the tech drawing for this – asymmetric ✅ sheath dress ✅ practical for work ✅. But on the other hand, this dress is so tight on the model that I can count her ribs, so I'd be concerned that there really isn't enough wearing ease included to be comfortable for day-to-day wear, even in a jersey.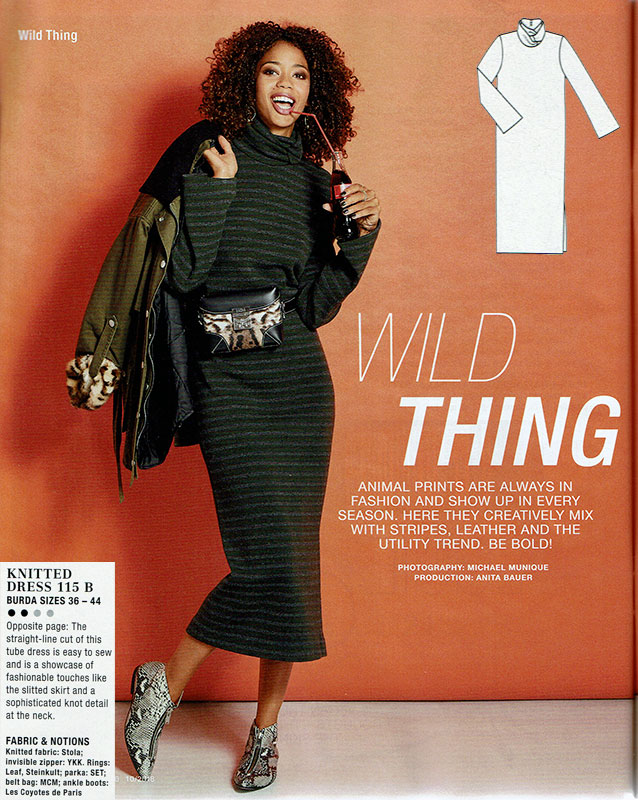 Can I just start by saying, YAY for including a non-white model?? It doesn't happen very often in Burda and it's really nice to see some more diverse faces in the magazine. She's modelling the dress version here but realistically, I'd probably be more likely to make the top version of this instead – that collar has got a really interesting twist in it that elevates it above your average turtleneck/polo neck. Plus, for the extremely lazy, it'd be a piece of piss to just graft this collar onto your TNT long sleeve teeshirt pattern and save yourself a lot of tracing and alterations!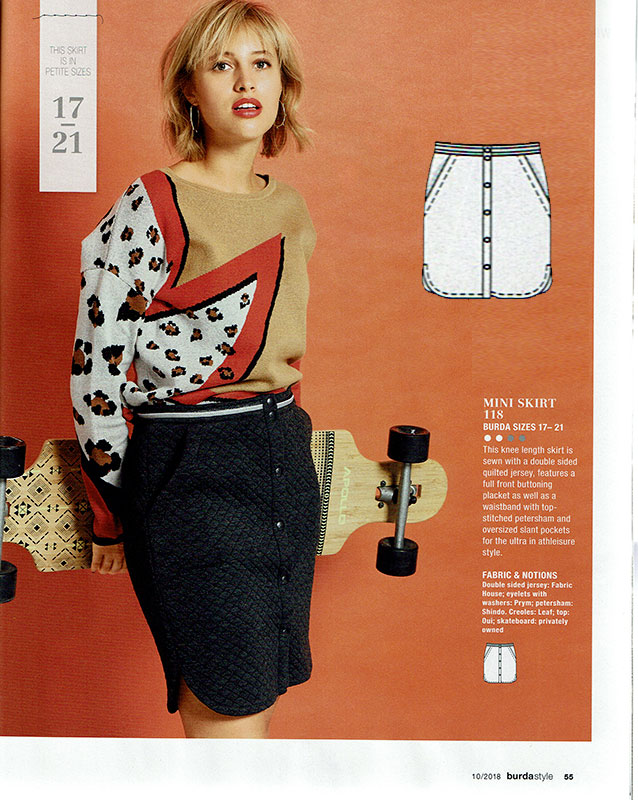 Look past the hideously 80s throwback RTW sweater and cast your eyes instead to the sporty, quilted jersey skirt. It's sized for Petites (but it'd be easy to add the length back), and how cozy and warm does it look? Layer over some leggings or thick tights and you're ready for winter.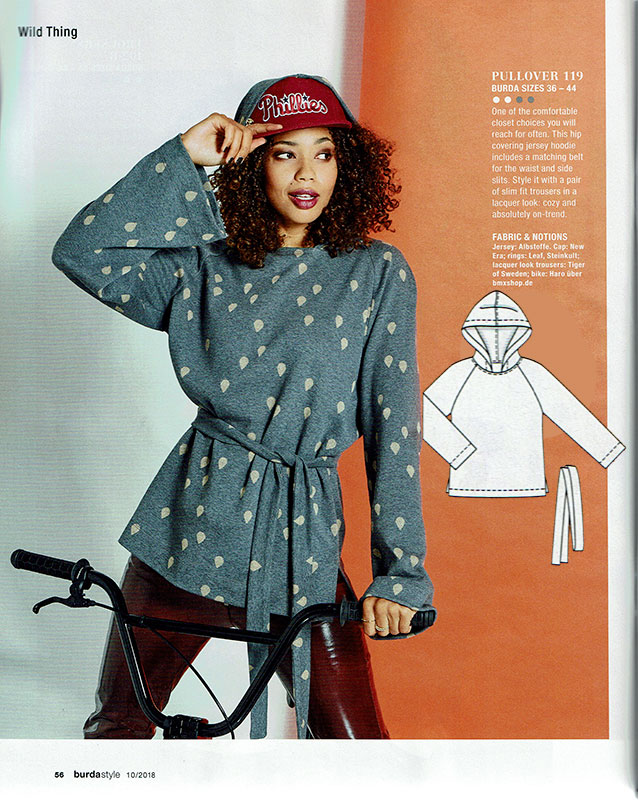 This boxy hoodie looks to be severely lacking in the pocket department but as far as toppers go, it's a solid bet. Branch out from the usual French terry or sweatshirting and make this in a sweaterknit or printed ponte for something a bit more elevated to add to your winter wardrobe.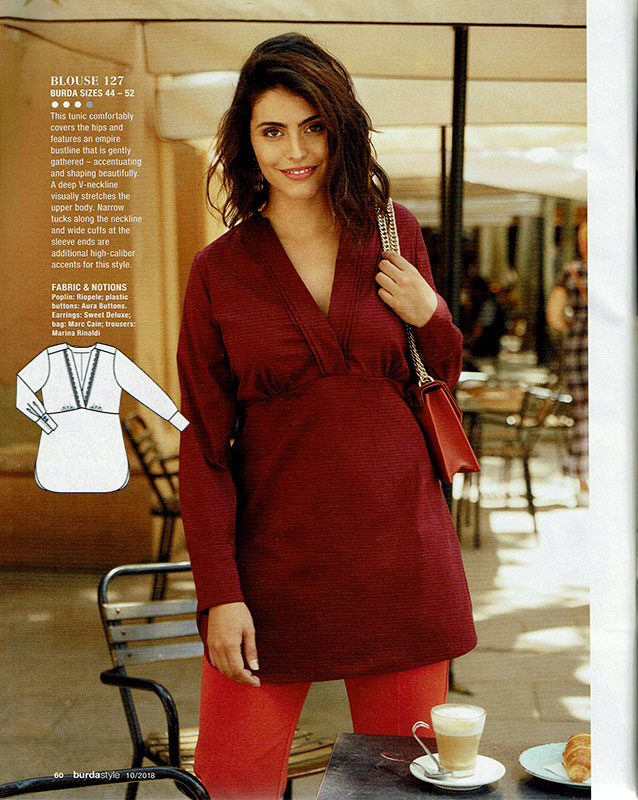 I swear to you that my first reaction was "oh, a Plus-sized maternity top, that's nice!" Then I realised it wasn't maternity. 😬
So, err, maybe we should all avoid looks like this unless we're actually eligible to wear one of those "Baby on board – offer me a seat" badges!!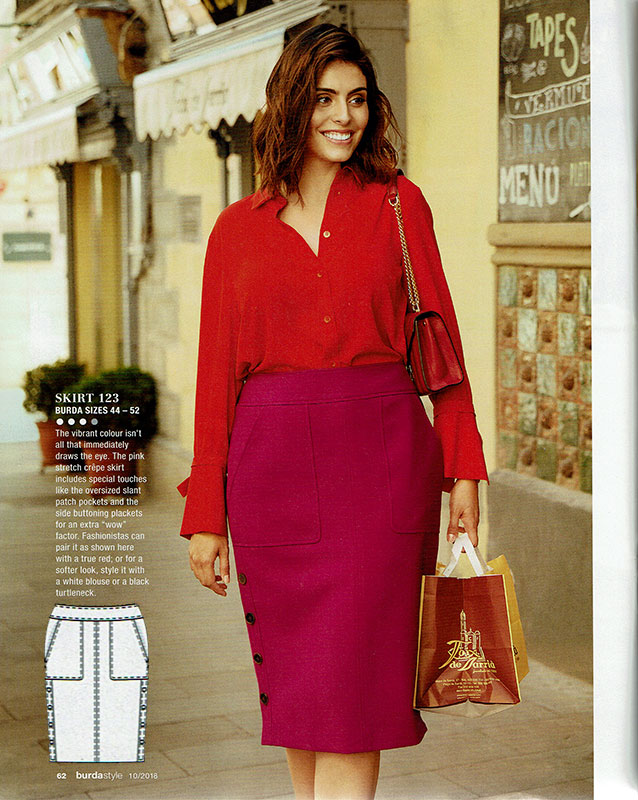 Also in the Plus-section is this midi pencil skirt with loads of attention to detail – topstitching aplenty plus buttons down the side seams on both sides which presumably would let you adjust the walking ease, too. I'm not completely sold on the colour or styling here, but that's why we sew, right?