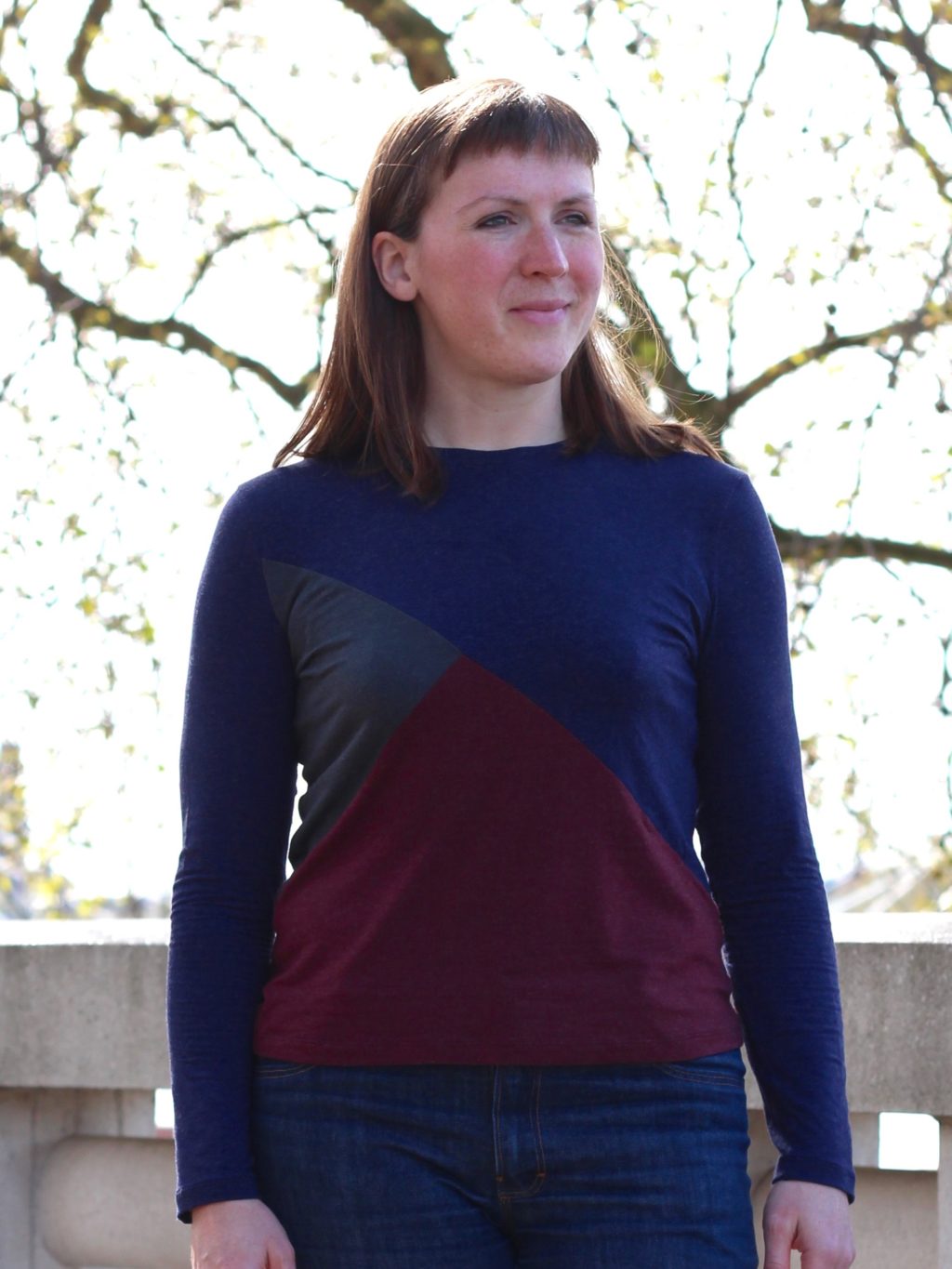 By the time I was able to release my Tessellate Tee pattern, I had made so many samples of all the different uses and features that the photoshoot required something like 8 wardrobe changes in the restrooms at our local park! You've already seen a few of the exercise-specific versions, but I know some of you may be more tempted to sew up a casual tee than an activewear one. So today I wanted to show that you can use it to make a long-sleeved (or short sleeved) teeshirt to just wear with jeans rather than leggings, too.
The full digital release of the Tessellate Tee pattern comes with all the included extras, but these versions were sewn as samples for Love Sewing magazine, so these are just the straight teeshirt with no hood, pocket, or thumb cuffs.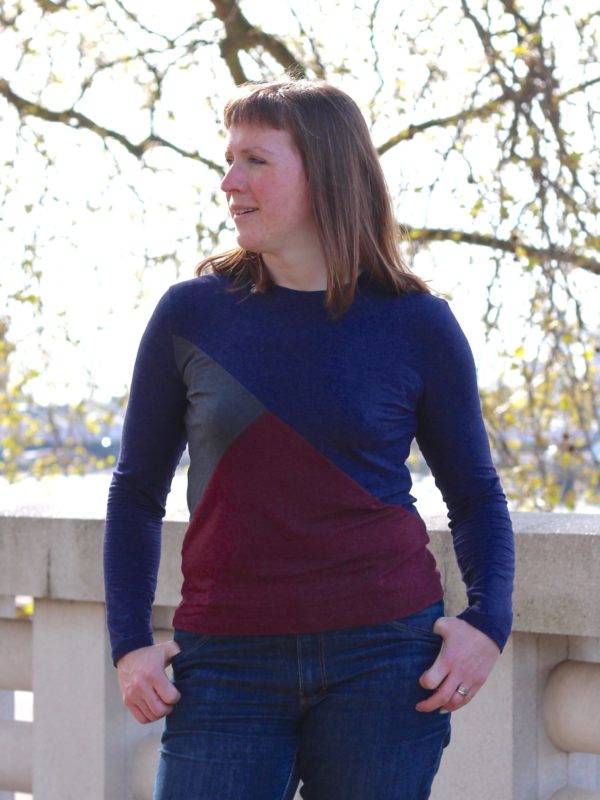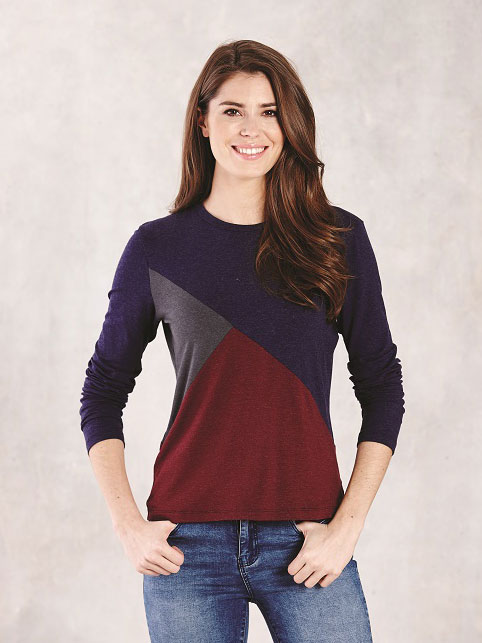 You may recognise this version because it appeared in Love Sewing magazine in January alongside the original version of the pattern! I was over the moon when I saw the photos from the professional photoshoot – the model looks so good! But I know many of you like seeing what my patterns look like on different bodies, so I thought it was worth taking photos of it again on myself (and not just because I wore this all the time this Spring!)
This darker, wintry colour scheme one is made in John Kaldor wool/viscose/lycra jersey in navy, claret, and gunmetal. It's got a really nice hand – it's thin and drapey but suprisingly stretchy and not scratchy at all.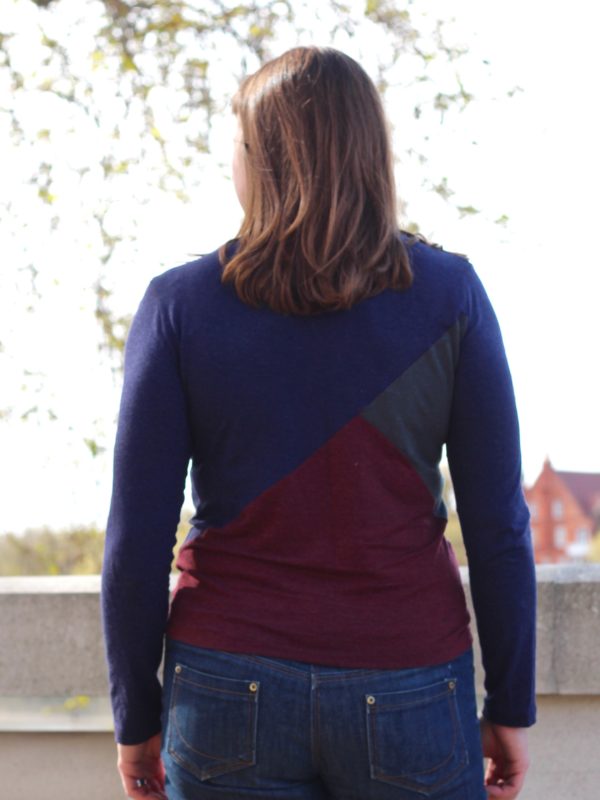 The paler, geometric patterned sample uses Art Gallery Fabrics cotton jerseys in Mojave Aloe, Peachy Custard, and Amaranth.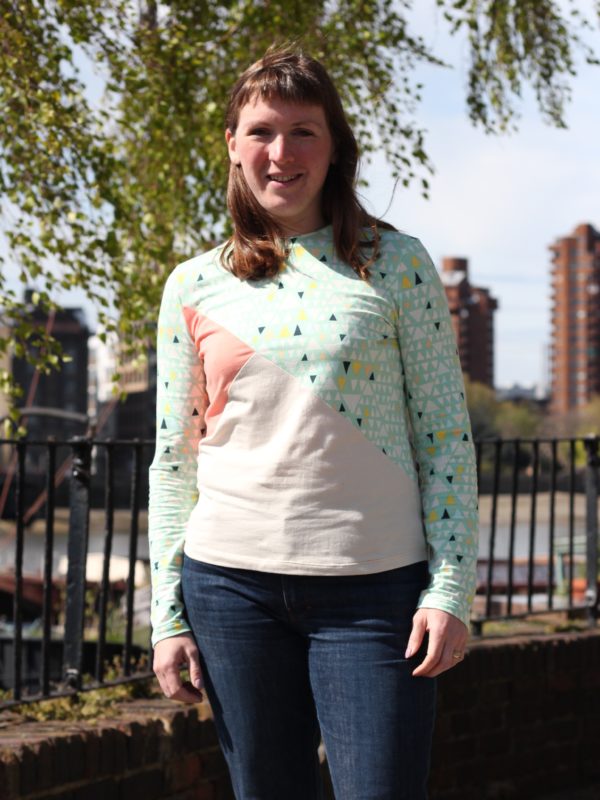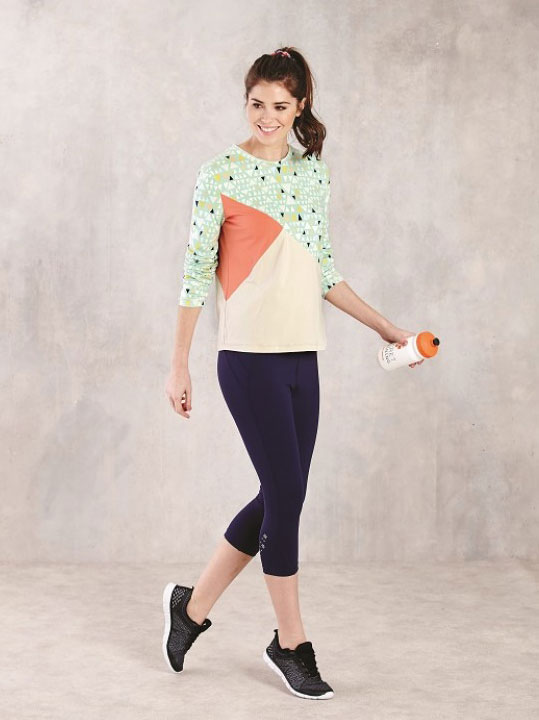 I sewed these up last fall for the Love Sewing January issue, but I think this one in particular would look great in a short sleeved length, so I included short sleeved cutting lines in the digital version of the pattern.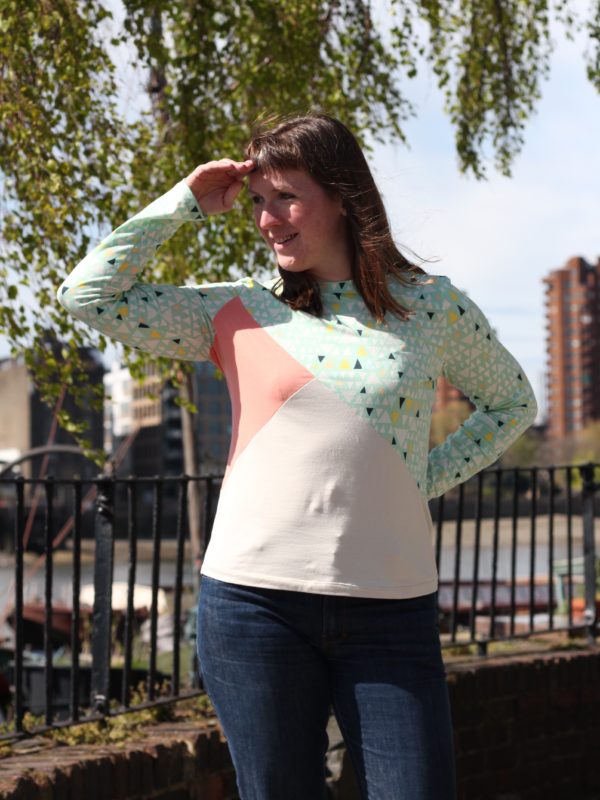 You only need knits with a little bit of stretch (20% or so) to make this pattern, so you can go for the beefy, organic cotton jerseys if you see one you like, or a nice ponte would work well here, too.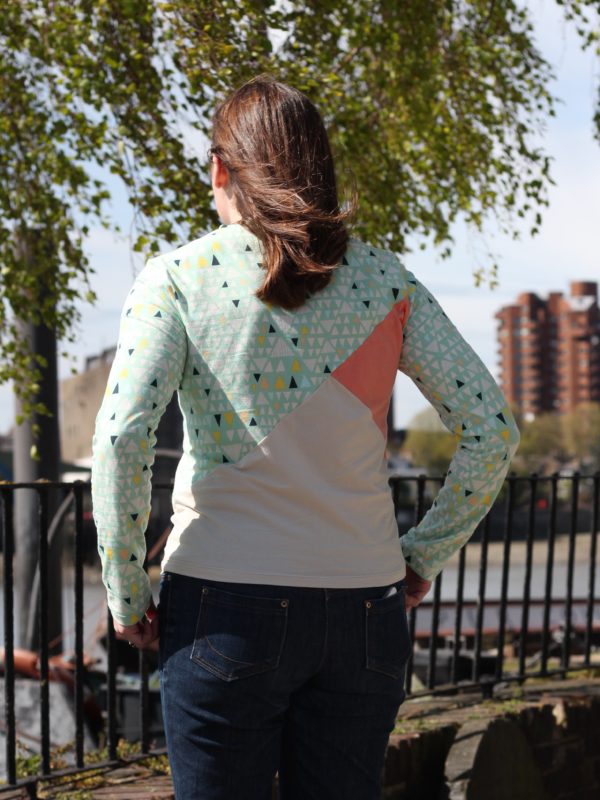 I wanted to make this pattern as easy as possible for stretch fabric beginners, so the neckband is cut as one piece (not on the fold) with notches to line up to the Centre Back, Centre Front, and both shoulder seams to take the guesswork out of sewing a perfect neckband. Whenever I taught beginner teeshirt classes at the Thriftystitcher studio, the neckband seemed to be the trickiest part for newbies to master so I wanted to give a helping hand here!
[shopify embed_type="product" shop="fehr-trade.myshopify.com" product_handle="tessellate-tee" show="all"]
And just a PSA – I announced about 6 weeks ago that I will be discontinuing the Tessellate Tee Add-On Pack from 1 July, which is today. This is purely to avoid confusion, because ALL of the Add-On pieces are already included in the digital version of the Tessellate Tee pattern. The Add-On pack was only created to supplement the magazine version of the pattern, which will be fewer and fewer people as time goes on. I've tried to be as clear as possible in the description, but it's already caught out enough people buying both to justify my discontinuing it! But if you have the magazine and do want it, you've got til the end of the day.
To clarify – the main Tessellate Tee pattern (which includes all the Add-Ons) is going nowhere!