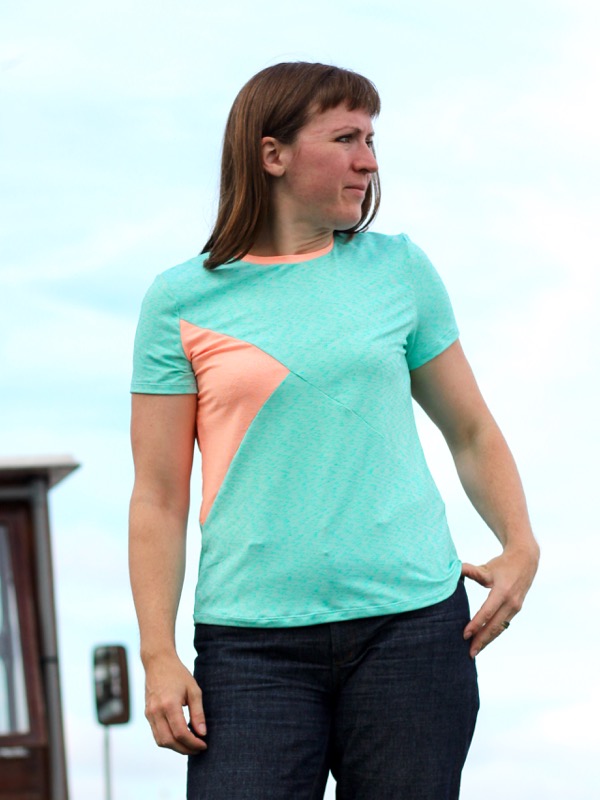 Ok, I promise this is the last Tessellate Tee sample I'll show you for a good long time, but I've haven't shown off the short sleeve option yet and I didn't want some of you thinking this pattern is only good for cooler temps!
I made this one using two different colourways of the same neon, heathered, "cotton-touch" tech fabric that a Sweaty Betty-insider friend gave me a year or two ago. I used most of the neon orange fabric for a sleeveless Kimono Sweat top but I wanted to make another Tessellate Tee version that just used the side triangle as the contrast fabric – I made an early version for my niece using purple Supplex everywhere but the side pieces and I loved the look so much I wanted something like this of my own!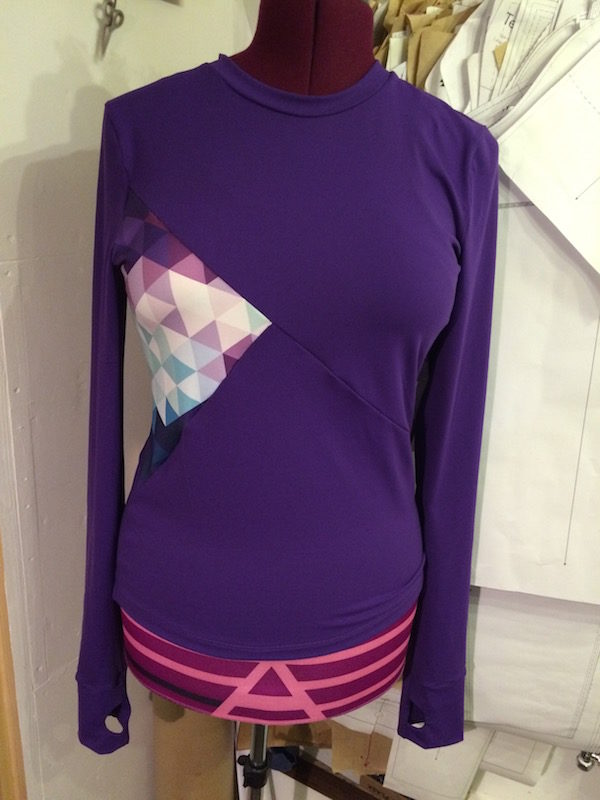 So I pulled out the mint green fabric and what was left of the orange, and managed to squeeze in the Side Front and Neckband, but when it came to the Side Back there was no way I could fit it into what was left. So I made the option to piece the fabric and introduce a seam in the least conspicuous place – right near the armpit in the back: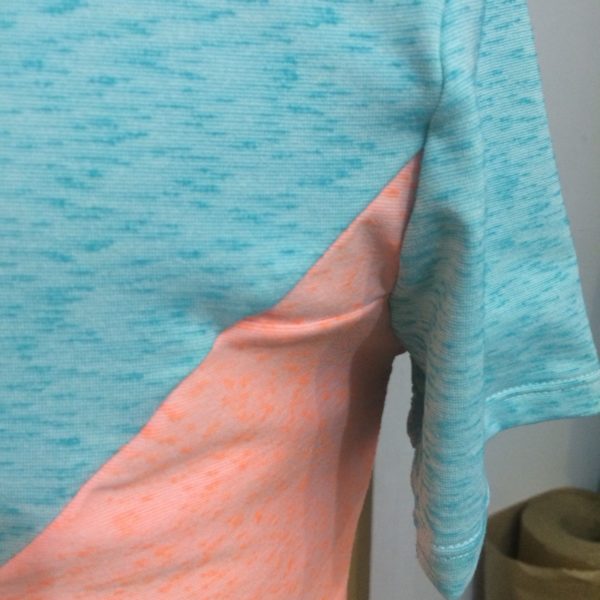 I think it's hardly noticeable at all, and it allowed me to still keep to my original vision.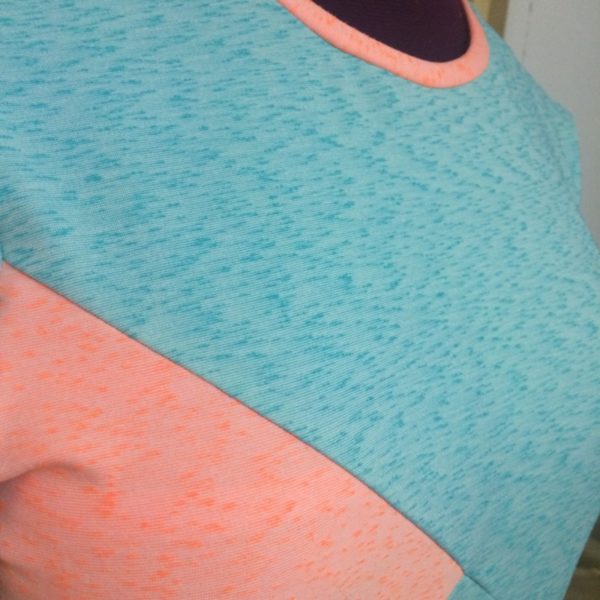 As I mentioned earlier, this uses the short sleeve length included in the digital version of the pattern, but there are no Add-Ons used here. I was tempted to include the back pocket, as I'm likely to use this for cycle commuting, but I wanted a quick sew and I didn't have a suitable invisible zipper on hand so I just left this as a basic summery teeshirt.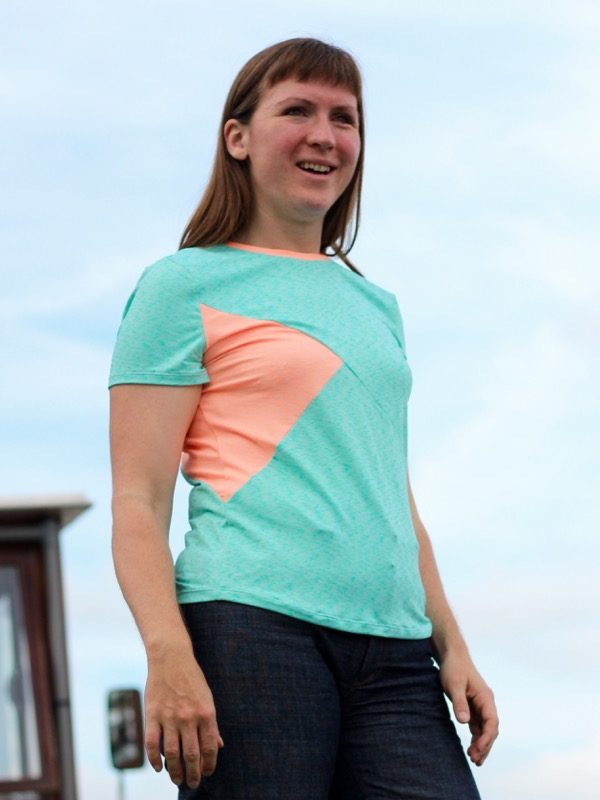 I've worn this quite a bit, both with jeans and also for running and cycling – it's a great bike-to-desk make if your commute is as short and un-strenuous as mine (and your office is okay with teeshirts and jeans!). I really love wearing neons in summer and this muted, pastel neon trend is right up my alley!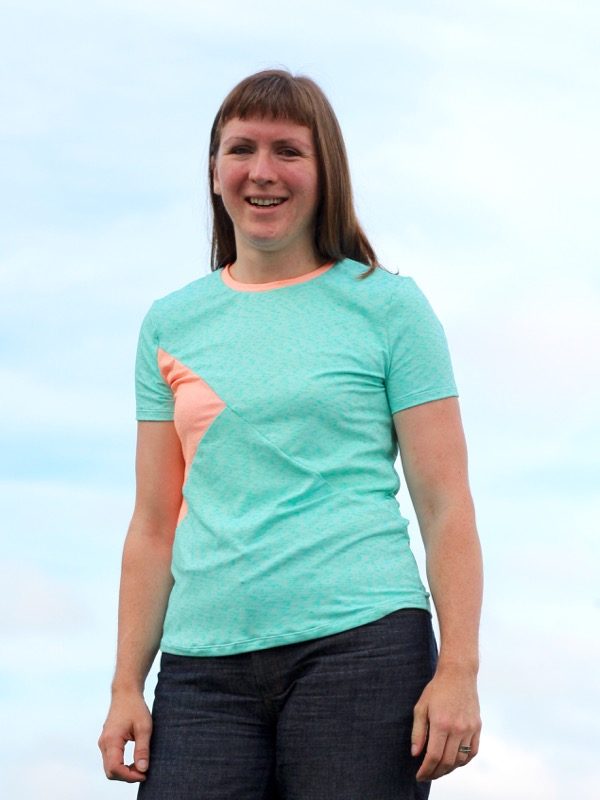 I love wearing interesting cuts of teeshirts in the warm weather, and this one is already finding itself at home in my wardrobe – it doesn't hurt that it pairs with so many different bottoms!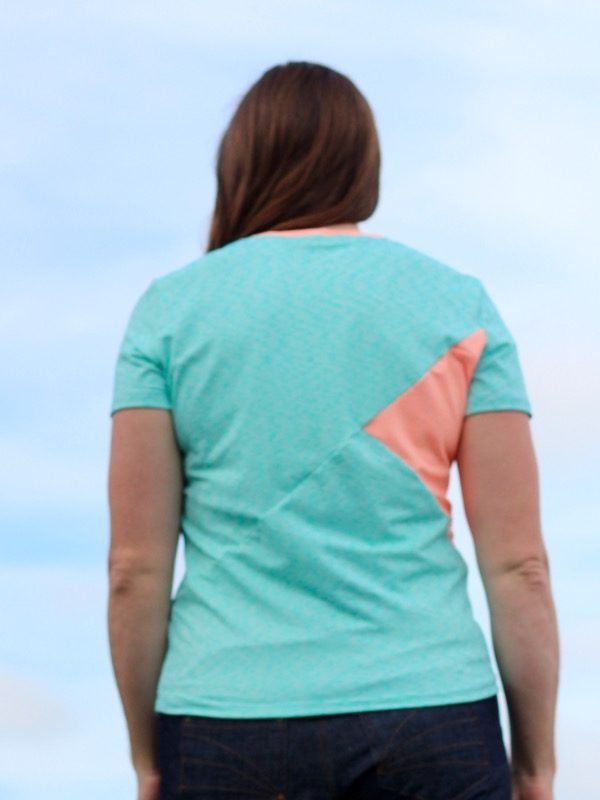 You can make one yourself with the Tessellate Tee pattern from my shop, or it's also now available for purchase from Pattern Review or Kollabora now, too.
[shopify embed_type="product" shop="fehr-trade.myshopify.com" product_handle="tessellate-tee" show="all"]