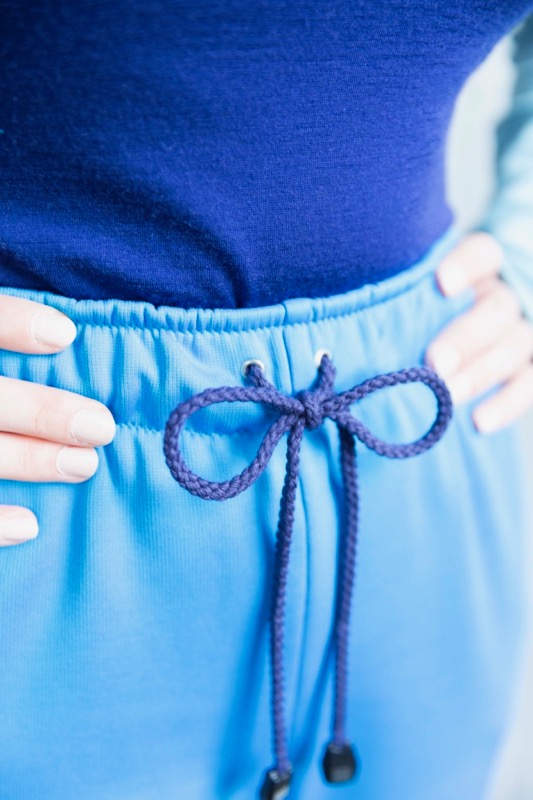 We've had sub-zero temperatures and constant snow all week here in London (either one of which would've been a rarity – we usually only get a dusting once a winter and people still get excited to see snow falling) – so what better week to talk about the Warm Up Bottoms from my book!
I originally wanted to include some sort of tracksuit trousers with ankle zips that could be thrown on for warmups when I compete in my track races, but then I had trouble finding the right fabric to meet my exacting standards, and the more I looked at my tech drawing, the more it said ski-wear to me, so these morphed into cold weather gear instead. The great thing about sewing is that sometimes you can totally change a garment's use just by changing the fabric, so of course you can still make these for the track if you find the right fabric!
I had more trouble naming this design than possibly any others in the book though – I had to keep all the names so that they'd work in both UK and US English, so that took out "pants" (as these mean underwear in the UK) and "trousers" (as these mean dressy pants in the US). And since these use the Loose Fitting block, I couldn't really call them "leggings", either! So I settled on Warm Up Bottoms since the name works both for warming up before a track race, and keeping warm on the slopes. And "bottoms" might make you giggle, but it's unambiguous in all the English language variants as far as I know!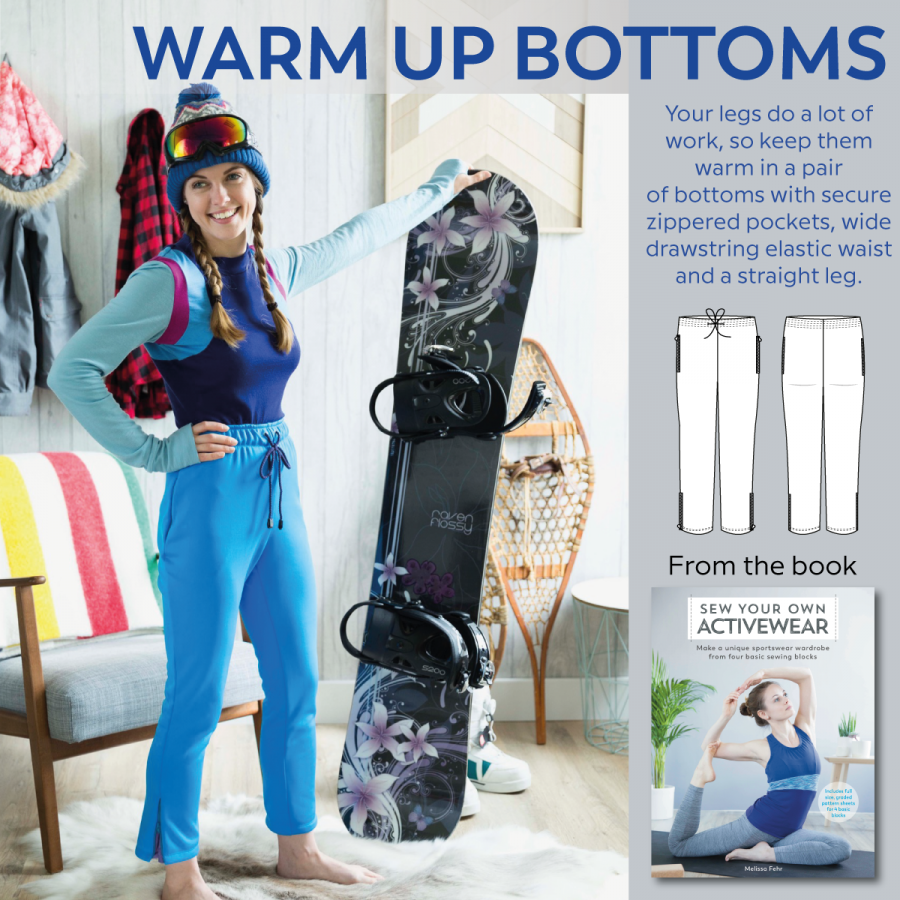 The official description in the book was also weighed down by the different US/UK terminology for zippers/zips, hurrah!
"Your legs do a lot of work, so keep them warm in a pair of bottoms with secure zipped (zippered) pockets, wide drawstring elastic waist and a straight leg. Zipped (zippered) lower leg gussets make it easy to take them on or off without having to remove your shoes, but also make life easier around the ski lodge too. This same great pattern works as well for warm ups and cool downs around the track or gym as it does for keeping you warm in all your favourite winter sports."
For the life of me I can never remember which word is used where, I must've become a true expat!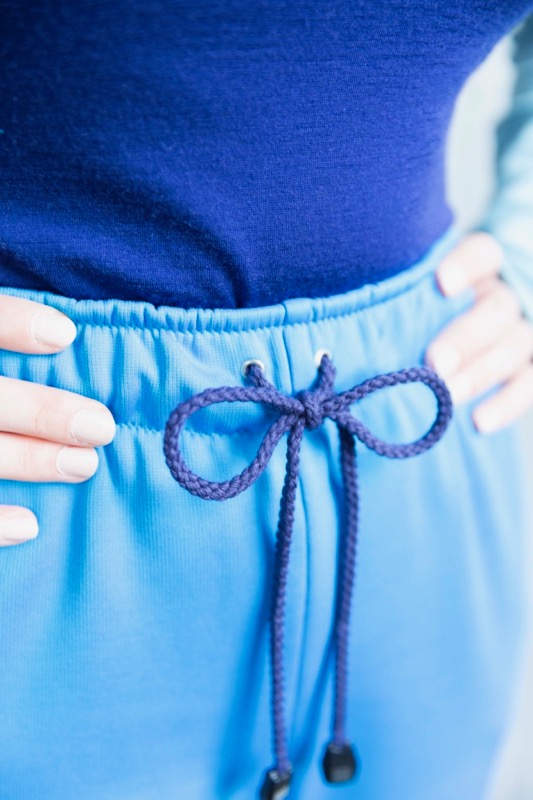 This design doesn't add any sort of design lines to the Loose Fitting Bottom Block, but by making these you'll learn how to sew an elastic waistband with a drawstring (and again, no free-floating elastic casing or anything – it's all secured so it won't bunch up or twist around) for an adjustable fit…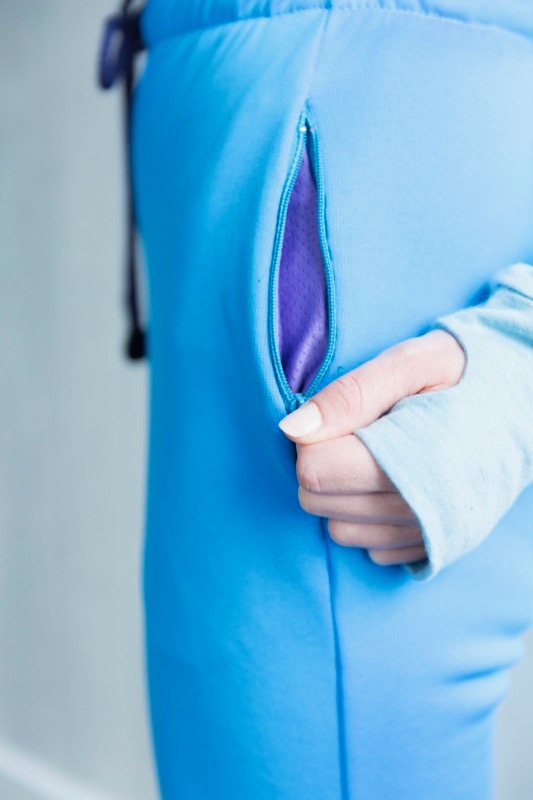 …zippered inseam pockets (which you can then insert pretty much anywhere!)…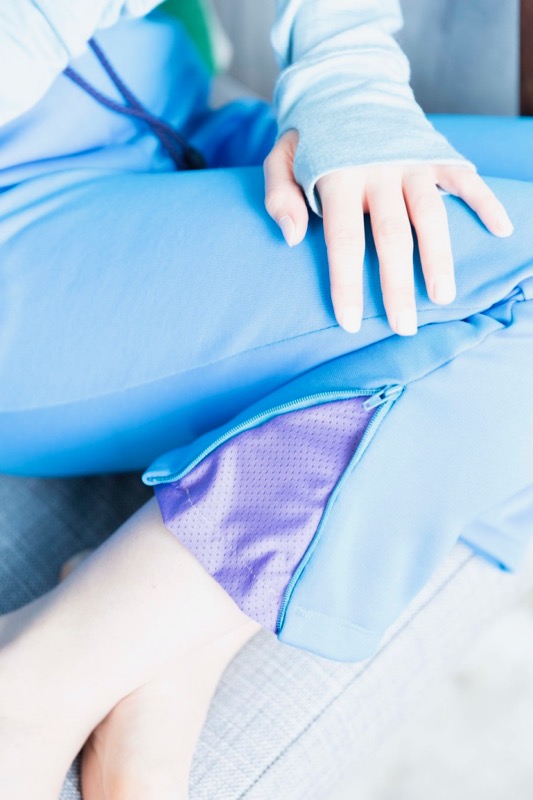 …and draft and sew a zippered ankle gusset so you gain a bit of extra room to allow you to take these on and off without removing your shoes! Though by the looks of things, our athlete model, Jade, has already taken hers off! 😉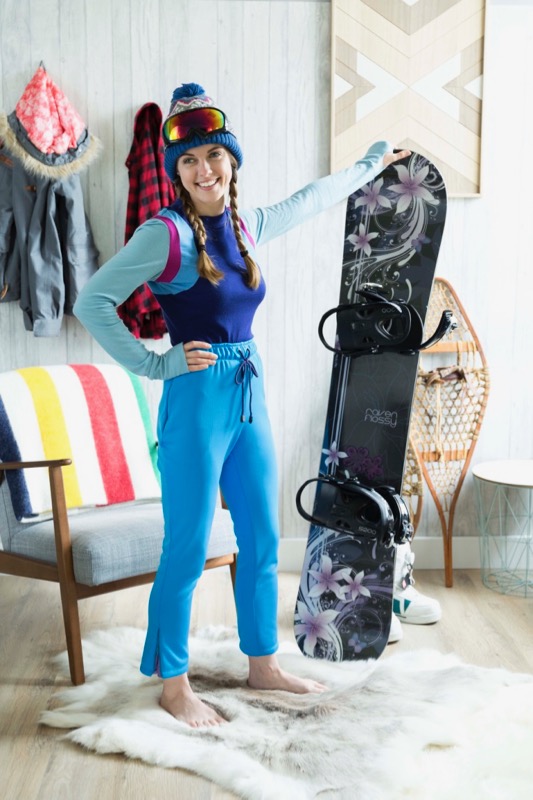 The brushed-back sport fabric I used in the sample from UK Fabrics is sadly no longer available, but this poly/wool fabric from Stoff & Stil is very similar in weight and feel (and is on sale!). I've actually made myself a pair of Named Ruri sweatpants this winter (review coming eventually!) from this fabric and it's ridiculously nice for the price – a nice smooth face with a bit of sheen, but a soft sweatshirt-like fleece inside. You could equally use any sort of sweatshirting or french terry or even a wool ponte for these, or indeed a traditional tracksuit fabric if you can find one. Just beware of cotton content as it's especially dangerous in cold temperatures!
On the pocket linings and ankle gussets I used a purple athletic mesh that was in my stash but originally from Sewing Chest. The idea here is to use a thinner activewear fabric to cut down on bulk since both of these areas will be covered up by the thicker fabric when worn so warmth is not really a consideration.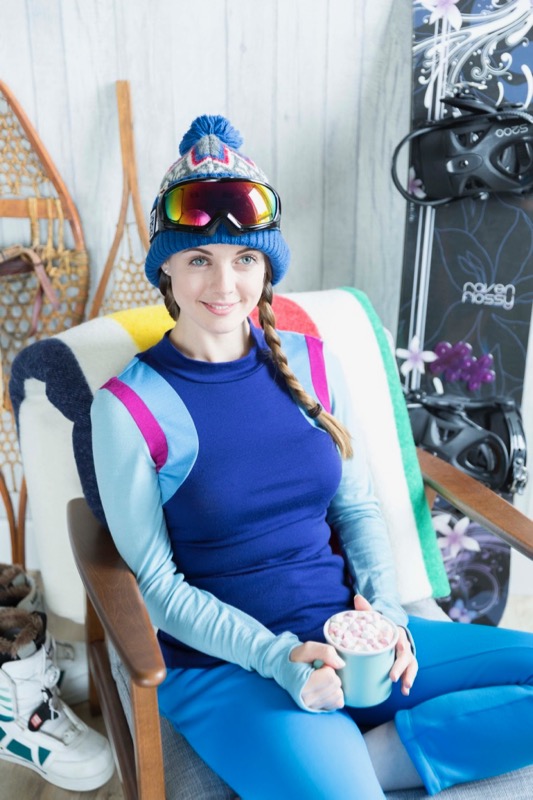 And as you've already seen, these pair very nicely with the Winter Base Layer, or if you're going the track warmup route, our Active Jacket – which you'll see more of next week!
I hope all of you are keeping warm if you're stuck in the snow. I've been stuck in bed for the past eight days straight with a rotten case of flu, so I haven't even been able to go out and enjoy London's winter wonderland yet!