Thanks for all the love on the Active Leggings posts from earlier this week – I've been getting such lovely comments on the inclusive aims of the book and the tutorial to make these for the men in your life, too. Unfortunately I've come down with the flu this week so apologies that this post is a bit later than I'd planned and if I'm quiet next week – I'd planned to showcase a design a week but I may have to take a week off and push everything back if my body doesn't allow it…
But I really wanted to show off a bunch of versions of the Active Leggings that I've made for myself, but also two made by others, too, as it's just such a great design and one that works for so many different activities, too!
First up is a version I made early last year – even before I'd finished writing the book, as I distinctly remember wearing these to the book photoshoot in Hampstead Heath! I made this pair using some crazy kitty face lycra I'd bought at Spandex House in NYC a few years ago. You may recall that I'd made a pair of leggings with this lycra a few years ago, but as those were a tad too big to run in, I'd always wanted to make a second pair and this was the perfect opportunity to tone it down a little by pairing it with some grey chitosante from my stash.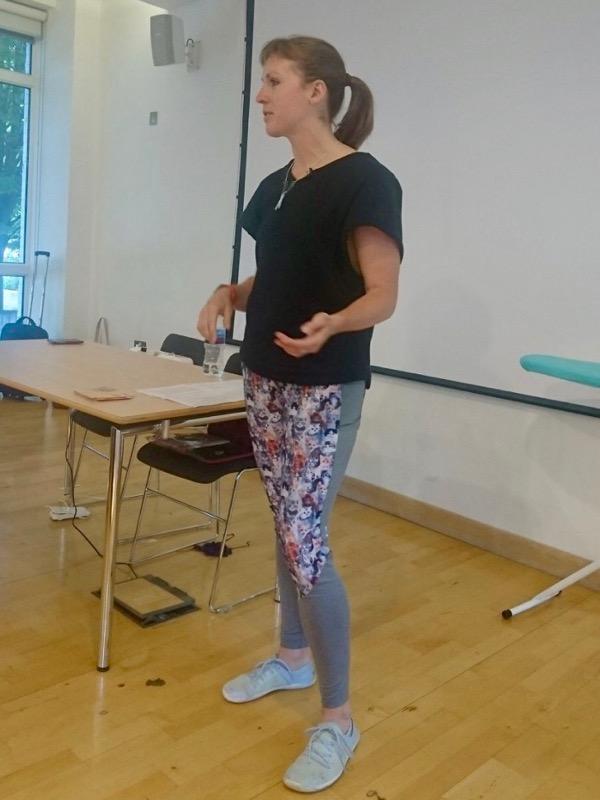 I utterly love this pair, and not only did I wear these to present my "Sewing for Movement" talk at the Sewing Weekender last summer, but I also wore them one day on our stall at the GBSB Live, and I also wore them to run the British Transplant Games mini marathon in Scotland last summer (where I defended my national championship!)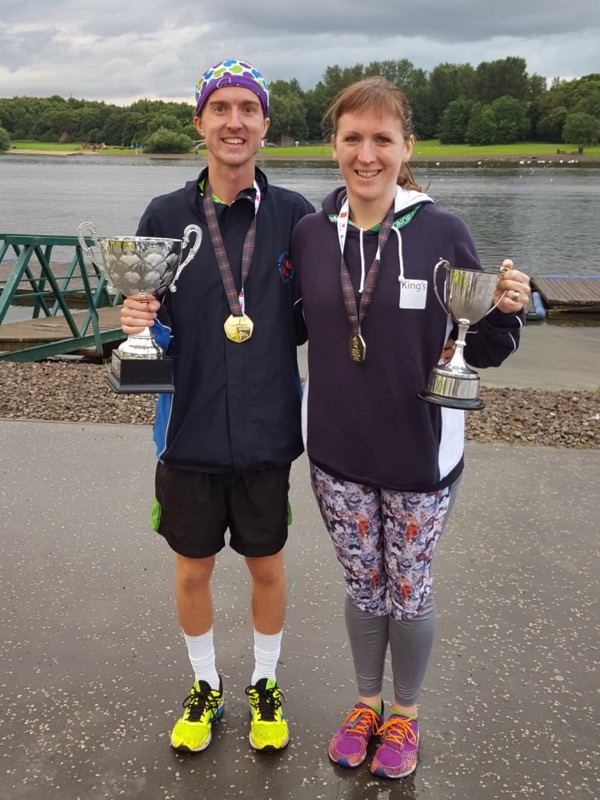 Then later last year I decided I needed a few more pairs in my activewear wardrobe so I bulk-sewed two more using two fabrics Sew Active sent to me from Australia! I hardly ever sew multiple items from the same pattern, let alone at the same time, so you can tell how much I love the Active Leggings!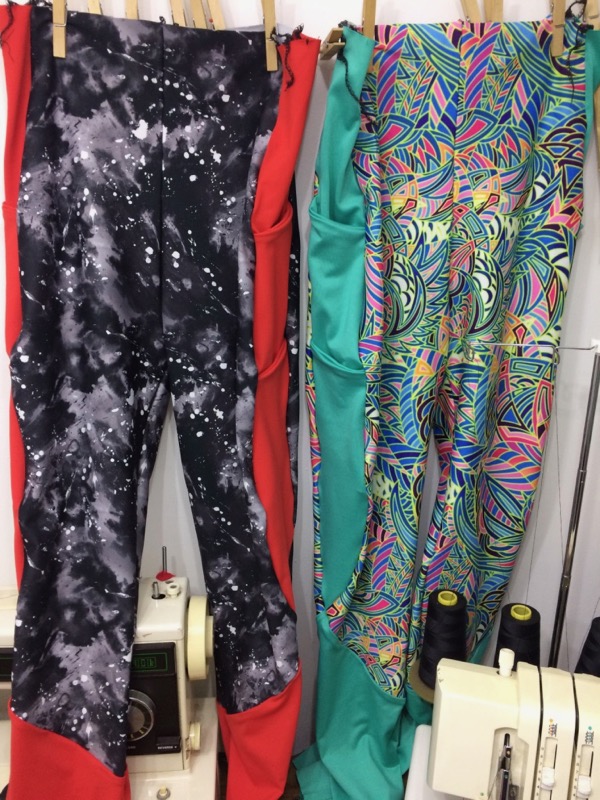 The red, black, and white pair uses ex-Tracksmith activewear fabric from FabricMart (long sold out!) for the side panels and lower leg, and I paired it with this fabulous monochrome splatter print tech fabric from Sew Active.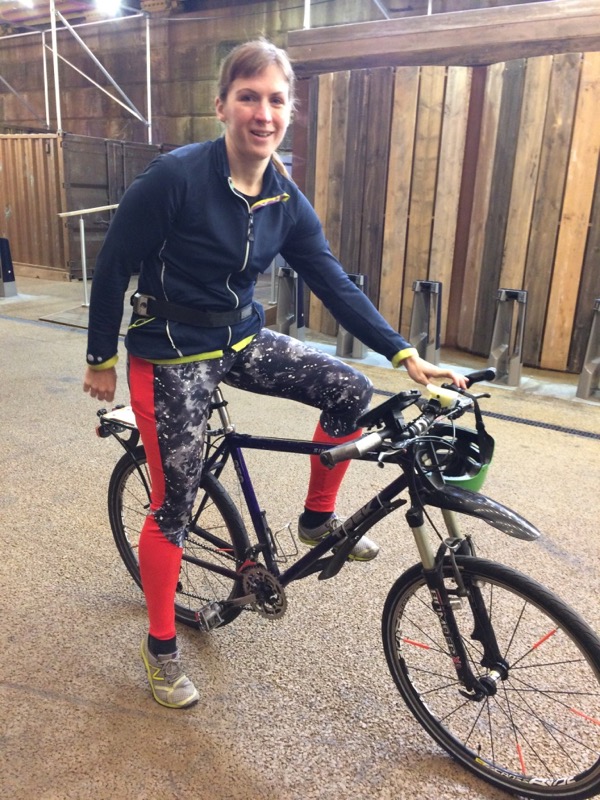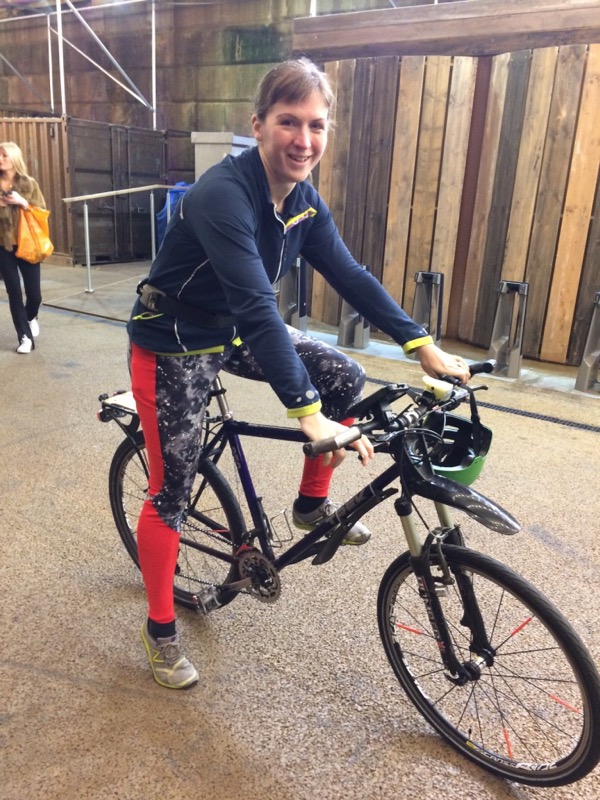 I've somehow managed to get loads of photos of me wearing these – whether it was on my bike for an event round my local park, enjoying a Yogahood class at the launch party for "Sew Your Own Activewear" last month…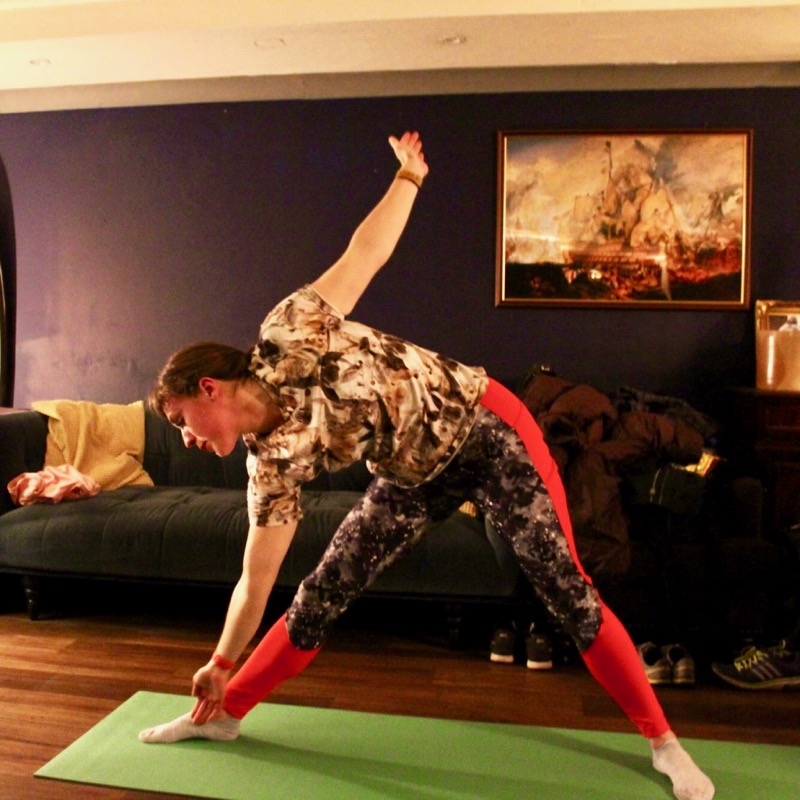 …or just running round my local park (protip: the AppleWatch is a fantastic remote shutter for my phone's camera!).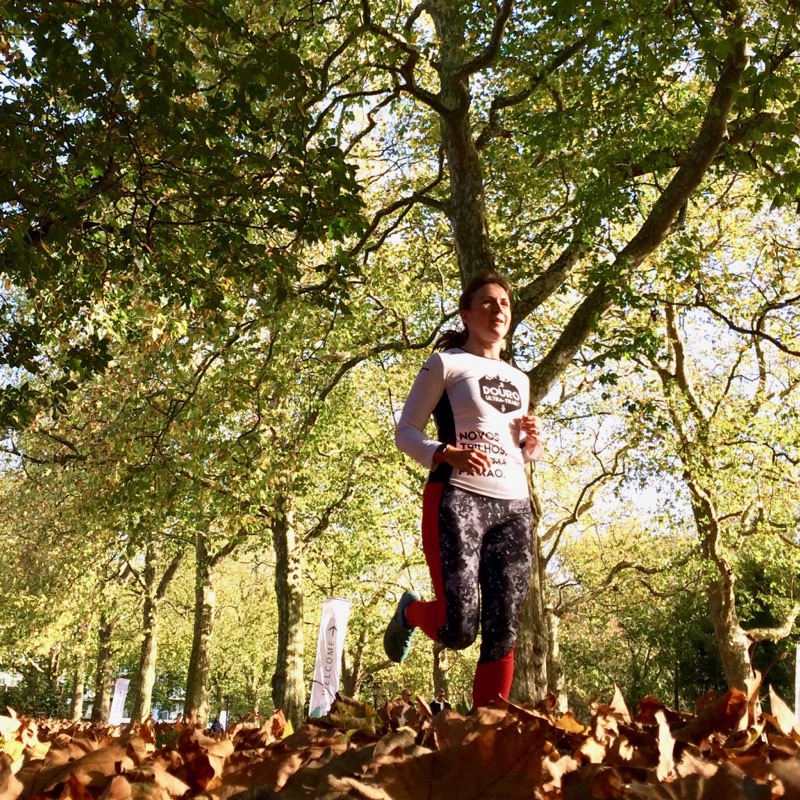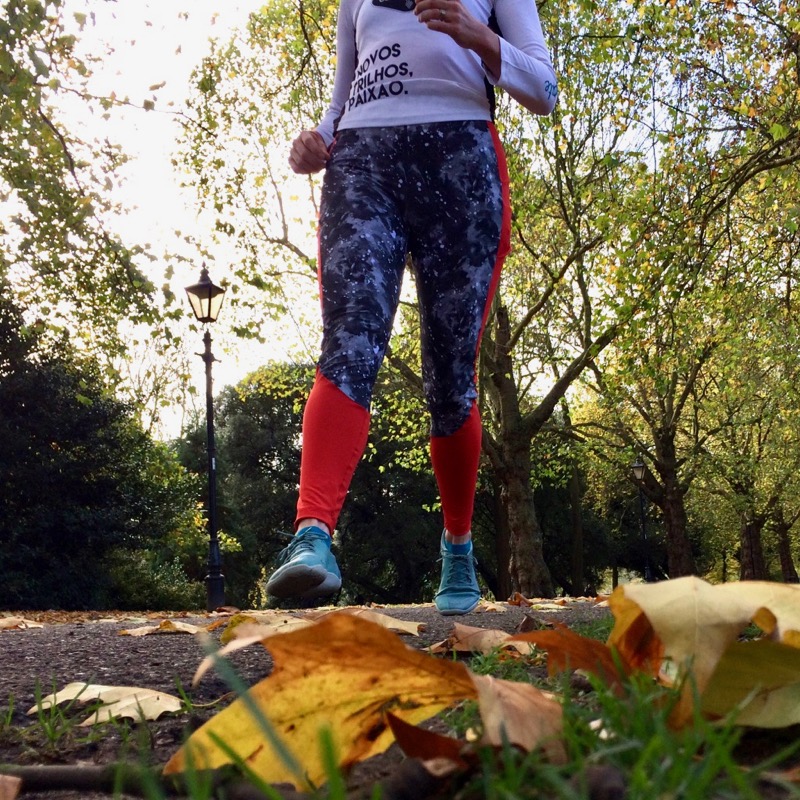 Unfortunately, I haven't seemed to have taken as many photos of myself wearing its sister pair, made using aqua lycra from Guthrie Ghani for the sides and lower leg, and this printed tech fabric from Sew Active for the main legs.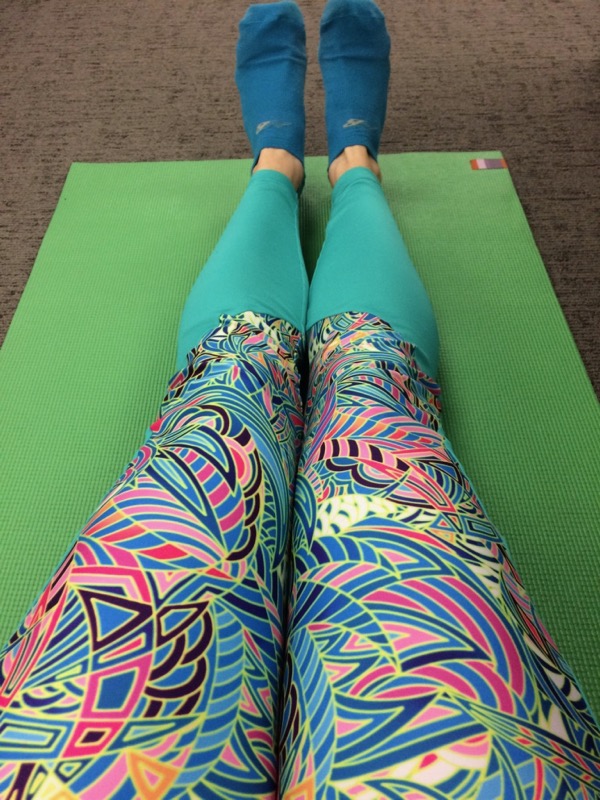 The only photos I could find were two I snapped after my lunchtime Pilates class at my office, so I think I'll need to wear these to run my half marathon next weekend (provided I've recovered in time) just to get some better action shots!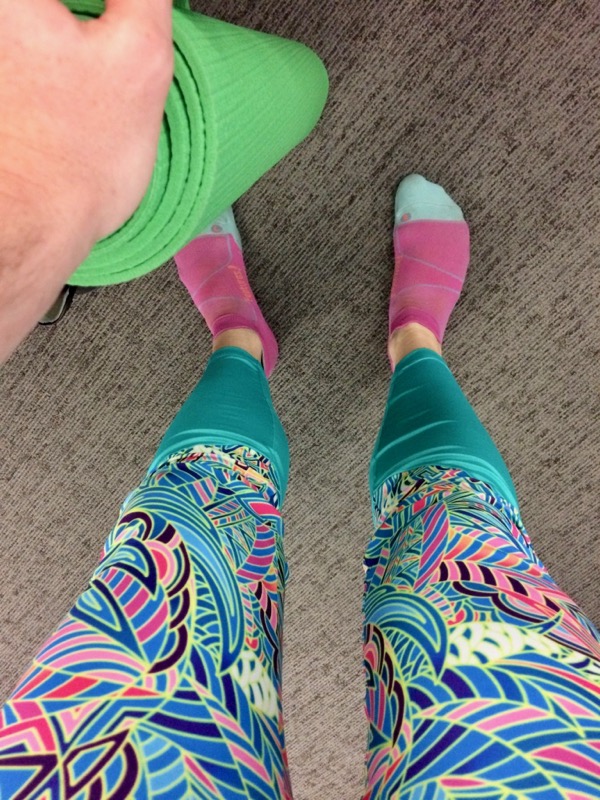 The book's only been out a few weeks here in the UK, but already some of you have been sewing up your own versions! Charlotte made a pair of Active Leggings for her daughter, Lola! She traced off a pair of existing leggings for the base pattern and then followed the instructions in the book to make a pair exactly as Lola requested.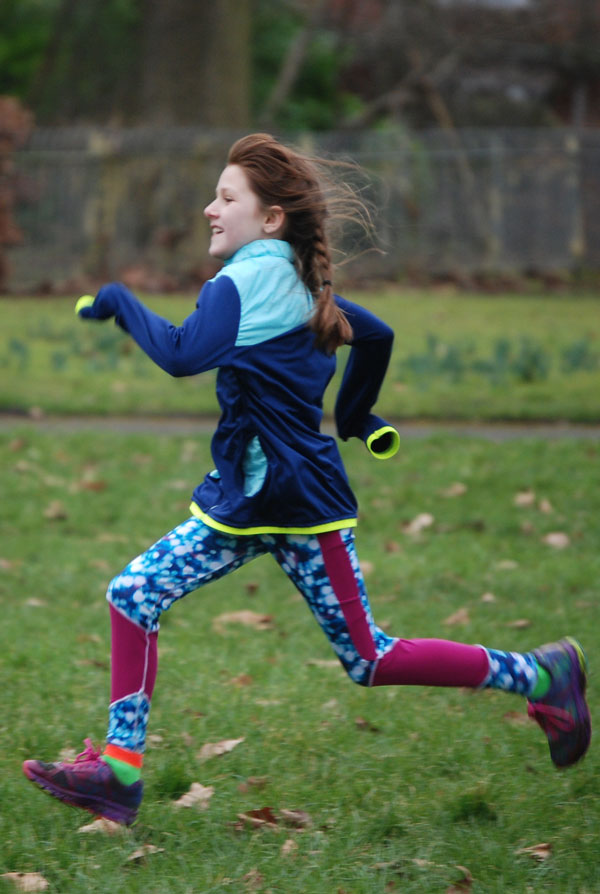 A girl after my own heart, not only did Lola go and run a parkrun in these, but when they came up slightly too short, she suggested they add a diagonal panel to the bottom "so it looks intentional" – literally exactly what I'd suggested!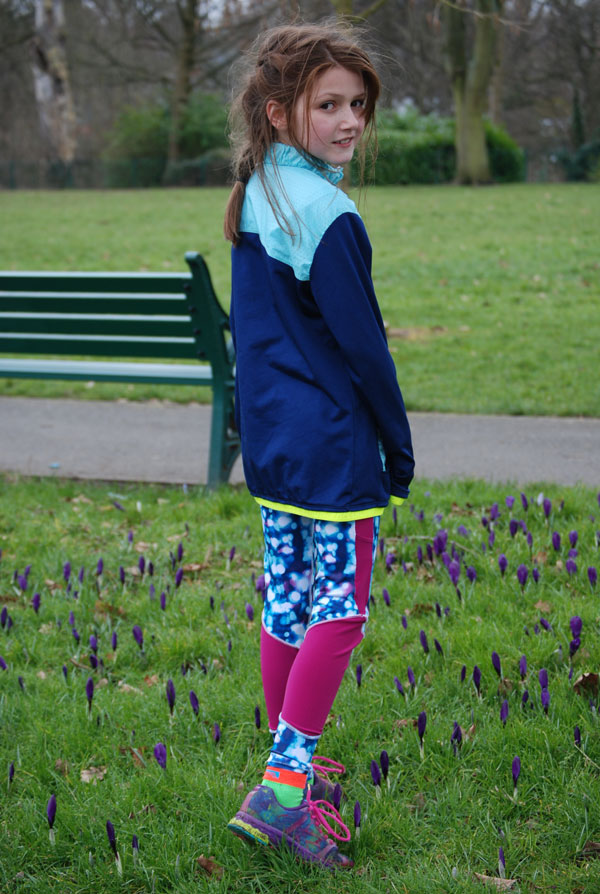 And now that these are made, Charlotte is free to sew some for herself!
And finally, I really wanted to share the pair that Elle from Sew Positivity made herself as part of the Blog Hop organised for the book. I met Elle at the Sewing Weekender over the summer, but I had no idea of the health issues she had been struggling with.
At first she thought that the book wasn't for her, as she didn't think she was sporty enough and had never made activewear, but she confronted her disability head on and made a Raglan Tee and Active Leggings custom suited to her individual needs.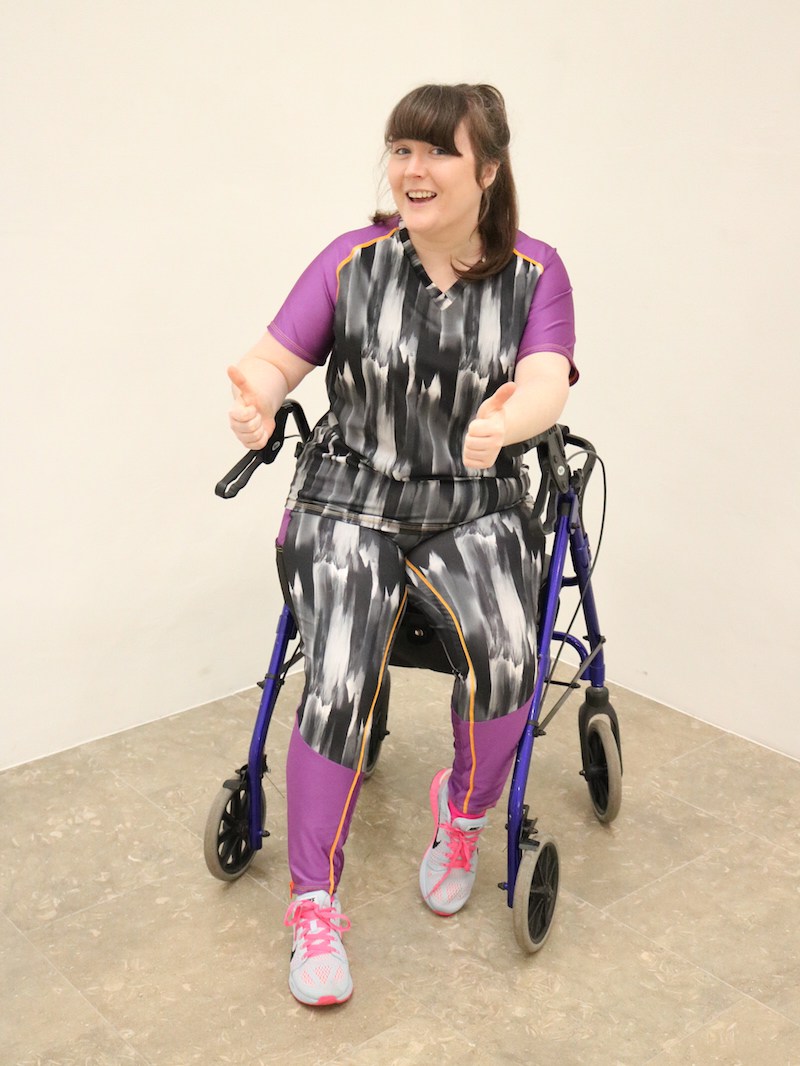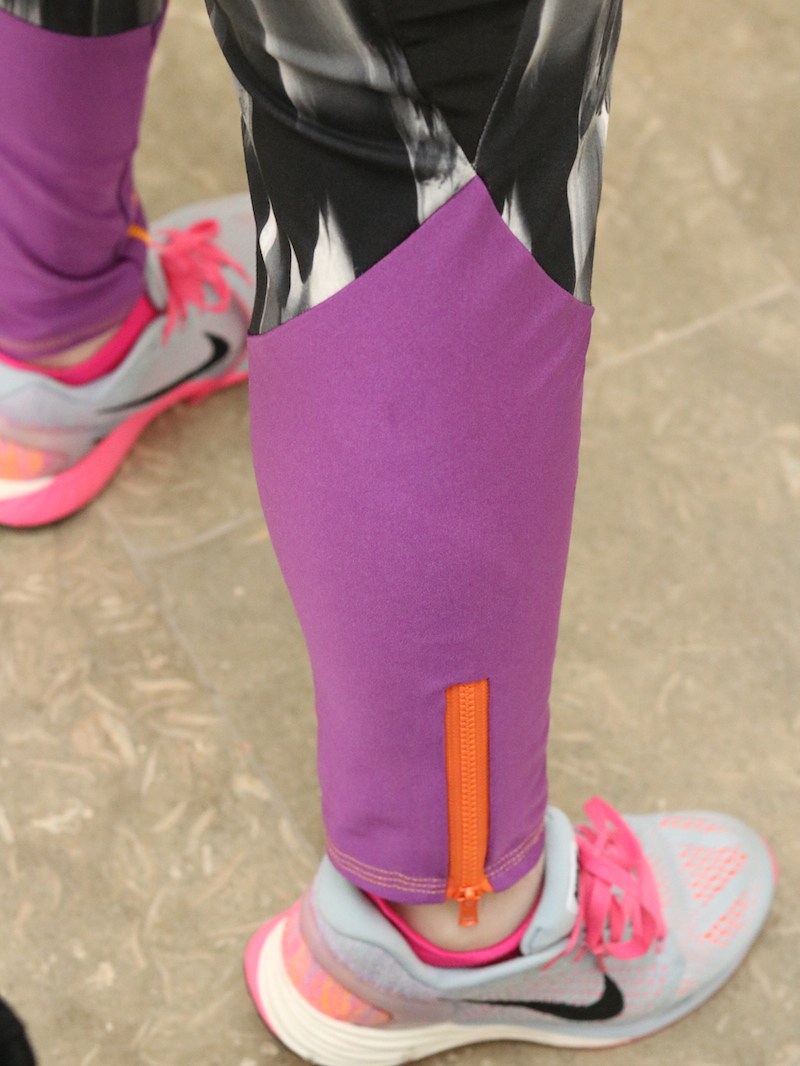 Elle asked herself 'how can I make my activewear more disabled friendly?' and I urge you to go and read her full post, especially if you think that making activewear isn't really you. You'll definitely come away inspired and ready to sew!