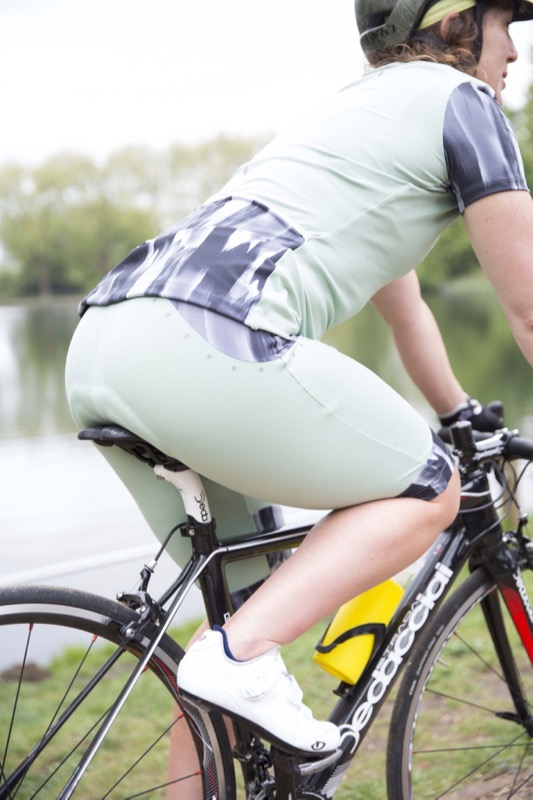 I can't quite believe it, but this is our final week and 13th design from my "Sew Your Own Activewear" book! It feels like just yesterday it was the start of January and I finally got to tell you all about the first of the designs in the book. And here we are, 13 weeks later, and I've taken you in-depth on each one of them. I've saved one of the best for last, though, and I think you'll find that the Cycling Shorts are a super stylish addition to your activewear wardrobe, even if you never climb onto a bike!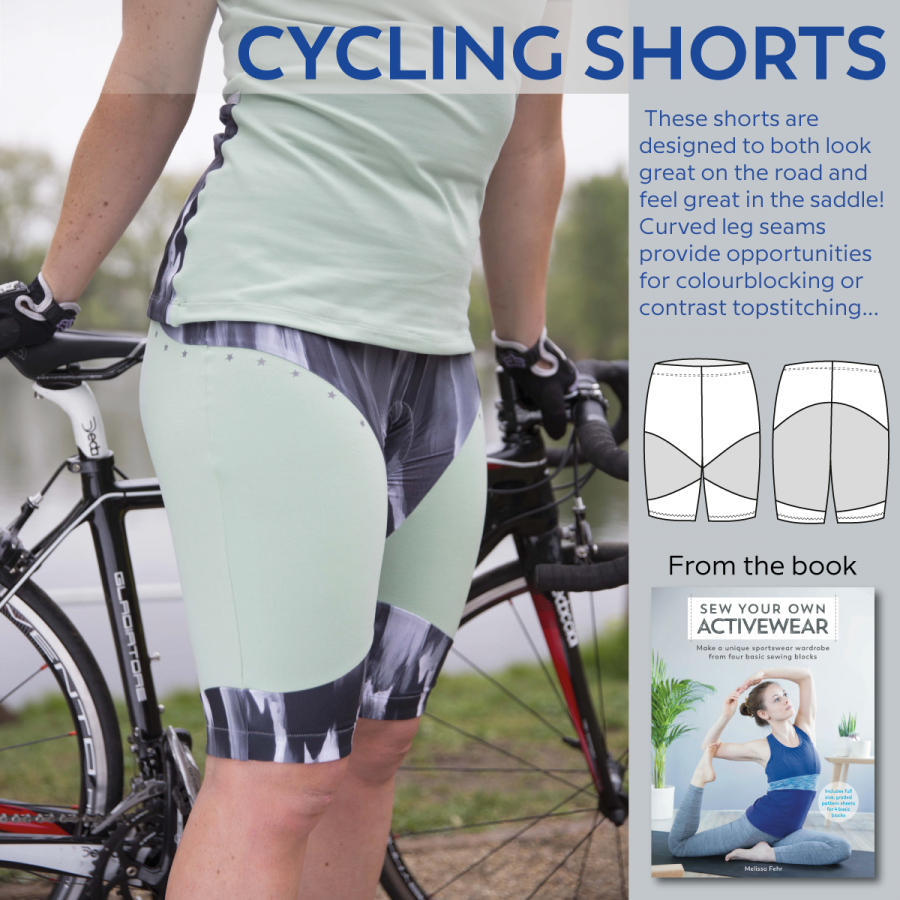 I always knew I wanted to design a cycling-specific pair of shorts after the success of my hybrid Duathlon Shorts pattern, and this pair is perfect for pairing with the Cycling Top design in the book, or with the cycling view of my Surf to Summit Top pattern, too.
In the book it's described as:
"These shorts are designed to both look great on the road and feel great in the saddle! Curved leg seams provide opportunities for colourblocking or contrast topstitching, with design lines flowing around the side for added curb appeal. Extra height in the back rise means it stays in place while you're seated, and the optional grippy elastic hems and chamois padding allow you to ride all day without sacrificing comfort."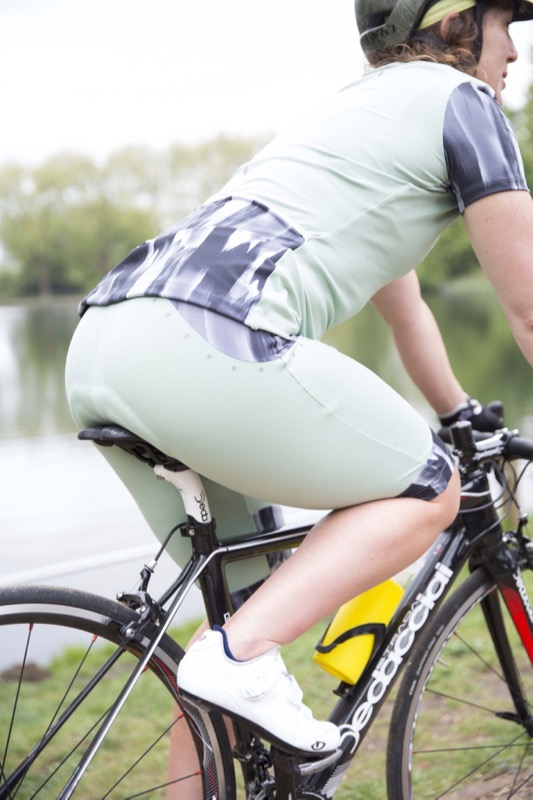 Don't feel like this design is limited to shorts, though – they're in the book as classic above-the-knee length biker shorts, but you could just as easily make them as capri or full-length leggings.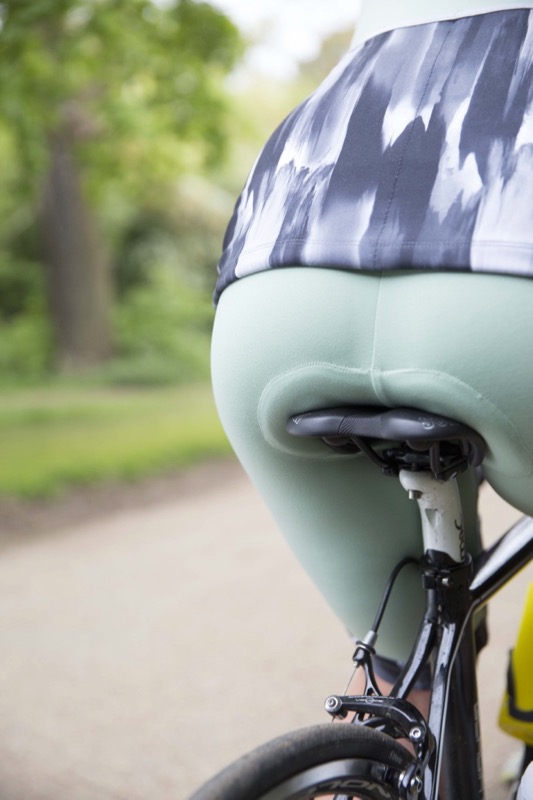 By making these shorts you'll learn…
how to add extra back rise to account for the cycling stance
how to draft decorative seam lines that match up at the side seams
how to attach silicone elastic to the hems (which you can then apply other places, like to the short sleeves of your Cycling Top, too!)
how to attach a cycling chamois pad to your shorts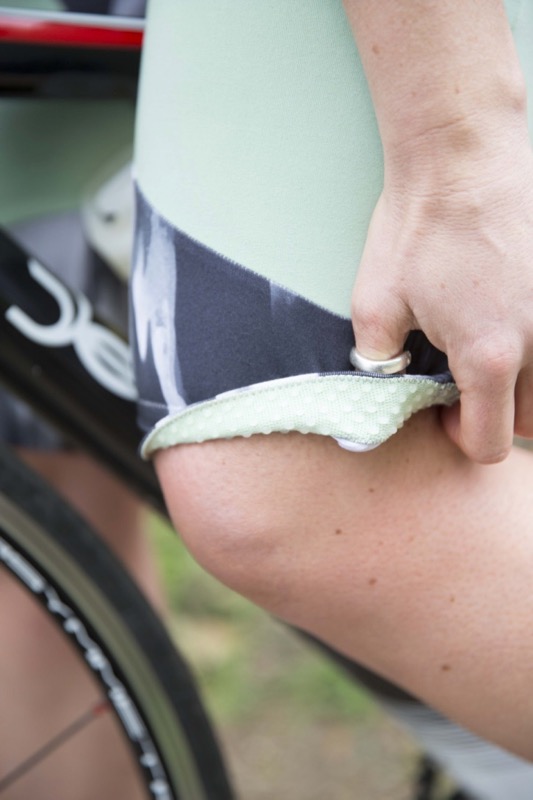 For the version Emily is wearing in the book I used the same fabrics as with the Cycling Top to make it a matching set. So that was some pale sage green supplex from Spandex World in NYC (bought last time I was in NYC – this colour isn't online but they've got loads of great heathered wicking options), paired with some fantastic monochrome active lycra from Stoff & Stil.
I then added chamois padding from Funfabrics.de (other suppliers listed here) and mint green silicone elastic from this eBay seller (other suppliers listed here). I couldn't believe my luck at how well the silicone elastic matched the green of the shorts – usually I count my lucky stars to find black or beige!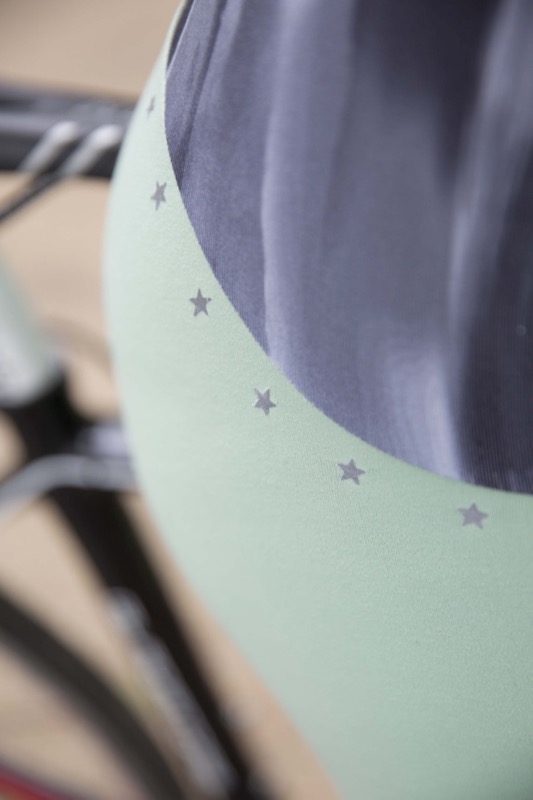 I also added a few custom reflective shapes to both the shorts and top here – I made these myself using scrapbooking punches and reflective iron-on tape and they took f-o-r-e-v-e-r to make, but the results are great! (You'd think they'd be quick and easy but the punches go dull super quickly and they struggled to get clean cuts through the protective plastic half the time!)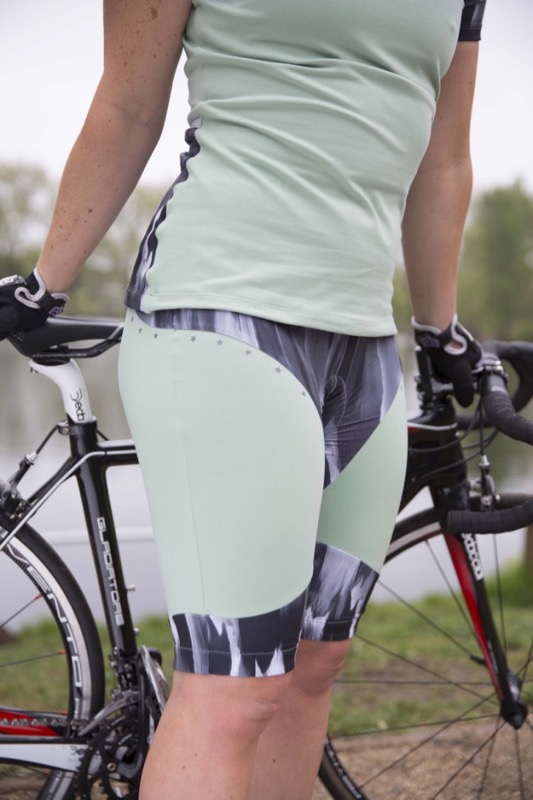 I've got a few fun versions to show you later this week that I made and ran in all summer long! Yes, you can leave off the cycle-specific portions of this design and make them suited for other exercises, just like you could add the cycling bits to other designs in the book, too!