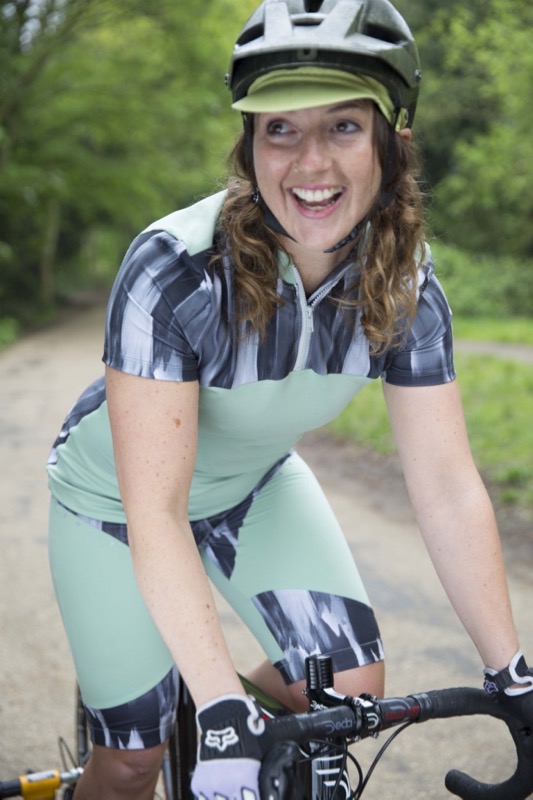 What's an activewear book without some cycling kit? Not much of an activewear book, if you ask me, so I knew that I absolutely wanted to include some cycle-specific gear when I was developing the designs for my "Sew Your Own Activewear" book. I'd already developed a great cycling top (as well as all-around winter exercise and rashguard!) when I'd made my Surf to Summit Top pattern (also available for men!), so I wanted to take some learnings from that and make the book design different enough that cyclists would want to make both!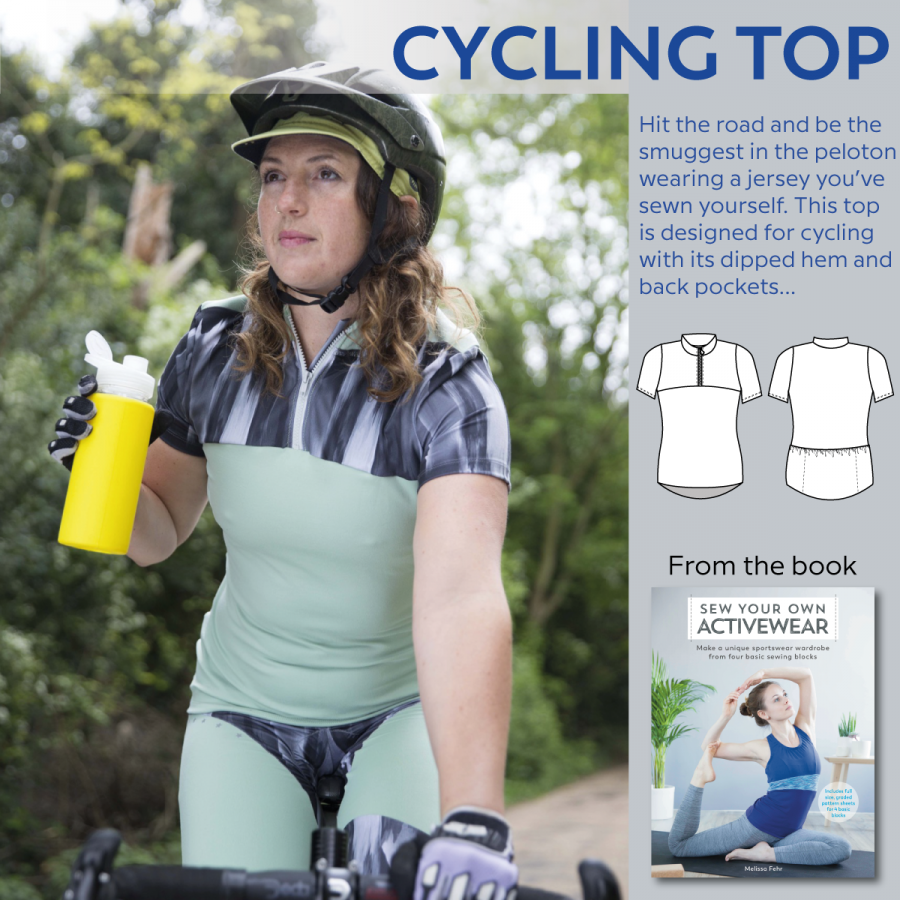 In the book, I describe the Cycling Top as:
"Hit the road and be the smuggest in the peloton wearing a jersey you've sewn yourself. This top is designed for cycling with its dipped hem and back pockets – big enough for a whole day's worth of ride fuel and even a "just in case" pump. A half zip (zipper) and high collar means you can easily regulate your temperature on the move and short sleeves round off this classic jersey. Pair it with the Cycling Shorts for the ultimate sportive combo!"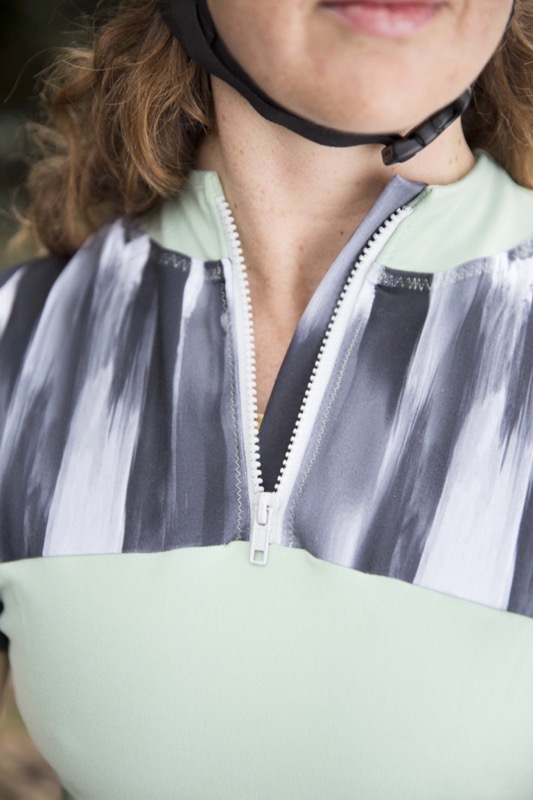 Where the Surf to Summit Top has princess seams (and a side panel instead of side seams) and raglan sleeves, I wanted to make the Cycling Top in the book a little bit more beginner-friendly so kept the set-in sleeves and side seams from the Close Fitting Block. I also wanted to change the design of the half zip to make it a bit more straightforward to sew. I love the "no seam" half zip and all-in-one facing on the Surf to Summit Top, but it can be quite tricky to wrap your head around, so for the Cycling Top I introduced a curved above-bust seam to make the zip construction a bit easier, and also left the collar facing and zipper shield as separate pieces to make that easier, too.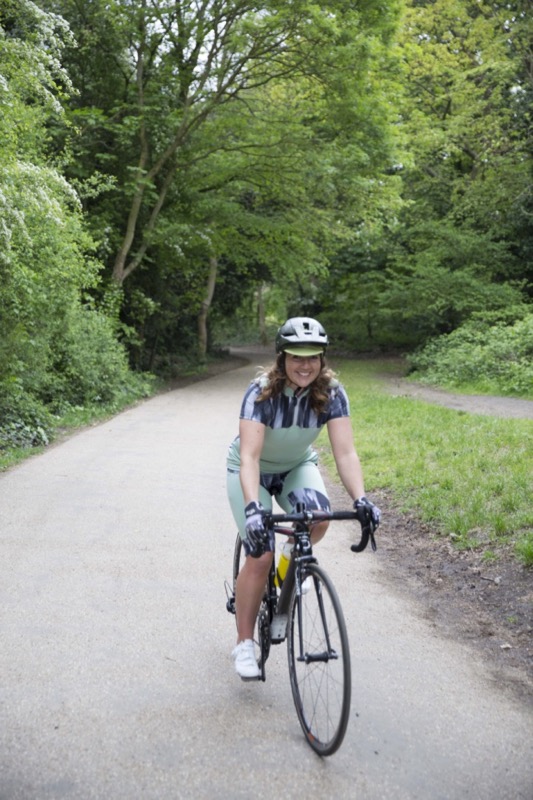 They've both got a great dipped hem and big pockets in the back for stashing all manner of stuff on your ride (snacks, layers, phone battery, etc!), finished off with FOE to keep everything in place. In addition to that big back pocket, you'll also learn how to sew a clean finish half zipper with a shield to protect your skin and still allow room to vent a little if you get too hot, and also how to draft and sew a faced collar. Since this collar is identical to the one on the Active Jacket, you can reuse your Collar pieces so you only have to draft them once, too (see this post on how to make that collar larger if you need to).
For the sample our athlete model Emily is wearing for the book photos, I used some pale sage green supplex from Spandex World in NYC (bought last time I was over – I don't see it online but they've got loads of great heathered wicking options), paired with some fantastic monochrome active lycra from Stoff & Stil. I finished off the top edge of the back pocket with some white FOE from my stash and the white chunky zipper is from Pennine Outdoor.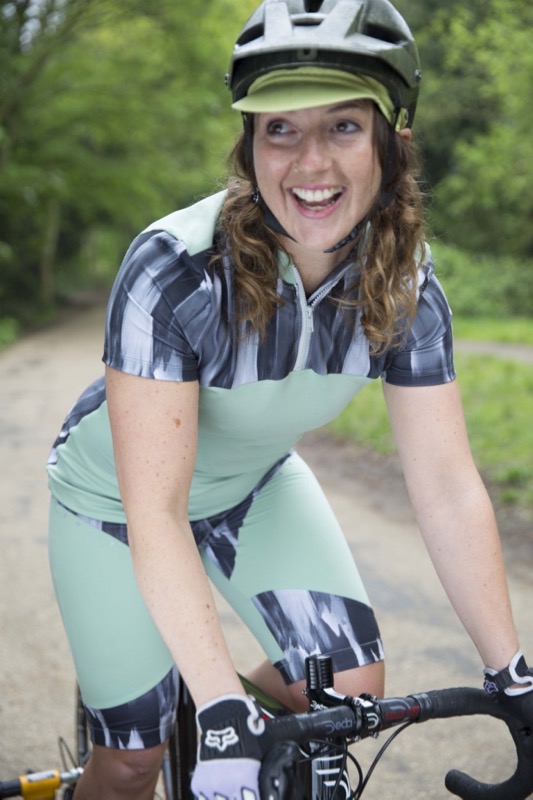 I planned my layout very carefully (I think I even used Illustrator to lay out my pieces digitally before I started cutting the fabric, if I recall!), and I managed to fit the Cycling Top and Cycling Shorts out of the same fabrics so that Emily had a great set to wear.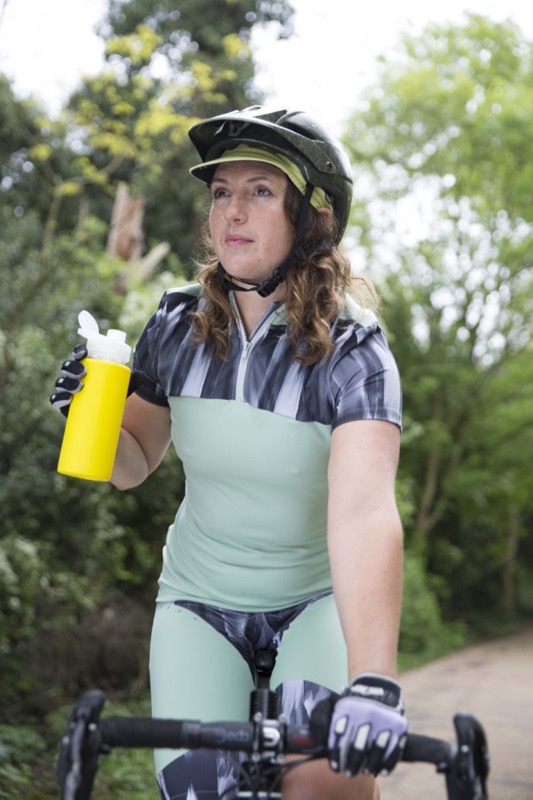 She loved this set so much that she even requested to have the samples sent to her months early so she could wear them as she rode across the length of Croatia last summer (and then again later last year when she rode across the south of France!). So this set has seen some serious miles already!
I've had a long sleeved version of this design floating around my head for months now, and I may have made it a reality in time for my birthday make this year, but you'll have to wait and see… 😉