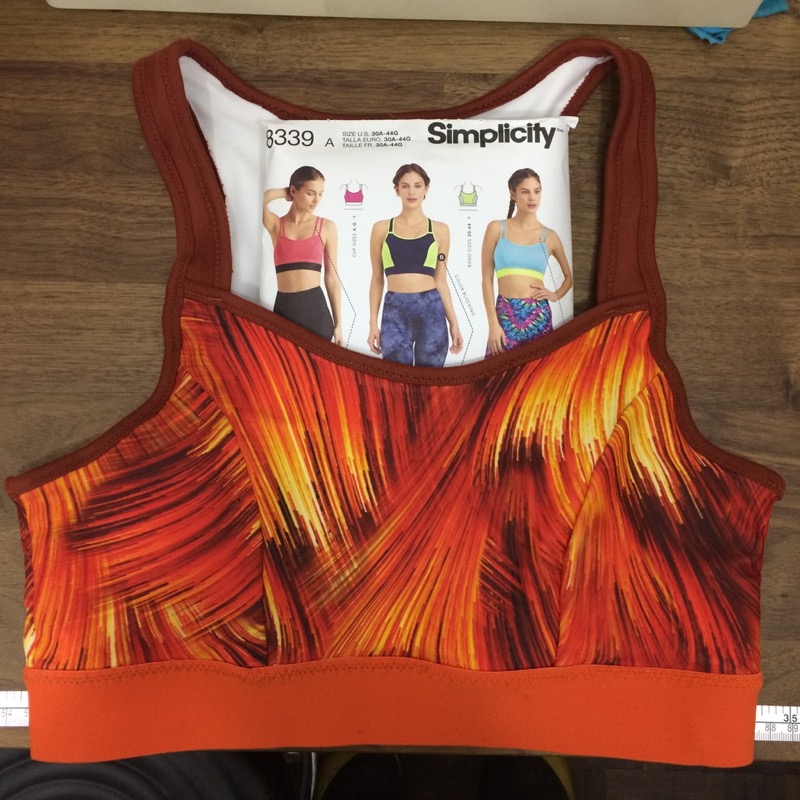 I hate writing bad reviews. It's even worse when it's in my "specialist subject", as there's a subset of people that will think it's just sour grapes or something. But I really, really wanted to like this pattern. I get asked all the time for recommendations for a good sports bra pattern, and Simplicity 8339 looked good on paper – lined, supportive straps, wide under-bust band, and a variety of cup sizes.
But oh god, this pattern is a complete train wreck. I'll do my best to summarise, but I'm writing this almost a year after I started it.
First of all, let's start with the cup sizes. This pattern doesn't use standard sizes and measurements, but rather your bra size, which is fine. But the method they use to determine it never ever works for me. I don't know what it is about my body shape, but I've been told I'm everything from a 40A to a 32E using this method, so I just went with my usual bra size, 34B (very consistent in RTW and Orange Lingerie's sizing). Since it's all based on different cup sizes, they've got a dozen different versions of each pattern piece, all labelled in sister sizing (but failed to explain what that actually is) AND I swear there were one or two pattern pieces where there were no pieces labelled with 34B. And believe me, I hunted all over those enormous pattern sheets.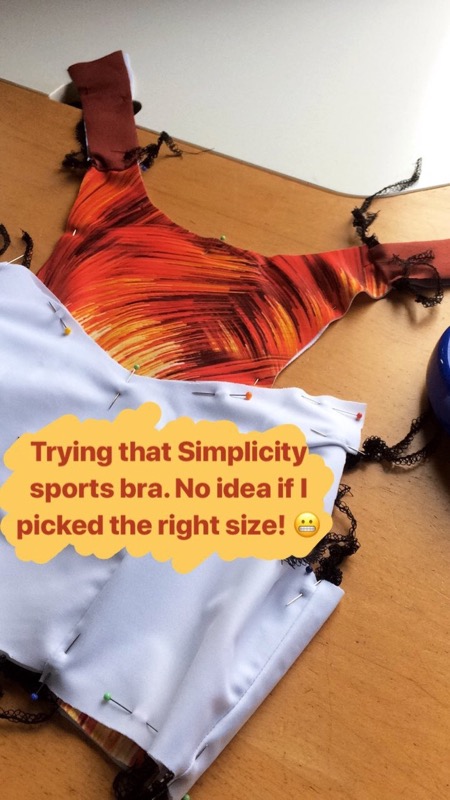 I eventually made do with pieces from the "sister sizes" of 34B and cut out the exterior and lining versions using leftover Funkifabrics flexcite from my stash. Apart from using 5/8in seam allowances (on stretch fabrics is barely forgivable but on lingerie it's freaking madness), the actual piecing together of the bra was straightforward.
And then I got to the finishing instructions.
Holy crap.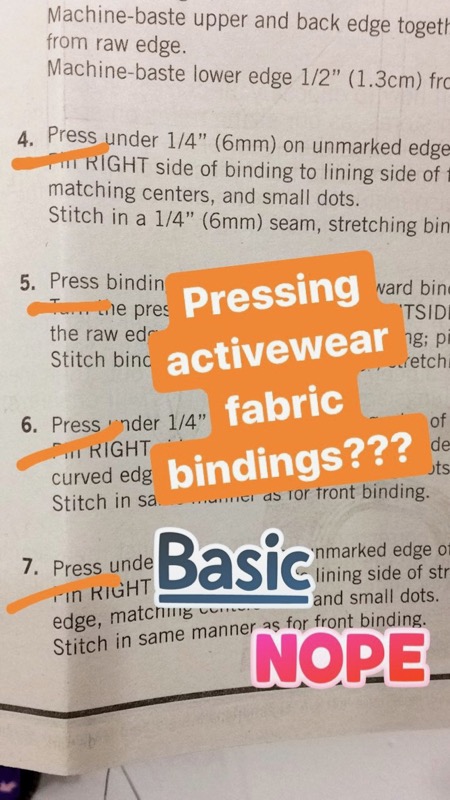 Rather than bind the edges in a sensible way (there are loads out there to choose from – Jalie, Seamwork, or even my own would work way better), they actually want the reader to take wide activewear fabric bands and FREAKING PRESS the tiny edges under on them. Several times.
I refuse to believe that whomever sewed the samples for this pattern actually followed these directions.
In any case, I got so pissed off about this that the half-sewn bra hung in my sewing room for a few months because I lost the will to even think about it again. But eventually I got sick of looking at it, too, and threw the instructions in the bin and just bound all the edges by serging them onto the right side, wrapping them over the edge, and topstitching from the right side.
Their under-bust elastic method was also really stupid, but I can't recall the details and I can't be bothered to dig out the envelope again to refer to them. But I do remember that I attached the wide elastic using the same method as for the exposed elastic waistband on my Split Shorts in my book, which worked out nicely with 100% fewer raw edges inside.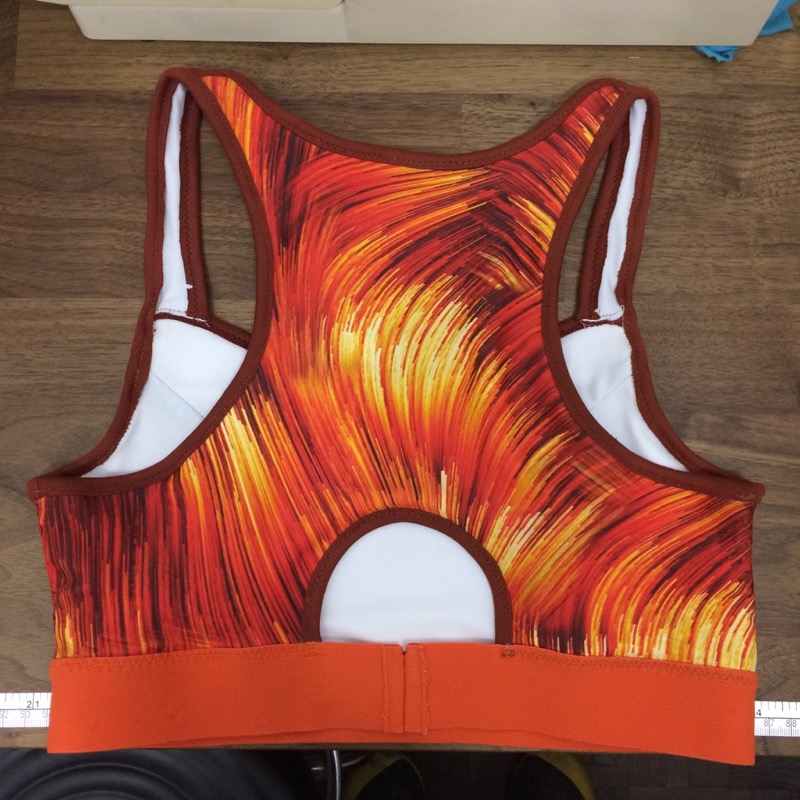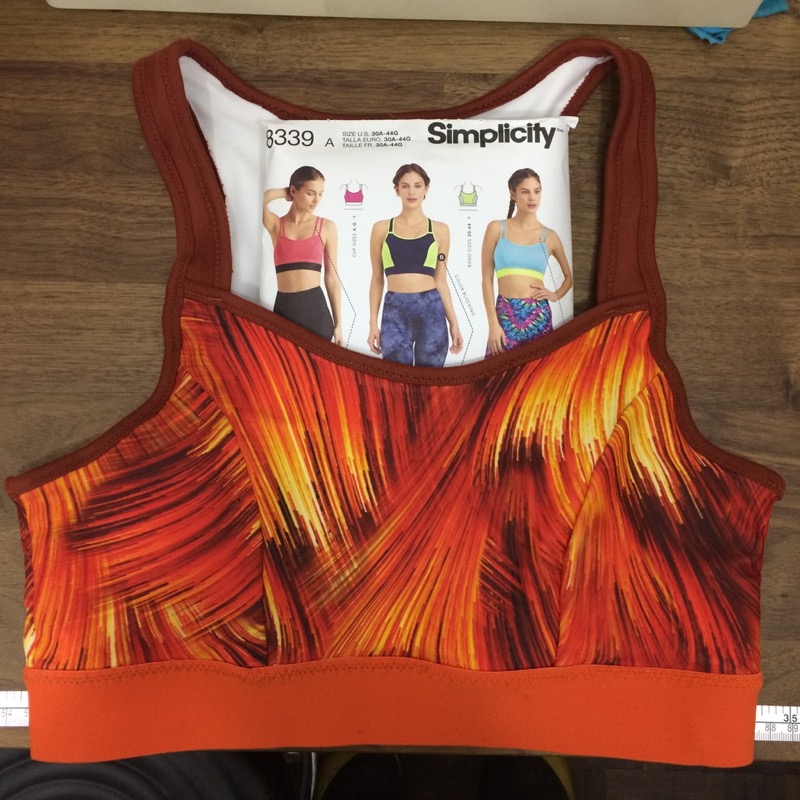 So I eventually finished it! One feature I did really like was that the straps had a few inches' leeway built into them, so you could essentially finish 95% of the bra, then try it on and pull the straps and pin them in place at the front, which was a nice touch.
But the finished bra is in no way supportive enough for high impact activities. I wear mine for cycle commuting and the occasional Pilates class, but even with B cups I'd give myself two black eyes if I tried to run in this.
So it goes without saying that I am still on the lookout for a supportive sports bra pattern that I can recommend to people. This one may have been halfway there but the instructions really let them down. I get the impression this was drafted by someone who knew what they were doing, but as soon as it got to Simplicity HQ to turn it into a pattern they just approached it like any old woven dress pattern. Which is a real shame.