I was instantly drawn to the lantern sleeves on the Closet Case Patterns Cielo Top when they released it as part of their Rome Collection earlier this year, and specifically to the top as I tend to wear separates a lot more often than dresses. But I wasn't really that into the samples they made using drapey fabrics – as soon as I saw the tech drawing I knew I wanted to make it in a more structured fabric to really draw attention to those sleeves and let them stand up on their own rather than have a more 70s bell-sleeve vibe.
I keep my non-activewear fabric stash pretty lean, and I didn't have anything suitable for this, so I needed to buy. I've been trying to be more sustainable in my fabric choices, buying recycled polyester wherever possible (which is getting easier year on year!) and buying fabrics that are less water or chemical intensive in their manufacture (so no cotton or bamboo). I love linen, but I saw that Textile Express had a fabric called ramie that I wasn't familiar with – apparently it's similar to linen but made from fibres of a plant in the nettle family and is even more sustainable as it grows very easily and doesn't require much processing. I got some samples and thought the hand would be perfect for the structure of the Cielo sleeves, and settled on the mustard colourway (though the colour is more yellow than mustard to my eyes).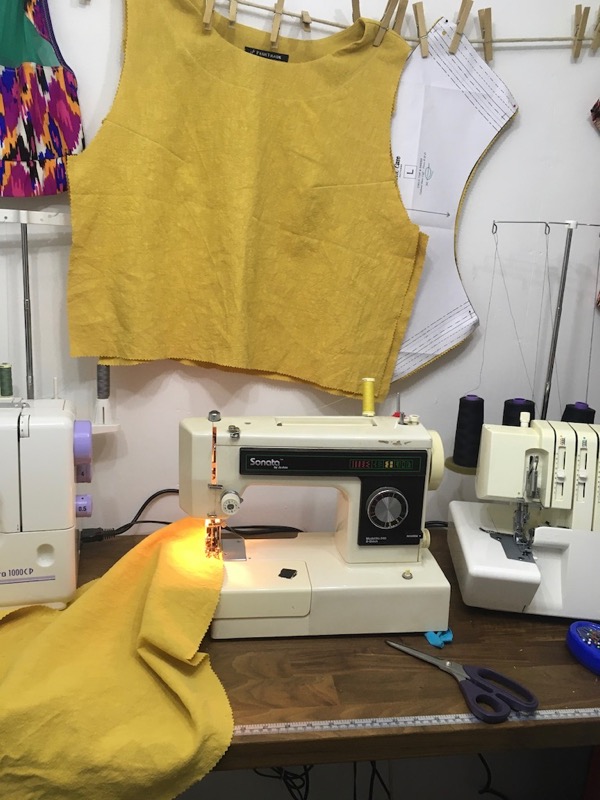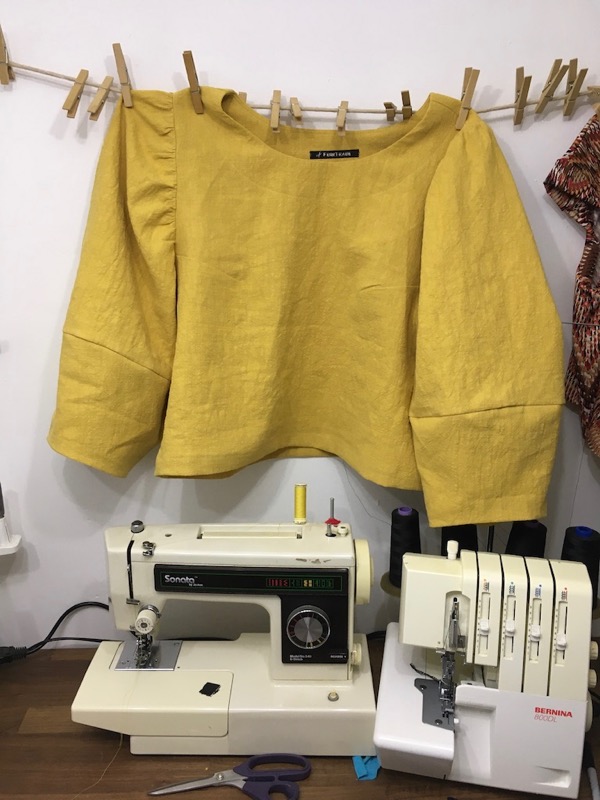 The construction of this top was really easy – it's a beginner pattern, and after all the work I've been doing on my Rouleur Leggings pattern it was a treat to just turn off my brain and follow someone else's instructions for a change! Since I was using a more substantial fabric, I went with the neckline facing option as I figured a binding would be too thick unless I used a thinner contrast fabric from my stash. The only real change I made here was to increase the width of the topstitching on the facing as 1 inch felt a bit too narrow to me.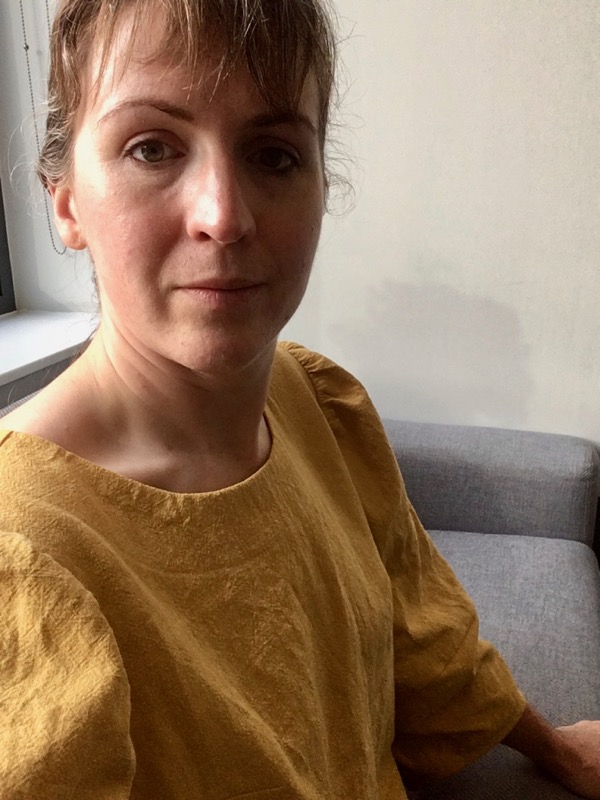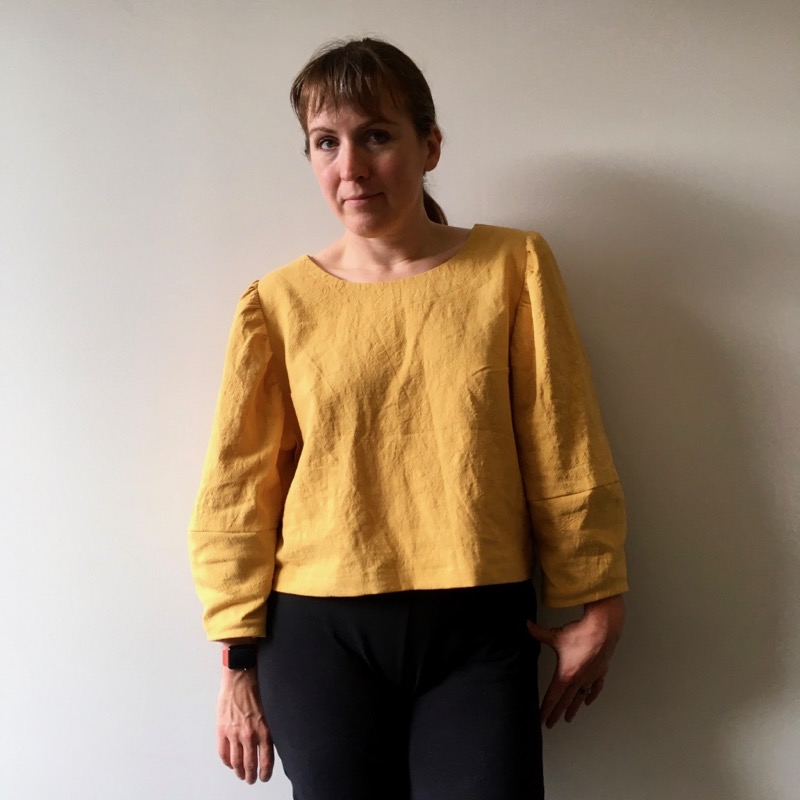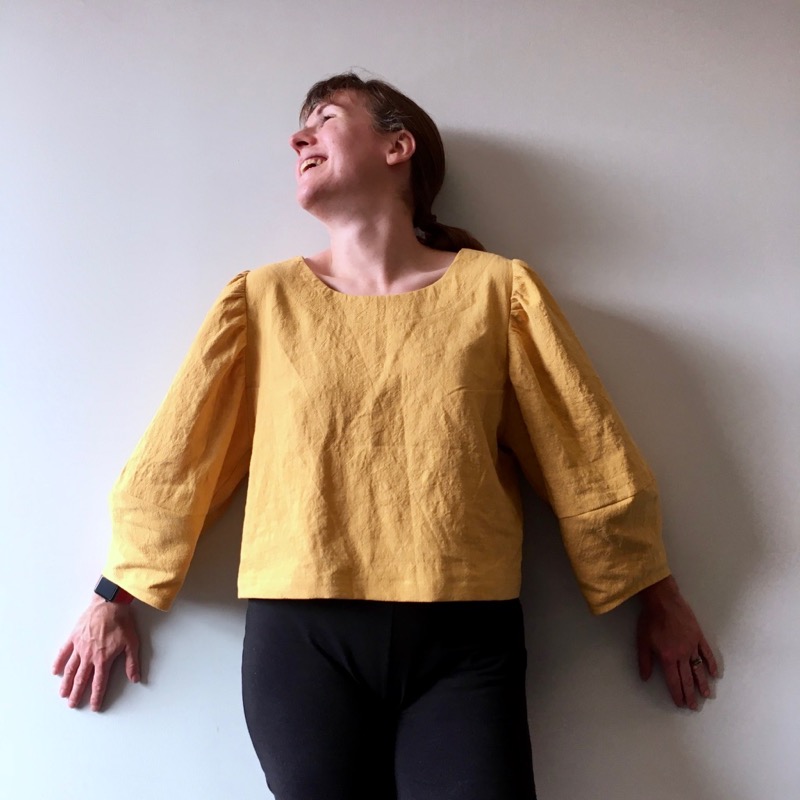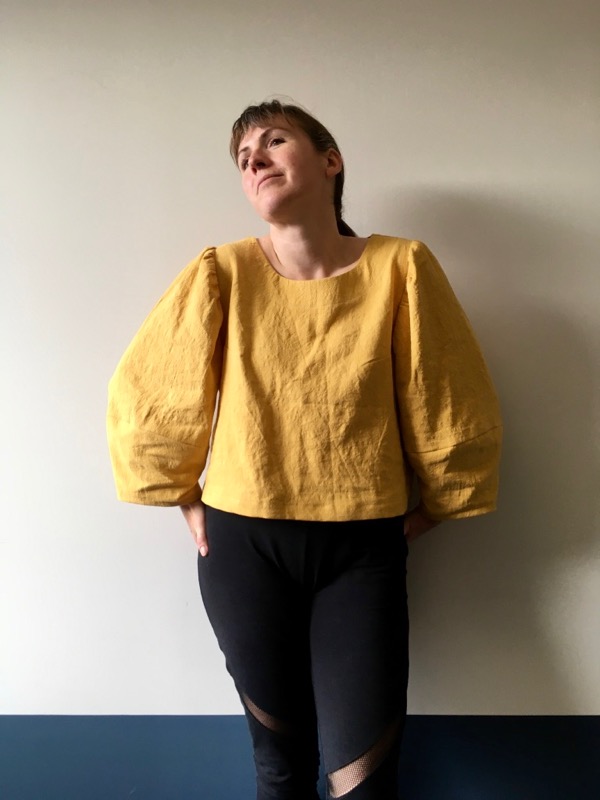 I absolutely love the sleeves on this top. I've named this my "Big Sleeve Energy" top! They turned out exactly how I wanted, even though I was a little wary of the gathered sleeve cap. Sometimes I think these end up looking too girly, but the volume and lantern bottom even it out nicely here.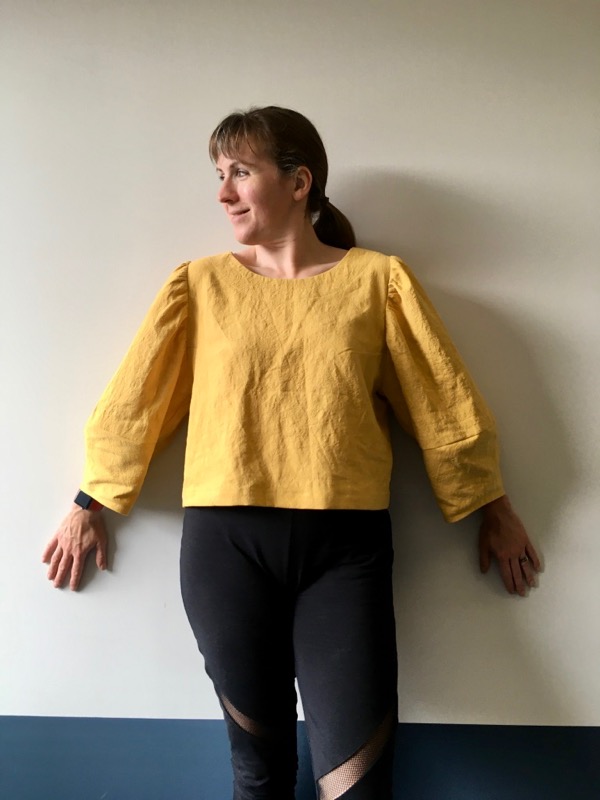 I also quite like that the hem is fairly short – I'm not one to usually have a cropped length as I don't like showing my stomach but the proportions really work here to balance out the sleeves. It means it pairs nicely with slim leggings or skirt to make sure that the sleeves are the real star of your look!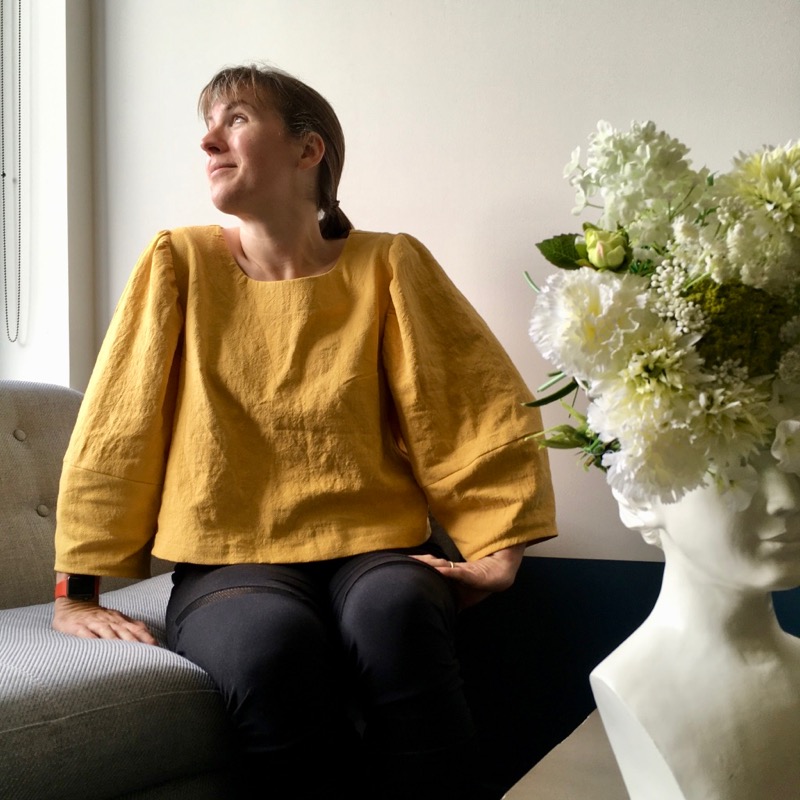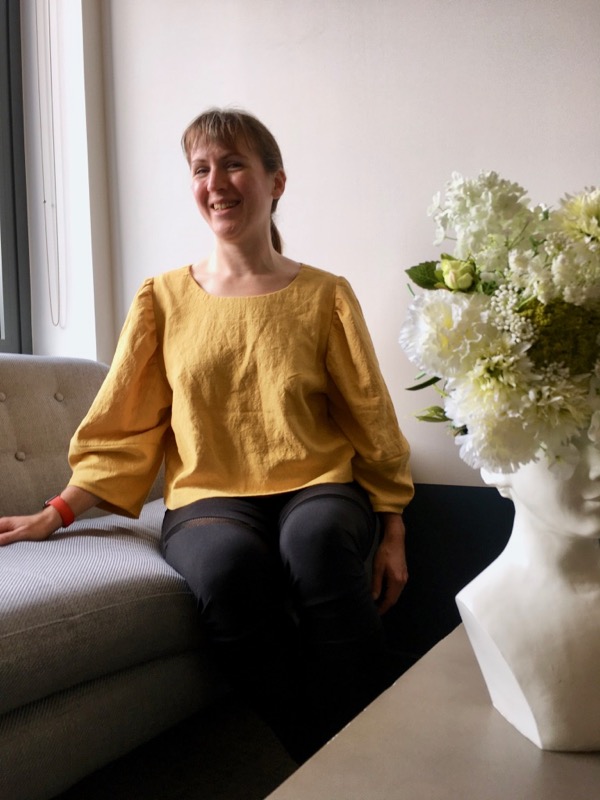 The only thing I don't like about this top is that it's really difficult to wear a coat over top of it – the sleeves are 3/4 length so you can't hold the end as you put your arm in a coat sleeve, and so it just bunches up around the armpit while you try to wriggle it down a bit. I definitely need to bring my cape out of retirement to wear with this!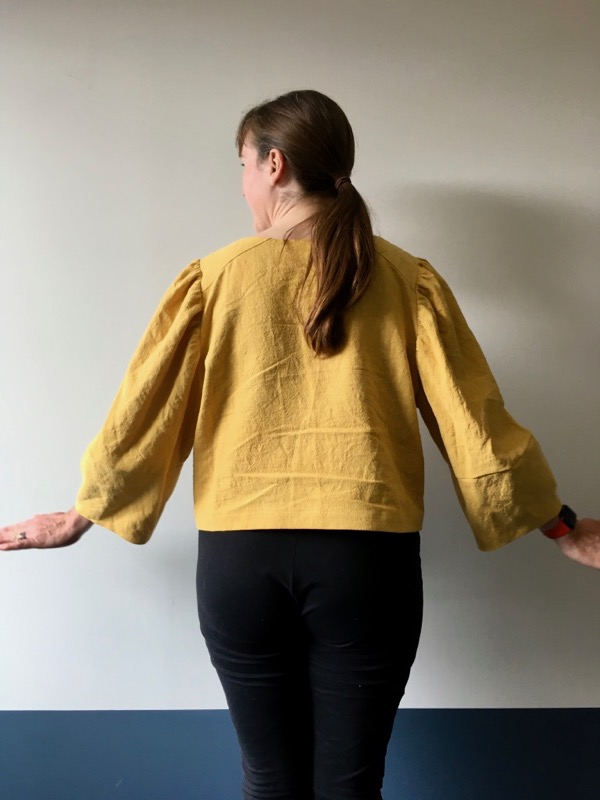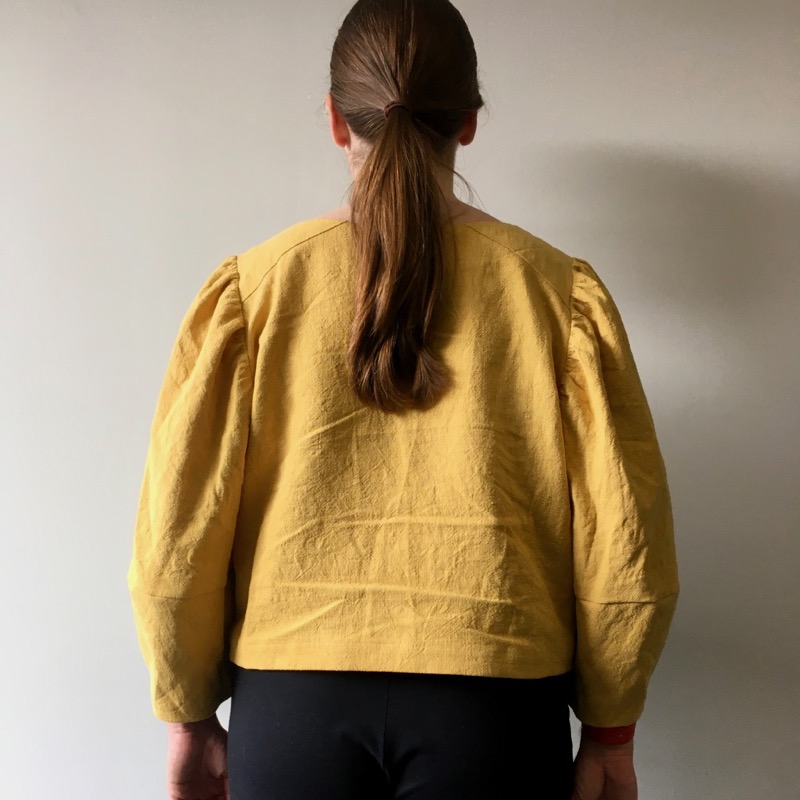 The back is plain apart from a small shoulder yoke which as far as I can tell doesn't conceal any shaping but is purely decorative (especially with the optional topstitching, which I chose to do). I like that the ramie gives it a bit of texture, which adds interest to this solid colour. I think a print would've been absolutely overwhelming when paired with this much volume!
I got a lot of compliments when I wore this to the office on Monday, and didn't (my coworker) Kristina do a fantastic job in art directing this photoshoot in one of our meeting rooms??