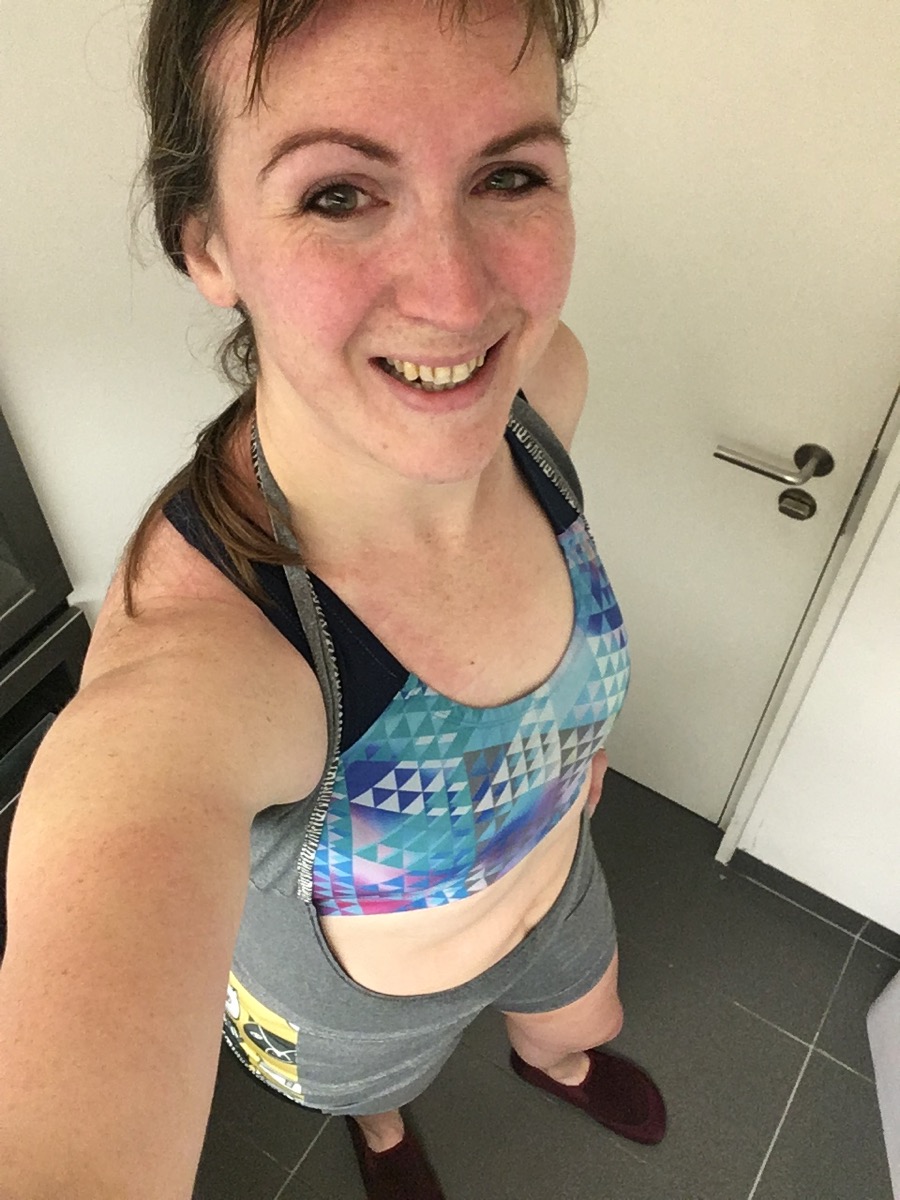 The problem with taking so long to develop each sewing pattern is that I end up making so many lovely versions that I can't show you until months after I've made them! But it does mean that after a pattern is released, you get a glut of finished makes from me…
Today I want to show you three different versions of the Rouleur Leggings that I made for myself. I made TONS more to test the seaming, and fit, and how they performed on the bike and out on runs, but usually the bulk of these were made from cheap, stretchy fabric and I inevitably ended up drawing all over them in marker pen to annotate what changes I wanted to make. But these three were sewn more as samples than muslins, so I'm happy to share them with the world!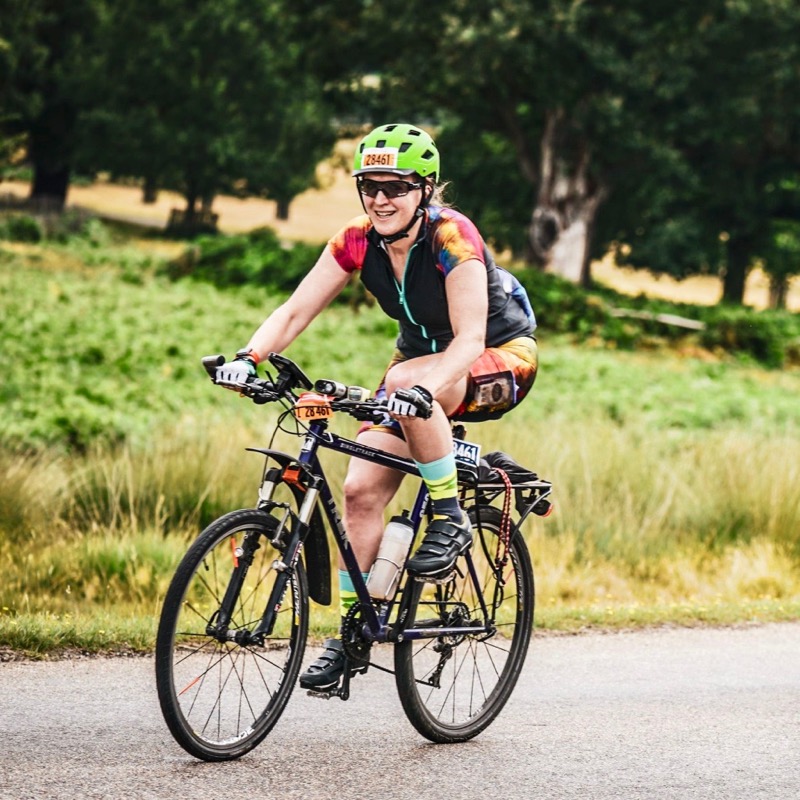 Remember back in August when I told you all about the rainbow three piece cycling set I made to cycle 100 miles in? Well, these are the photos I couldn't show you at the time as they gave too much away about the Rouleur Leggings design! But I'm a firm believer of the "nothing new on race day" rule, so I made sure to wear these on a cycle commute to make sure nothing would bother me on the 100 mile ride.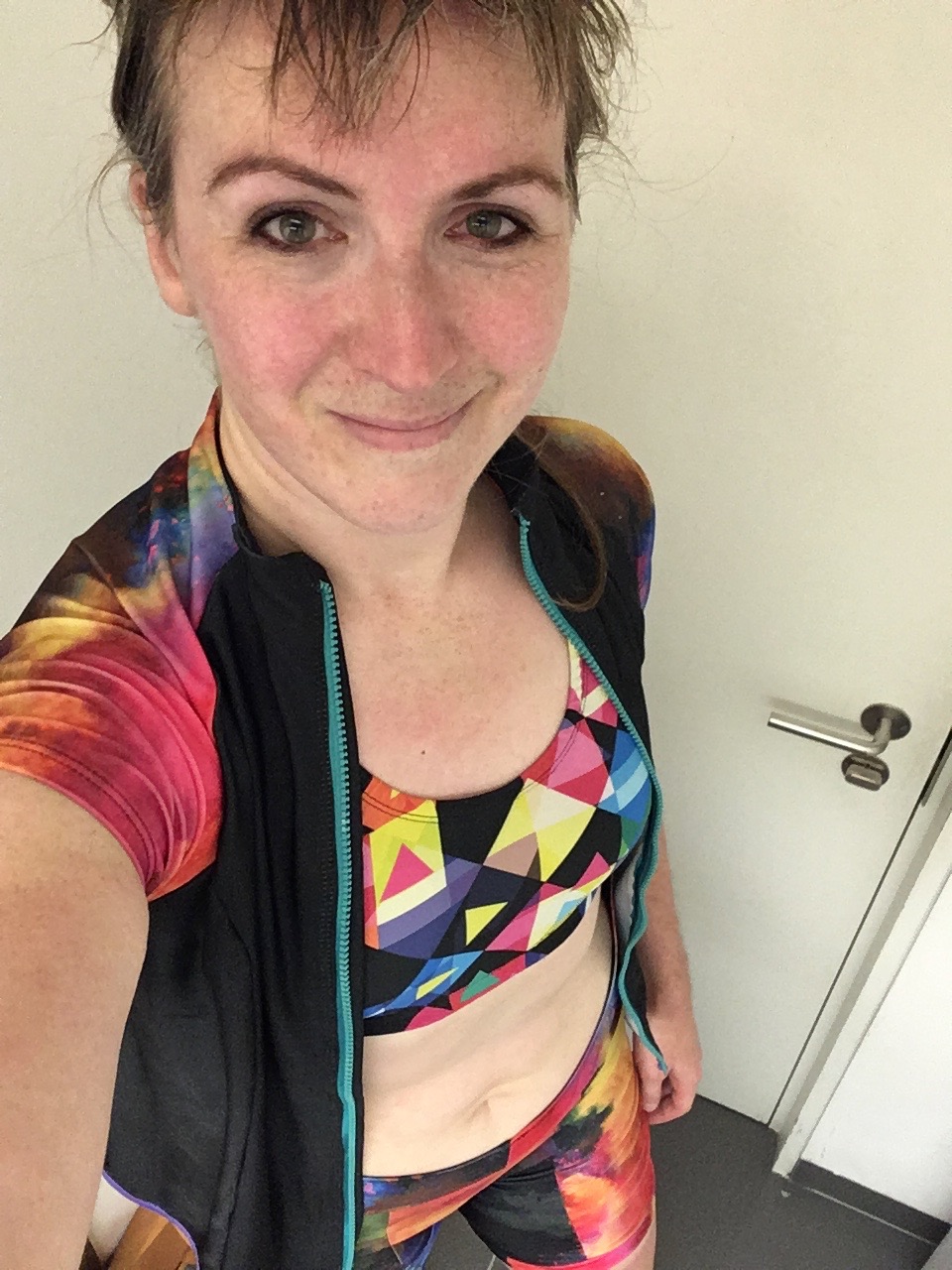 I hadn't finished sewing my matching Crop Top by this point, which is why I'm wearing one of my hacked Jalie sports bras instead!
This set uses the gorgeous rainbow colour burst fabric from Sew Dynamic, which is printed onto a base fabric made from recycled plastic bottles. My entire set saved 36 plastic bottles from landfill!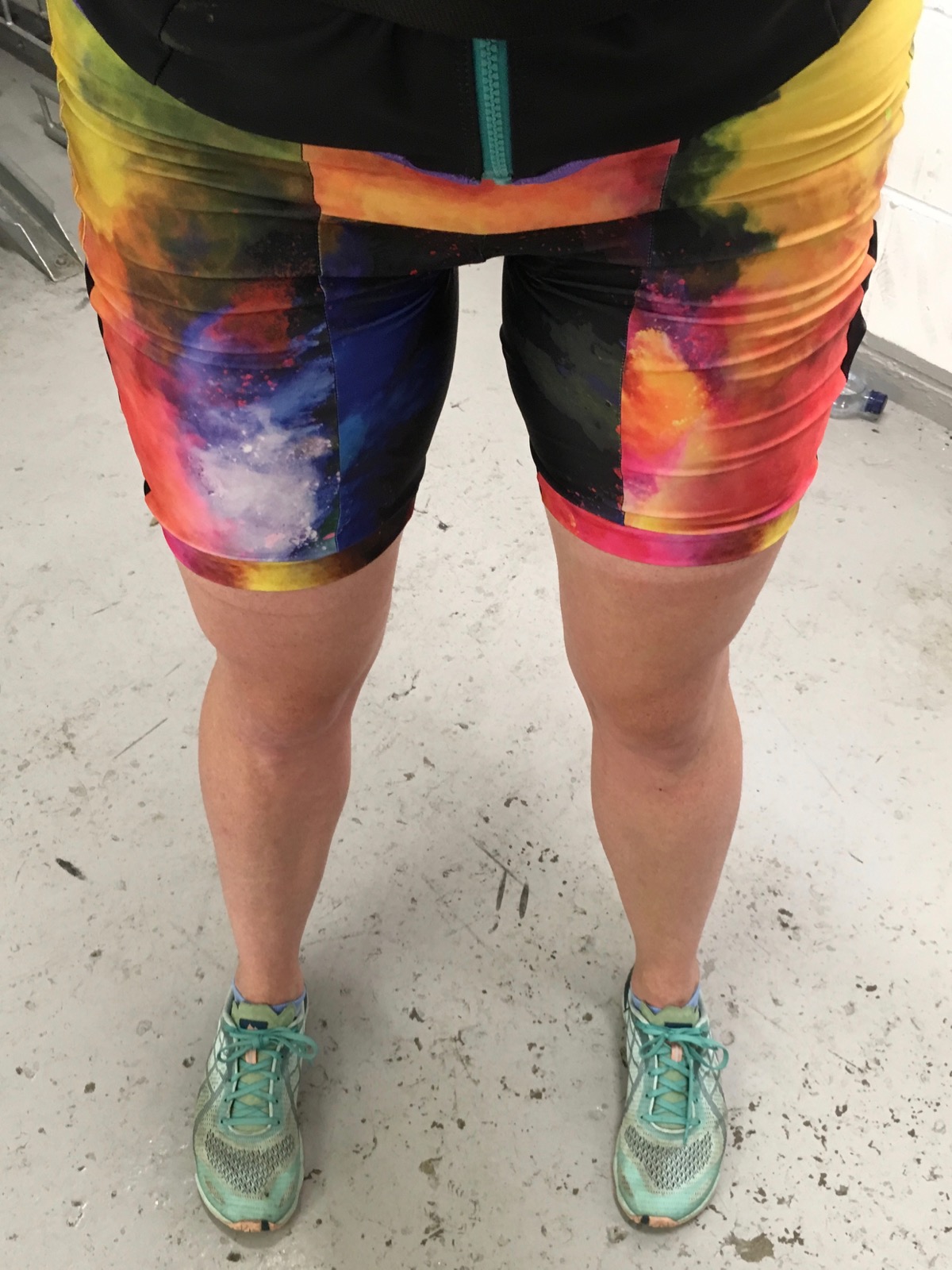 I was really careful when I was cutting the fabric for these because I wanted the brighter colour areas to be at the front and sides of the shorts where they'd be most seen, and the darker areas at the back and inner thigh where they'd be more hidden.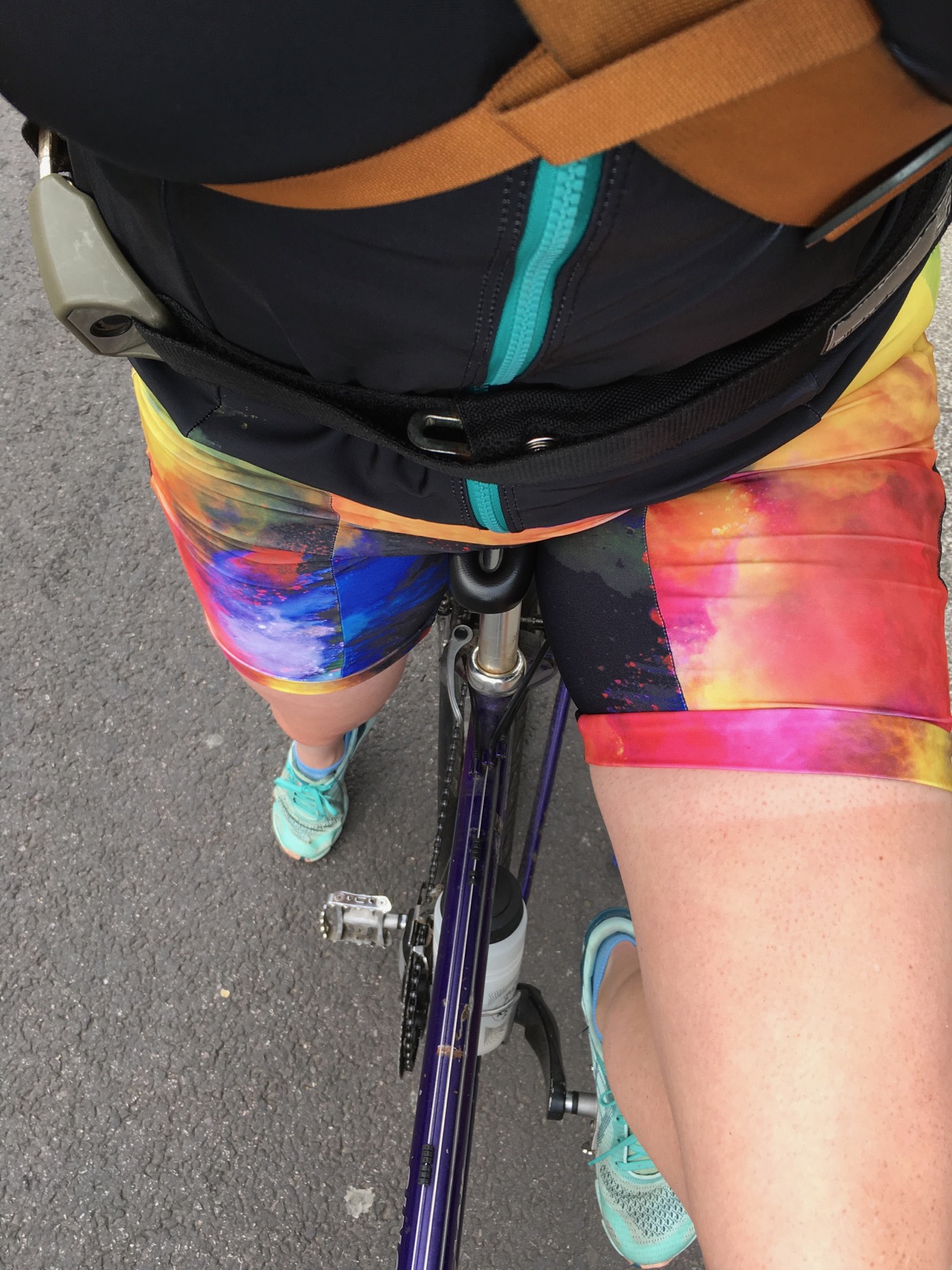 After I made these shorts I made the hem band wider for the finished pattern…
Next up is a pair of View A leggings I made after making a bunch of changes to the pattern based on feedback from my pattern testers. Even though I'd made plenty of versions already, I needed to make versions of both views exactly as on the pattern sheet to test that everything fit together as expected after I changed the draft. Since these were going to be "perfects", I wanted to use fabric I loved – this turquoise sequin trompe l'oeil fabric was a gift from my long-time tester Mel, who had this printed onto supplex base fabric and shipped all the way from Australia!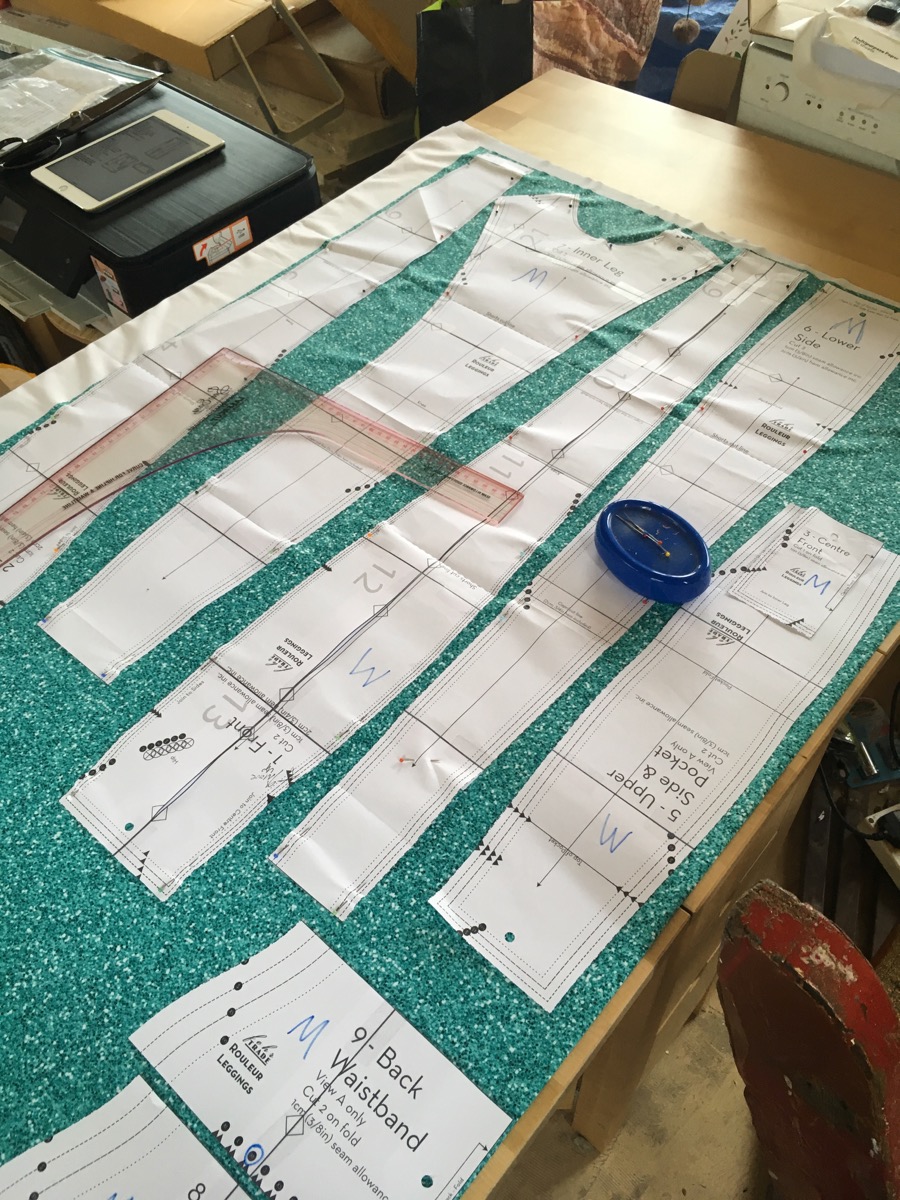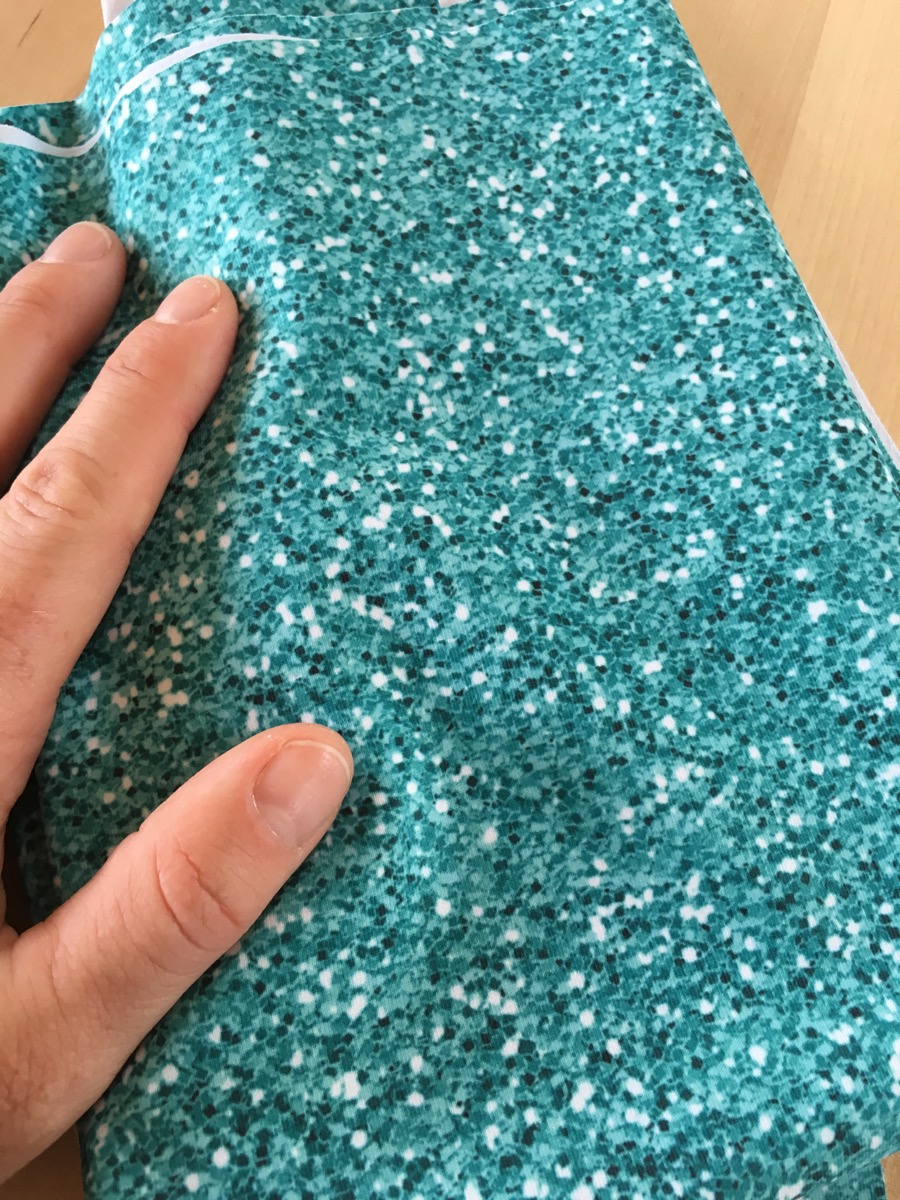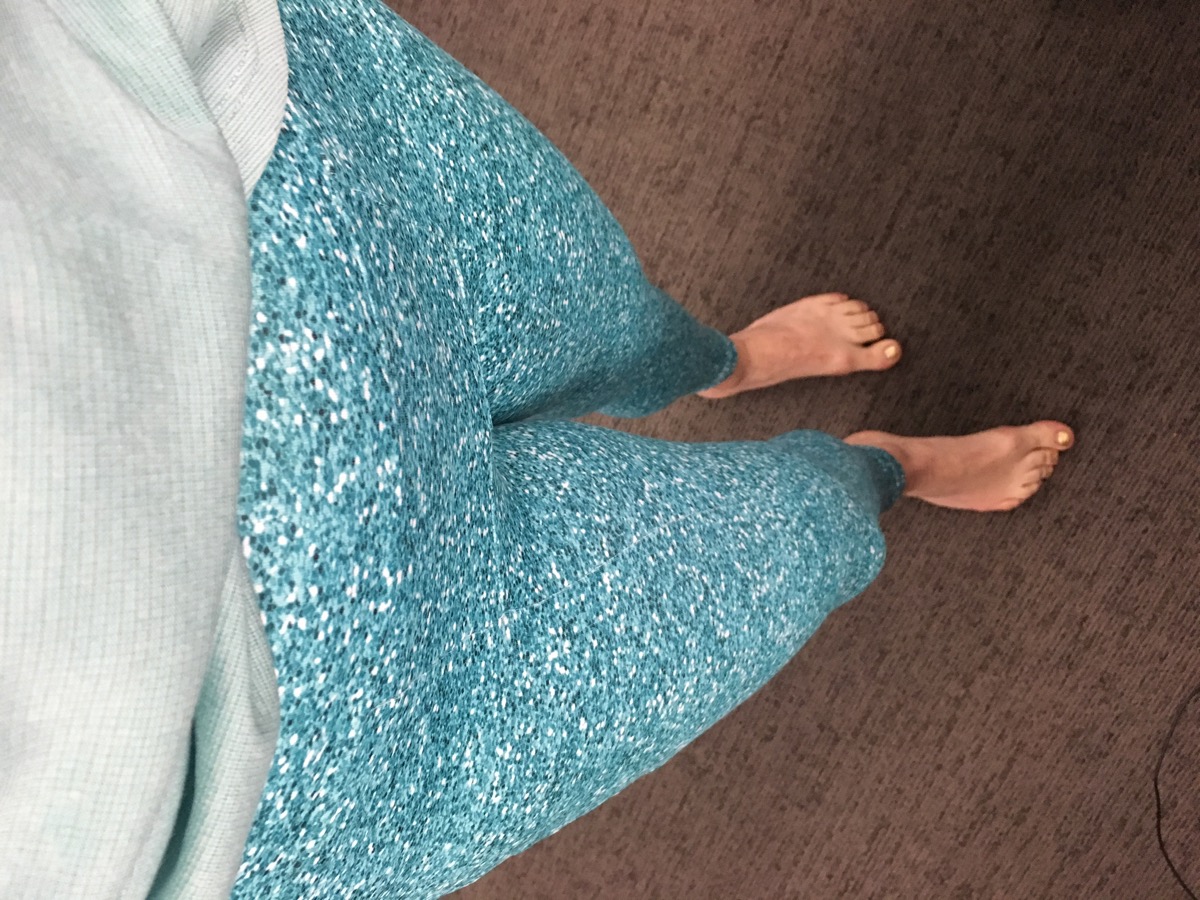 The fabric was so lush on these that I couldn't help wearing them on my cycle commute AND to my office's weekly Pilates class, too! View A is such a great all-around leggings design – the high waisted, wide waistband keeps everything in place, the leg seaming means you can get a great fit (no more baggy knees!), and the pockets are easy to sew but big enough for your big-ass phone, too.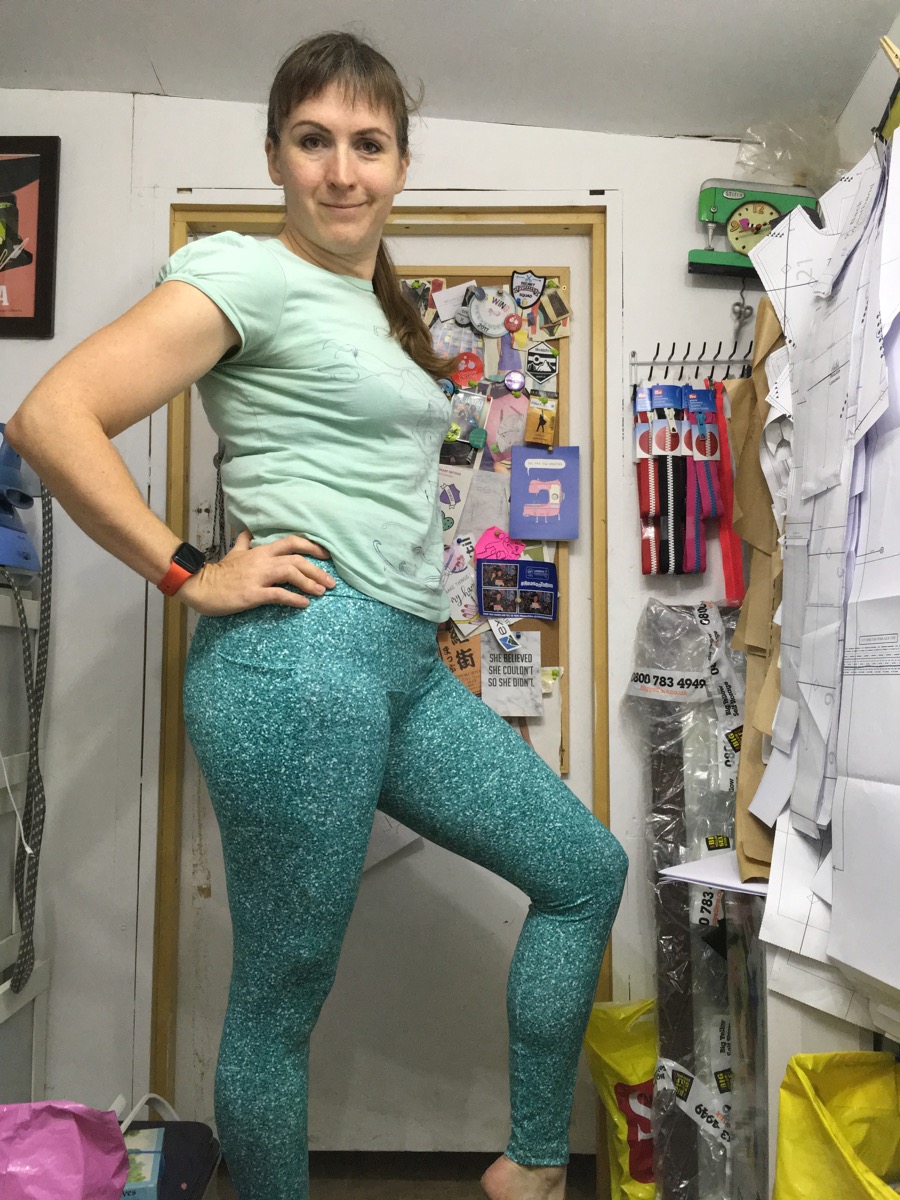 "Look ma, no inseams!"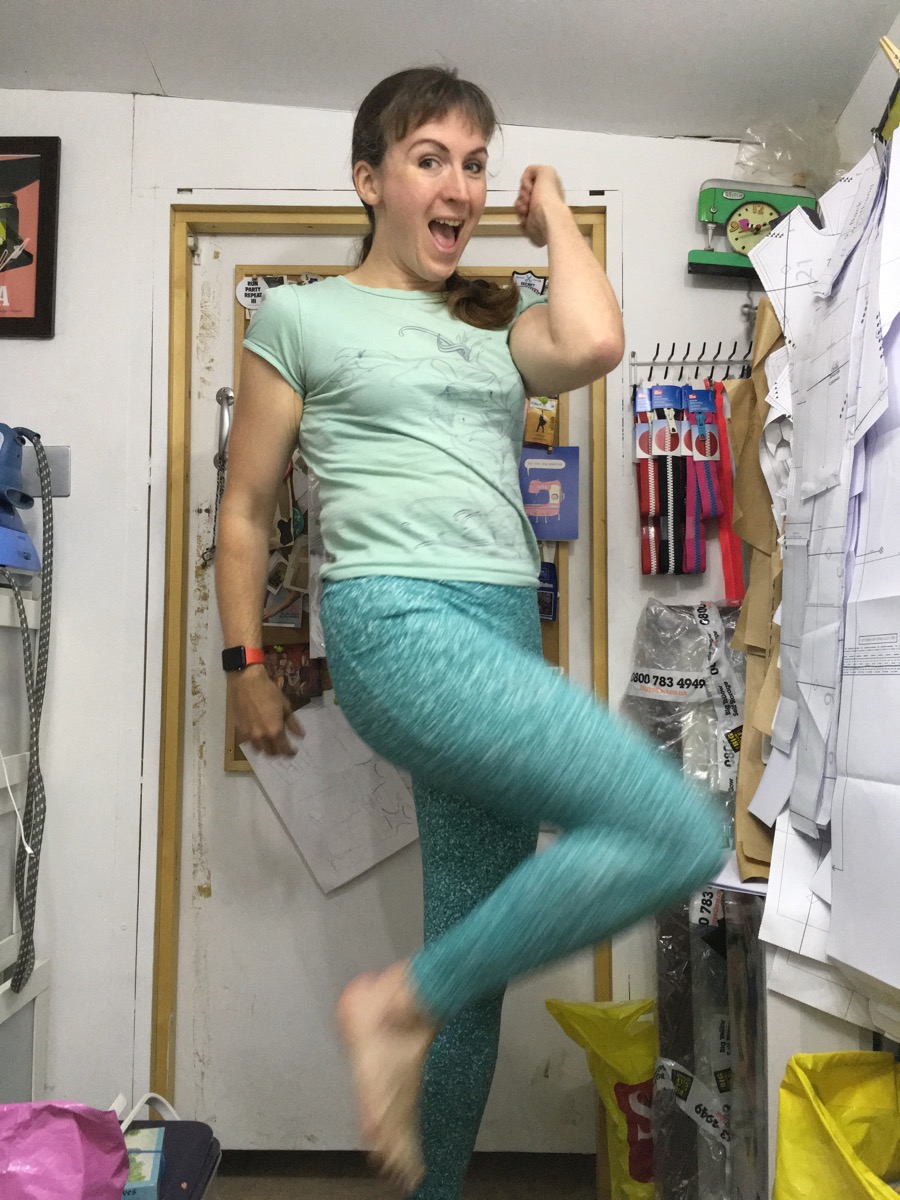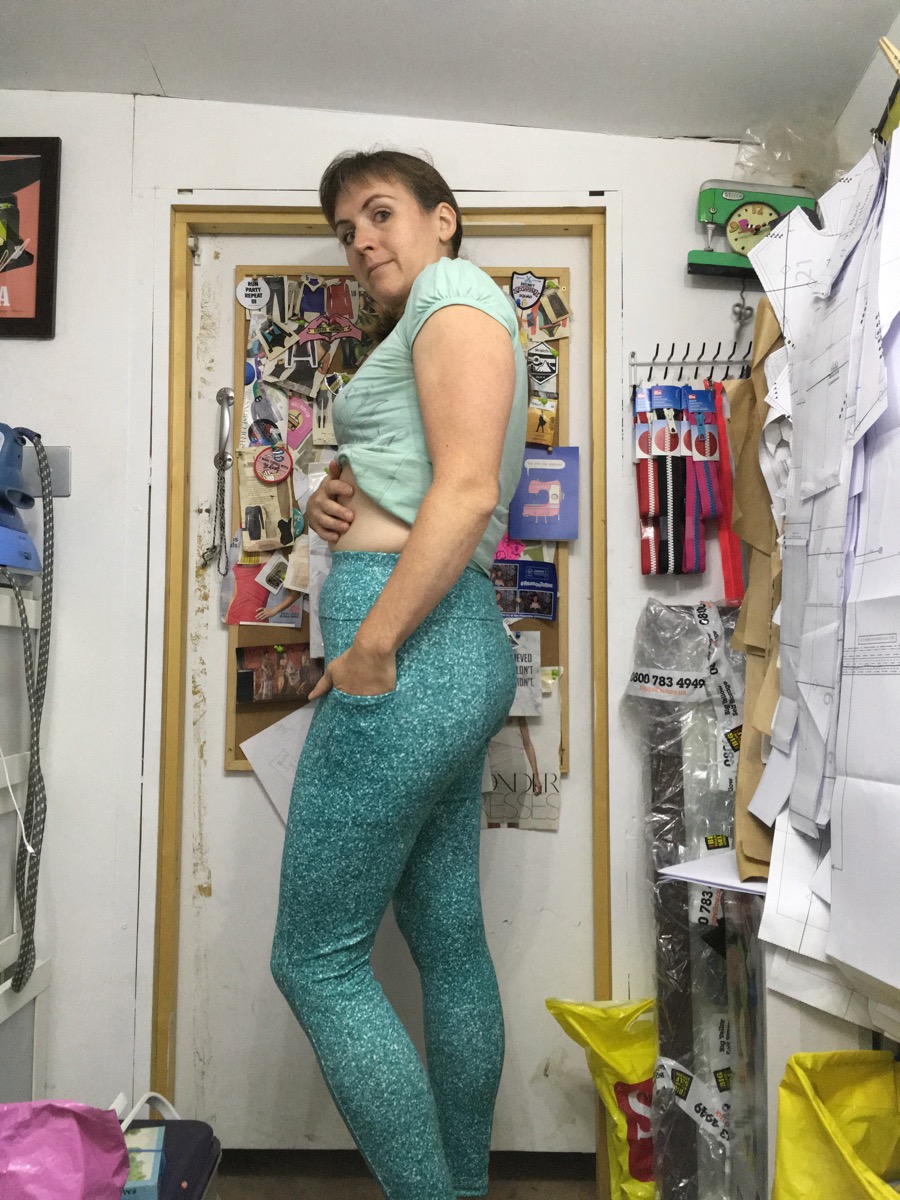 I never got time to properly photoshoot these, so you'll have to put up with my no-makeup, wearing-an-old-shirt-covered-in-boat-paint, self-timer-in-the-sewing-cave photos!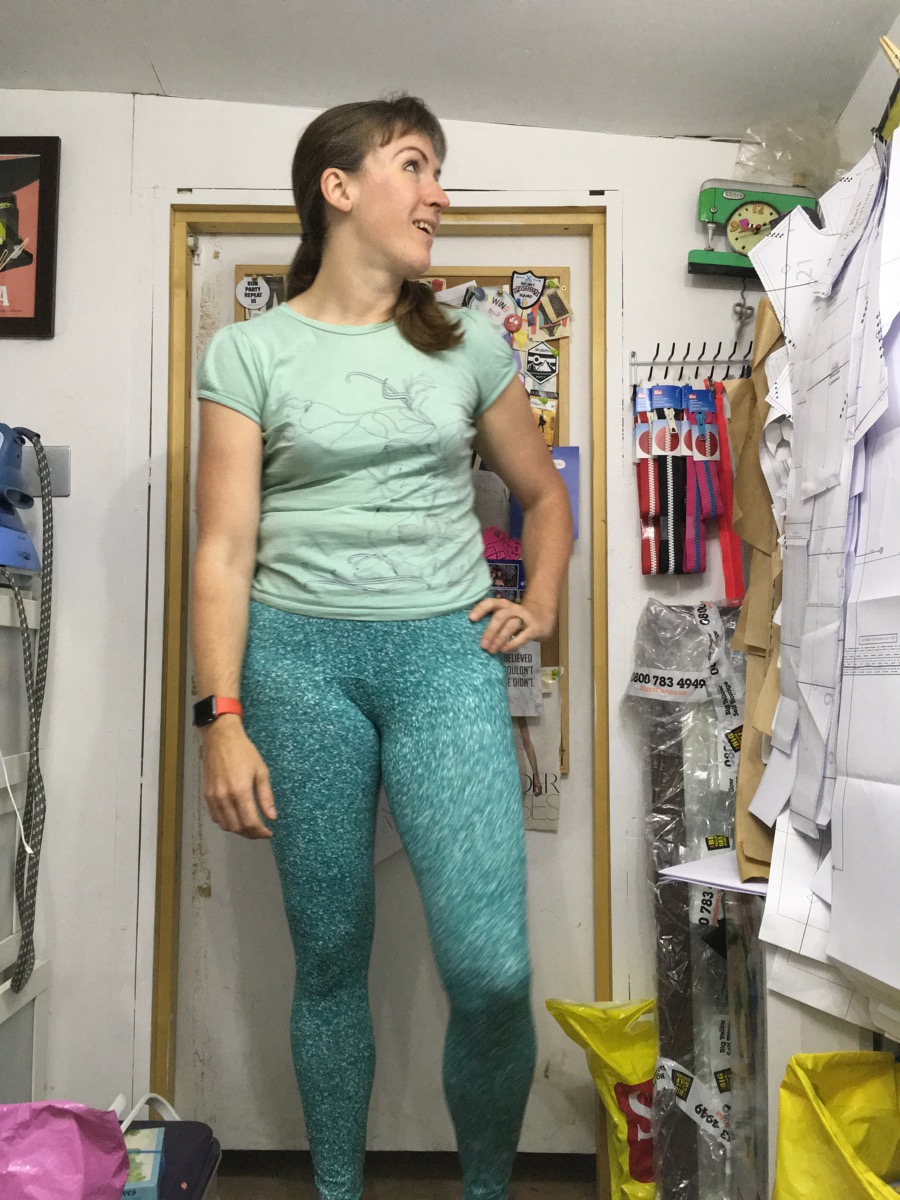 For this last version of the Rouleur Leggings pattern, I had both this grey chitosante fabric and the Spoonflower hipster cats fabrics in my stash for YEARS. I remember I used some of the grey to make a pair of test shorts before the Transylvanian Bear Race in 2016, so I've had it at least that long, and the Spoonflower Active Lycra fat quarter is probably from the same era.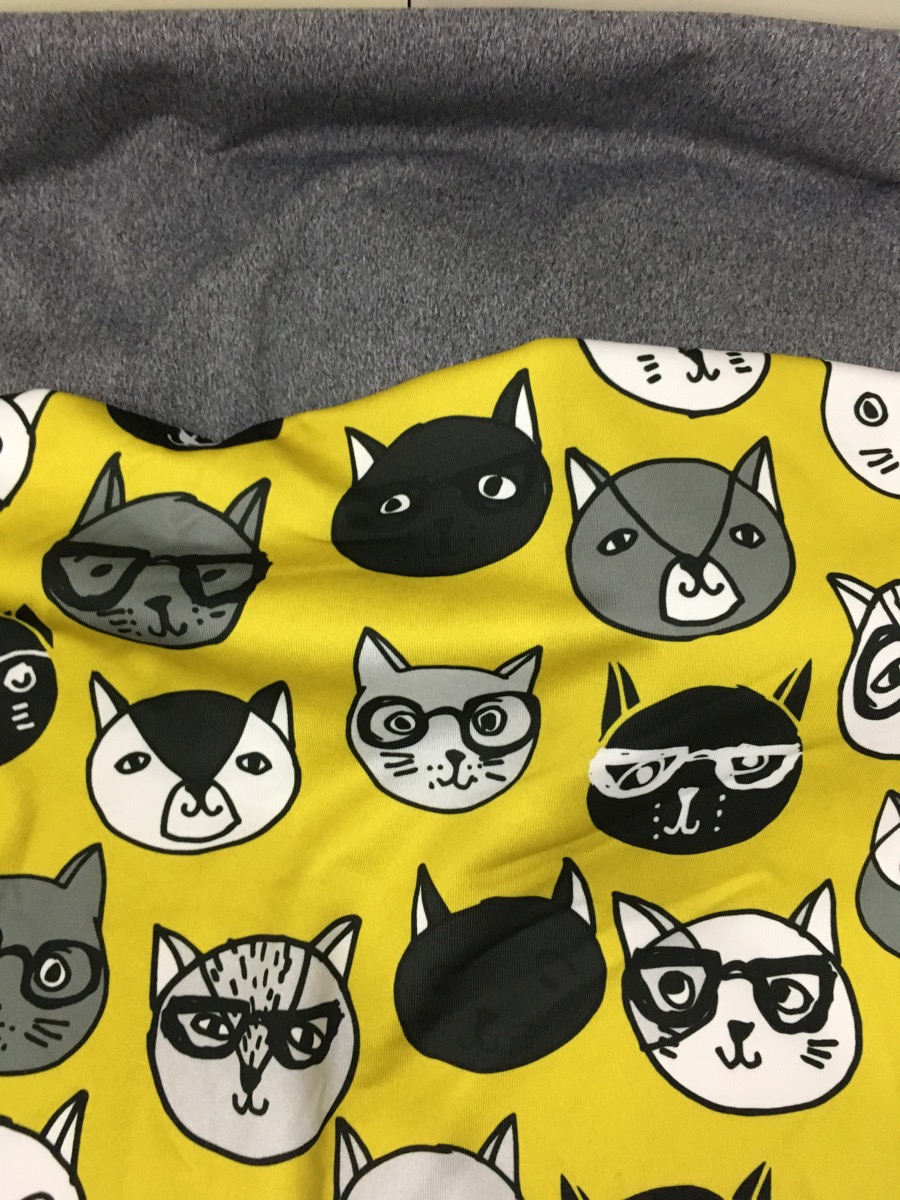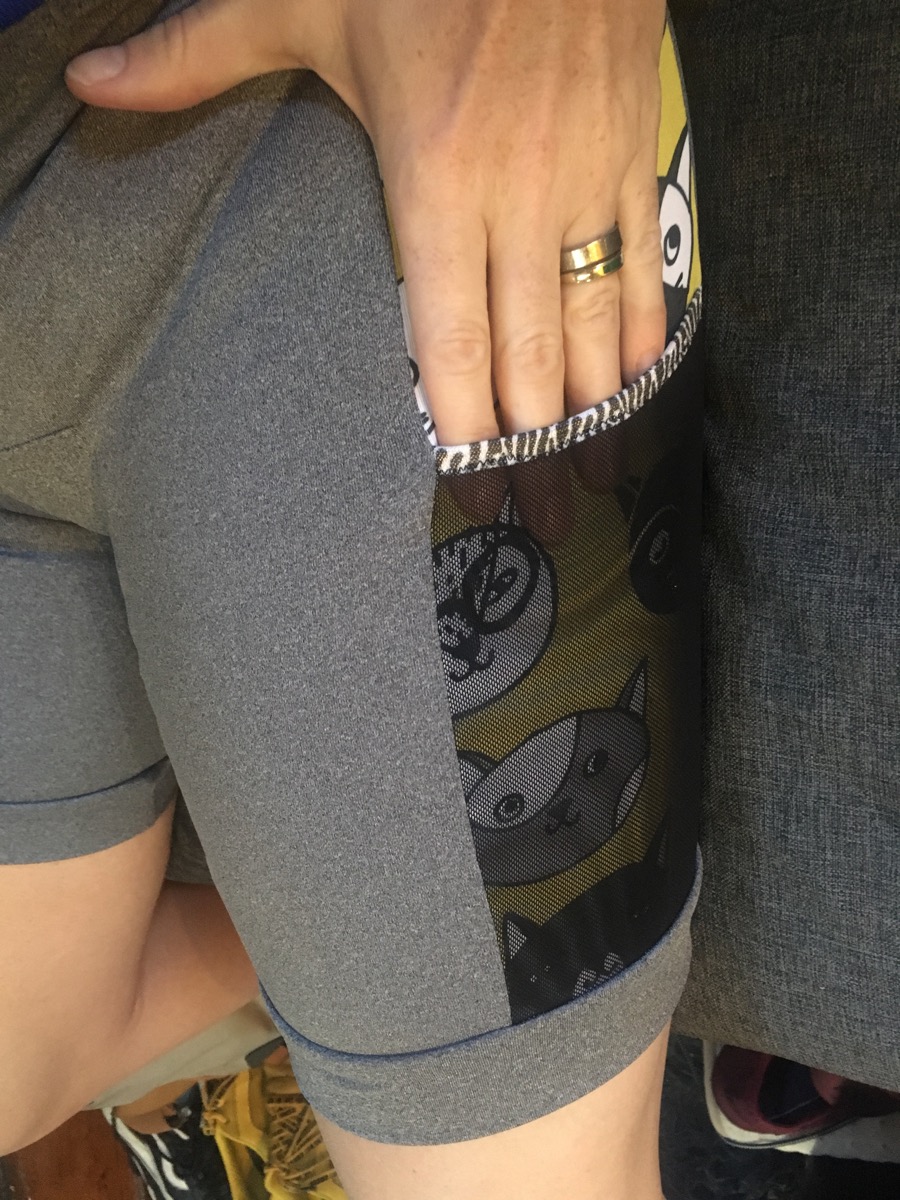 Because I only had a small amount of the hipster cats fabric, I couldn't make the whole shorts from it, and it seemed less weird to just do a contrast side panel than either the side & front (or back). It did seem a shame to cover half of it with the cargo pocket mesh, but you could get around this by using the folded pocket on yours if you've got a busy print you don't want to cover up. Since I was using these to test the updated draft for View B I couldn't really change anything!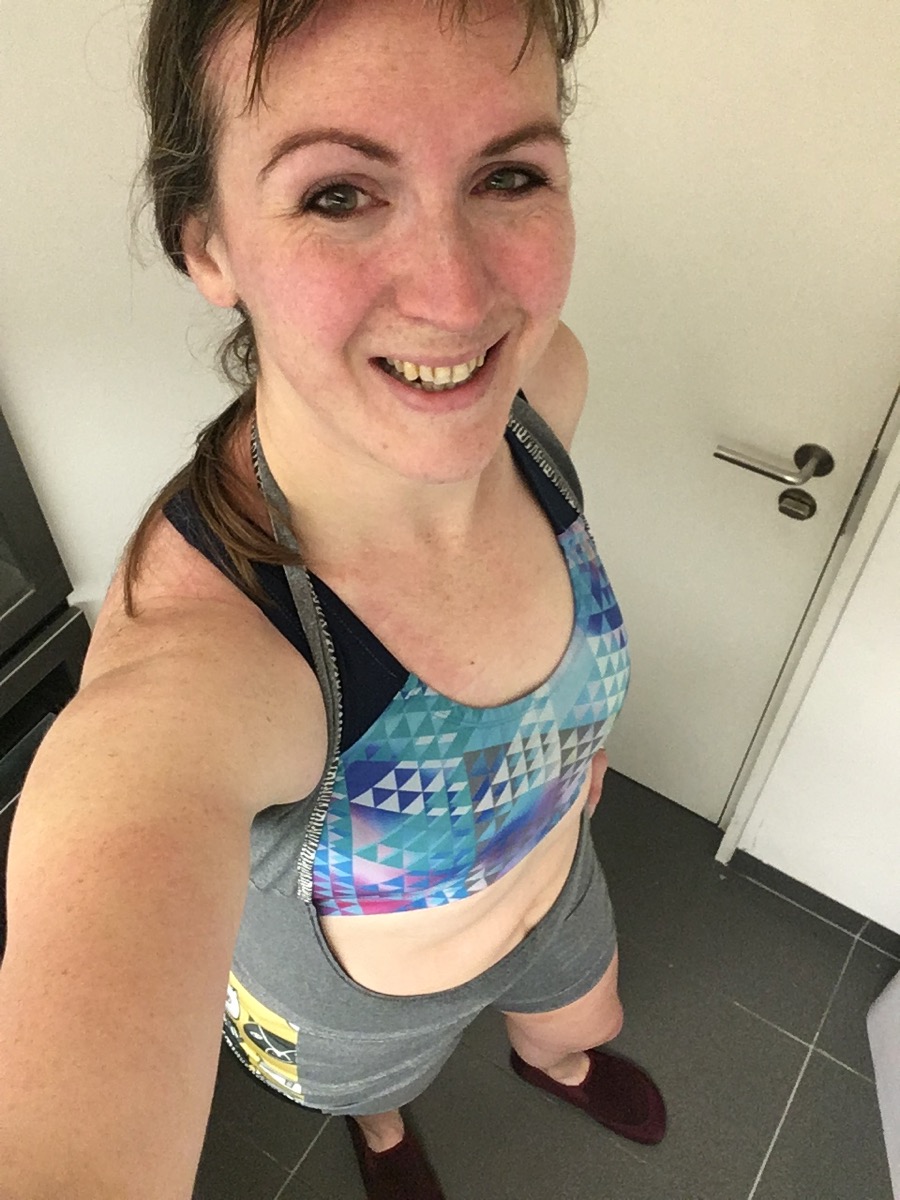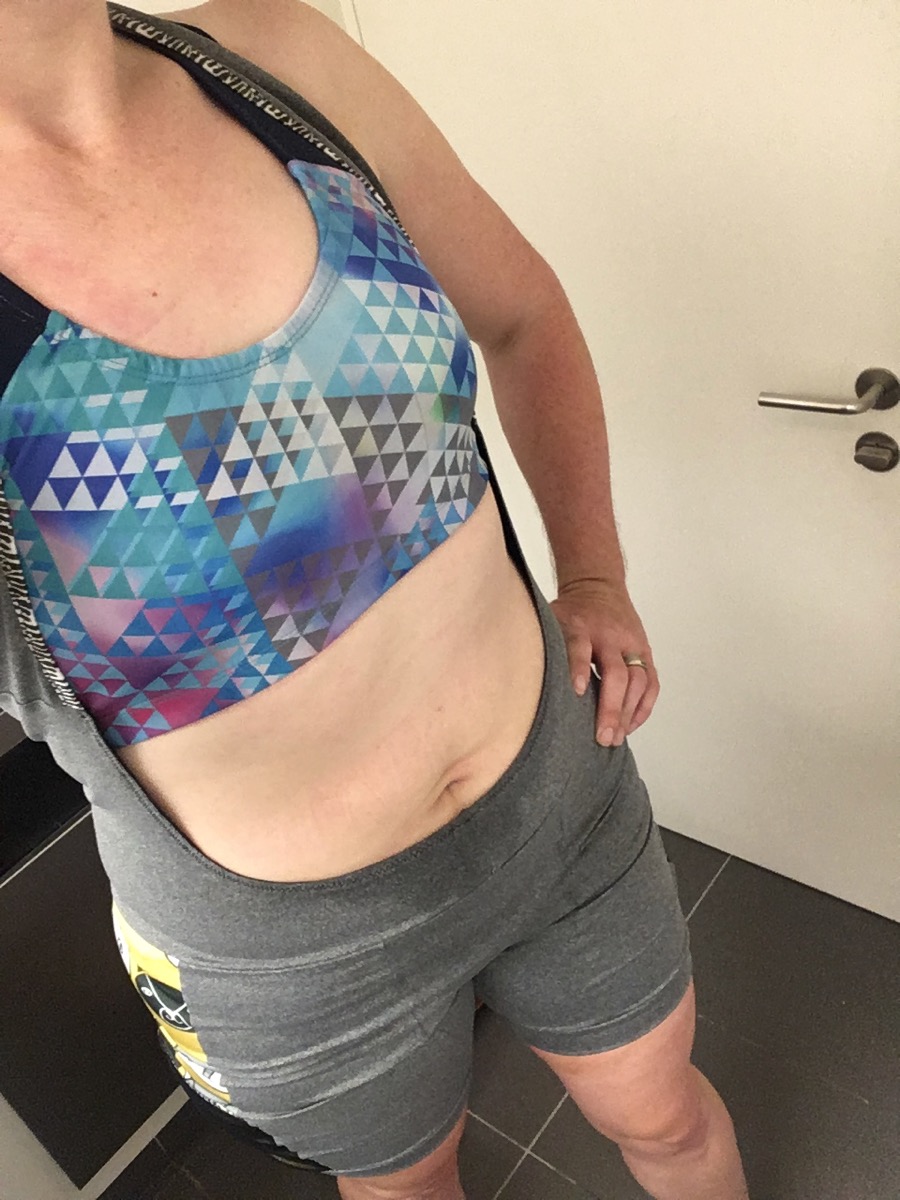 (Yes, it's another of my hacked Jalie sports bras! I wear them quite a bit on my cycle commutes…)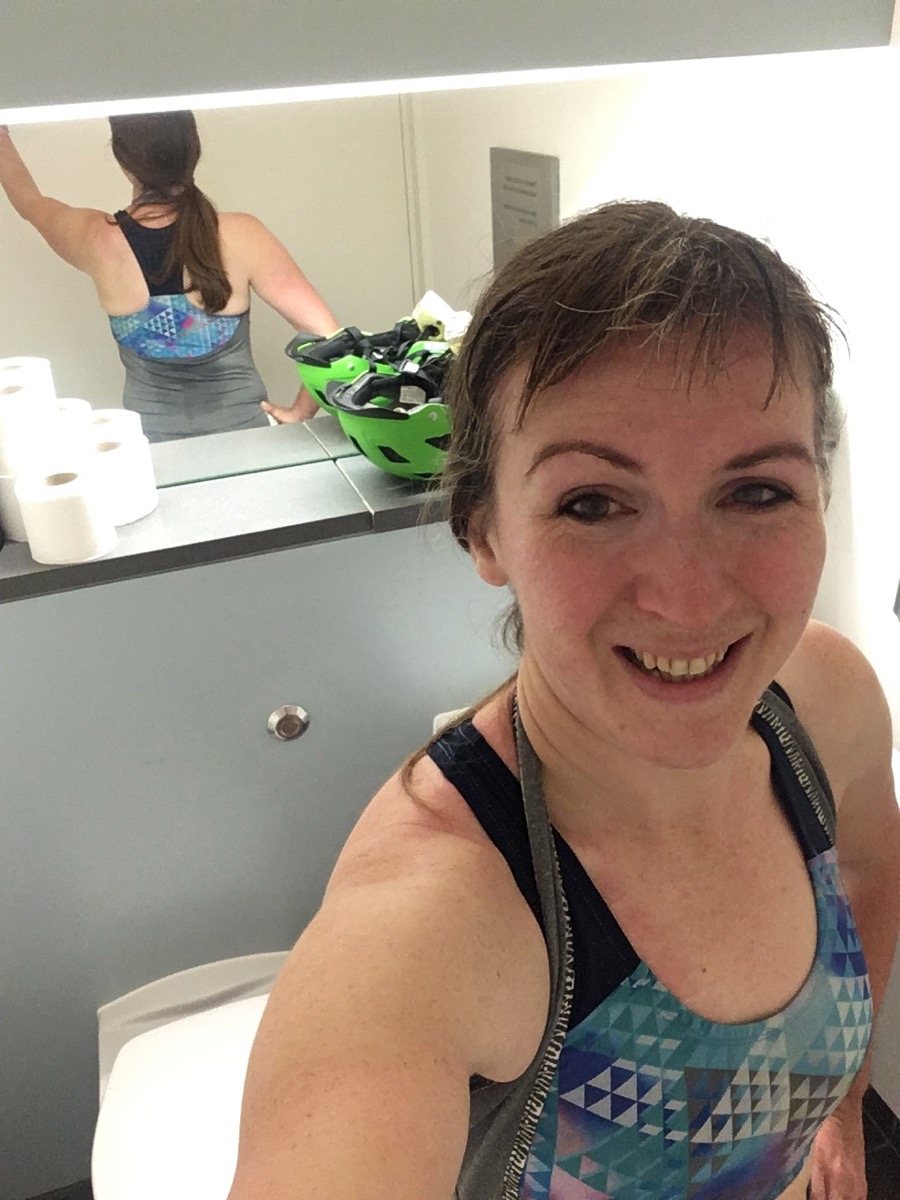 I used a black and white zebra-print FOE from my stash to finish off the cargo pockets and the upper bib pieces, which I think looks rather nice!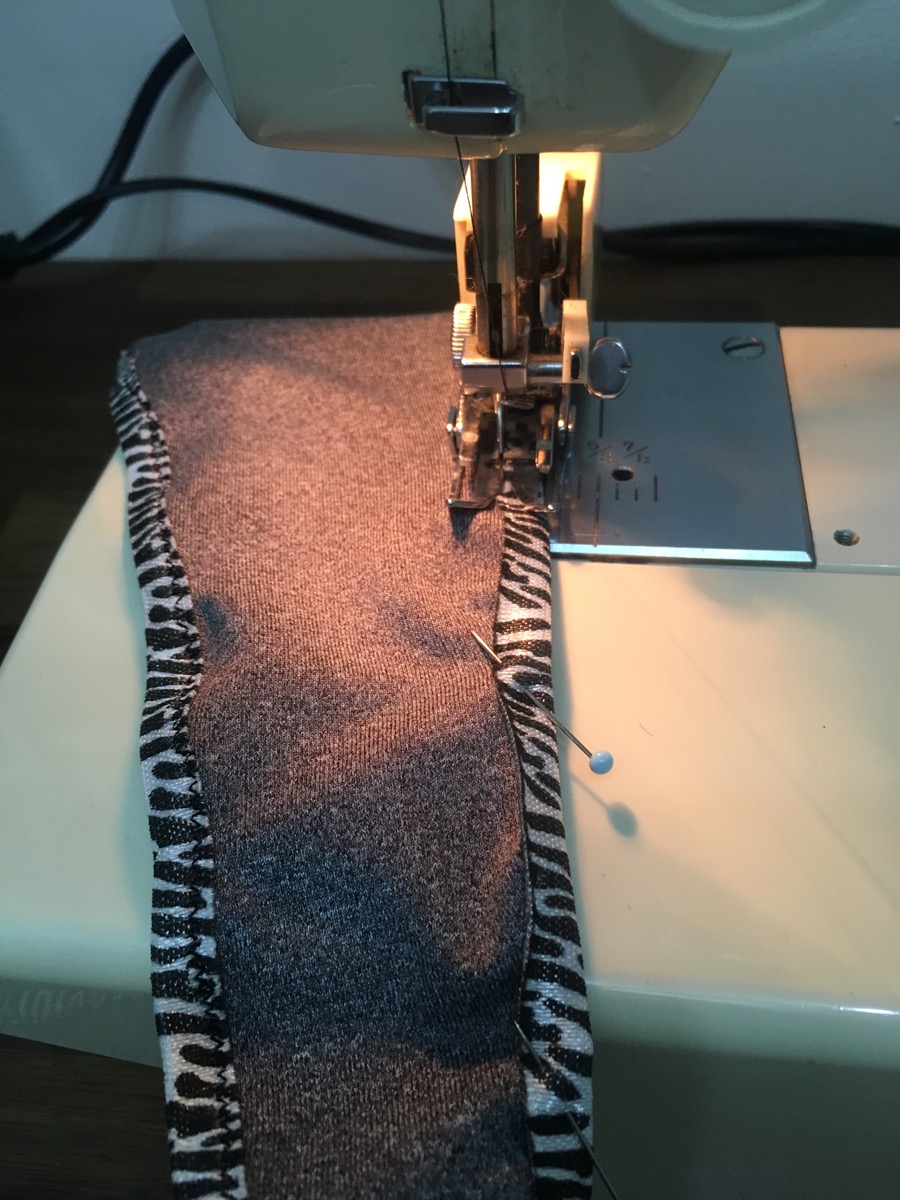 I actually didn't put a chamois pad into this pair, either, as most of my rides are under an hour and my saddle is comfortable enough that I don't really need them until I'm riding around for longer than that. So I figured a pair of bib shorts without the padding would be more versatile for my getting around town!
To celebrate the launch, we're offering you 20% off all of our digital sewing patterns if you use the code ROLLWITHIT before 10 Nov 19 (That's this Sunday!!)
— OR —
Because they're such a perfect partner to our new Rouleur Leggings, we're offering a special discount – purchase the Rouleur Leggings pattern and get our Surf to Summit Top (Ladies edition) or Tessellate Tee pattern for 50% off when you use code PERFECTPARTNER before 30 Nov 19.