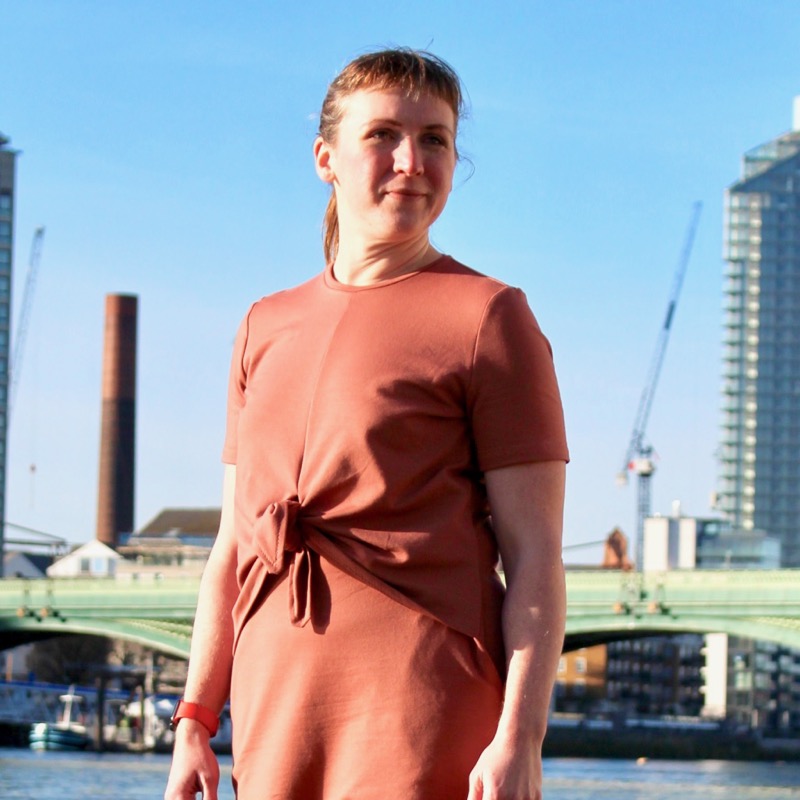 Happy lockdown birthday to meeeee! What a strange, strange few weeks it's been, eh? I've not felt like blogging much, but I've been doing a fair amount of sewing and I couldn't let my birthday pass without sharing this year's birthday garment – a Ruska knot dress from the Named Patterns "Breaking the Pattern" book!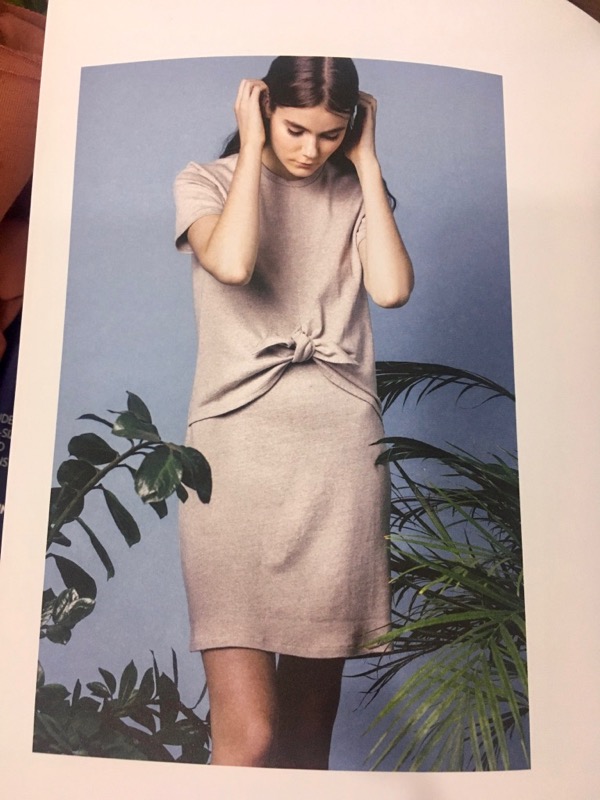 This is my second make from this book after last summer's Saraste shirtdress, but I've got a few more A0 printed and ready to go, too. I love that, even with the physical book, you can still download all the patterns in A0 and A4 if you prefer printing to tracing (you can do this with my book, too, fyi!).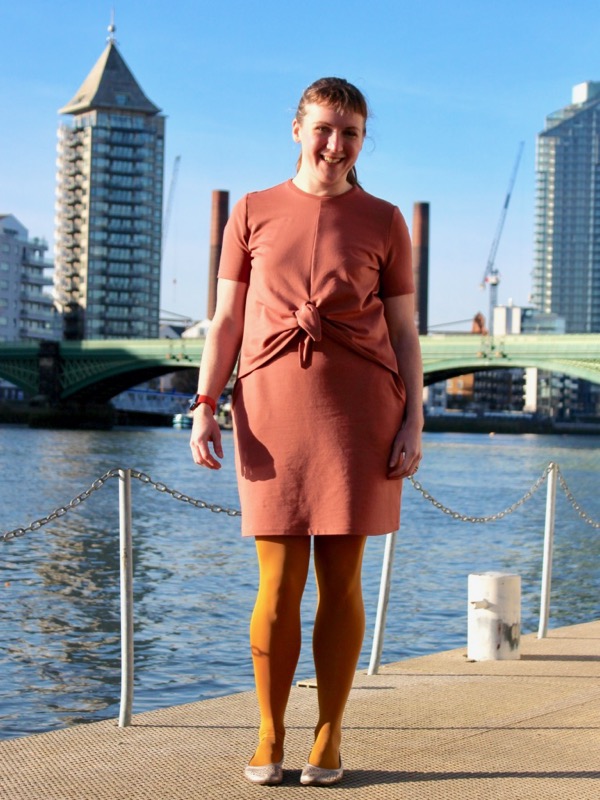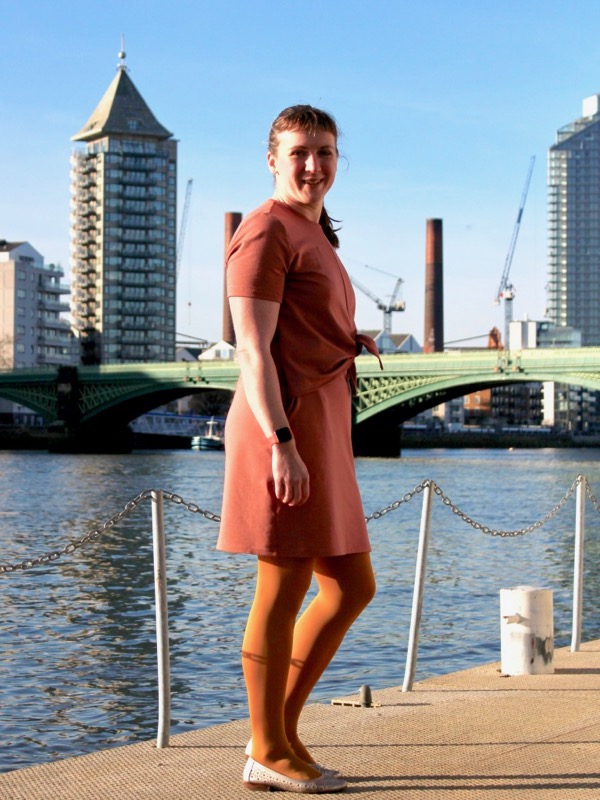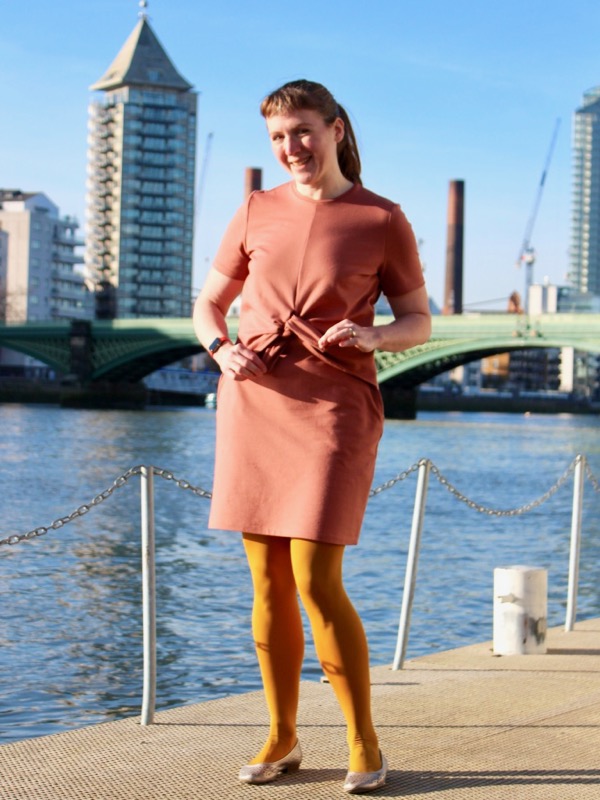 Two weekends ago we were down in Cornwall visiting very good friends at their new house and took a side trip into Truro to get a few things, so I was able to finally visit the lovely Truro Fabrics store in person for the first time! I've been buying fabrics from their online shop for literally ten years and know they have SUCH high quality fabrics there so it was fun to browse in person. I kept myself restrained and only bought three fabrics with specific projects in mind to minimise excess, one of which was this lightweight, super soft french terry in an almost muted melon, or soft rust colour – it's quite difficult to describe but is such an amazing colour it stopped me dead in my tracks in the store. Seeing as how it's the last time I'll be in a fabric store for the next few months, I'm glad I bought so mindfully with two more projects ready to go!
I'd say also that this is the perfect weight for this dress, although a ponte or similar medium-weight jersey with a bit of stretch would also work well. Unfortunately I can't find this on their website, but if you call them up they should still be able to sell it to you and they are still shipping orders out!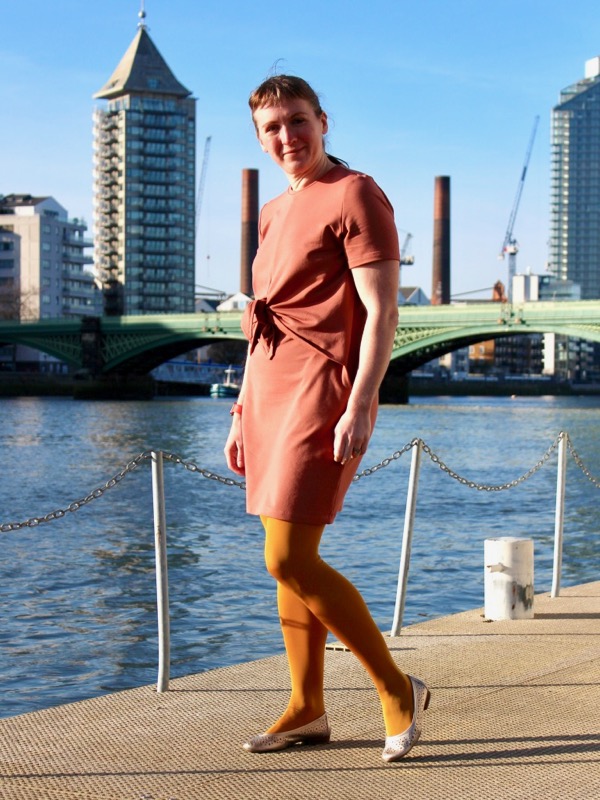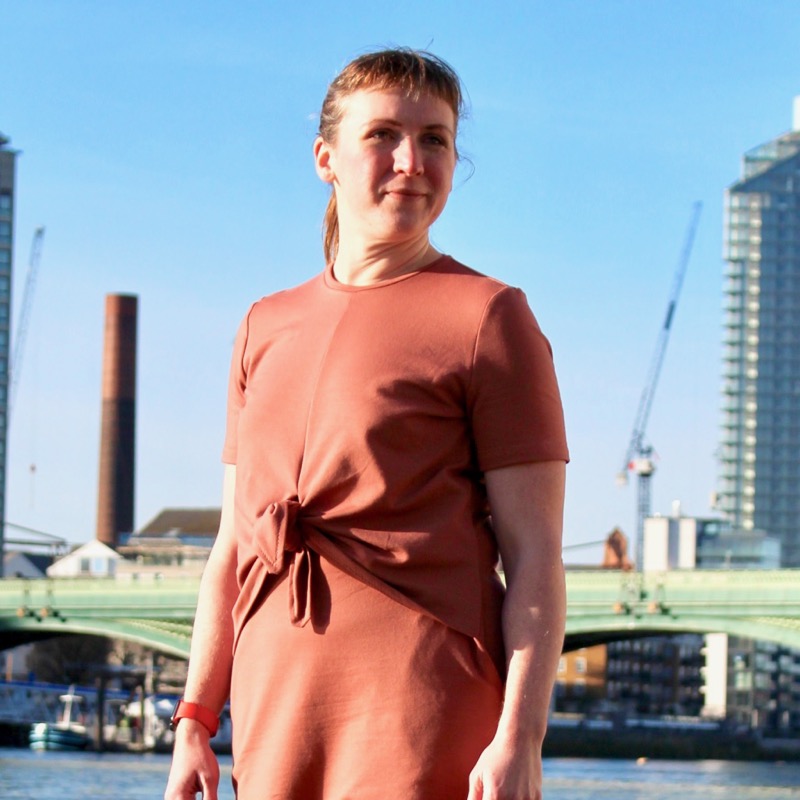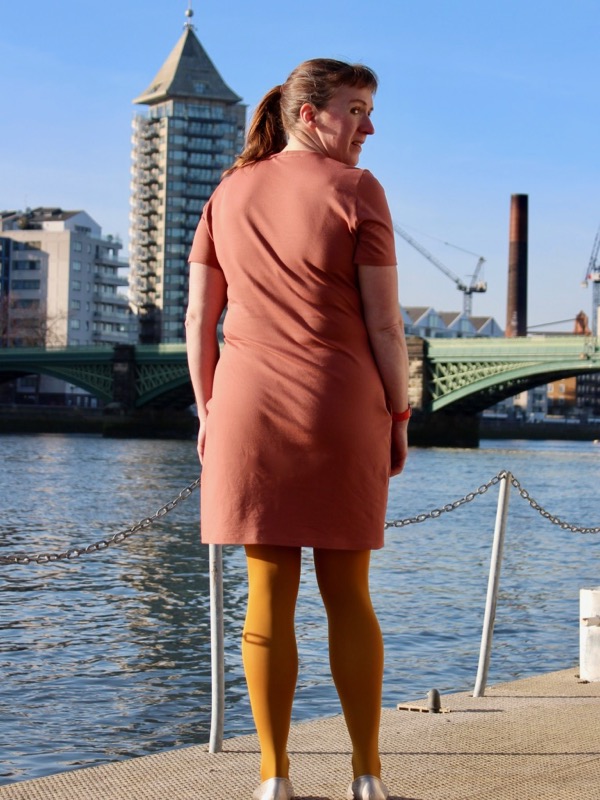 The dress is basically just a standard knit dress but with the addition of an overlay in front that forms the ties. So you basically finish off the edges of the ties (by pressing under and topstitching – I thought about facing these but didn't want to add any more bulk), join the outer fronts at the Centre Front seam, then baste to the dress front and then treat as one layer from then on. I quite like that the outer layer is a bit looser which makes the ties sit nicely!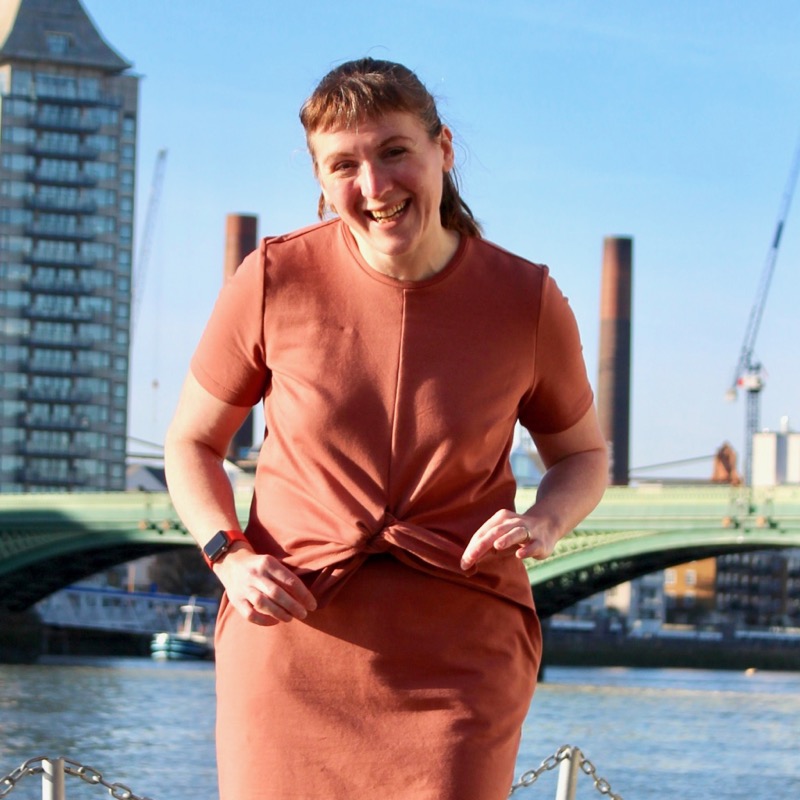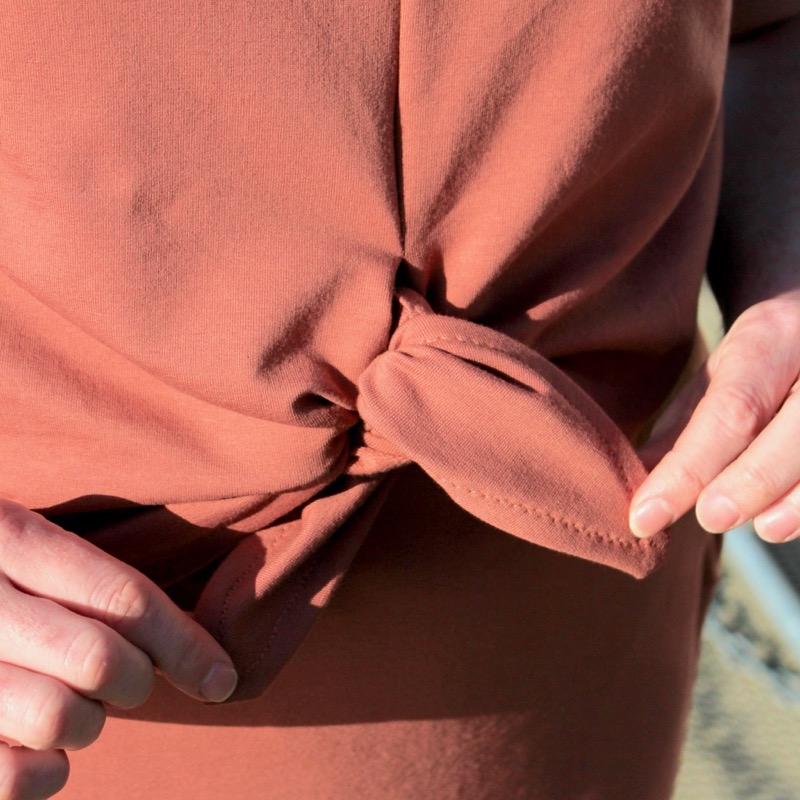 My only change to this pattern was to add in some inseam pockets! I used the pocket from the Seamwork Tacara dress mostly because it was within easy reach but you could also use the pocket included in the book. I did my usual trick of attaching the pockets, understitching to the seam allowances, then sewing the sharp corners by sewing machine before overlocking the side seams and pockets in one go since it's difficult to be accurate on sharp corners with an overlocker.
I maybe should've done one or both pocket layers in a thinner fabric, but I didn't have anything near to this colour, so I'll just live with a bit of lumpiness if it means my dress is more functional!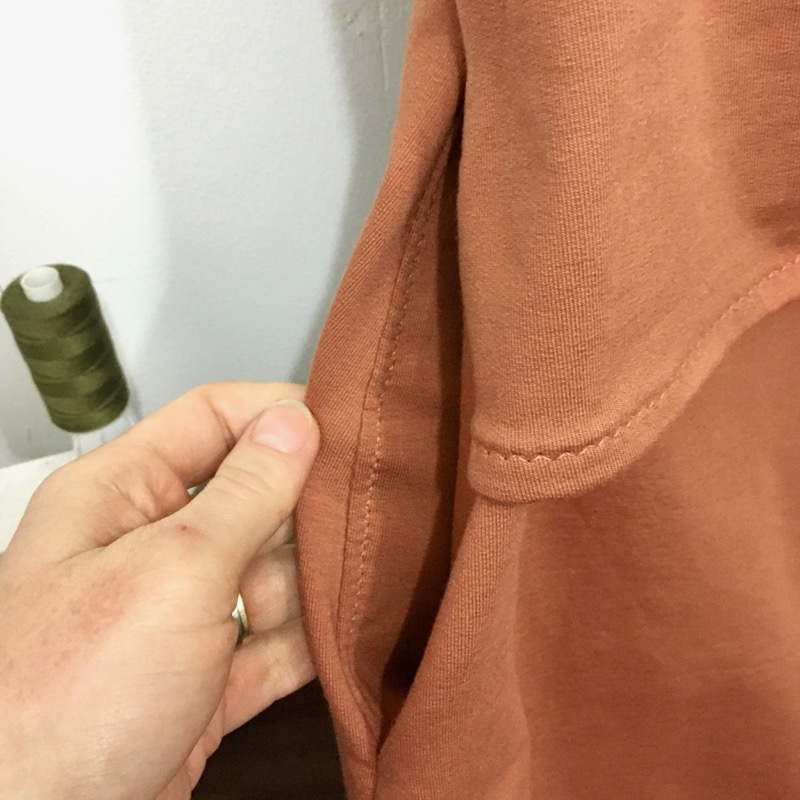 And as is traditional, here's me holding up my birthday year – 41! It's off to a frankly shocking start but that means the only way is upwards, right??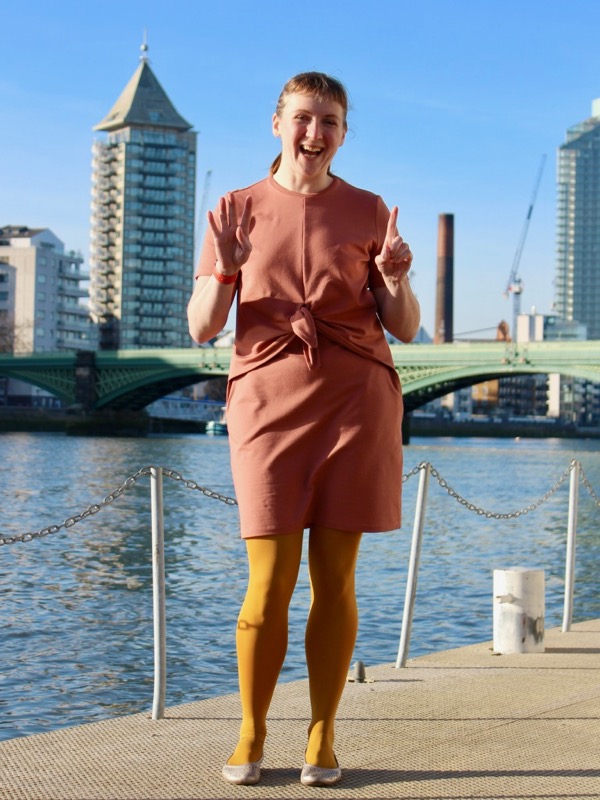 —
If you recall, I always make myself something nice and special for my birthday each year…
Past Birthdays
40th – For my big 4-0 I sewed a bias-cut silk satin evening gown with cowl neck and plunging back for a big cocktail party!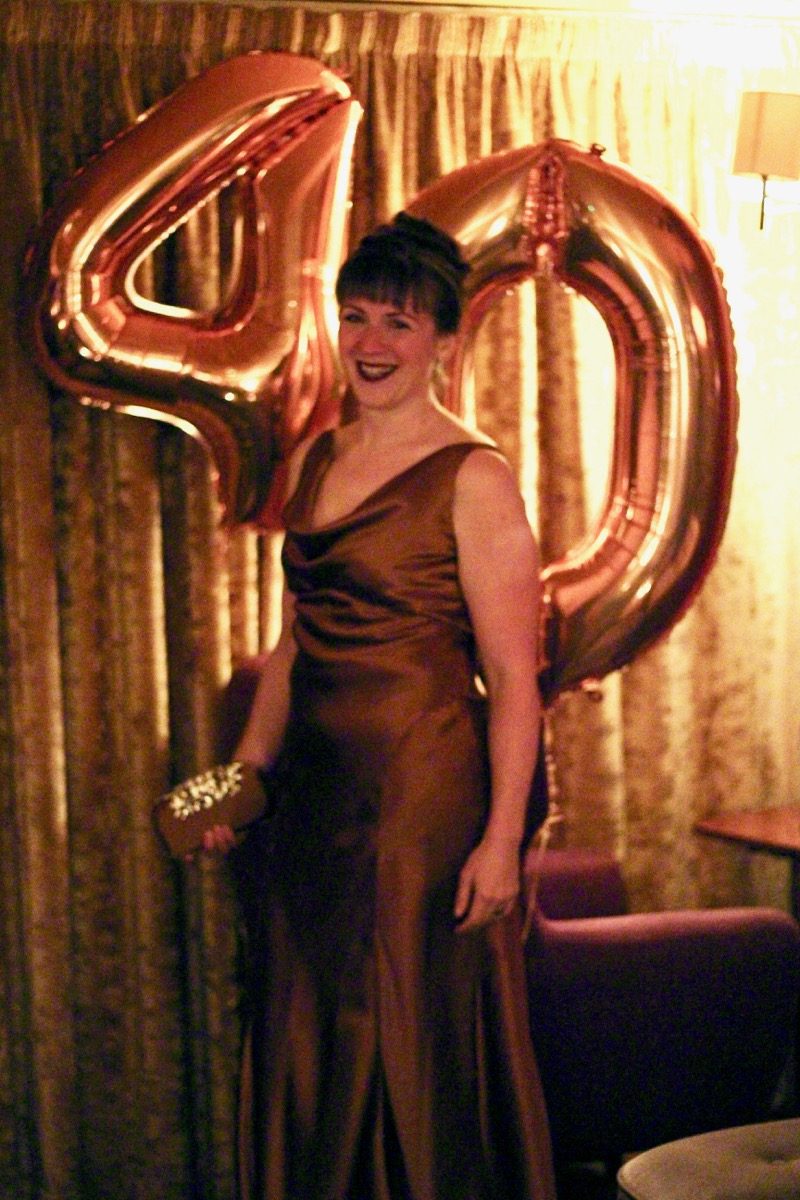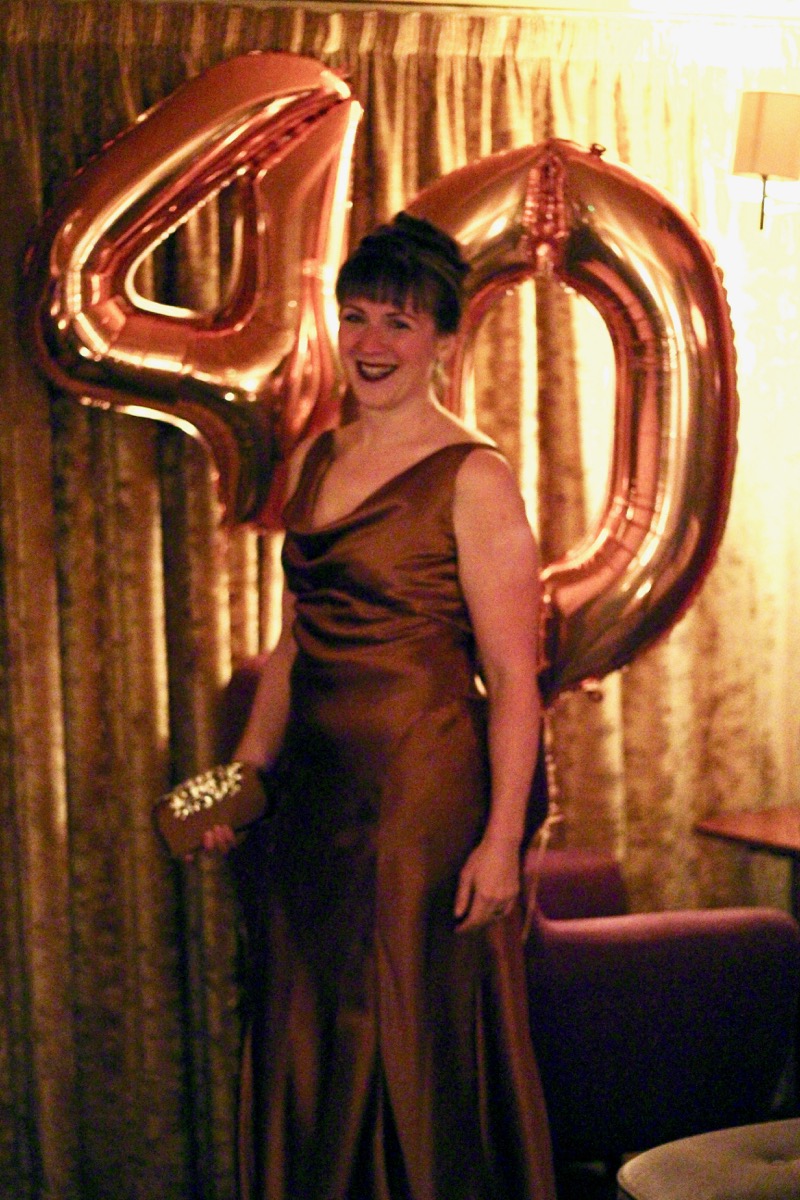 39th – I sewed myself a long sleeved cycling top though really I spent the day moving into our temporary flat while the boat was being renovated.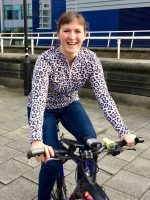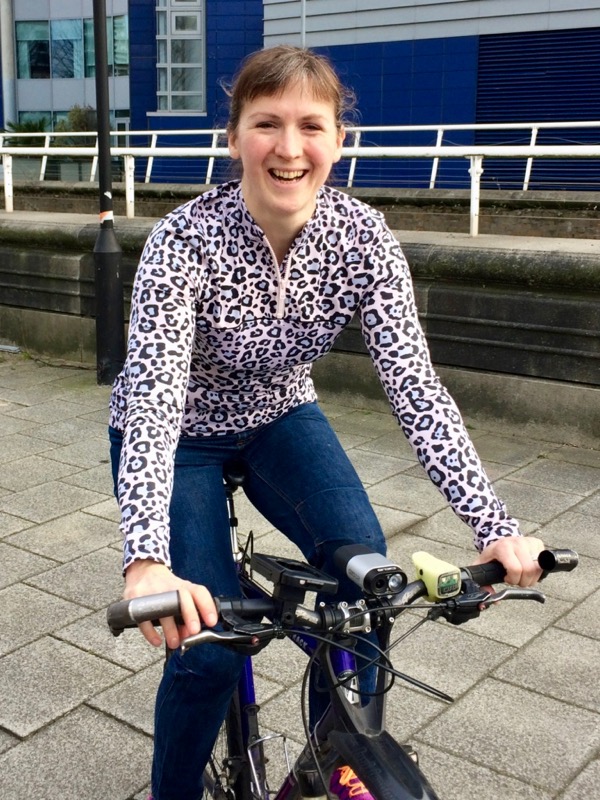 38th – I made a Gimlet dress out of some incredible, embroidered ombre denim with flashes of the red satin lining.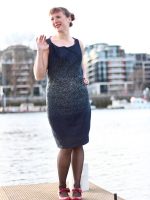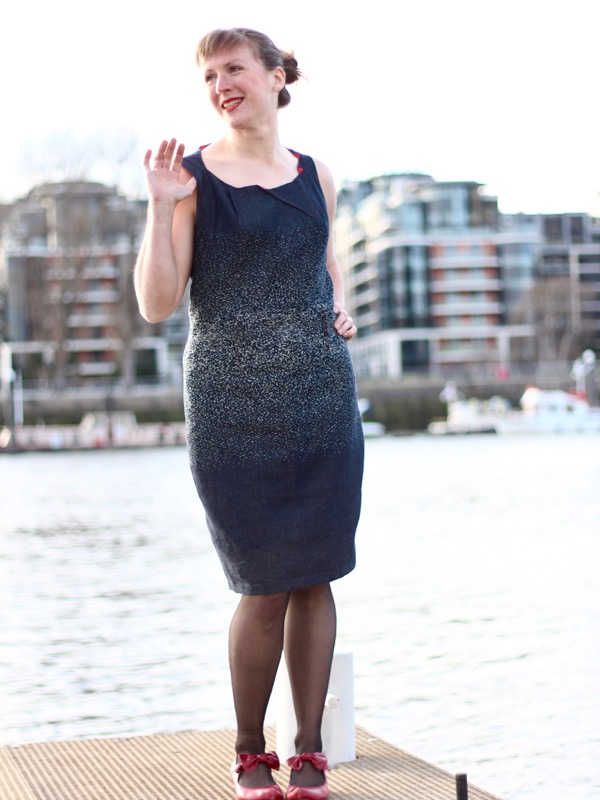 37th – This birthday sucked. I'd been continuously ill for three months, we spent six hours stuck in traffic and got turned away from the restaurant (no bookings). I couldn't even summon the enthusiasm to post about it, let alone make anything.
36th – A pair of jeans to take along for a week's trip to NYC, where they saw active duty in our intensive, immersive theater schedule

35th – A galaxy-print sheath dress, using a Manequim pattern and a purple exposed zipper.
34th – A satin Matthew Williamson designer dress, made with his pattern from BurdaStyle magazine and a rich, plum duchesse satin.

33rd – A leather iPad case, protecting a new gift against the rigours of a transatlantic work trip the following day.

32nd – Manequim silk blouse: still being worn and loved many years later!

31st – LMB draped birthday dress in teal silk jersey:

30th – Green silk birthday dress using a Burda magazine pattern a emerald green silk satin:

29th – A bolero and jeans, on which I put the outline of the Thames on the back pockets, and lined the bolero with some vintage apron fabric from my Granny:

28th – I was homeless and living out of a suitcase in my boyfriend's parents' house, watching the Shipping Forecast every single day, hoping for good weather to sail our boat across the North Sea. My sewing machine was in storage, so I couldn't make a new outfit, and frankly, ALL I wanted was for our boat to arrive. And it did, on the evening of my birthday.
27th – New Look 6429 in a fun sparkly knit from Walthamstow Market (and then about three days later decided to lose all that excess weight for good!).

26th – (probably the first year I was really into sewing) my favourite vest pattern with a red vinyl square neckband:

Does anyone else share the same birthday sewing tradition?