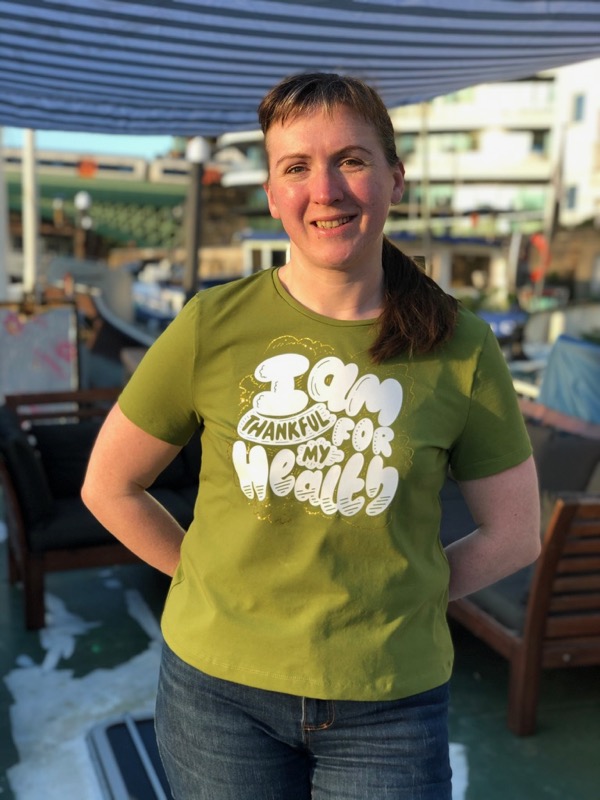 These are weird times. Apart from my birthday dress, I've really only been sewing face masks for myself, J, family and neighbours and even though I've got loads of lovely fabrics paired with specific patterns that are ready to go, I haven't actually felt like sewing them. For me, most of the joy of sewing is in the making itself, but I'd be lying if I said there wasn't enjoyment in the wearing it for others to admire, too. Without that component, on top of my usual routine being upended for the past 3.5 weeks, it's just not been easy to get into the right mindset to create.
By go-to for times when I'm in a funk is to sew a "quick knit top", which, for the past few years has meant a teeshirt using the "Loose Fitting Top Block" from my Sew Your Own Activewear book (my go-to teeshirt pattern). So I grabbed some cotton-lycra jersey from Ditto Fabrics in the most perfectly "me" shade of olive green from my stash, and did some cathartic sewing early on in March.
Due to some beneficial fabric Tetris, though, I was able to cut the sleeves longer than usual, but I wasn't sure if I actually wanted them to be longer, or if it was better to cut them back to the shorter, traditional teeshirt length.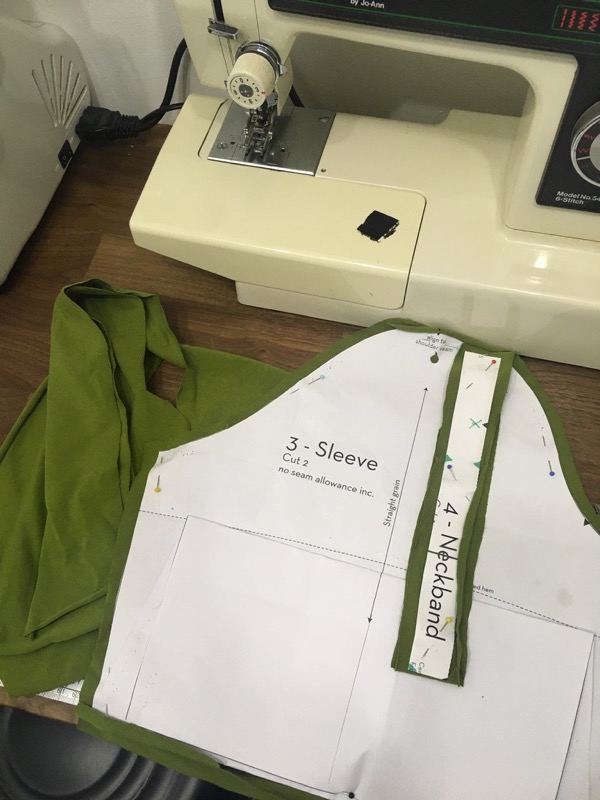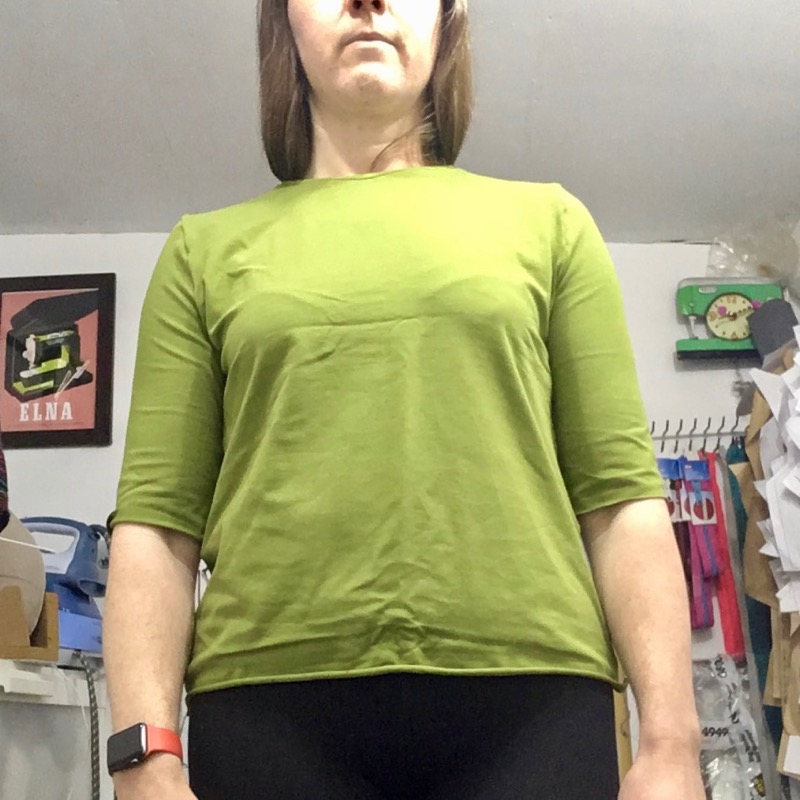 So I sewed them as usual until I got up to the hemming stage, tried it on, and evaluated my selfie. This revealed to me that I preferred them short, so I cut them back, hemmed the sleeves and bottom, and that was that. Ready for wearing…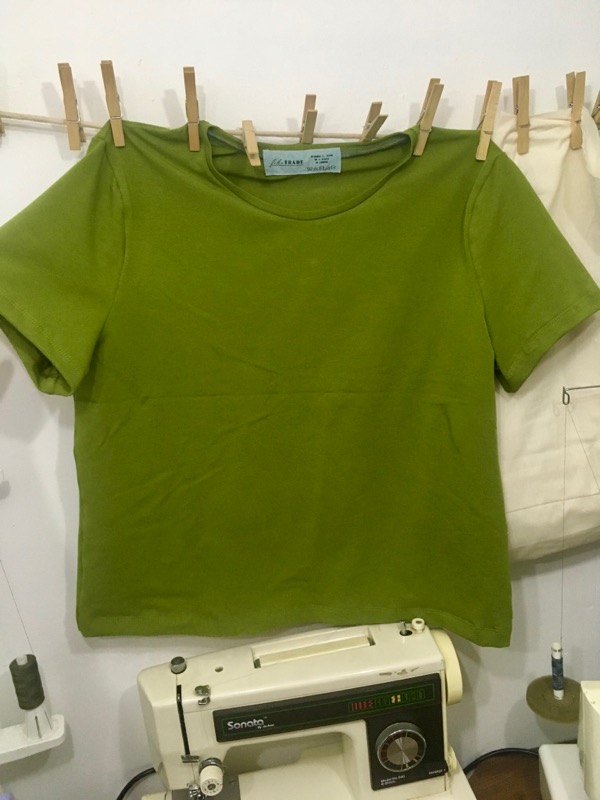 …except it wasn't. I was pleased with the finished, hemmed teeshirt, but with everything going on in the world, I felt it needed… something
Enter my friend and graphic artist Harkiran Kalsi (whom you may recall from our "Role Models" Print Club a few years back). She's been doing a series of posts on on Instagram during this crisis stating all the things she's thankful for, and I just loved the positive energy of this! I approached her (virtually, of course!) asking if I could purchase a one-time use, personal license for the vector of her "I am thankful for my health" design so I could print it on my teeshirt, and she obliged. Hurrah!
So with the vector loaded into Illustrator, I dusted off my Silhouette cutting machine and set to work planning which colours of vinyl from my stash I would use for the design against the green of the shirt. I ultimately decided to cut the main text in white heat set vinyl, and the detail bits cut from gold glitter heat set vinyl. (As an aside, I'm such a cheapskate with my vinyl that I cram lots of smaller designs around the edges to use up every bit of space. These are often little emojis which I then keep on hand to iron-on to the insides of garments when a label might scratch, or to show which way is up on a mask, or just to add some fun to a sleeve.)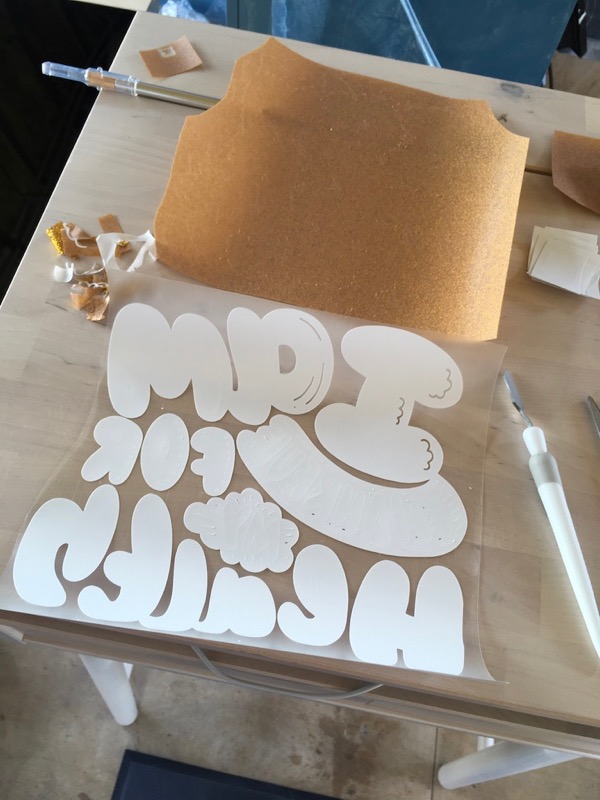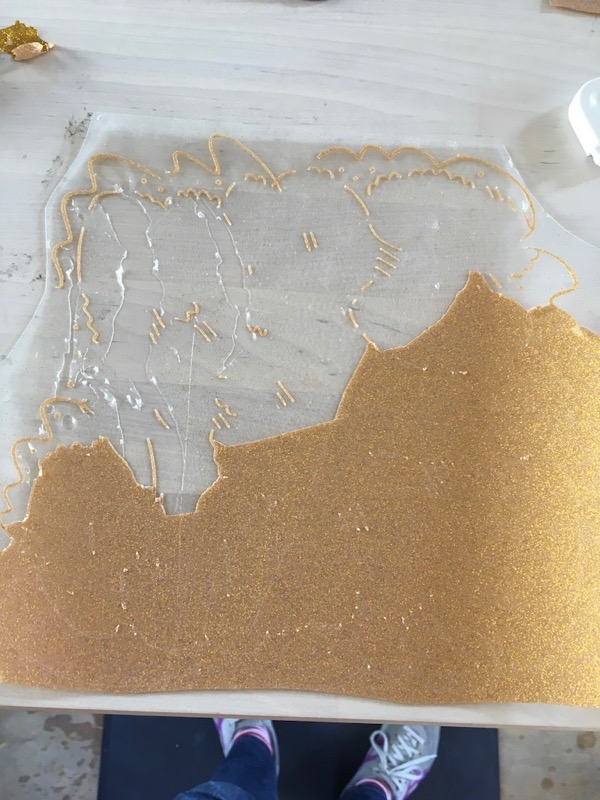 The gold glitter took forever to weed ("weeding" is the term used when you unpick the negative space around your design, and can be either tedious or meditative depending on your outlook) and it was particularly sticky, too. Thankfully the white heat set vinyl was a dream to cut, weed, and iron-on easily so I am SO going to be buying the black from the same Amazon seller when my random variety pack runs out!
I've had my machine for a few years, but this was my first time attempting to use two different colours and aligning them later. The only thing is, when I went to line up the cut and weeded sheets, I realised I made a total beginner mistake and resized them both to be 8in in the Silhouette software, when the gold details should've been bigger (next time I'll scale by %!). D'oh! So I ended up having to cut up all the gold glitter bits and place them individually around the text to make it all fit.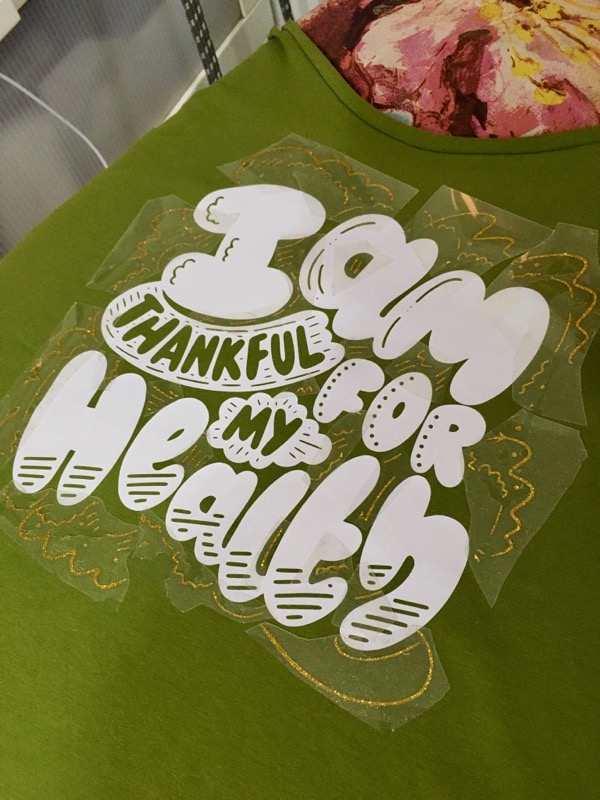 But I am over the moon with how it turned out! The gold glitter just makes it pop in a way it wouldn't have with just the white lettering, and I think Harky is going to scream when she finally gets to see it in real life.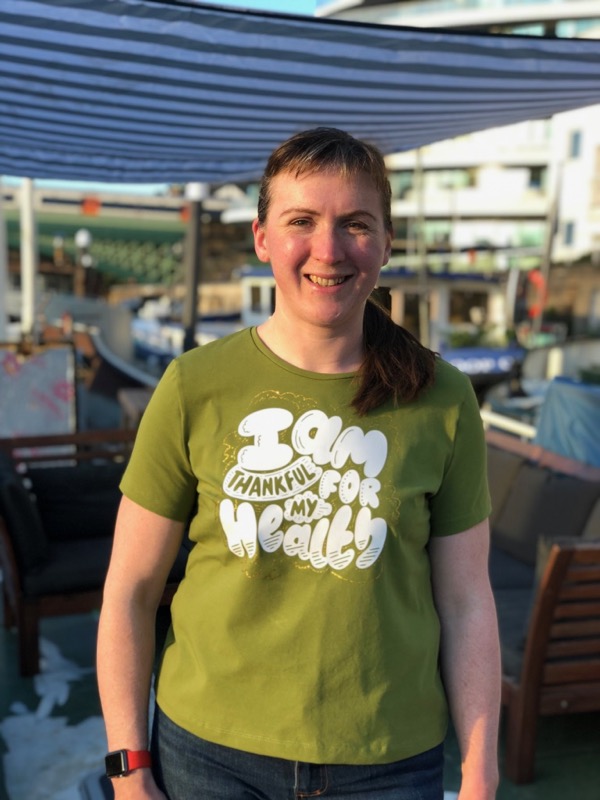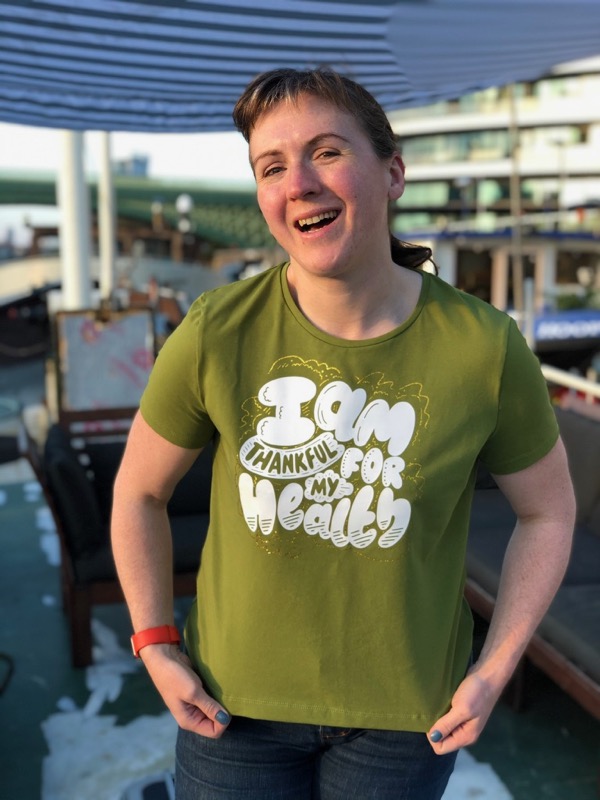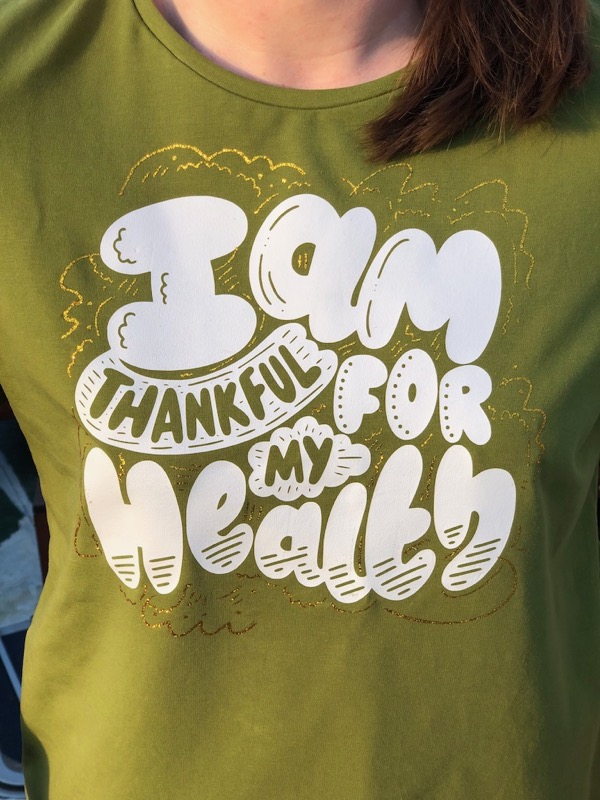 The gold really catches the sun, doesn't it!? It's not the most legible vinyl for lettering (as I found out with some smaller motifs I cut around the edges), but for accents like this it couldn't be better!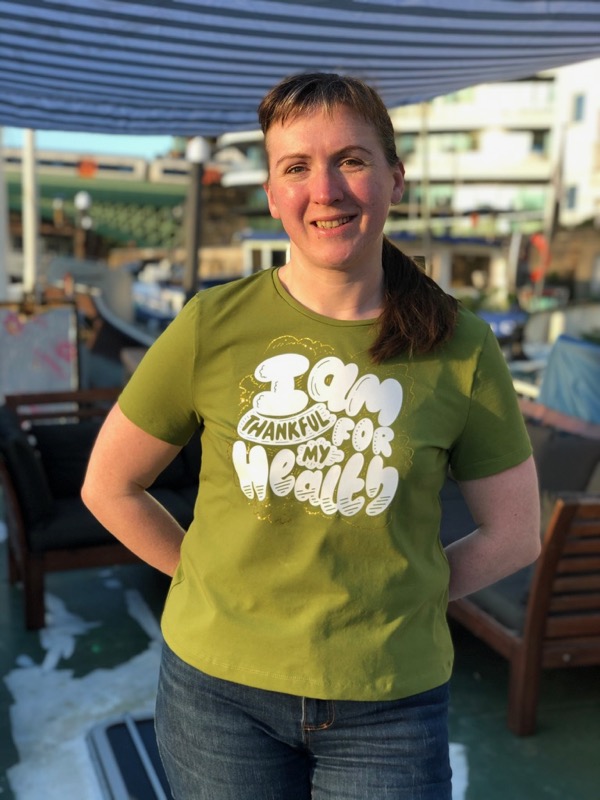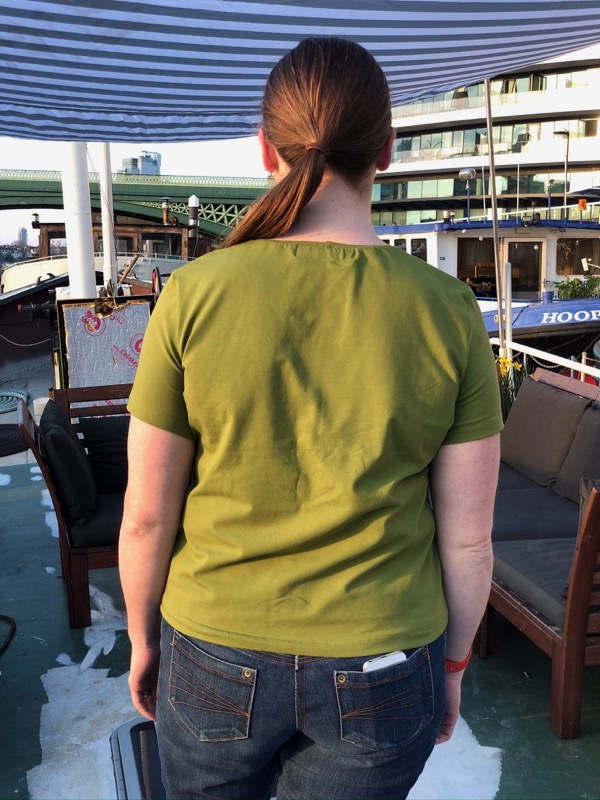 I am really pleased with the way this shirt ended up – it allowed me to express my own gratitude for my health right now, resulting in a shirt I love to wear PLUS it helped my artist friend out financially while giving her a bit more exposure to such a wonderful, positive project.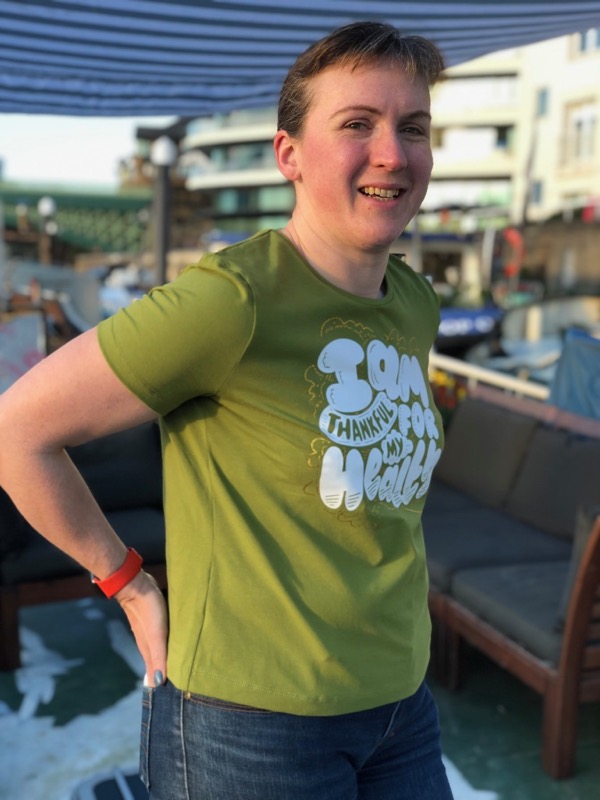 What are YOU thankful for right now?