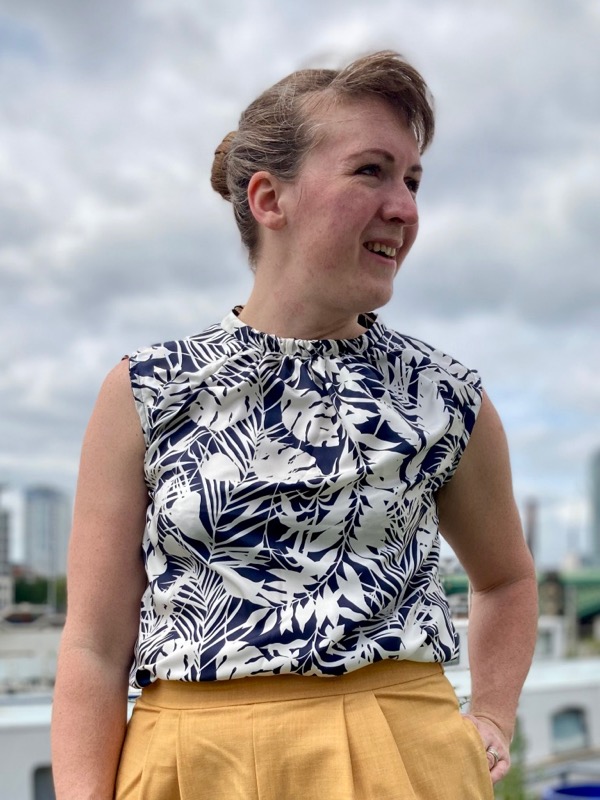 You saw a peek of this in Monday's post about my mustard wool shorts, but today I can tell you all about this sleeveless blouse.
The pattern is No115 from the May 2020 Burda magazine and is available to purchase as a pdf here. This was a real standout for me from this issue and I knew right away that I'd be sewing it up – it has a distinctive gathered front neckline with no shoulder seams and it only requires 1m of fabric as a bonus, yay! And frankly I love anything with a cutaway shoulder…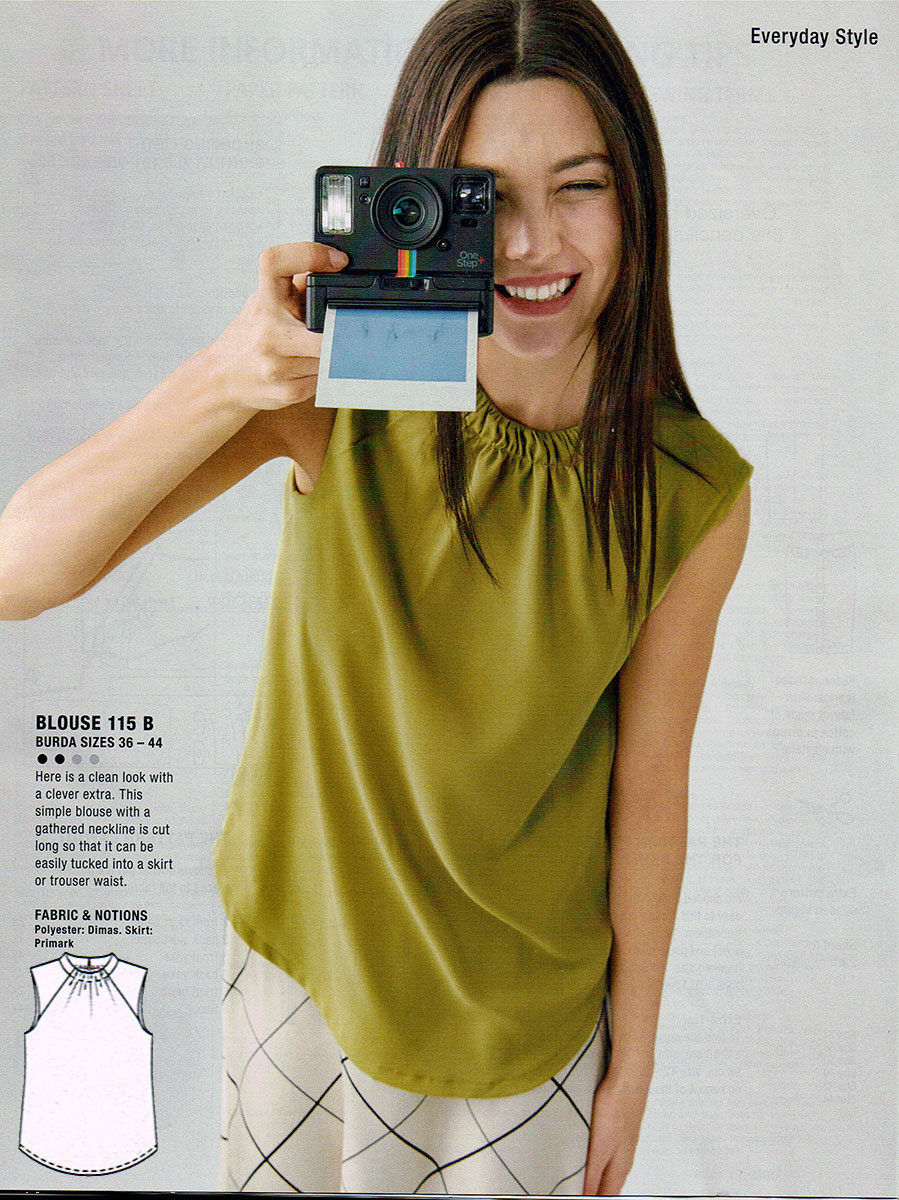 This monochrome foliage print silk twill has been in my stash for a long time, and I know it was a gift from a fellow sewist but I cannot for the life of me remember who (so sorry! Please speak up in the comments if it was you!). It's a quality silk in a very "me" print so of course I've been hoarding it for the right project…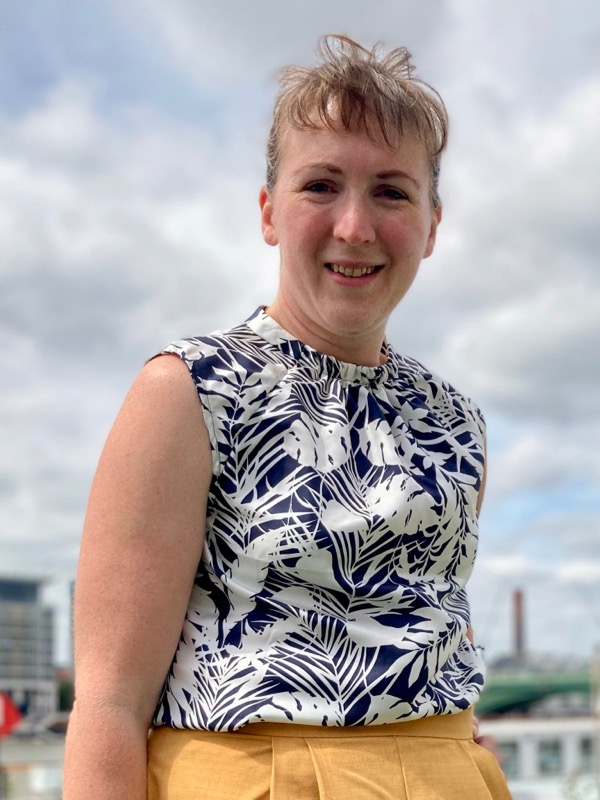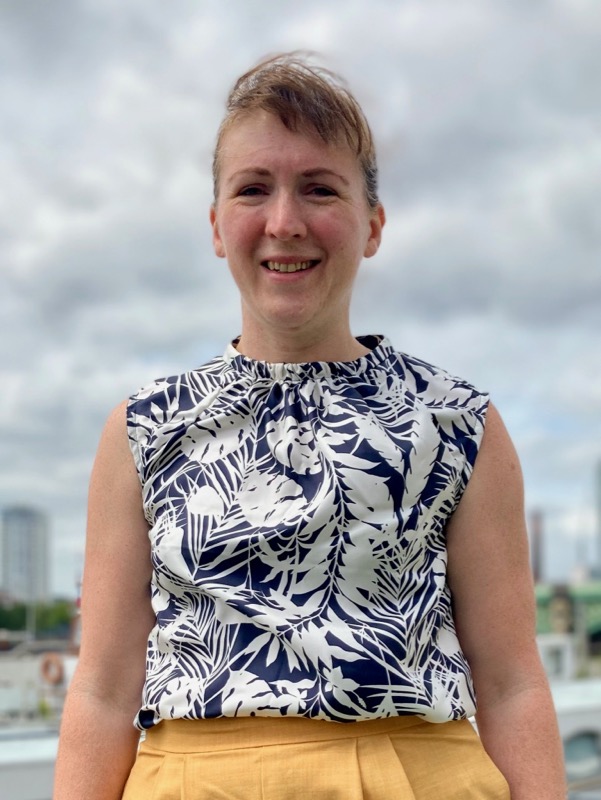 As is usual with silk, this fabric demanded French seams throughout so this Kylie & the Machine label seemed appropriate!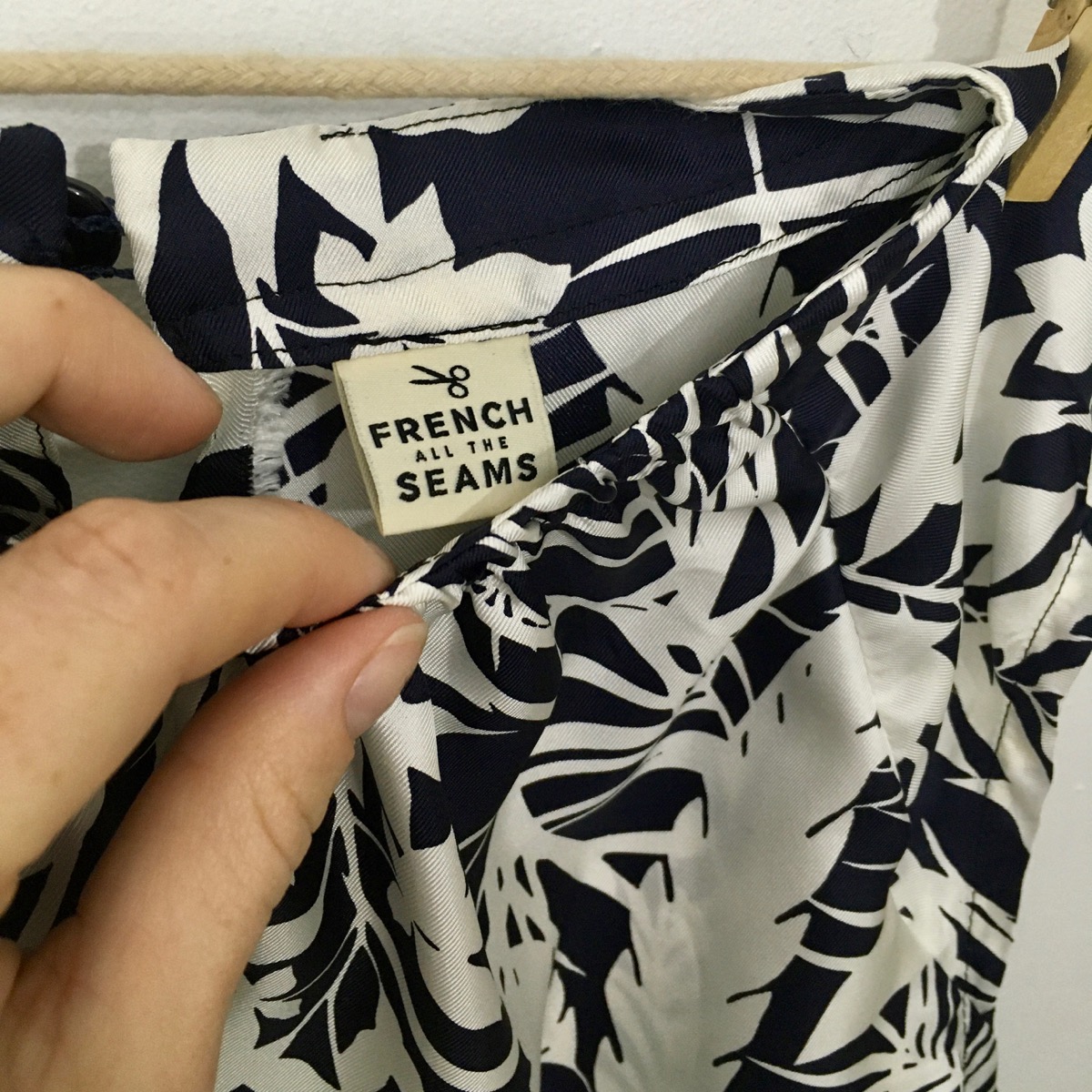 I ended up getting the neckband a little too narrow though thanks to doing French seams where I didn't need to on the first neckline seam (they're encapsulated with the facing topstitching later so could've been left raw), but I think I styled it out okay. The neckline really is the star of this blouse and I love the gathered neckband detail and that the back is extended and wraps around to form faux-raglan seams in the front with no seams on the top of the shoulders.
The back is pretty plain apart from a center back seam with a slit and button at the back neck. I had a browse through my button stash and thought this black and faux diamante button seemed like a good match.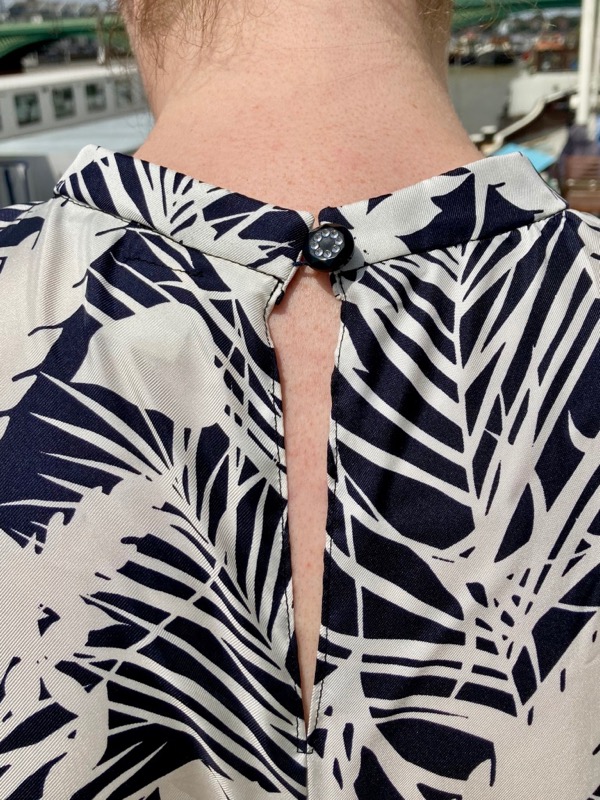 Despite the unorthodox neckline construction, Burda's instructions actually weren't too bad with this one! It wasn't even one of the illustrated ones this issue, either, and it ended up fine.
The overall fit of this is quite generously sized throughout the body, but I think that's pretty apparent in the modelled shots in the magazine. I think it would be great for tucking into skirts or slim trousers post-lockdown for officewear, too.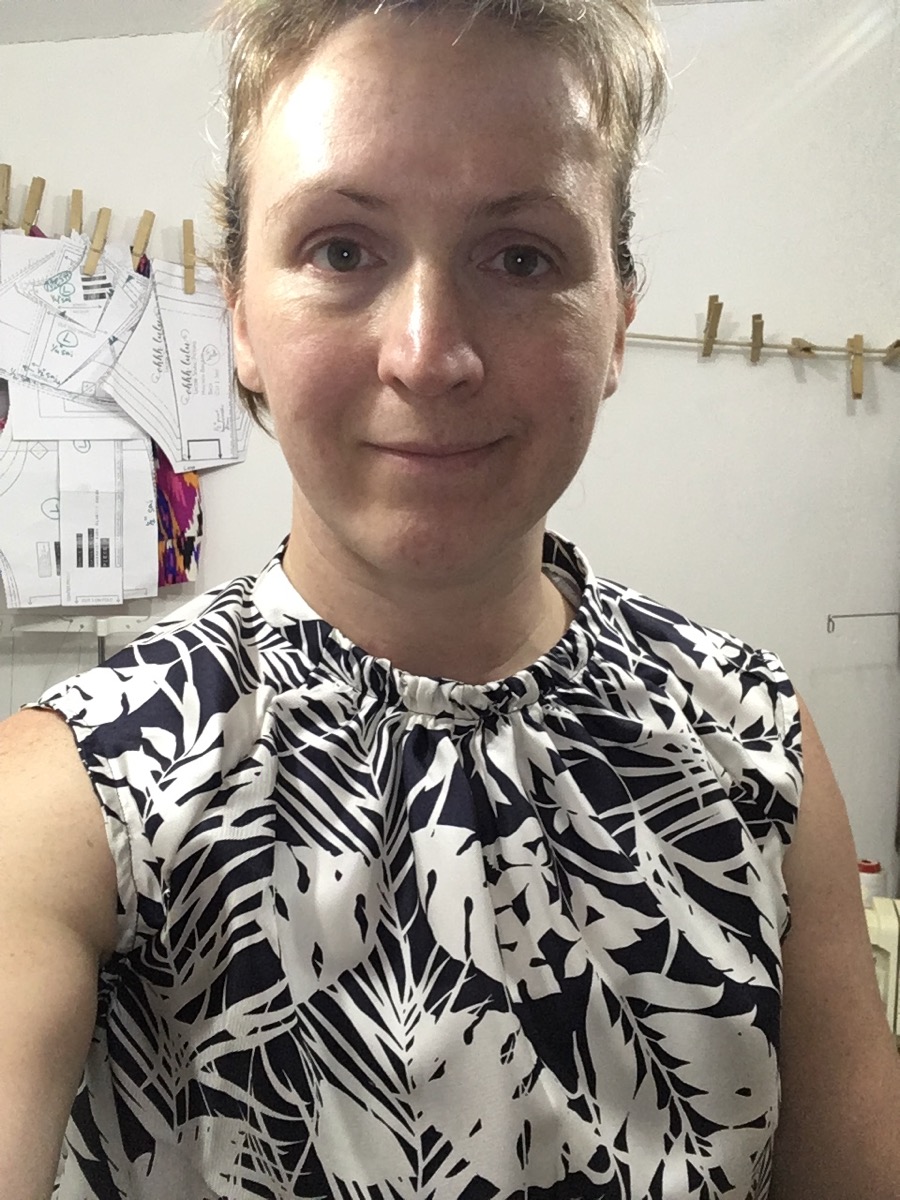 Casual selfie just after I finished sewing this in (checks calendar…) May!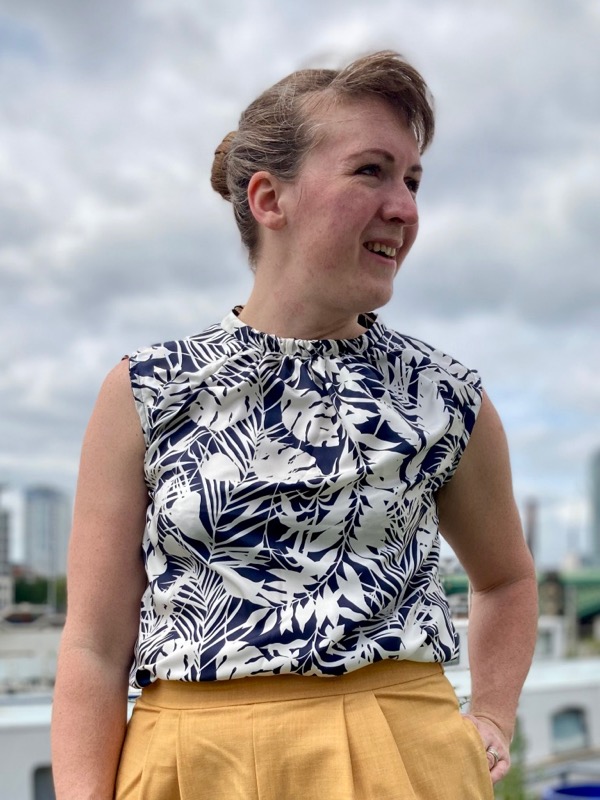 It's nice to finally be able to find a great pattern to pair up with beloved stash fabric, and I'm always happier to be wearing lovely fabric than storing it!