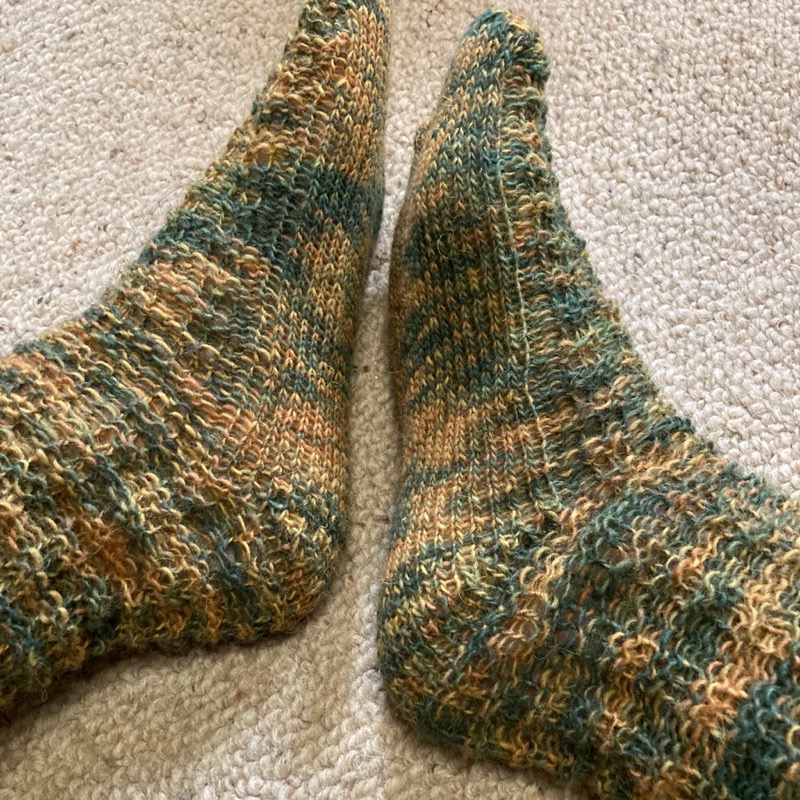 While the builders are working on renovating the main part of our boat, I've mostly been holed up in our small, self-contain captain's cabin meaning that I haven't been doing as much sewing as I normally would (for the dust, disruption and that I can't be anywhere near them for shielding reasons!). So I've been getting a lot of loom knitting done! If you don't know what loom knitting is, Google is your friend!
I love loom knitting socks in particular, and I'm normally pretty quick with them these days, but I actually cast these on in Oct 2019! Why so long? Well, mostly because I quickly paused them to work on my loom knit sweater. Once that was finished, I picked them up again and they came along as quickly as I'd expect for a nice and simple repeat.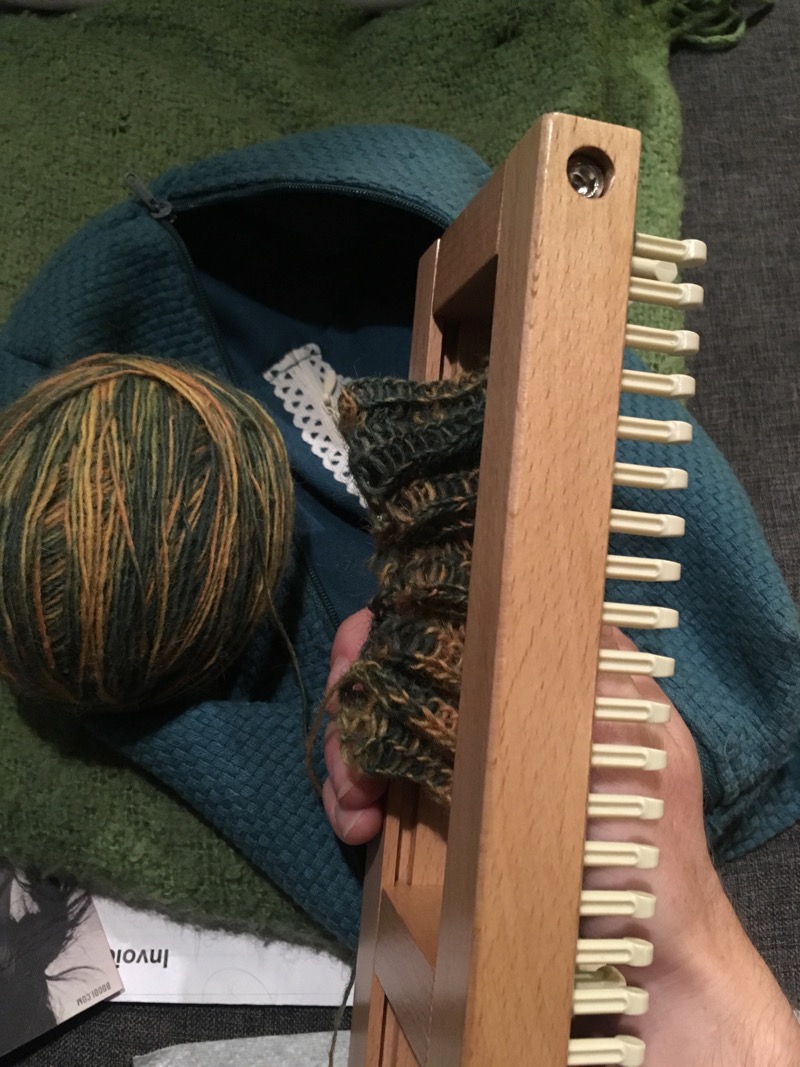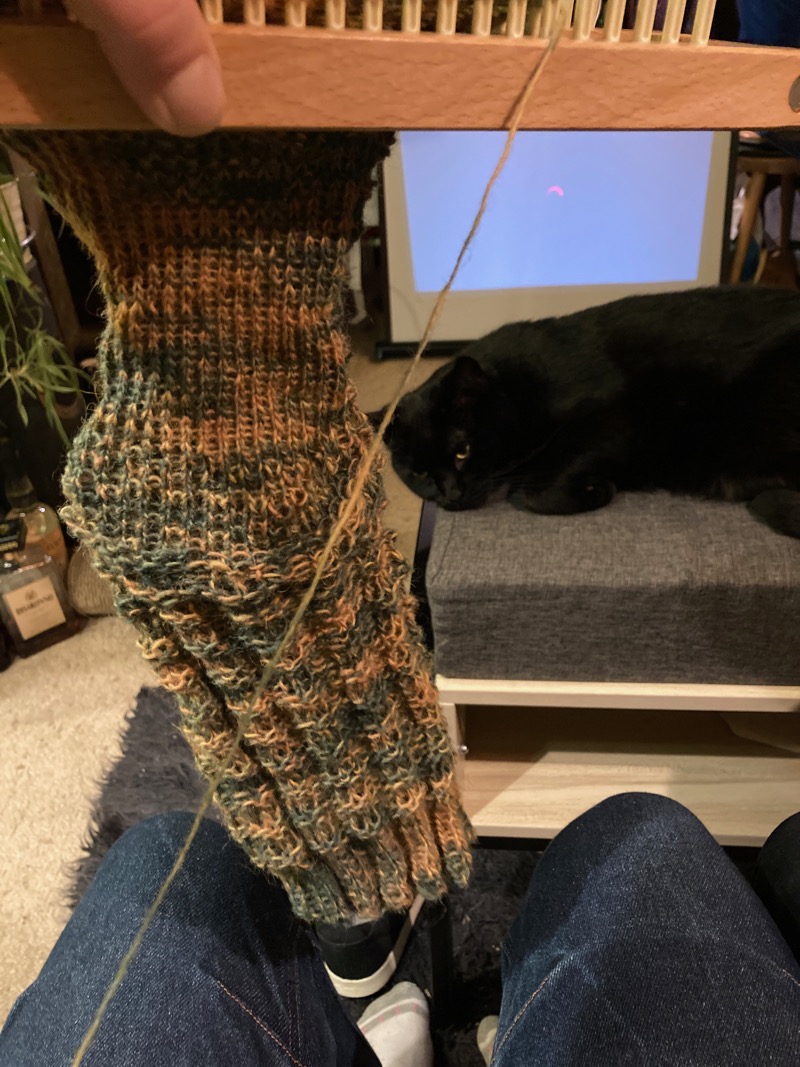 I made these using my favourite loom, the Kb Sock Loom 2, which is adjustable for different feet sizes. For these socks I used 44 pegs, which is about usual for socks for myself, give or take a few pegs for pattern repeats.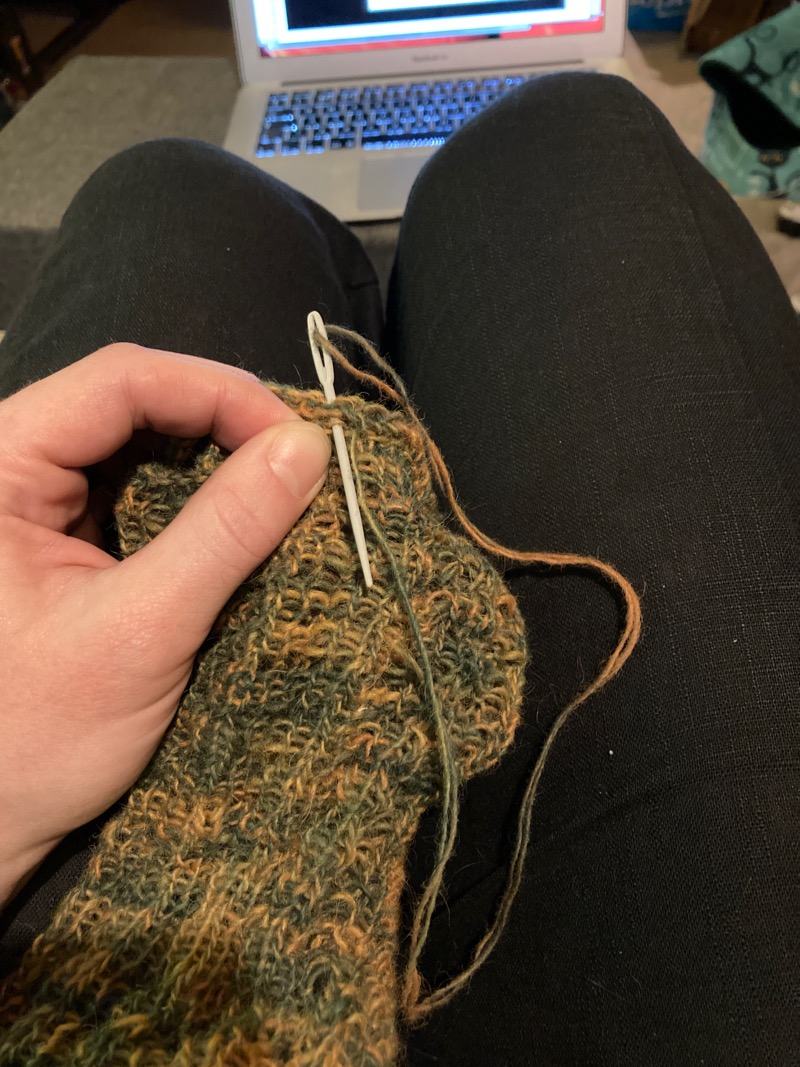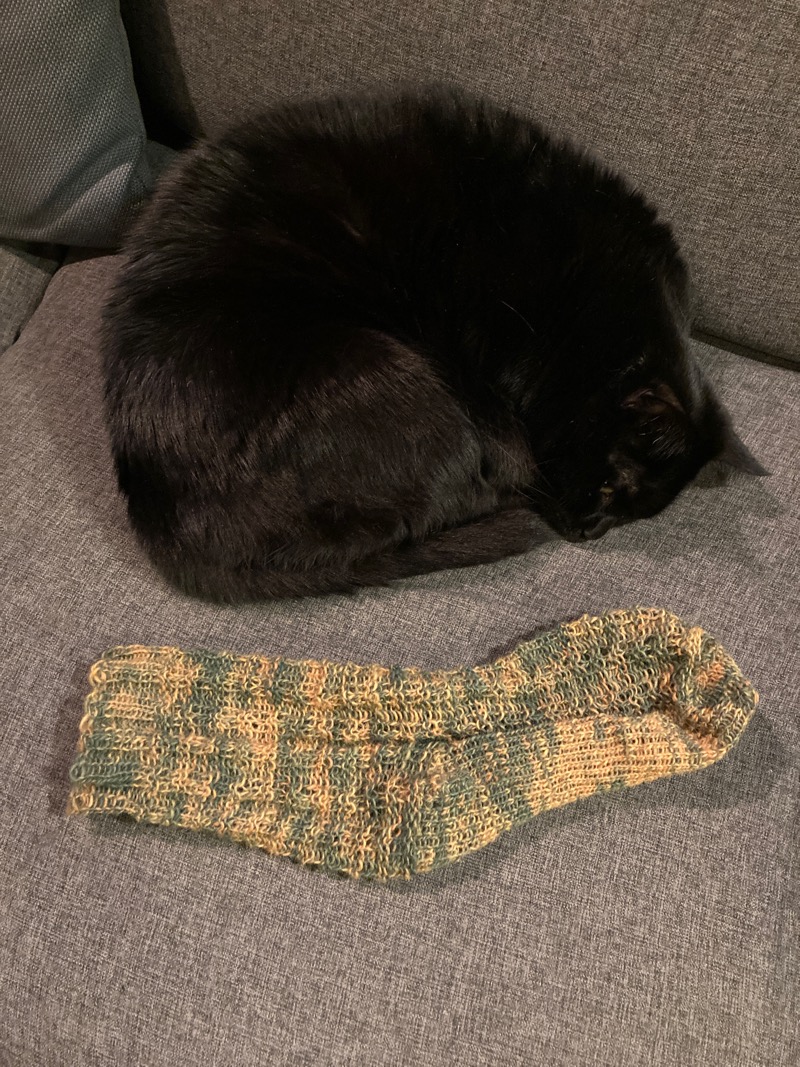 The yarn is quite special, it's Hespa brand, bought in Rekjavik when I went over to run a 10k there in 2018. It's made with natural dyes from native Icelandic plants, and I recall it being far more expensive than the Alafosloppi yarn I bought at the same time, but it was so special I wanted to make sure I used it well!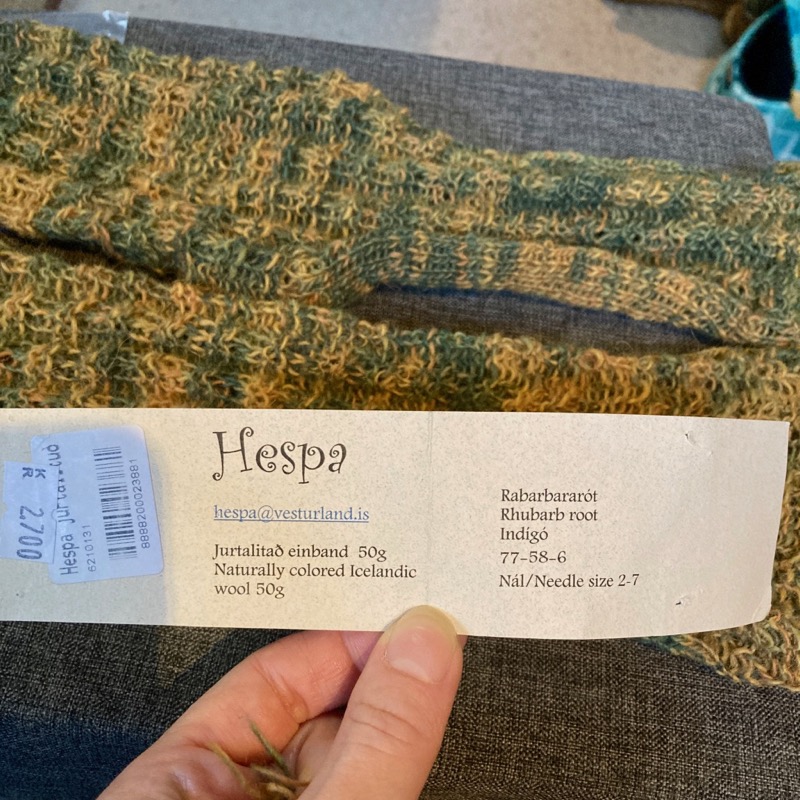 I used one of my favourite stitch patterns for these, the horizontal rib pattern (3 rows of K2 P2, then 2 rows of all purl).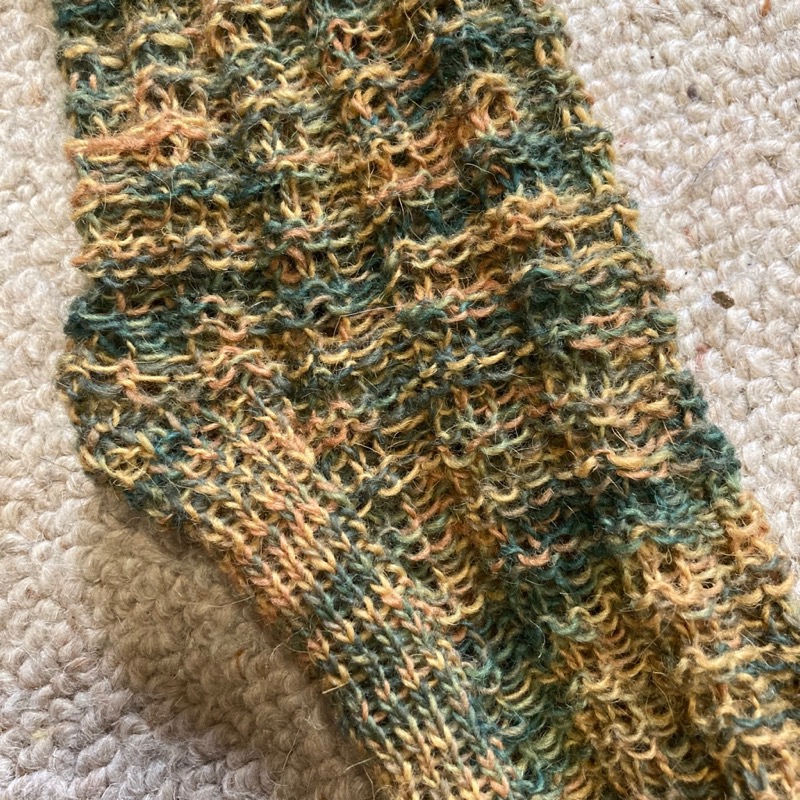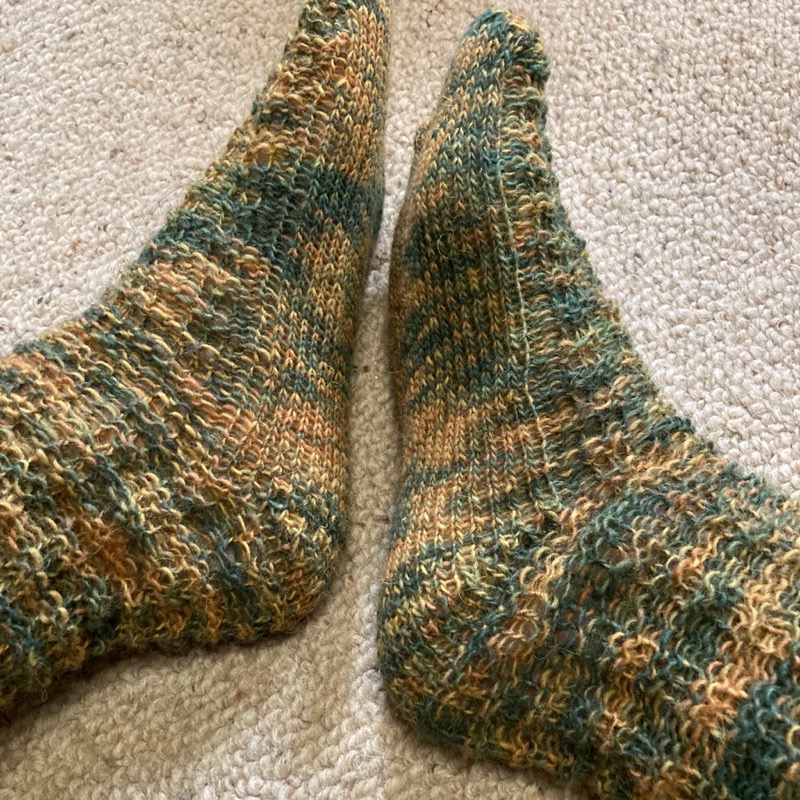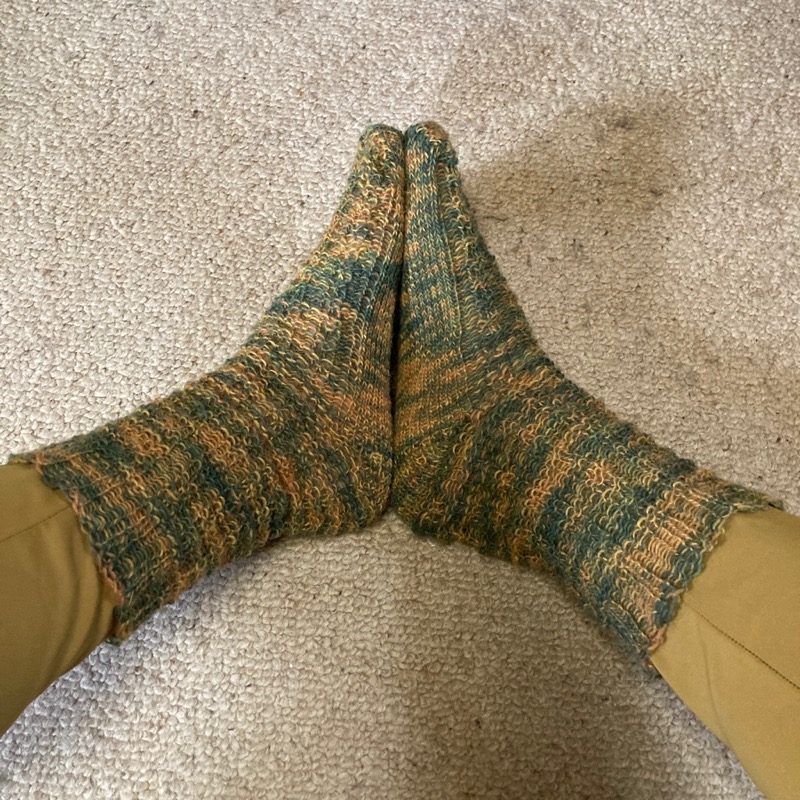 I used the Eye of Partridge stitch to add a bit of extra reinforcement to the heels. As with all my socks, I prefer to have the underside of the foot entirely in knit stitches since these feel less lumpy to me when worn – and I've been wearing my handmade socks a LOT during the pandemic!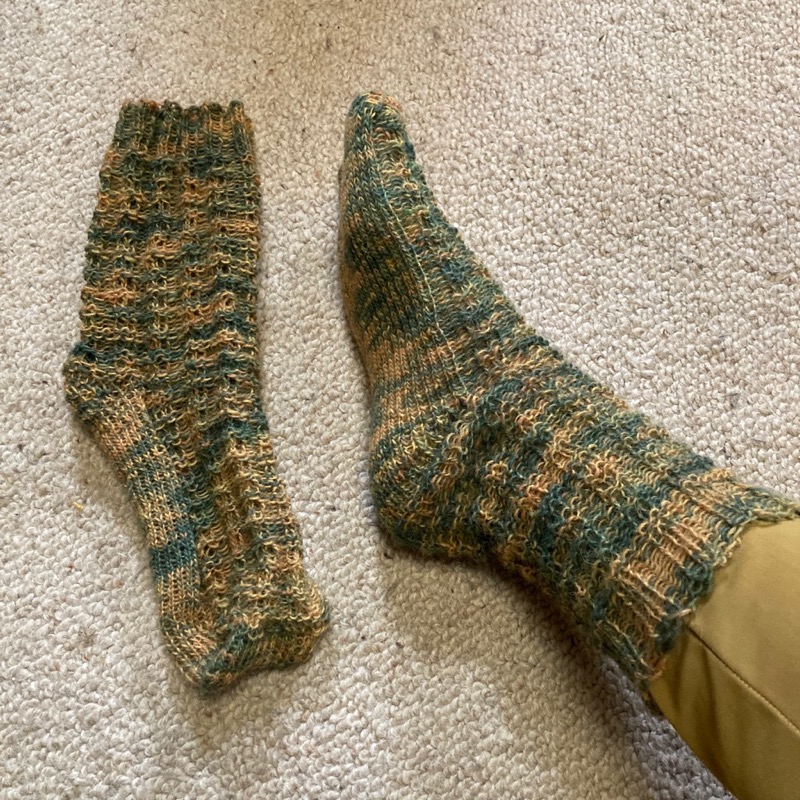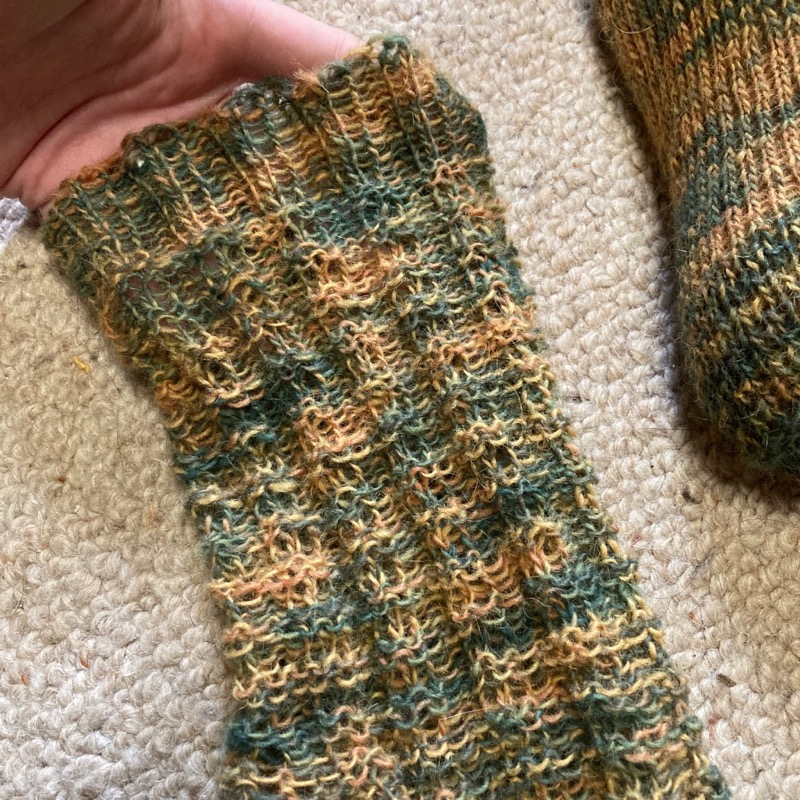 Despite the yarn being very fine, these are still very warm socks thanks to the wool, and the thinness of the yarn gives them an almost lace-like look. I'm very happy with these, and there's still a bit of yarn left so this might make a reappearance in another future project too.
Honeycomb socks!
As soon as I finished the Icelandic socks, I wanted to upskill a bit for my next project so I'm trying colourwork for the very first time! I've been wanting to try it for a few years and this seemed like the right time.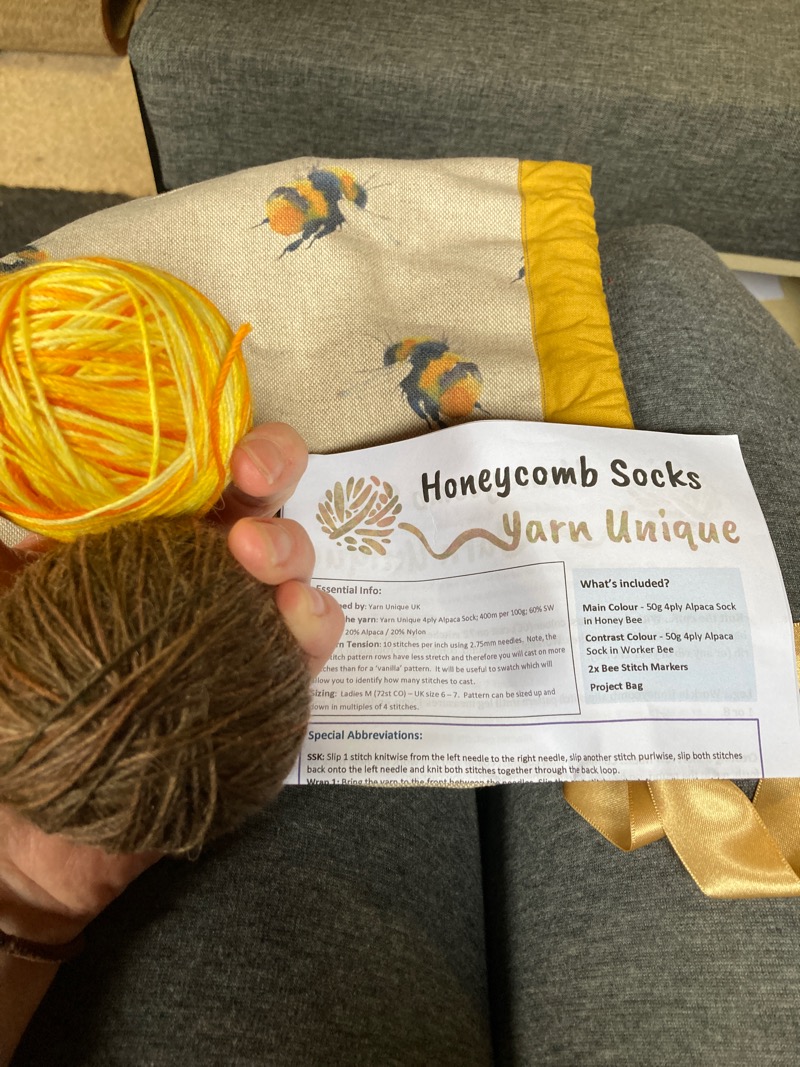 This yarn and pattern were a Christmas gift from my bestie (all in a lovely bee-themed project bag with bee stitch markers). The included sock pattern was of course written for traditional needle knitting, so I also got to test my skills at translating loom-for-needles. The instructions said to knit these a bit bigger than your usual size since the colourwork makes them less stretchy, which was news to me.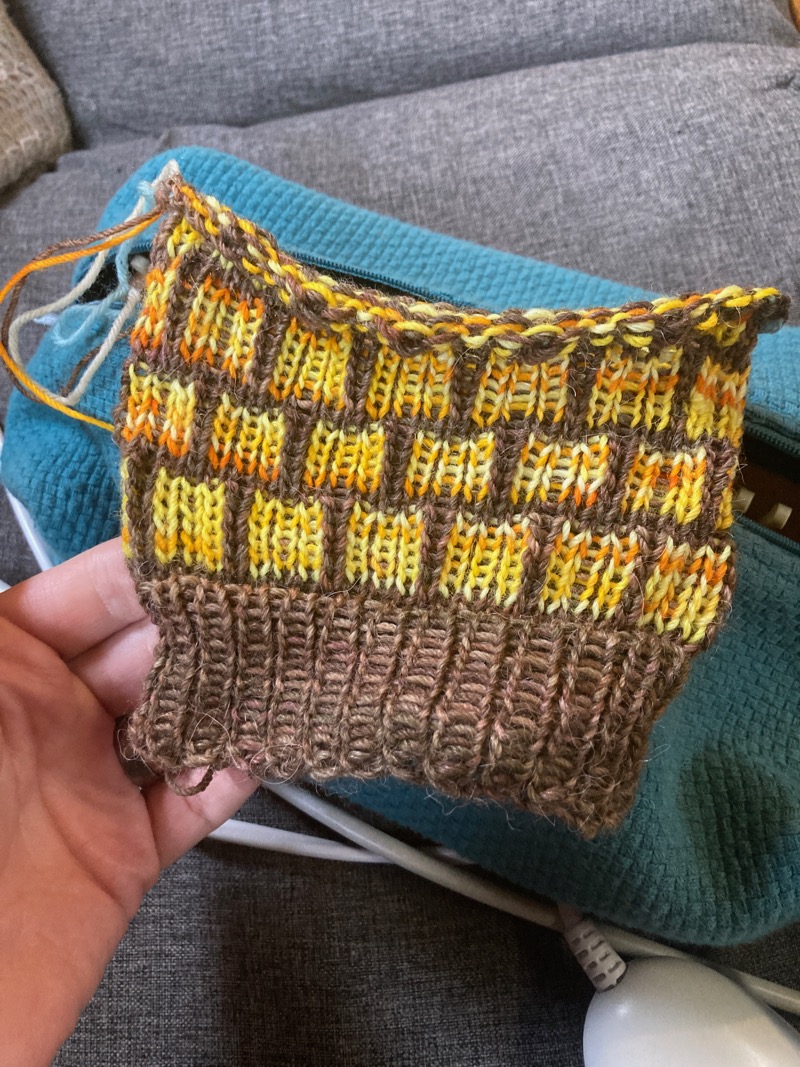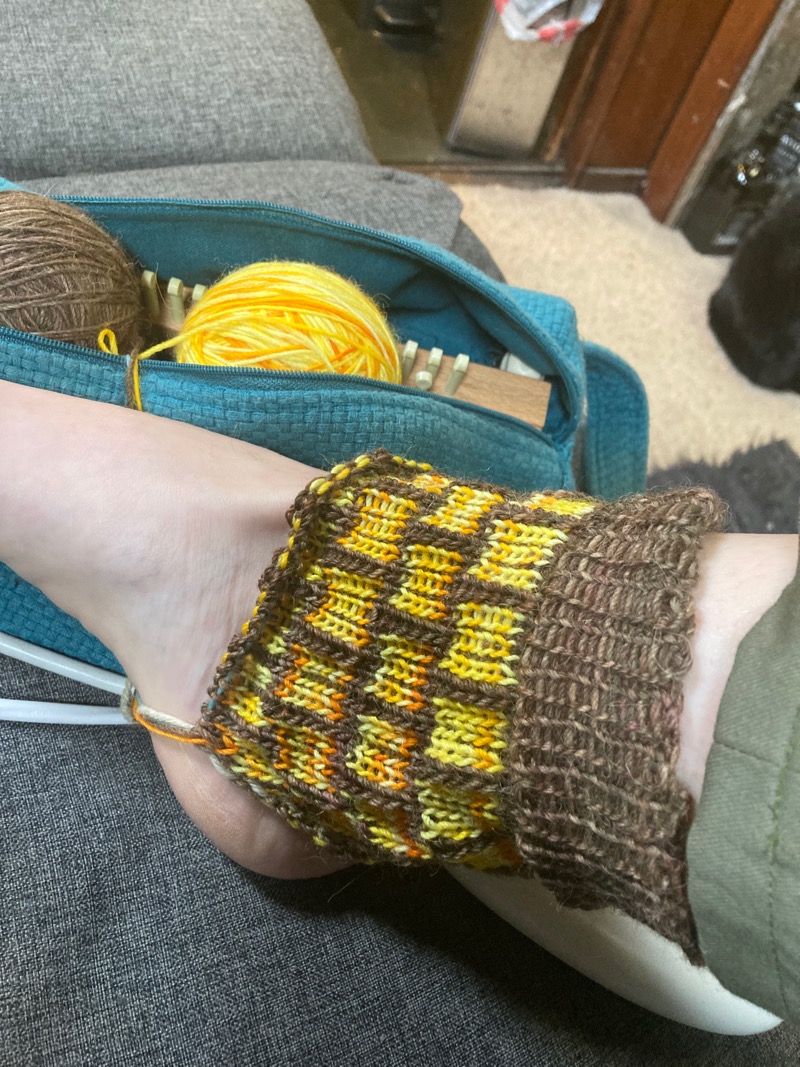 I cast on a test swatch with the mindset that I would check the sizing and practice twisting in between stitching to keep the floats (the lengths of yarn on the reverse) tidy and then unpick it all and start again if the sizing wasn't right or it looked too messy. I HATE unpicking knitting, so I found it helpful to tell myself that it was my intention to unpick it, which made it bearable.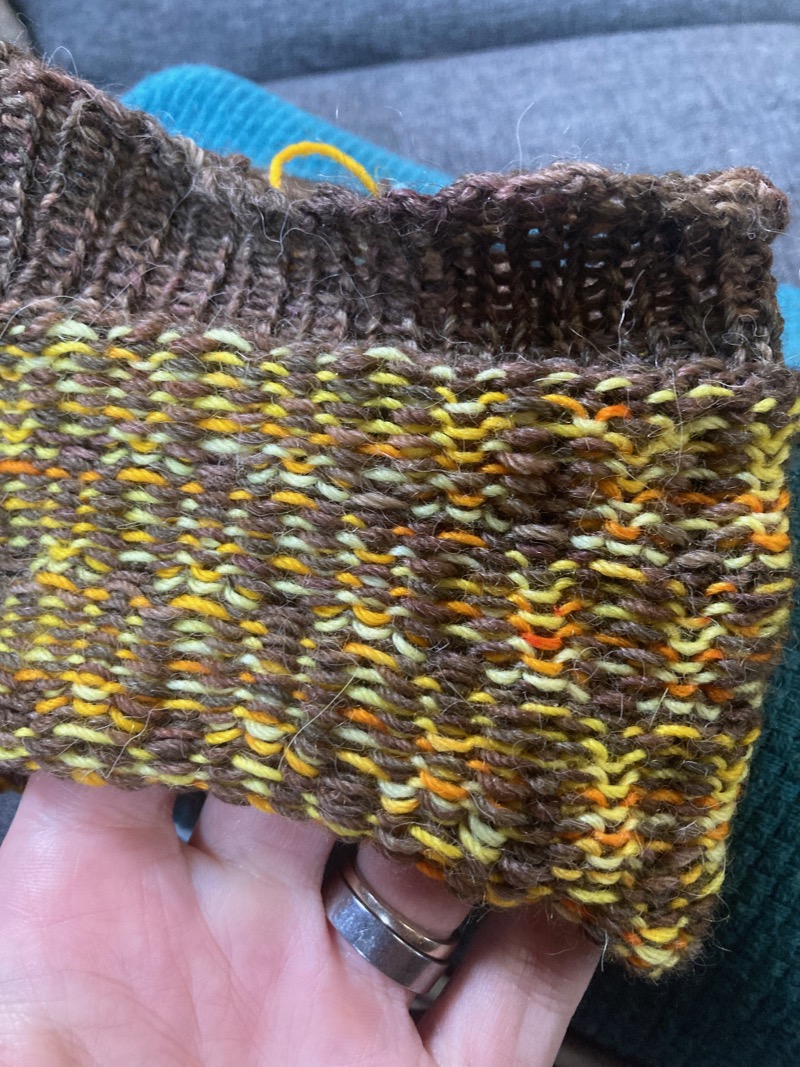 I watched a few YouTube videos about colourwork on the loom but I'm really pleased with how neat and tidy the reverse is! I'm definitely onto a winner here.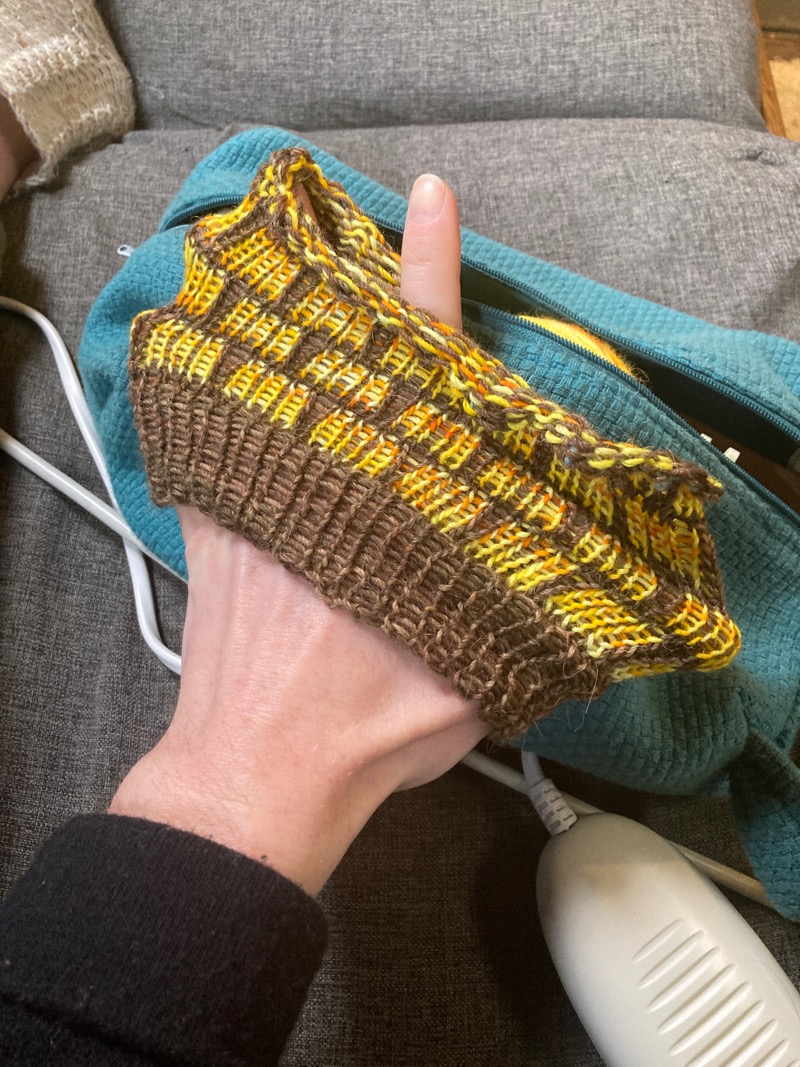 Apparently the lack of stretch is true for needle knitting but on the loom, these were PLENTY stretchy and therefore going up a few pegs in size (52 instead of 44) was completely unnecessary. So I unwound this test swatch, set my loom to my usual number of pegs for socks, and started again, safe in the knowledge that these would fit and the honeycomb pattern looked okay!
I'm happy to report that I'm already past the heel on my first sock so it shouldn't be(e) too long before I can show off these, too. 🐝