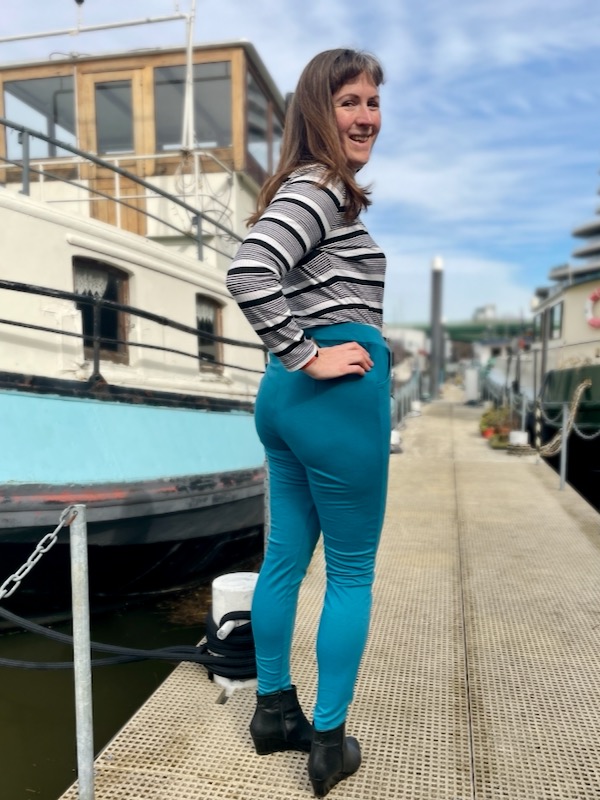 Even though we've been friends for years and I've followed her progress ever since she won that Threads magazine contest WAY back in the day, up until this point I'd never actually sewn one of Gertie's patterns before, even though I own her vintage casual book. I mean, how is that even possible?!! It's probably because I'm not really into wearing 1950s-era vintage styles, but I absolutely love her current 1960s beatnik speakeasy theme for her Patreon patterns! So I joined her Patreon to get this pattern and her Joan wiggle dress (also a knit and in my aesthetic), though it was a nice surprise to find out that you get access to all the previous patterns when you join, so even though you missed these, if you join now you can grab them.
When these slim-legged ponte trousers were released I immediately went and bought some kingfisher blue ponte from Like Sew Amazing specifically for them. I love sewing with ponte but I didn't really have any in my stash, and I figured this shade of blue would coordinate nicely with lots of tops in my wardrobe.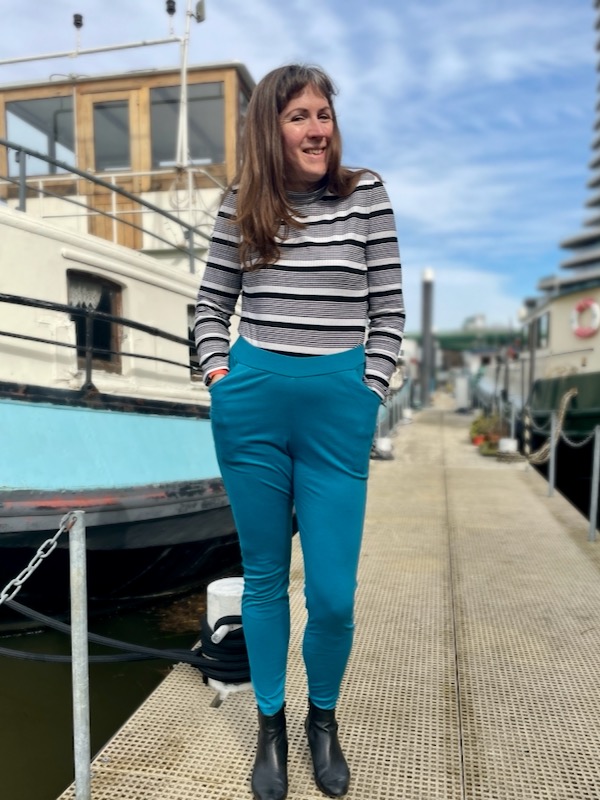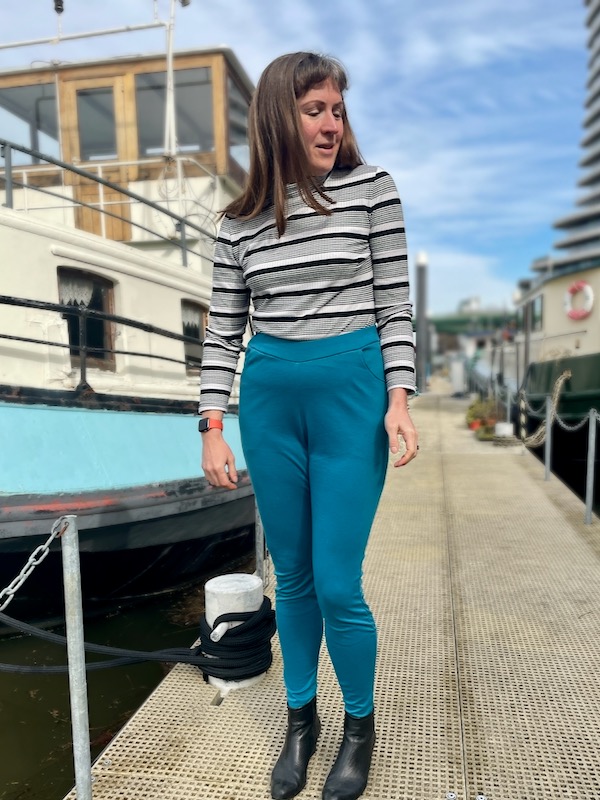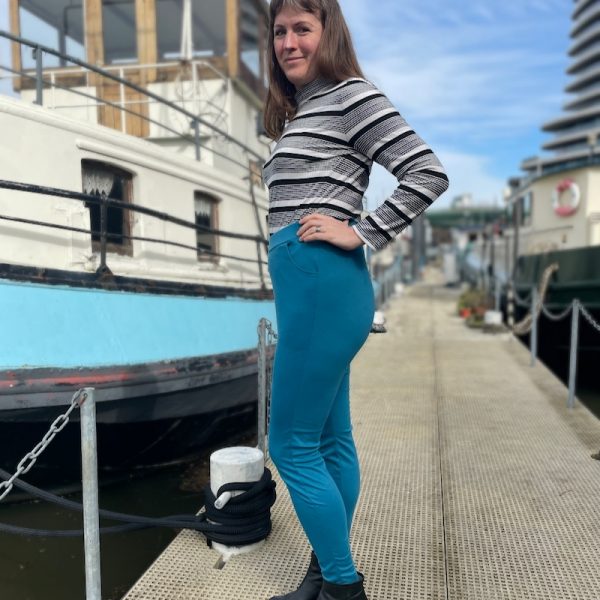 These trousers are really nicely drafted and you can tell a lot of thought went into them – in particular I love the stretch mesh pocket lining/stomach panel though mine wasn't really tight enough to be effective (If I make these again I'll remove a bit from the folded edge to make it tighter inside).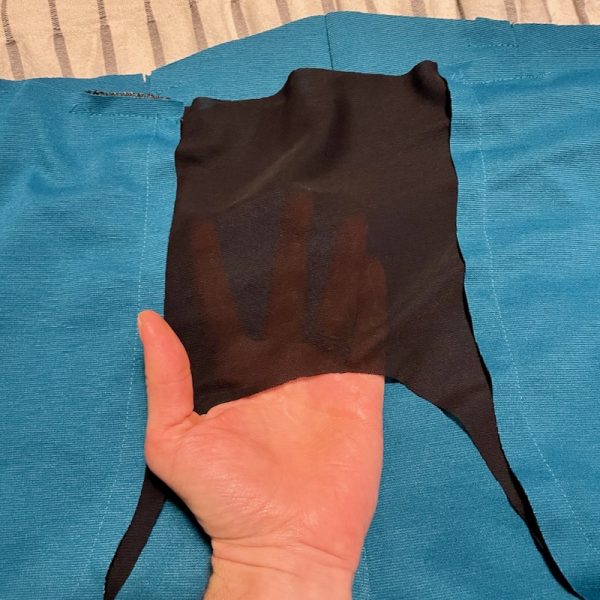 Along with not really having the vintage aesthetic, I also don't really have the vintage hourglass figure – in her size range I'm a size 12 in waist and 8 in hips, so I used size 8 from the hips down through the legs, too. The leg length was surprisingly fine on these (I usually have to lengthen trousers), but that was about the only aspect of the fit I didn't struggle with!
Before I even cut into my fabric, I compared my Pietra crotch curve (which is, in turn, a copy of my TNT jeans pattern) to these and changed the back crotch curve to be more L shaped to match. The front crotch curve looked fine so I left that as is. These days I tend to compare every trouser pattern's crotch curve to a TNT pattern of my own as I find it's a bit of a shortcut to getting a better crotch fit and certainly quicker than sewing up a muslin first. However, that was not really the case here, which I shall reveal…
Along with it being a new-to-me pattern company, I basted all the leg and crotch seams before overlocking and it's a good thing I did because I pinched SO much out at the knees and ankles to make them fit closer (like, 8cm out of the ankles!)! As drafted they were absolutely baggy on my legs and just looked so bad – not at all like the photos, which were closer to leggings than trousers. I must've pinched, pinned, and basted at least 3-4 times before I got the legs fitting closer to the way I wanted, even though this meant I created some drag lines at the knees.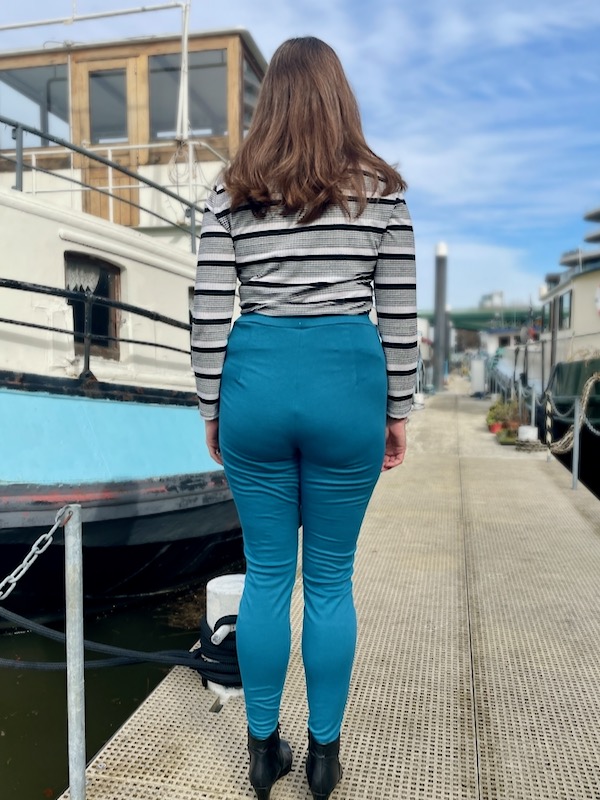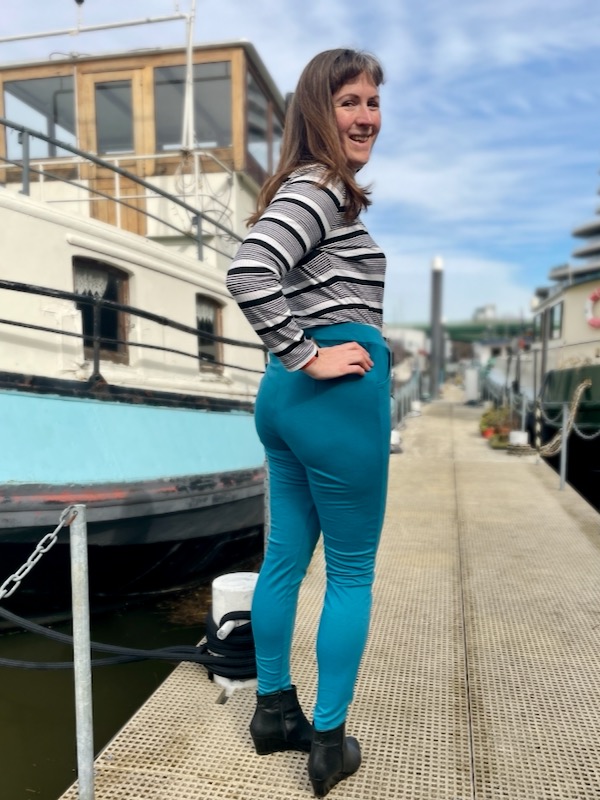 Another change I made to the pattern was to use 2cm (1in) elastic inside the waistband rather than the 4cm (2in) called for in the pattern instructions, because every time I've ever used wide elastic in a waistband I've regretted it later when it folds up on itself and feels really uncomfortable. I also managed to find a Kylie and the Machine label in my stash that is the exact shade as my fabric, which delighted me to no end (even though the "Nailed It!" sentiment ended up being rather ironic).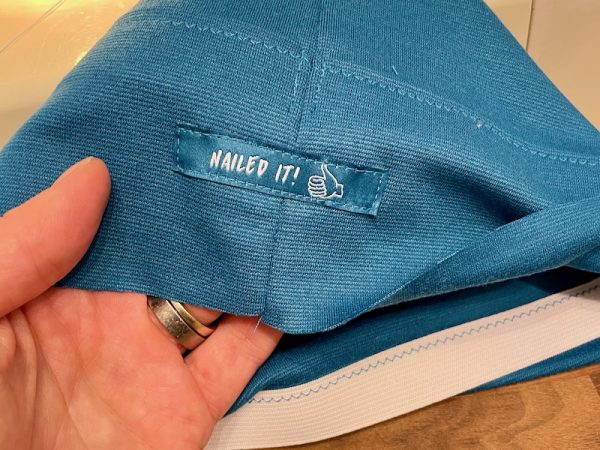 So, having completed sewing these, I packed them when we went away to Cornwall a few weeks ago, but when I went to wear them, I realised in horror that the front crotch folds were absolutely not something I was comfortable wearing in public! So they came back home unworn, where I cut the waistband off, evened out the weird pointiness of the CB that was causing folds(??) above my bum, and then pulled up the CF until the crotch folds disappeared. I thought this was at about 4cm (2in) so I basted a curved line down to that from the side seams and basted the waistband back on. But to my dismay, there were STILL crotch folds, arrrgh. So I unpicked the basting and lowered it a further 2cm (1in) and basted it again.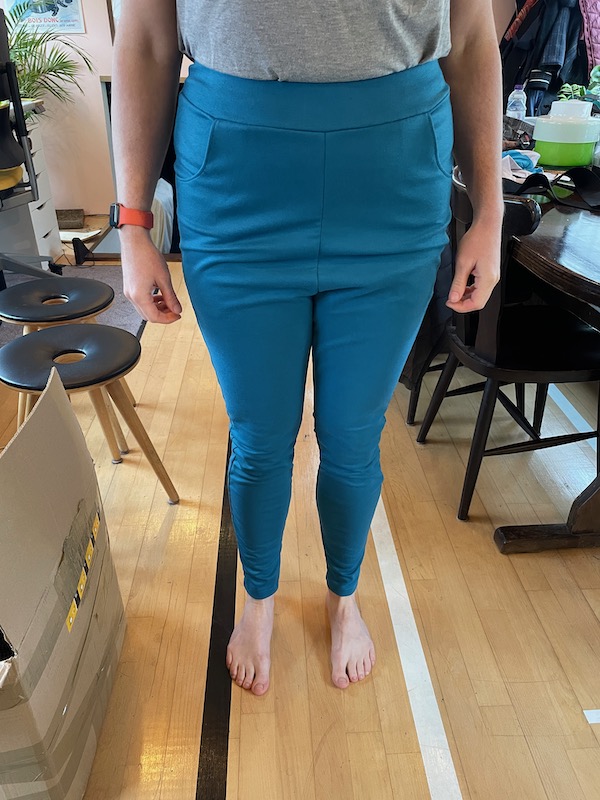 Long crotch is loooooooong…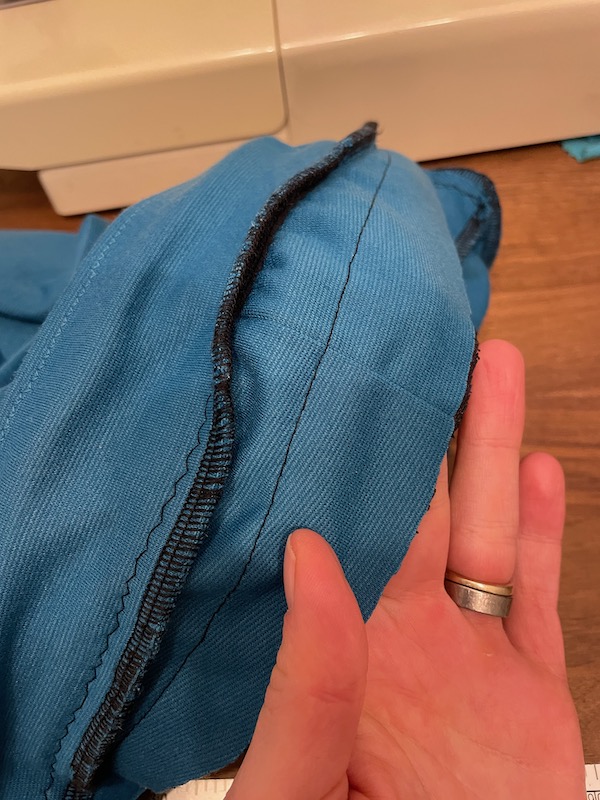 By this point I had already told myself that if there were still folds, I'd throw them in the bin and move on with my life, but they must've heard me because, miracle of miracles, the crotch looked okay. So I overlocked over my basting stitches to properly re-attach the waistband and called them done.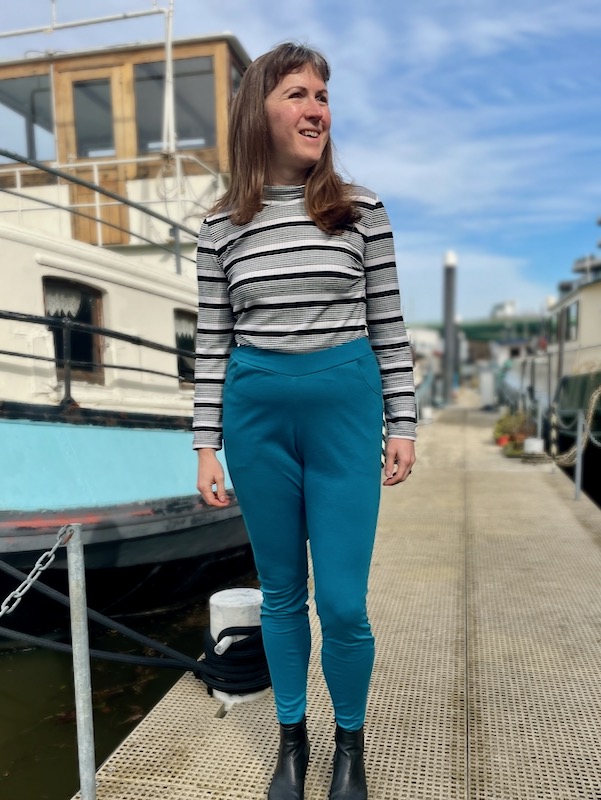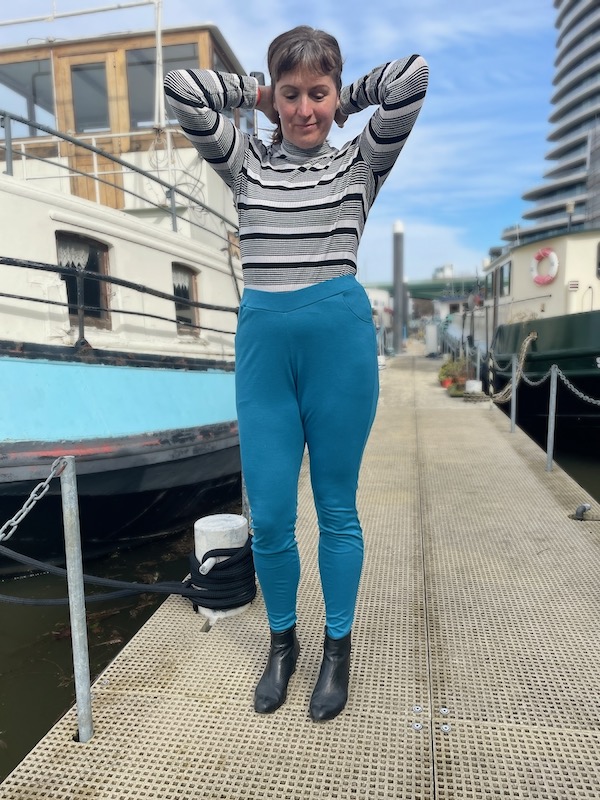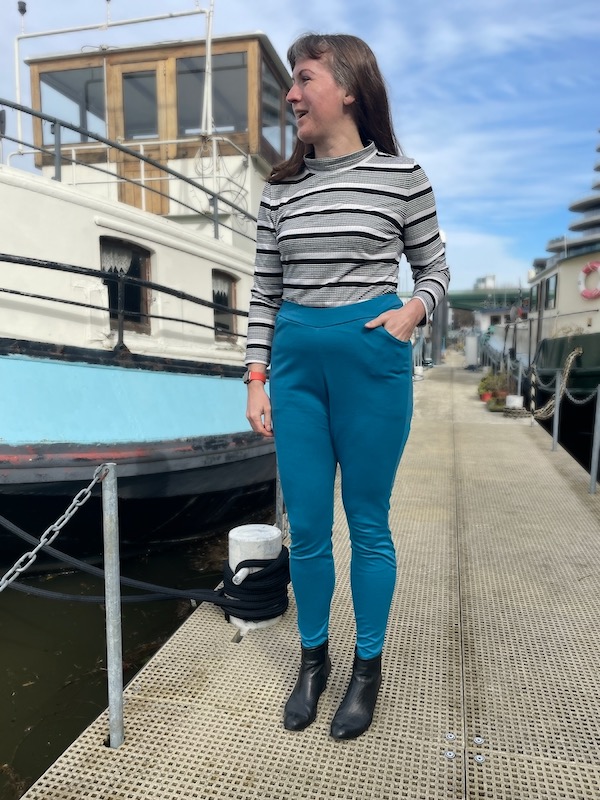 I honestly have no idea why the crotch is so unnaturally long on these – are they drafted for a gazelle? The waistband is at my natural waist (which is 1in higher than standard measurements, even, and still I had to remove so much, which I don't think I've ever done on another pattern. In fact, I usually have to lengthen trouser legs on patterns and I didn't on these (about the only thing I didn't have to adjust), so maybe this does point to them being drafted for the very tall (and I'm 5'8/172cm!). In the photos they've settled further down from my natural waist, closer to wear I'd naturally wear my trousers, and the waistband even dips down a bit in front, but believe me when I say that the crotch was way too long unless I took it this far. I'm d-o-n-e messing with these though so I'm not really all that interested in what else I could do tbh.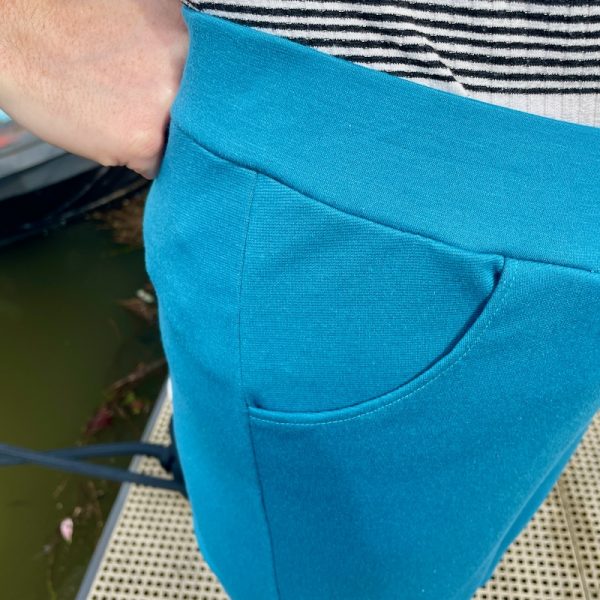 Let's be fair – I'm too scarred to sew these again but if I did, I'd make all of these above changes plus I'd remove about 2cm (1in) from the fold of the pocket mesh lining to do a bit more work. As it is, it's just kinda lying there rather than being stretched or holding anything in.
Still, despite their difficult birth, I adore the colour and the deep pockets and these are super comfortable and a great addition to my wardrobe as they'll go with so many solid colour tops I own! To quote the musical Hamilton, I feel like I've "snatched a stalemate from the jaws of defeat" here as at least I have something wearable, even if that is just for lounging around at home.
If you thought this put me off sewing another Gertie pattern for a while, then I've got news for you…