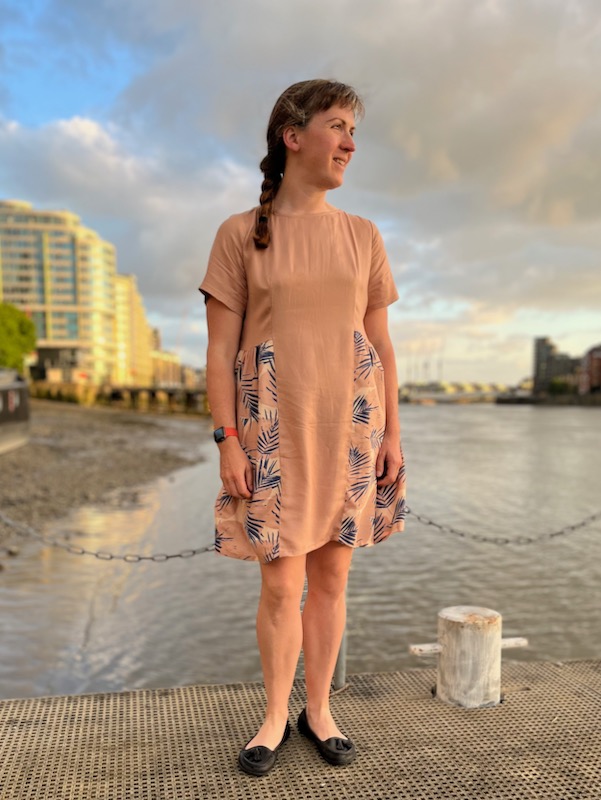 This dress has quite the long lead-time to being finished, and most of that time was spent hanging on the "hook of shame" where failures and UFOs go to shame me every time I walk into m sewing room until I fix them, repurpose the fabric, or bin them. You see, this pattern was really the only Burda magazine design that grabbed me enough to actually sew up last year, and what luck, it ended up being a rare Burda dud!
Not only did I actually trace and sew it, but I did so during the publication month, too! Burda 07-2021-120 (which I actually found online in the steaming mess that is their English site!) is a loose fitting dress in two lengths (I chose the shorter one) with short sleeves and a gathered, panel skirt (no side seams!) and a centre front panel with bust darts integrated into the panel seams.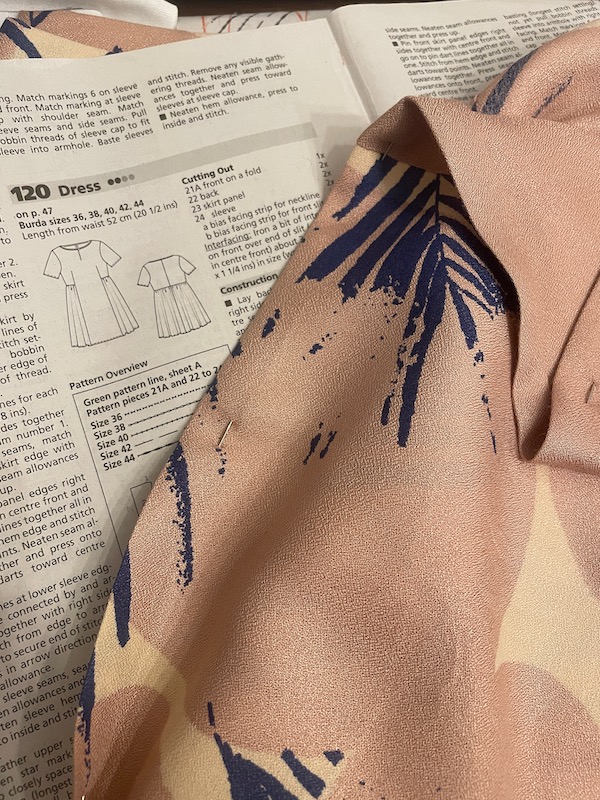 I had a short length (possibly a remnant?) of Atelier Brunette "Canopy Cobalt" crepe in my stash that I really wanted to use for this, so I actually went out and bought some of the matching Atelier Brunette crepe in the "Maple" colourway to coordinate with it (I love that AB have such a consistent colour palette!).
To be honest, I don't actually recall much about the construction since it was almost a year ago, but my photos showed that there was an uncharacteristically excessive sleeve cap ease so I'm sure that must've made me grumpy!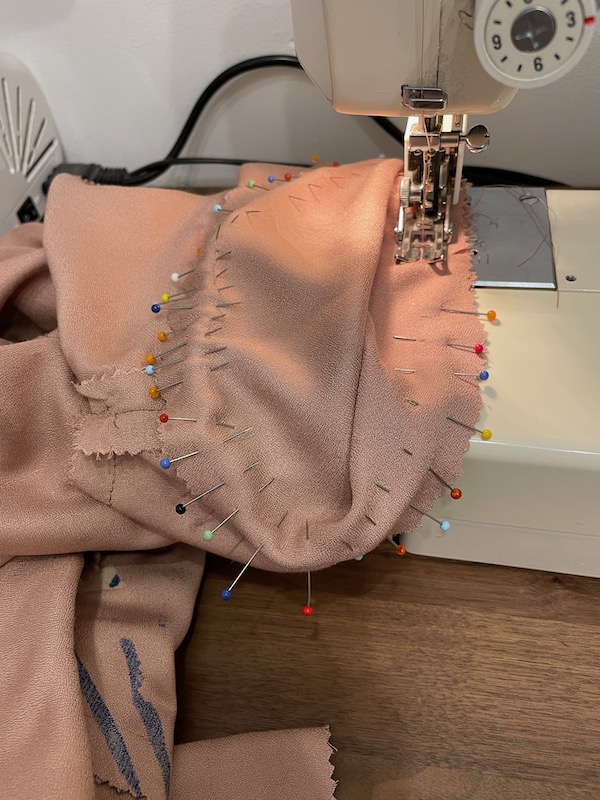 But frankly, not as grumpy as I felt when I tried on the finished dress (because that's how I roll with consistent pattern companies like Burda) and discovered that the neckline was waaaay too high, and there was just something "off" in the proportions that made it feel SO frumpy!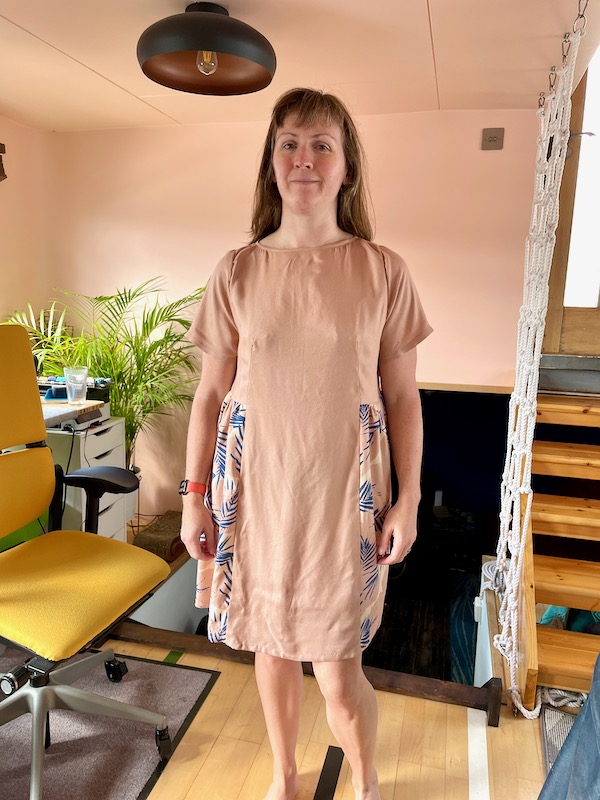 Always aim to dress like your walls for maximum camouflage!!
So I consulted with my sewing friends and Sue pointed out that she felt the central band was far too wide and that was what was contributing to the frumpiness!
So after a few months I got around to unpicking the front hem and those panel seams up to the bust, and took in both sides of the front panel as far as I could without making the darts look diagonal – honestly it was about 3-4 INCHES on both side! So yeah, the panel was far too wide!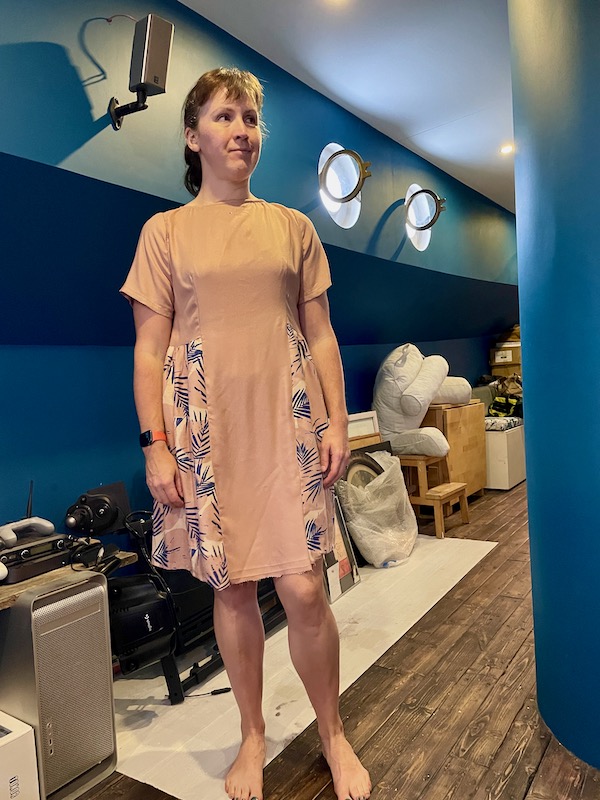 Then the weather turned cold and I had zero desire to work on the neckline of a dress I couldn't wear anyway, so it sat on the Hook of Shame all winter and spring, until a week or two ago I finally did the annoying work of sewing a line of staystitching where I wanted the new neckline to be (again, taking it down at the CF by something like 3 inches!), then unpicking the narrow bias edge topstitching and seam stitching, creating a new bias strip from the fabric scraps I thankfully had left (and it was really only scraps left of the plain crepe!), and joining the new bias to the existing at the shoulders so I could re-sew the front neckline. And then with that out of the way, it was just a matter of re-sewing the front hem to finally have a wearable summer dress after a year!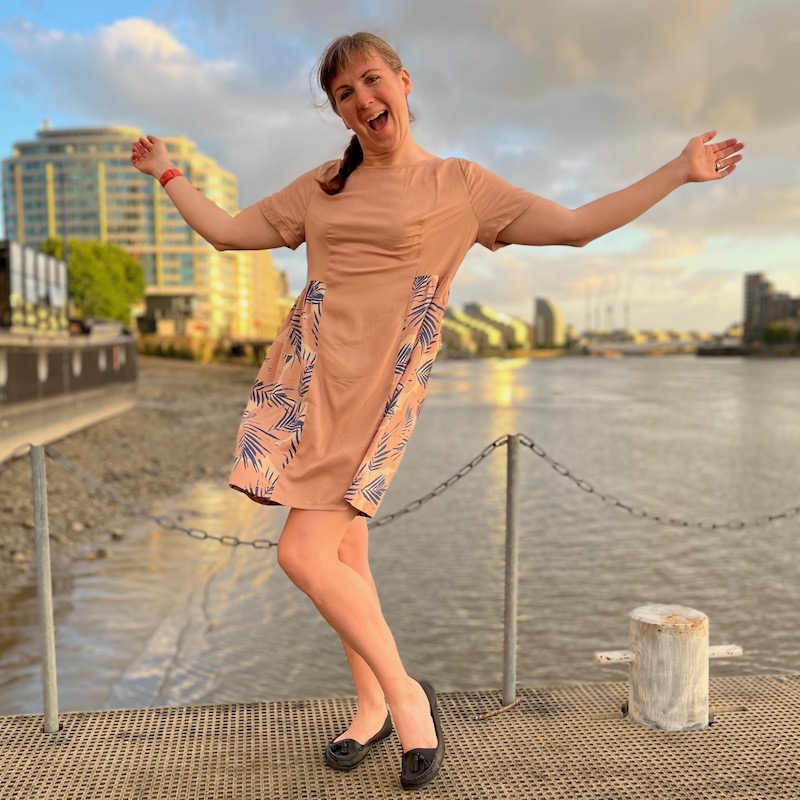 It was super windy when we took these photos, sorry!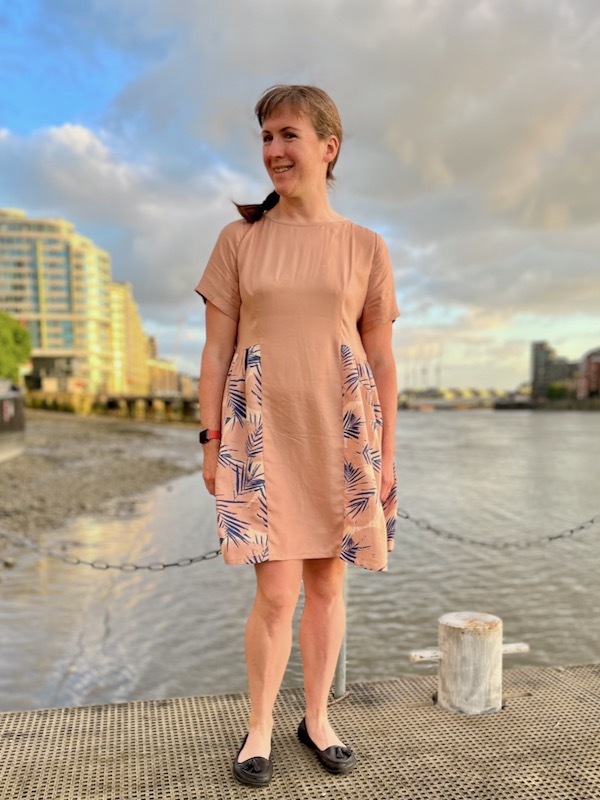 The finished dress isn't perfect – there's a bit of pulling at my new neckline, and the darts are a bit too high, but it's actually wearable, and I seem to have a lack of casual summer dresses in my wardrobe for Actually Hot Days, so it's good to finally be able to wear it instead of starting at it in my sewing room and feeling guilty for not fixing it!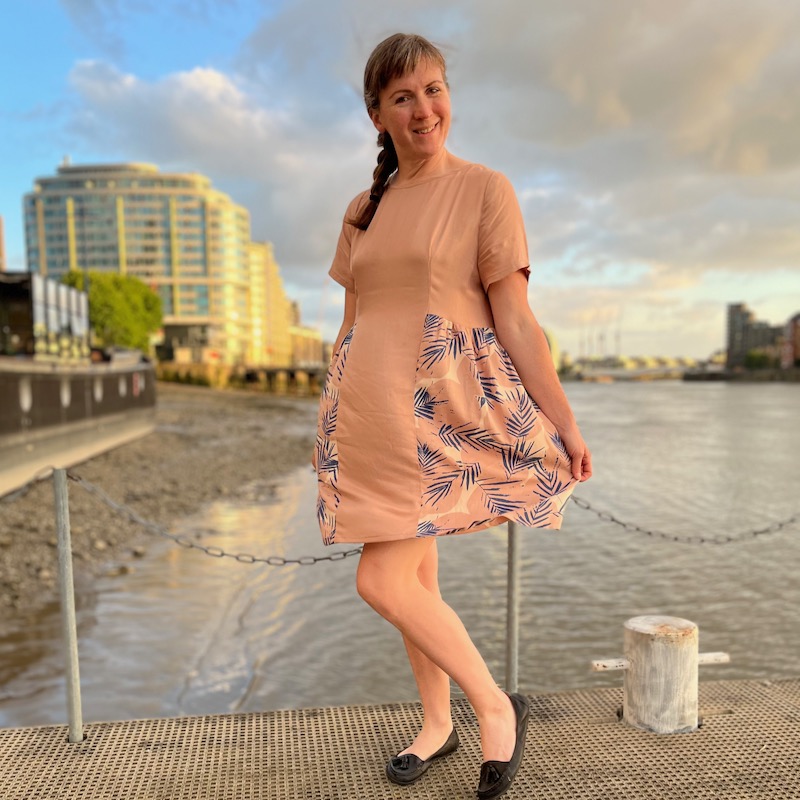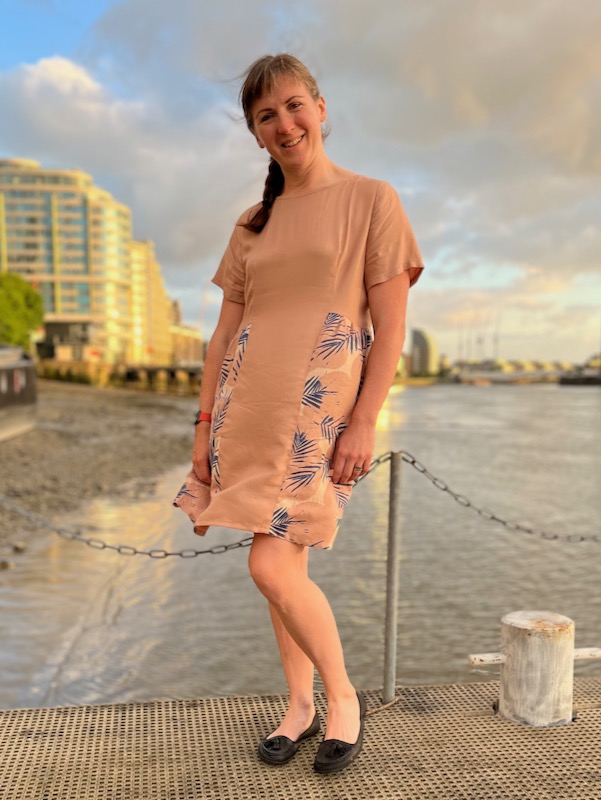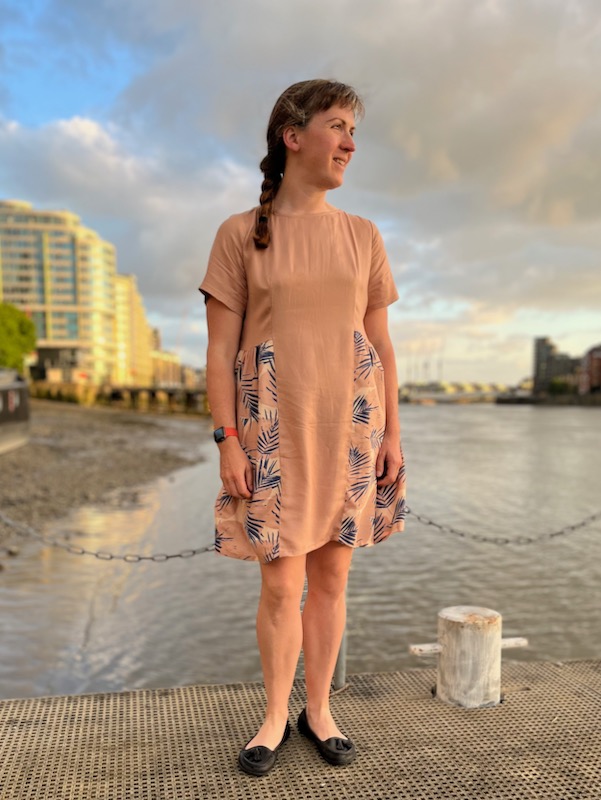 My only regret (and I knew this when I started) is that there's no good place to insert pockets into this dress, as the printed skirt panel is just one big rectangle that wraps the whole way around, so no side seams to insert pockets into, and the waist seam is a bit too high to put any downward-facing ones there, either.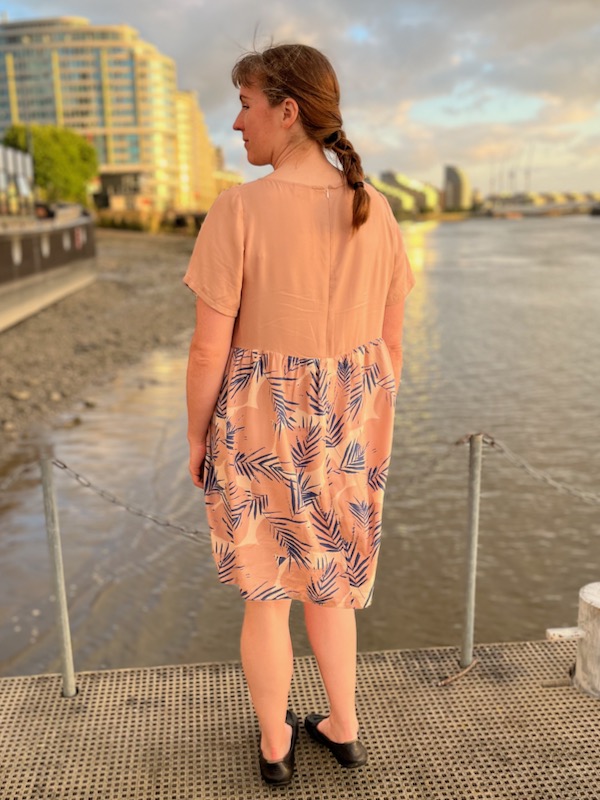 But as you can see, it's a very lightweight and breezy dress so perfect for a summer heatwave!