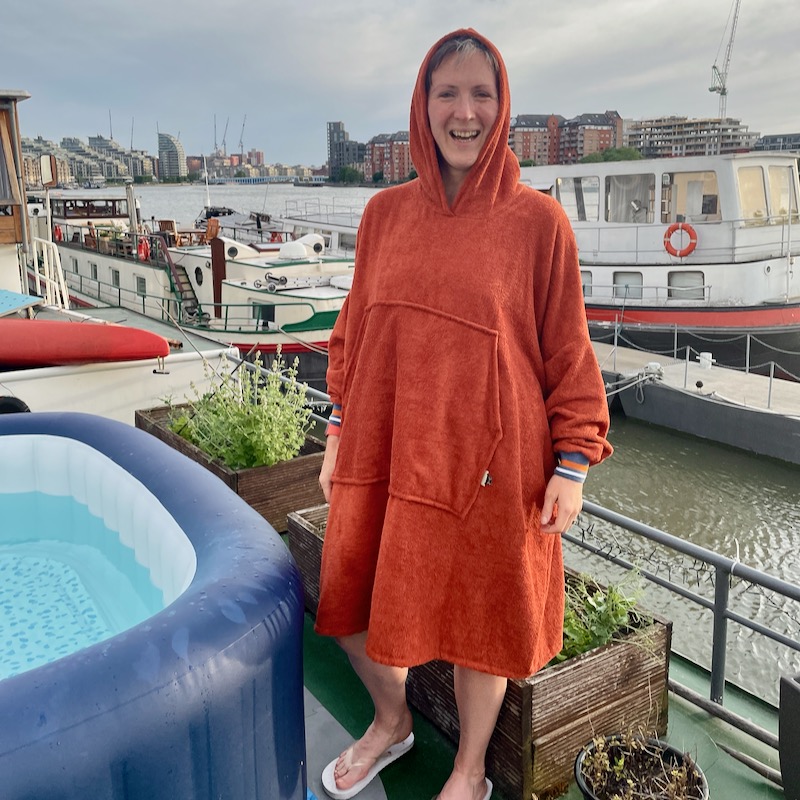 Last summer, we bought a hottub on deep discount and I even made a new spa bikini to enjoy while lounging in it. It's a bit of luxury, but it means we can just pop up there (it's on our top deck) after work and relax. The only problem is, even though we only run it during the summer to keep electric costs down, it's still freezing as soon as you step out afterwards!
We had just been wrapping a towel around ourselves, but that leaves a lot of wet skin still exposed and they kept falling down while we put the cover back on the hottub, tidied up, and climbed back down inside the boat. I felt I could address this with a sewing solution – a sort of spa/dry robe that we could easily slip on and then wear while we put everything away.
I was going to self-draft these but then I saw this free pattern from Do It Yourself Better, which had basically all the features we both wanted, so I just used it instead.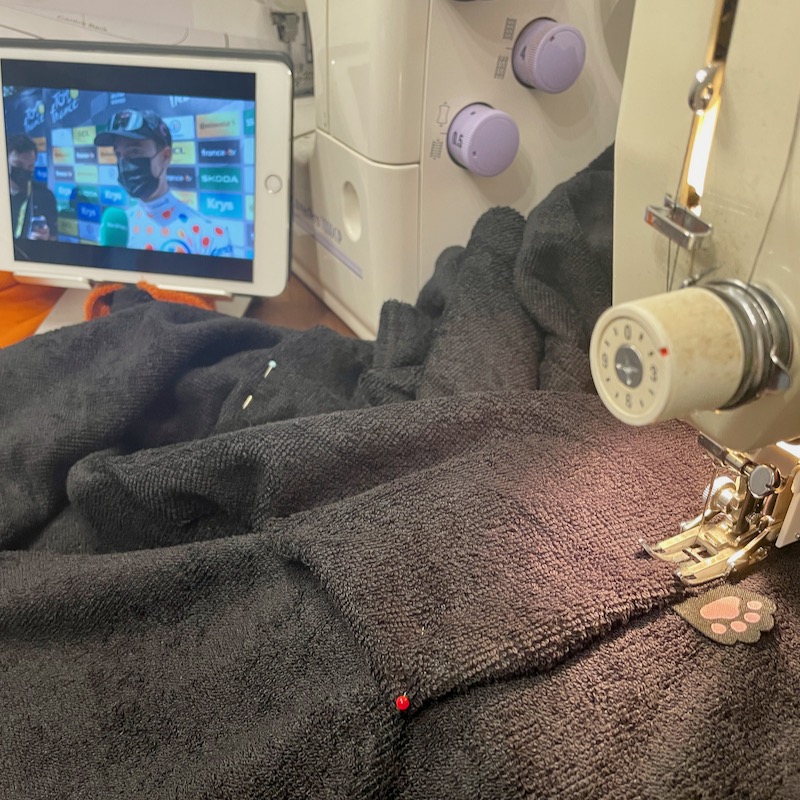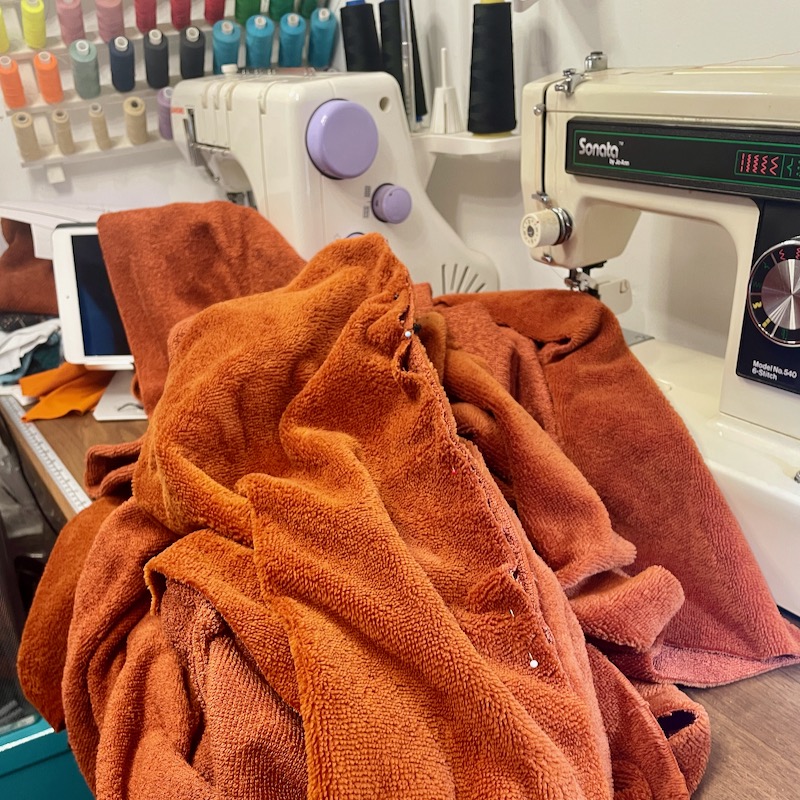 Despite the pattern being free, this was not a cheap project because I used some utterly luscious bamboo towelling from Textile Express, and these robes need a LOT of fabric. The bamboo towelling comes in a bunch of lovely colours, and I needed to get swatches to even narrow it down. James chose black (classic, or boring?) and I was torn between green, mustard, and rust, but ultimately decided on the rust orange.
Even though the towelling was pretty pricey, the quality is magnificent. It's super soft, and is so absorbent that we tend to not even bother drying off before putting them on, as the robe acts as a towel on its own.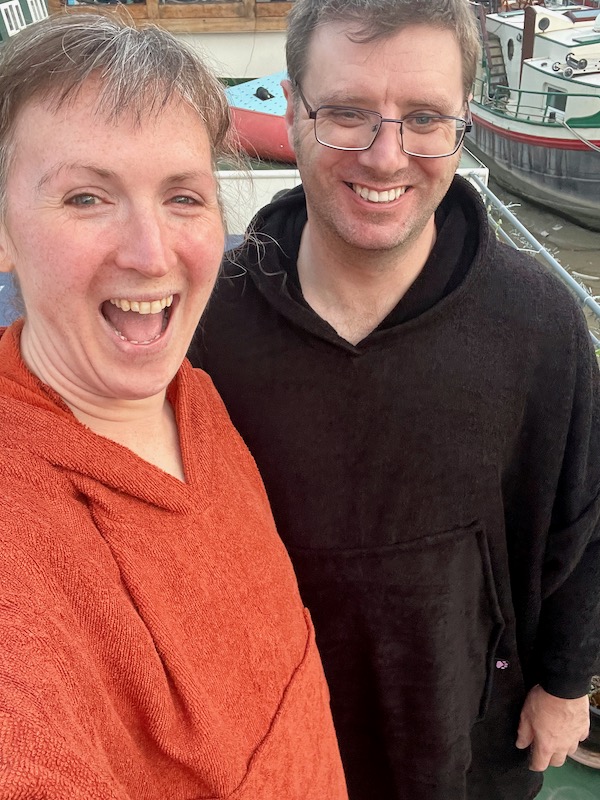 The Billie is meant to be a "wearable blanket" and is suitably ridiculously oversized. I ignored the size chart completely and made size Extra Small for both James and I, in the short length, which is still below the knees on both of us (when my arms are down, anyway!).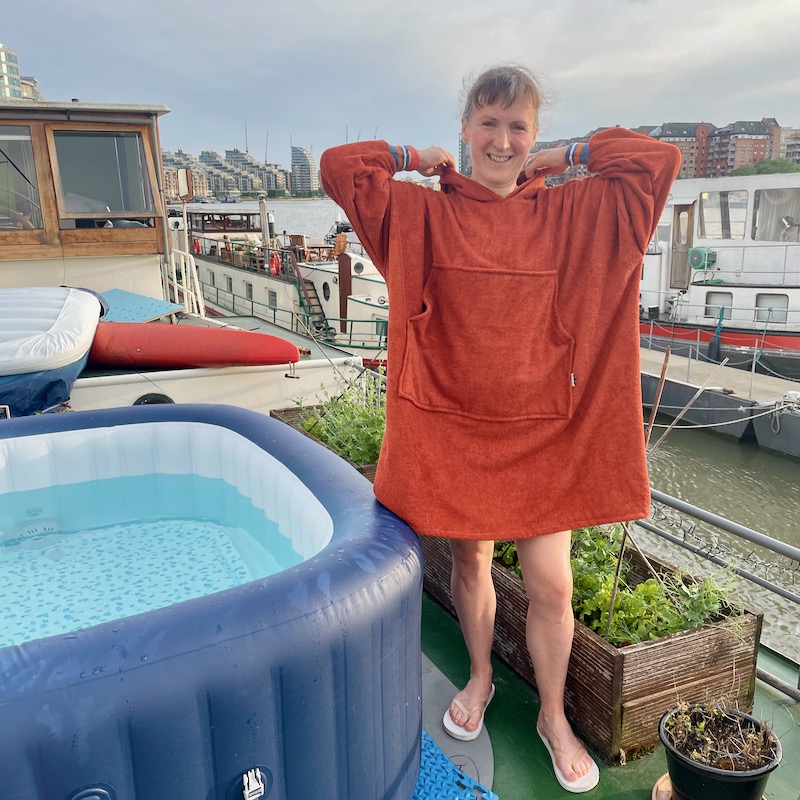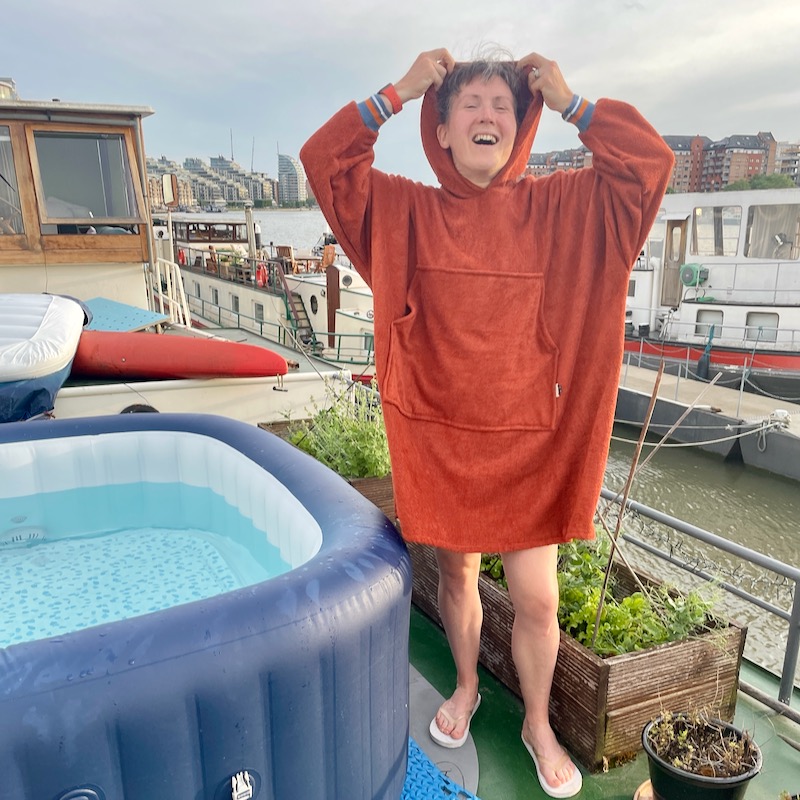 The hood and front kangaroo pockets are both generously sized, and really comfortable, too. I added a little bit of flair to both robes in the form of some super cute black kitty labels which I've been dying to use since I bought them.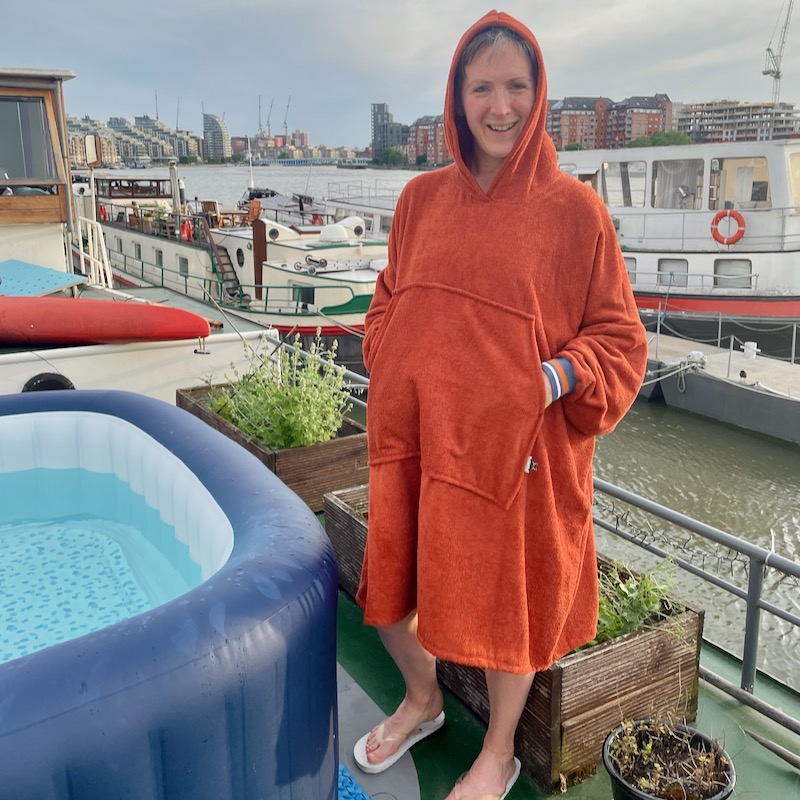 As you can see, these have wide sleeves that narrow into ribbed cuffs at the wrist. Having wide sleeves is by far my biggest annoyance with any sort of bathrobe as they get caught on everything! So having a tight, cuffed sleeve means this is very practical, as well as being very warm.
As it happened, I ended up having the cuffing for both in my stash for years now, so I didn't have to buy any.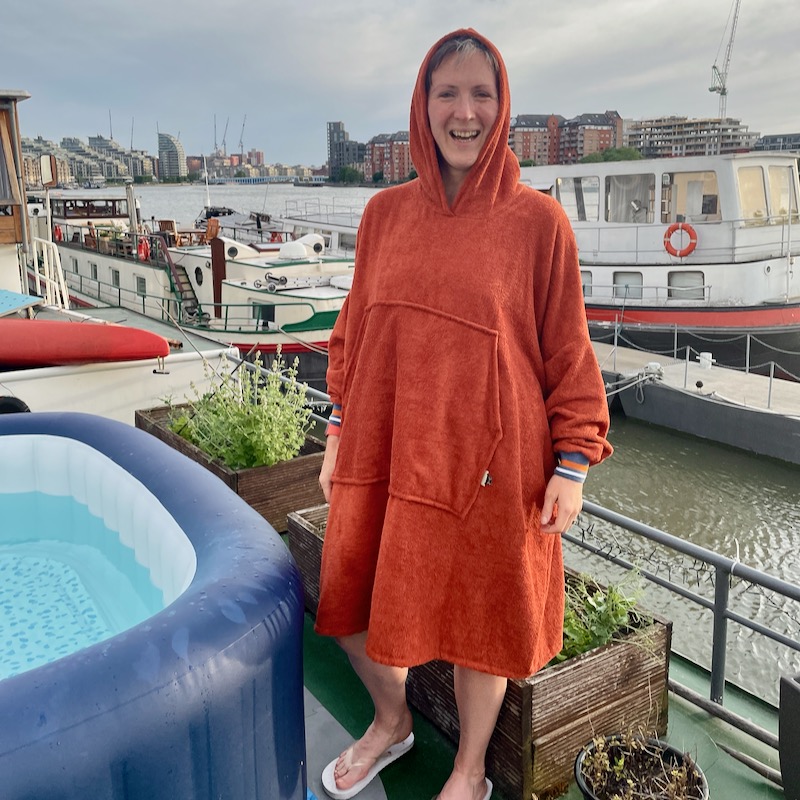 The cutting layout of these boxy robes meant that there were long, vertical strips of fabric leftover along the selvedges. Since the towelling was expensive I didn't want to waste any fabric if I could help it, so I make them into a bonus towel for each of us. I literally just overlocked the long strips together to form a rectangle. I figured it was better to get some use out of these as a towel than having the scraps take up a considerable amount of room in my stash for years!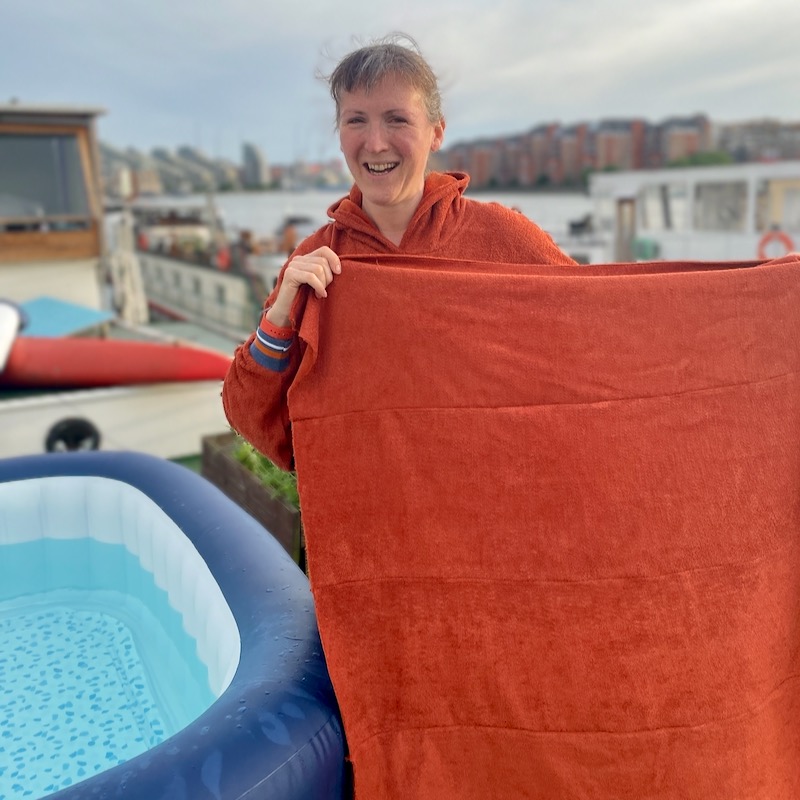 These robes are one of those projects that really do fill a need in our wardrobe, and are so much higher quality than we could ever buy! I could easily see these being great for wild swimming, but the most "wild" we get is "in view of shore" and "swimming" is "sitting in a hottub"!