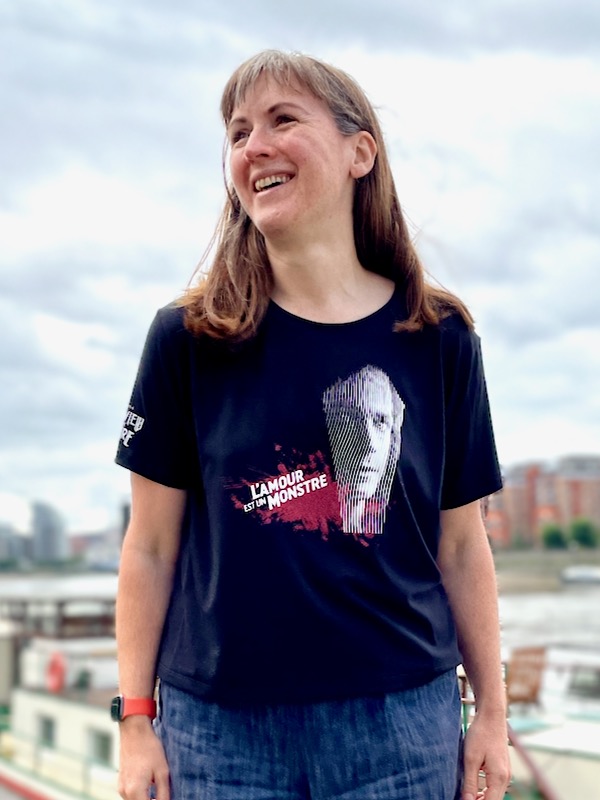 My obsession with the "Interview with the Vampire" tv show has not waned in time since it premiered (and broke my brain) last October. In fact, I think it's safe to say that not a day has passed that I haven't thought about this show. The brain rot is real.
Anyway, I've been playing with my Silhouette cutting machine recently, as I talked about in my last post, but this shirt design is one I worked on for quite a few weeks, and the idea just wouldn't let me go.
It started with San Diego Comic Con, where AMC put a ton of money into building a recreation of a New Orleans street with live actors and swag, but also filled whole buildings with enormous posters to promote season two (out some time next year). But the image that really stuck with me was from some lifts (elevators) within a hotel, where there was a huge photo of the four main characters on each wall inside.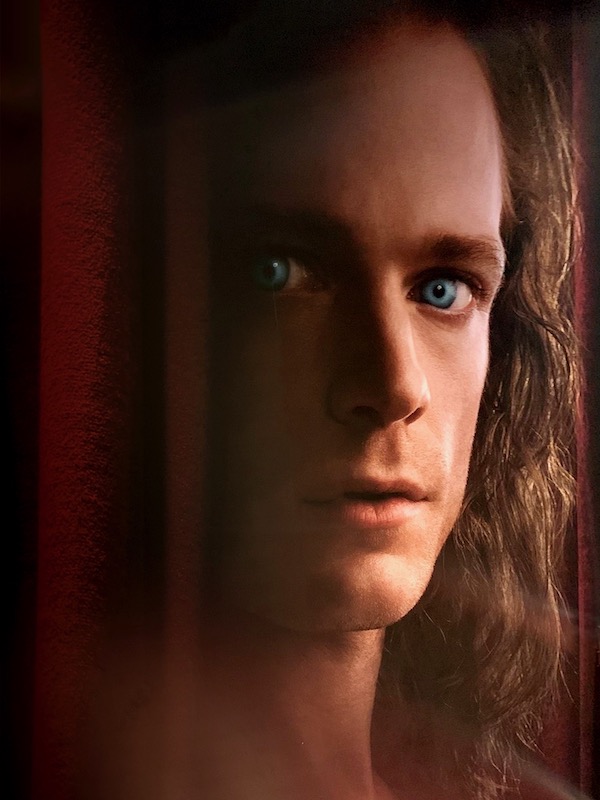 I just love the expression on Lestat's face in this one and knew I wanted to use it as a basis for a shirt. But I had to somehow get it into a format that would work for a one-colour vinyl, and I had the idea to maybe try the comic book-style dot shading (which I learned is called "halftone"). This lead me to finding some great halftone filters for Photoshop, and I realised I liked the lined halftones better than the dots, and played around until enough of his expression came through despite the filter. I then created a coffin-shaped mask over it so it wasn't just an abrupt square, layered some vector blood splats, and added the "L'Amour est un Monstre" text (Love is a Monster) that I've vectorised off one of the other SDCC posters.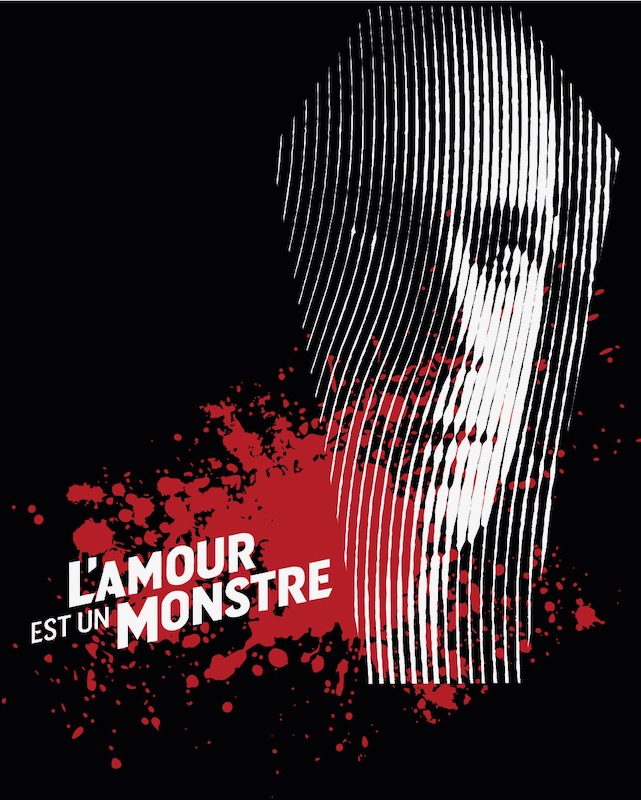 I was finally pretty happy with the artwork so I set about sewing a vessel shirt for it to go onto. As is becoming habit, I used our Versatili-Tops pattern and Black bamboo (68%) cotton (28%) elastane (4%) jersey from Dalston Mills. This isn't quite as nice as the bamboo jersey I get from Textile Express or Raystitch (likely die to the cotton), but it's still way softer and drapier than a cotton jersey and I'd buy it again.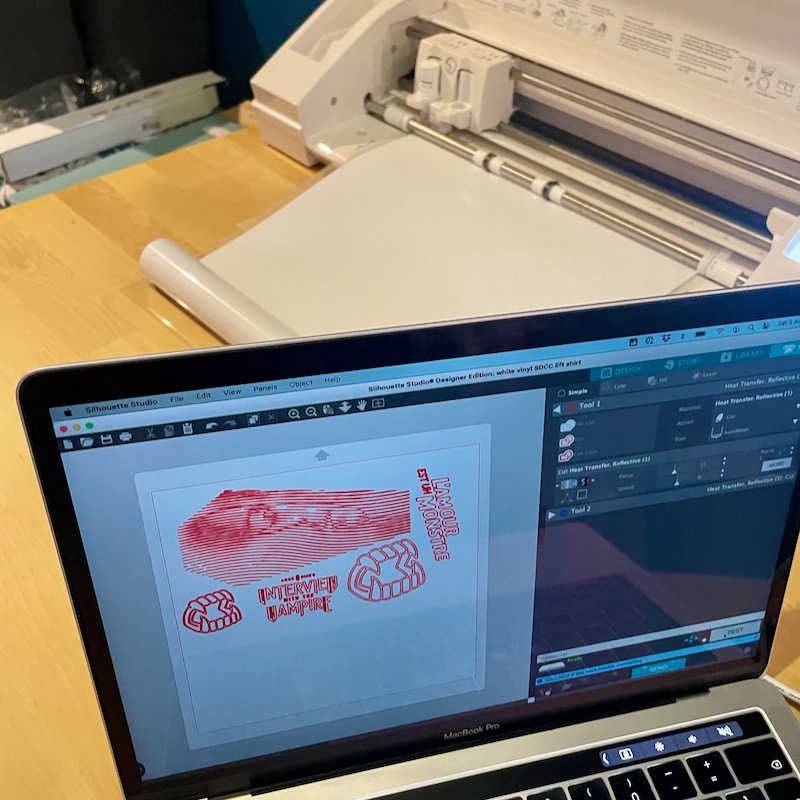 For the vinyl I really wanted the blood to hold its own against the white, so I bought a sheet of red glitter heat set vinyl from Happy Fabric, and then used my go-to white heat set vinyl from this Amazon seller for the face and text (I buy their white and black by the roll because it's so reliable in weeding and ironing/releasing nicely).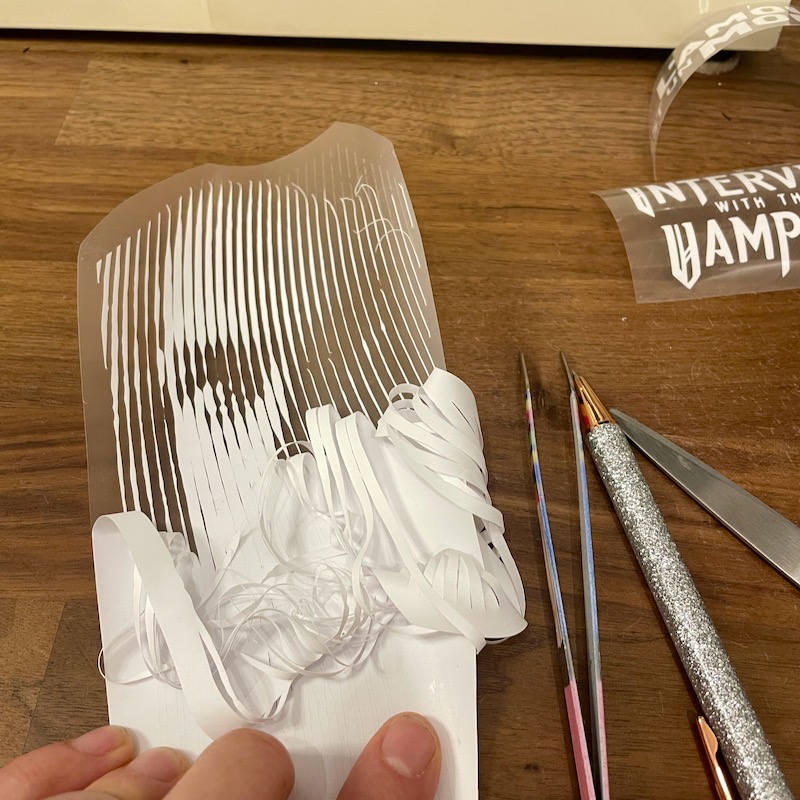 As this design required three separate layers, I not only had to cut out each of the three designs separately, but they had to be ironed on in two/three steps, too. First I ironed on the red glitter "blood" splatters, then the Lestat face, and finally the writing.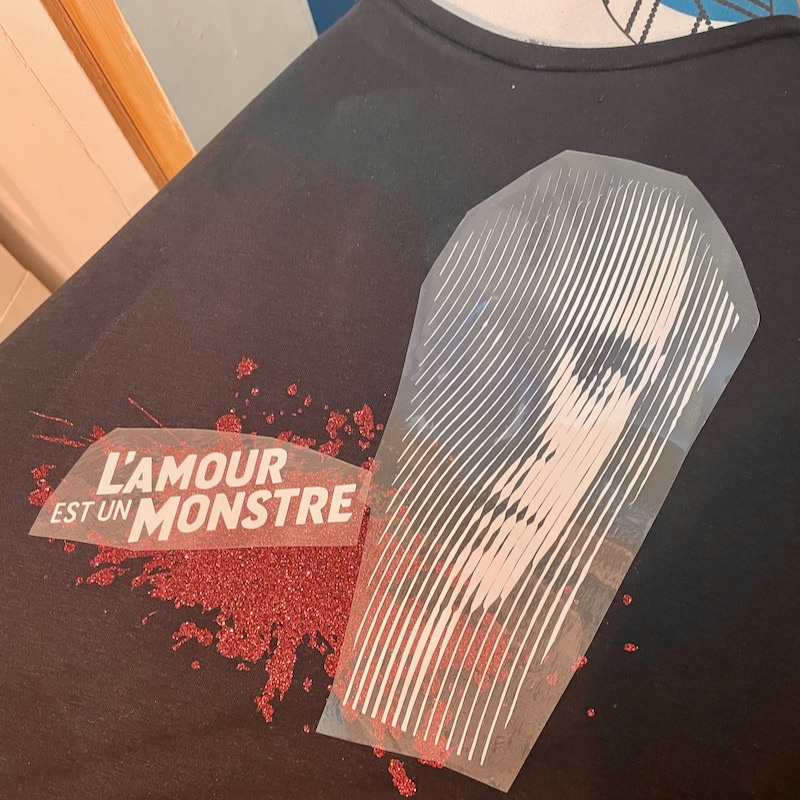 I also added the show logo to the right sleeve, just to make my bootleg shirt feel a little more official (logos on sleeves seem "official" to me, I dunno why??).
I am beyond chuffed with how the finished shirt turned out! I was literally jumping up and down with glee because it turned out even better than the vision in my head!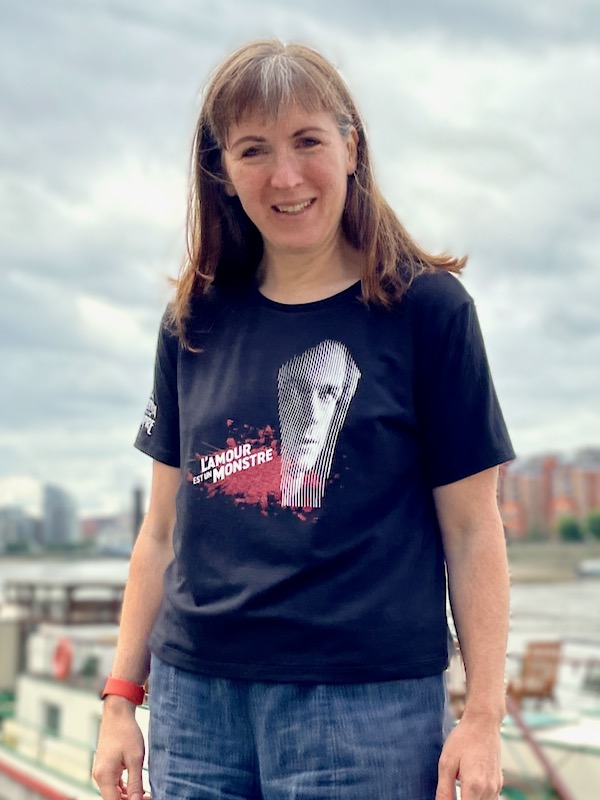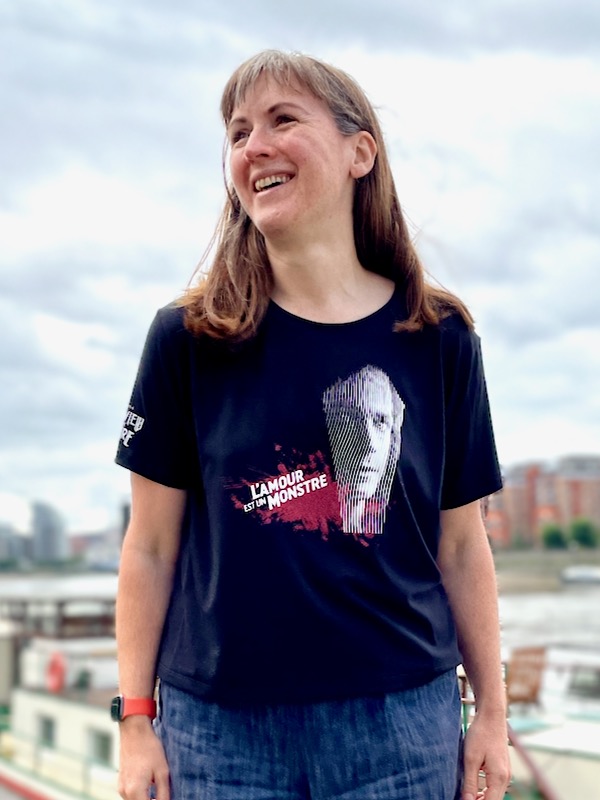 I love it so much – not only is it a more interesting design than what's available in the official AMC merch shop, but it's a much higher garment quality than what's available on Redbubble, too.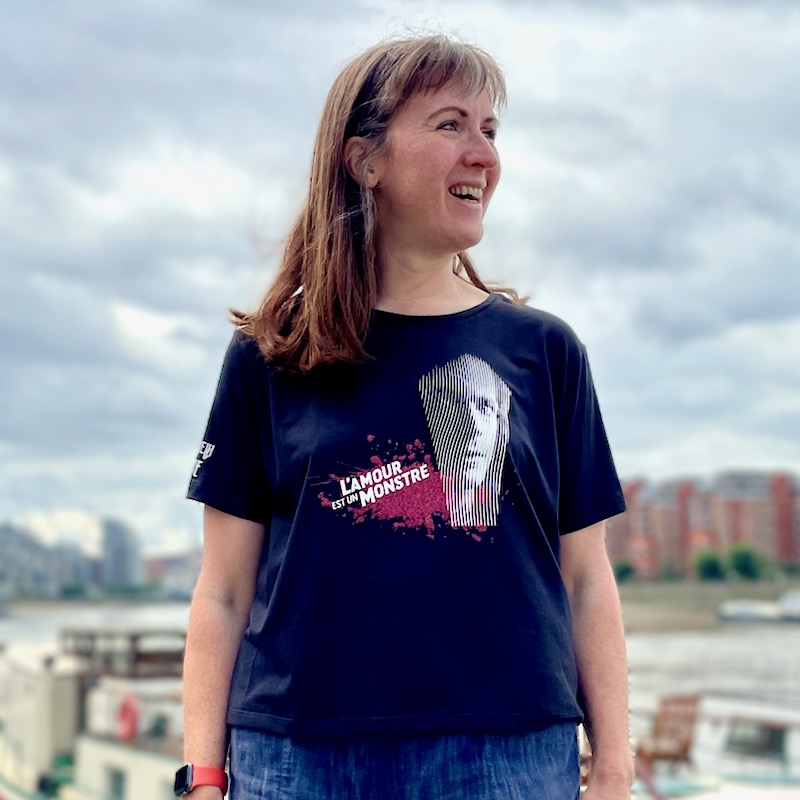 It may have taken a few weeks of playing with the design in Photoshop, Illustrator, and Silhouette Studio but it's definitely worth it to me!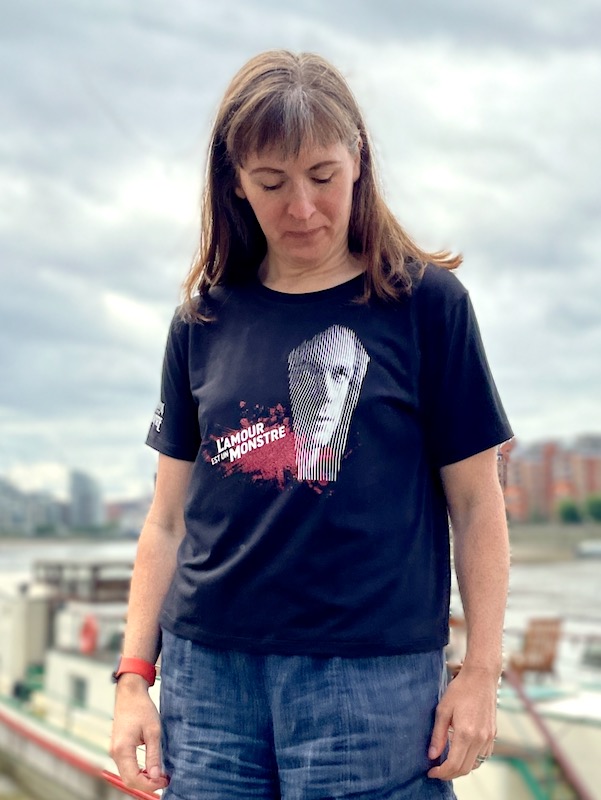 There's a few little bits where the lines were so thin they couldn't be printed, but I'm okay with it being 95% perfect!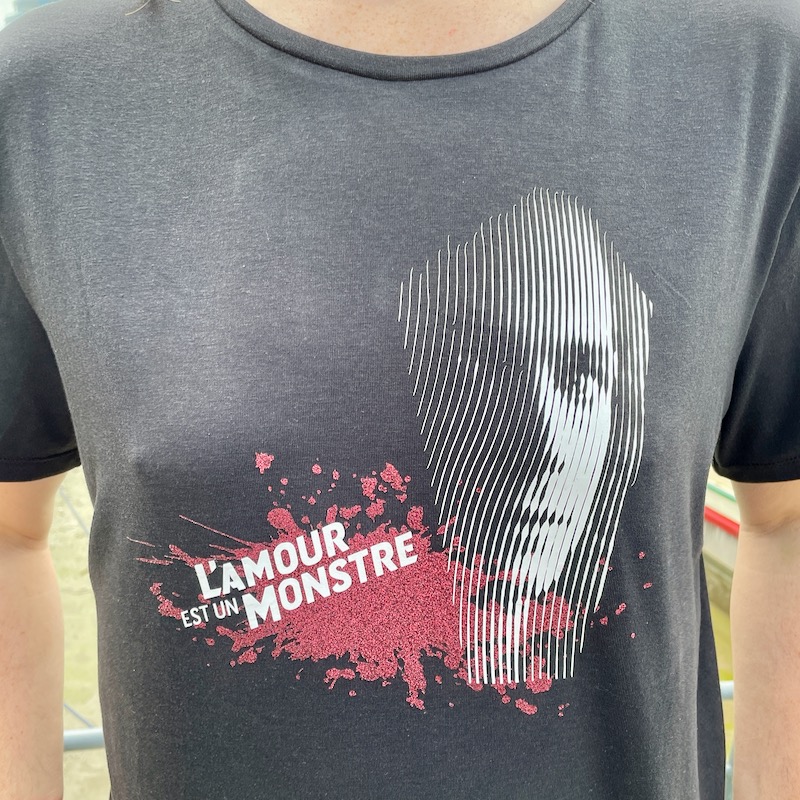 The back view is just a plain shirt (albeit with the shifted back seams of the Versatili-Tee), as I resisted the urge to put anything back there!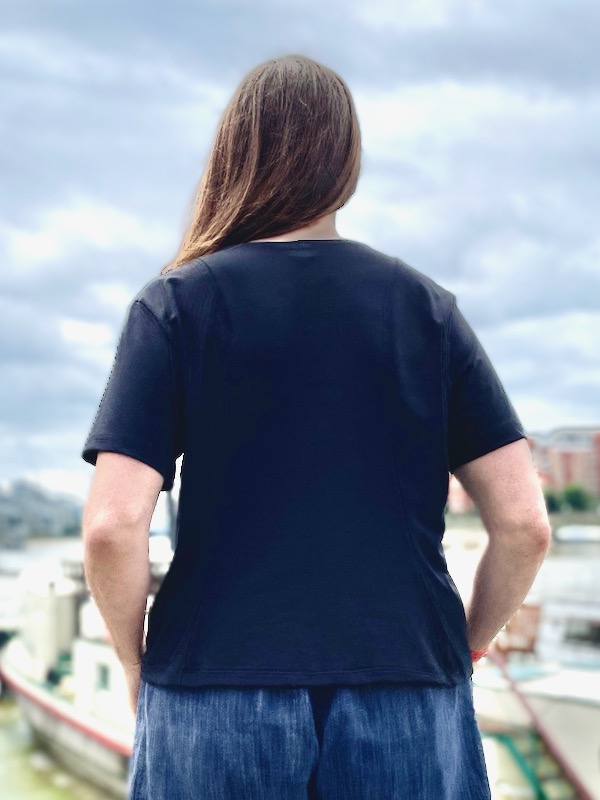 This was my excited selfie right after I finished it: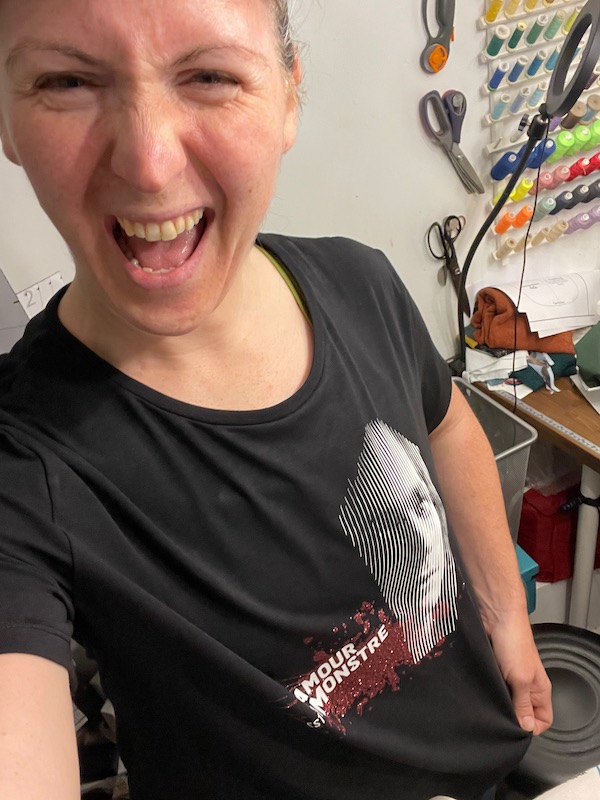 Doesn't it look great hanging in my sewing cave??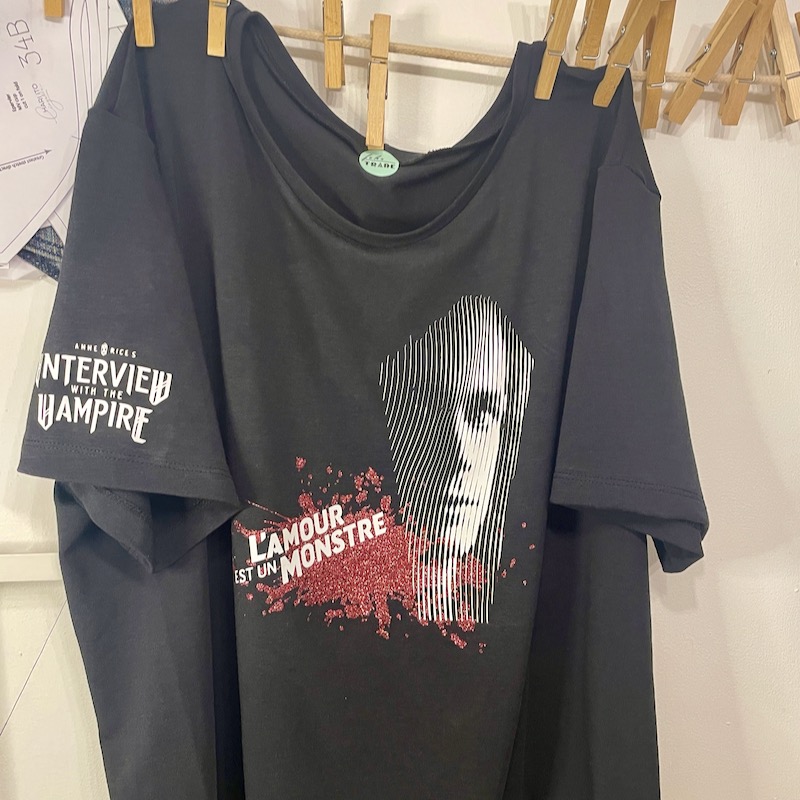 This is by far the most complex shirt design I've done so far – only the second time I've done anything multilayer, but also the halftone face was the most complicated vector I've ever designed or weeded, too!