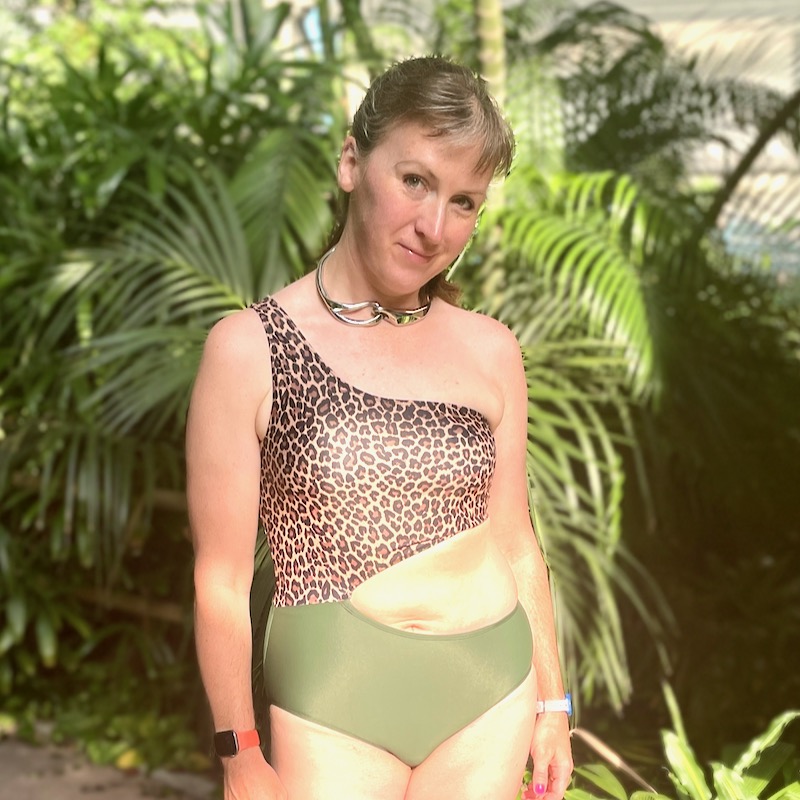 It's been a while since I've had to write a negative pattern review but hoo boy, this one's a doozy. The thing is, I ended up with a finished swimsuit that I really like and feel great in, but that's in spite of this pattern, not because of it. I significantly redrafted all the pieces and relied heavily on another blogger's instructions in order to get to the finished result.
I'm not even sure how the Edgewater Avenue "Marley One Piece" pattern came on my radar, tbh. I've never heard of the brand before, but they seem to specialise in swimwear sewing patterns and this particular one was on sale for $5 for a limited time, so I bought it.
I really liked the asymmetric style, and that it was a hybrid of a one-piece and a bikini, which I thought would work nicely for hot tubbing and our upcoming trip to Tropical Islands in September. So I did a little digging and realised that it was the swimsuit that my old pal Rosie (DIY Couture) had made, so I had a read of her blog post on it.
Let's just say that not only is Rosie's post EXTREMELY HELPFUL, but frankly does more for this pattern than the pattern actually does. It was thanks to her that I only needed one muslin, to double check my drafting changes, instead of several. It was also thanks to her very brave photos that I didn't even both trying the "cheeky" cut bottoms as drafted, because they're essentially a thong.
I started this suit by purchasing 0.5m of Forest Green Econyl recycled swimwear fabric from the Good Fabric Store (sold out but they have other colours), and 0.5m of their recycled black Econyl swimwear lining, too.
Once they arrived, I went through my lycra scraps stash and found that, out of the scraps big enough for the bodice, I liked the pairing with some FunkiFabrics cheetah/leopard print best. It was leftover from a pair of leggings I'd made a Pilates instructor back in 2019 (and apparently I never blogged about?) so I'm glad I got to do something with it for myself! Together, they're kinda giving me "George of the Jungle" vibes and I like that.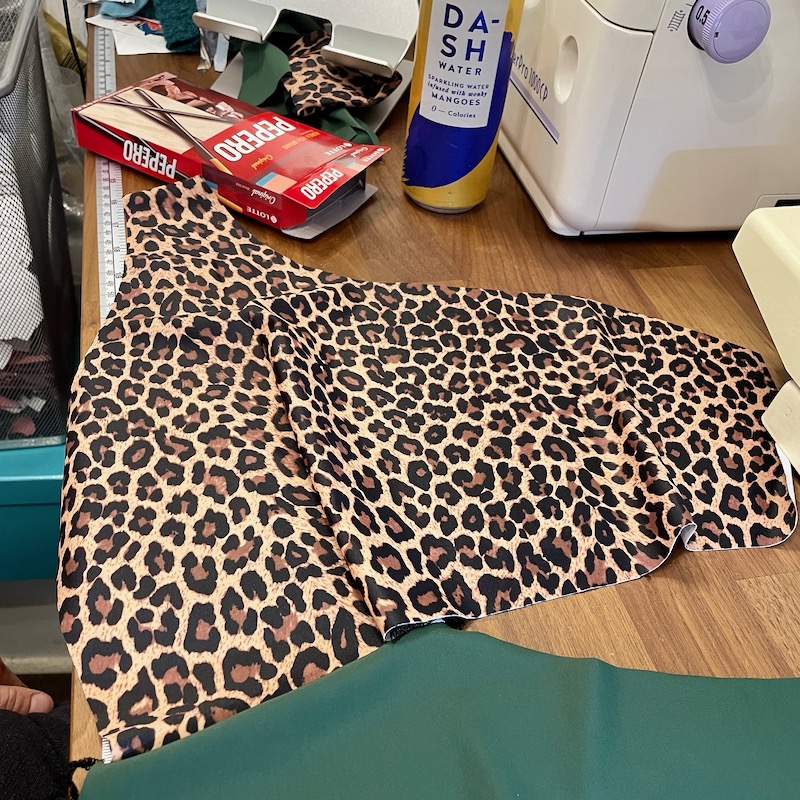 I also needed to buy some 1/4in black swimwear elastic from New Craft House as I didn't have enough already in my stash, and I've learned my lesson before about using regular elastic in swimwear!
As my bust looked a bit compressed and squished in my muslin, I decided I'd add foam bra cups to the lining (from my stash), which makes this look a bit more flattering for lounging. This was really easy to do – I just waited to finish the elastic on the front neckline until last, tried it on, and pinned the cups in place against the lining. I then zigzag stitched around the outside of each cup (to the lining only) and then completed the front neckline.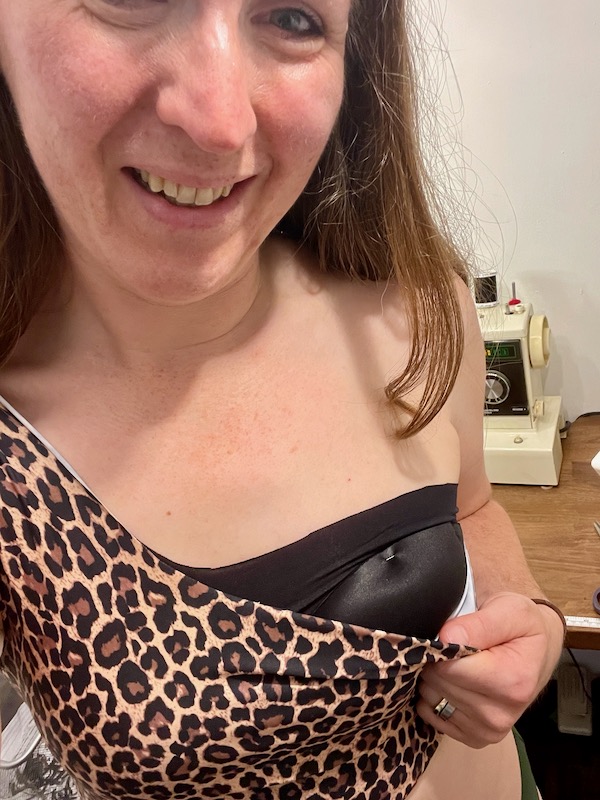 The other enhancement I made to the suit was to add some zip tie "boning" to the un-strapped bodice side, in two channels on either side of the seam. Boning is sometimes needed in strapless styles and I noticed in my muslin that it was bunching up a bit. Better to add some flexible plastic boning than risk exposure!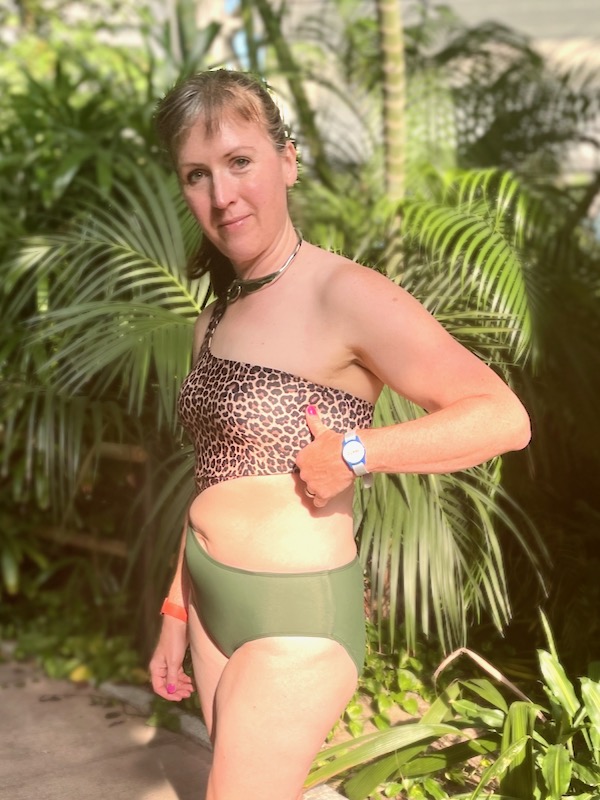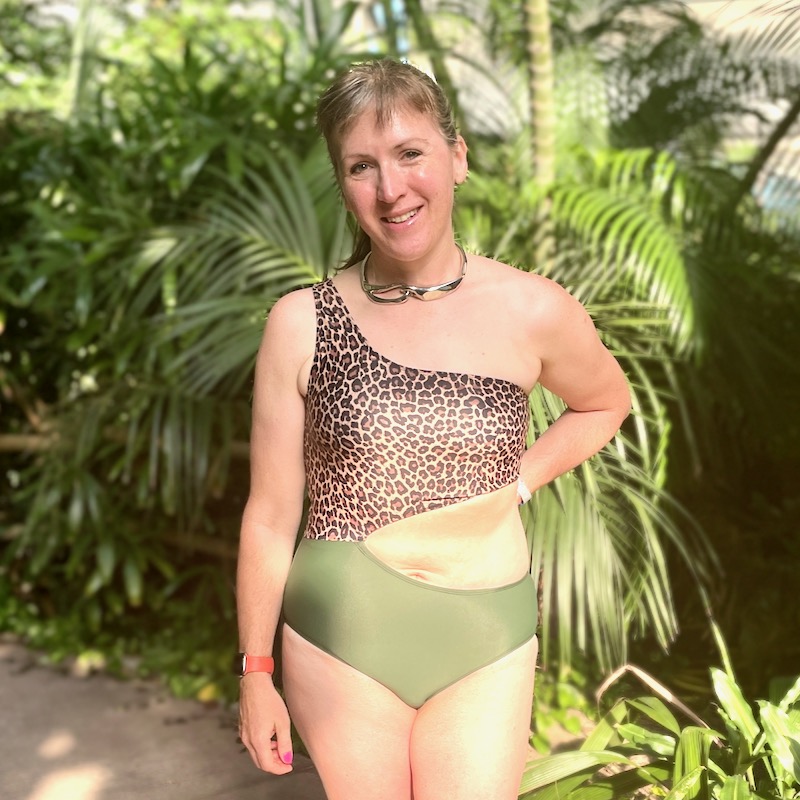 I had to redraft the bottoms significantly. I basically traced off the bottoms of my Seamwork Dakota bikini instead as a shortcut, then only had to adjust the front legline a little after I tried on my muslin. It wasn't just that the "cheeky" cut bottoms were downright pornographic, but the crotch was way too long and wide and shifted strangely. It's really just bad drafting, in my opinion. And this is on top of what A Choice it was to release a pattern with a back view that literally everyone who makes it has to change…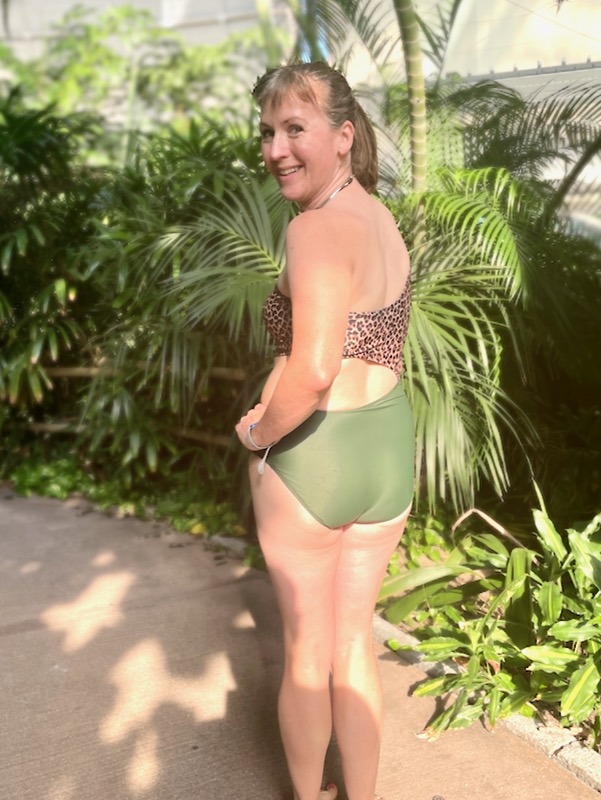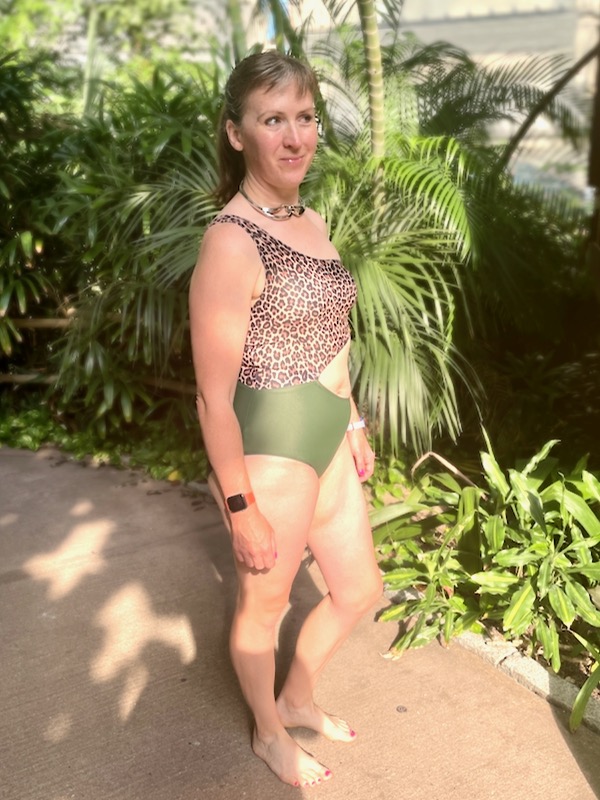 But bad drafting and questionable design choices were only the start of it, I'm afraid. There were numerous ways in which this pattern was extremely unprofessional and not even worth "free" IMHO let alone the $13(!!) retail price. As I said earlier, I paid a fiver and I feel that was too much.
No Grainlines or Degree of Greatest Stretch
No descriptive piece labels (just "Piece A", no "Front" or "Back")
Zero notches
No CF or CB, Waist, Bust, or Hip markings
Size lines were all black solid lines – almost impossible to distinguish the different sizes
Instructions were minimal (no cutting layout, or how much elastic to buy?), basically just pointing you towards a video and FB Group. The steps were illustrated, but some methods were highly questionable (sew a seam and then unpick part of it to turn it right side out??)
No layered pdf (or projector)
No lines to lengthen or shorten
No elastic lengths (either to buy or how much is needed for leg holes, neckline, etc)
Limited size range – I'm a size Size XL (the second largest) and no finished garment measurements or ease % given
I literally can't remember the last time I encountered a pattern quite this bad in so many different ways! (Maybe the Simplicity sports bra?)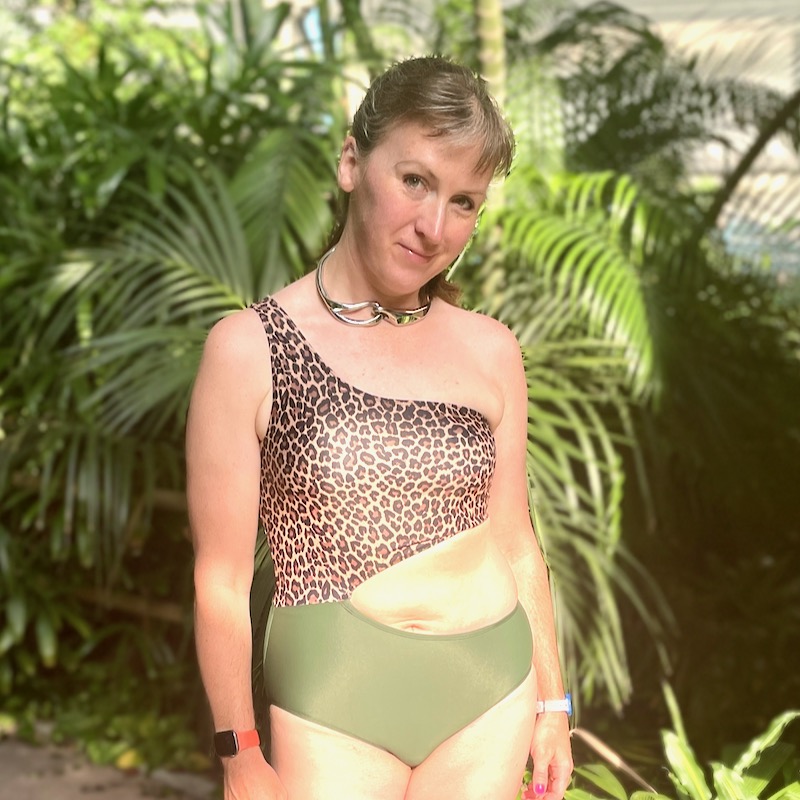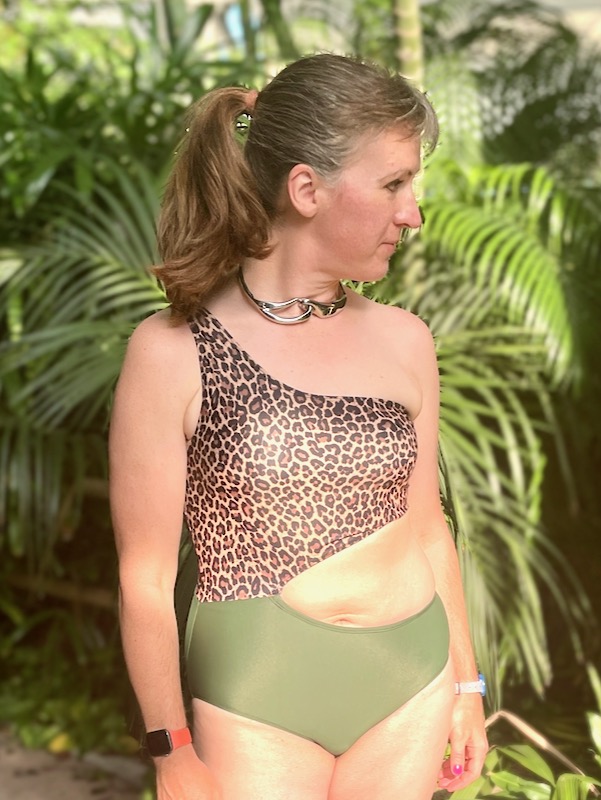 (These photos were all taken at Tropical Islands in September, the day before I tested positive for Covid)
I ended up with a suit I really like in the end, but my god it was a journey. If I'm honest, I'm still not thrilled about my finish of the joining points of the cutout, even though I followed Rosie's instructions, but I'm willing to live with that!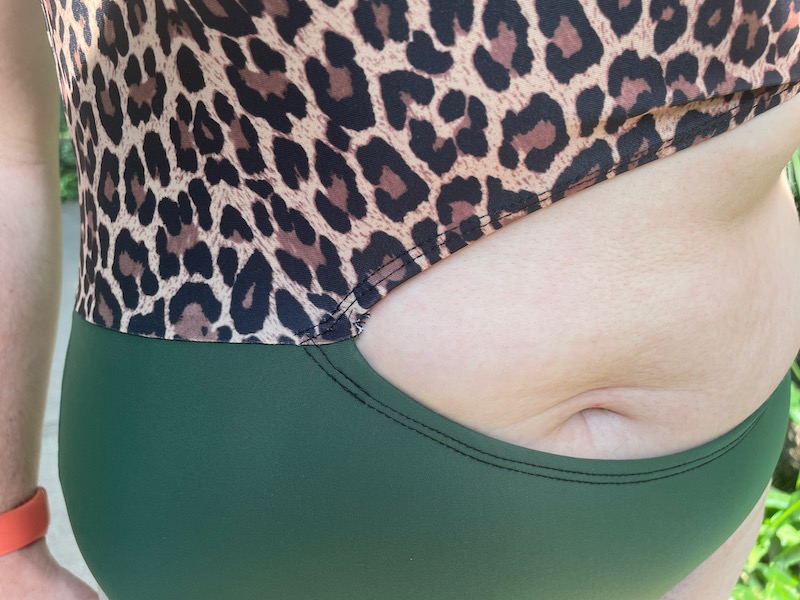 And even though I really like this finished suit, I can say for certain that I won't be sewing it again, and I can't foresee myself ever buying another Edgewater Avenue pattern, either (not unless something radically changes and they bring their patterns up to modern standards!).