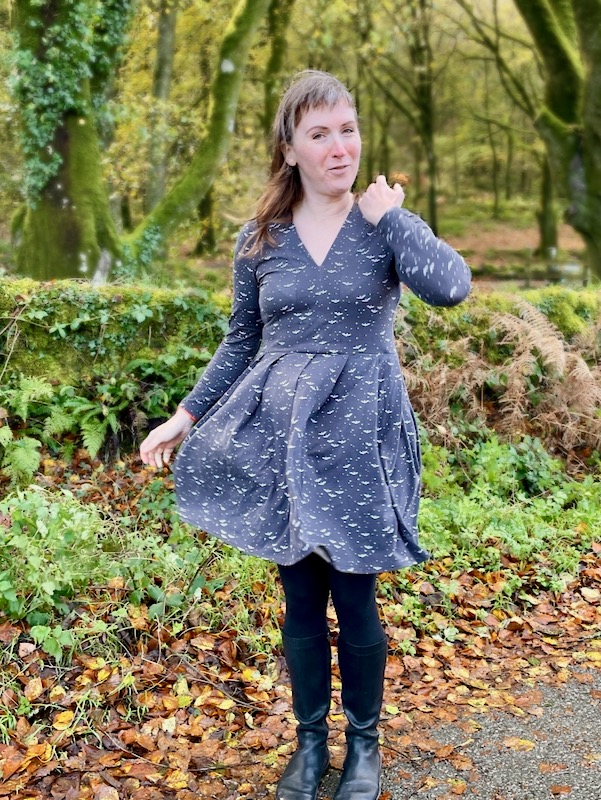 I've done a bit of impulse fabric shopping while I've been stuck in bed (no jury would convict), but the one that's had the shortest stay in my stash has been this bat print jersey. I saw it on a few Instagram accounts but then ended up buying some when it was nearly sold out everywhere! It's Art Gallery Fabrics "Winging It" (95% cotton 5% elastane), and I bought my 1.9m remnant from Sew Sew Sew for £27 total (now sold out pretty much everywhere!).
The fabric is super soft with great stretch and recovery, but has some white show-through when stretched. It's also a dark grey rather than a black so it looks a bit washed out even brand new…
I decided to pair it with the Named Tuuli (bodysuit and dress) pattern which I bought a few years ago, possibly in one of their great advent calendar sales(?) but never quite got around to sewing. IMHO this is a criminally overlooked pattern and such a wonderfully flattering winter knit dress!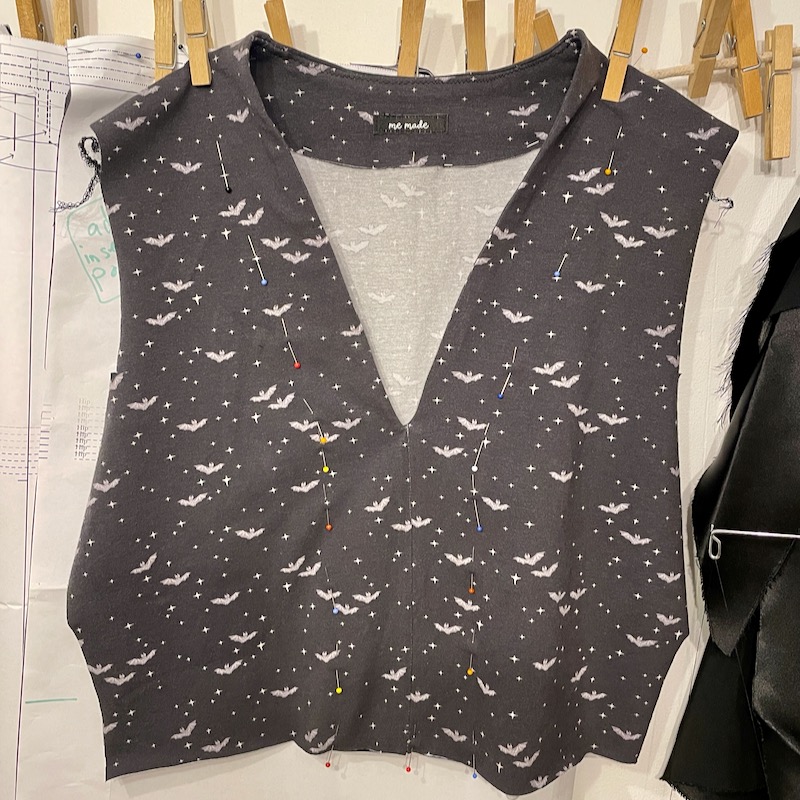 Since I've got very limited standing up time/energy, I didn't want to piece together the pdf pattern like I normally do, and instead decided to just get it printed and shipped, since it's only a few quid if you bulk print. Tuuli is an older pattern so its Copy Shop version isn't A0 compatible, but Named very kindly sent me one when I got in touch along with my receipt.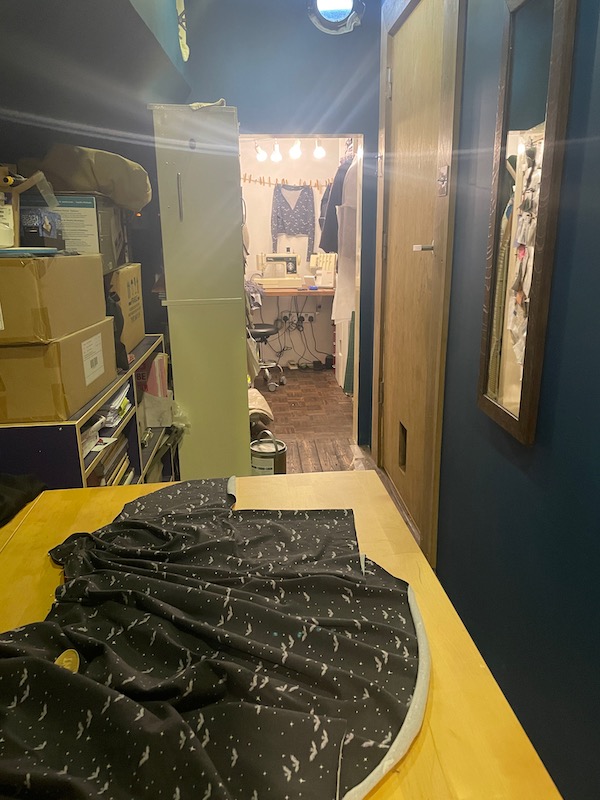 I made size 44 based on my pre-illness measurements as I'm hoping that the weight gain will be quite temporary. Since my remnant is significantly shorter than what the pattern calls for, I went through a couple different iterations of Fabric Tetris to fit the bodice and sleeves in as little fabric as possible. Ultimately though I had to decide to either shorten the sleeves or shorten the skirt in order to fit it all in, so my skirt is 6 inches shorter than drafted.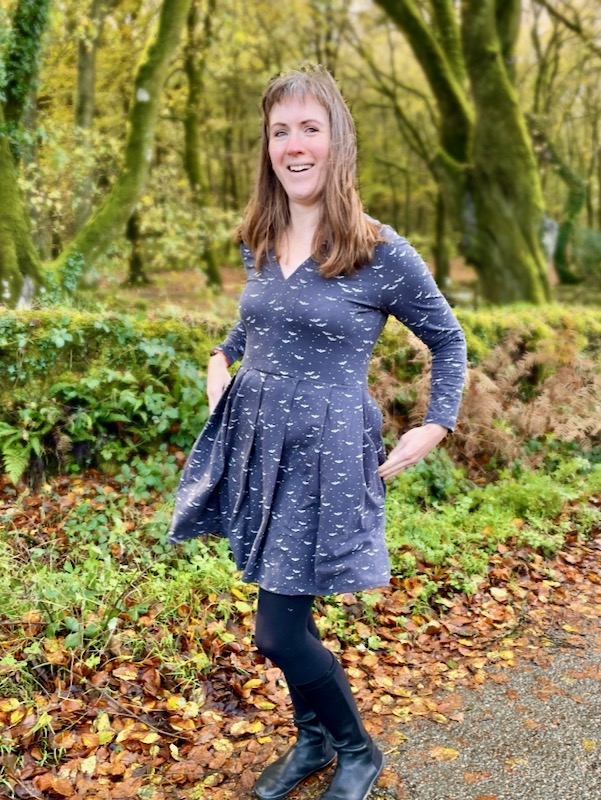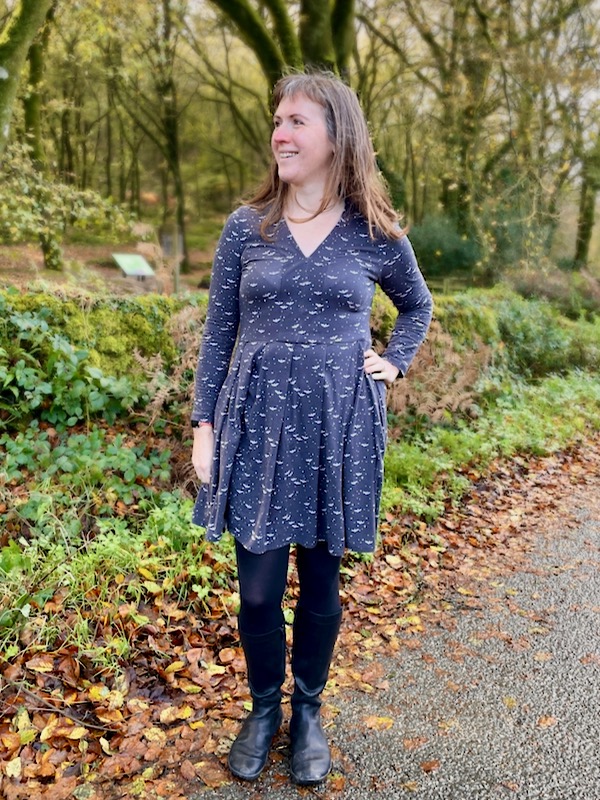 Even with the fabric constraints and it being a directional print, I managed to squeeze inseam pockets into the skirt seams! I know it's a cliche but I really do prefer my dresses and trousers have pockets so I have somewhere to stash my phone if nothing else.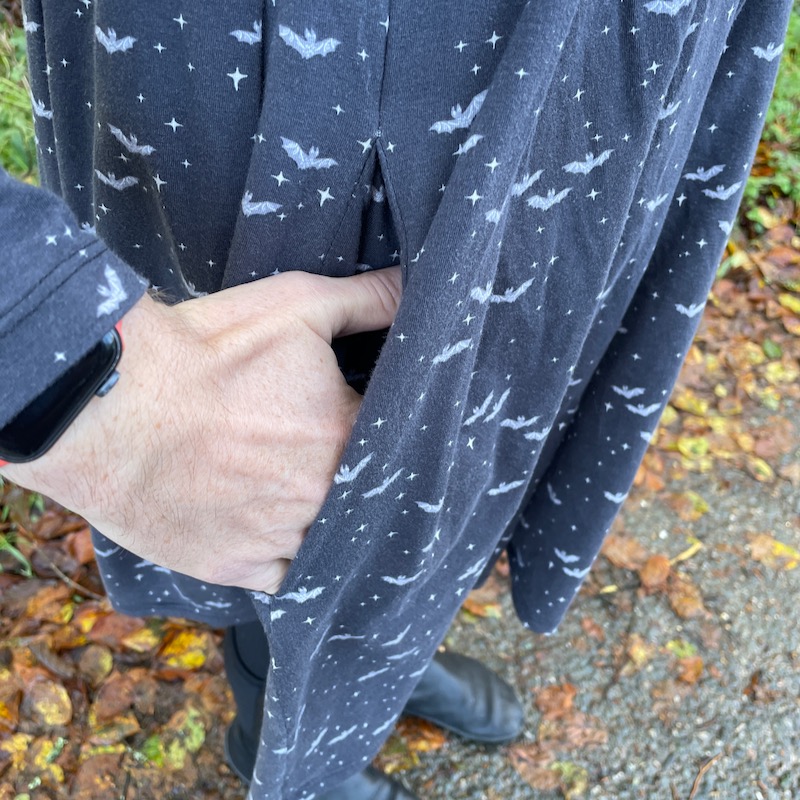 Even with the shorter length, the fit is really nice and everything is drafted wonderfully. I should've remembered to raise the waist by 1in for a fitted waist style (but didn't!) so that's one for next time – it's something I should be doing all the time for my short waist but I just forgot here. The only other thing I'd change is to possibly cut the front bodice on the fold to eliminate the CF seam since it's unnecessary in my opinion.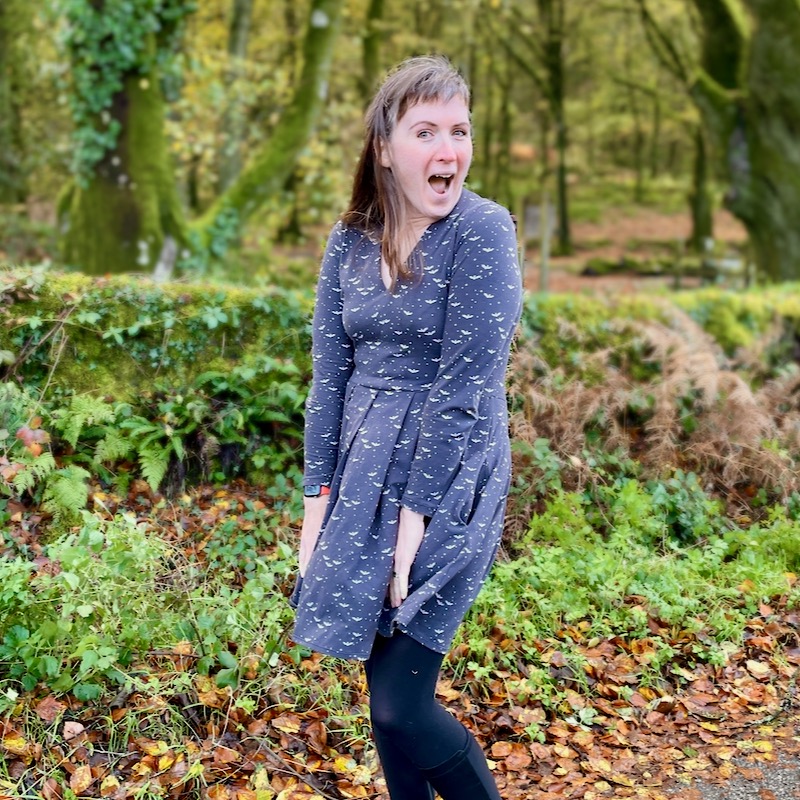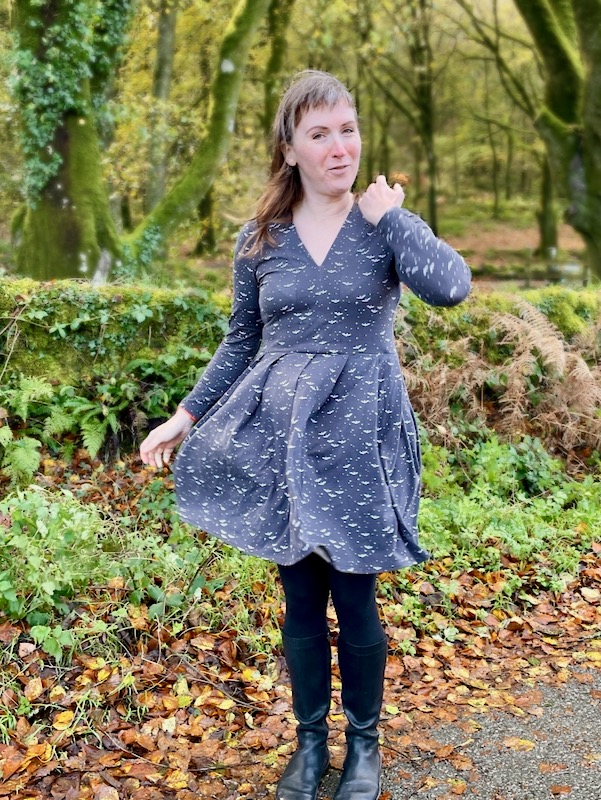 As suggested in the instructions, I added clear elastic into the waist seam when I overlocked it as I felt it could benefit from the extra stability to not stretch out during wear.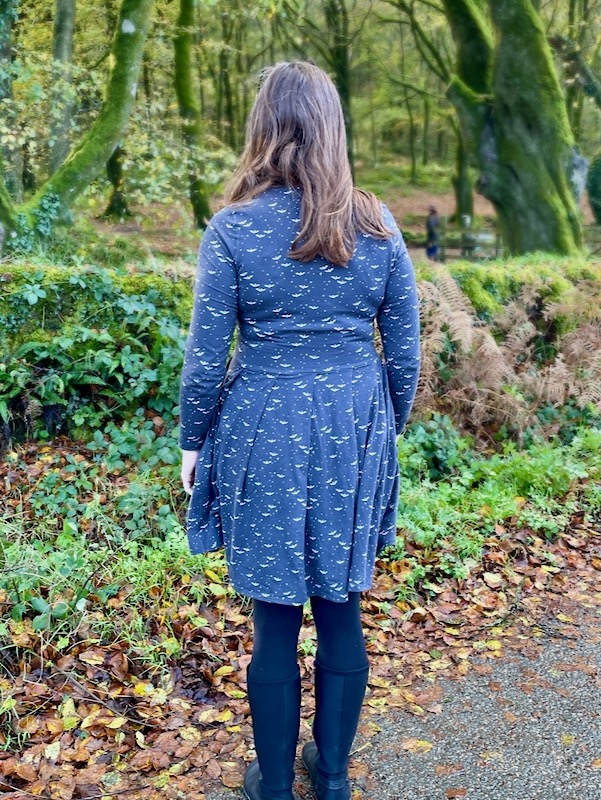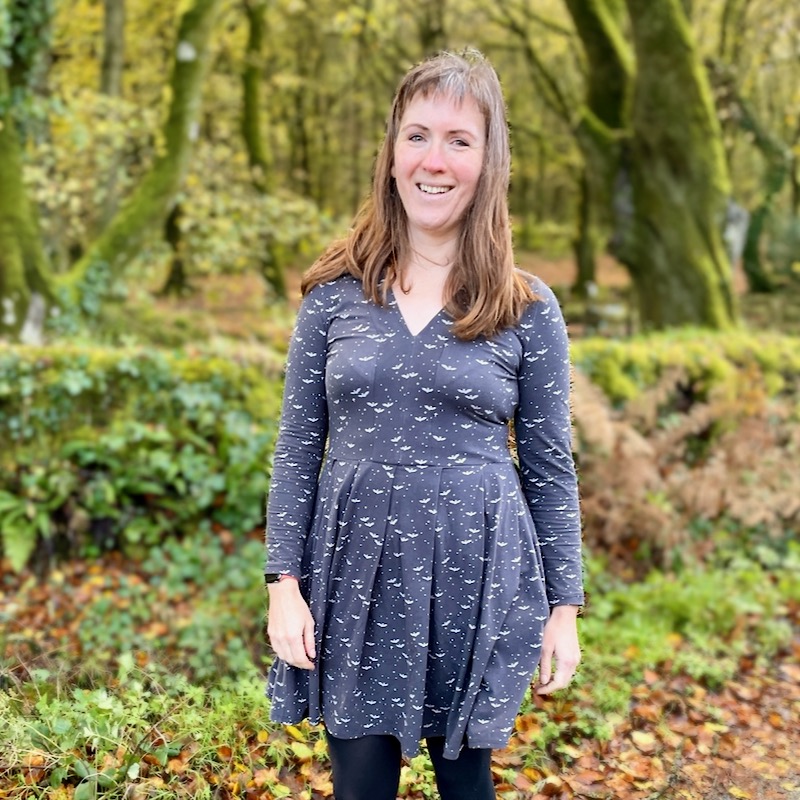 It took me 2 days to cut it out, but I sewed it all up on Halloween day (using 15 min bursts of activity, then 45+ min in bed). But as far as I'm concerned, bats are for EVERY day, not just for Halloween!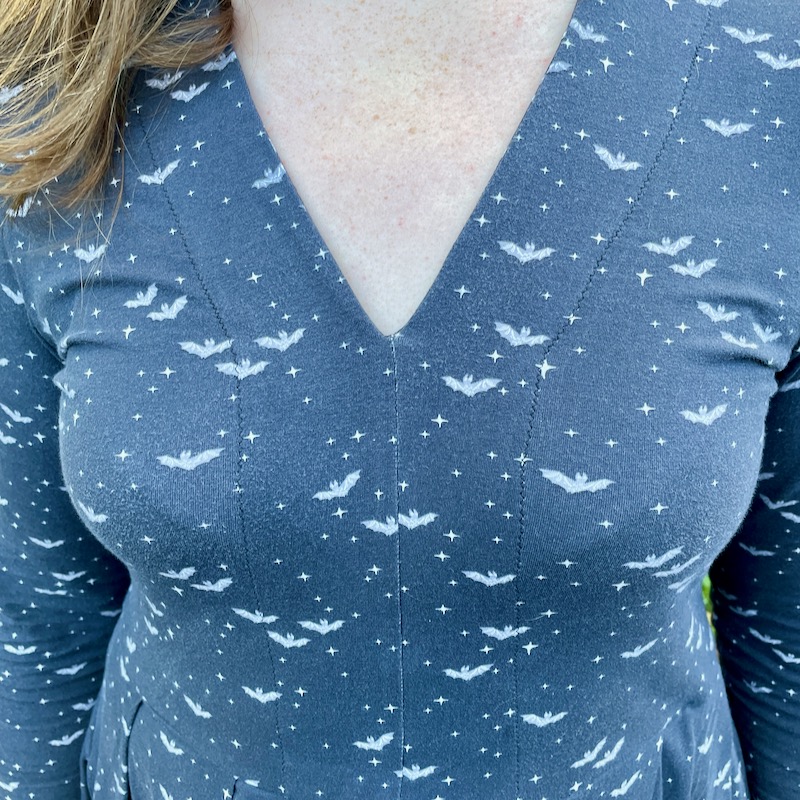 It's basically my new favourite dress – so comfortable and soft and warm! And BATS!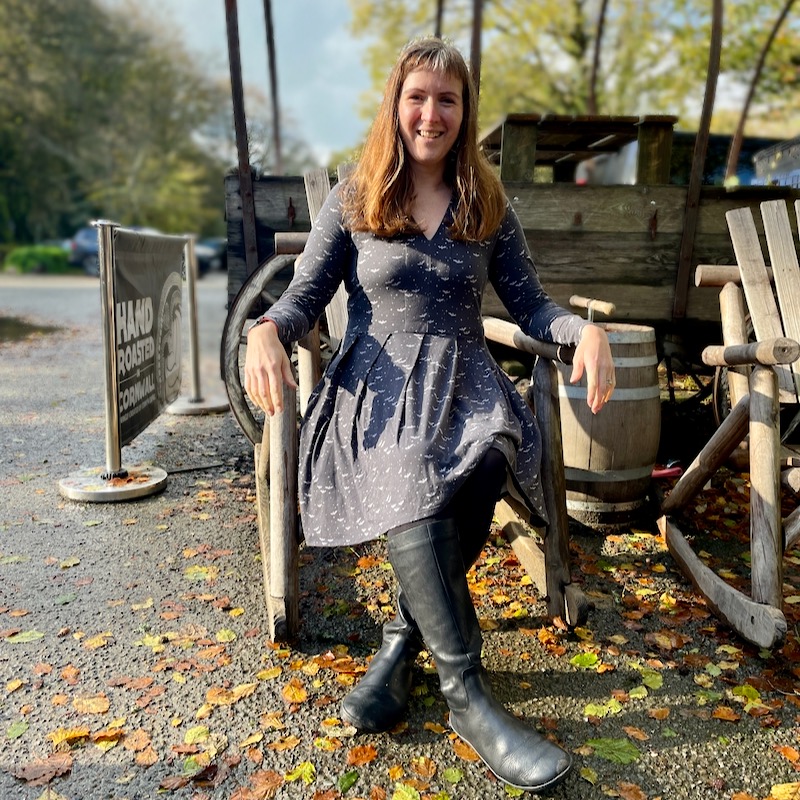 These photos were taken at Golitha Falls in Cornwall – literally the only time I left our friends' sofa for the few days we were visiting. A reminder that just because someone's turned on a smile for a few minutes while the camera is snapping doesn't mean they're not feeling rotten the other 99% of the day!